Last Updated on May 2, 2023
Hello foodies, are you looking for the latest Ocean Restaurant Singapore Menu Prices? You have arrived at the right place then. We have uploaded their complete menu with pictures and updated prices. Prices are taken from the official sources of Ocean Restaurant Singapore.
OCEAN RESTAURANT MENU 2023
Ocean Restaurant is a very peaceful place with great ambience for food lovers. Their menu can be categorized as Lunch Menu, Dinner Menu, & Beverages. Let's See them in detail one by one.
OCEAN RESTAURANT LUNCH MENU
4 Course Menu @ SGD 148.00/ Wine Pairing @ SGD 78.00
6 Course Menu @ SGD 188.00/ Wine Pairing @ 128.00
STARTER
Sustainable Hamachi
Seaweed Whipped Cream
Trout Roe
Breaded Frog Leg
Parsley Coulis
Garlic Cloud
Lobster Soup
Poached Lobster
Foie Gras Parfait
Seaweed Dust
MAIN COURSE
Seaweed Butter John Dory
Green Bean Puree
Parma Ham Bits
Parsley Butter Sauce
Wagyu Beef Cheek
Baby Carrots
Anchovy Beef Jus
Black Garlic
DESSERTS
Poached pear
Basil
Mint
Pear Sorbet
Almond Crisp
Tuile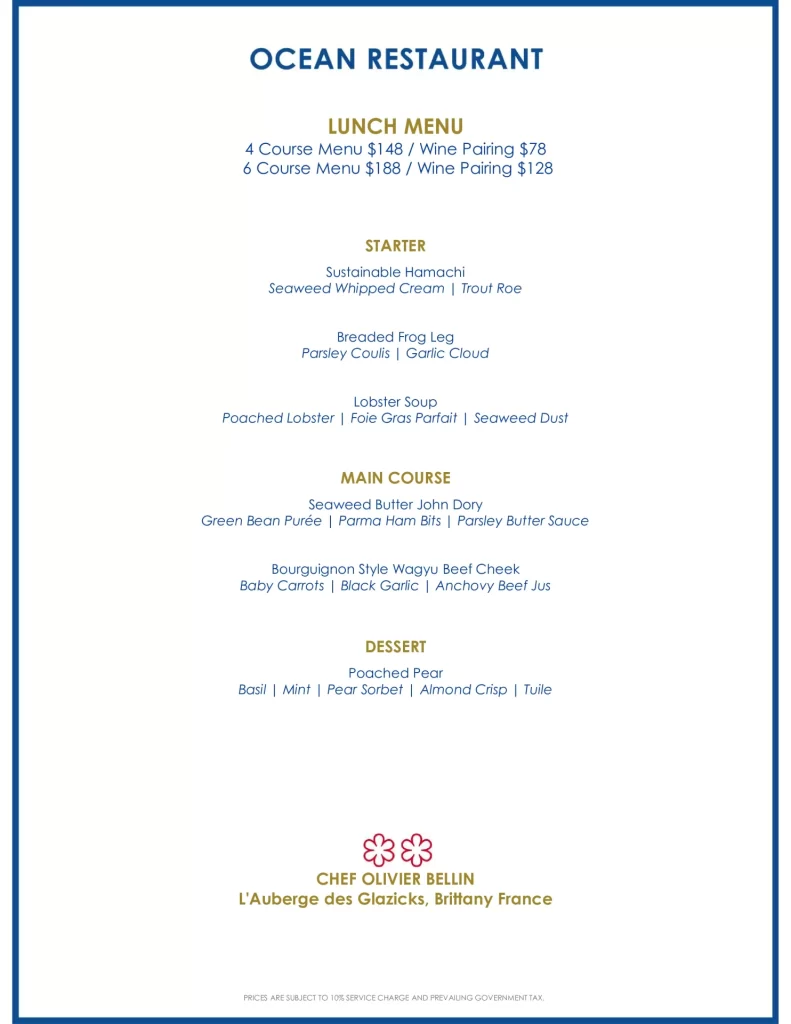 See Also: Shihlin Menu
OCEAN RESTAURANT DINNER MENU
6 Course Menu @ SGD 248.00/Wine Pairing @ SGD 148.00
8 Course Menu @ SGD 288.00/Wine Pairing @ SGD 198.00
COLD STARTER
Cauliflower Cream
Squid Ink Sauce
Kaviari Caviar
King Crab
Tarragon
Brick Dough
Sustainable Chilled Corn Soup
HOT STARTER
Oyester
Celery & Cornichon
Seaweed
Ginger Butter Cream
Green Celery Foam
Ham Bits
Oyster Leave
Grilled Hand Dived Scallops
Apple & Grapefruit
Curry Sauce
Carrot & Ginger Sauce
MAIN COURSE
Butter Poached Dover Sole
Celtus with Basil
Trout Roe
Seaweed
Butter & Tobiko Cream Sauce
Crispy Skin
Oven Baked Wagyu Beef
Salsify
Gherkin
Confit Seaweed Potatoes
DESSERTS
Strawberry Pavlova
Diplomat Macha Tea Cream
Strawberry Sorbet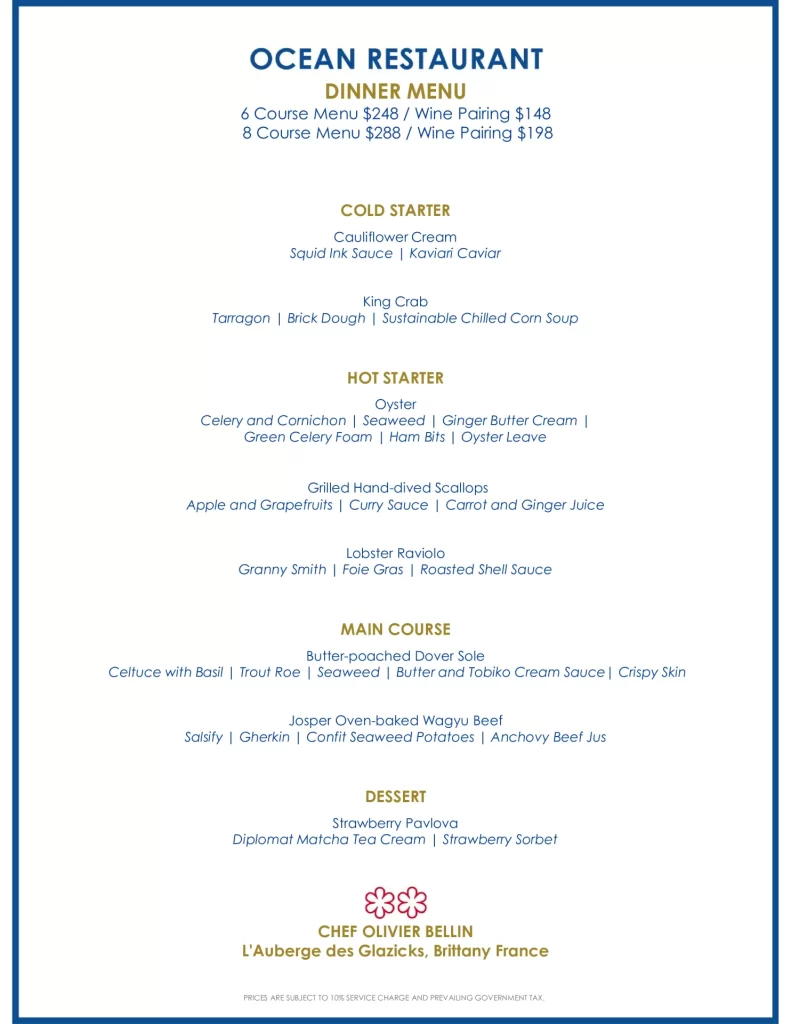 Is Ocean Restaurant Singapore Halal?
No. They serve alcoholic beverages and for that reason Ocean Restaurant is not Halal.
All the images and prices are taken from the following official sources of Ocean Restaurant Singapore.