Last Updated on May 2, 2023
Hello foodies, are you looking for the latest Harry's Singapore Menu? You have arrived at the right place then. We have uploaded their complete menu with pictures and updated prices. Prices are taken from the official sources of Harry's Singapore .
Harry's Menu Singapore 2023
Harry's Singapore menu can be categorized as Small Plates, Wings, Fries, Burgers & Sandwiches, Platters, Mains , Pastas, Salads, Asian Palate, Beer, Wine & Cocktails. Now let's see them in detail one by one.
Harry's Singapore Small Plates Prices
| MENU | PRICE |
| --- | --- |
| Tandoori Chicken Bites | SGD 19.00 |
| Soy-Glazed Beef Cubes | SGD 19.00 |
| Laksa Popcorn Chicken | SGD 15.00 |
| Guinness Mala Popcorn Chicken | SGD 16.00 |
| Chicken Satay | SGD 18.00 |
| Amigo Nachos | SGD 19.00 |
| Otah Toasties | SGD 15.00 |
| Charred Edamame | SGD 9.00 |
| Fried Octopus | SGD 17.00 |
Harry's Menu – Wings
MENU
HALF DOZEN
ONE DOZEN
Wings Platter – Good for 2 to 3 Pax
Harry's Signature (4 pcs), Sriracha Buffalo (4 pcs), Soy-Glazed (4pcs)
SGD 30.00
Sriracha Buffalo
Sriracha Chili Jam
SGD 14.00
SGD 28.00
Soy-Glazed
Mirin Soy
SGD 14.00
SGD 28.00
Harry's Signature
Harry's Spice
SGD 14.00
SGD 28.00
Harry's Singapore is definitely among the best western restaurants in Singapore. It is a bit expensive but when you look at the quality of food you get satisfied.
Harry's Singapore Menu – Mains
MENU
PRICE
Steak & Egg
Grain fed Angus Sirloin, Steak Sauce, Mixed Salad, Spiced Fries
SGD 34.00
Dry-Rubbed Baby Back Ribs
Homemade BBQ Marinate, Coleslaw, Spiced Fries
SGD 31.00
Harry's Parma
Breaded Chicken Thigh, Honey Baked Ham, Mixed Salad,
Spiced Fries
SGD 28.00
Beer Battered Fish & Chips
White Fish Fillet, Mushy Peas, Coleslaw, Spiced Fries
SGD 26.00
Baked Lemon-Spiced Fish
Marinated White Fish Fillet, Mixed Salad, Spiced Fries
SGD 24.00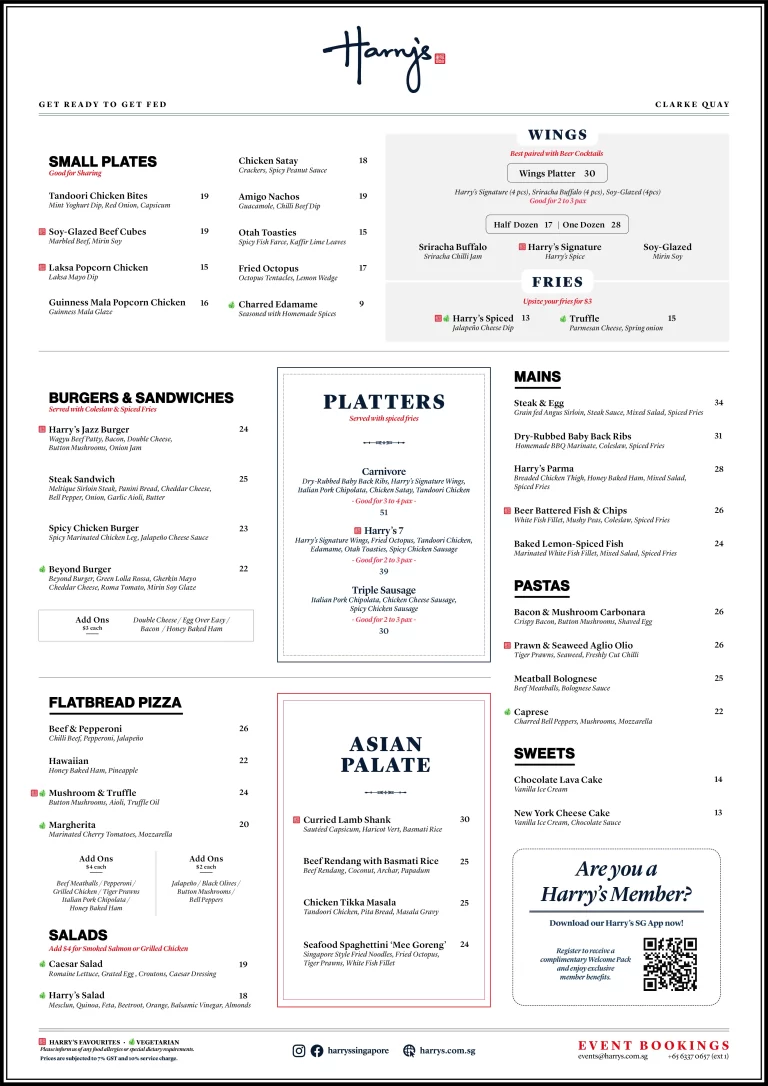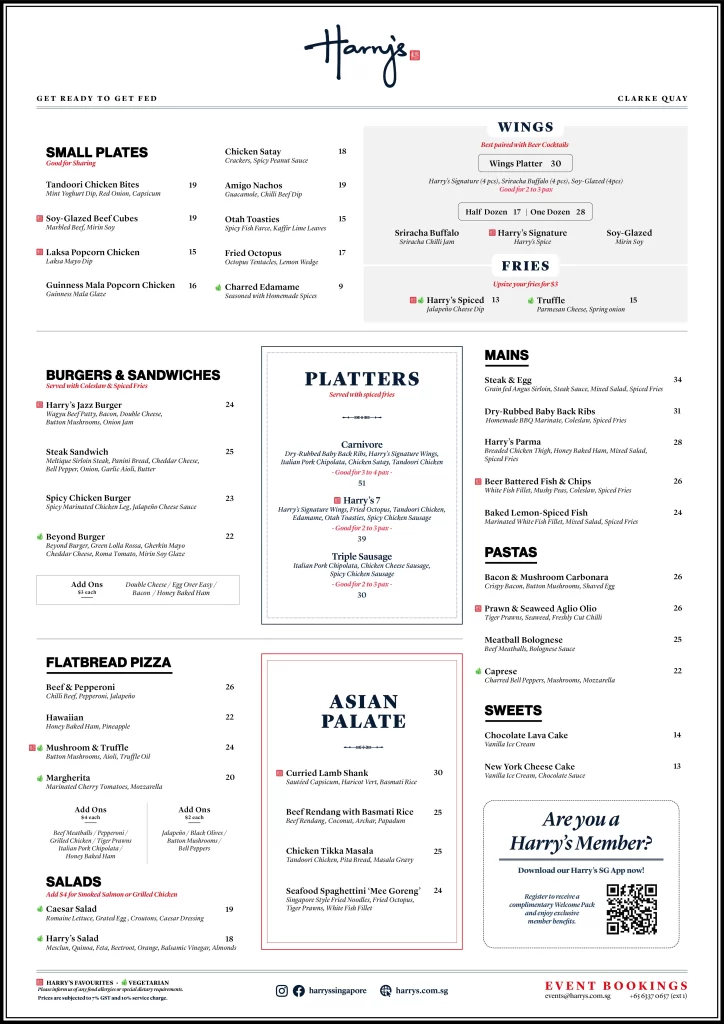 See Also: The Great Mischief Menu
Harry's Pastas
MENU
PRICE
Bacon & Mushroom Carbonara
Crispy Bacon, Button Mushrooms, Shaved Egg
SGD 26.00
Prawn & Seaweed Aglio Olio
Tiger Prawns, Seaweed, Freshly Cut Chili
SGD 26.00
Meatball Bolognese
Beef Meatballs, Bolognese Sauce
SGD 25.00
Caprese
Charred Bell Peppers, Mushrooms, Mozzarella
SGD 22.00
Harry's Menu Prices – Burger & Sandwiches
MENU
PRICE
Harry's Jazz Burger
Wagyu Beef Patty, Bacon, Double Cheese,
Button Mushrooms, Onion Jam
SGD 24.00
Steak Sandwich
Meltique Sirloin Steak, Panini Bread, Cheddar Cheese,
Bell Pepper, Onion, Garlic Aioli, Butter
SGD 25.00
Spicy Chicken Burger
Spicy Marinated Chicken Leg, Jalapeño Cheese Sauce
SGD 23.00
Beyond Burger
Beyond Burger, Green Lolla Rossa, Gherkin Mayo
Cheddar Cheese, Roma Tomato, Mirin Soy Glaze
SGD 22.00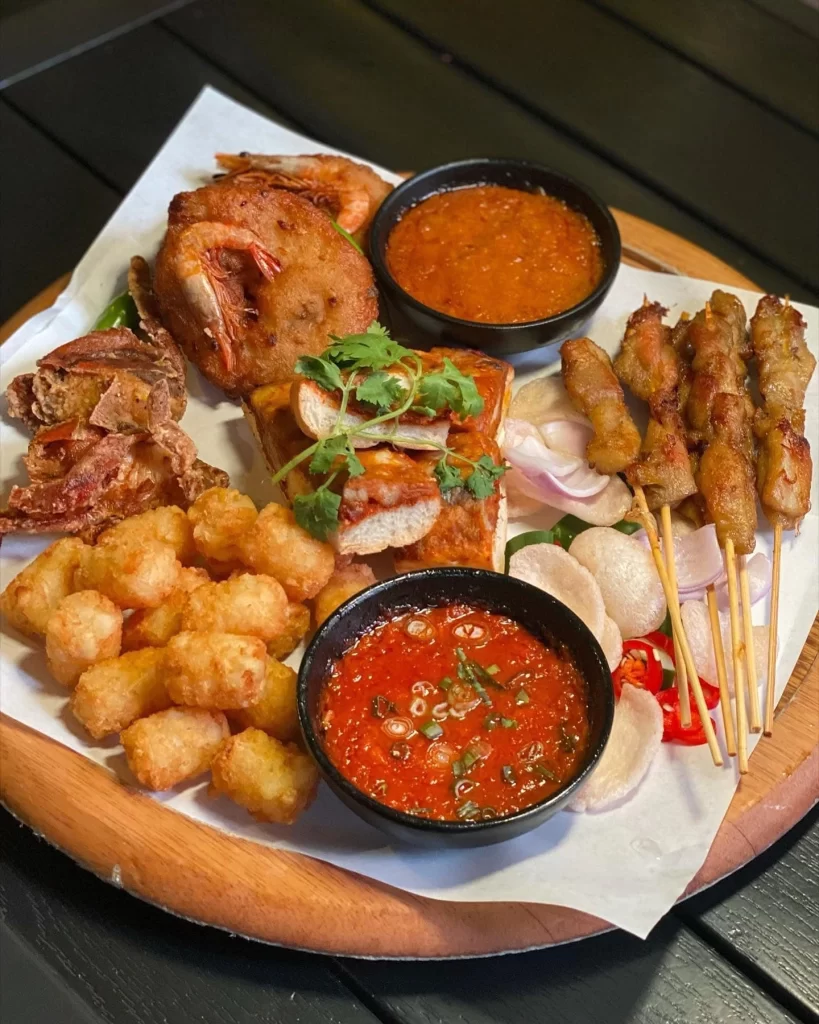 Harry's Asian Palate
MENU
PRICE
Curried Lamb Shank
Sautéed Capsicum, Haricot Vert, Basmati Rice
SGD 30.00
Beef Rendang with Basmati Rice
Beef Rendang, Coconut, Archar, Papadum
SGD 25.00
Chicken Tikka Masala
Tandoori Chicken, Pita Bread, Masala Gravy
SGD 25.00
Seafood Spaghettini 'Mee Goreng'
Singapore Style Fried Noodles, Fried Octopus, Tiger Prawns, White Fish Fillet
SGD 24.00
Harry's Flatbread pizza
MENU
PRICE
Beef & Pepperoni
Chilli Beef, Pepperoni, Jalapeño
SGD 26.00
Hawaiian
Honey Baked Ham, Pineapple
SGD 22.00
Mushroom & Truffle
Button Mushrooms, Aioli, Truffle Oil
SGD 24.00
Margherita
Marinated Cherry Tomatoes, Mozzarella
SGD 20.00
ADDONS $4 each
Beef Meatballs / Pepperoni / Grilled Chicken / Tiger Prawns Italian Pork Chipolata / Honey Baked Ham
ADDONS $2 each
Jalapeño / Black Olives / Button Mushrooms / Bell Peppers
Harry's Salads & Fries
MENU
PRICE
Caesar Salad
Romaine Lettuce, Grated Egg , Croutons, Caesar Dressing
SGD 19.00
Harry's Salad
Mesclun, Quinoa, Feta, Beetroot, Orange, Balsamic Vinegar, Almonds
SGD 18.00
Harry's Spiced Fries
Jalapeño Cheese Dip
SGD 13.00
Truffle Fries
Parmesan Cheese, Spring onion
SGD 15.00
Harry's Sweets
Harry's Lava Cake – SGD 14.00
New York Cheese Cake – SGD 13.00

Vanilla Ice Cream, Chocolate Sauce
Harry's Beer, Cocktail & Wine Menu
Harry's Beer Menu contains draft Beers, Bottled Beers/Ciders, Cocktails, Beer Cocktails, Champagnes, Wines, Gin, Vodka, Rum, Tequila, Malt, Whiskey, Gognac, Mocktails, & Non Alcoholic beverages. below is the full Harry's Menu beverage picture with price.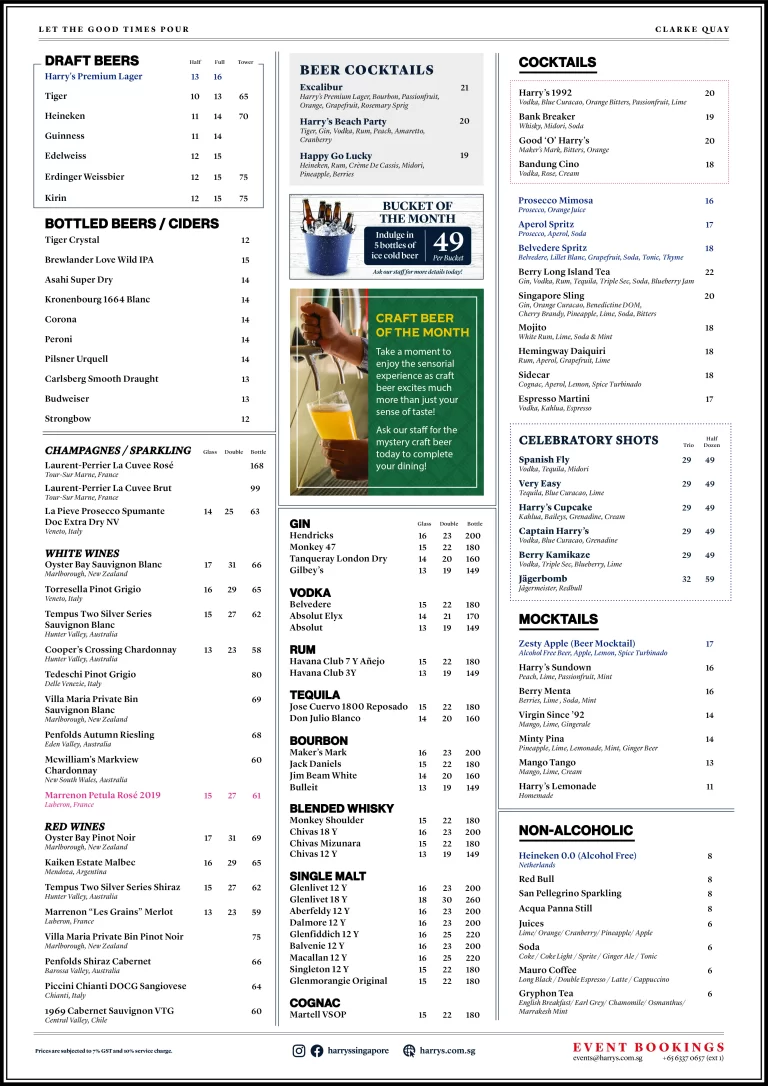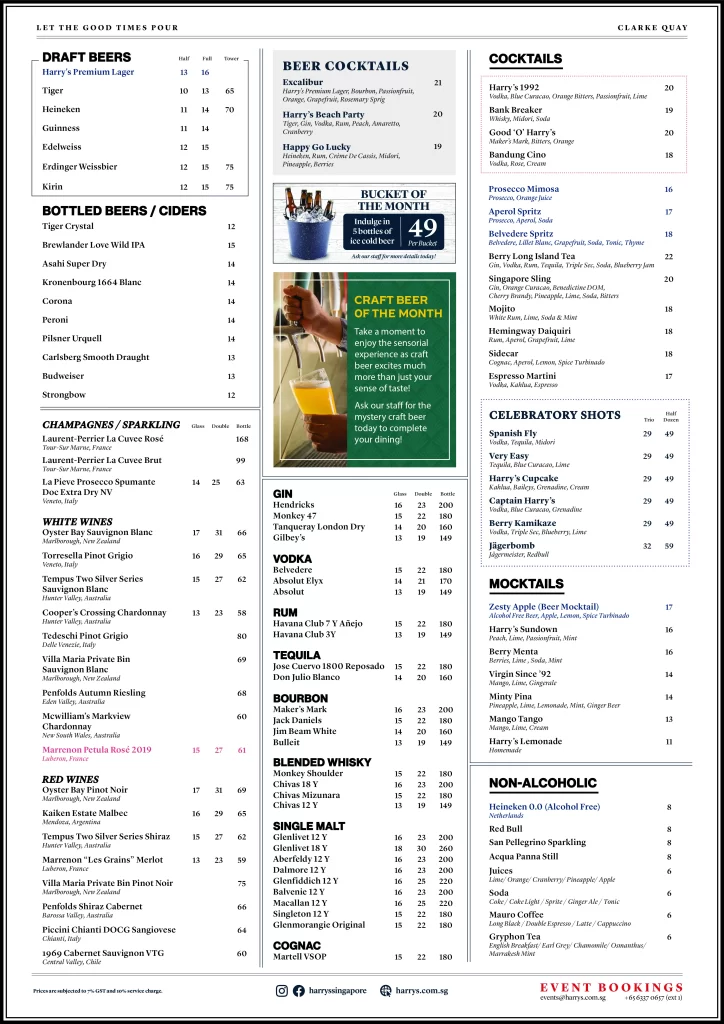 Is Harry's Singapore Halal?
No, they serve alcoholic beverages and for that reason Harry's Singapore is not Halal certified.
All the pictures and prices are taken from the following official sources of Harry's Singapore.
Harry's Singapore – Locations & Operating Hours
Cuppage
17/19 Cuppage Road, Cuppage Terrace
Singapore 229450
Opening Hours: Monday-Thursday 4pm-1am, Friday-Saturday 4pm-2am, Sunday 4pm-1am
Dempsey Hill
Blk 11 Dempsey Road, #01-17A
Singapore 249673
Opening Hours: Tuesday-Sunday 11:30am-12midnight
Esplanade
8 Raffles Avenue, #01-05/07
Singapore 039802
Opening Hours: Monday-Wednesday 4pm-11pm, Thursday 11:30am-11pm, Friday-Saturday 11:30am-12midnight, Sunday 11:30am-11pm
Harbour Front
1 Maritime Square, #01-64, HarbourFront Centre
Singapore 099253
Opening Hours: Monday-Thursday 11:30am-11pm, Friday-Saturday 11:30am-12midnight, Sunday 11:30am-11pm
Tampines Grande
9 Tampines Grande, #01-09
Singapore 528735
Opening Hours: Monday-Thursday 11:30am-11pm, Friday-Saturday 11:30am-12midnight, Sunday 11:30am-11pm
Tai Seng
18 Tai Seng Street, #01-K4/23-25
Singapore 539775
Opening Hours: Monday-Sunday 11:30am-11pm
Angullia Park
545 Orchard Road, #01-01/02, Far East Shopping Centre
Singapore 238882
Opening Hours: Monday-Thursday 4pm-12midnight, Friday-Saturday 12midnight-1am, Sunday 12noon-12midnight
Boat Quay
28 Boat Quay
Singapore 049818
Opening Hours: Monday-Thursday 11:30am-12midnight, Friday 11:30am-2am, Saturday 4pm-2am, Sunday 4pm-12midnight
Chijmes
30 Victoria Street, #01-14
Singapore 187996
Opening Hours: Monday-Thursday 4pm-12midnight, Friday-Saturday 12noon-1am, Sunday 12noon-12midnight
Clarke Quay
3D River Valley Road, #01-01
Singapore 179023
Opening Hours: Monday-Thursday 12noon-1am, Friday 12noon-2am, Saturday 4pm-2am, Sunday 4pm-1am
Resort World Sentosa
26 Sentosa Gateway, The Forum, Level 1, Resorts World Sentosa
Singapore 098138
Opening Hours: Monday-Tuesday, Thursday 11:30am-11pm, Friday-Saturday 11:30am-12midnight, Sunday 11:30am-11pm
South Beach Avenue
26 Beach Road, #01-18
Singapore 189768
Opening Hours: Monday-Thursday 12noon-11pm, Friday-Saturday 12PM-12AM
Holland Village
22 Lorong Mambong
Singapore 277681
Opening Hours: Monday-Thursday 11:30am-11pm, Friday-Saturday 11:30am-12midnight, Sunday 11:30am-11pm
Mapletree Business City
40 Pasir Panjang Road, #02-43/44
Singapore 117383
Opening Hours: Monday-Friday 11:30am-11pm
Marina Bay Link Mall
8A Marina Boulevard, #01-03, Ground Plaza
Singapore 018984
Opening Hours: Monday-Thursday 11:30am-11pm, Friday 11:30am-12pm
Novena
238 Thomson Road, #01-59/60, Novena Square
Singapore 307683
Opening Hours: Monday-Sunday 11:30am-11pm
Plaza Singapura
68 Orchard Road, #01-50, Plaza Singapura
Singapore 238839
Opening Hours: Monday-Sunday 11:30am-11pm
Riverside Point
30 Merchant Road, #01-04
Singapore 058282
Opening Hours: Monday-Sunday 4pm-1am, Friday-Saturday 4pm-2am, Sunday 4pm-1am