Last Updated on May 2, 2023
Hello Thai style noodle lovers, are you looking for the latest Thai Tai Singapore Menu Prices? You have arrived at the right place then. We have uploaded their complete menu with pictures and updated prices. Prices are taken from the official sources of Thai tai Singapore.
THAI TAI MENU PRICES 2023
Thai Tai menu can be categorized as A La Carte, Mains, Vegetarian, Set Meals, Salads, Sides, Desserts, & Beverages. Let's see them in detail one by one.
THAI TAI A LA CARTE MENU PRICES
MENU
PRICE
Basil Minced Chicken
Stir fried basil minced chicken with chili. Thai staple comfort food
SGD 13.50
Whole Pork Knuckle (4- 5 Pax)
Delicious and flavorful braised pork leg with pickles
SGD 34.50
Half Pork Knuckle (2-3 Paxs)
Delicious and flavorful braised pork leg with pickles
SGD 19.50
Tom Yum Seafood Soup
Spicy and sour soup with prawns and clams
SGD 15.00
White Curry Chicken & Seafood
Tender chicken slices, prawns & clams in coconut based curry
SGD 18.50
Tai White Curry
Tender chicken slices, prawns & clams in coconut based curry
SGD 18.50
Thai Hom Mali Rice
Thai Hom Mali Rice
SGD 2.00
THAI TAI VEGETARIAN FRIENDLY MENU
MENU ITEMS
PRICE
Vegetarian Khao Soi – Mee Pok/Rice
Mee Pok in thick, rich coconut broth with vegetables & topped with crispy fried egg noodles
SGD 9.90
Vegetarian Padthai (Contain Egg)
Wok-fried rice noodle with bean curd, beansprouts, chives & egg
SGD 9.90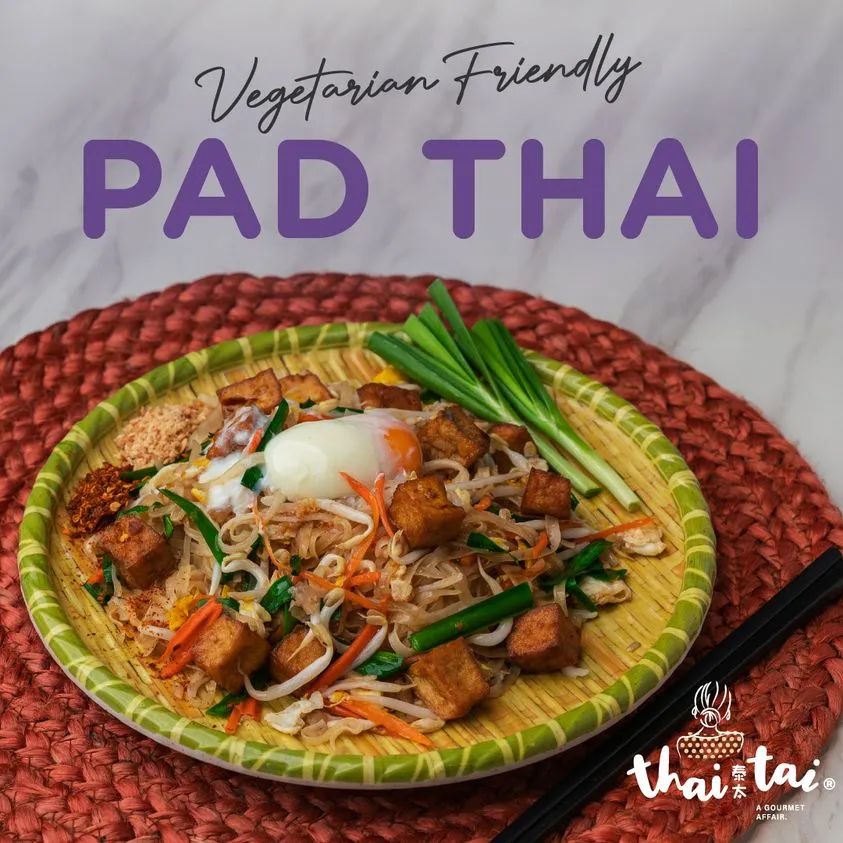 THAI TAI VALUE SET MEAL PRICES
MENU ITEM
PRICE
1 Pax Set
1Main, 1Side (2Pcs), 1Drink.
SGD 15.00
2 Pax Set
2Mains, 2Drinks, 1Side (4Pcs), Salad, Dessert.
SGD 42.00
4 Pax Set
4Mains, 4Drinks, 1Side (4Pcs), Salad, Soup, Dessert.
SGD 70.00
2 Pax Family Meal
Pork Knuckle, Tomyum Soup Seafood, 2Rice, Salad.
SGD 39.00
THAI TAI MAINS MENU WITH PRICE
MENU ITEMS
PRICE
Khao Soi
Thick, rich coconut broth with chicken topped with crispy fried egg noodles served with Mee Pok or Rice.
SGD 9.90
Basil Minced Chicken
Minced chicken stir fried with chilli and fresh basil with an Egg served with rice or Signature Jade Noodles
SGD 9.90
Double Grilled Chicken
Signature jade noodle serve with sous vide egg
SGD 9.90
Basil Minced Chicken with Double Grilled Chicken
Minced chicken stir fried with chili and fresh basil together with Grilled chicken in Thai spices.
SGD 12.00
Pad Thai
Thai noodle stir fry with a choice of prawns/chicken or both in a sweet-savory-sour sauce
SGD 9.90
Pork Knuckle
Serve with pickles & hard boil egg
SGD 9.90
Tom Yum Seafood
Spicy and sour soup with prawns and clams served with rice or Bee Hoon
SGD 9.90
Tom Yum Chicken
Spicy and sour soup with chicken served with rice or Bee Hoon
SGD 9.90
Tom Yum Big Prawn & Lala Mama Noodle
Spicy and sour soup with prawns and clams served with Sous Vide Egg and Mama Noodles
SGD 21.00
Dry Pork Rice
Seasoned deep fried pork strips served with a Sunny Side Up Egg and rice
SGD 10.90
Thai Tai White Curry Rice
Tender chicken slices, prawns & clams in coconut based curry served with rice
SGD 15.50
THAI TAI SALAD & SIDES MENU
MENU ITEMS
PRICE
Mango Salad
A refreshing salad of green mango, carrot, peanut & chili.
SGD 10.00
Papaya Salad
Shredded green papaya with vegetables, dried shrimps, chili and peanuts.
SGD 10.00
Yum Mama Noodle Salad W/ Lala & Big Prawn
Tossed vegetables with prawns, clams and Mama Noodles
SGD 21.00
Thai Fishcake
Deep fried fish paste patties served with Thai chili sauce
SGD 6.50
Thai Spring Roll
Vegetarian fried spring rolls
SGD 5.50
Signature Dry Pork
Seasoned deep fried pork strips served with Thai spicy sauce
SGD 13.50
Double Grilled Chicken
Grilled chicken in Thai spices accompanied with homemade chilli sauce
SGD 12.50
Chicken Roll 4 pcs
With this completely delectable juicy, tender & spicy chicken roll.
SGD 5.50
Deep Fried Wanton 4 Pcs
Wonton wrappers filled with chicken then deep-fried till crispy golden brown
SGD 6.50
Thai Grilled Pork Skewers (4pcs)
Thai Style Grilled Pork Skewers
SGD 12.00
See Also: Whisk & Paddle Menu Price
THAI TAI EGGS & RICE PRICES
| MENU ITEMS | PRICE |
| --- | --- |
| Sunny Side Up Egg | SGD 2.00 |
| Lava Egg | SGD 2.00 |
| Thai Hom Mali Rice | SGD 2.00 |
| Sous Vide Egg | SGD 2.00 |
THAI TAI DESSERTS MENU
MENU ITEMS
PRICE
Jasmine Red Ruby
Crunchy Thai rubies, chendol and jelly served in coconut milk
SGD 6.50
Organic Sticky Rice With Thai Honey Mango (Half)
Mango slices and sticky glutinous rice served with coconut milk
SGD 10.50
Organic Sticky Rice With Thai Honey Mango (Whole)
Mango slices and sticky glutinous rice served with coconut milk
SGD 12.00
THAI TAI BEVERAGES MENU PRICES
| MENU | PRICE |
| --- | --- |
| Thai Tai Milk Tea | SGD 3.80 |
| Healthy Lemongrass | SGD 3.80 |
| Iced Lemon Tea | SGD 3.80 |
| Thai Tai Green Tea | SGD 3.80 |
| Thai Coconut | SGD 6.00 |
| Mineral Water | SGD 2.50 |