Last Updated on May 2, 2023
Hello Indian food lovers, are you looking for the latest Anglo Indian Singapore Menu? You have arrived at the right place then. We have uploaded their complete menu with pictures & updated prices. Prices are taken from the official sources of Anglo Indian Singapore.
Anglo Indian Menu Singapore 2023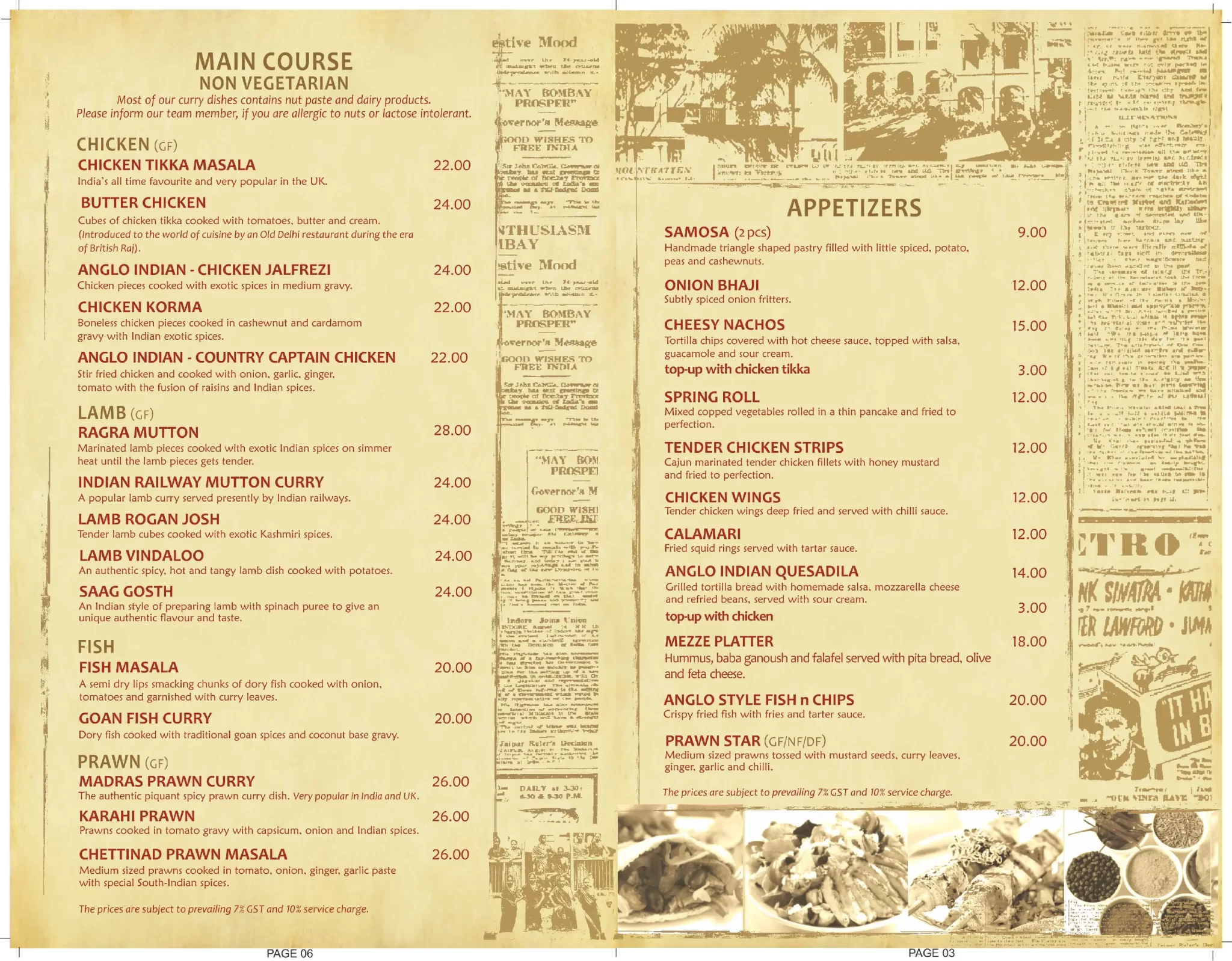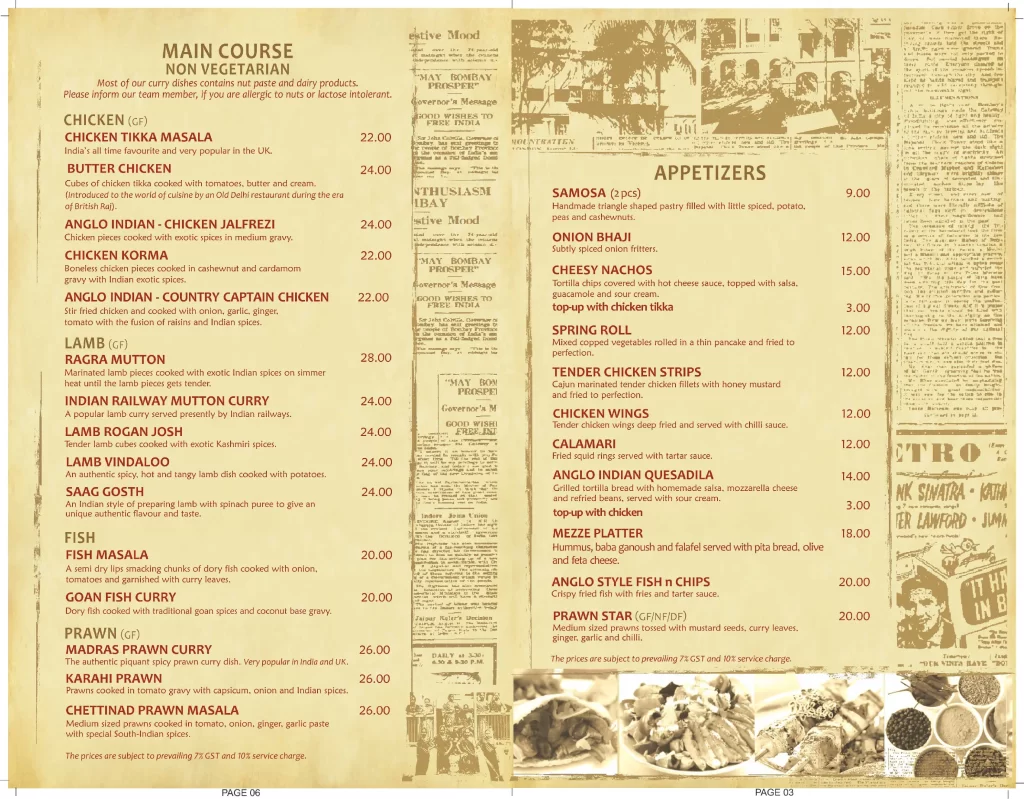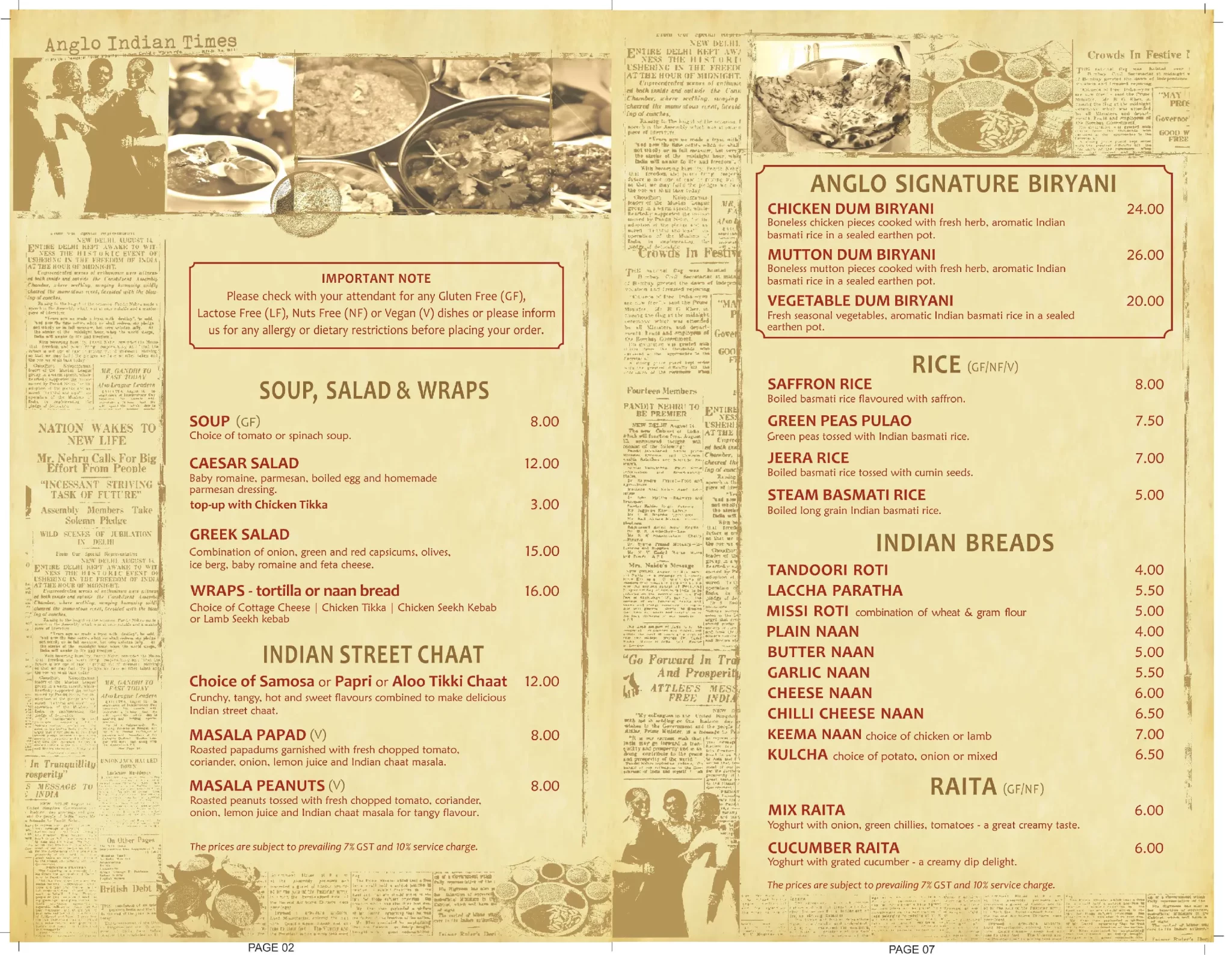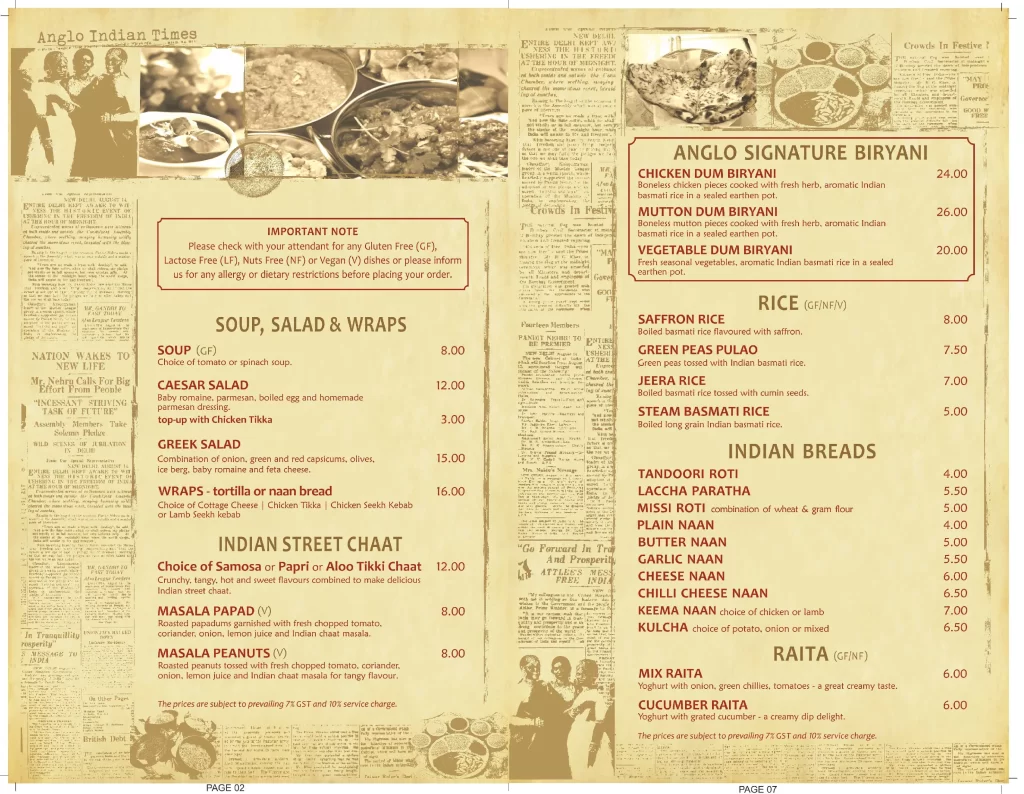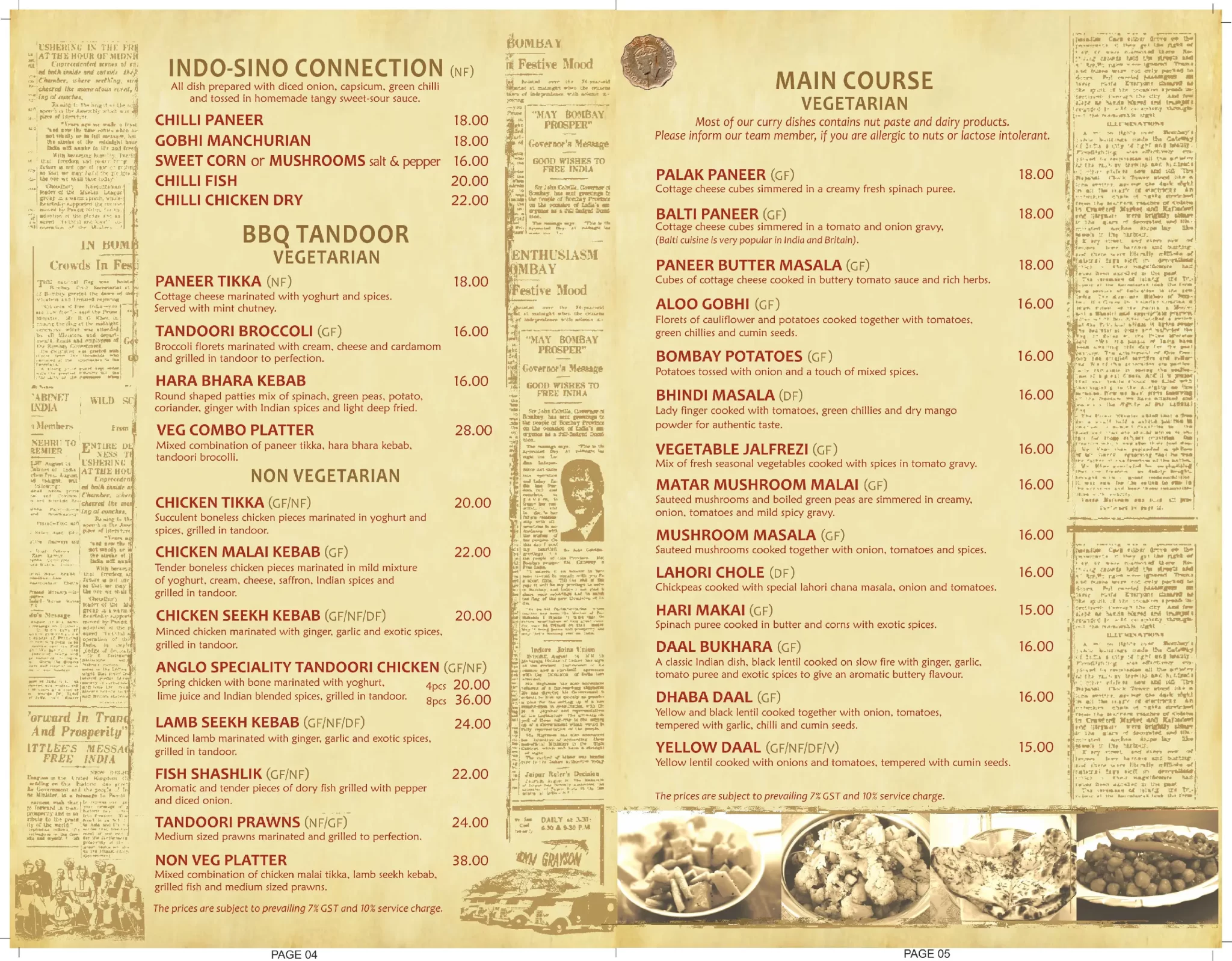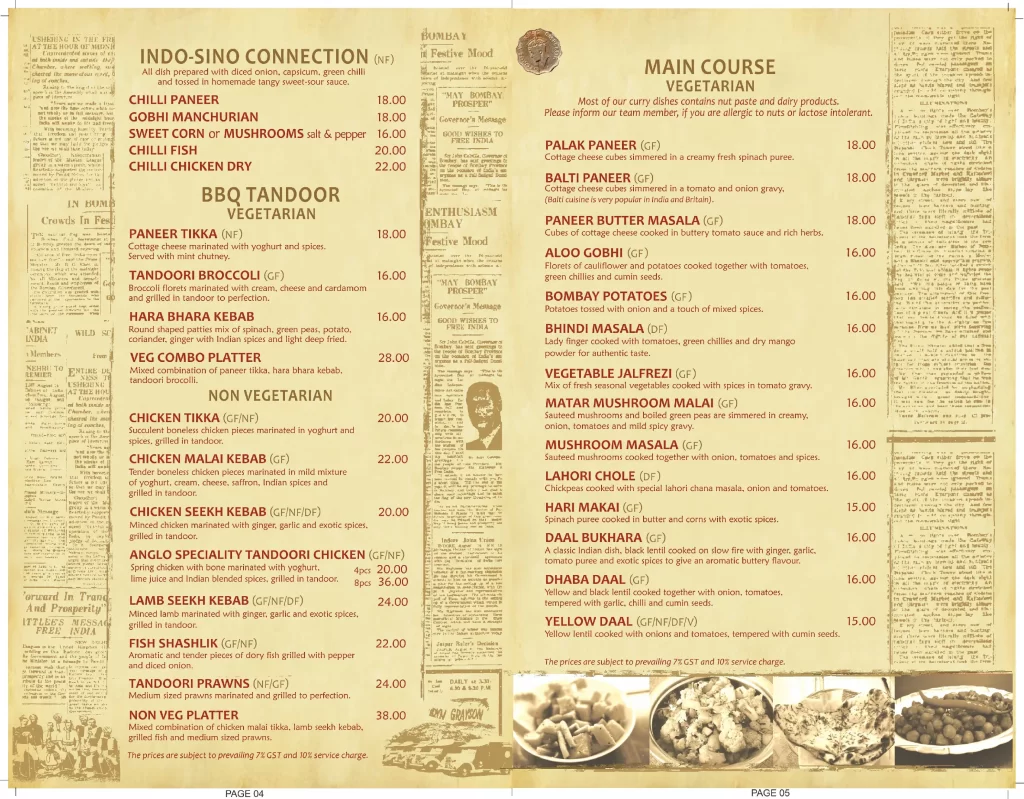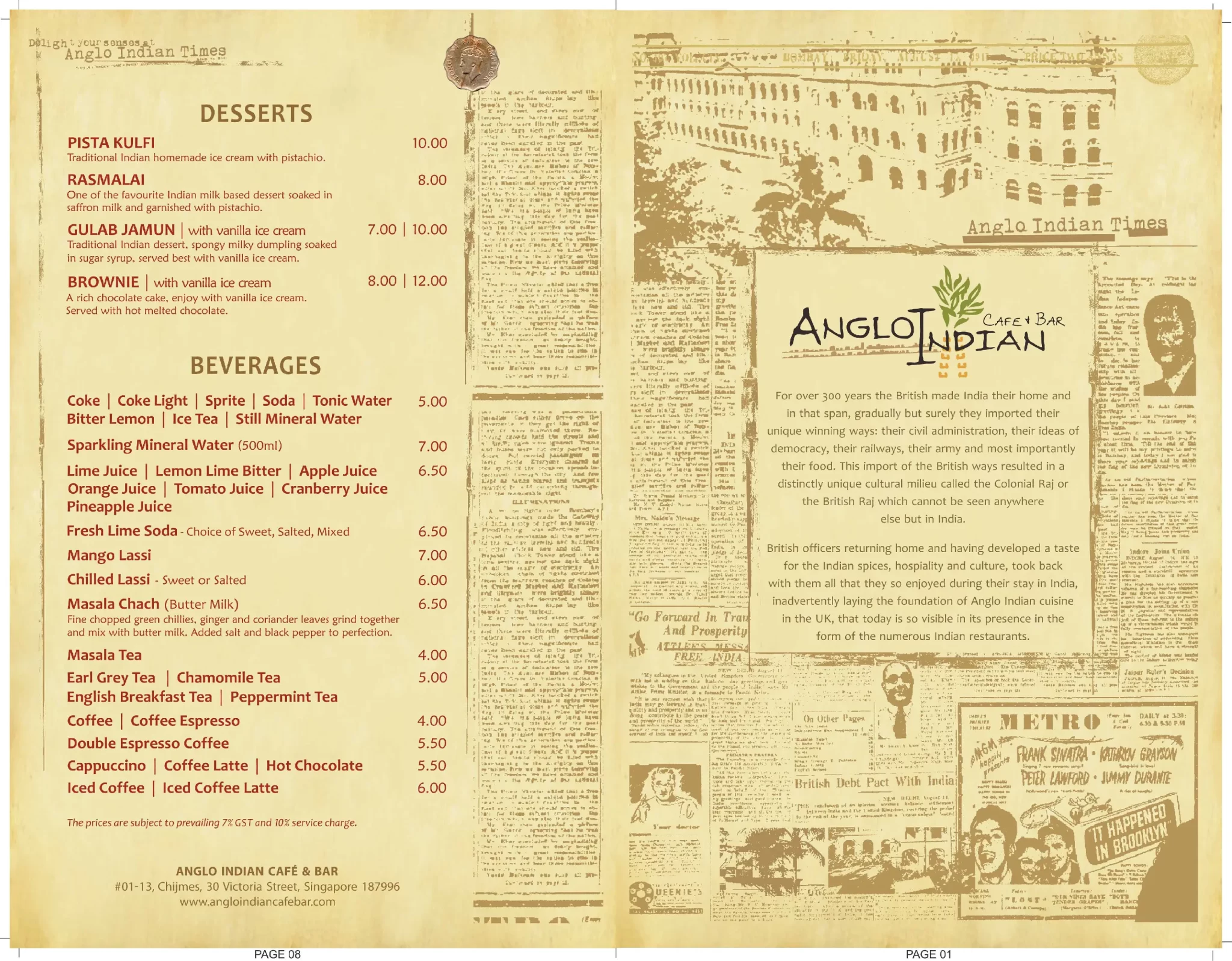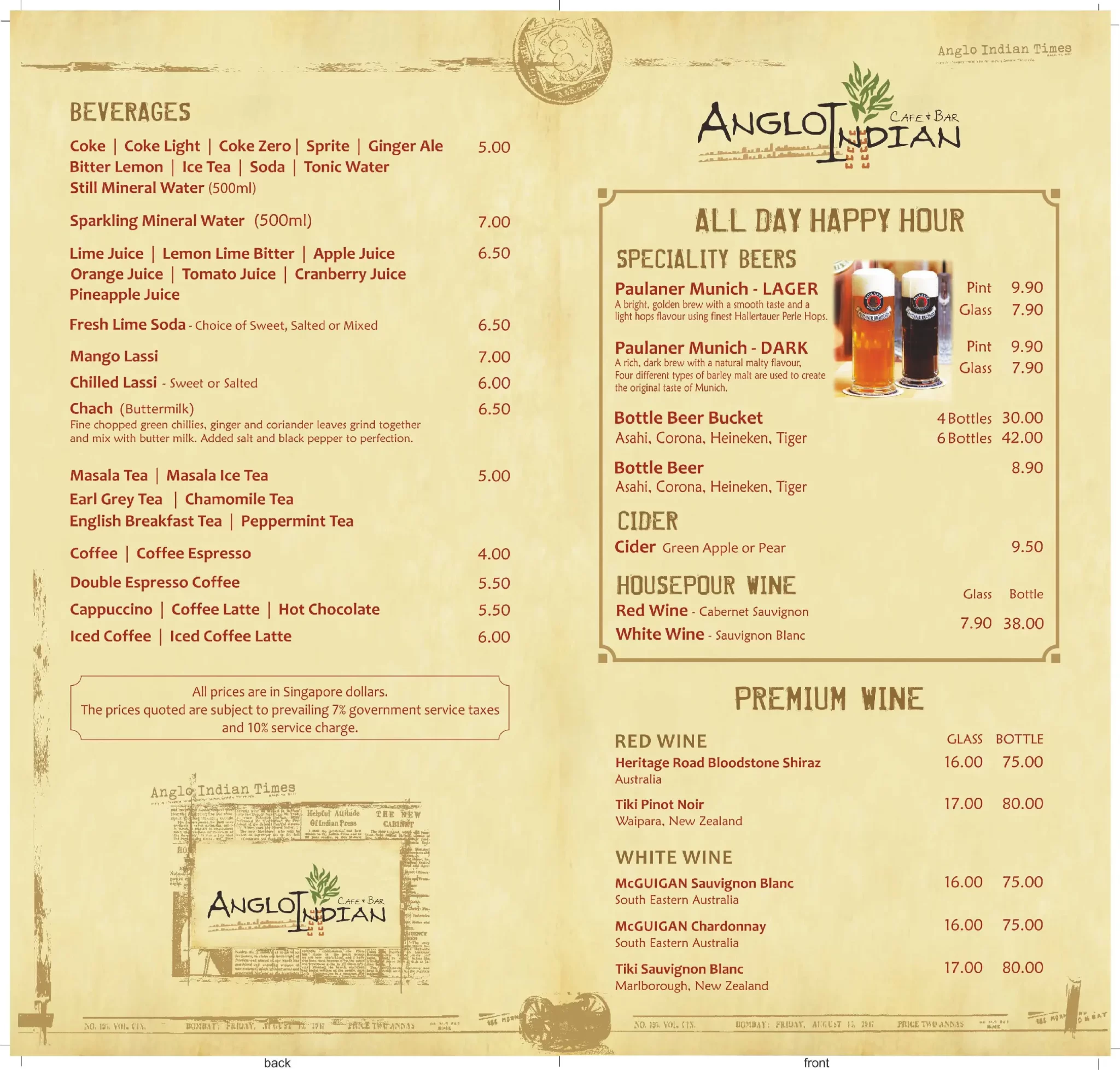 See Also: In piazza Menu
Is Anglo Indian Halal Certified?
Anglo Indian Serves Alcoholic beverages & for that reason they are not Halal Certified.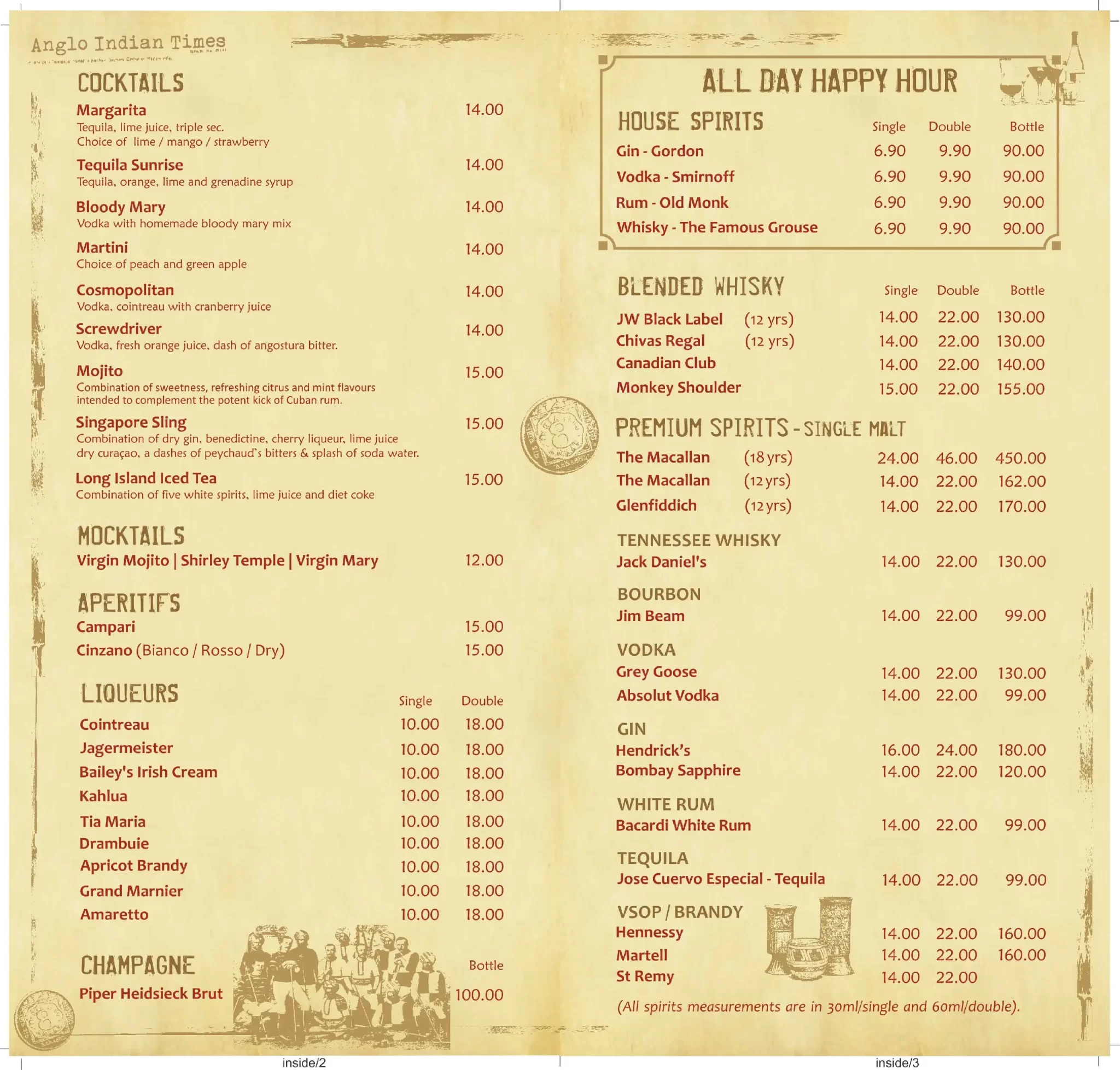 MENU
PRICE
Beer – Non-Veg Biryani Combo
Chicken Biryani, Chicken Tikka (6 pcs), Asahi Beer 330ml (2 bottles)
S$50.00
Non-Veg bbq platter + Buronga Wine (Red or White)
Non-Veg platter includes – Lamb Sheekh Kebab, Chicken Malai Tikka, Grilled Prawns, Bbq Fish 1 Bottle Buronga Wine (Choice of white or red)
S$55.00
Beer – Veg Biryani Combo
Veg Biryani, Paneer Tikka (6 pcs), Asahi Beer 330ml (2 bottles)
S$50.00
Value Meal for 2 Pax (Vegetarian)
Hara Bhara Kebab (4 pcs), Paneer Tikka (4 pcs), Dal Bukhara (1 portion good enough for 2 people), Palak Paneer (1 portion), Butter Naan (2 pcs), Jeera Rice (1 portion), Gulab Jamun (2 pcs)
S$48.00
Value Meal for 2 Pax (Non-Vegetarian)
Chicken Malai Kebab (4 pcs), Lamb Sheekh Kebab (4 pcs), Dal Bukhara (1 portion good enough for 2 people), Chicken Tikka Masala (1 portion), Butter Naan (2 pcs), Jeera Rice (1 portion), Gulab Jamun (2 pcs)
S$58.00
Value Meal for 4 Pax (Vegetarian)
Hara Bhara Kebab (5 pcs), Paneer Tikka (5 pcs), Dal Bukhara (2 portion good enough for 4 people), Balti Paneer (2 portion), Aloo Gobhi (2 portion), Butter Naan (4 pcs), Jeera Rice (2 portion), Gulab Jamun (4 pcs)
S$98.00
Value Meal for 4 Pax (Non-Vegetarian)
Chicken Malai Kebab (5 pcs), Lamb Sheekh Kebab (5 pcs), Dhaba Dal (2 portion good enough for 2 people), Butter Chicken (2 portion), Indian Railway Mutton Curry (2 portion), Butter Naan (4 pcs), Jeera Rice (2 portion), Gulab Jamun (4 pcs)
S$108.00
Anglo-Indian Veg Set Meal
Veg Set Meal – Samosa, Yellow Daal Tadka, Balti Paneer, Plain Naan, Basmati Rice, Gulab Jamun.
S$20.00
Anglo-Indian Non Veg Set Meal
Non Veg Set Meal – Samosa, Yellow Daal Tadka, Chicken curry (of the day), Plain Naan, Basmati Rice, Gulab Jamun.
S$22.00
Chicken Dum Biryani
Boneless chicken pieces cooked with fresh herbs, Indian spices and fragrant Indian basmati rice in a sealed earthen pot (Dum cooking) to retain the flavors and aroma
S$23.00
Vegetable Dum Biryani
Fresh seasonal vegetables cooked with fresh herbs, Indian spices and fragrant Indian basmati rice in a sealed earthen pot (Dum cooking) to retain the flavors and aroma
S$19.00
Mutton Dum Biryani
Boneless mutton pieces cooked with fresh herb, aromatic Indian basmati rice in a sealed earthen pot.
S$24.00
Seafood Dum Biryani
S$22.00
Paneer Tikka
Cottage cheese marinated with yoghurt and spices. Served with mint chutney.
S$18.50
Tandoori Broccoli
Broccoli marinated with cream, cheese and cardamom and grilled in tandoor to perfection
S$17.00
Hara Bhara Kebab
Fried patties made of spinach, green peas, potatoes, coriander, ginger and aromatic Indian spices
S$16.00
Veg Combo Platter
Mixed combination of paneer tikka, hara bhara kebab, tandoori brocolli
S$29.00
Chicken Tikka
Succulent boneless chicken pieces marinated in yoghurt and spices, grilled in tandoor.
S$19.00
Chicken Malai Kebab
Tender boneless chicken pieces marinated in mild mixture of yoghurt, cream, cheese, saffron and Indian spices and grilled in tandoor
S$20.00
Anglo Speciality Tandoori Chicken
Spring chicken with bone marinated in yoghurt, lime juice and Indian blended spices, grilled in tandoor.
S$21.00
Lamb Seekh Kebab
Minced lamb marinated with ginger, garlic and exotic spices and grilled in tandoor on skewers (seekh)
S$22.00
Fish Shaslik
Aromatic and tender pieces of Dory fish grilled with pepper and diced onion
S$20.00
Non Veg Combo Platter
Mixed combination of chicken malai tikka, lamb seekh kebab, grilled fish and medium sized prawns.
S$38.00
Palak Paneer
Cottage cheese cubes (paneer) simmered in a spinach and cream gravy
S$18.50
Balti paneer
Cottage cheese cubes (paneer) simmered in tomato-onion gravy.
S$18.50
Paneer Butter Masala
Cubes of cottage cheese cooked in buttery tomato sauce and rich herbs.
S$18.50
Aloo Gobi
Florets of cauliflower and potato cubes are cooked together with tomatoes, green chillies and cumin seeds. This is a dry vegetarian dish.
S$16.00
Bombay Potatoes
Potatoes tossed with onion and a touch of mixed spices.
S$15.00
Bhindi Masala
Lady finger cooked with tomatoes, green chillies and dry mango powder for authentic taste.
S$15.00
Vegetable Jalfarezi
Mix of fresh seasonal vegetables cooked with spices in tomato gravy.
S$15.00
Matar Mushroom
Sauteed mushrooms and boiled green peas are simmered in creamy, onion, tomatoes and mild spicy gravy.
S$15.00
Lahori Chole
Chickpeas cooked with special lahori chana masala, onion and tomatoes.
S$16.00
Hari Makai
Spinach puree cooked in butter and corns with exotic spices.
S$15.00
Dal Bukhara
A classic Indian dish of black lentils cooked over slow fire with ginger, garlic, tomato puree and exotic spices to give it an aromatic flavor. Butter is added to enhance the taste.
S$16.50
Dhaba Daal
Yellow and black lentil cooked together with onion, tomatoes, tempered with garlic, chilli and cumin seeds.
S$15.00
Yellow Daal
Yellow lentil cooked with onions and tomatoes, tempered with cumin seeds.
S$14.50
Butter Chicken
This is one of the more popular Indian dish which is famous world over. Cubes of boneless chicken tikka (grilled chicken) is cooked in tomatoes, butter and cream. The smooth flavor and texture of the curry goes well with both rice and Indian breads.
S$22.00
Chicken Tikka Masala
India's all time favourite and very popular in the UK.
S$21.00
Anglo Indian Chicken Jalfarezi
Chicken pieces cooked with exotic spices in medium gravy
S$21.00
Lamb Rogan Josh
Tender lamb cubes cooked with exotic Kashmiri spices.
S$22.00
Railway Mutton Curry
A popular lamb curry recipe which is still served by Indian Railways is carefully curated and cooked for the connoisseurs of Indian red meat curries in Singapore.
S$23.00
Ragra Mutton
Marinated diced lamb is cooked with exotic Indian spices on simmer until the meat gets tender. This dish goes well with Indian breads.
S$26.00
Lamb Vindaloo
An authentic spicy, hot and tangy lamb dish cooked with potatoes.
S$24.00
Fish Masala
A semi dry lips smacking chunks of dory fish cooked with onion, tomatoes and garnished with curry leaves.
S$19.00
Goan Fish Curry
Dory fish cooked with traditional goan spices and coconut base gravy.
S$19.00
Mustard Fish Curry
S$18.00
Madras Prawn Curry
The authentic piquant spicy prawn curry dish which is popular both in Indian and outside India.
S$24.00
Karahi Prawn
Prawn cooked in tomato gravy with capsicum, onion and Indian spices.
S$24.00
Samosa (2 pcs)
Handmade triangle shaped pastry filled with little spiced, potato, peas and cashewnuts.
S$9.00
Onion Bhaji
Subtly spiced onion fritters
S$14.50
Chicken Wings
Tender chicken wings breaded and deep fried, served with chilly sauce.
S$14.00
Tender Chicken Strips
Cajun marinated tender chicken fillets with honey mustard and fried to perfection.
S$13.00
Calamari
Fried squid rings served with tartar sauce
S$12.00
Falafel
S$16.00
Prawn Star
Medium sized prawns tossed with mustard seeds, curry leaves, ginger, garlic and chillies. This is an appetizer with goes well with both Pita bread and Indian breads.
S$22.00
Lamb Sheekh
S$14.00
Soup
Choice of tomato or spinach soup.
S$8.50
Caesar Salad
Baby romaine, parmesan, boiled egg and homemade parmesan dressing.
S$11.00
Fresh Green Salad
S$8.00
Wraps
Tortilla or Naan bread, Choice of filling – cottage cheese, chicken tikka lamb seekh kebab
S$14.00
Chaat
Chana/papri chaat – crunchy, tangy, hot & sweet flavours combined to make delicious Indian street food
S$13.00
Masala Papad Masala Papad
Roasted papadums garnished with fresh chopped tomato, coriander, onion, lemon juice and Indian chaat masala.
S$8.00
Greek Salad
Combination of onion, green and red capsicums, olives, ice berg, baby romaine and feta cheese.
S$16.00
Chicken Tikka
S$14.00
Saffron Rice
Long grained basmati rice flavored with saffron.
S$8.00
Jeera Rice
Boiled basmati rice tossed with cumin seeds.
S$7.00
Steamed Basmati Rice
Long grained basmati rice boiled and steamed to perfection.
S$5.00
Tandoori Roti
S$4.50
Laccha Paratha
S$6.00
Plain Naan
S$5.00
Butter Naan
S$5.50
Garlic Naan
S$6.00
Cheese Naan
S$6.50
Missi Roti
Combination of wheat and gram flour
S$5.50
Kulcha
S$7.00
Chilli Cheese Naan
S$7.00
Mix Raita
Yoghurt with onion, green chillies, tomatoes – a great creamy taste.
S$6.00
Cucumber Raita
Yoghurt with grated cucumber – a creamy dip delight.
S$6.00
Coke
S$5.00
Coke Light
S$5.00
Sprite
S$5.00
Soda
S$5.00
Tonic Water
S$5.00
Still Mineral Water
S$5.00
Sparkling Mineral Water
500ml
S$7.00
Ras Malai
Ras-malai is a combination of two words, ras meaning juice and malai meaning cream. It's a rich cheese cake without crust soaked in sweetened milk flavored with saffron and garnished with pistachio flakes
S$9.00
Gulab Jamun
Traditional Indian dessert, spongy milky dumpling soaked in sugar syrup, served best with vanilla ice cream.
S$8.00
Brownie
A rich chocolate cake served with hot melted chocolate.
S$8.00
All the prices & Pictures are taken from the following official sources of Anglo Indian Singapore