Last Updated on September 28, 2023
Hello Italian food lovers, are you looking for the latest Tipo Pasta Bar Singapore Menu? You have arrived at the right place then. We have uploaded their complete menu with pictures and updated prices. Tip Pasta Bar prices are taken from the official sources of Tipo Pasta Bar Singapore.
TIPO PASTA BAR MENU SINGAPORE 2023
Tipo Pasta Singapore menu can be categorized as Bites, House Specials, Drinks & Desserts. You can Build your own Pasta too. Now let's see these in detail one by one.
TIPO BAR BITES PRICES
MENU
PRICE
MELON SALAD
Rock melon with watercress and mint salad, green tahini, candied spiced hazelnuts and crumbled feta
SGD 8.90
BURRATA
Burrata with kiwi, mint vinegar, basil oil and almond focaccia crumble
SGD 23.90
CALAMARI
Battered calamari served with smoked onion sour cream
SGD 16.90
WHITE BAIT
Crispy white bait seasoned with kombu salt
SGD 14.90
BRUSCHETTA
Toasted focaccia with roma tomatoes marinated in olive oil, garlic and basil
SGD 7.90
TRUFFLE TRAMEZZINI
Beef bacon, mozzarella and truffle mayonnaise in brioche
SGD 15.90
CITRUS VONGOLE
White clams and orange segments in a concoction of clam jus and orange reduction
SGD 12.90
TIPO PASTA BAR HOUSE SPECIALS
MENU
PRICE
CHILLY CRAB
Lump crab in pomodoro with chili flakes and chili padi
SGD 14.80
FANCY FENNEL
Extra virgin olive oil with fennel, capers, kalamata olives and dill
SGD 15.60
GREAT GORGONZOLA
Gorgonzola cream with caramelized onions and parsley
SGD 22.50
CLASSY CARBONARA
Smoked duck in creamy sauce made from egg yolks and grana padano, topped with a sous vide egg
SGD 17.60
ABSOLUTE ALFREDO
Swiss brown mushrooms, smoked chicken and parsley in a cream sauce
SGD 16.70
AGLIO ALRIGHT
Tiger prawns with extra virgin olive oil, garlic confit, sous vide egg and shaved grana padano
SGD 17.60
MUSHROOM MADNESS
Mushroom medley, cep mushroom stock, kombu,
truffle pate and truffle oil
SGD 24.50
PRESTO PESTO
Pesto with smoked salmon and caramelized cherry tomatoes
SGD 19.60
SEAFOOD SENSATION
Tiger prawns and white clams in pomodoro
SGD 17.70
ROYAL RAGU
Shredded beef and cherry tomatoes in beef jus topped with grana padano
SGD 18.90
PLUCKY PEPPERS
Red pepper sauce with chicken, caramelized tomatoes and crumbled feta
SGD 18.60
You can build your own pasta too. All pastas are served 120 g for 9.9 dollars & you can upsize your pasta for an additional 50 g at 3.00 dollars. Tipo Pasta Bar is considered as one of the best Italian restaurants in Singapore.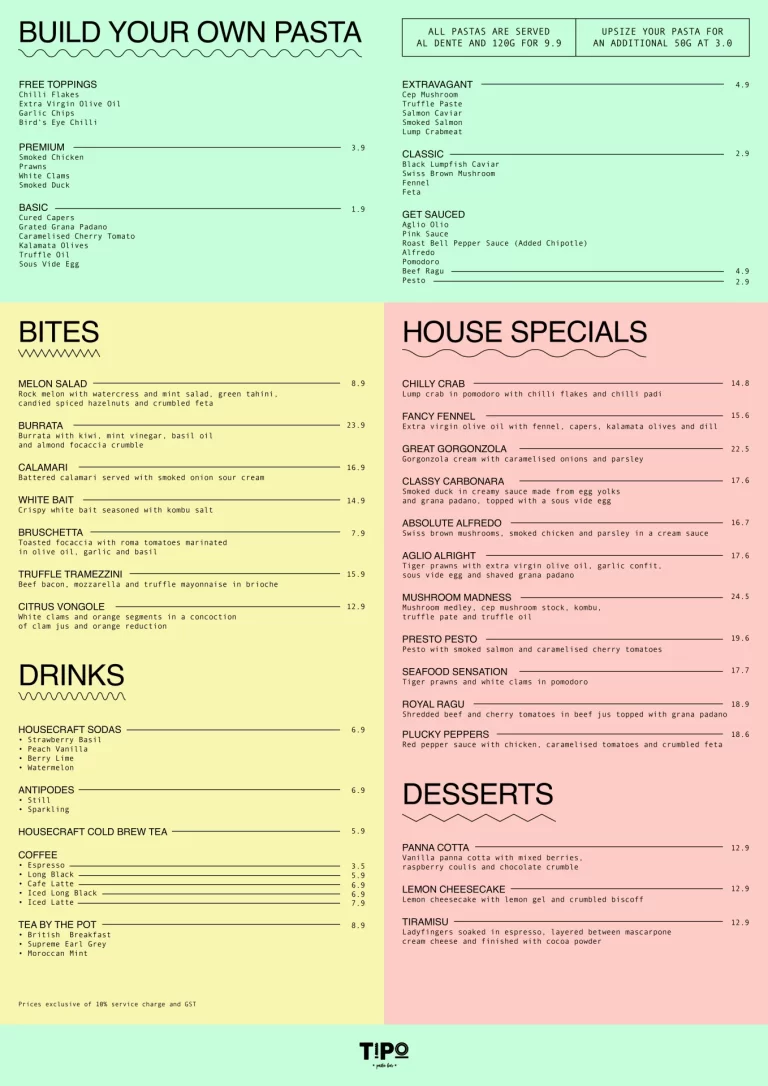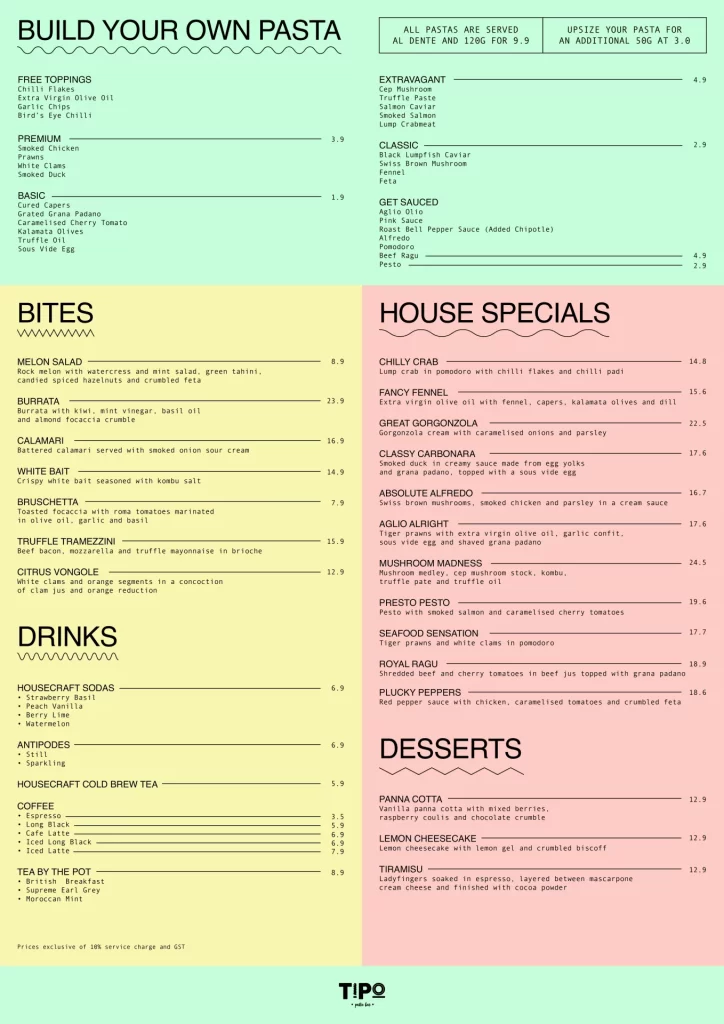 See Also : Dancing Crab Menu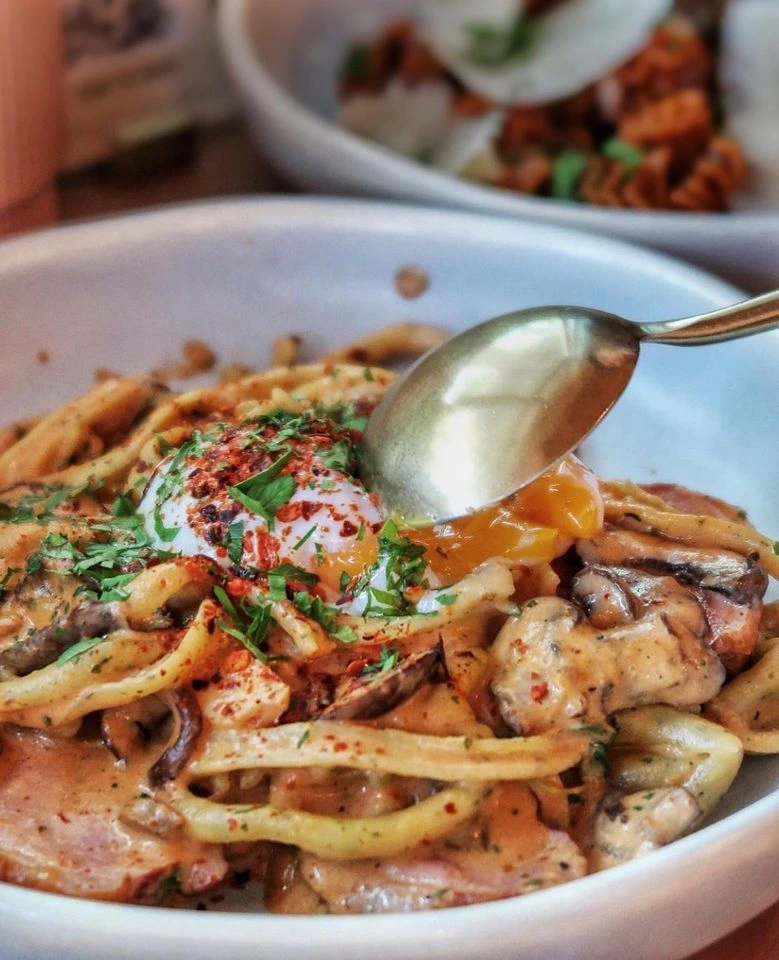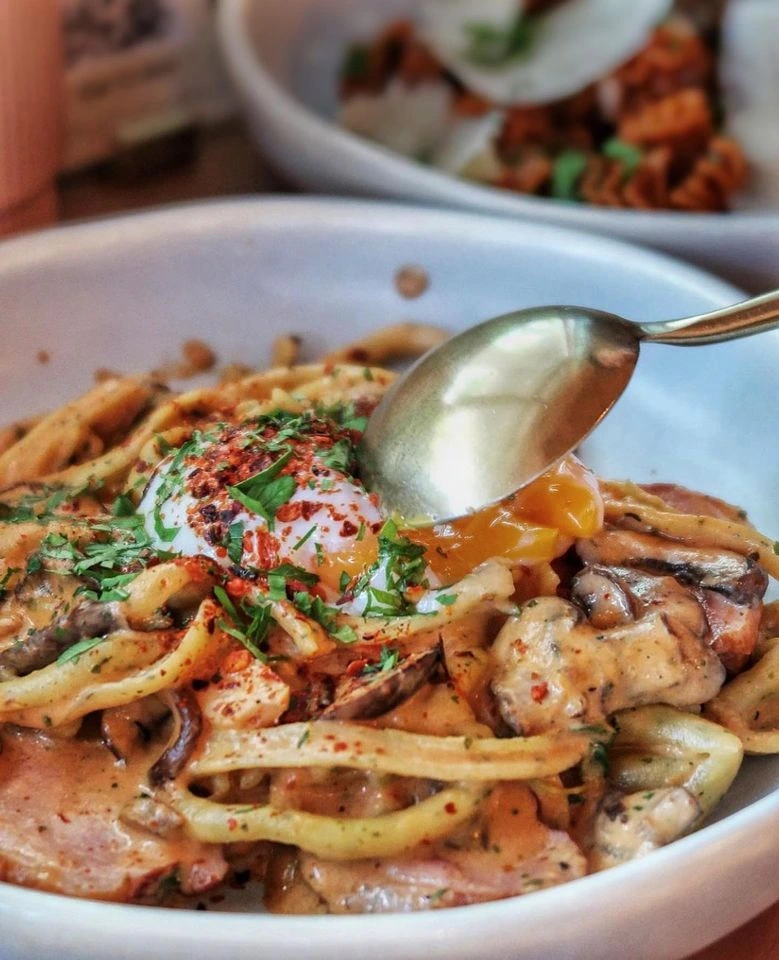 TIPO BEVERAGES MENU WITH PRICE
HOUSECRAFT SODAS – SGD 6.90

Strawberry Basil
Peach Vanilla
Berry Lime
Watermelon

ANTIPODES – SGD 6.90
HOUSECRAFT COLD BREW TEA – SGD 5.90
COFFEE

Espresso – SGD 3.50
Long black – SGD 5.90
Cafe Latte – SGD 6.90
Iced Long Black – SGD 6.90
Iced Latte SGD 7.90

TEA BY THE POT – SGD 8.90

British Breakfast
Supreme Earl Grey
Moroccan Mint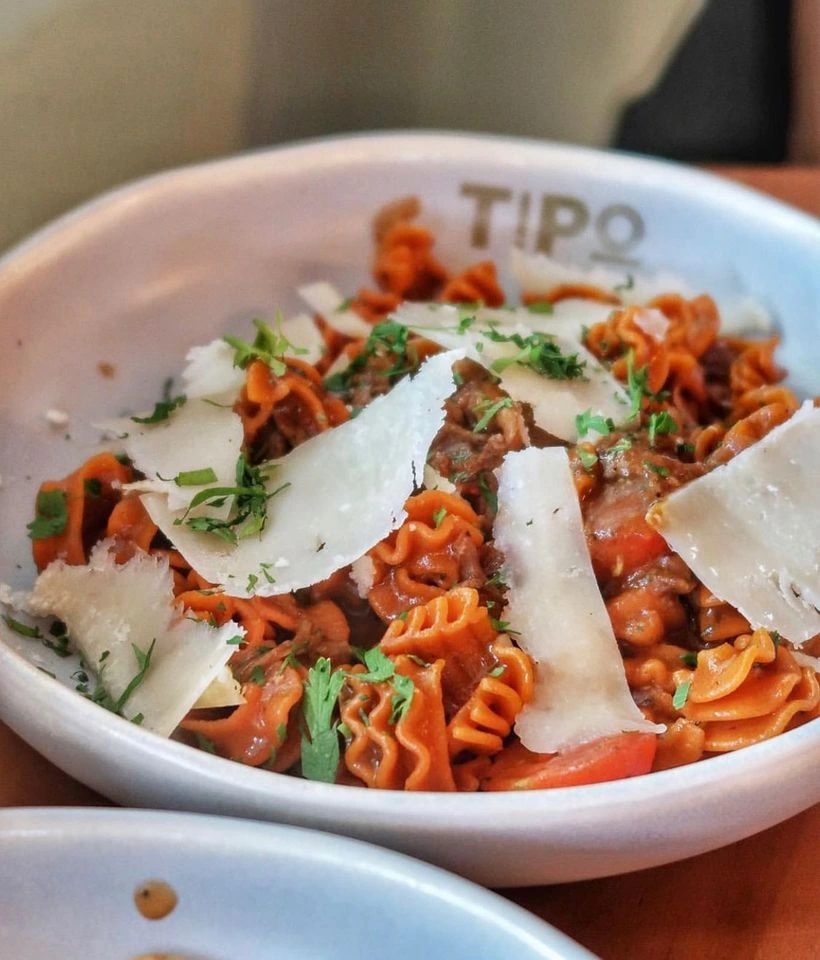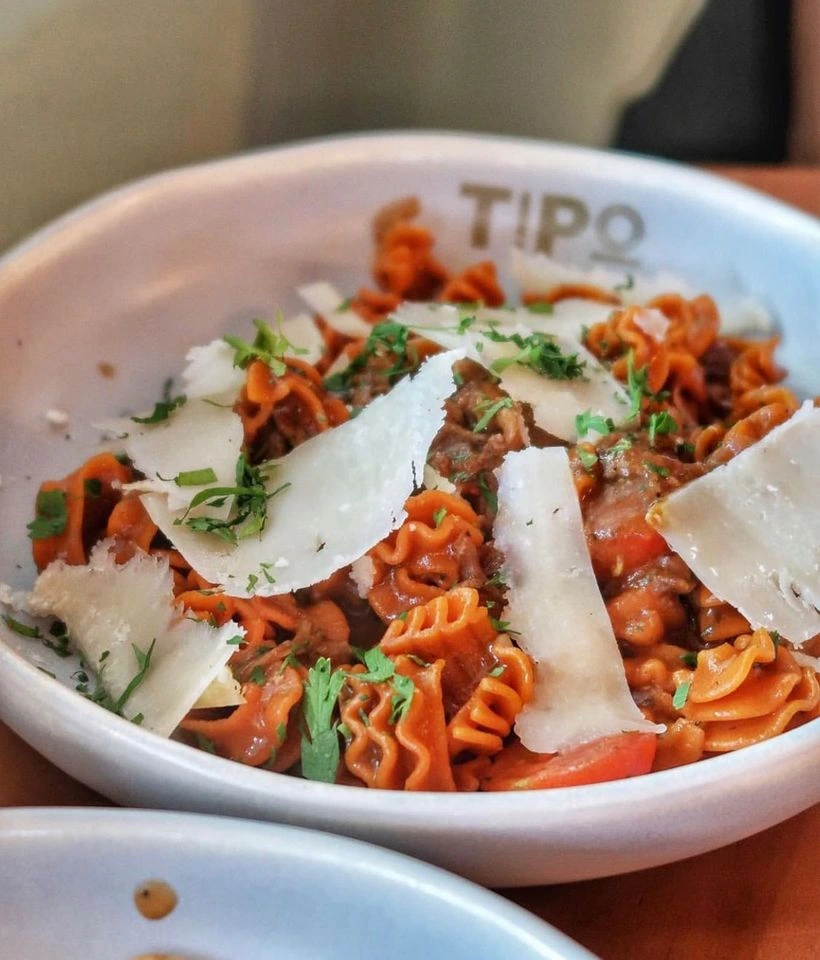 TIPO PASTA BAR DESSERTS MENU PRICES
MENU
PRICE
PANNA COTTA
Vanilla panna cotta with mixed berries, raspberry coulis and chocolate crumble
SGD 12.90
LEMON CHEESECAKE
Lemon cheesecake with lemon gel and crumbled biscoff
SGD 12.90
TIRAMISU
Ladyfingers soaked in espresso, layered between mascarpone cream cheese and finished with cocoa powder
SGD 12.90
Is Tipo Pasta Bar Singapore Halal?
Yes, Tipo Pasta Bar Singapore is Halal Certified.
Tipo Pasta Bar – Reservation & Contact Details
Tipu Pasta Bar Singapore can be reserved by clicking HERE. For Further details you can call them at +65 8768 0785. Reserve your table in advance for a nice experience with amazing Italian food.
Tipo Pasta Bar – Location & Operating Hours
28 Aliwal Street #01-07
Aliwal Arts Centre
Singapore 199918
Sunday to Thursday
11am to 10pm
(Last Order 9.30pm)
Friday & Saturday
11am to 11pm
(Last Order 10.30pm)
All the prices and images are taken from the following official sources of Tipo Pasta Bar Singapore.