Last Updated on July 8, 2023
Are you looking for the Marriott cafe menu prices? your search is over here as we bring you the latest Marriot cafe singapore menu and price list. The prices are sourced directly from the Marriott cafe outlet. I have added my favorite items of the Marriot cafe menu at the end. Below is the complete menu of Marriot cafe.
Marriott Cafe Menu Prices 2023
Marriott Cafe Singapore menu can be categorized as Starters, Soups, Salad, Sharing, Main, Pasta & Rissotos, Sandwiches & Burger, Desserts and Signature. Let's see them in detail one by one.
Marriot Cafe Starter Prices
MENU ITEMS
PRICES
Assorted Satay (Half Dozen)
beef, chicken, mutton, ketupat. peanut sauce
SGD 18.00
Prawn Cocktail (One Dozen)
homemade cocktail sauce, lemon
SGD 32.00
Marriot Cafe Sharing MENU Prices
MENU ITEMS
PRICES
Spicy Buffalo Chicken Wings
hot sauce
SGD 12.00
Bruschetta
olive pâté. tomatoes, bell pepper capónate
SGD 15.00
Cod Fish Croquettes (5 Pieces)
harissa aiok
SGD 18.00
Parmesan Truffle Fries
SGD 18.00
Salt & Pepper Calamari
chipotie mayonnaise
SGD 20.00
Marriot Cafe Local Prices
MENU ITEMS
PRICES
Mee Goreng
wok-fried ye«ow noodles, spicy shrirrp paste, egg, chye Sim with Seafood
SGD 28.00
Mee Goreng
wok-fried ye«ow noodles, spicy shrirrp paste, egg, chye Sim with Chicken

SGD 24.00
Yang Chow Fried Rice
Chinese sausage, barbecue pork, shrimp, fried egg
SGD 24.00
Singapore Laksa Lemak
rice noodles, quail egg. bean curd, fish cake, spicy coconut gravy with prawns
SGD 25.00
Chicken Curry
coconut gravy, achar, steamed rice
SGD 26.00
Char Kway Teow
wok-fried rice 6 egg noodles, prawns, Chinese sausage, squid,fish cake, bean sprouts,
SGD 26.00
HokkienMee
rice & egg noodles, prawns, squid, pork belly, bean sprouts
SGD 26.00
Hainanese Chicken Rice
chicken broth, ginger, chilli, dark soy sauce
SGD 26.00
Nasi Goreng
Indoncsian-stylefricd rice, sunny side-up egg. achar.
chicken satay. chicken drumstick, peanut sauce, prawn crackers
SGD 28.00
See Also: JW Marriott Menu
Marriot Cafe BURGERS AND SANDWICHES prices
MENU ITEMS
PRICES
Marriott Club Sandwich
turkey, bacon, tomato, lettuce
SGD 22.00
Buttermilk Fried Chicken Burger
red cabbage slaw, gherkin«, spicy mayonnaise
SGD 26.00
Grain-fed Australian Beef Steak Sandwich
portobello mushroom, caramelised onion, watercress, provolone. gnlcd sourdough
SGD 28.00
Marriott Burger
100% ground Angus beef. Cheddar, tomato, crispy bacon, dil pickle
SGD 28.00
Impossible Burger
tomato, cucumber salsa, ralla, red onion, arugula. sesame bun
SGD 28.00
Angus Burger
100% Angus beef, bacon, brie, black game aioli, caramelised onion, tomato, sesame bun
SGD 32.00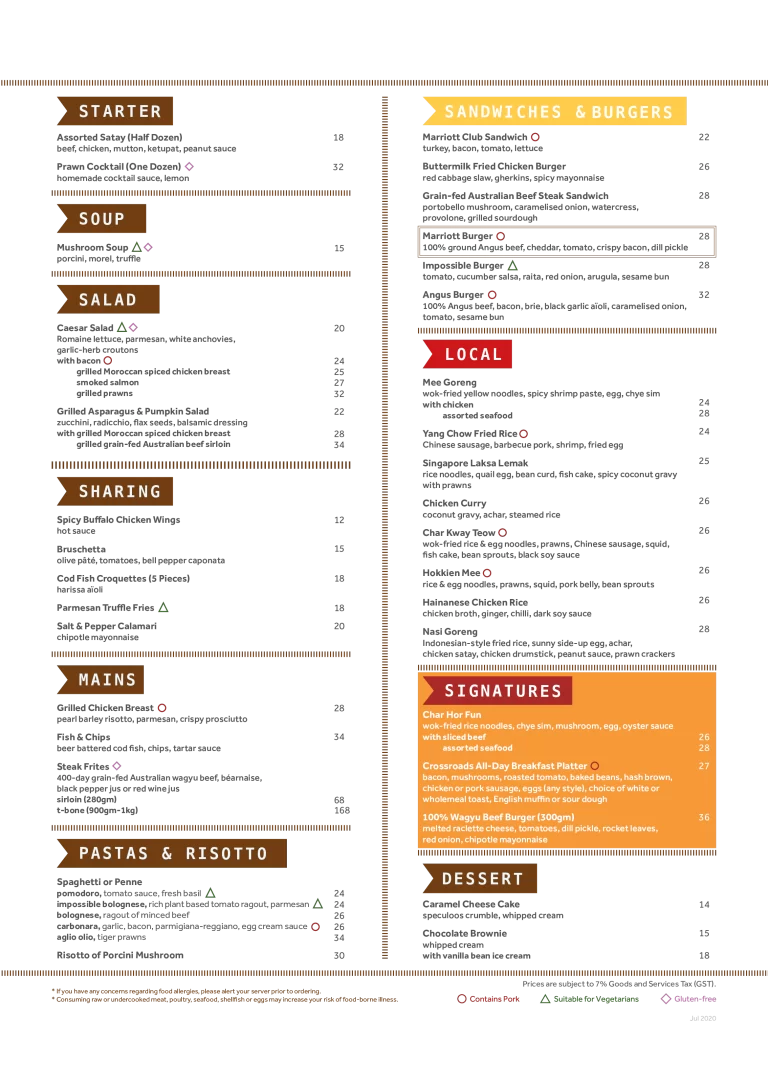 SG's favorite Marriot cafe menu items:
Yang Chow Fried Rice
Chinese sausage, barbecue pork, shrimp, fried egg S$ 24.00
Chicken Curry
coconut gravy, achar, steamed rice S$ 26.00
Singapore Laksa Lemak
rice noodles, quail egg, bean curd, fish cake, spicy coconut gravy with prawns S$ 25.00
Grilled Chicken Breast
pearl barley risotto, parmesan, crispy prosciutto S$ 28.00
Steak Frites
400-day grain-fed Australian wagyu beef, béarnaise, black pepper jus or red wine jus S$ 68.00
Spicy Buffalo Chicken Wings
hot sauce S$ 12.00