Last Updated on June 14, 2023
Hello foodies are you looking for the latest Georges menu prices? You have arrived at the right place. We have uploaded their complete menu with updated prices. Prices are taken from the official sources of Georges Singapore.
Georges Menu Singapore 2023
NIBBLES
MENU
PRICE
Garlic Bread Basket
5 slices of toasted bread with garlic
SGD 5.24
Jumbo Fries
Golden crisp thick cut tartar fries
SGD 6.96
Ikan Bilis
Coated anchovies and flavor
SGD 7.38
Georges Wings
Georges Wings
SGD8.45
Sotong Balls
8 Pcs of fried squid balls
SGD9.52
Luncheon Chips
Served with BBQ sauce & fresh onions
SGD11.66
Top Shell
Marinated top shell with spicy & tangy dressing
SGD 11.66
Homemade Fish Fingers
Deep-fried fish slices served with tartar sauce
SGD 12.73
Satay
1 Dozen. Comes with ketupat
SGD 17.01
German Bratwurst
Grilled pork sausage served with mustard
SGD 13.80
Crispy Chicken Strips
Always finger licking good
SGD 12.73
Georges Sliders
3 Mini beef burgers with bacon & cheese
SGD 17.01
Onion Rings
Basket of crispy onion rings
SGD 7.38
Vegetable Nachos
Served with homemade salsa & cheese dip
SGD 10.59
Crispy Soft Shell Crab
Deep-fried in crispy Japanese flour served with tempura dipping sauce
SGD 18.08
Buffalo Wings
Deep-fried drumlets coated with american devil red hot sauce
SGD 11.66
Crabmeat & Prawn Chowder
Bouillon Velouté stew in vegetable with prawn, crab meat topping and crushed crouton
SGD 11.66
Chicken Skin
Fried until crispy, tossed with salt and pepper
SGD 9.63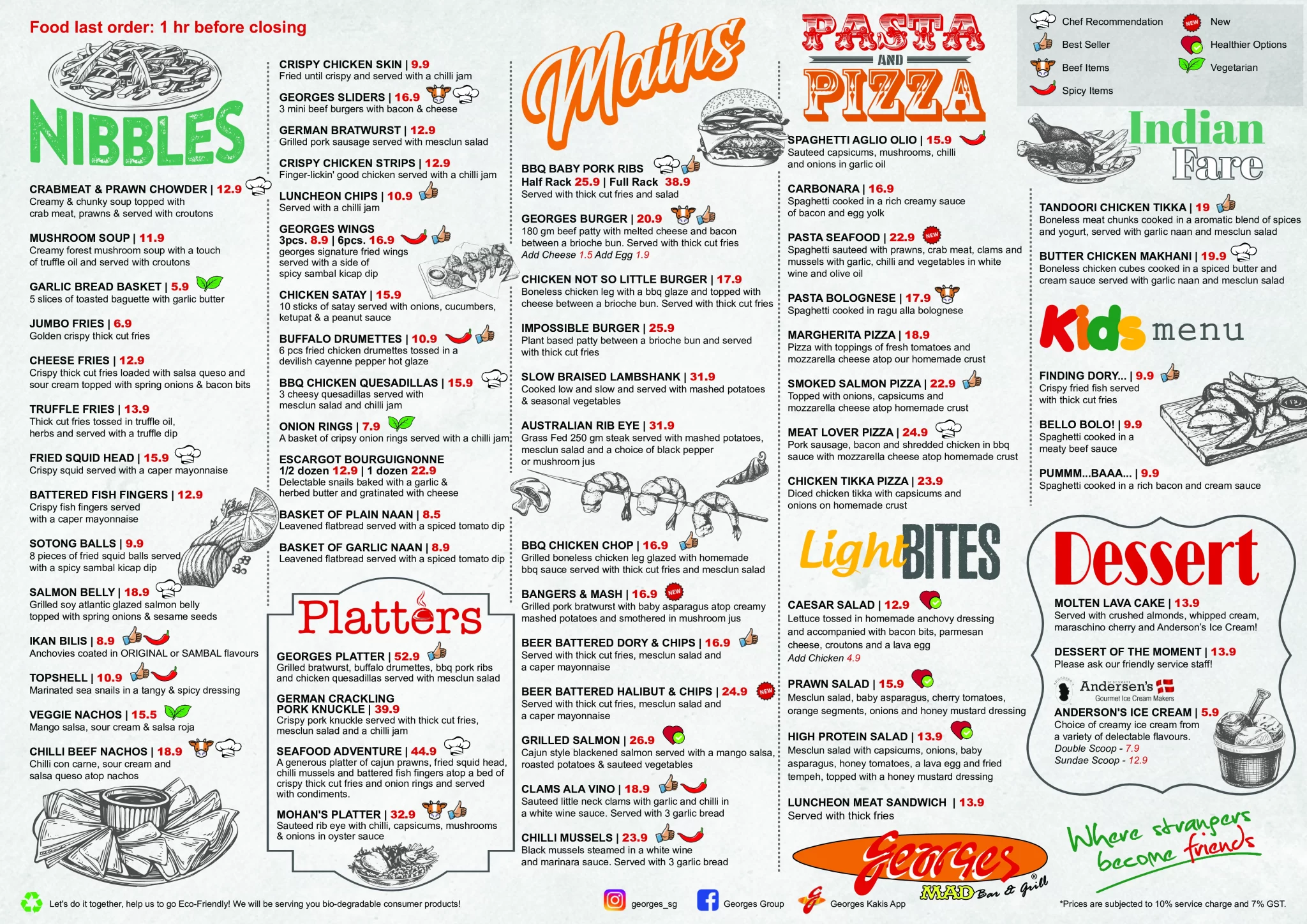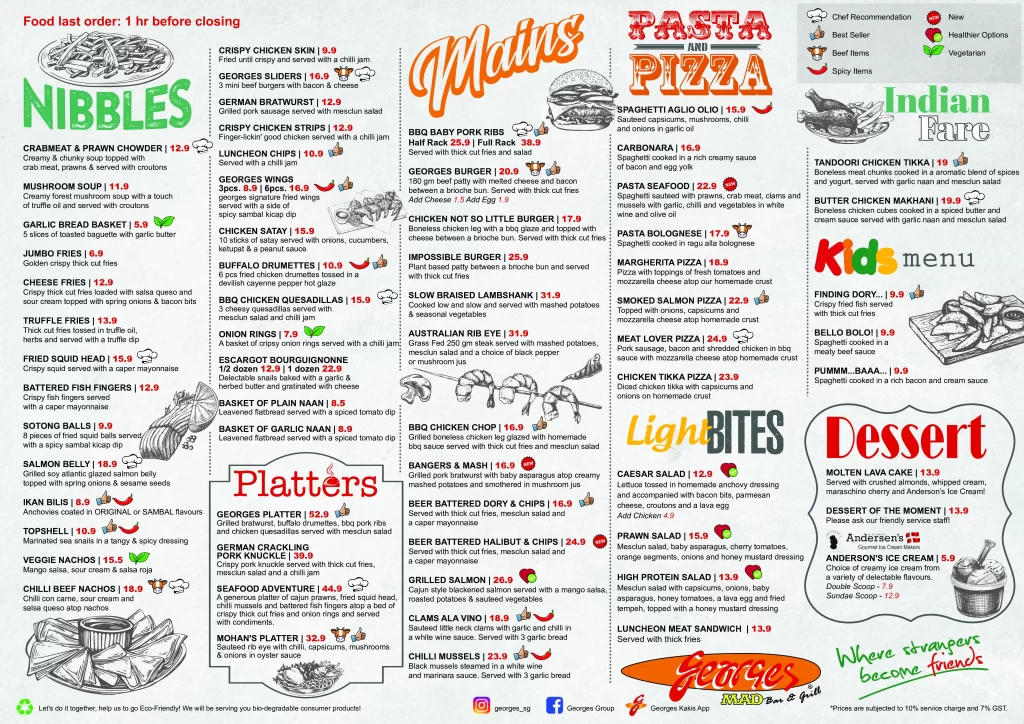 MAIN MENU
MENU
PRICE
Georges Cop-The-Lot Burger
180g homemade beef patty, soft brioche bun with melted cheese & double bacon, served with fries
SGD 21.29
Grain Fed Argentina Ribeye
200g steak served with homemade mash & salad
SGD 26.64
Impossible Burger
Soft brioche bun with plat base patty
SGD 26.64
BBQ Chicken
Grilled Boneless chicken leg in homemade bbq sauce served with fries & salad
SGD 18.08
Salmon Fillet With Mango Salsa
Served with roasted herb potato, green vegetables & mushroom
SGD 26.64
Clam Ala Vino
Sauteed with white wine sauce, garlic, chilli flakes & garlic bread
SGD 18.08
Garlic Chilli Mussels
500g of black mussels served in tomato parsley sauce with garlic bread
SGD 21.29
See Also: Korean Laksa House Menu
PASTA
MENU
PRICE
Bolognese
Ragu alla bolognese with spaghetti
SGD 18.08
Vongole
Spaghetti sauteed with clams
SGD 19.15
Aglio Olio
Sauteed with garlic, olive oil with fresh capsicum & mushrooms
SGD 17.01
Carbonara
Rich cream sauce with bacon
SGD 18.08
BEVERAGES MENU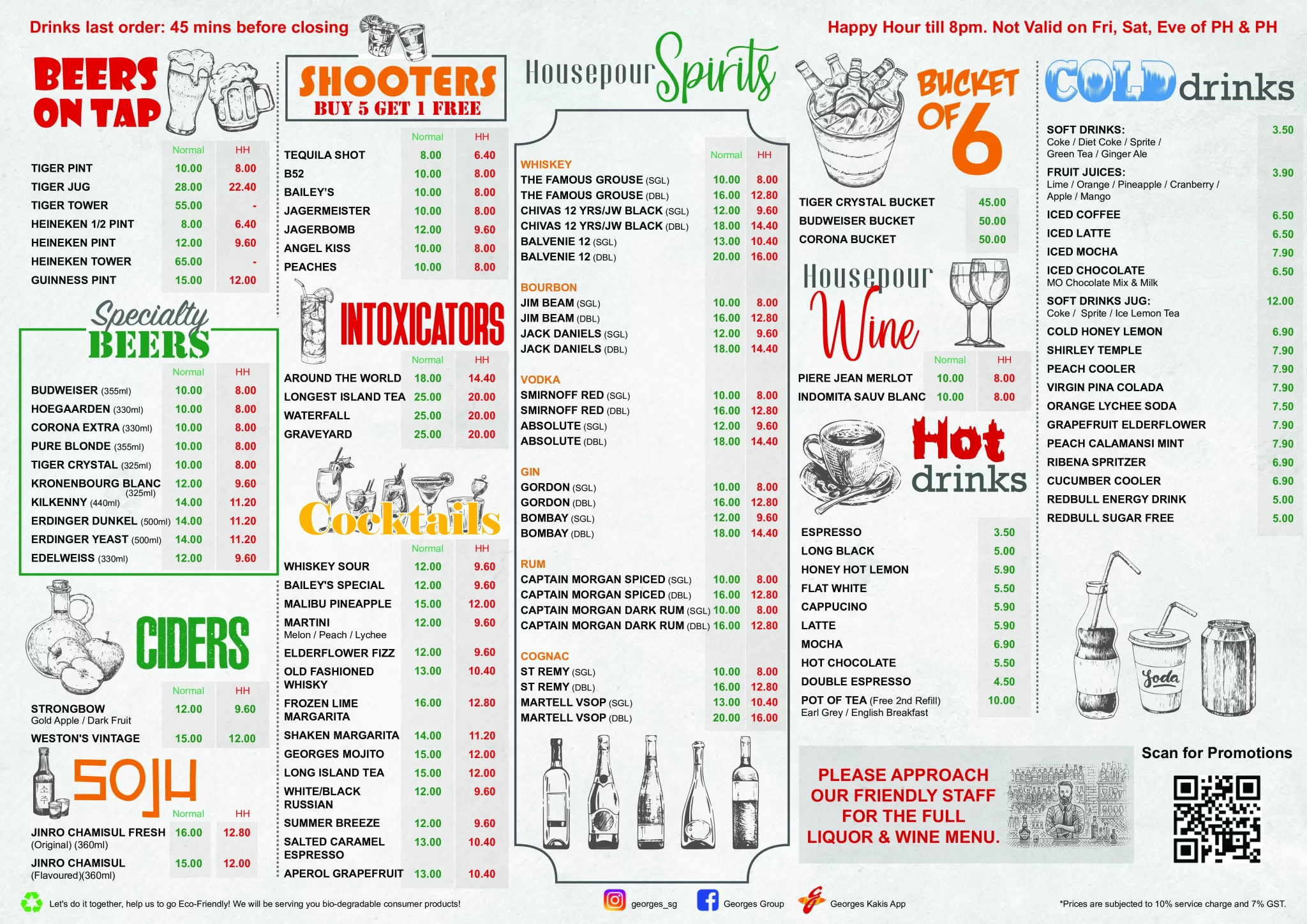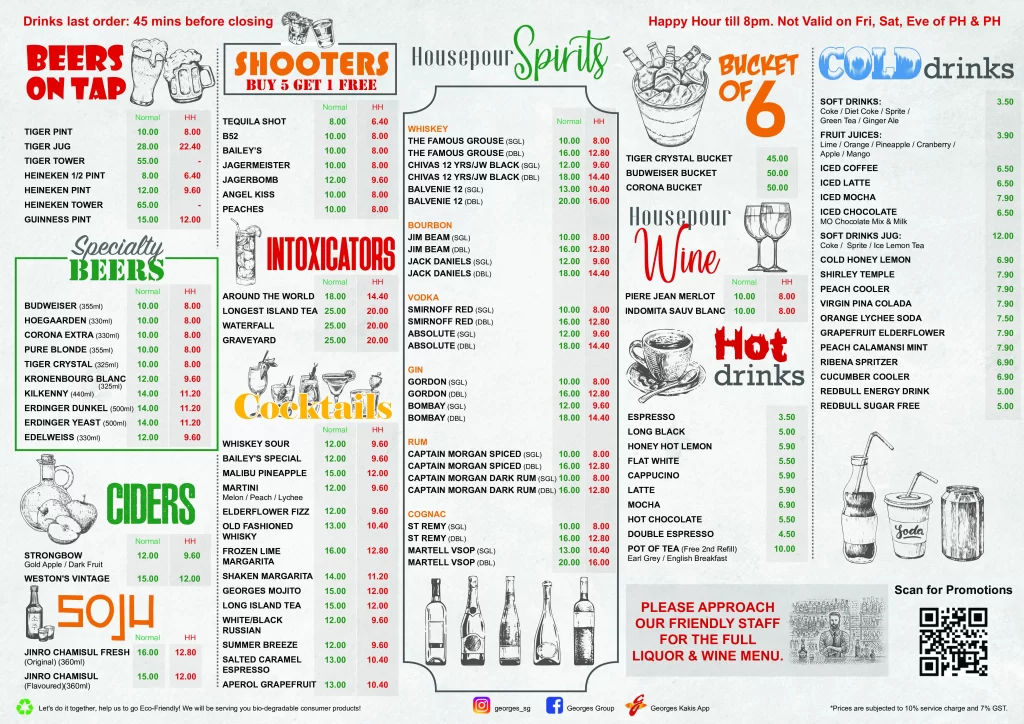 See Also : Koi Menu
Georges Serve Non Halal Food
Georges use pork as one of their ingredients and they serve alcoholic beverages, and for that reason they are not Halal.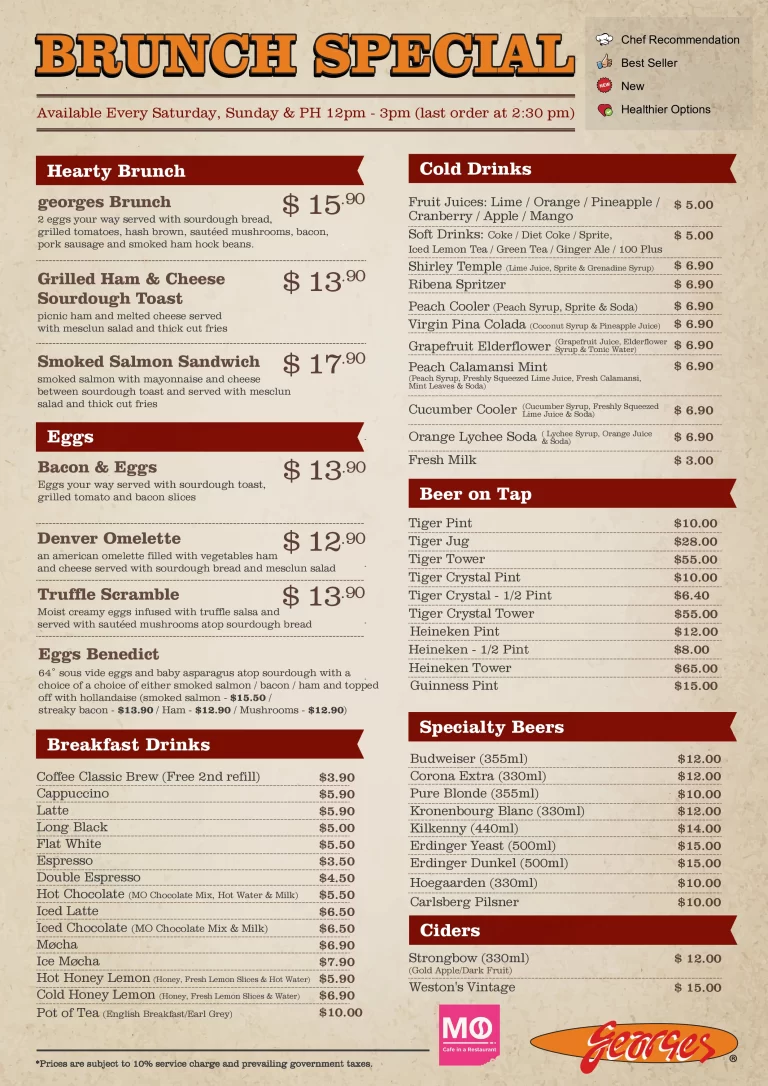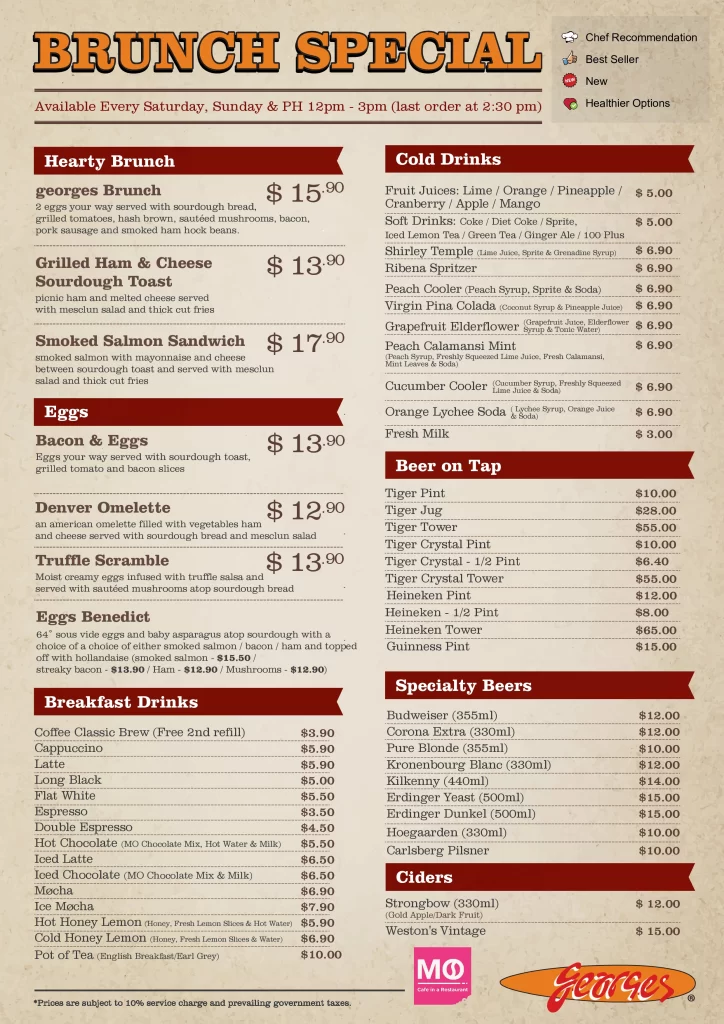 ADDRESS
Here is the link to their official Facebook Page : Georges Singapore