Last Updated on July 21, 2023
Hello noodle and soup lovers, are you looking for the latest Estate menu prices? You have arrived at the right place then. We have uploaded their complete menu with pictures and prices. Prices are taken from the official sources of Estate Singapore.
ESTATE MENU 2023
Estate Singapore menu can be categorized as Lunch, Dinner, and Seafood. Let's see them in detail one by one.
ESTATE LUNCH MENU WITH PRICES
MENU ITEMS
PRICE
Kimchi Risotto
Herb-Marinated Roast Beef Sirloin
Peruvian-Style Roasted Organic Chicken
Smoked Pork Belly
Nasi Kerabu
Prawn Masala
Cantonese-Style Salted Fish with Pork Belly
Singapore-Style Fish Noodles
Strawberry Crème Panna Cotta
Mango Pomelo Pudding
Menu SGD 72.00++
Weekend SGD 78.00++
ESTATE DINNER PRICES
MENU ITEMS
PRICE
Raw & Seafood Bar
Estate Black Truffle Roasted Duck
Whole Roasted Lamb
Whole Barramundi
Grilled Skewers
Gluten-Free Octopus Curry Puff
Beef Bourguignon with Pomme Purée
Kam Heong Clams with Omelette
Wok-Fried Angus Beef Fillet
Cantonese-style Wagyu Beef Handmade Noodles
Szechuan-style Spicy and Soup
Hong Kong-style Chicken Ball Congee
Handcrafted Dessert Jars & Artisanal Cakes
Menu SGD 88.00++
Weekend SGD 108.00++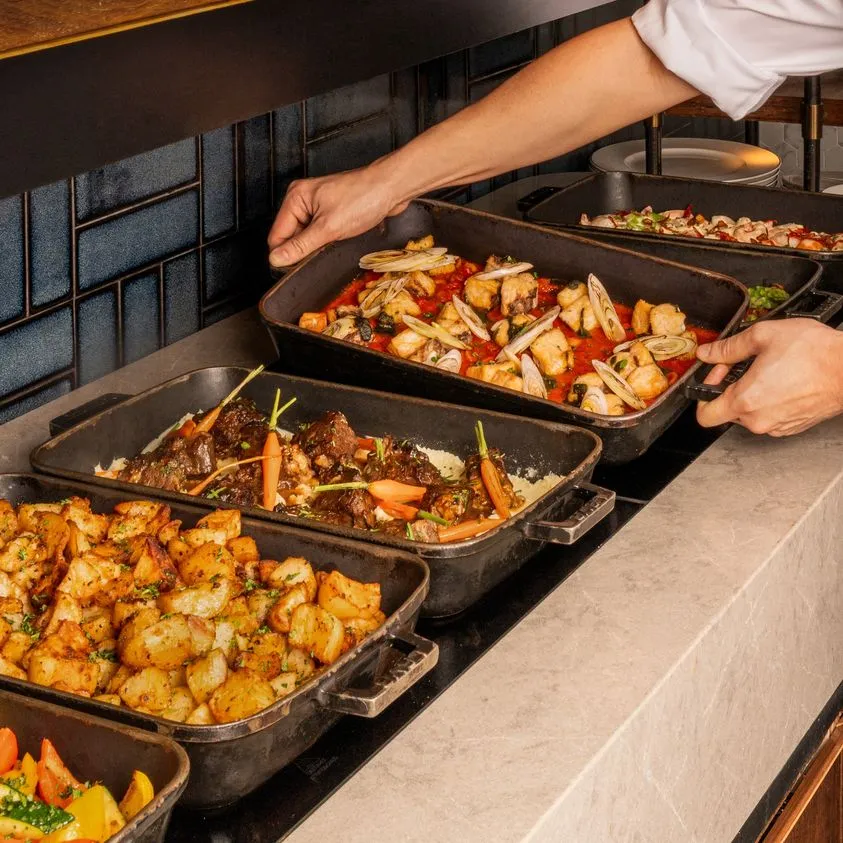 See Also: 28wilkie Menu
ESTATE MENU SEAFOOD PRICES
MENU ITEMS
PRICE
Maine Lobster
Snow Crab
Crab Rillette with Avocado
Lobster and Crab Bisque
Lobster Thermidor
Soft-shell Crab Burger
Lobster Tagliatelle
Large Jumbo Crabs cooked in different styles
Crispy Cheong Fun with Soft-shell Chill Crab
Menu SGD 158.00++
IS ESTATE HALAL?
NO. Estate Singapore is not Halal Certified.
ESTATE SINGAPORE OPENING HOURS
Open Daily: 6:30 am to 10 pm
Breakfast: 6:30 am to 10:30 am (Mon – Sun)
Lunch Buffet: 12 pm to 2:30 pm (Mon – Sat)
Dinner Buffet: 6:30 pm to 10 pm (Mon – Sun)
Sunday Brunch: 12 pm to 3 pm
All the images and prices are taken from the following official sources of Estate Singapore.