Last Updated on May 2, 2023
Hello Foodies, are you looking for the teppan kappou kenji menu prices? You have arrived at the right place then. We have uploaded their full menu with prices. Prices are obtained from the official sources of Teppan Kappou Kenji.
SG's favorite items Teppan Kappou Kenji menu are.
Gyu Don Set
Chirashi Sushi
Tep Mushroom Rice
Tep Asparagus Tamago
Tep Seafood rice
Teppan Kappou Kenji Menu 2023
Menu
Price
Express Set Menu
Salmon Negitoro Don
S$14.00
Zuke Don
S$20.00
Chirashi Sushi
S$30.00
Unagi Set
S$32.00
Gyu Don Set
S$16.00
Negi Gyudon Tamago Nose Set
S$18.00
Kimchi Gyu Don Tamago Nose Set
S$18.00
Una Gyu Don Set
S$27.00
Yakiniku Don Set
S$30.00
Tep Chicken (Teriyaki/Rock Salt)
S$17.00
Tep Chicken Rice
S$17.00
Tep Mushroom Rice
S$17.00
Tep Seafood Rice
S$20.00
Tep Asparagus Tamago
S$14.00
Tep Asparagus Tamago
S$14.00
Assorted Mushroom
S$17.00
Mixed Vegetables
S$17.00
Seafood
Salmon Garlic Butter
S$17.00
Tuna Pepper Steak
S$17.00
Tiger Prawn
S$14.00
Meat Steak
Chicken (Teriyaki/Oroshi/Salt Pepper)
S$17.00
Iberico Pork Loin
S$30.00
Rice/Noodles
Garlic Rice
S$10.00
Mushroom Garlic Rice
S$14.00
Seafood Garlic Rice
S$17.00
Beef Garlic Rice
S$20.00
Chicken Garlic Rice
S$17.00
Soft Shell Crab Roll
S$17.00
Vegetables Roll
S$14.00
See Also : Different Taste Cafe & Restaurant Menu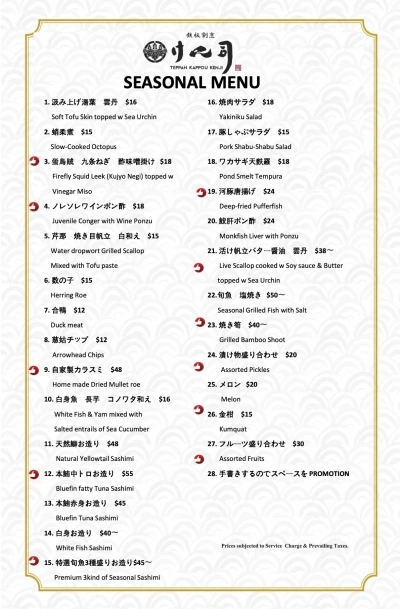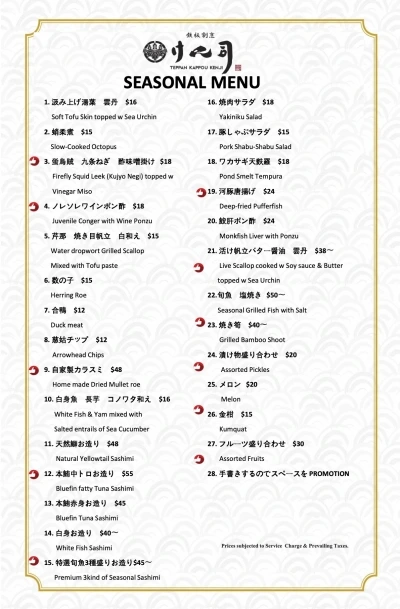 Teppan Kappou Kenji Serves Non Halal Menu
Address