Last Updated on May 2, 2023
Hello foodies, are you looking for the latest SKAI Menu Prices? You have arrived at the right place then. We have uploaded their complete menu with pictures and updated price. Prices are taken from the official sources of SKAI Singapore.
SKAI MENU PRICES 2023
SKAI Singapore A La Carte menu includes The House of Kaviari, Artisanal Beef, Sharing Cuts, Sides, Mains, Small Plates, Sides 8, Desserts, & Kids Menu. Lets explore them in detail one by one.
SKAI THE HOUSE OF KAVIARI PRICES
KAVIARI KRISTAL CAVIAR 30G @ SGD 150.00
From the sturgeon Acipenser Schrenki . This is the favourite caviar of
chefs and connoisseurs. Deep golden colour, firm in texture and
exhibiting classic nutty flavours.
KAVIARI OSCIETRE CAVIAR 15G @ SGD 75.00
Caviar from sturgeon Acipenser Gueldenstaedti. Its grains are
good-sized, regular, amber-coloured. Subtle and marine flavours
SKAI SOURCED ARTISANAL BEEF MENU PRICES
MIYAZAKI WAGYU, JAPAN, A4 @ SGD 135.00
100% Purebred Japanese Wagyu,
Crowned the "Champion Cow" from Miyachiku co-op
200g New York Strip
WESTHOLME, WAGYU, AUSTRALIA, MB5 @ SGD 95.00
Founded on champion Japanese wagyu bulls raised in Queensland
200g Tenderloin
WYLARAH, WAGYU, AUSTRALIA, MB8 @ SGD 125.00
100% Purebred Japanese Wagyu,
Born wild and raised on vast pastures in East Queensland
250g New York Strip
JOHN STONE, IRELAND, 32 DAYS DRY AGED @ SGD 95.00
The best Irish beef reared on the freshest, greenest grass in Ireland
300g Rib Eye
SAGA, WAGYU, JAPAN, A5 @ SGD 155.00
From the Saga prefecture known for its calm climate, clean air and water
160g Tenderloin
TENDERLOIN OSCAR @ SGD 115.00
Lump Crab Meat, Asparagus, Tarragon
225g Tenderloin
Comes with choice of one sauce and one side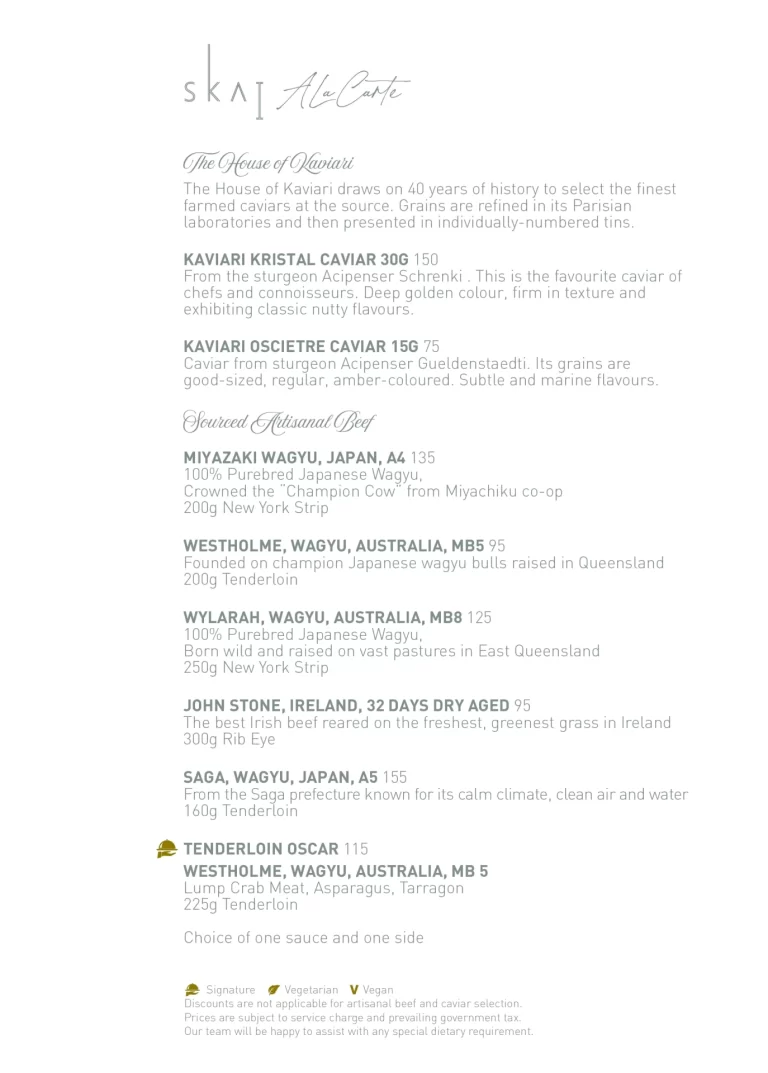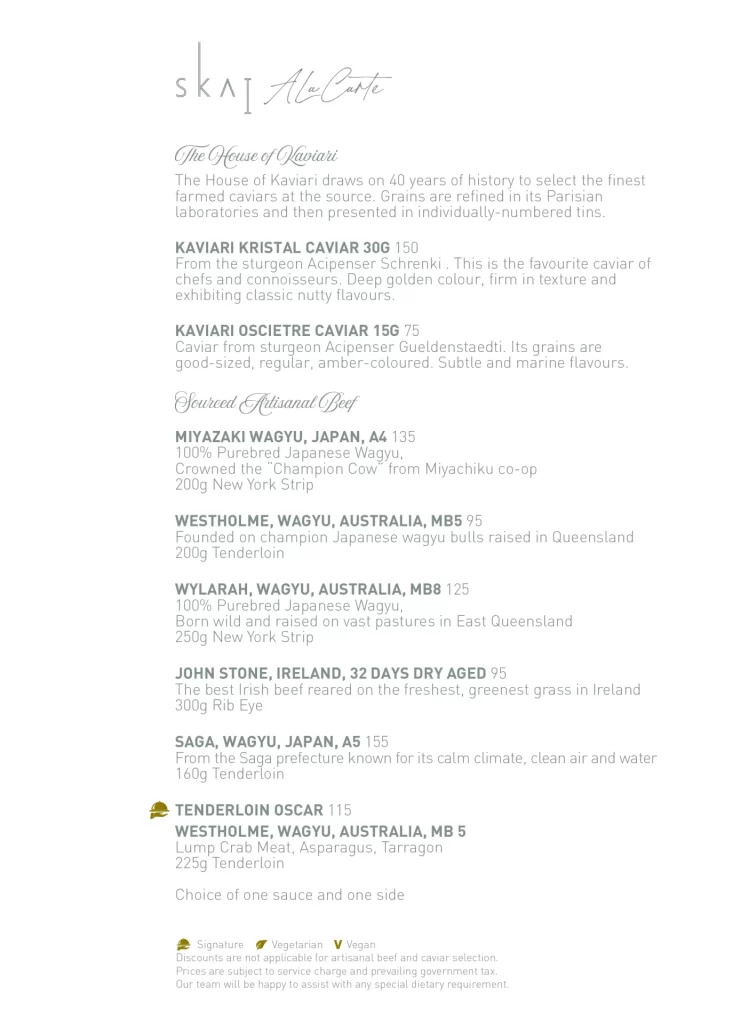 SKAI SHARING CUTS FOR 2 PRICES
JAC, AUSTRALIAN, F1 WAGYU (SIGNATURE) MB5 @ SGD 280.00
F1 Wagyu cattle with prominent Tajima Bloodlines
1kg Tomahawk
STANBROKE, BLACK ANGUS, AUSTRALIA, MB4 @ SGD 210.00
Raised on the lush green pastures in Northern Queensland
900g Porterhouse
Comes with choice of two sauce and two side
SKAI A LA CARTE SIDES PRICES
HOUSE SALAD
Ginger Honey Dressing
ROASTED MUSHROOMS
Parsley, Garlic
HOKKAIDO CORN
BBQ, Butter
HAND-CUT CHIPS
Tosaka Salt
ASPARAGUS
Rapeseed Oil, Yuzu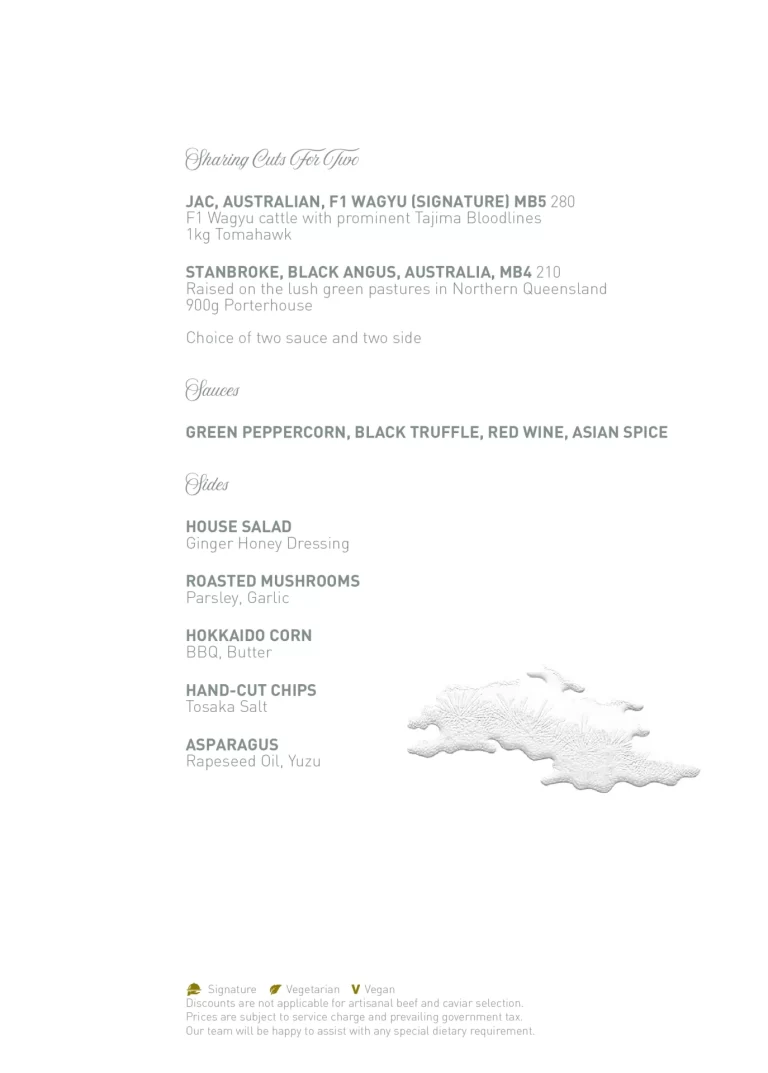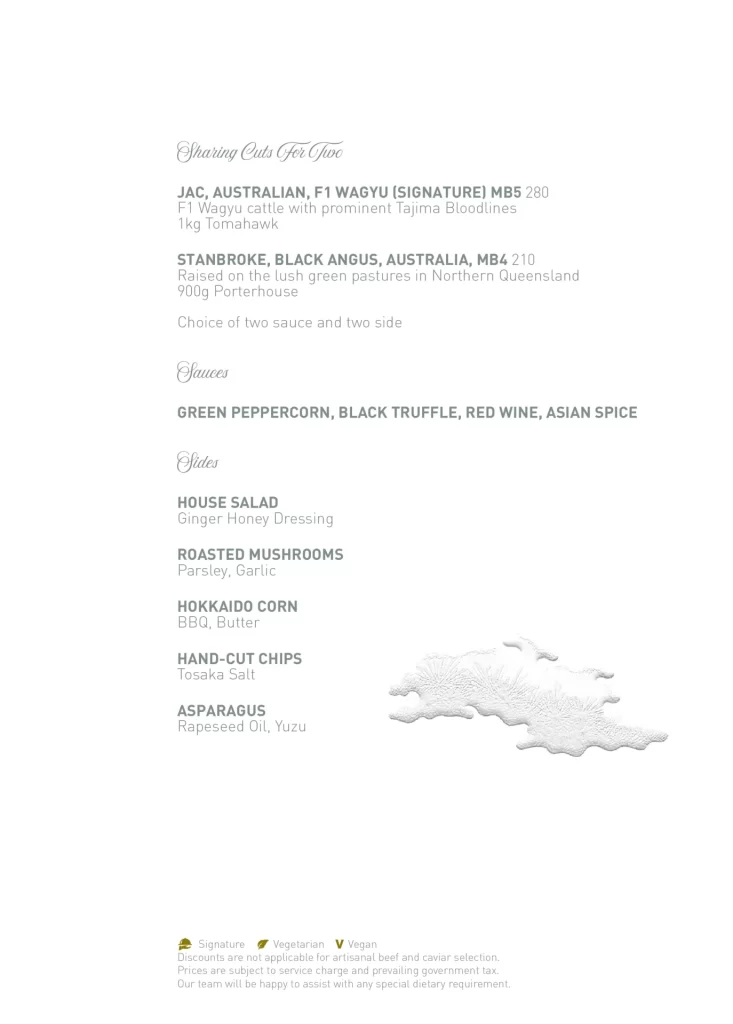 SKAI SMALL PLATES MENU WITH PRICE
CRAB CAKE @ SGD 36.00
Romanesco, Chili, Daikon Salad
IRISH OYSTERS 2 pieces @ SGD 20.00 | 4 pieces @ SGD 38.00 | 6 pieces @ SGD 56.00
Apple, Smoked Dashi, Wasabi
BLACKMORE WAGYU TATAKI @ SGD 28.00
Lotus, Kohlrabi, Ponzu, Smoked Roe
STUFFED SHIITAKE @ SGD 24.00
Pork, Ginger, Bacon Mayo, Katsuobushi,
SMOKED BURRATA @ SGD 22.00
Sudachi Avocado, Passion Fruit, Nori
SCALLOP & SALMON TARTAR @ SGD 26.00
Smoked Aioli, Tempura Anchovy, Yuzu
FOIE GRAS @ SGD 34.00
Mango, Spiced Popcorn, Peanut Satay
CRISPY TOFU @ SGD 20.00
White Miso, Cabbage, Kombu & Radish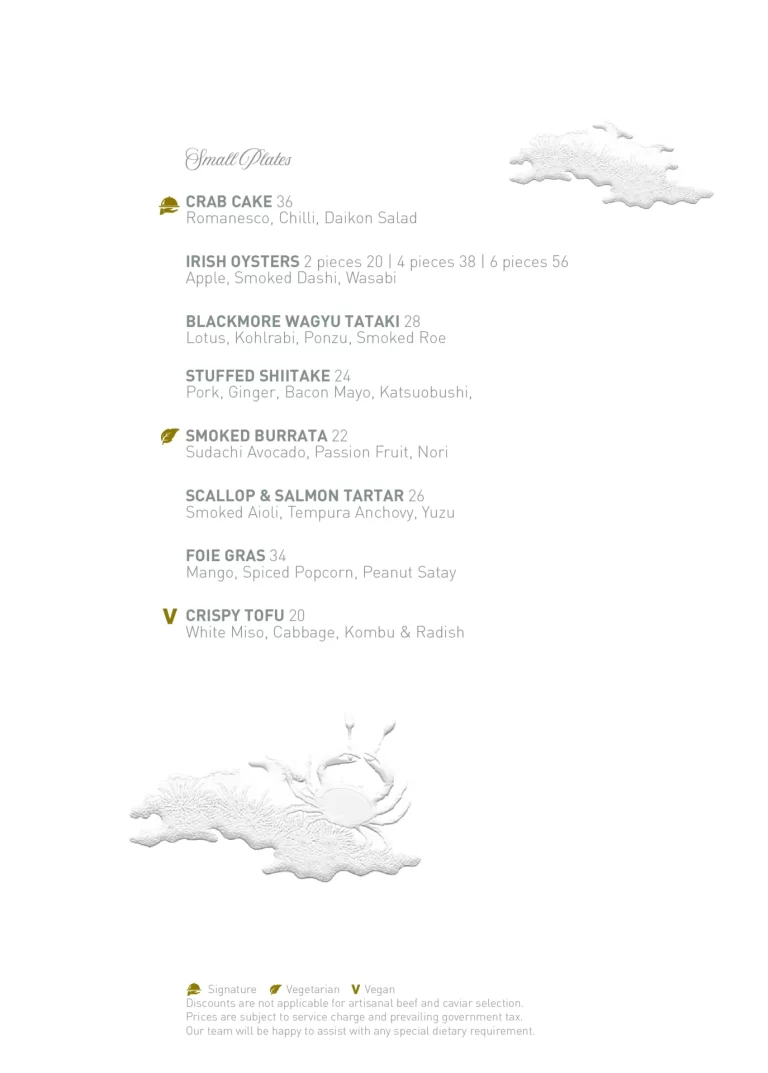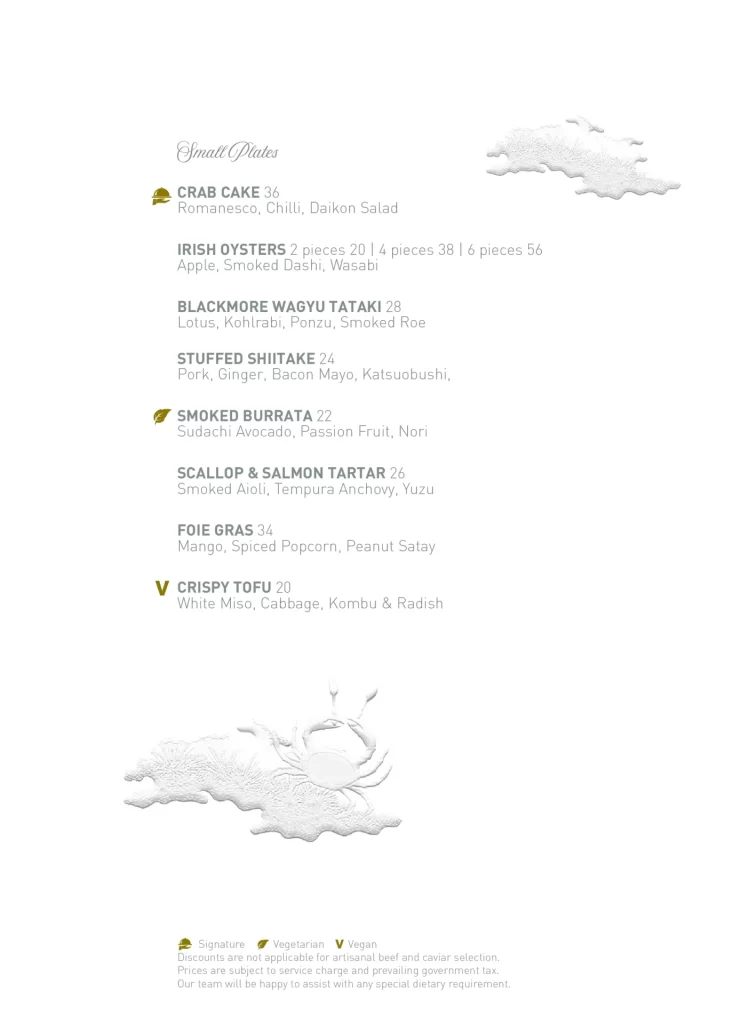 SKAI MAINS MENU PRICES
BLACK COD @ SGD 70.00
Cooked in Seaweed, Green Pea Gnocchi, Clam Butter
CHICKPEA SWEETCORN CAKE @ SGD 46.00
Courgette & Aubergine Succotash, Togarashi, Herb Pesto
FREE RANGE CHICKEN @ SGD 58.00
Maitake Mushroom Tortellini, Bourbon Plum, Soy Peanut
RHUG ORGANIC LAMB RACK @ SGD 65.00
Lamb Shoulder, Caramelized Cauliflower, Curry Spice
GRILLED LOBSTER @ SGD 74.00
Crab Squid Ink Spaghetti, Bonito, Garlic & Caper Oil
WESTHOLME WAGYU, FLAT IRON @ SGD 75.00
Endive Salad, Asian Spice
SKAI SIDES 8
HOUSE SALAD
Ginger Honey Dressing
HOKKAIDO CORN
BBQ, Butter
ROASTED MUSHROOMS
Parsley, Garlic
HAND-CUT CHIPS
Tosaka Salt
ASPARAGUS
Rapeseed Oil, Yuzu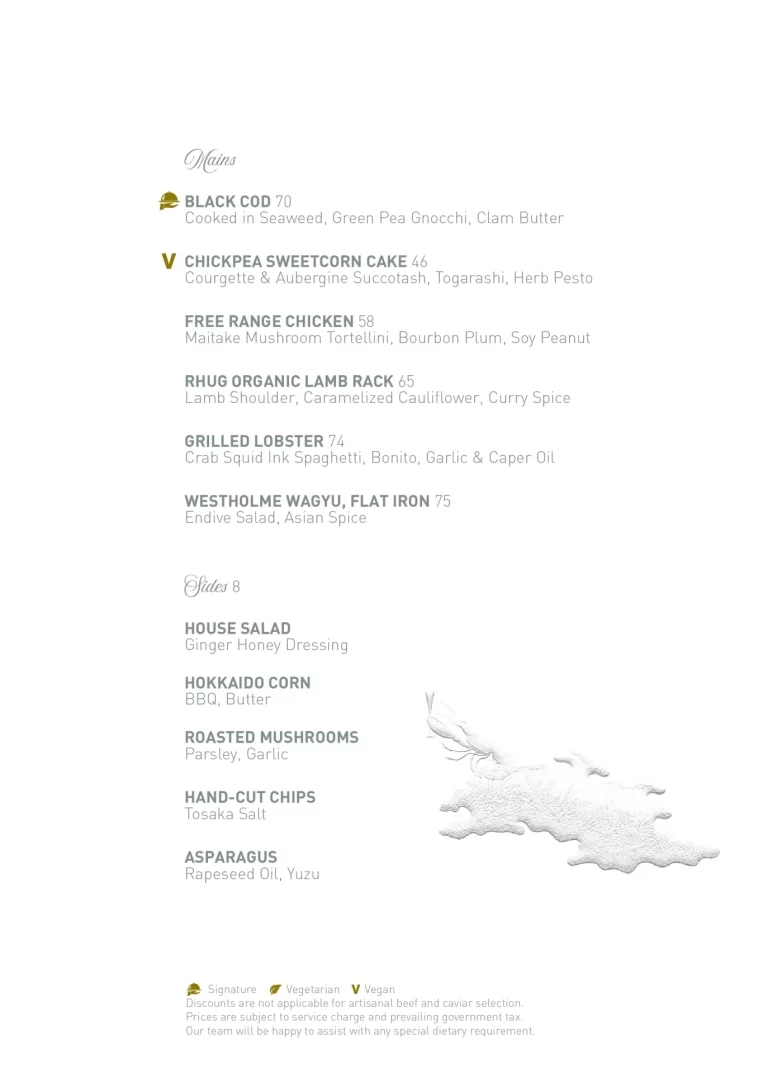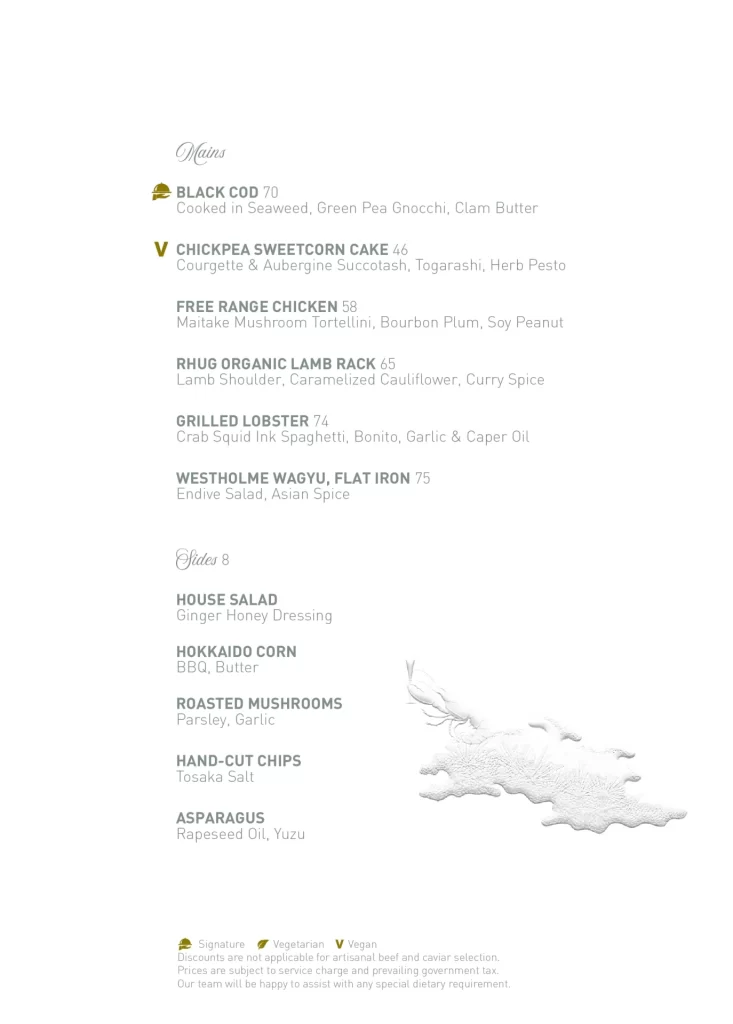 See Also: Taste Paradise Menu
SKAI DESSERTS PRICES
BAKED VANILLA CHEESECAKE (For Two) @ SGD 34.00
Cherry, Jubilee, Cherry Sorbet
CHOCOLATE SPHERE @ SGD 24.00
Orange Confit, Peta Zeta, Chocolate Ice Cream
AMBER PEACH @ SGD 20.00
Honeycomb, Cream Fraiche, Honey Mochi, Yogurt Ice Cream
STRAWBERRY TRIFLE @ SGD 22.00
Lemongrass Jelly, Basil Sorbet, Strawberries
WILLIAM PEAR @ SGD 22.00
Confit, Millefeuille Soil, Elderflower Ice Cream
CHEESE PLATTER @ SGD 28.00
Truffle Honey, Cheese Biscuits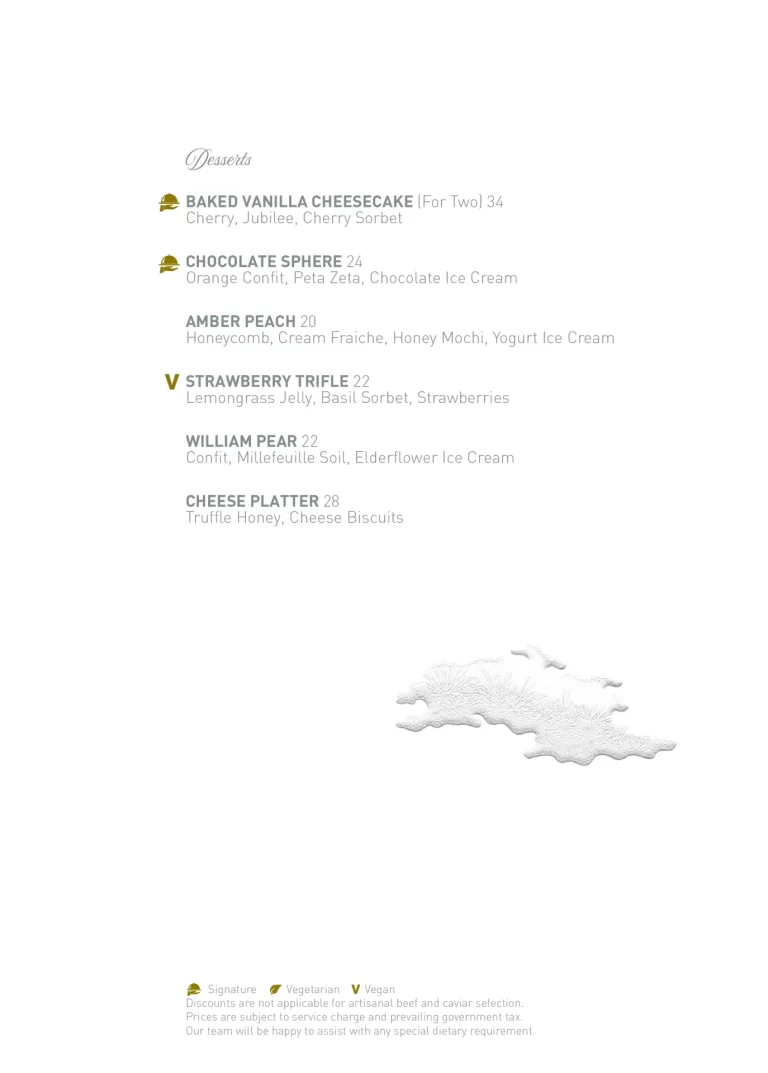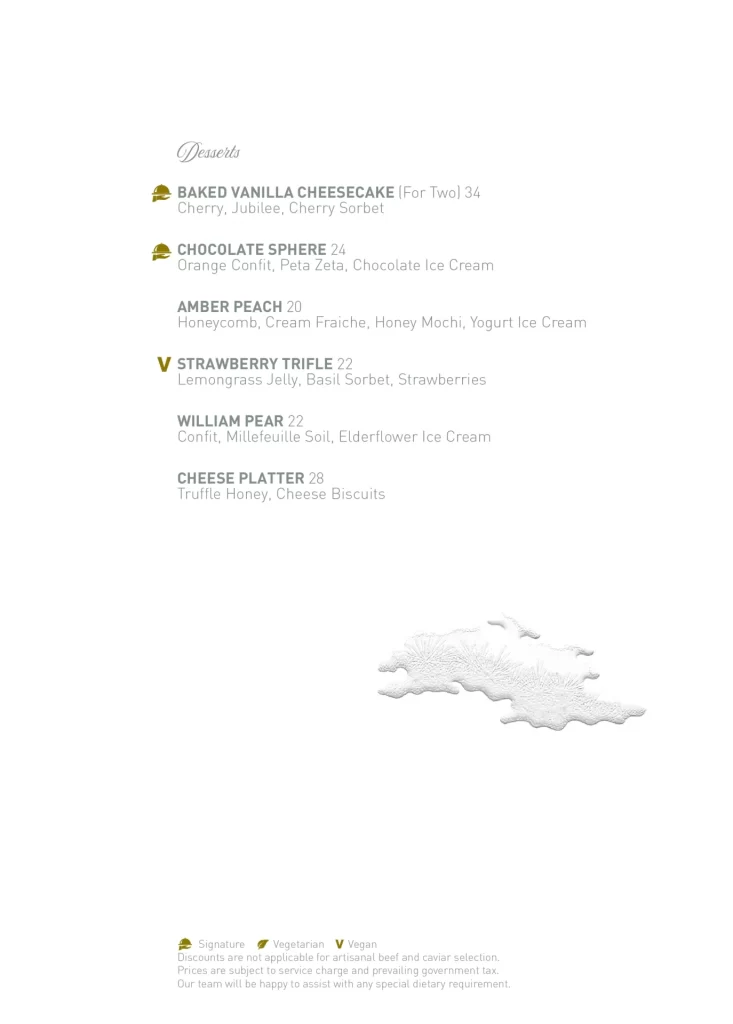 SKAI SINGAPORE KIDS MENU PRICES
MAIN COURSE
BREADED FISH AND CHIPS @ SGD 32.00
BRAISED BEEF SHORT RIB WITH MASH @ SGD 32.00
TOMATO LINGUINI WITH ASPARAGUS @ SGD 27.00
DESSERTS
CHOCOLATE CAKE @ SGD 20.00
SELECTION OF HOMEMADE ICE CREAM @ SGD 17.00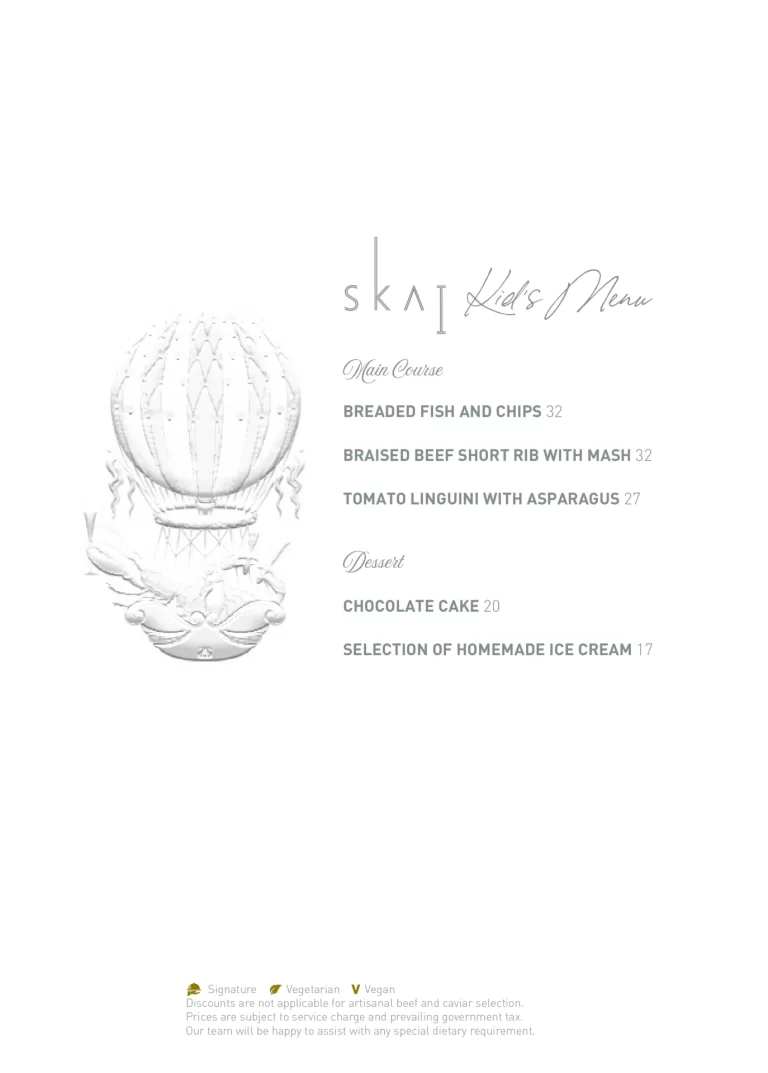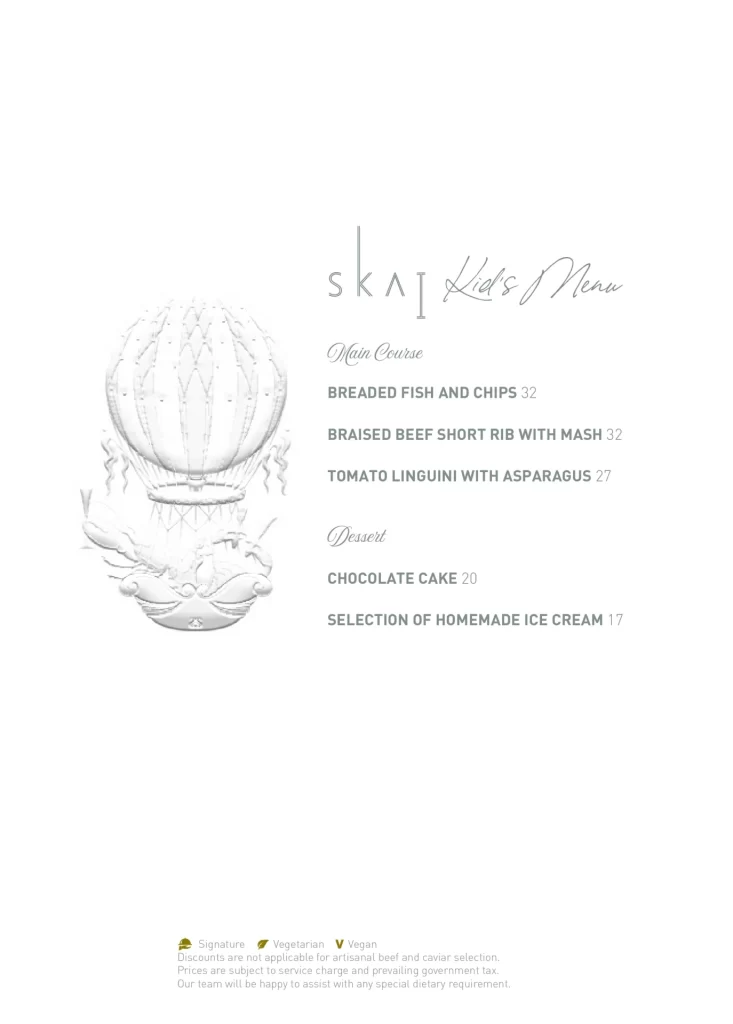 SKAI SINGAPORE MENU PICTURES
SET LUNCH MENU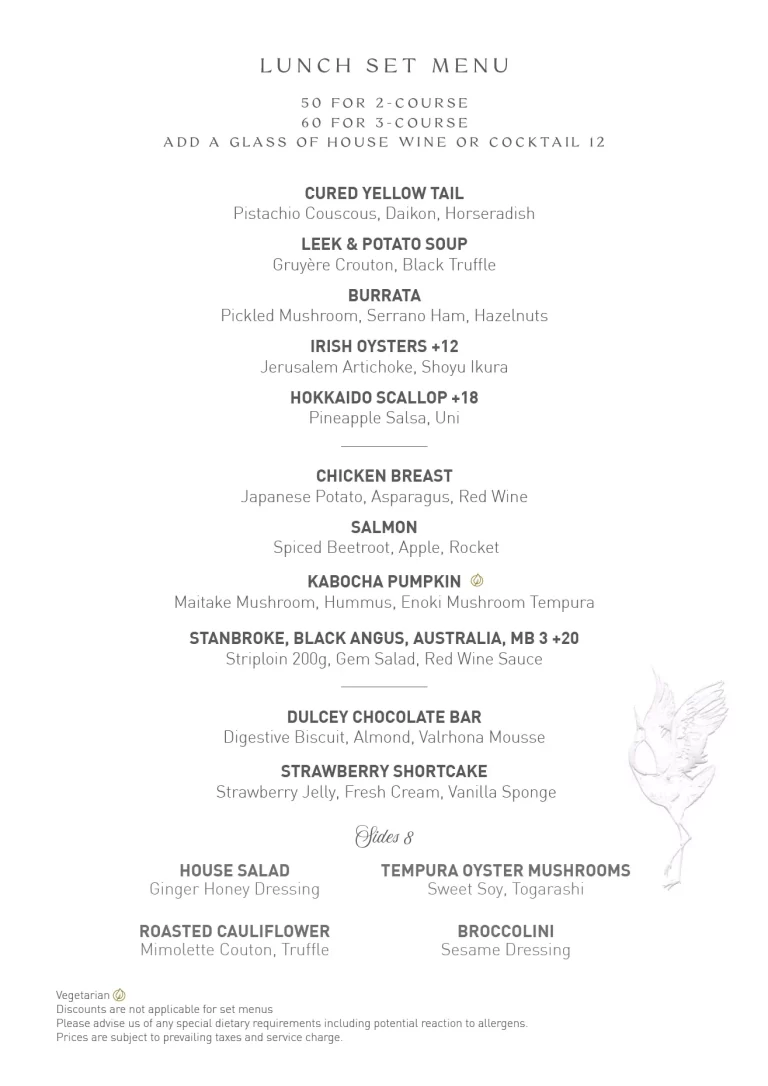 SKAI High Tea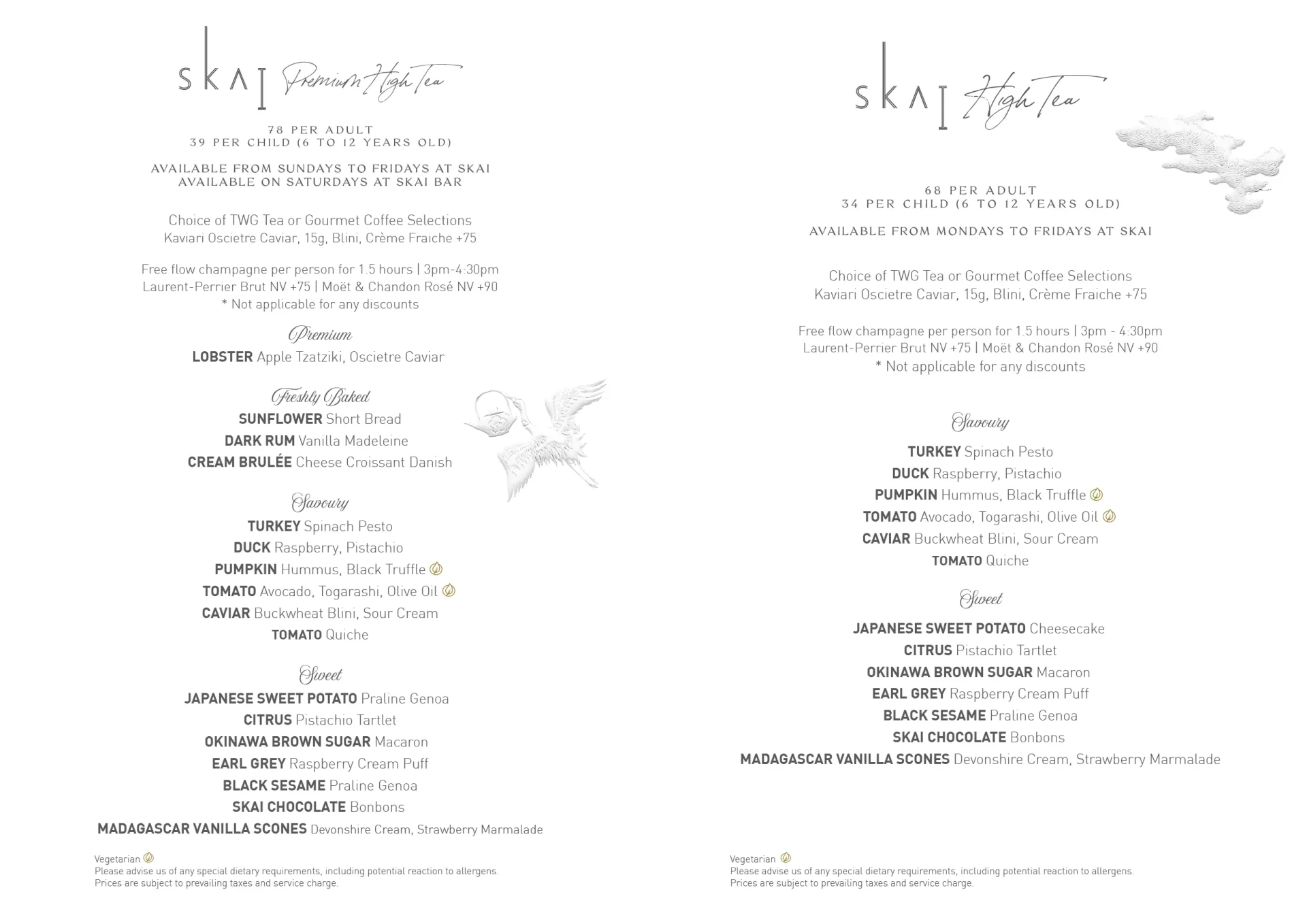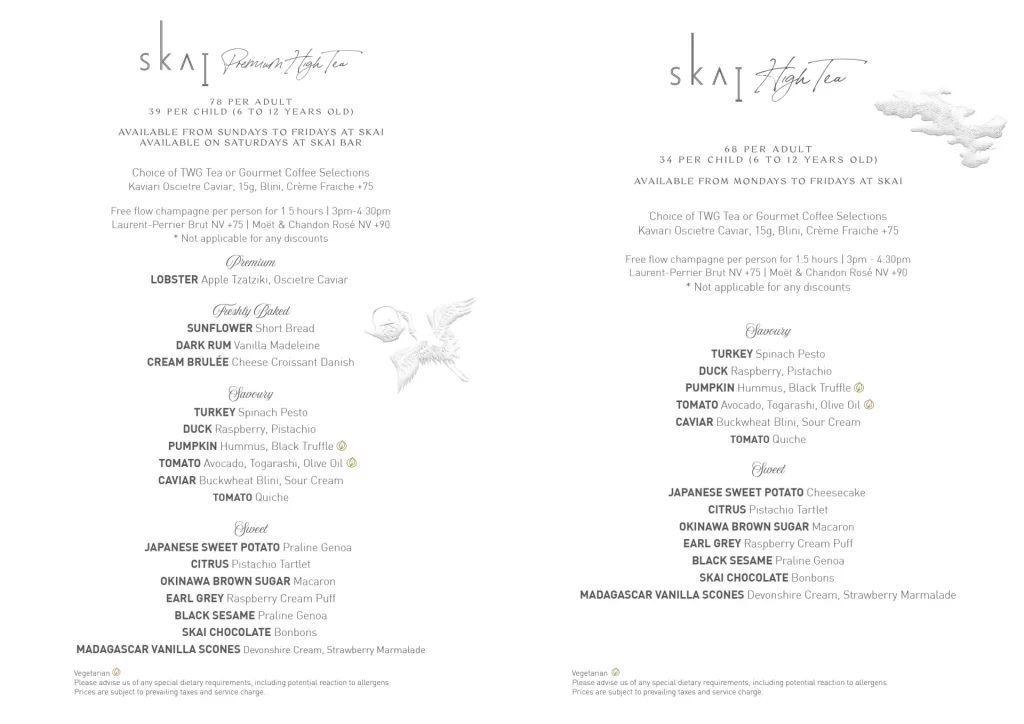 4 COURSE MENU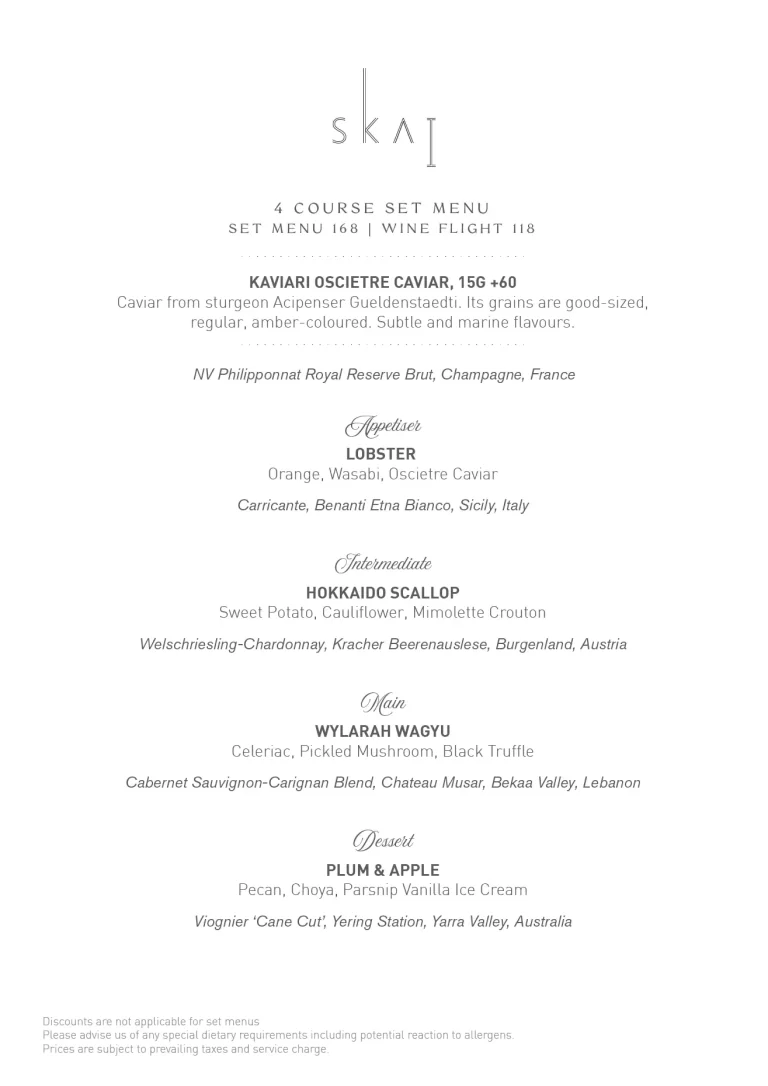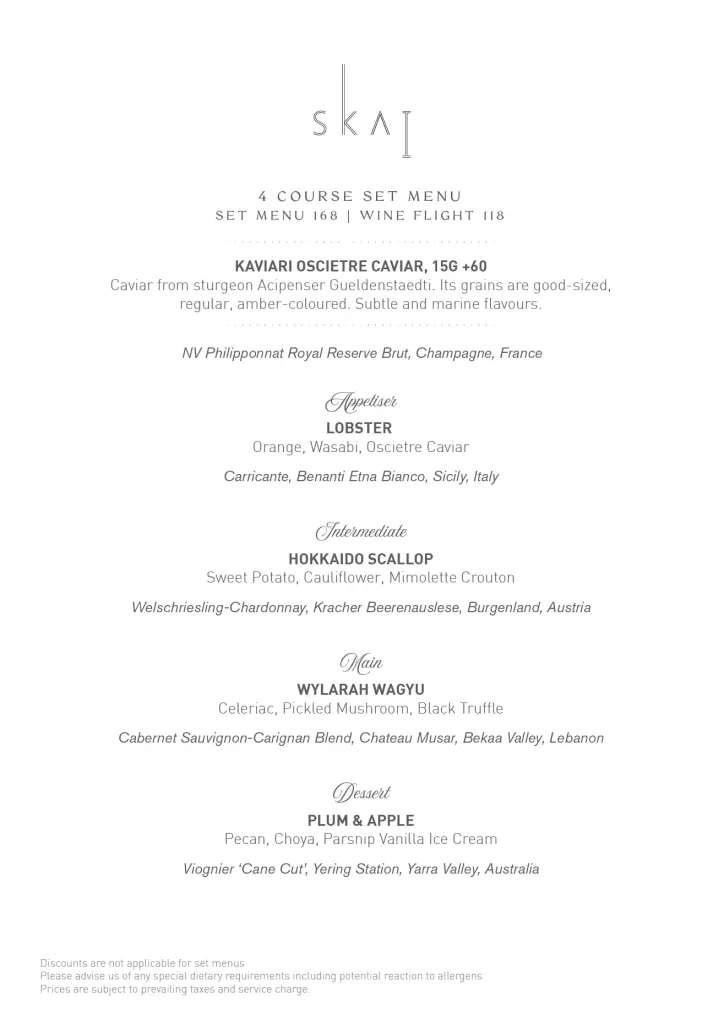 SKAI WINE LIST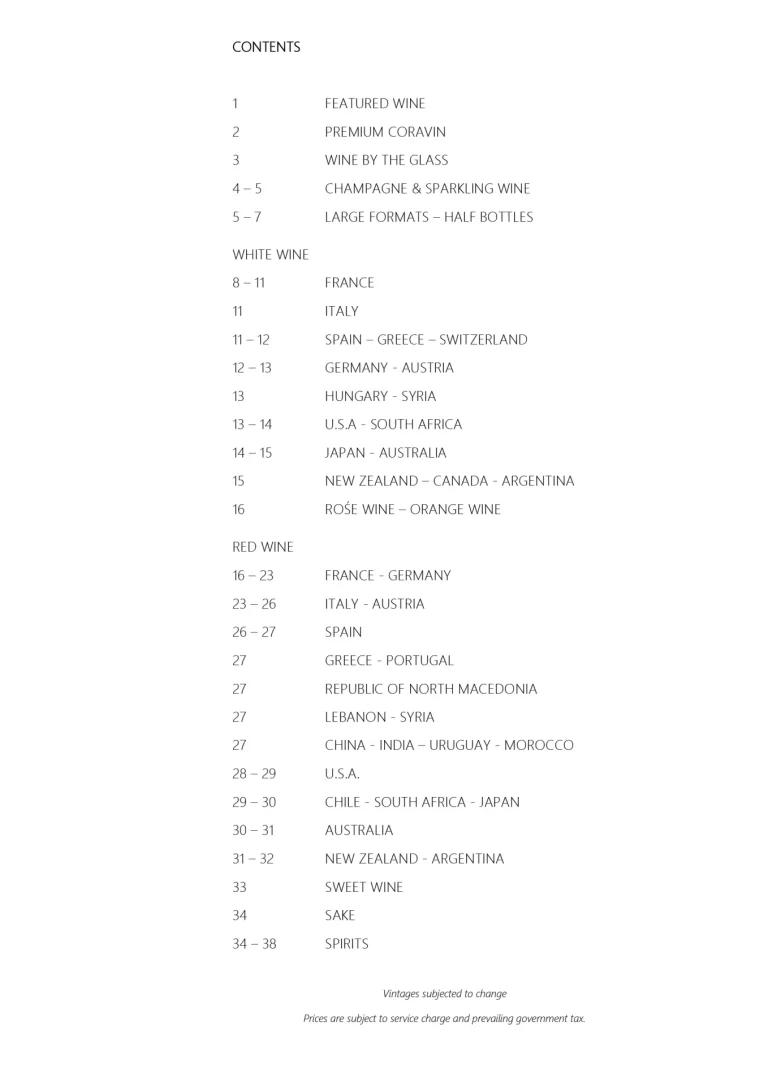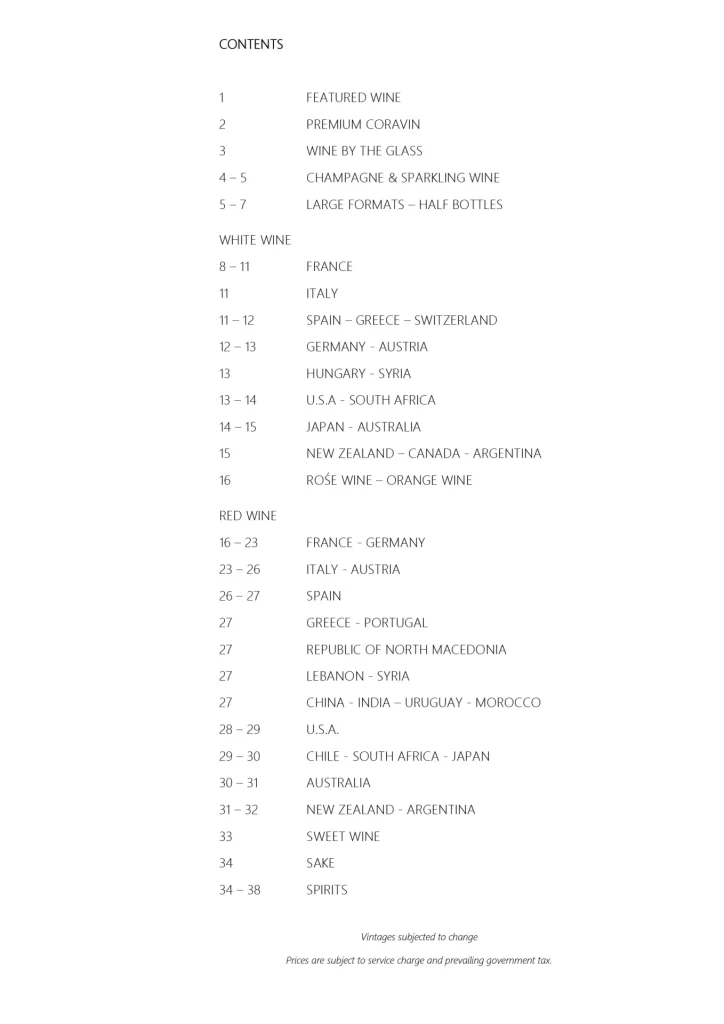 SKAI BEVERAGES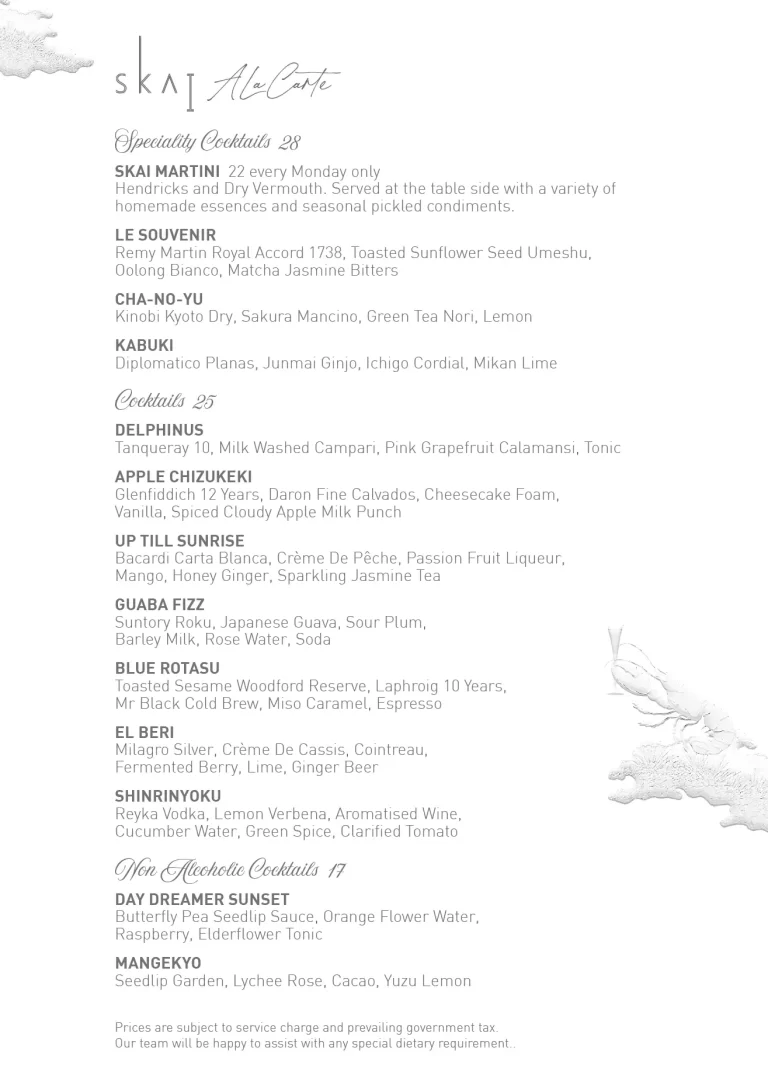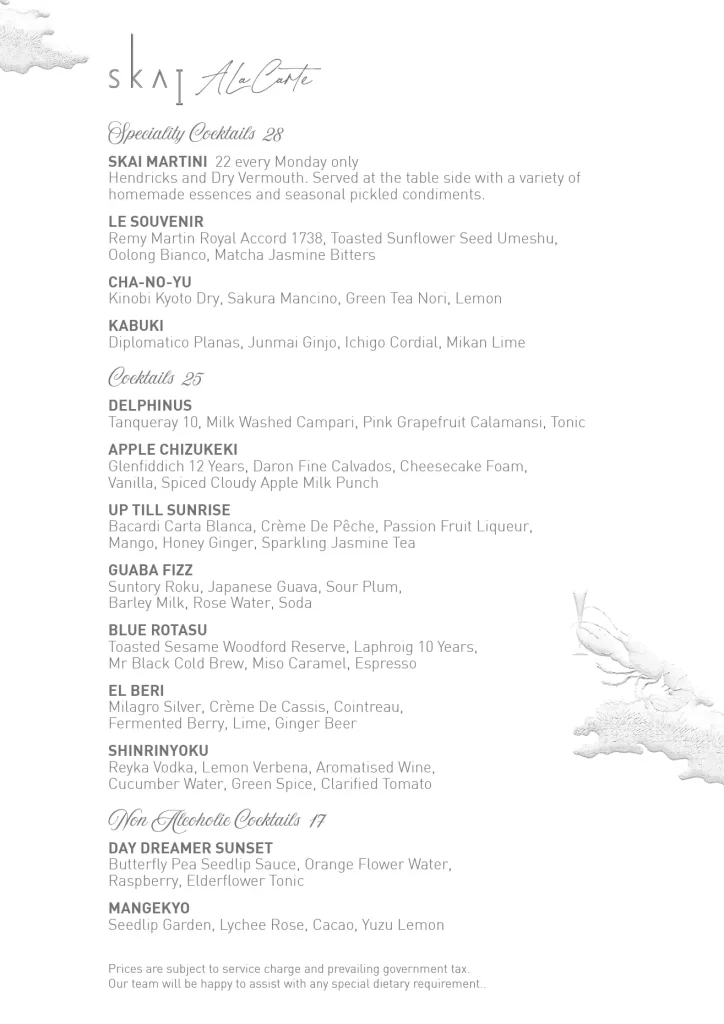 IS SKAI SINGAPORE HALAL?
No. They serve alcoholic beverages and for that reason SKAI is not Halal Certified.
All the images and prices are taken from the following official sources of SKAI Singapore.