Last Updated on May 2, 2023
Hello Japanese food fans, are you looking for the latest Edo Ichi Japanese Cuisine menu prices? You have arrived at he right place then. We have uploaded their complete menu with updated prices. Prices are obtained from the official sources of Edo Ichi.
SG's Favorite Items of Edo Ichi Menu are.
Nama Tako Wasabi
Pari Pari Kyuri no Miso Zoe
Yude Edamame
Kaki Kinoko Mentai Cheese Yaki
Edo Ichi Japanese Cuisine Menu 2023
Menu
Price
Otsumami
Atsuyaki Tamago
Japanese omelette
S$10.43
Nama Tako Wasabi
Marinated raw octopus with wasabi
S$7.75
Shishamo
Grilled capelin fish
S$7.75
Horenso
Chilled spinach
S$6.42
Yude Edamame
Boiled green bean
S$6.42
Yaki Gyouza
Pan-fried minced chicken dumpling
S$9.10
Pari Pari Kyuri no Miso Zoe
Crunchy cucumber with homemade miso paste
S$7.75
Chinmi Santen Mori
Marinated 3 types of appetizer
S$10.43
Takoyaki
5 pcs. Octopus ball
S$6.42
Mame Aji Karaage
Deep-fried baby horse mackerel
S$10.43
Natto
Served with fermented soybean
S$7.76
Sarada
Soft Shell Crab No Sarada
Salad topped with deep-fried soft shell crab
S$17.25
Kani to Tako No Sarada
Salad topped with crab meat, flying fish roe & octopus
S$13.25
Avocado to Tofu No Sarada
Salad topped with avocado & soft tofu
S$10.57
Salmon Oyako No Sarada
Salad topped with fresh salmon, salmon flakes & salmon roe
S$15.92
Chinmi No Sarada
Salad topped with marinated 3 types of appetizer
S$11.90
Sashimi
Hamachi Sashimi
5 Pcs. Yellow tail
S$22.47
Hon Maguro Akami Sashimi
5 Pcs. Pacific bluefin tuna
S$23.80
Amaebi Sashimi
5 Pcs. Sweet shrimp
S$22.47
Ikura Sashimi
Salmon roe
S$19.80
Hotategai Sashimi
5 Pcs. Scallop
S$21.13
Tako Sashimi
5 Pcs. Octopus
S$15.78
Maguro Sashimi
5 Pcs. Red tuna
S$19.80
Salmon Sashimi
7 Pcs. Salmon
S$19.80
Special Roll
Spider Roll
4 Pcs. Roll with deep-fried soft shell crab & cucumber topped with shrimp roe
S$18.45
Una Cheese Roll
8 Pcs. Roll with crab stick, cucumber & mayonnaise topped with roasted eel & sliced cheese
S$23.80
Nishoku Salmon Roll
8 Pcs. Roll with crab stick, cucumber & mayonnaise topped with roasted salmon, cod roe mayo & citron miso mayo
S$21.13
Dragon Roll
4pcs. Roll with deep-fried king prawn & cucumber topped with avocado & flying fish roe
S$18.46
Volcano Roll
8 Pcs. Roll with crab stick, cucumber & mayonnaise topped with roasted seafood with special mayo
S$19.80
Salmon Mentai Island Roll
8 Pcs. Roll with crab stick, cucumber & mayonnaise topped with roasted salmon & cod roe mayo
S$21.13
Double Salmon Roll
8 Pcs. Roll with salmon & cucumber topped with salmon & flying fish roe
S$21.13
Vigra Roll
8 Pcs. Roll with eel, cucumber & salmon skin topped with avocado & flying fish roe
S$23.80
California Roll
8 Pcs. Roll with crab stick, cucumber & avocado topped with flying fish roe
S$13.10
Unagi Crispy Roll
5 Pcs. Deep-fried crispy eel roll
S$23.80
Begal Roll
8 Pcs. Roll with crab stick, cucumber & mayonnaise topped with salmon, roasted eel & avocado
S$21.13
Salmon Tataki Roll
8 Pcs. Roll with crab stick, cucumber & mayonnaise topped with roasted salmon
S$18.46
Nigri Sushi
Maguro Nigri Sushi
Red tuna
S$2.94
Hamachi Nigri Sushi
Yellow tail
S$4.28
Salmon Nigri Sushi
Salmon
S$2.94
Hotate Nigri Sushi
Scallop
S$4.82
Ama Ebi Nigri Sushi
Sweet shrimp
S$6.15
Tako Nigri Sushi
Octopus
S$2.67
Unagi Nigri Sushi
Roasted eel
S$4.28
Kaori Bako Kani Nigri Sushi
Crab meat
S$3.37
Ebi Nigri Sushi
Cooked prawn
S$3.37
Tamago Nigri Sushi
Egg omelette
S$2.67
Inari Nigri Sushi
Sweet bean curd
S$2.67
Hotate Mentai Aburi Nigri Sushi
Scallop topped with roasted cod roe mayo
S$6.15
Salmon Mentai Aburi Nigri Sushi
Salmon topped with roasted cod roe mayo
S$4.28
Ebi Mentai Aburi Nigri Sushi
Prawn topped with roasted cod roe mayo
S$4.68
Tamago Mentai Aburi Nigri Sushi
Egg omelette topped with roasted cod roe mayo
S$4.01
Kaori Bako Kani Mentai Aburi Nigri Sushi
Crab meat topped with roasted cod roe mayo
S$4.28
Salmon Truffle Aburi Nigri Sushi
Salmon topped with roasted truffle mayo
S$4.55
Hotate Truffle Aburi Nigri Sushi
Scallop topped with roasted truffle mayo
S$6.42
Tamago Truffle Aburi Nigri Sushi
Egg omelette topped with roasted truffle mayo
S$4.28
Ebi Truffle Aburi Nigri Sushi
Prawn topped with roasted truffle mayo
S$4.95
Hamachi Truffle Aburi Nigri Sushi
Yellow tail topped with roasted truffle mayo
S$5.88
Salmon Yuzu Aburi Nigri Sushi
Salmon topped with roasted citron miso mayo
S$4.28
Hotate Yuzu Aburi Nigri Sushi
Scallop topped with roasted citron miso mayo
S$6.15
Kaori Bako Kani Yuzu Aburi Nigri Sushi
Crab meat topped with roasted citron miso mayo
S$4.28
Tamago Yuzu Aburi Nigri Sushi
Egg omelette topped with roasted citron miso mayo
S$4.01
Ebi Yuzu Aburi Nigri Sushi
Prawn topped with roasted citron miso mayo
S$4.68
Hana Ebiko Nigri Sushi
Salmon with shrimp roe
S$5.08
Hana Chuka Kurage Nigri Sushi
Salmon with seasoned jelly fish
S$5.62
Hana Chuka Iidako Nigri Sushi
Salmon with seasoned baby octopus
S$5.62
Hana Tobiko Nigri Sushi
Salmon with flying fish roe
S$5.35
Hana Ikura Nigri Sushi
Salmon with salmon roe
S$6.96
Negi Toro Nigri Sushi
Chopped minced tuna belly
S$5.08
Tobiko Nigri Sushi
Flying fish roe
S$2.94
Ikura Nigri Sushi
Salmon roe
S$6.42
Ebiko Nigri Sushi
Shrimp roe
S$2.67
California Salmon Harasu Mentai Aburi Nigri Sushi
California roll topped with salmon belly & roasted cod roe mayo
S$5.88
California Unagi Mentai Aburi Nigri Sushi
California roll topped with eel & roasted cod roe mayo
S$6.42
California Salmon Mentai Aburi Nigri Sushi
California Salmon Mentai Aburi Nigri Sushi California roll topped with salmon & roasted cod roe mayo
S$5.08
California Hotate Mentai Aburi Nigri Sushi
California roll topped with scallop & roasted cod roe mayo
S$6.96
California Ebi Mentai Aburi Nigri Sushi
California roll topped with prawn & roasted cod roe mayo
S$5.62
Hosomaki
Avocado Maki
Avocado roll
S$5.08
Kappa Maki
Cucumber roll
S$3.75
Oshinko Maki
Pickled radish roll
S$3.75
Negitoro Maki
Chopped tuna belly roll
S$7.75
Tamago Maki
Egg omelette roll
S$3.75
Salmon Maki
Raw salmon roll
S$6.42
Tekka Maki
Tuna roll
S$6.42
Kani Mayo Maki
Crab stick mayonnaise roll
S$3.75
Natto Maki
Fermented soybean roll
S$5.08
Yaki Mono
Saba Yaki Mono
Grilled mackerel
S$17.12
Kaki Kinoko Mentai Cheese Yaki
Grilled oyster & mushroom with cod roe mayo & cheese
S$17.12
Gindara Yaki Mono
Grilled cod fish
S$25.14
Salmon Yaki Mono
Grilled salmon
S$18.46
Unagi Kabayaki
Roasted eel
S$21.13
Chicken Teriyaki
Pan-fried chicken with teriyaki sauce
S$13.10
Surume Ika Sugata Yaki
Grilled Japanese whole squid
S$19.80
Salmon Mentai Yaki
Grilled salmon with cod roe mayonnaise
S$21.13
Salmon Toro Teriyaki
Pan fried salmon belly with teriyaki sauce
S$19.80
Agemono
Ebi Tempura
Deep-fried prawn in batter
S$21.27
Yasai Tempura
Deep-fried assorted vegetables in batter
S$14.58
Agedashi Tofu
Deep-fried bean curd with sauce
S$7.89
Kabocha Korokke
Deep-fried pumpkin croquette
S$7.89
Enoki Tempura
Deep-fried enoki mushroom in batter
S$14.58
Salmon Tempura
Deep-fried salmon in batter
S$21.27
Kaki Furai
Deep-fried oyster with bread crumb
S$18.59
Wakadori Karaage
Deep-fried marinated chicken
S$10.57
Soft Shell Crab Karaage
Deep-fried soft shell crab
S$18.59
Tempura Moriawase
Deep-fried assorted seafood, vegetables in batter
S$19.93
Ippin Ryori
Hotate to Kinoko Butter Yaki
Pan grilled scallop & assorted mushroom with butter sauce
S$19.80
Enoki Butter Yaki
Enoki mushroom with butter sauce
S$7.75
Yasai Itame
Stir-fried assorted vegetables
S$10.43
Gyuniku Shogayaki
Stir-fried sliced beef with ginger sauce
S$18.45
Kimchi Sui Gyoza
Cooked chicken dumpling with kimchi paste
S$11.77
Kinoko Butter Itame
Stir-fried assorted mushroom with butter sauce
S$13.10
Asari Pirikara Butter Itame
Stir-fried short neck clam & shimeji mushroom with spicy butter sauce
S$14.45
Gyuniku Kimchi Itame
Stir-fried sliced beef with kimchi sauce
S$19.80
Age Gyouza Curry Cheese
Deep-fried chicken dumpling with Japanese curry paste & cheese in hot plate
S$13.10
Tako Yaki Curry Cheese
Octopus ball with Japanese curry paste & cheese in hot plate
S$10.43
Teppan Chicken Katsu no Mentai Zoe
Deep-fried breaded chicken in hot plate topped with cod roe
S$15.78
Kamo Aburi Yaki
Pan grilled smoked duck breast
S$14.45
Owan Mono
Gyu Kimchi Jiru
Kimchi soup with sliced beef
S$10.43
Nameko Miso Shiru
Bean paste soup with nameko mushroom
S$9.10
Salmon Ara Tama Jiru
Bean paste soup with salmon fish head & stirred egg
S$11.77
Salmon Ara Kimchi Jiru
Kimchi soup with salmon fish head
S$13.11
Asari Miso Shiru
Bean paste soup with short neck clam
S$10.43
Miso Shiru
Bean paste soup
S$3.75
Mushimono
Ikura Chawan Mushi
Steamed egg custard topped with salmon roe
S$11.77
Truffle Chawan Mushi
Steamed egg custard topped with truffle
S$11.77
Chawan Mushi
Steamed egg custard
S$6.42
Set Dinner
Hotate Kinoko to Salmon Set
Stir-fried scallop & assorted mushroom & grilled salmon
S$33.44
Hotate Kinoko to Salmon Set
Stir-fried scallop & assorted mushroom & grilled salmon
S$33.44
Hotate Kinoko to Chicken Katsu Set
Stir fried scallop & assorted mushroom & deep-fried breaded chicken set
S$29.43
Sashimi to Gyuniku Kimchi Itame Set
Sashimi & stir-fried sliced beef with kimchi paste set
S$34.77
Sushi to Tempura Set
Sushi & assorted tempura set
S$34.77
Sashimi to Saba Set
Sashimi & grilled mackerel
S$32.10
Sashimi to Gyuniku Shogayaki Set
Sashimi & stir-fried sliced beef with ginger sauce set
S$33.44
Sashimi to Unagi Kabayaki Set
Sashimi & roasted eel set
S$37.45
Sashimi to Salmon Mentai Yaki Set
Sashimi & grilled salmon with cod roe mayo set
S$37.45
Sushi Ippin
Negitoro Don
Sushi rice topped with chopped minced tuna belly served with miso soup
S$25.14
Kaisen Saikoro Don
Sushi rice topped with cube assorted seafood served with miso soup
S$25.14
Salmon Oyako Don
Sushi rice topped with sliced raw salmon, salmon flakes & salmon roe served with miso soup
S$23.80
Tekka Don
Sushi rice topped with sliced raw tune served with miso soup
S$21.13
Chirashi Don
Sushi rice topped with sliced assorted raw fish served with miso soup
S$25.14
Tokusei Mini Sushi Don
Mini Toro Tekka Don
Topped with sliced tuna belly
S$47.88
Mini Hon Maguro Negitoro Don
Topped with sliced pacific bluefin tuna & chopped tuna belly with spring onion
S$31.83
Mini Toro Aburi Don
Topped with roasted sliced tuna belly
S$47.88
Mini Hon Maguro Don
Topped with sliced pacific bluefin tuna
S$26.48
Menrui
Zaru Menrui

S$11.91
Cha Soba Menrui
Iced green tea noodle
S$13.24
Zaru Somen Menrui
Iced thin wheat noodle
S$11.90
Niku Menrui
Noodle soup with sliced beef
S$18.60
Kunsei Kamo Menrui
Noodle soup with smoked duck breast
S$18.60
Nabeyaki Menrui
Noodle soup with chicken, scallop, prawn tempura, egg & vegetables in hot pot
S$19.93
Asari Menrui
Noodle soup with short neck clam
S$18.60
Mentai Yaki Menrui
Stir-fried noodle with cod roe mayonnaise, seafood, chicken, vegetables & soft boiled egg
S$22.61
Salmon to Unagi Aburi Hiyashi Soba no Goma Dare Menrui
Cold buckwheat noodle with roasted eel, salmon, assorted mushroom & sesame sauce
S$25.28
Tempura Menrui
Noodle soup with tempura
S$19.93
Kitsune Menrui
Noodle soup with sweet bean curd
S$14.58
Tsukimi Menrui
Noodle soup with soft boiled egg
S$13.25
Yaki Menrui
Stir-fried noodle with seafood, chicken, vegetables & soft boiled egg
S$18.60
Oshokuji
Chicken Katsu Jyu
Rice topped with deep-fried chicken cutlet & stirred egg served with miso soup
S$19.93
Unagi Tama Jyu
Rice topped with roasted eel & stirred egg served with miso soup
S$26.62
Salmon Toro Teriyaki Jyu
Rice topped with pan-fried salmon belly with teriyaki sauce & stirred egg served with miso soup
S$22.60
Salmon Teriyaki Jyu
Rice topped with grilled salmon with teriyaki sauce served with miso soup
S$21.27
Chicken Teriyaki Jyu
Rice topped with pan-fried chicken with teriyaki sauce served with miso soup
S$17.25
Oyako Jyu
Rice topped with cooked chicken & stirred egg served with miso soup
S$17.25
Soft Shell Crab Jyu
Rice topped with deep-fried soft shell crab served with miso soup
S$22.60
Una Jyu
Rice topped with roasted eel served with miso soup
S$23.94
Kamo Yakimeshi
Smoked duck fried rice
S$14.58
Nameko Yakimeshi
Nameko mushroom fried rice
S$13.24
Ishiyaki Sutamina Unadon
Garlic fried rice topped with roasted eel in hot stone bowl served with miso soup
S$34.64
Kimuchi Yakimeshi
Kimchi fried rice
S$11.90
Gohan
Steamed rice
S$3.88
Chicken Katsu Curry Rice
Japanese curry rice with chicken cutlet served with miso soup
S$22.60
Ninniku Yakimeshi
Garlic fried rice
S$11.90
Gyuniku Tama Jyu
Rice topped with cooked sliced beef & stirred egg served with miso soup
S$21.27
Ten Jyu
Rice topped with prawn & vegetable tempura served with miso soup
S$22.60
Bento & Sushi Moriawase Set
Sushi Moriawase Set Matsu
7 kinds of sushi tuna, salmon, white meat fish, prawn, egg omelette, octopus, flying fish roe. 1 Pc tuna cheese roll & 1 pc salmon mentai roll
S$26.62
Sushi Bento
Sashimi, chinmi, tempura, nigiri sushi, hosomaki, salmon mentai roll, asari miso shiru, chawan mushi & mini kani salad
S$47.88
Unagi Bento
Sashimi, chinmi, tempura, salmon steak, unajyu, asari miso shiru, chawan mushi & mini kani salad
S$65.27
Japan Wagyu Ryori
Wagyu Yakimeshi
Wagyu beef fried rice
S$26.48
Wagyu Nigiri Sushi
Lightly seared wagyu beef sushi
S$14.45
Wagyu Teppan Yaki
100g. Pan grilled wagyu beef & assorted mushroom
S$92.02
Double Wagyu Roll
Roll with wagyu & cucumber topped with lightly seared sliced wagyu
S$47.88
Wagyu Sashimi
Lightly seared wagyu beef
S$65.27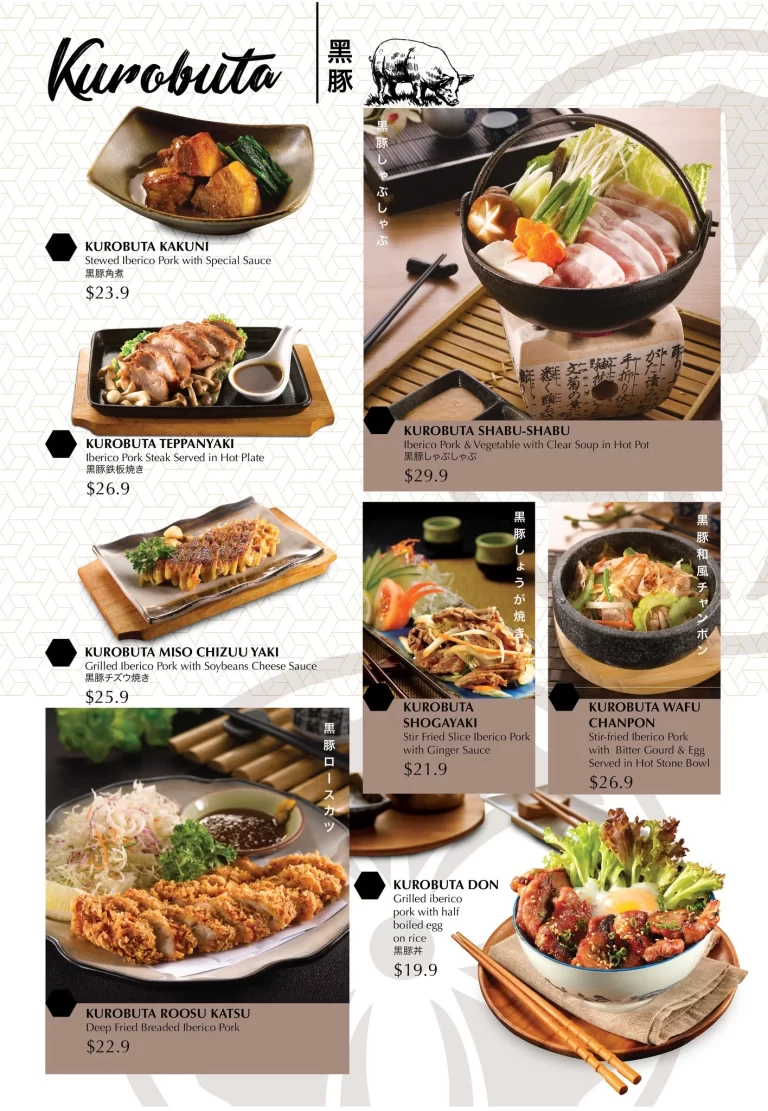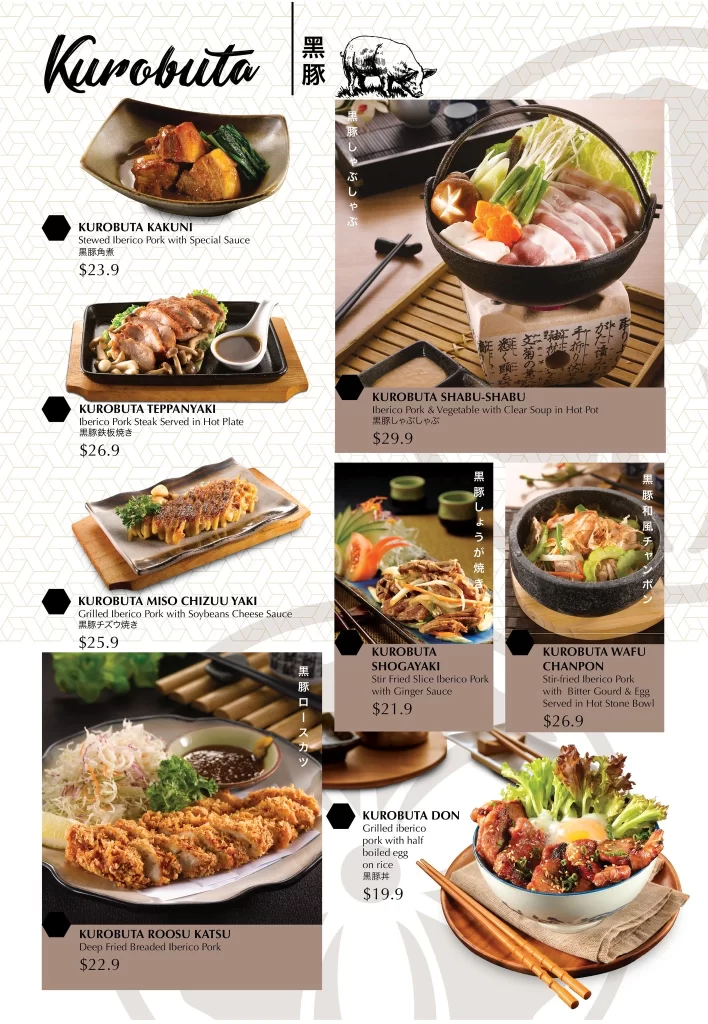 See Also : Teppan Kappou Kenji Menu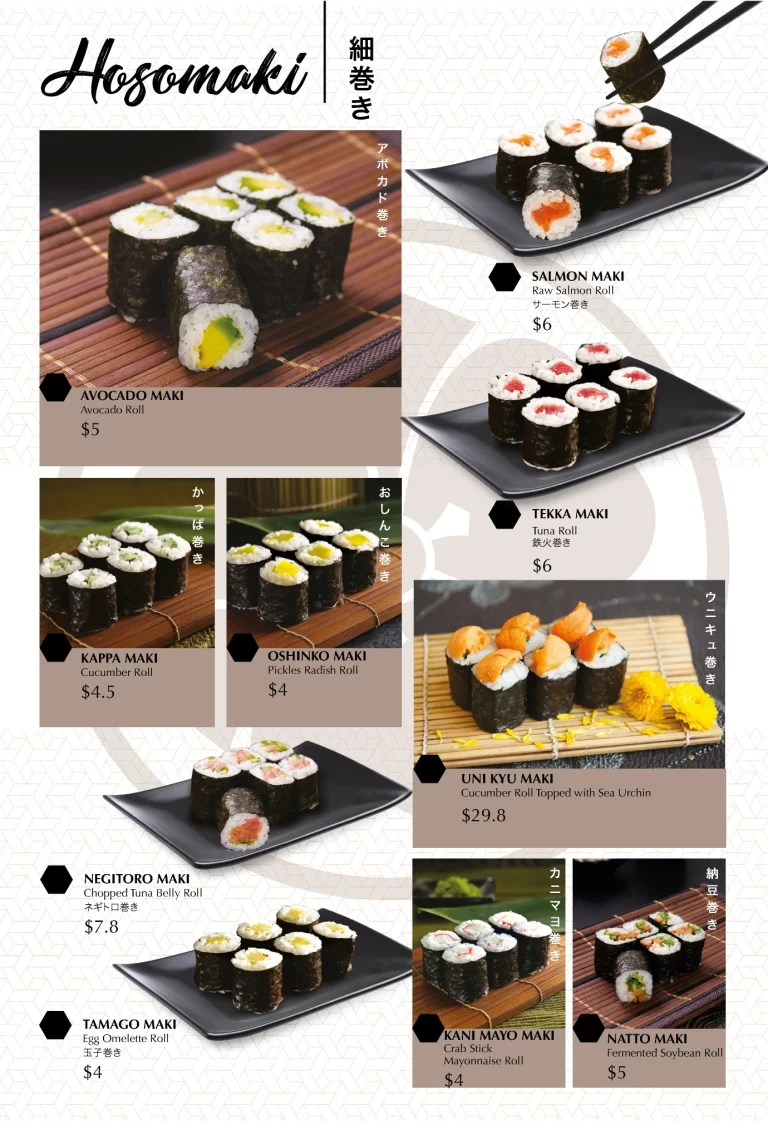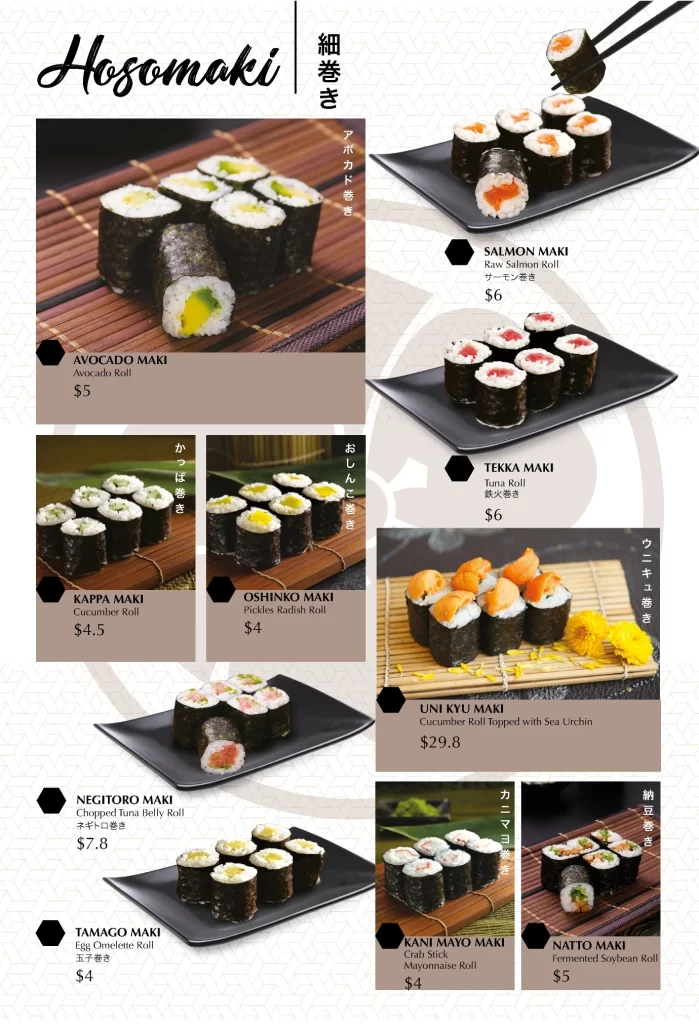 Ido Ichi Serves Non Halal Menu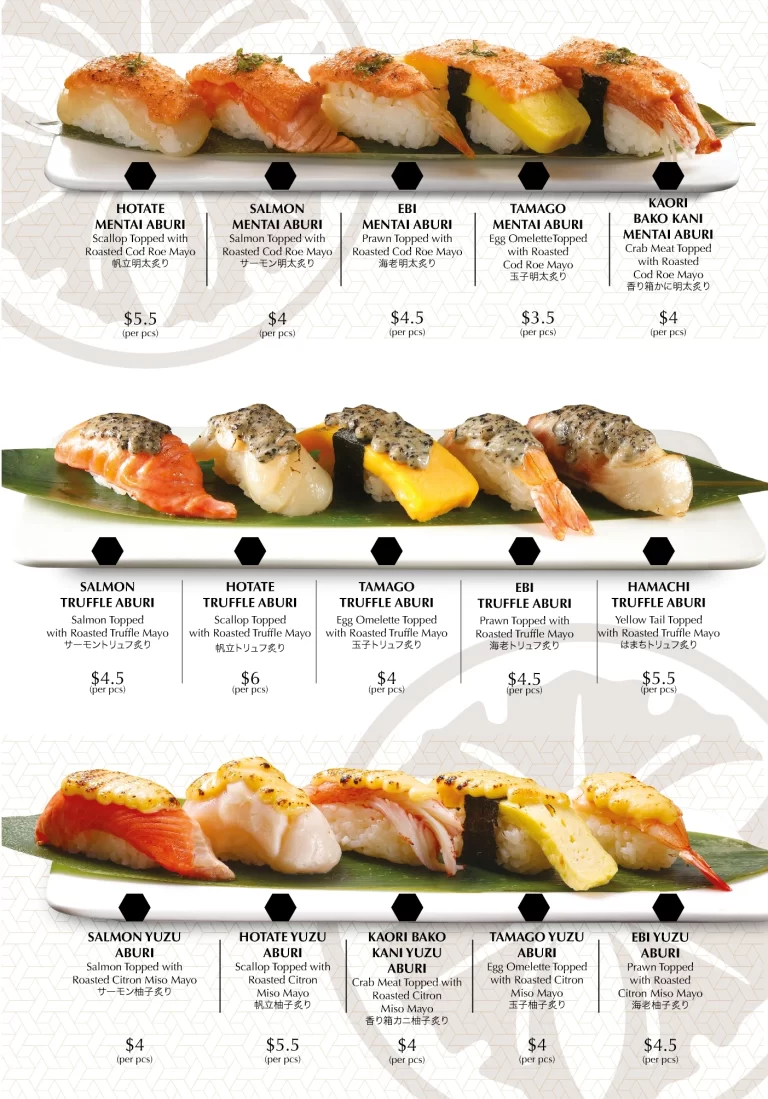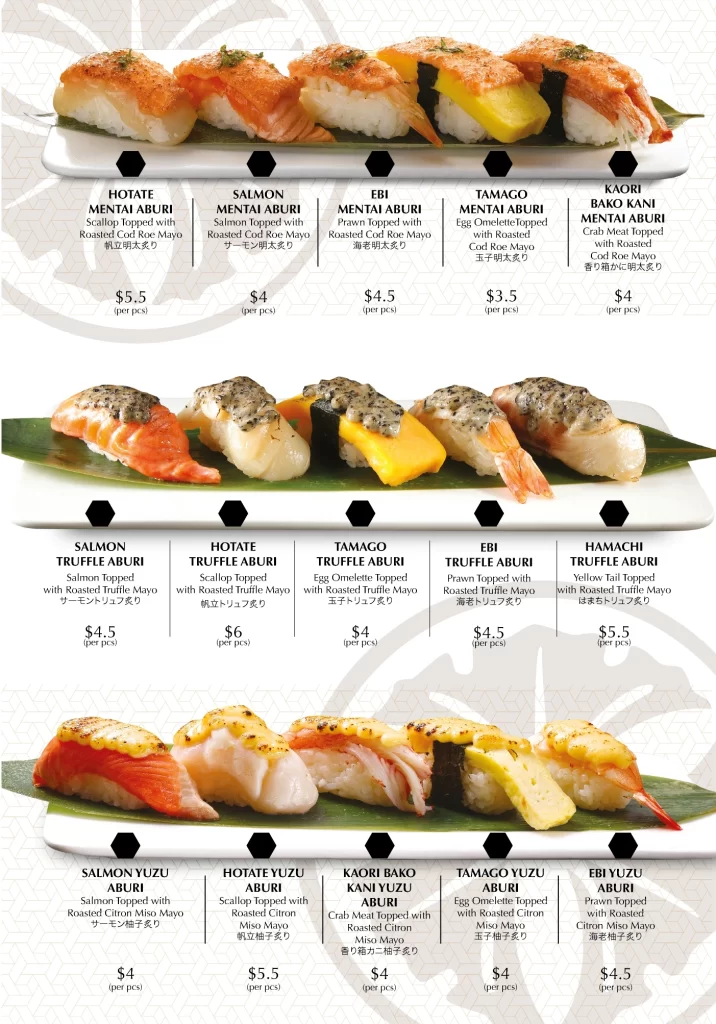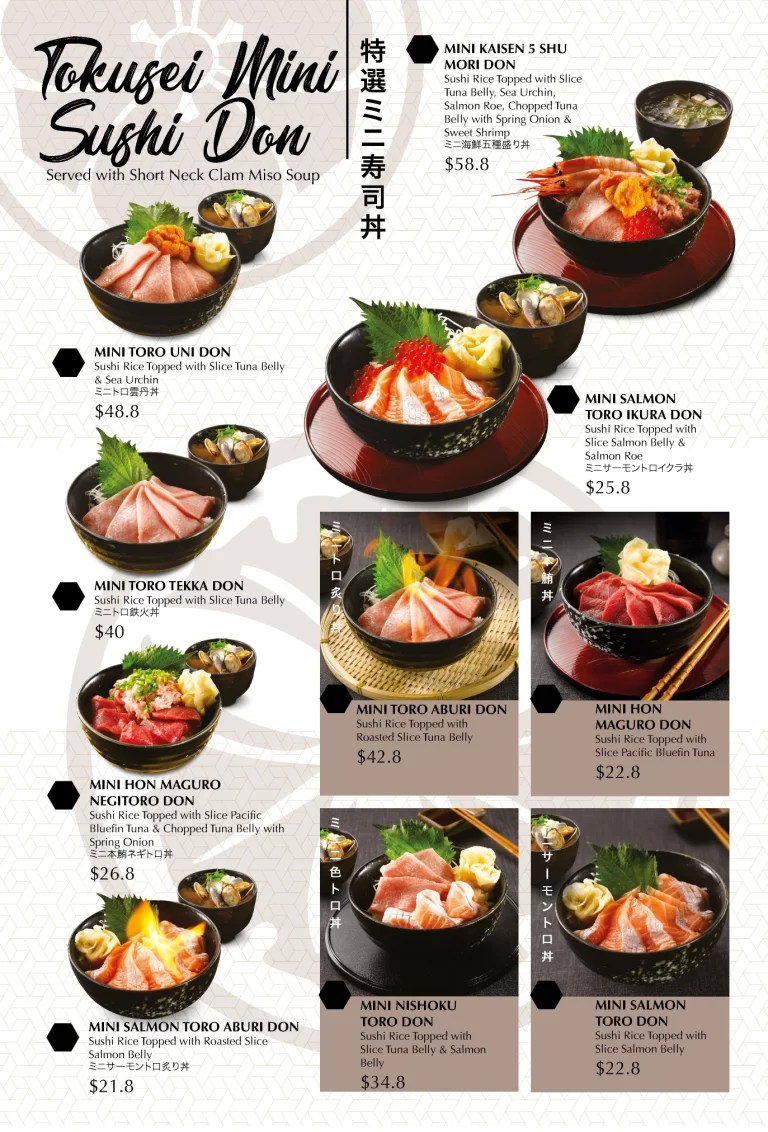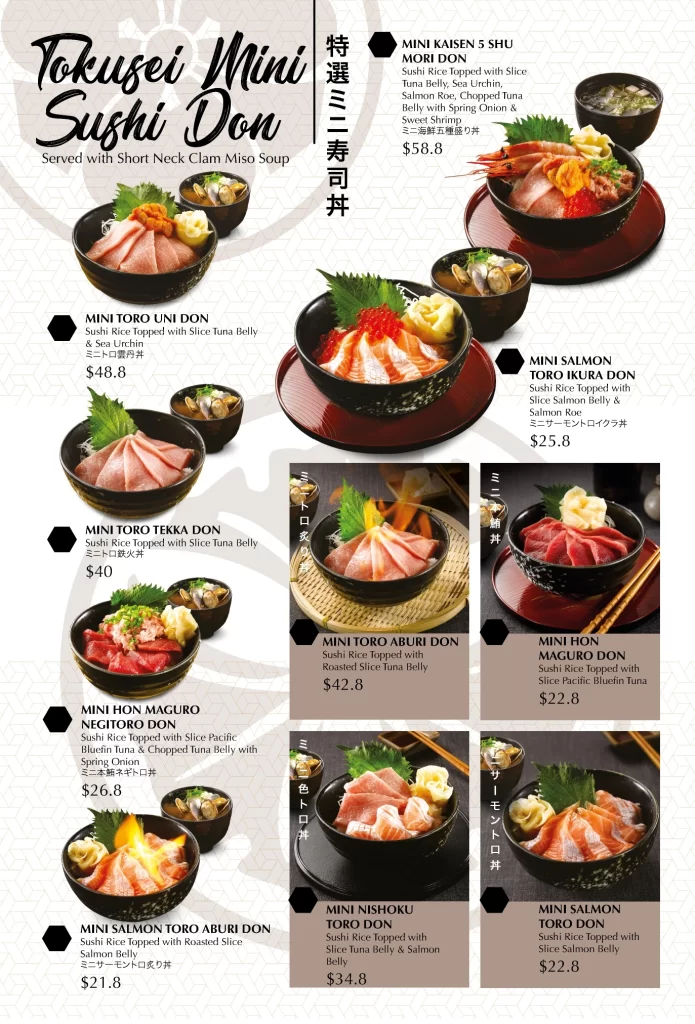 Address
Here is the link to the official website of Restaurant. Edo Ichi Japanese Cuisine