Last Updated on May 2, 2023
Hello food lovers, Are you looking for the lucky cafe Singapore menu prices? You have arrived at your destination then. We have uploaded their complete menu with updated prices. Prices are obtained from the official sources of lucky cafe.
SG's favorite items of the lucky cafe menu are
Chicken Bee Hoon Tom Yam Soup – SGD – 8.50
Beef Tom Yam Soup – SGD – 8.50
Seafood Bee Hoon Tom Yam Soup – SGD – 8.50
Black Pepper Chicken Cutlet – SGD – 9.00
Black Bean Sauce Beef Hor Fun – SGD – 8.50
Sambal Sliced Bee Hoon – SGD – 7.50
Lucky Cafe Singapore Menu 2023
Lucky Cafe Singapore Menu can be categorized as A La Carte Dishes, Noodles, Western food, Finger food, Rice Meal, & Soup & Vegetables. Now Let's see them in detail one by one.
LUCKY CAFE SINGAPORE A LA CARTE DISHES
SG's Favorite Items of Lucky Cafe Singapore Ala Carte dishes are
Sambal BBQ Prawn
Salted Egg with Sotong
Ginger Onion Chicken
Thai Style Chicken
Dry Chili Beef
Hot Plate Spring Onion Beef
Cereal Chicken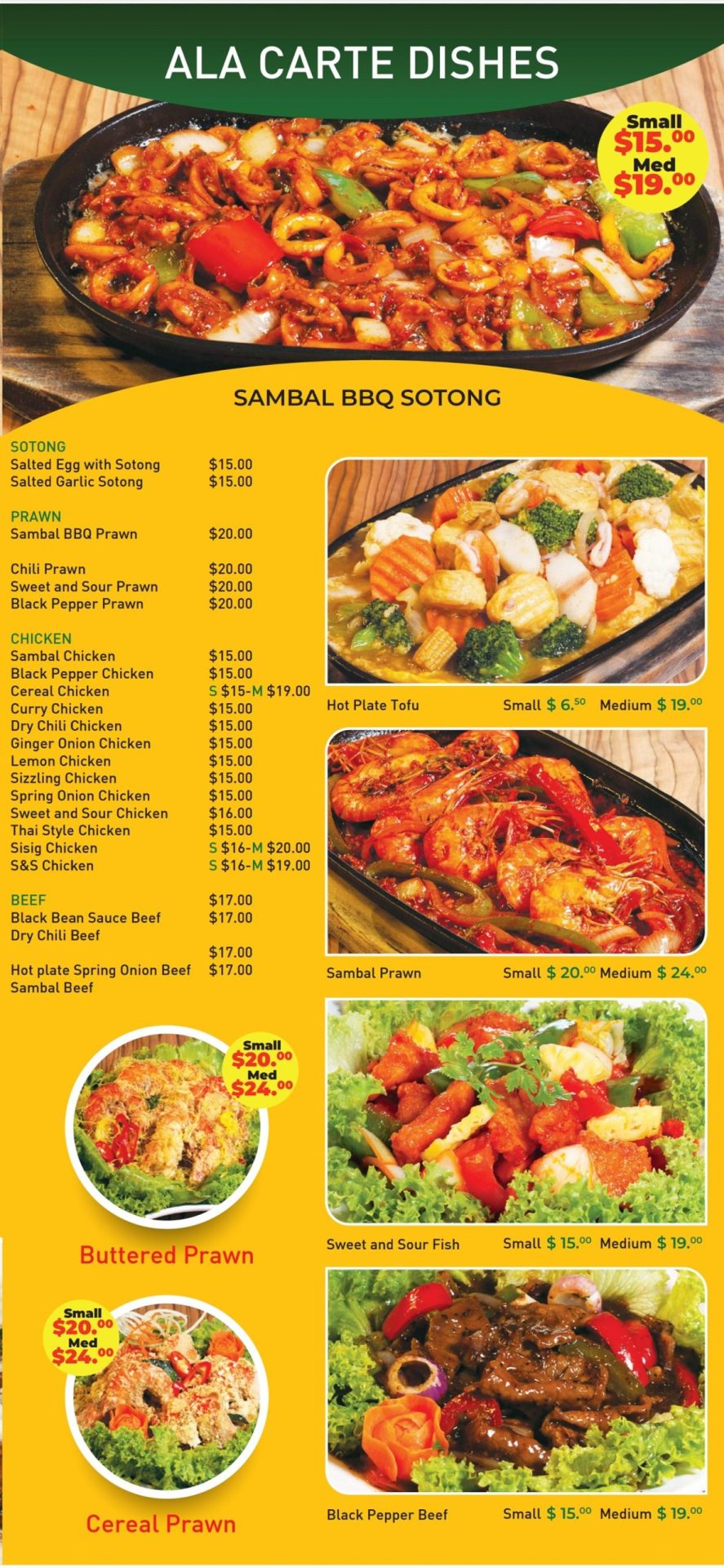 LUCKY CAFE NOODLE MENU WITH PRICES
SG's Favorite items of Lucky Cafe Noodles are
Hor Fun Beef
Black Bean Sauce Chicken
Sambal Seafood Maggie Mee
Sliced Fish Hor Fun
Mee Goreng Sliced Fish
Crispy Noodles Beef
Yellow Mee Slice Fish
Hong Kong Noodle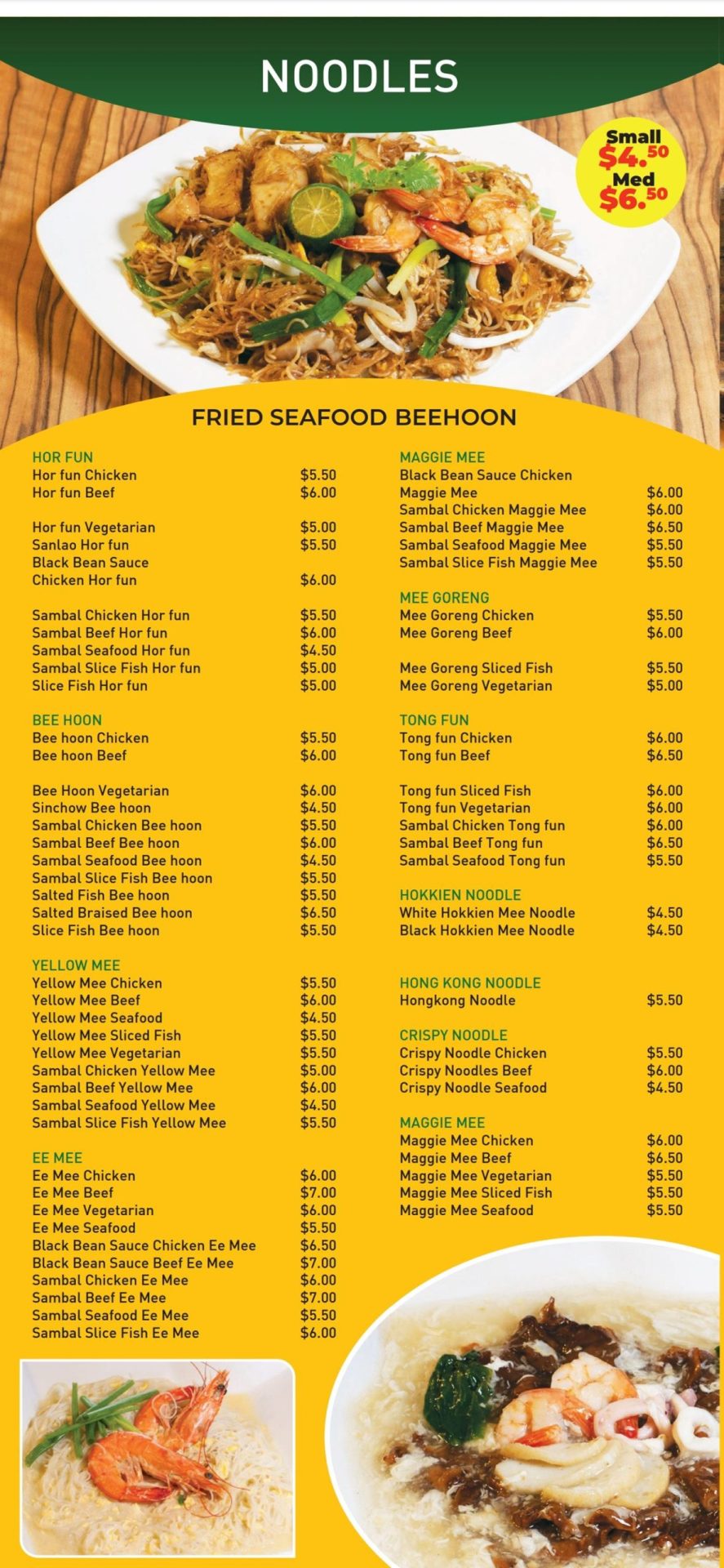 See Also : Liho Menu
LUCKY CAFE MENU – WESTERN FOOD
SG's Favorite Western Food Items of Luck Cafe are
Chicken Mushroom Chop
Black Pepper Chicken Chop
Fried Baby Squid
Onion Rings
Fried Wanton Ball
Seaweed Chicken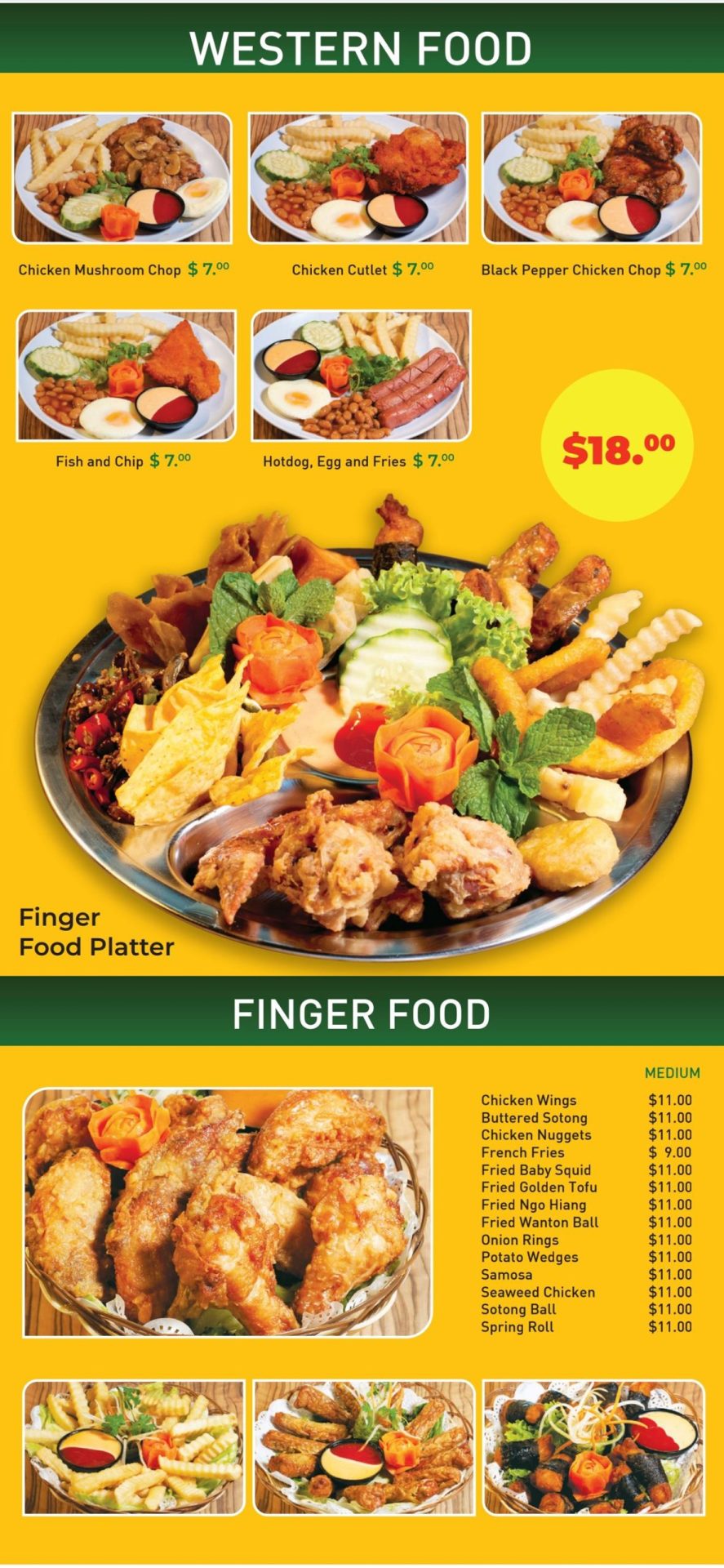 LUCKY CAFE SINGAPORE MENU – RICE MEAL
SG's favorite items of Lucky Cafe Singapore Rice Meal are
Kampung Fried Rice
Beef Fried Rice
Singaporean Fried Rice
Black Bean Sauce Chicken Rice
Dry Chili Beef Rice
Sambal Beef Rice
Ginger Onion Slice Fish Rice
Sambal Prawn Rice
Mix Vegetables Rice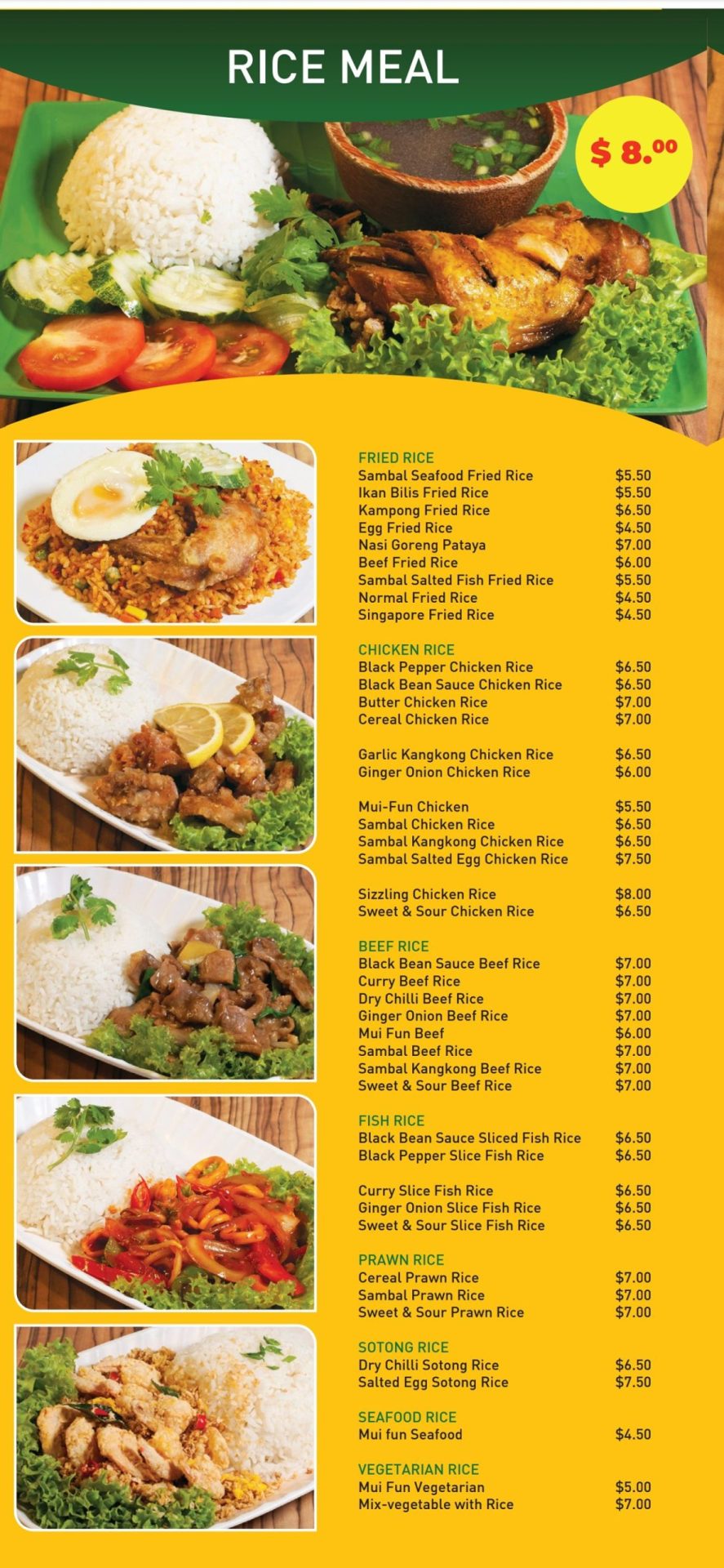 See Also : Miznon Menu
LUCKY CAFE SOUPS & VEGETABLES
SG's Favorite items of the lucky cafe Soups & Vegetables are.
Chicken Tomyam Soup
Chicken Yellow Mee Soup
Beef Kway Teow Soup
Bitter gourd Beef Soup
Sliced Fish Soup
Seafood Soup
Broccoli Mushroom
Garlic Kailan
Special Lucky Porridge
Prawn Omelet
Century Egg Porridge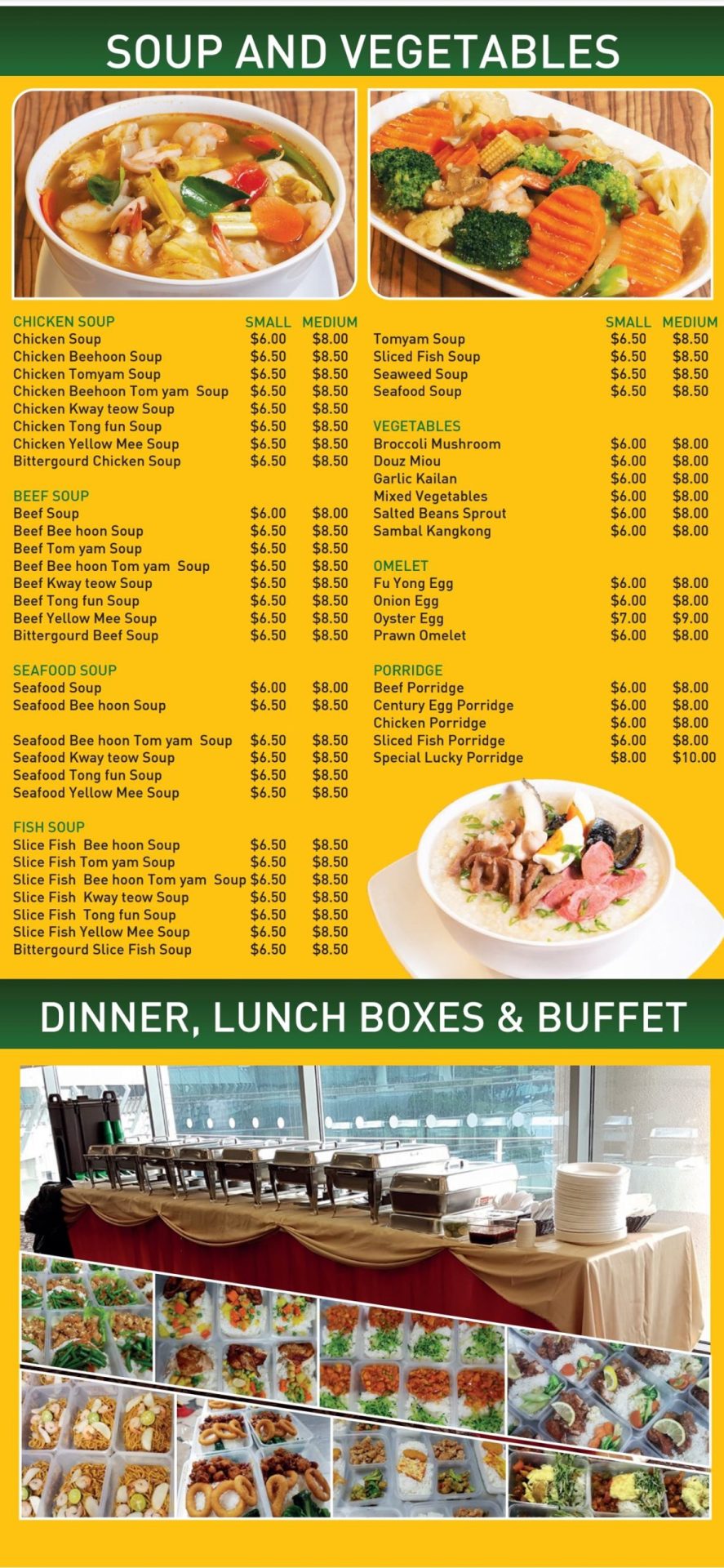 Is Lucky Cafe Singapore Halal?
Yes, Lucky Cafe is Halal Certified Cafe.
Address
---
Here is the official Facebook page of the restaurant: Lucky Cafe