Last Updated on May 2, 2023
Hello foodies, are you looking for the latest Ce La Vi Singapore Menu? You have arrived at the right place then. We have uploaded their complete menu with pictures and updated prices. Prices are taken from the official sources of Ce La Vi Singapore.
CE LA VI MENU 2023
Ce La Vi Singapore A La Carte menu can be categorized as Starters, Mains, Premium Selections, Sides, & Desserts. Let's see them in detail one by one.
CE LA VI STARTERS MENU
SEASONAL OYSTERS Half dozen – SGD 45 | Dozen – SGD 88
HOKKAIDO SCALLOP – SGD 28
CAVIAR BUMP (10g) [GF] – SGD 68

Nomad kaluga hybrid caviar served on your hand

SILVER FERN FARMS BEEF TENDERLOIN TARTARE – SGD 30

White soy l smoked wagyu fat emulsion

GENTING HIGHLANDS CHERRY TOMATO [GF, V] – SGD 25

Whipped burrata l wakame oil

AVOCADO SUSHI ROLL [V, VG] – SGD 20
AUSTRALIAN OCTOPUS [GF] – SGD 35

Tandoori spice l smoked potato espuma

A4 MIYAZAKI NIGIRI – SGD 48
SPRING PEAS CHAWANMUSHI [V] – SGD 20

Mint l garden flowers l tomato water

ROASTED MAITAKE [GF, V] – SGD 25

Sous vide egg l mushroom foam

TEMPURA ZUCCHINI FLOWER [V] – SGD 35

Furikake l pickled wasabi

THAI BABY CORN [GF, V] – SGD 25

Chipotle adobo l puffed quinoa
[GF] Gluten-Free [V] Vegetarian [VG] Vegan
Prices subject to 10% service charge and prevailing government taxes.
CÉ LA VI is proud to source sustainable seafood, free range poultry and meat which is free of injected hormones and steroids.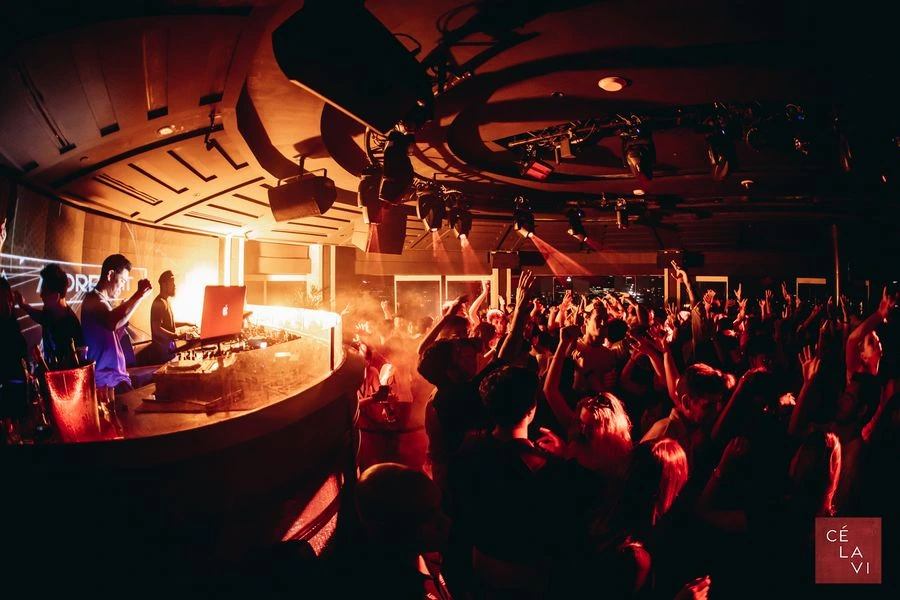 CE LA VI MAINS MENU
HALF BOSTON LOBSTER THERMIDOR – SGD 78

Sweet chilli l mango salad

NEW ZEALAND WHOLE LEMON SOLE – SGD 68

Local farmed lala clam l sea asparagus l yuzu

NORWEGIAN SALMON [GF] – SGD 45

Lemongrass foam l calamari l spinach

PATAGONIA ARGENTINIAN RED PRAWN [GF] – SGD 35

Tom Yum sauce l crispy togarashi head

BAKED CAULIFLOWER [GF, V] – SGD 35

Celeriac purée l black garlic l hazelnut

TRUFFLE RICE PORRIDGE [GF, V] – SGD 30

Seasonal truffle l Hoshi-Jirushi rice l crispy shallot and garlic

NEW ZEALAND MAIMOA YOUNG LAMB CHOP [GF] – SGD 58
BREADED IBERICO PORK PLUMA – SGD 45

Watercress l pomelo l caper

TRUFFLE TERIYAKI CHICKEN BREAST – SGD 45

Seasonal truffle l qing long cai
MENU CE LA VI PREMIUM SELECTIONS
JAPANESE KING CRAB LEG [GF] – SGD 148

Smoked butter l jalapeño l coriander

SANCHOKU "F1 WAGYU" MARBLE SCORE 5 T-BONE (1.2kg) – SGD 320
SHORT RIB BOSSAM – SGD 168

48 hours slow cooked l Korean ssamjang sauce l lettuce l kimchi

A4 MIYAZAKI STRIPLOIN (300g) – SGD 158
GREAT SOUTHERN NEW ZEALAND RIBEYE (300g) – SGD 98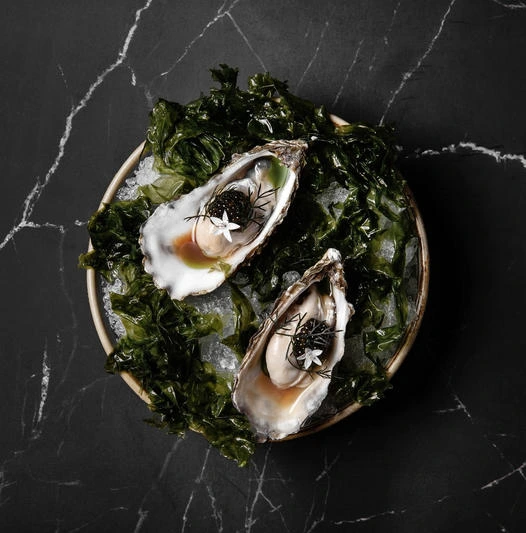 CE LA VI SIDES MENU
CHARRED BROCCOLINI [GF, V, VG] – SGD 22
ASPARAGUS [V] – SGD 22
GEM LETTUCE SALAD [V, VG] – SGD 15

Okinawa spinach l sanbaizu l pumpkin seed oil

SWEET CORN [GF] – SGD 18
MISO MASHED POTATO [GF, V] – SGD 18

Scallion oil l crispy shallot
See Also: Ocean Restaurant Menu
CE LA VI DESSERTS
CELEBRATION PLATTERS Small – SGD 28 | Medium – SGD 48 | Large – SGD 68

Selection of Chef's favorite desserts & home-made ice cream

COCONUT MOUSSE [GF, V, VG] – SGD 18

Calamansi | compressed aloe vera

CHOCOLATE MISO [GF, V] – SGD 18

Roasted macadamia ice cream| frozen Balinese chocolate

ICE CREAM SANDWICH [V] – SGD 18
JAPANESE FRUIT PLATTER [GF, V, VG] – SGD 150

Seasonal premium Japanese fruits

CÉ LA VI ICE CREAM – SGD 16

Madagascar vanilla [GF, V]
68% Balinese chocolate [GF, V]
Passionfruit [GF, V]

CÉ LA VI SORBET – SGD 16

Lime [GF, V, VG]
Salted lychee [GF, V, VG]
Is Ce La Vi Singapore Halal?
No. They serve pork & for that reason Ce La Vi Singapore is not Halal.
All the images and prices are taken from the following official sources of Celavi Singapore.