Last Updated on June 7, 2023
Hello foodies, are you looking for the Awfully Chocolate menu prices? You have arrived at the right place then. We have uploaded their complete menu with updated prices. Prices are obtained from the restaurant outlet.
My favorite Items of the Awfully chocolate menu are
Dark Chocolate Bread & Butter Pudding – SGD 18.00

Creamy, custardy pudding made with butter croissants, soft rolls and Awfully Chocolate 70% couvertures — packaged specially for Christmas!

12″ Pear & Polenta Tart – SGD 88.00

Wine-poached pear baked in soft, moist polenta cake. Finished with Christmas aromatics of cinnamon and nutmeg, and dusted with snow powder — perfect as a thoughtful gift this Christmas!

Truffle Brioche Loaf – SGD 12.00

Twisted and baked with cep mushroom, caramelised onions and shallots, and infused with truffle, this soft, fluffy creation by our Chef Anthony Pangetsu is a dream come true for all bread lovers.


Awfully Chocolate Menu 2023
Awfully Chocolate Singapore menu can be categorized as Weekend Brunch, Deli, Good morning Beverages, All day dining, Sides & Such, Cakes & Desserts, Coffee & Tea. Let's see them in detail one by one.
Awfully chocolate WEEKEND BRUNCH MENU prices
MENU ITEMS
PRICE
The Works
Full & Hearty
SGD 19.00
Egg Whites
Light & Fluffy
SGD 15.00
Ninethirty Scramble
Rich & Creamy
SGD 16.00
Mushroom Crêpe
Strong & Robust
SGD 15.00
Breakfast Patty
Naked Burger
SGD 21.00
Breakfast Crêpe
Savoury Goodness
SGD 18.00
Steak & Eggs
A Man's Breakfast
SGD 21.00
Chocolate & Toast
Breakfast Chocolate
SGD 14.00
Rösti
Crisp & Fragrant
SGD 15.00
Caramel & Sea Salt Crêpe
Breakfast Dessert
SGD 14.00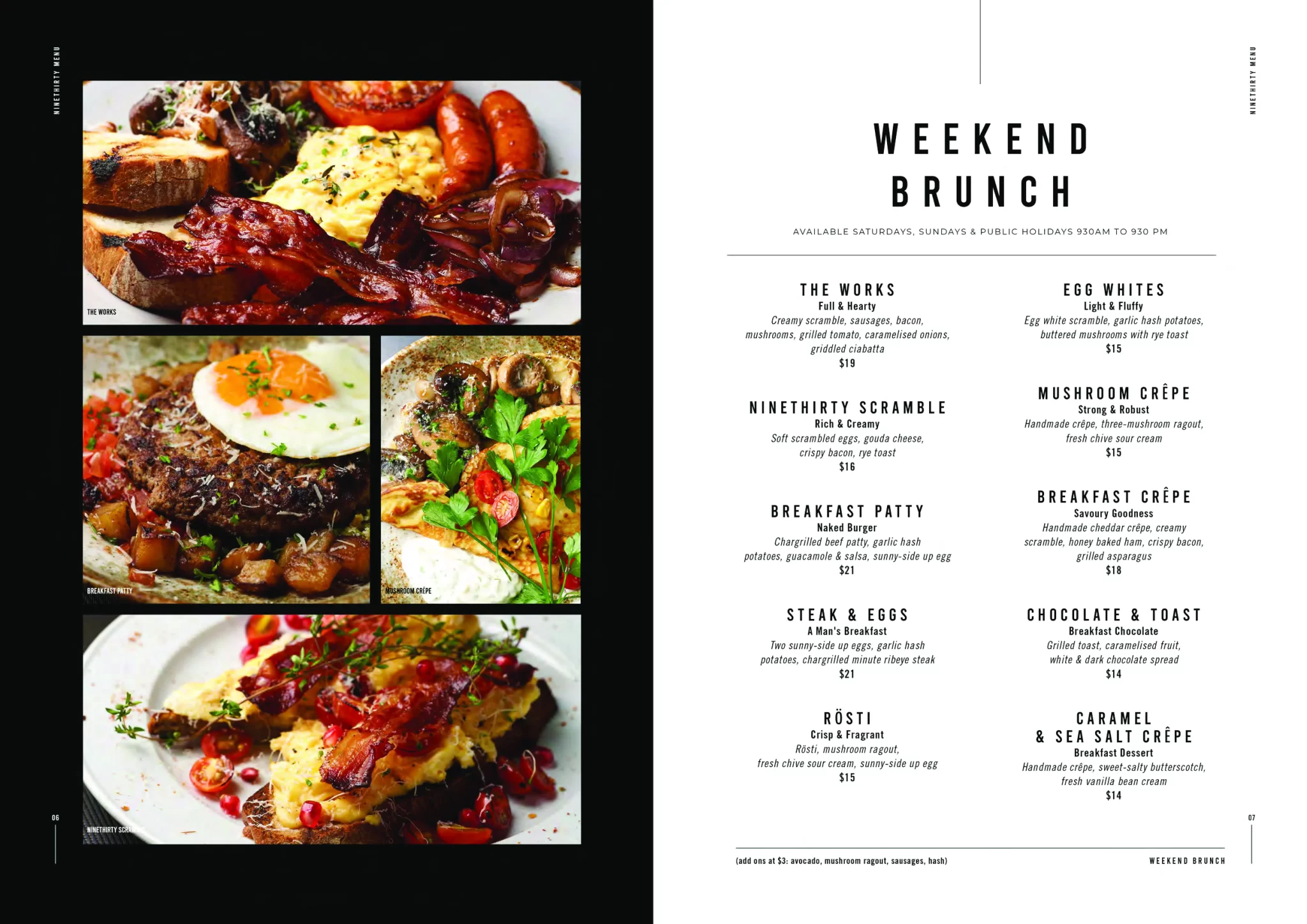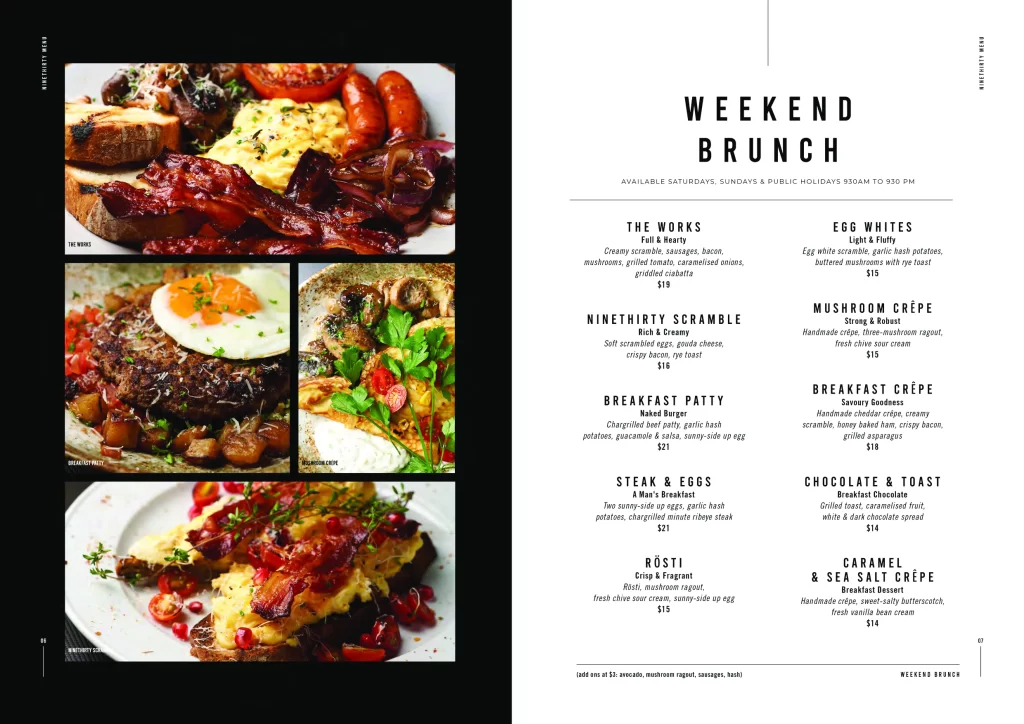 Awfully chocolate Deli prices
MENU ITEMS
PRICE
Grilled Ham & Cheese Brioche
Soft & Choosy
SGD 14.00
Bacon & Chunky Egg
Crispy & Chunky
SGD 14.00
Tomato Av0cad0 Toast
Healthy Start
SGD 14.00
Mushrooms & Egg White
Tasty
SGD 14.00
Grilleo Cheese Sandwich
Smoky
SGD 12.00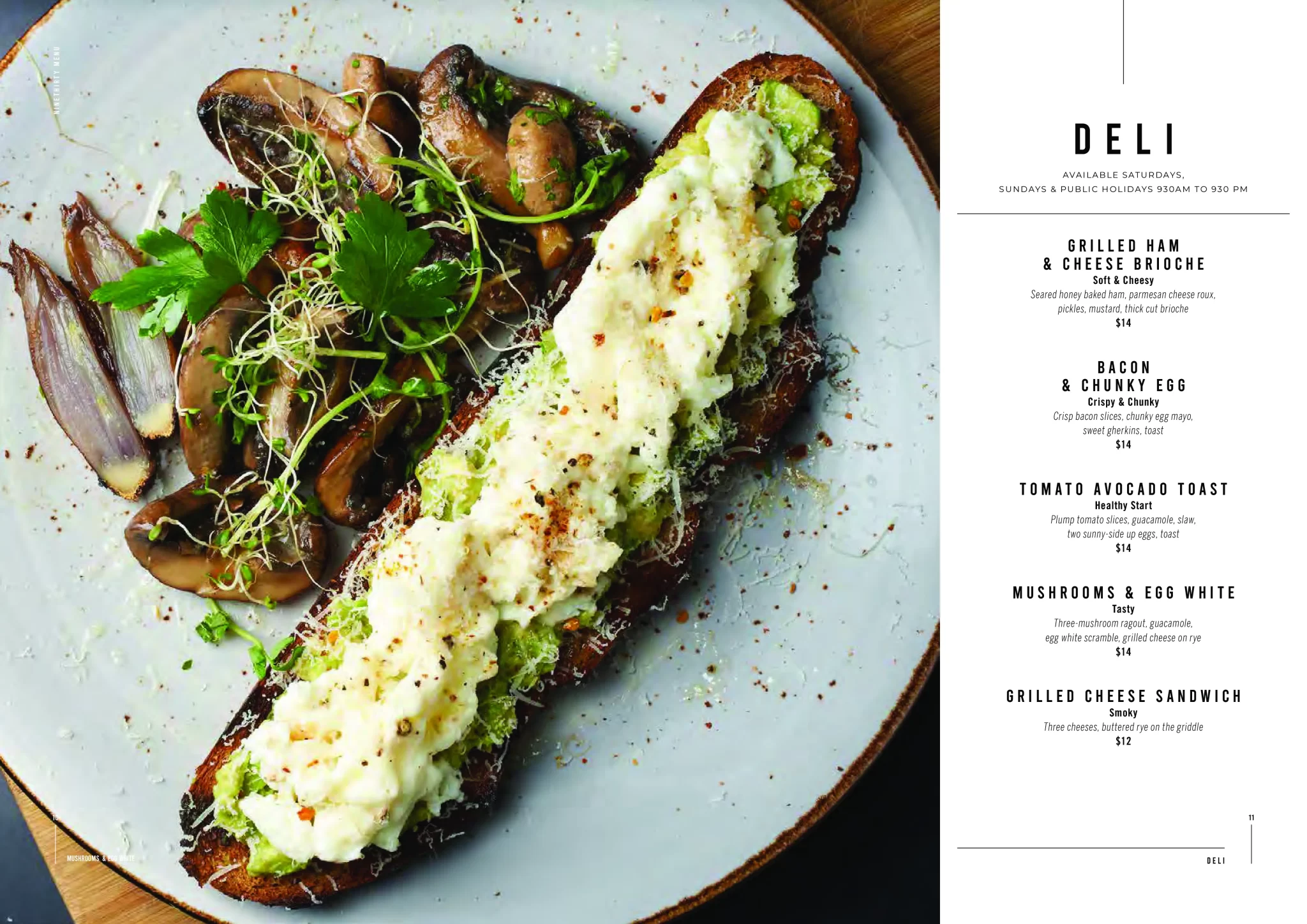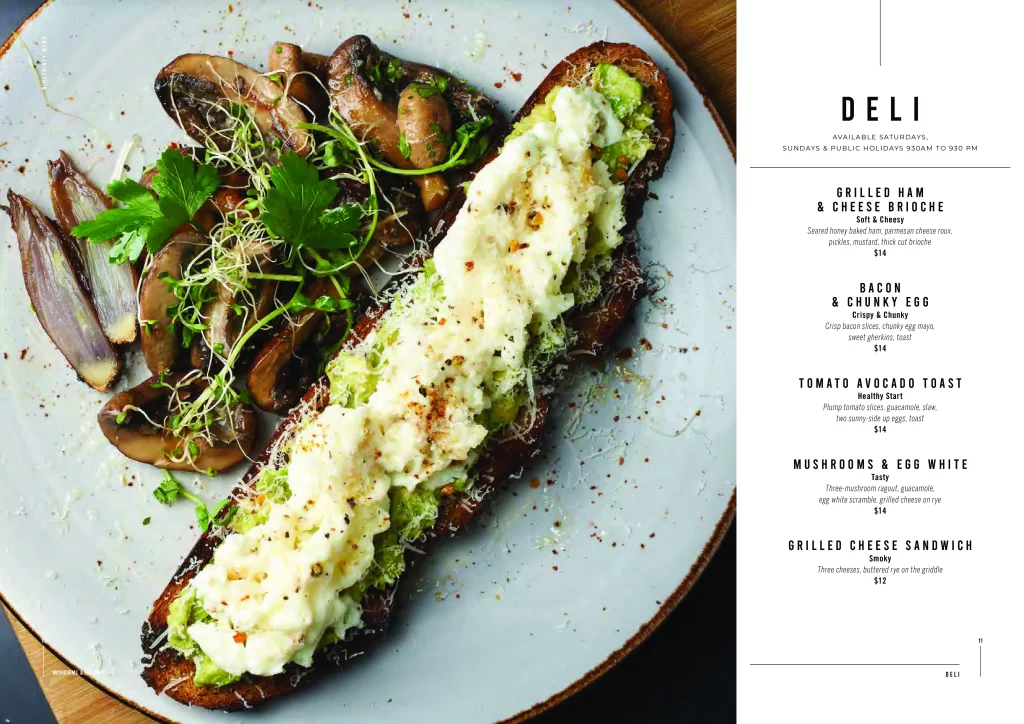 Awfully chocolate Good Morning Beverages prices
MENU ITEMS
PRICE
Orange Press
Perfect Start
SGD 6.00
Lemon Basil & Cucumber
Wake Up Call
SGD 5.00
Sunday's Apple
Simply Refreshing
SGD 5.00
Virgin Mojito
Light & Breezy
SGD 5.00
Hand Pressed Ginger Ale
Classic
SGD 6.00
Virgin Mary
For The Hangover
SGD 6.00
Pineapple Tart
Tastes Happy
SGD 6.00
Fresh Apple or Orange
Pure Juice
SGD 7.00
Apple Pie
Great Mixer
SGD 6.00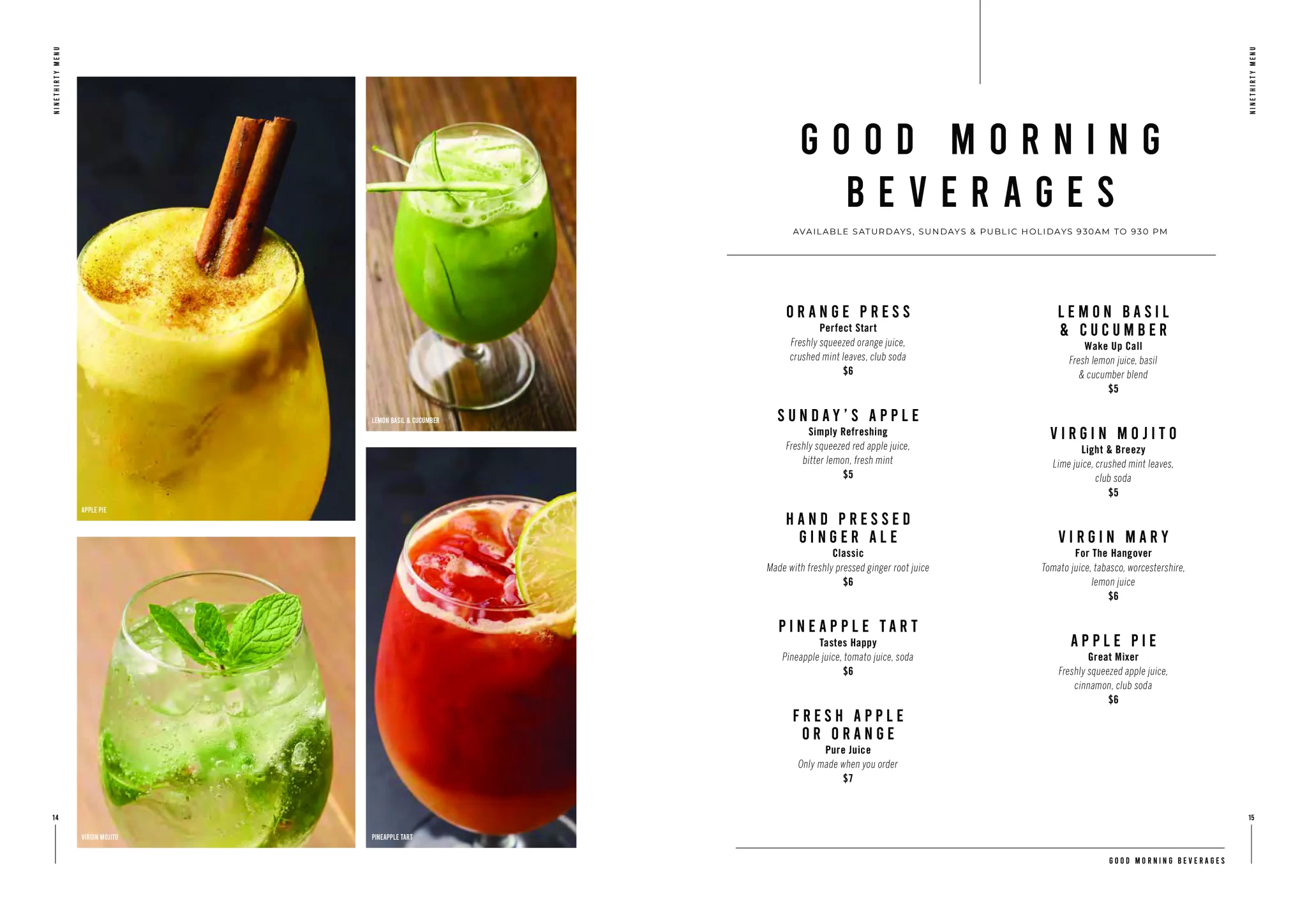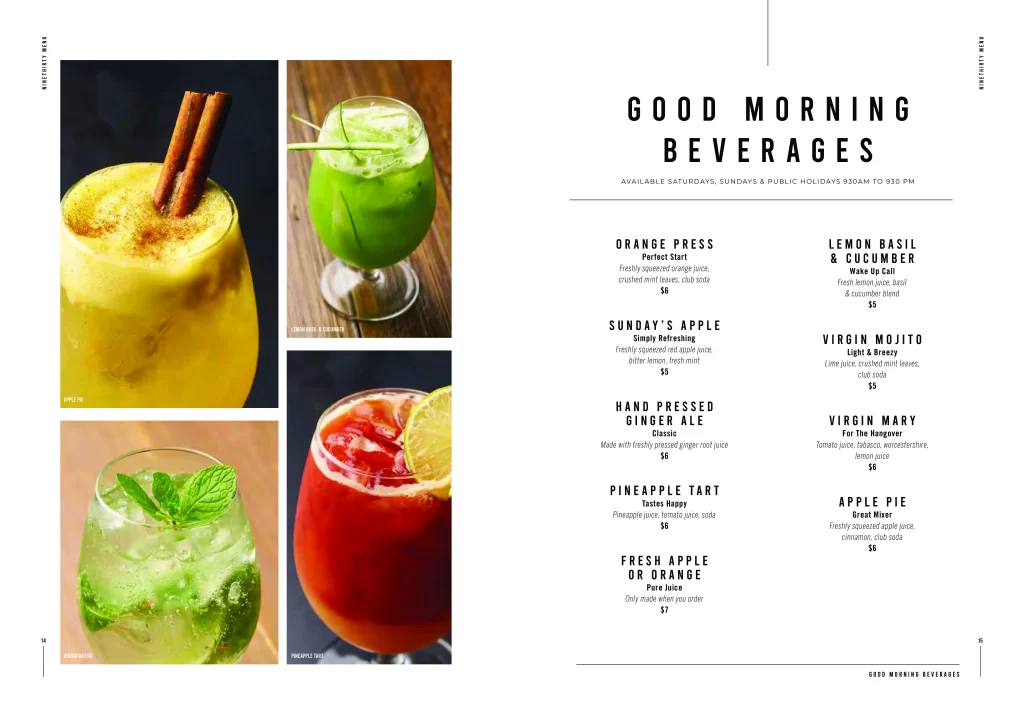 Awfully chocolate All Day Dining PRICES
MENU ITEMS
PRICE
Grilled Pork Chop
Awesome
SGD 26.00
Fish & Peas
Golden & Crisp
SGD 20.00
Mediterranean Burger
Charred & Juicy
SGD 22.00
Grilleo Red Snapper With Garlic Caper Sauce
Tangy & Tasty
SGD 22.00
Ribeye Cut
Perfect
SGD 28.00
Charred Lamb Chops
Spiced & Sexy
SGD 26.00
Prawn. Crab Meat & Basil Aglio Olio
Saafood & Garlic
SGD 20.00
Mac & Cheese
Brilliant
SGD 18.00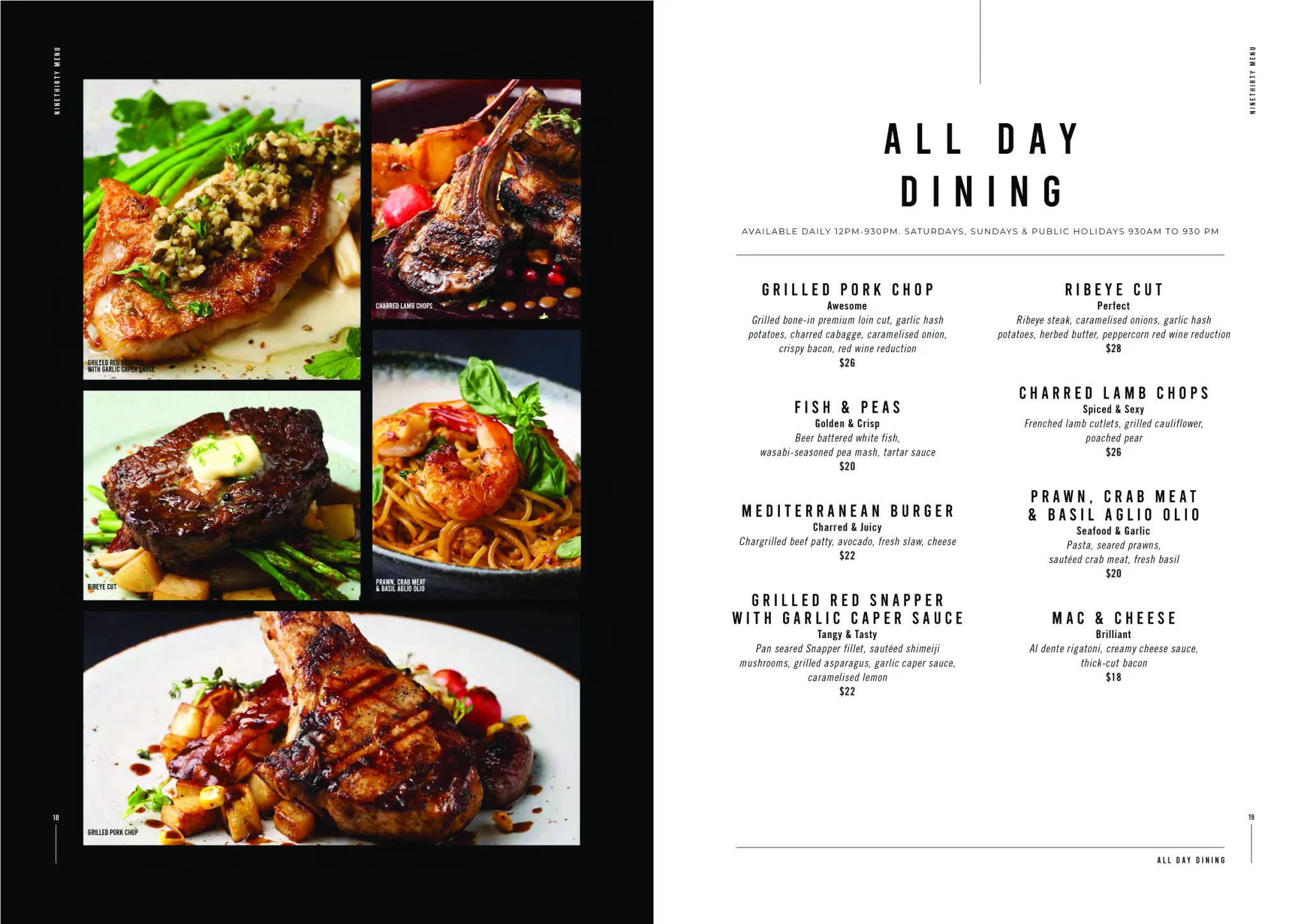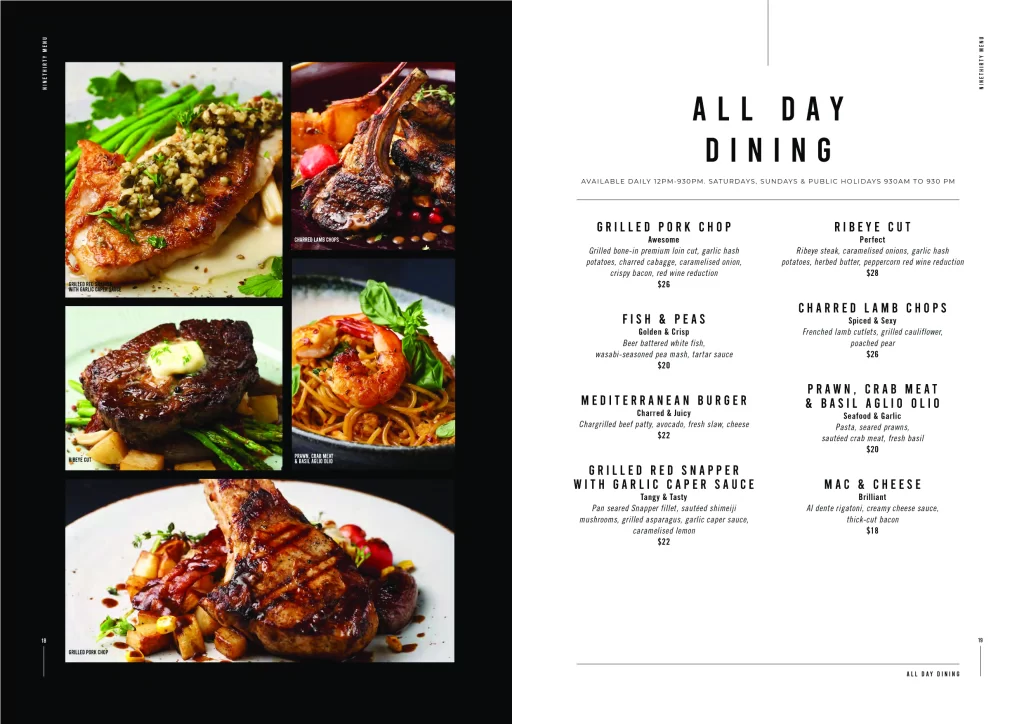 Awfully chocolate Sides & Such PRICES
MENU ITEMS
PRICE
Truffle Fries
Perfection
SGD 13.00
Curry Fries
Spicy Kick
SGD 9.00
Crab Meat Slaw
Clever Twist
SGD 13.00
Salty Cabbage Salad
Special Simple
SGD 9.00
Caesar Salad
Classic
SGD 15.00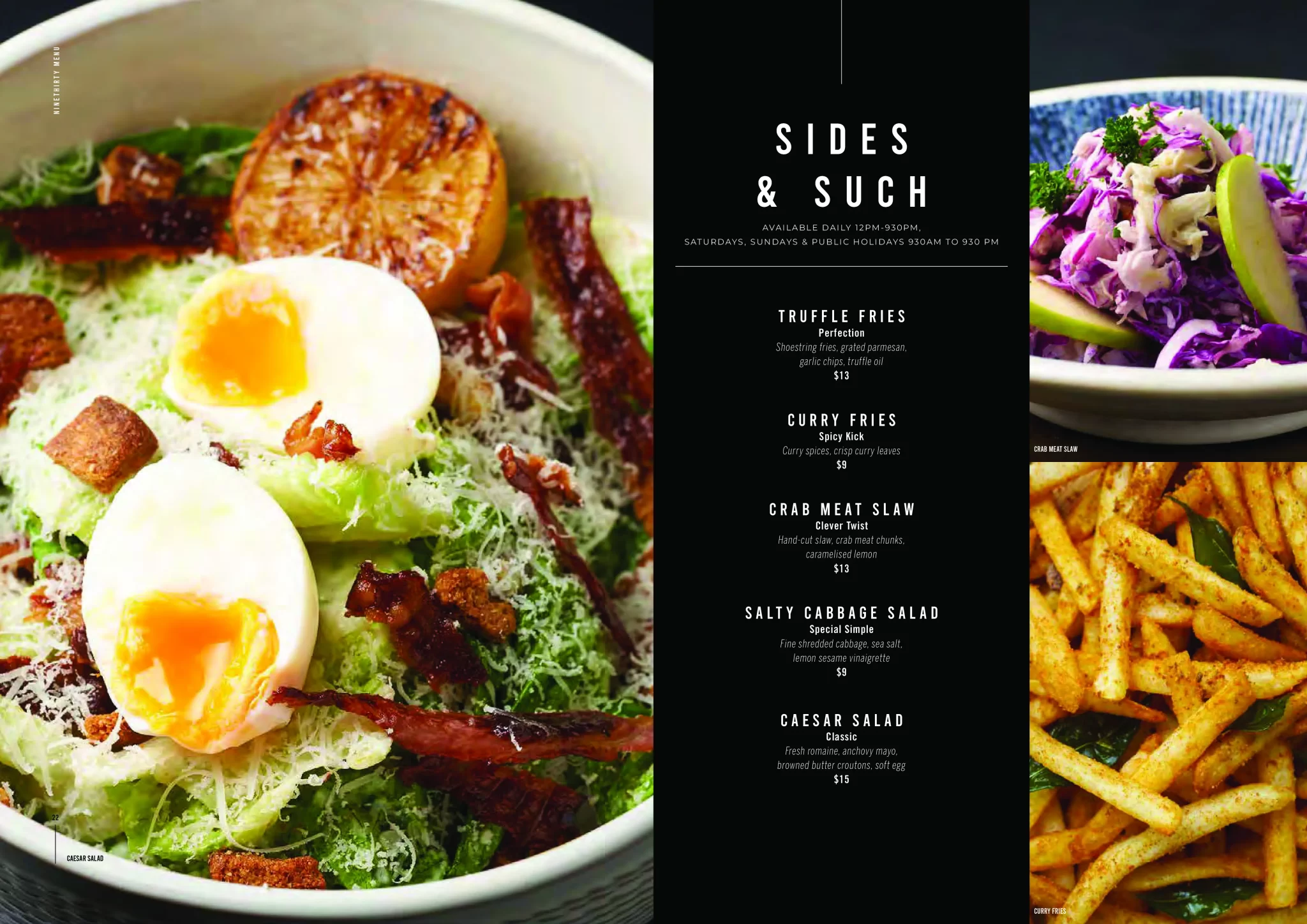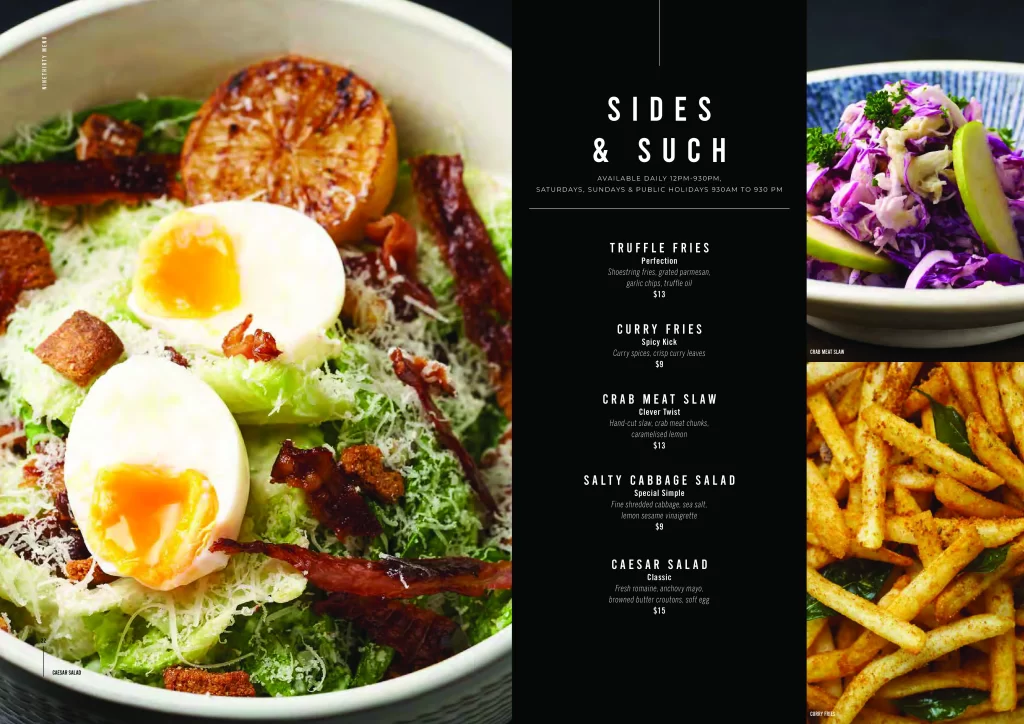 Awfully chocolate MENU Cakes & Desserts prices
MENU ITEMS
PRICE
Desserts
All Chocolate
SGD 8.0
Chocolate Banana
SGD 8.5
Chocolate Rum & Cherry
SGD 8.9
Chocolate Peanut Butter
SGD 8.9
Praline Cake
SGD 8.9
Super Stacked Chocolate Cake
SGD 7.9
Chocolate Mille Crepe
SGD 8.9
Flourless Chocolate Cake
SGD 7.9
Salted Butterscotch Brownie
SGD 7.9
White Chocolate Creme Brûlee
SGD 8.9
Chocolate Tiramisu
SGD 19.9
Nutella Tart
SGD 8.9
White Chocolate Butterscotch Black
SGD 7.9
Gorgeous Truffles
Per/Pieces
Dark Chocolate
SGD 2.5
Double Espresso
SGD 2.5
Caramel Brittle
SGD 2.5
Champagne
SGD 2.5
Hazlenut
SGD 2.5
Rum & Raisia
SGD 2.5
A Ninethirty Exclusive
Dark Chocolate S'more
SGD 10.0
Awfully Chocolate Cakes
6″/8″
6″ All Chocolate
SGD 36.0 / SGD 72.0
6″ Chocolate Banaaa
SGD 38.0 / SGD 76.0
6″ Chocolata Rum & Cherry
SGD 40.0 / SGD 80.0
Hei Ice Cream
PRICE
Single Scoop
SGD 4.9
Double Scoop
SGD 8.0
Pint
SGD 15.5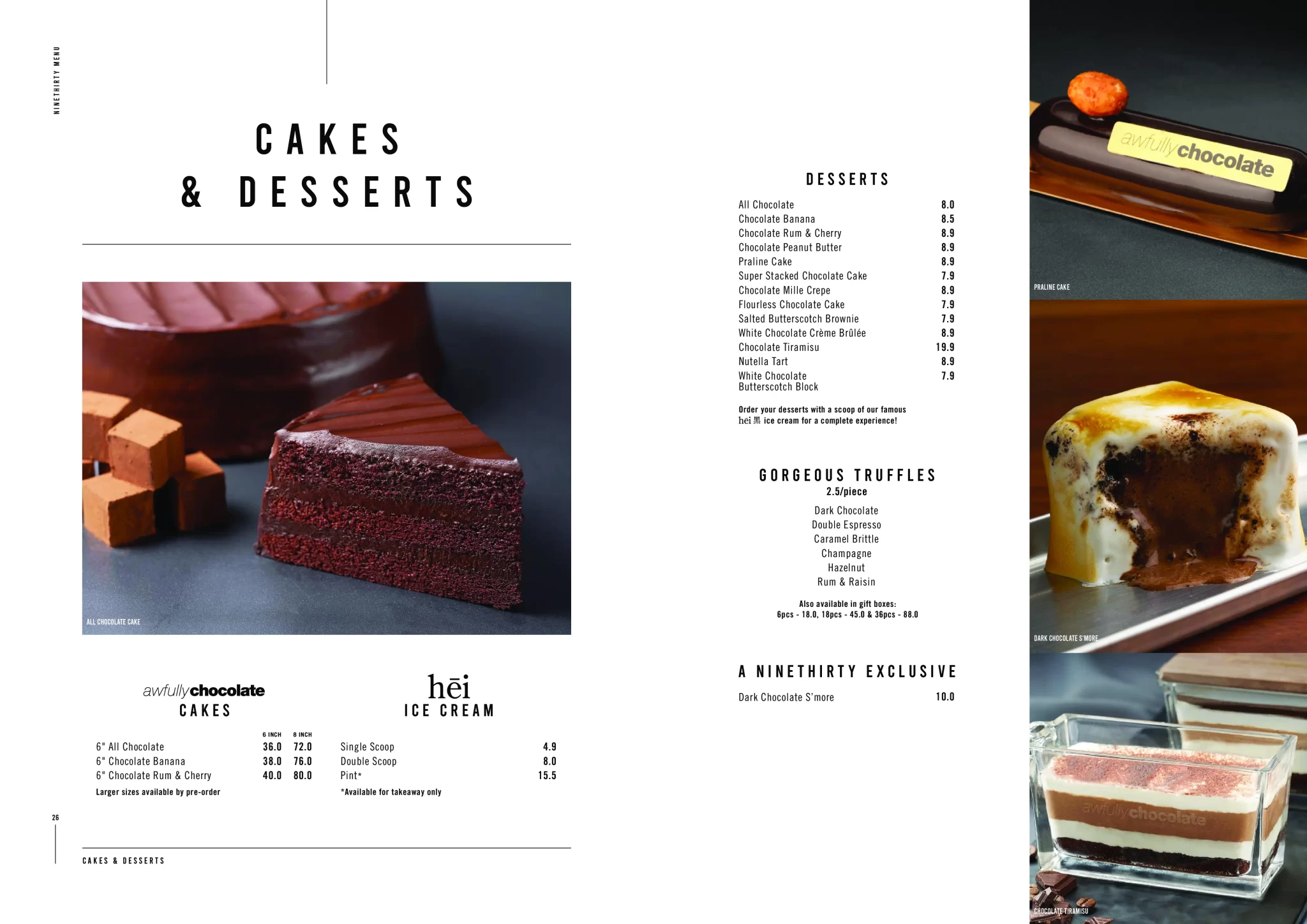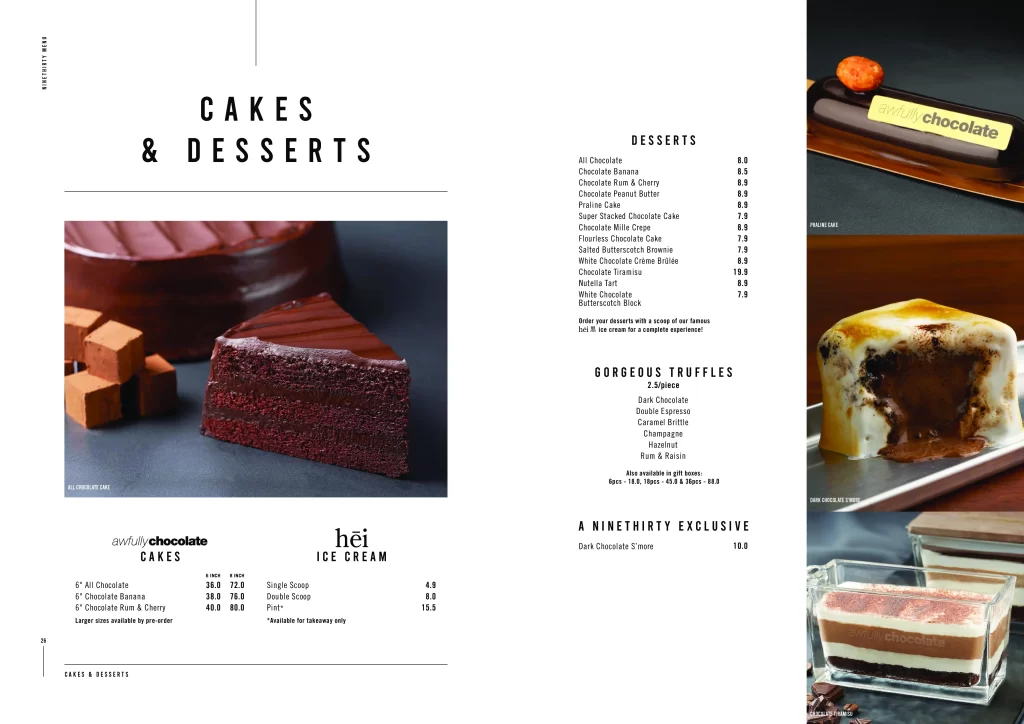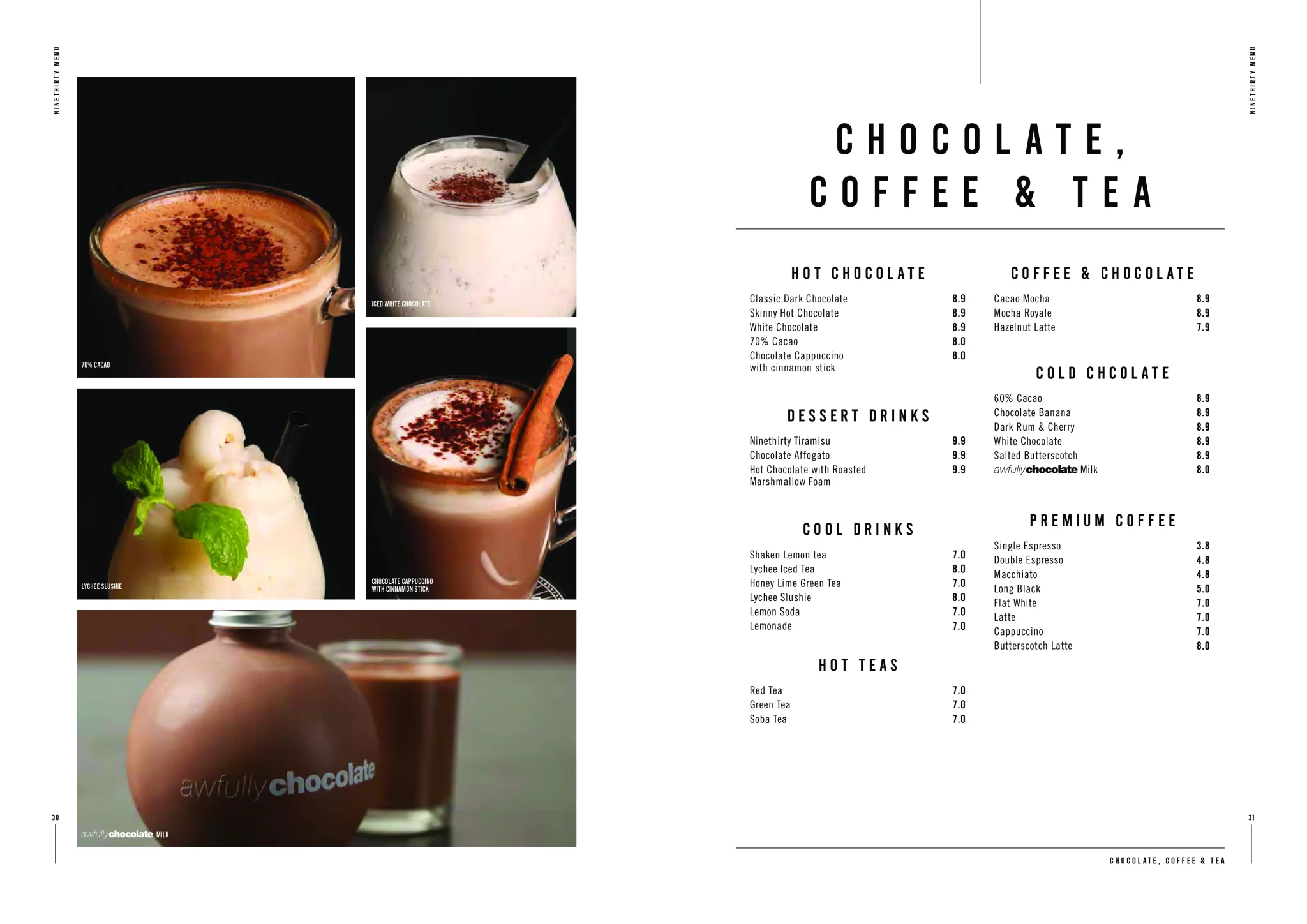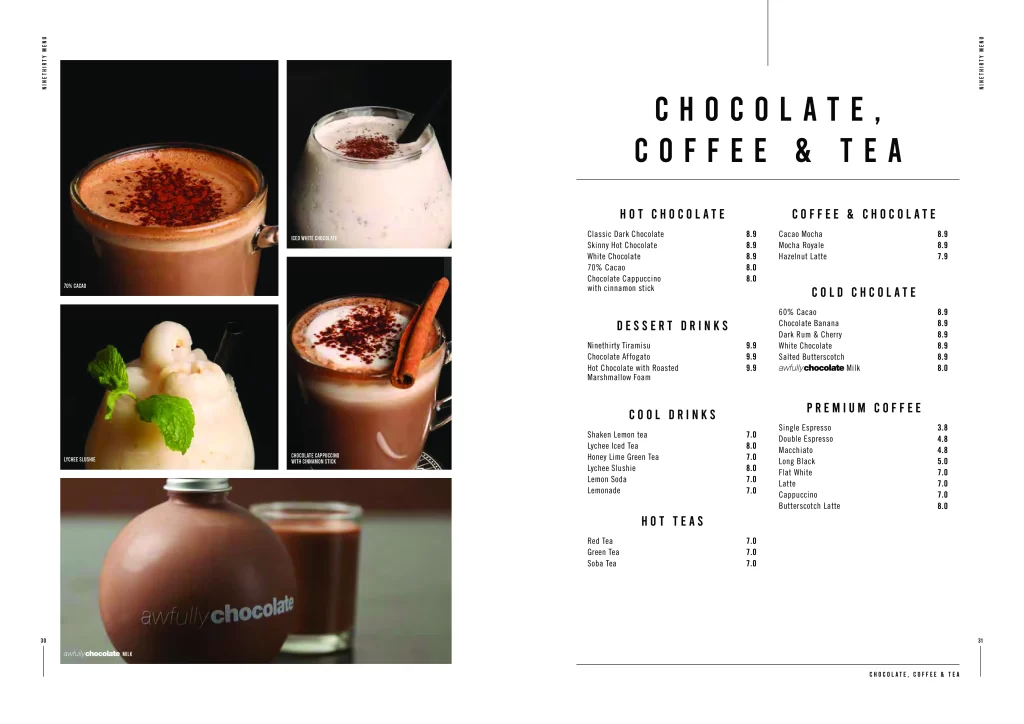 Awfully chocolate Coffee & Tea PRICEs
MENU ITEMS
PRICE
Hot Chocolate
Classic Dark Chocolate
SGD 8.9
Skinny Hot Chocolate
SGD 8.9
White Chocolate
SGD 8.9
70% Cacao
SGD 8.0
Chocolate Cappuccino With Cinnamon Stick
SGD 8.0
Dessert Drinks
Ninethirty Tiramisu
SGD 9.9
Chocolate Affogato
SGD 9.9
Hot Chocolate With Roasted Marshmallow Foam
SGD 9.9
Cool Drinks
Shaken Lemon Tea
SGD 7.0
Lychee Lced Tea
SGD 8.0
Honey Lime Green Tea
SGD 7.0
Lychee Slushie
SGD 8.0
Lemon Soda
SGD 7.0
Lemonade
SGD 7.0
Hot Teas
Red Tea
SGD 7.0
Green Tea
SGD 7.0
Soba Tea
SGD 7.0
Coffee & Chocolate
Cacao Mocha
SGD 8.9
Mocha Royale
SGD 8.9
Hazelnut Latte
SGD 7.9
Cold Chocolate
60% Cacao
SGD 8.9
Chocolate Banana
SGD 8.9
Dark Rum & Cherry
SGD 8.9
White Chocolate
SGD 8.9
Salted Butterscotch
SGD 8.9
Awfully Chocolate Milk
SGD 8.0
Premium Coffee
Single Espresso
SGD 3.8
Double Espresso
SGD 4.8
Macchiato
SGD 4.8
Long Black
SGD 5.0
Flat White
SGD 7.0
Latte
SGD 7.0
Cappuccino
SGD 7.0
Butterscotch Latte
SGD 8.0
Beers Draft
Asahi (1/2 Pint)
SGD 7.9
Asahi (Pint)
SGD 11.9
Asahi (Jug)
SGD 30.0
Beers Bottled
Heineken (330ml)
SGD 10.9
Hoegaarden (330ml)
SGD 10.9
Erdinger (Dark)
SGD 14.9
Erdinger (Light)
SGD 14.9
Sweet Wine
Woodstock Little Miss Collet Moscato 2012 (500ml)
SGD 58.0
Martinis
Espresso Martini
SGD 18.0
70% Dari Martini
SGD 15.0
Pure White Martini
SGD 15.0
45% Dark Milk Martini
SGD 15.0
House Pour
Glass / Bottle
Red
Cevico E'got Merliot Sangiovese Rubicone IGT
SGD 15.0 / SGD 58.0
White
Cruco E'get Trebbuno Chardonnay Rubicone IGT
SGD 15.0 / SGD 58.0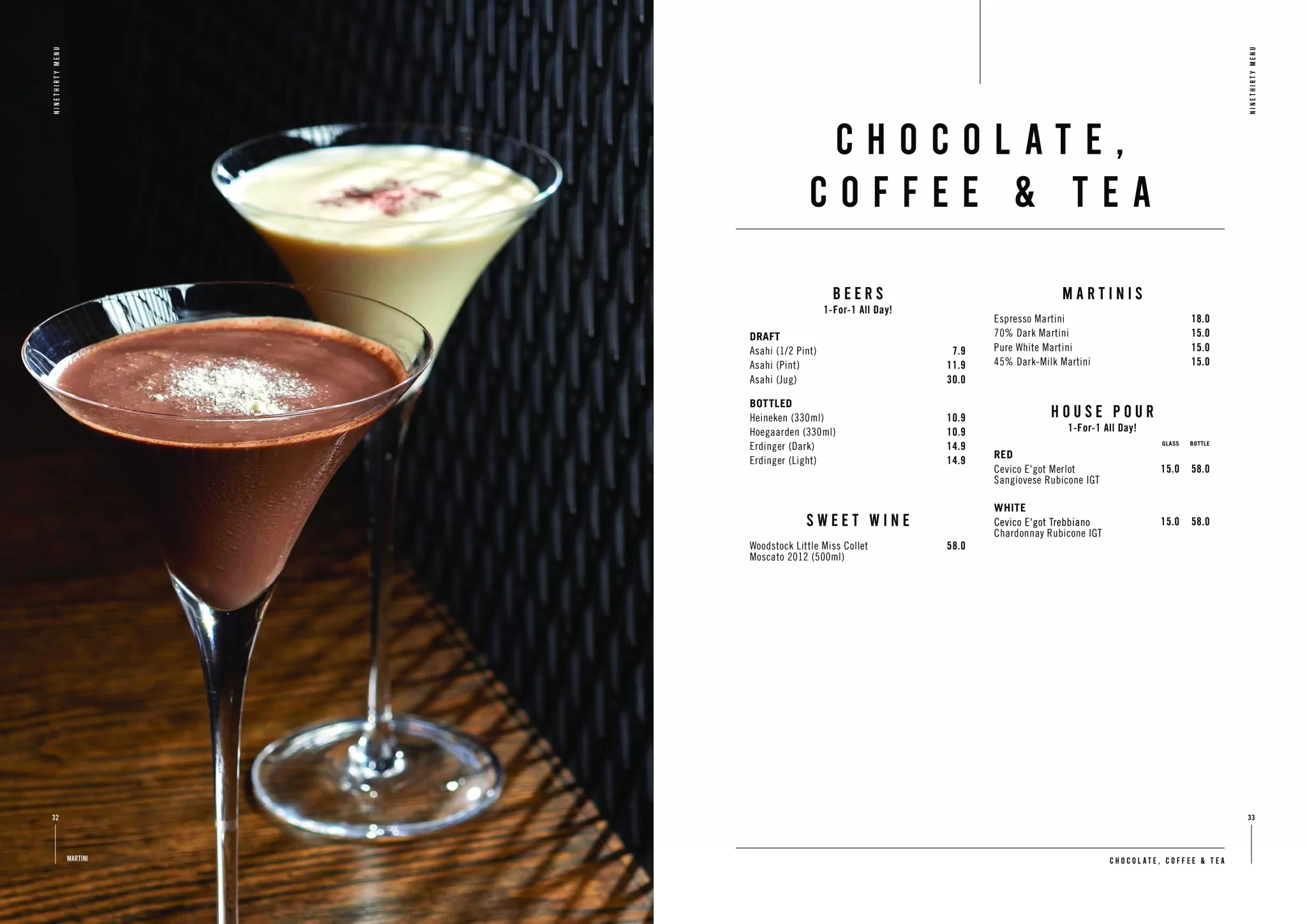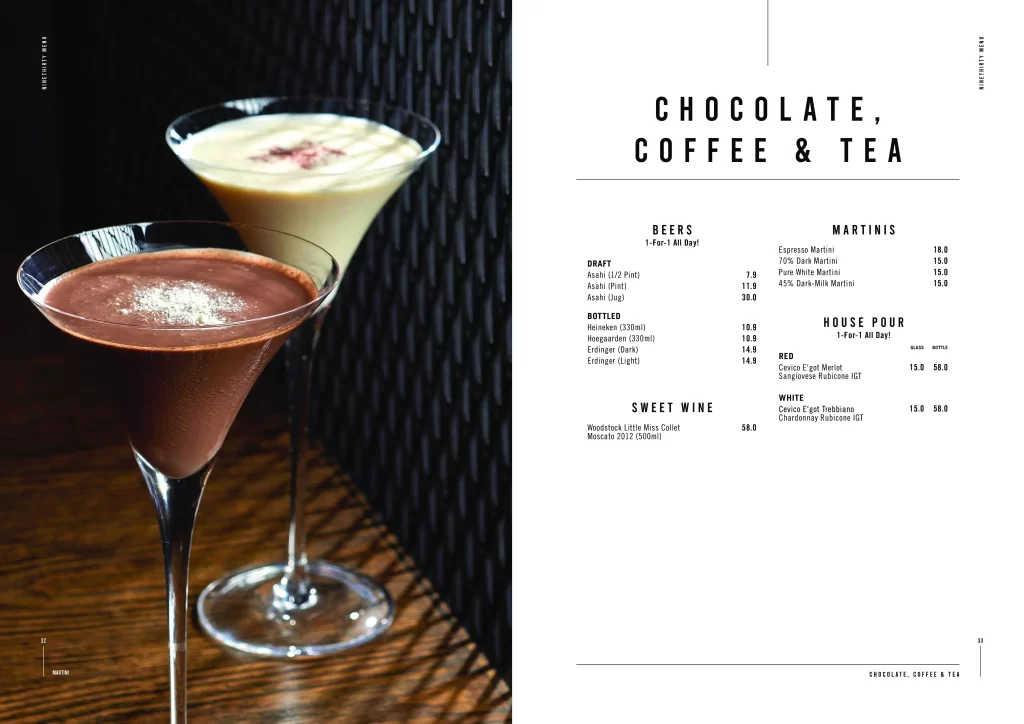 ---
Here is the official website of the restaurant: Awfully Chocolate