Last Updated on May 2, 2023
Hello Pizza lovers, are you looking for the latest Yellow Cab Pizza Menu Prices? You have arrived at the right place then. We have uploaded their complete menu with Pictures & updated prices. Prices are taken from the official sources of Yellow Cab Pizza Singapore.
Yellow Cab Pizza Menu 2023
YELOW CAB MENU – SIGNATURE PIZZA
PRICE
NEW YORK'S FINEST
Pork pepperoni, ground beef, Italian sausage, pork ham & fresh vegetables
SGD 18.00
MANHATTAN MEATLOVERS
All Meat Pizza: ham, pork pepperoni, Italian sausage, ground beef, beef salami and bacon
SGD 18.00
FOUR SEASONS
4 Flavors in 1 Pizza: NY Classic + #4 Cheese + Hawaiian + Roasted Garlic and Shrimp
SGD 18.00
NY CLASSIC PEPPERONI
Flooded with pork Pepperoni
SGD 18.00
YELLOW CAN CLASSIC PIZZAS MENU
PRICE
BARBEQUE CHICKEN
Chicken strips, red onions, parsley in a hickory-smoked barbeque sauce
SGD 16.00
HAWAIIAN
Ham, pineapple and bacon
SGD 17.00
PEPPERONI & MUSHROOM
Pork pepperoni and button mushroom
SGD 17.00
ROASTED GARLIC & SHRIMP
Gourmet style pizza with shrimp, onions, roasted garlic in wine- butter sauce
SGD 16.00
JALAPENO & PEPPERONI (THIN CRUST)
An awesome blend of spicy goodness and pork pepperoni.
SGD 16.00
CHICKEN ALFREDO PIZZA (THIN CRUST)
Juicy chicken thigh fillets on a bed of creamy homemade alfredo sauce, topped off with olives and fresh basil.
SGD 16.00
YELLOW CAB PREMIUM PIZZA's
PRICE
PREMIUM SMOKED BACON & RED APPLE
Smoked bacon with red apples, garden-fresh button mushrooms,red & white onions and green bell peppers in barbeque sauce
SGD 19.00
PESTO CHICKEN
Fresh chicken strips, onions, fresh tomatoes, on a handmade pesto sauce with cashew nuts
SGD 19.00
SEAFOOD ALFREDO
SEAFOOD ALFREDO
SGD 19.00
FOUR SEASONS (ALL MEAT)
4 Flavours in 1 Pizza: Pepperoni + Manhattan Meatlovers + Hawaiian + New York's Finest
SGD 19.00
Is Yellow Cab Pizza Singapore Halal?
No, They serve Pork & for that reason Yellow Cab Pizza Singapore is not Halal.
YELLOW CAB PIZZA SINGAPORE PASTA MENU
PRICE
BAKED MACARONI TRAY- BACON & WHITE SAUCE
Good for 5 Pax
SGD 26.00
BAKED MACARONI TRAY- BEEF & RED SAUCE (Good for 4 pax)
Good for 5 Pax
SGD 26.00
BAKED MACARONI
1 Pax
SGD 12.20
CHICKEN ALFREDO PASTA
Creamy pasta with chicken strips, olives and basil
SGD 13.80
CHARLIE CHAN CHICKEN PASTA
Chicken strips, shiitake mushroom, & roasted peanut in a sweet & spicy oriental sauce, uniquely our own creation
SGD 13.80
AGLIO OLIO PASTA
Shrimp with garlic, olive oil, basil and sundried tomatoes.
SGD 13.80
PESTO CHICKEN PASTA
Fresh chicken strips, onions, fresh tomatoes on a handmade pesto sauce with cashew nuts
SGD 15.80
SEAFOOD ALFREDO PASTA
SEAFOOD ALFREDO PASTA
SGD 15.80
SEAFOOD MARINARA PASTA
SEAFOOD MARINARA PASTA
SGD 15.80
BEEF BOLOGNESE PASTA
BEEF BOLOGNESE PASTA
SGD 13.80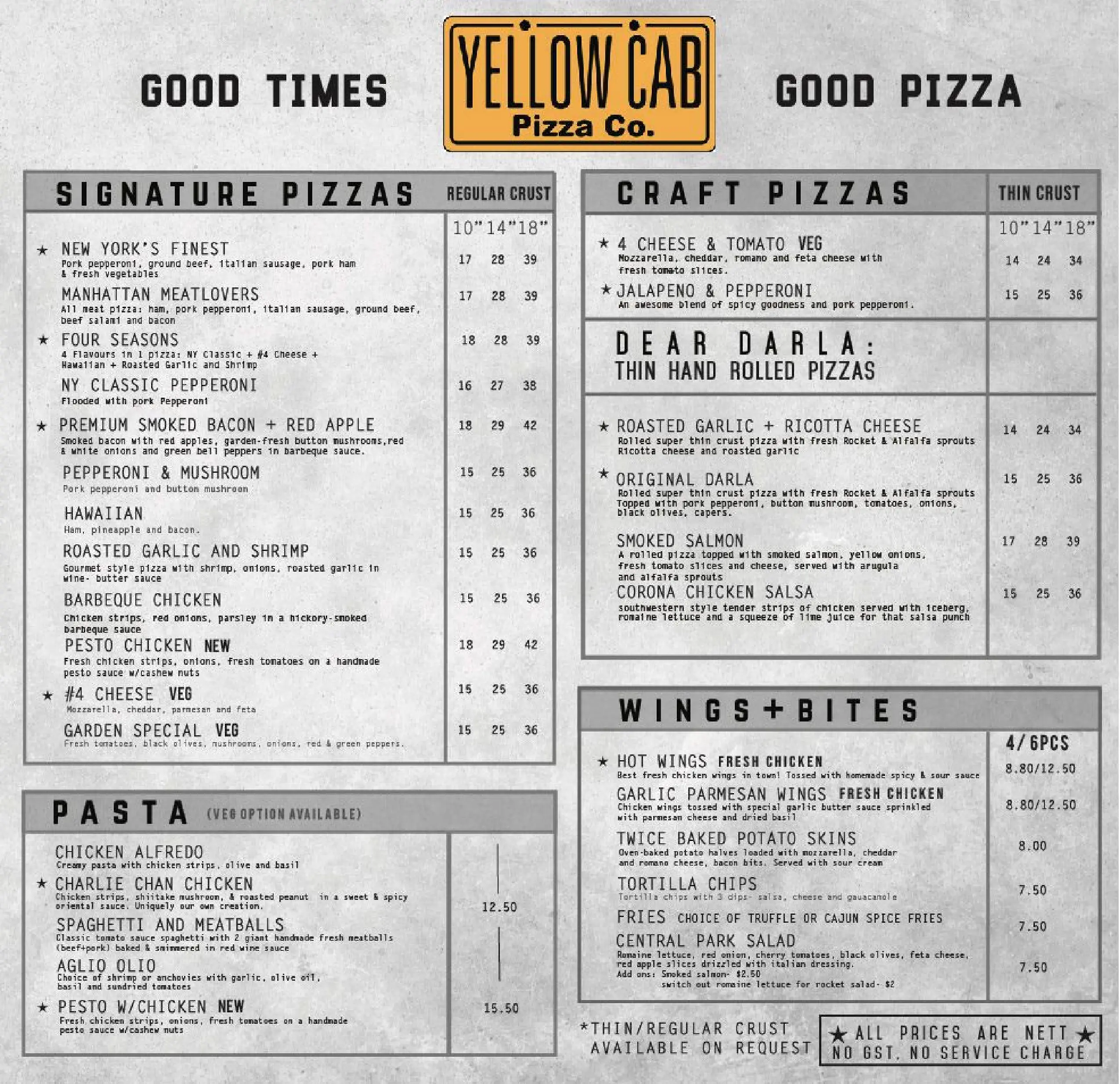 WINGS & BITES
YELLOW CAB WINGS & BITES MENU
PRICE
HOT WINGS
Crisp and juicy chicken wings tossed in our spicy wing sauce
SGD 9.80
GARLIC PARMESAN WINGS
Chicken wings tossed with special garlic butter sauce sprinkled with parmesan cheese and dried basil
SGD 9.80
KOREAN WINGS
KOREAN WINGS
SGD 9.80
TWICED BAKED POTATO SKINS
Oven-baked potato halves loaded with mozzarella, cheddar and Romano cheese, bacon bits, served with sour cream
SGD 8.90
TRUFFLE FRIES
TRUFFLE FRIES
SGD 8.90
CHEESE FRIES
CHEESE FRIES
SGD 8.90
GARLIC PARMESAN CHICKEN POPPERS
GARLIC PARMESAN CHICKEN POPPERS
SGD 8.90
HOT CHICKEN POPPERS
HOT CHICKEN POPPERS
SGD 8.90
See Also : Din Tai Fung Menu
TAKE THREE
Select 3 flavours of 10″ Pizza
Choose 3 of any Reg 10″ Pizza for $45. Good for 3 pax
SGD 45.00
Select 3 flavours of 14″ Pizza
Choose 3 of any Large14″ Pizza for $75. Good for 6 pax
SGD 75.00
All the images and prices are taken from the following official sources of Yellow Cab Pizza Singapore.