Last Updated on May 2, 2023
Hello foodies , are you looking for the latest wild honey menu prices? you have arrived at the right place then. We have uploaded their complete menu with updated prices. Prices are obtained from the official resources of wild honey.
SG's Favorite items of wild honey menu are.
Christmas Granola
Clean house baked oat granola, dried cherries & blueberries, pistachios, sesame seeds, almonds, cinnamon & rosemary with stone fruit compote & fresh berries with Greek yoghurt. Vegan Option available.
Pink Snowball
Ice blended holiday smoothie with cranberry, pineapple, coconut yoghurt, brown sugar, ginger, cinnamon & rosemary
Tunisian
Spicy shakshouka (onion, tomato, red pepper and chilli), chorizo, eggs, signature brioche bread and herb and seed tabbouleh.
Classic Steak Frites
250G Australian grain fed sirloin. With your choice of spiced paprika fries or mixed leaf salad chimichurri or herb butter. Please note we serve our steaks sliced.
Wild Honey Menu Price 2023
WILD Honey Singapore menu can be categorized as Meat, Sandwiches, Fish, Vegetables, Salads, Sweets, Cereals, Fruits, Breads, Sides, Cakes & Desserts, Coffee & Teas, & Beverages. Lets see them in detail one by one.
WILD HONEY MEAT MENU
MENU ITEMS
PRICE
T U N I S I A N ( P o r k )
Spicy shakshouka (onion, tomato, red pepper & chili), chorizo,
eggs, signature brioche & chopped salad.
SGD 24.00
E N G L I S H ( P o r k )
The full works – poached, fried or scrambled eggs, streaky bacon,
pork & fennel sausage, turkey croquette, potato &
sweet potato hash, sautéed mushrooms, house baked beans,
grilled tomato & signature brioche.
SGD 29.00
S P A N I S H ( P o r k & B e e f )
Poached or fried eggs, diced pork chorizo, corned beef, bacon,
red pepper, caramelised onions, Hollandaise sauce &
espelette pepper w signature brioche.
SGD 28.00
D E L A N C E Y ( B e e f )
Hand sliced beef pastrami, poached eggs, tomato,
grain mustard Hollandaise on sesame bagel.
SGD 28.00
J E R U S A L E M ( L a m b & B e e f )
Shakshukit with deconstructed lamb & beef kebab with tahi'gurt,
pine nuts, pistachios, cured lemon, watercress pesto, harissa,
olive tapenade with pita bread & chopped salad.
SGD 30.00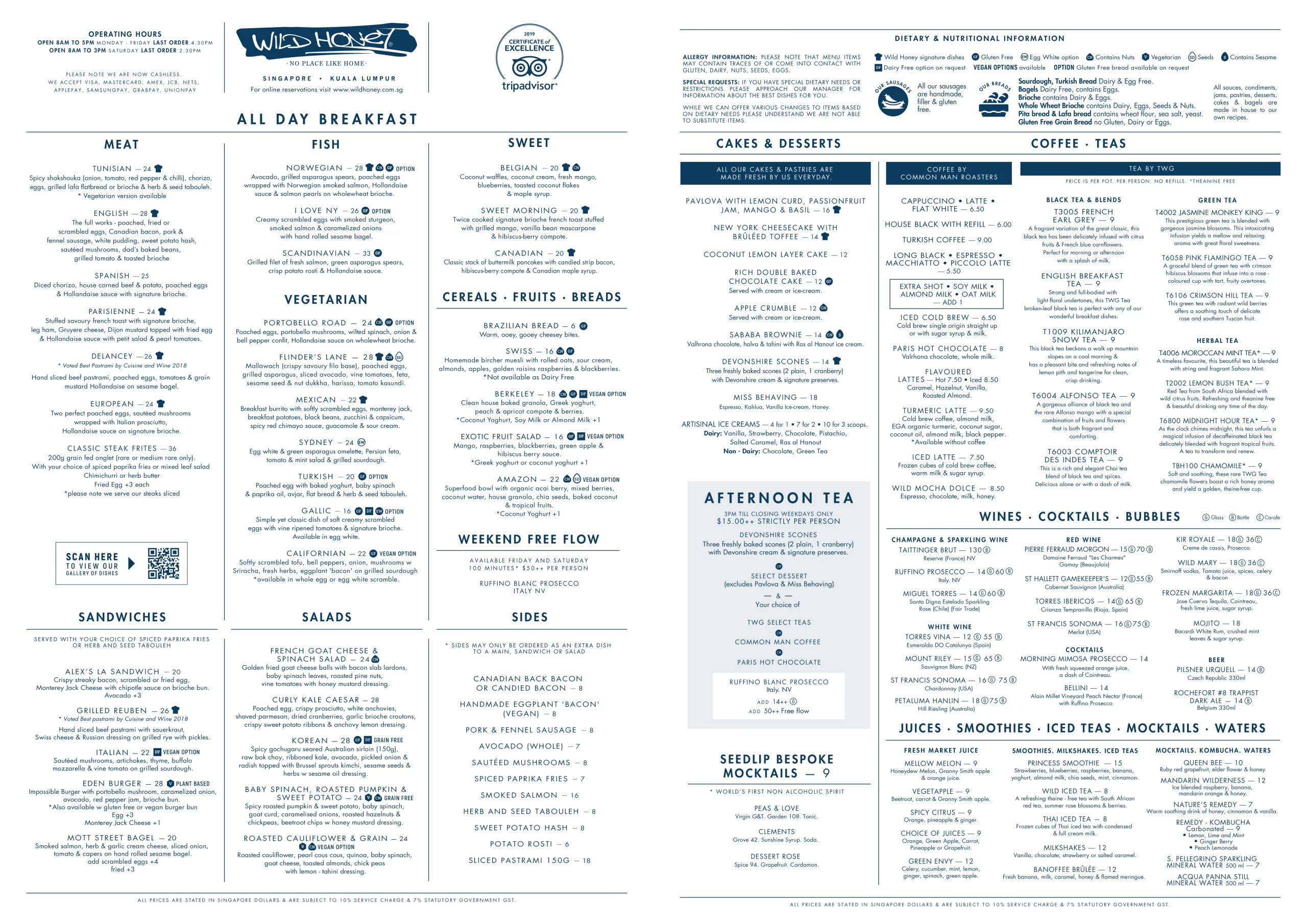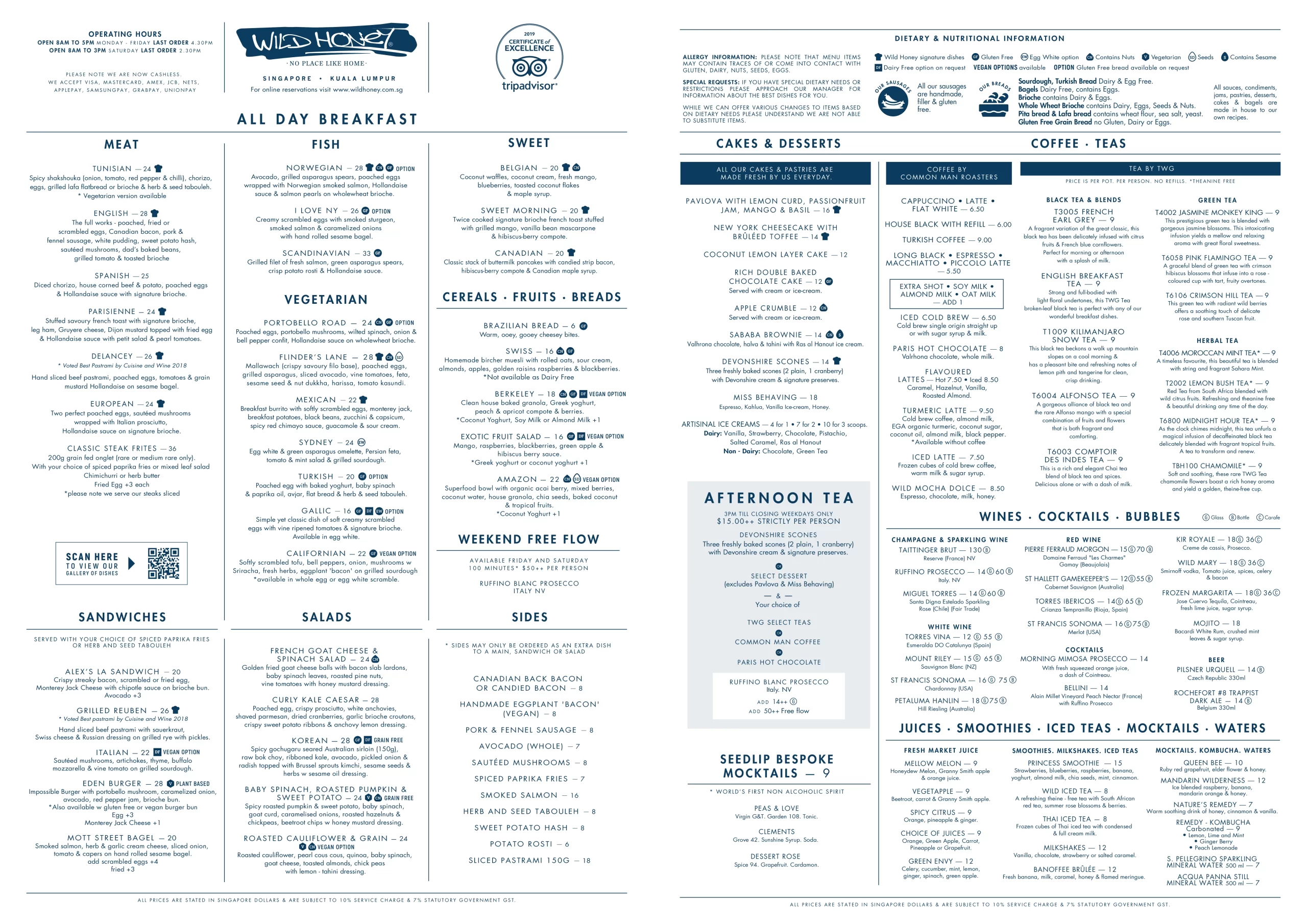 WILD HONEY SANDWICHES MENU WITH PRICE
MENU ITEMS
PRICE
A L E X ' S L A ( P o r k )
Crispy streaky bacon, scrambled or fried egg,
caramelised onions, Gruyere cheese with
chipotle sauce on brioche bun.
Avocado +3
SGD 20.00
F R E N C H G O AT C H E E S E & S P I N A C H ( P o r k )
Golden fried goat cheese balls with bacon slab lardons,
baby spinach, radish, toffee'd walnuts,
vine tomatoes with maple mustard dressing.
SGD 24.00
G R I L L E D R E U B E N ( B e e f )
Hand sliced beef pastrami with sauerkraut,
Swiss cheese, Russian dressing on grilled rye with pickles
*Vegetarian option w sliced vine tomato
SGD 28.00
E D E N B U R G E R
Impossible Burger with portobello mushroom,
caramelized onion, avocado, red pepper jam,
brioche bun.
SGD 28.00
See Also : Ichikokudo Ramen Menu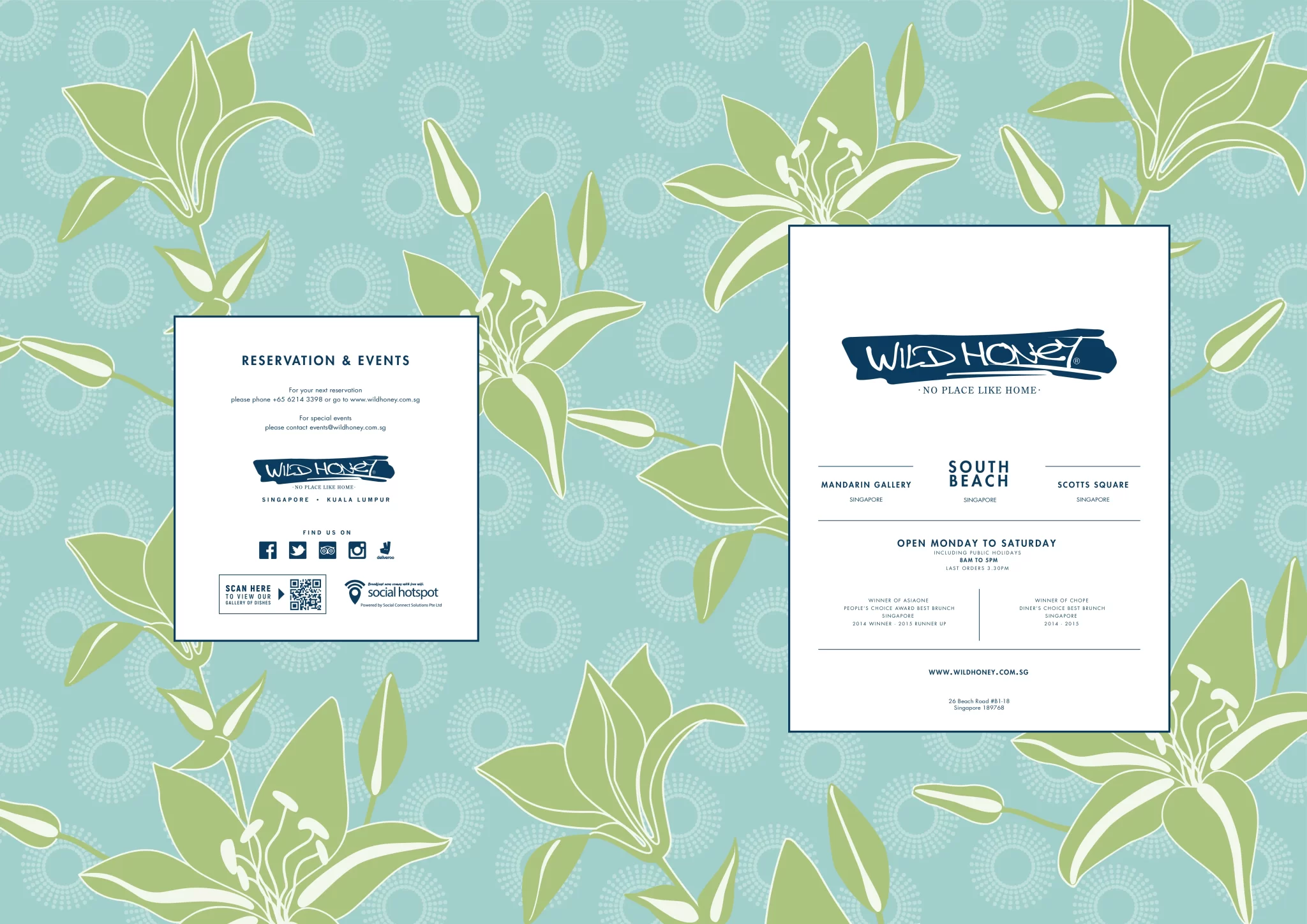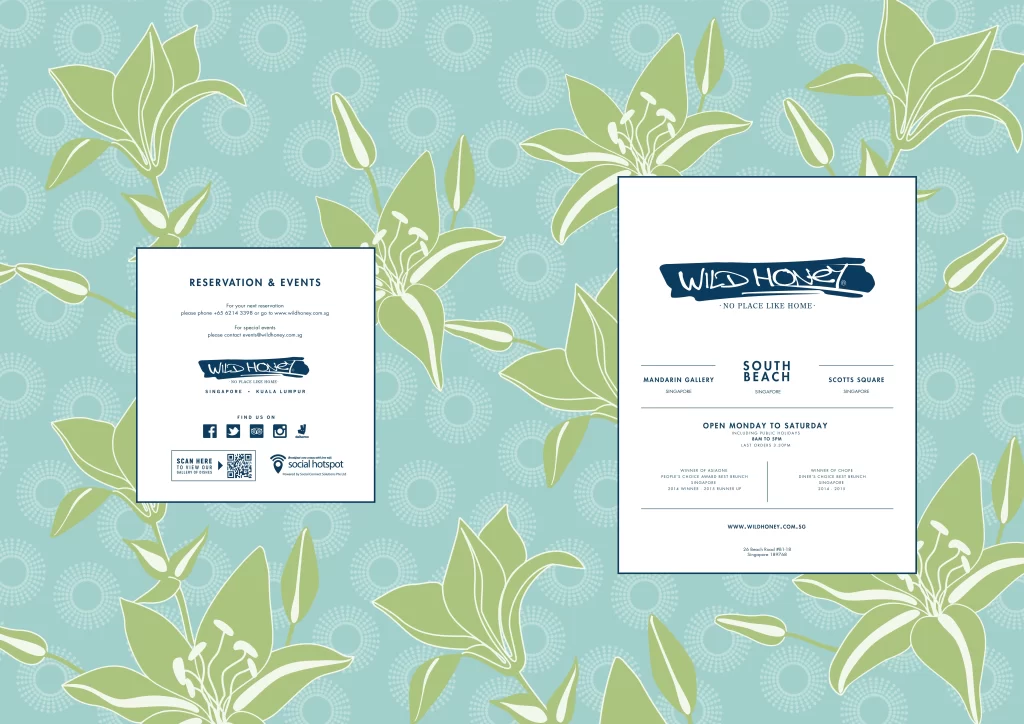 Is Wild Honey Halal?
No. Wild honey is not Halal Certified.
Address
Here is the official website of the restaurant: Wild Honey