Last Updated on May 2, 2023
Hello Foodies, are you looking for the latest White Feathers Menu? You have arrived at the right place then. We have uploaded their complete menu with pics & updated prices. Prices are taken from the official sources of white feathers Singapore.
White Feathers Menu Singapore 2023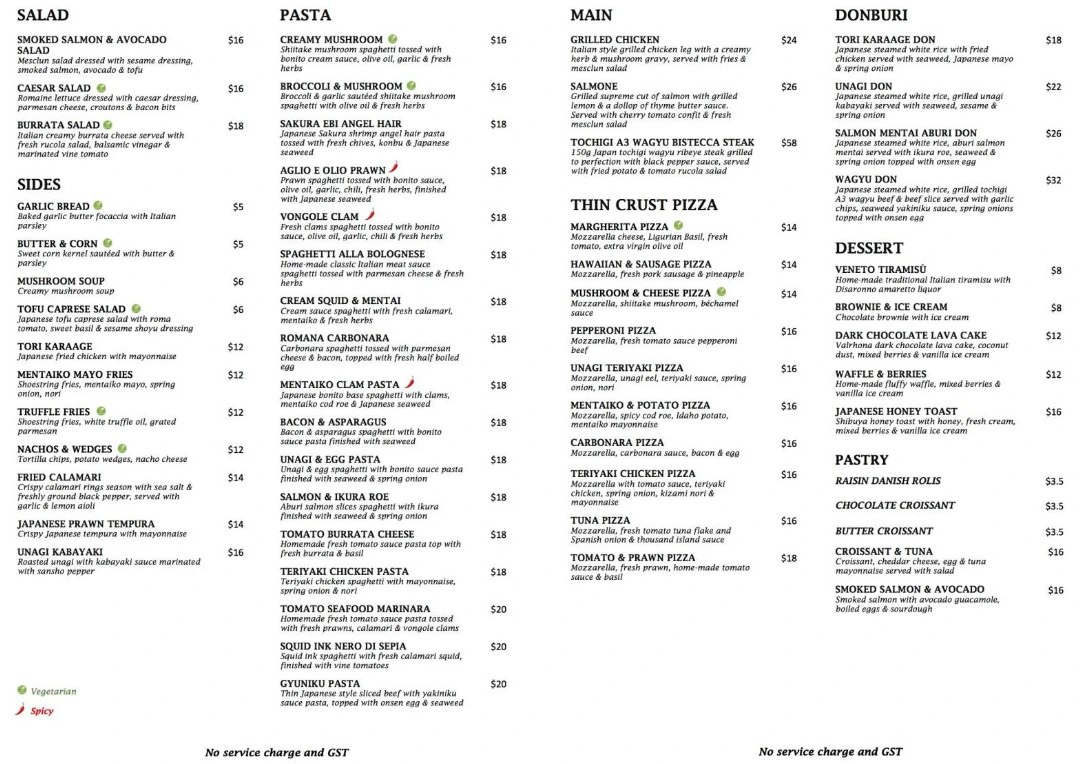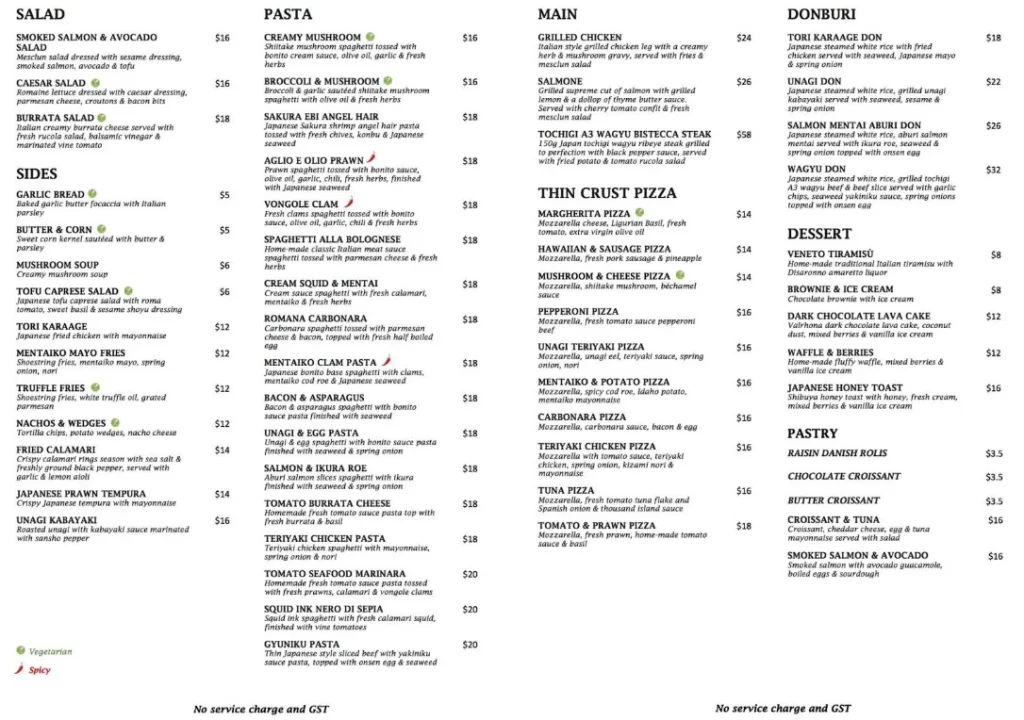 WHITE FEATHERS SIDES MENU WITH PRICES
Truffle Fries
Shoestring fries, white truffle oil & grated parmesan
S$12.00
Fried Calamari Fritti
Calamari, lemon-caper aioli
S$12.00
Mentaiko Mayo Fries
Shoestring fries, mentaiko mayonnaise, spring onion, nori seaweed
S$12.00
Chicken Karaage
Japanese fried chicken, lemon & mayonnaise
S$12.00
SALADS
Fried Calamari Fritti
Mesculun Salad Dressed with sesame dressing & smoked salmon
SGD 16.00
Mentaiko Mayo Fries
Romanian lettuce dressed with caesar dressing, parmesan cheese.
SGD 16.00
Burrata Salad
Italian Creamy Burrata Cheese served with fresh Rucola sald
SGD 18.00
Thin Crust Pizza Menu
Margherita Pizza
Mozzarella cheese, Ligurian Basil, fresh tomato, extra virgin olive oil
S$14.00
Pepperoni Pizza
Mozzarella cheese, fresh tomato sauce pepperoni beef
S$16.00
Unagi Teriyaki Pizza
Mozzarella, unagi eel, teriyaki sauce, spring onion, nori
S$16.00
Below is the complete White Feathers Set Lunch Menu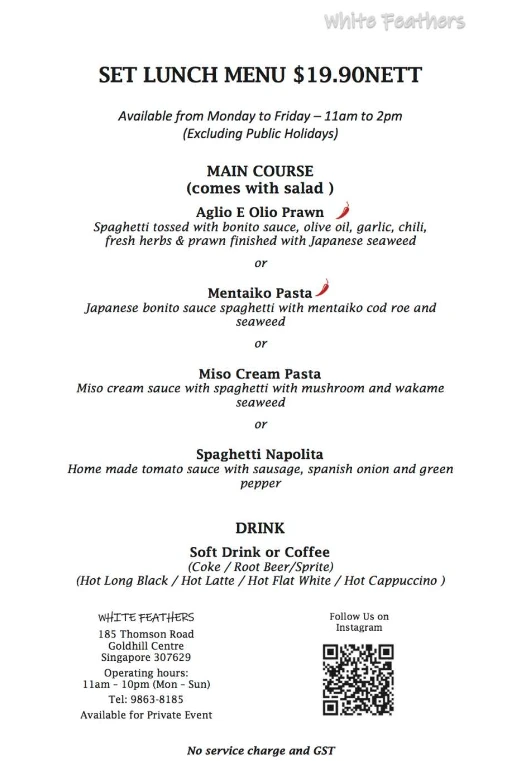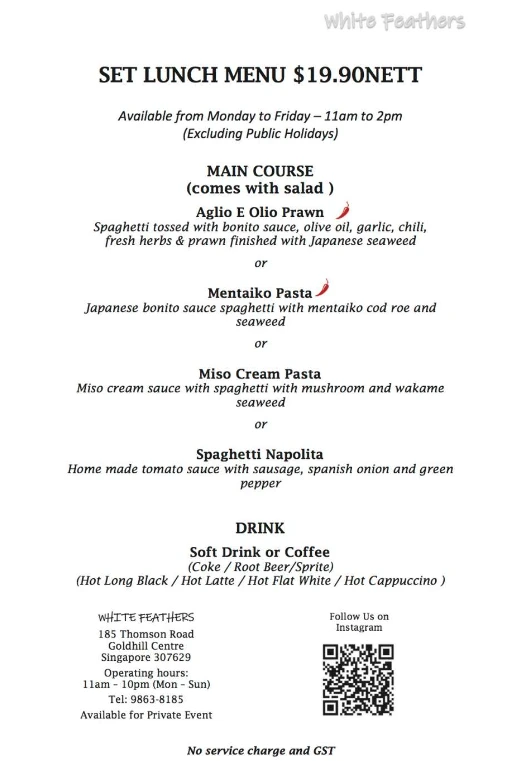 See Also : Grain Traders Menu
White Feathers Beverages
Below is the complete beverage menu that includes, Hot & Iced Coffee , Sparkling white & Red Wine, Hot & Cold Tea, Fresh Juices & Soft drinks.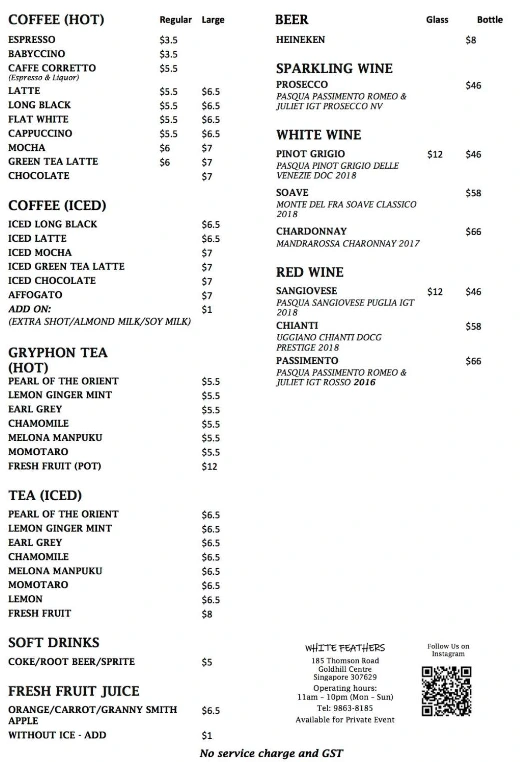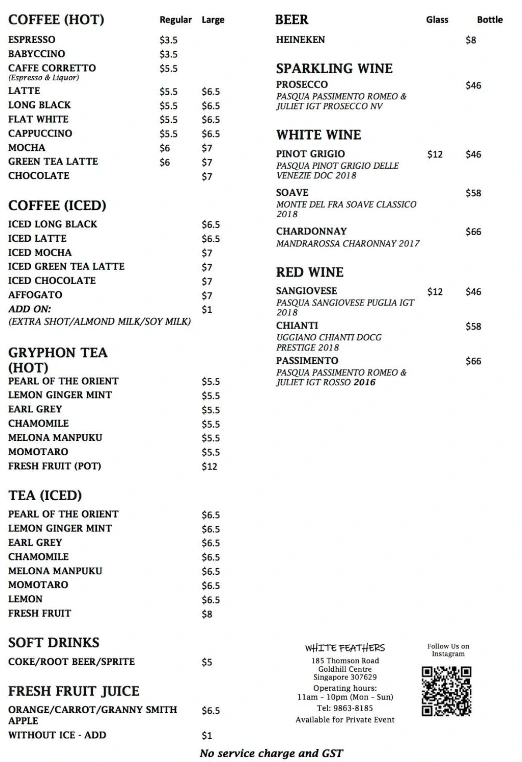 White Feathers Serves Non Halal Food
White feather serves alcoholic beverages and for that reason they are not Halal.
Address
Here is the link to their official Website : White Feathers Singapore