Last Updated on May 2, 2023
Hello bistro lovers, are you looking for the latest Grub Menu? You have arrived at the right place then. We have uploaded their complete menu with pictures & updated prices. Prices are taken from the official sources of The Grub Burger Bistro Singapore.
GRUB BURGER BISTRO MENU 2023
Grub Singapore Menu can be categorized as Appetizers, Salads, Mains, Weekend Brunch, Burgers, Pastas, Desserts, & Beverages. Let's see them in detail one by one.
GRUB APPETIZERS & SALADS MENU PRICE
MENU ITEMS
PRICE
Truffle Forest Mushroom Soup
Made fresh daily, served with crispy croutons
SGD 9.00
Crispy Cheese
8pcs of crispy cheese with tomato dip
SGD 11.00
Fried Chicken Midwings
6pcs fried chicken Spicy Korean midwings
SGD 9.00
Fried Chicken Midwings
Original 6pcs fried chicken Original midwings
SGD 8.00
Plain Crispy Fries
SGD 5.00
Mentaiko (with nori seaweed)
SGD 9.00
Truffle Floss (with chicken floss & truffle aioli)
SGD 9.00
Mushroom Gravy
SGD 9.00
Cheesy Beef Nachos
Corn chips, beef sauce, guacamole, cheese
SGD 14.00
Salt & Pepper Calamari
Battered squid with salt, pepper & roasted garlic
SGD 11.00
Truffle Mushroom Baked Eggs
Gratin of bacon, sautéed mushrooms & baked eggs served with garlic toast
SGD 13.00
Grilled Chicken Salad
Grilled chicken, cherry tomatoes, corn, pine nuts & honey mustard dressing
SGD 16.00
Caesar Salad
Romaine lettuce with Caesar dressing, boiled egg, crispy bacon and croutons
SGD 15.00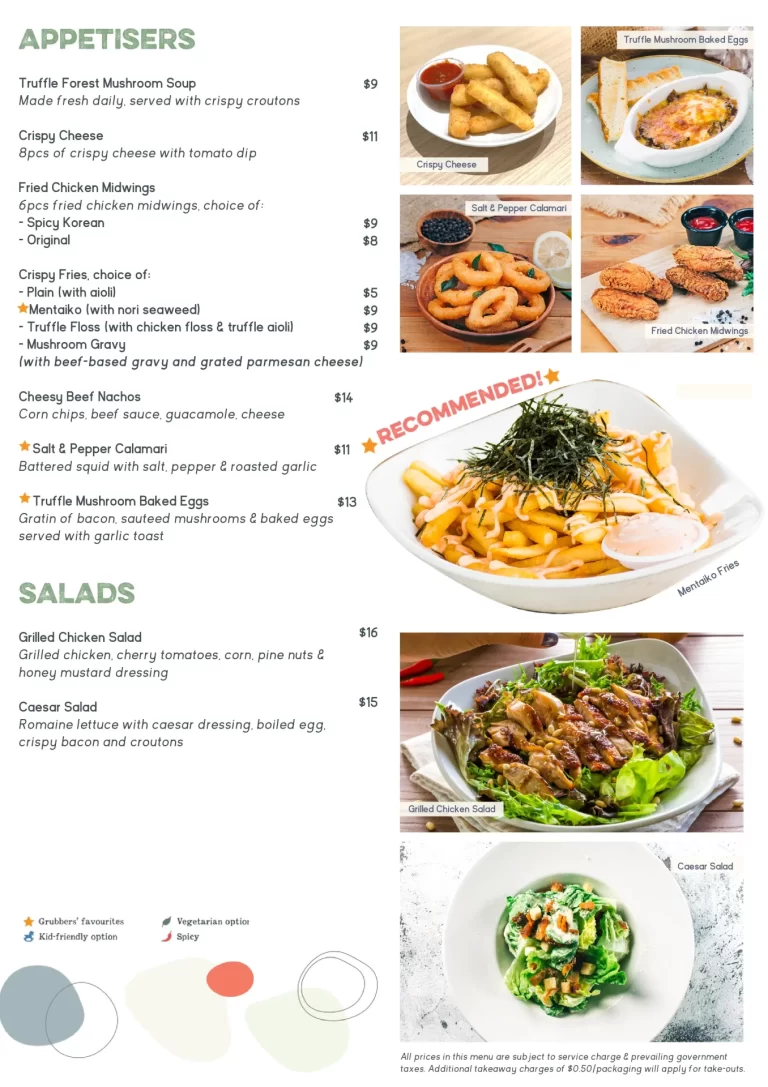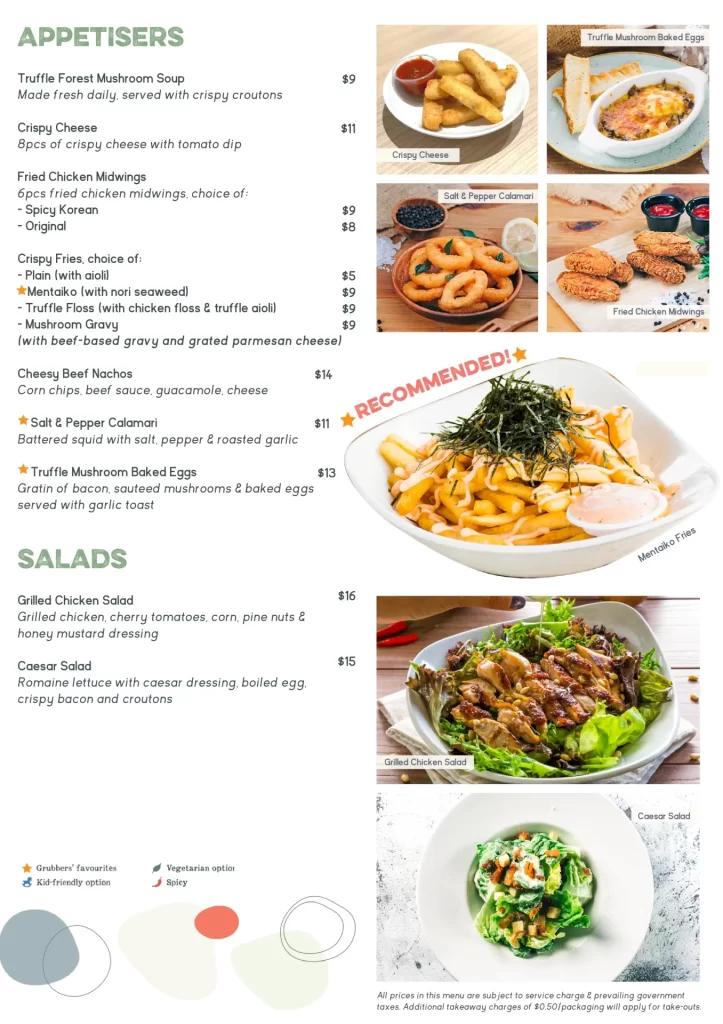 GRUB MAINS MENU
MENU ITEMS
PRICE
Steak & Chinchalok
Grilled ribeye steak, pickled onion and chinchalok salsa, mash and pepper sauce
SGD 29.00
Slow Roasted Pork Belly
Pork belly marinated with honey mustard, charred piccolo tomatoes, asian chimichurri
SGD 23.00
Fish & Chips
Battered fish fillet with fries, remoulade, mixed greens
SGD 19.00
Miso-Glazed Salmon Soba
Miso-glazed salmon steak, soba, mixed greens, wafu dressing, hardboiled egg
SGD 19.00
Har Cheong Fried Chicken with Waffles
Shrimp paste marinated fried chicken with waffles, mixed greens & maple syrup
SGD 18.00
Maple Bacon Waffle
Thick-cut pork bacon glazed with maple, egg & pineapple
SGD 17.00
Truffle Tomato Fish Stew
Assorted fish chunks, mushrooms & vegetables in a miso truffle sauce.
SGD 19.00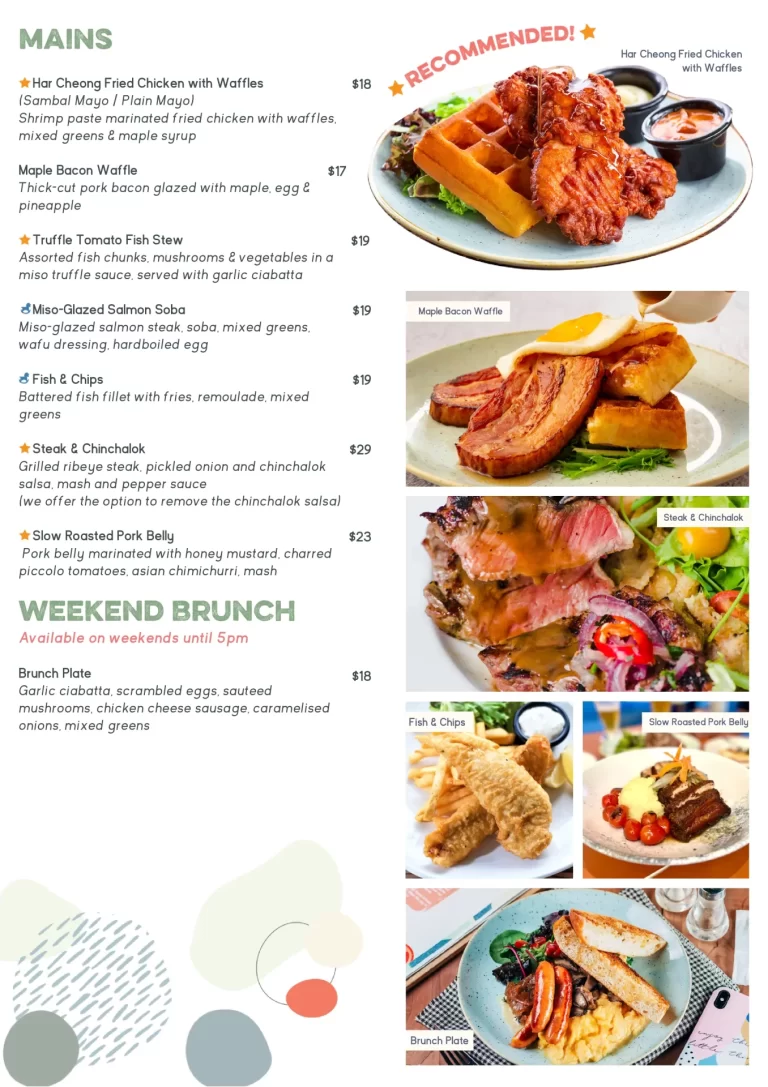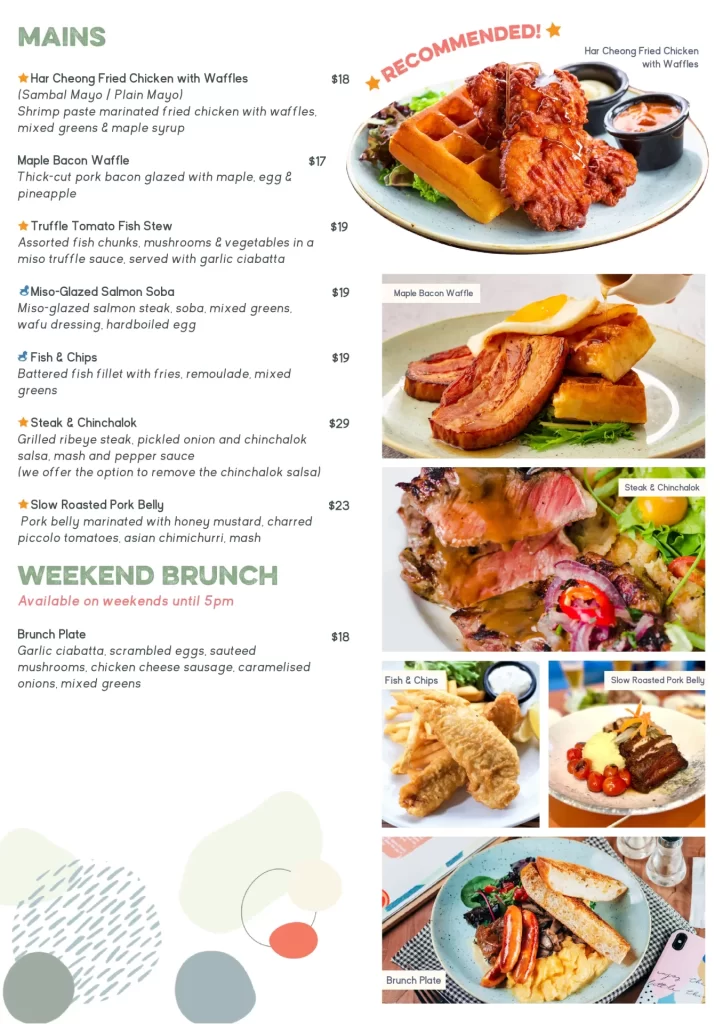 GRUB BURGER PRICES
MENU ITEMS
PRICE
Dry-Aged Beef Burger (NEW)
200g dry-aged beef patty, cheddar, caramelized onion, mustard mayo
SGD 25.00
Mushroom Cheeseburger
100% freshly minced beef patty (140g), with sautéed mushroom gravy & cheese
SGD 19.00
Grub Cheeseburger
100% freshly minced beef patty (140g), Monterey Jack cheese
SGD 18.00
Truffle Angus Cheeseburger
Angus beef patty (140g), truffle mushroom, cheddar, mustard aioli, caramelized onions
SGD 20.00
Angus Cheeseburger
Angus beef patty (140g), cheddar cheese
SGD 19.00
Crispy Portobello Mushroom Burger
Crumbed Portobello, guacamole, aioli
SGD 19.00
Crispy Fish Burger
Crumbed fish fillet, remoulade
SGD 17.00
Goodcatch Plant-Based Fish Burger
Plant-based fish patty, cheddar, dill remoulade
SGD 19.00
Mentaiko Pork Katsu Burger
Crispy pork katsu made with alternating layers of shabu pork & mentaiko cheese
SGD 19.00
Maple Bacon Burger
Thick-cut pork bacon, maple butter, pineapple
SGD 17.00
Grilled Chicken Burger
Teriyaki-glazed chicken thigh, enoki fritter, mayo
SGD 17.00
Grub Double Cheeseburger
Two 100% freshly minced beef patties (140g each), double slices Monterey Jack cheese, bacon
SGD 22.00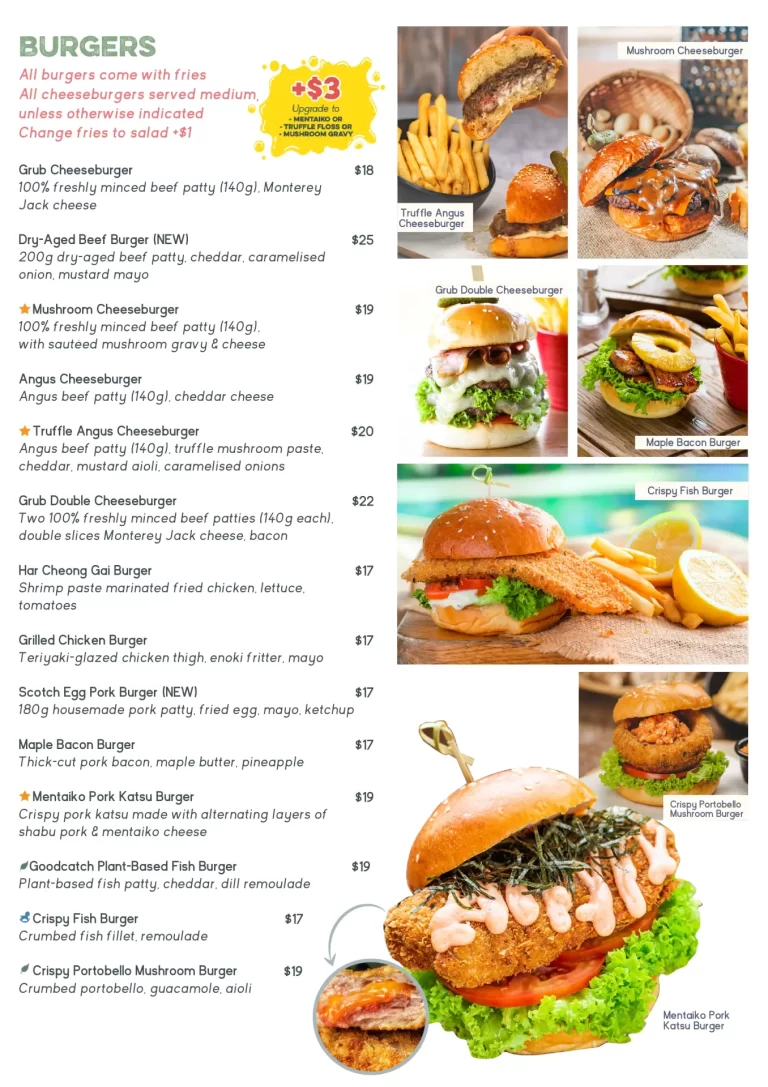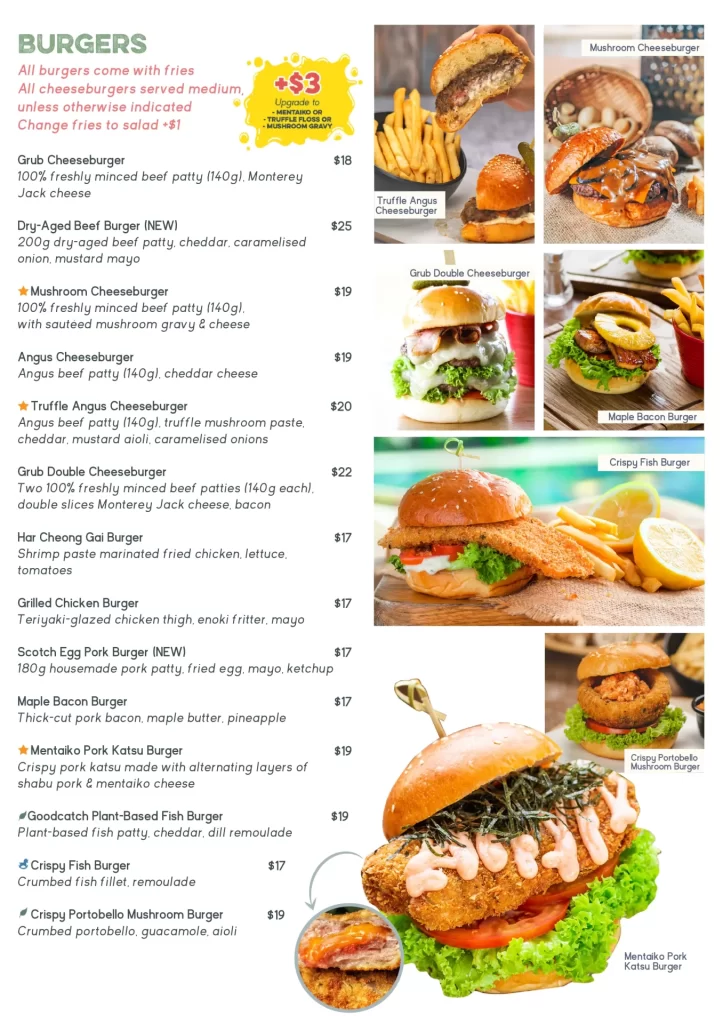 GRUB BURGER BISTRO SINGAPORE PASTA MENU PRICES
MENU ITEMS
PRICE
Chilli Crab
Linguine, spicy chili crab sauce with choice of:
Crispy Soft Shell Crab
Crispy Breaded Fish
SGD 21.00
Bacon Carbonara
Linguine, fried bacon, egg yolk, touch of cream
SGD 17.00
Sakura Ebi with Prawns
Linguine, fried sakura ebi, prawns & a hint of mentaiko / tobikko
SGD 19.00
Grilled Chicken Pesto (Spicy/Non-spicy)
Linguine, grilled chicken steak, housemade basil pesto
SGD 18.00
Beef Bolognese
Linguine, beef ragout, parmesan cheese
SGD 17.00
Mushroom Aglio Olio (Spicy/Non-spicy)
Linguine, sauteed mushrooms, garlic, spinach, chili padi, & parmesan crumble
SGD 17.00
Wagyu Beef Lasagne (NEW)
Housemade wagyu beef ragout, pasta sheets, bechamel, tomato sauce, mozzarella
SGD 23.00
GRUB DESSERTS MENU
MENU ITEMS
PRICE
Salted Caramel Chocolate Tart
Feuilletine base, dark chocolate ganache, salted caramel, chocolate popping candy
SGD 9.00
GRUB Kaya Burnt Cheesecake
Fresh pandan cheesecake with creamy centre & burnt top
SGD 9.00
Basque Burnt Cheesecake
Baked cheesecake with creamy centre & burnt top
SGD 9.00
Churros
5pcs, Nutella dark chocolate dip
SGD 8.00
Premium Gelato
Vanilla – Dark Chocolate – Strawberry Cream
SGD 4.00
See Also: The Boiler Menu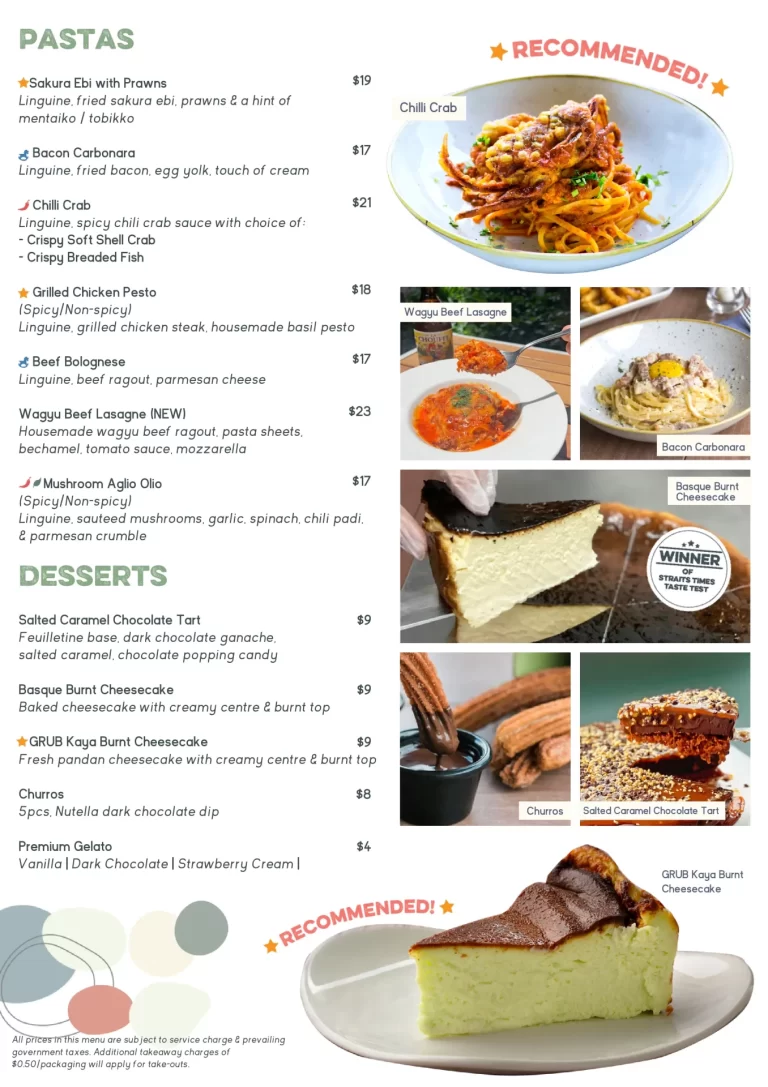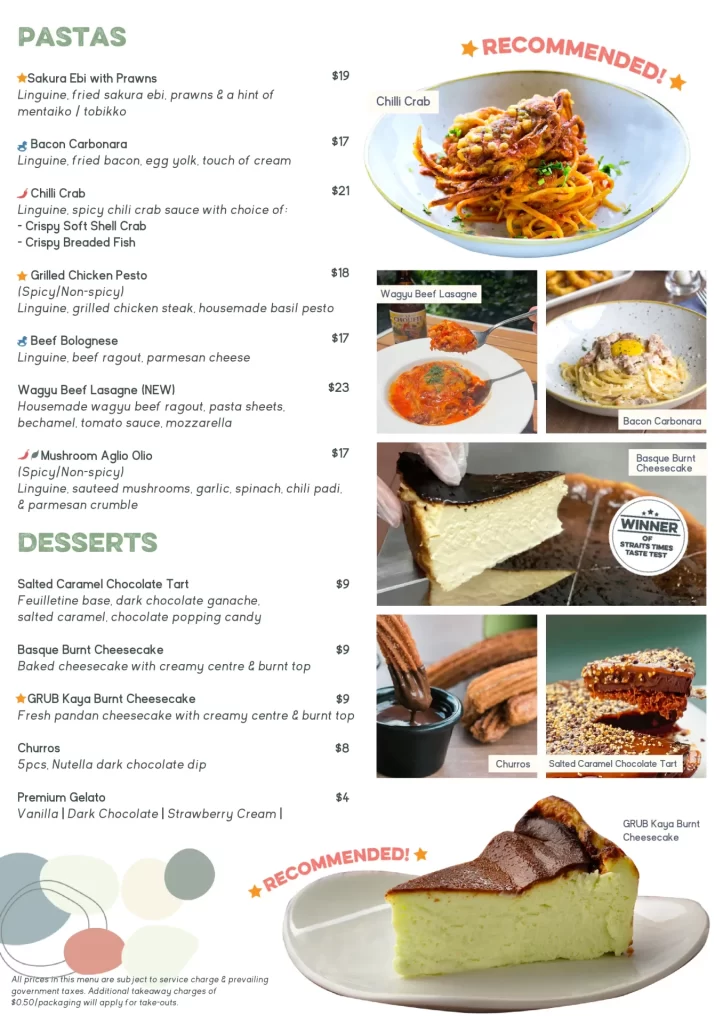 GRUB BEVERAGES MENU PRICES
Grub serves both Alcoholic & Non Alcoholic beverages. The majors are Craft Beers, Alcoholic Cocktails, Wines, Homemade Drinks, Floats, Specialty Coffee, & Hot Tea. Below are the complete menu prices.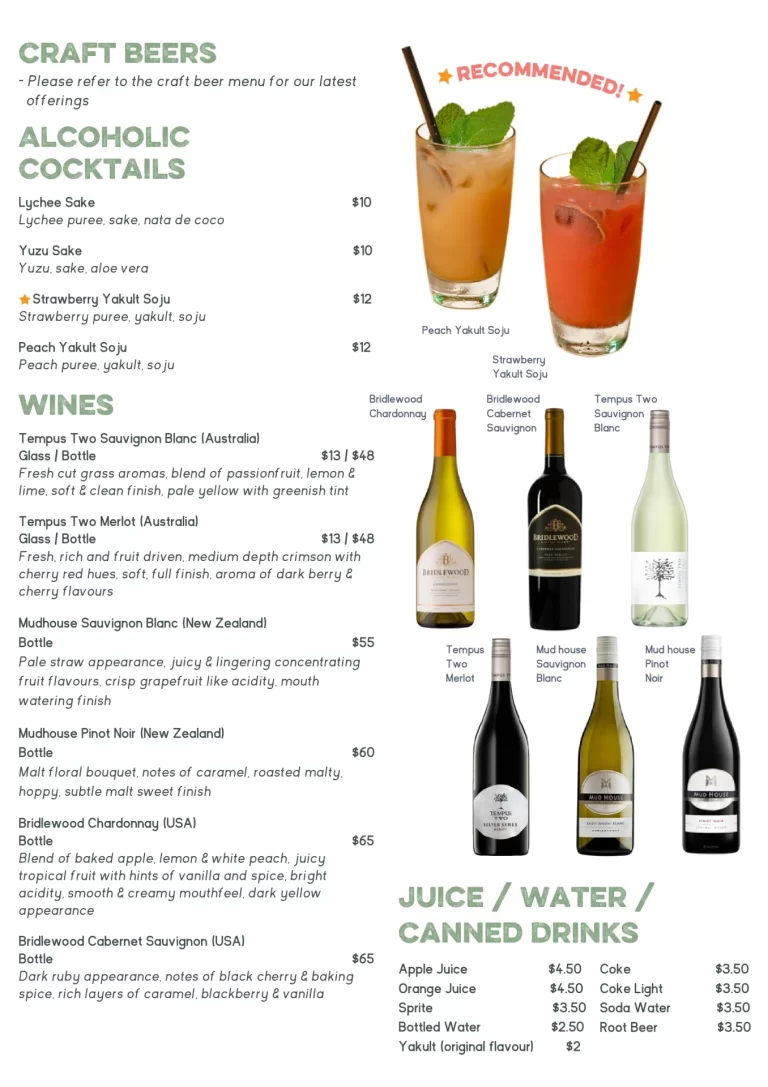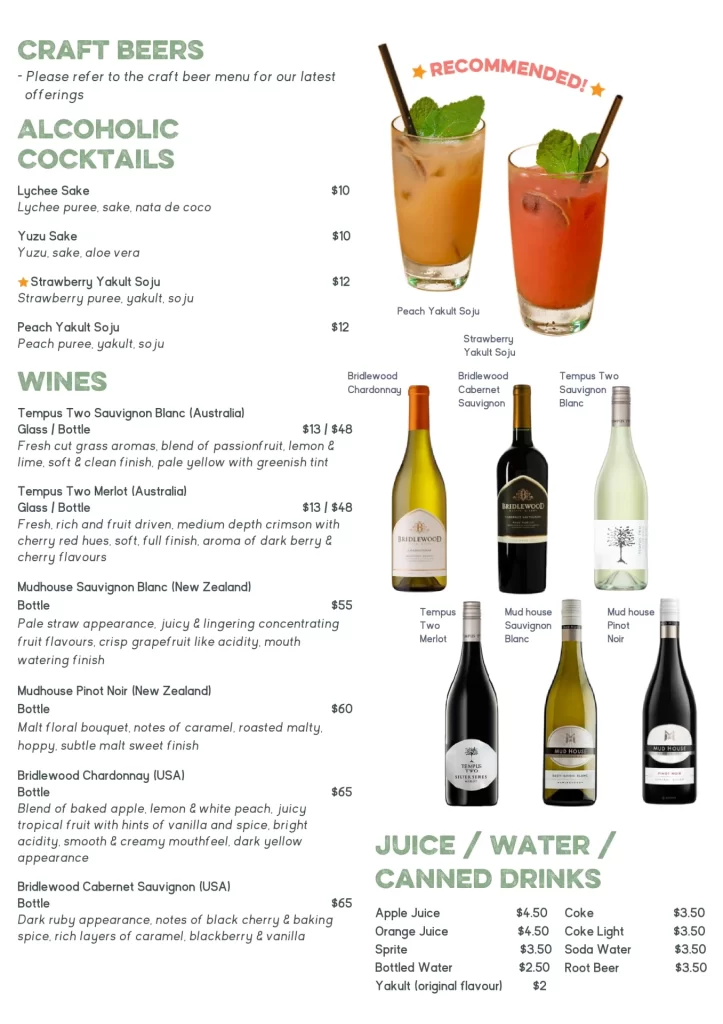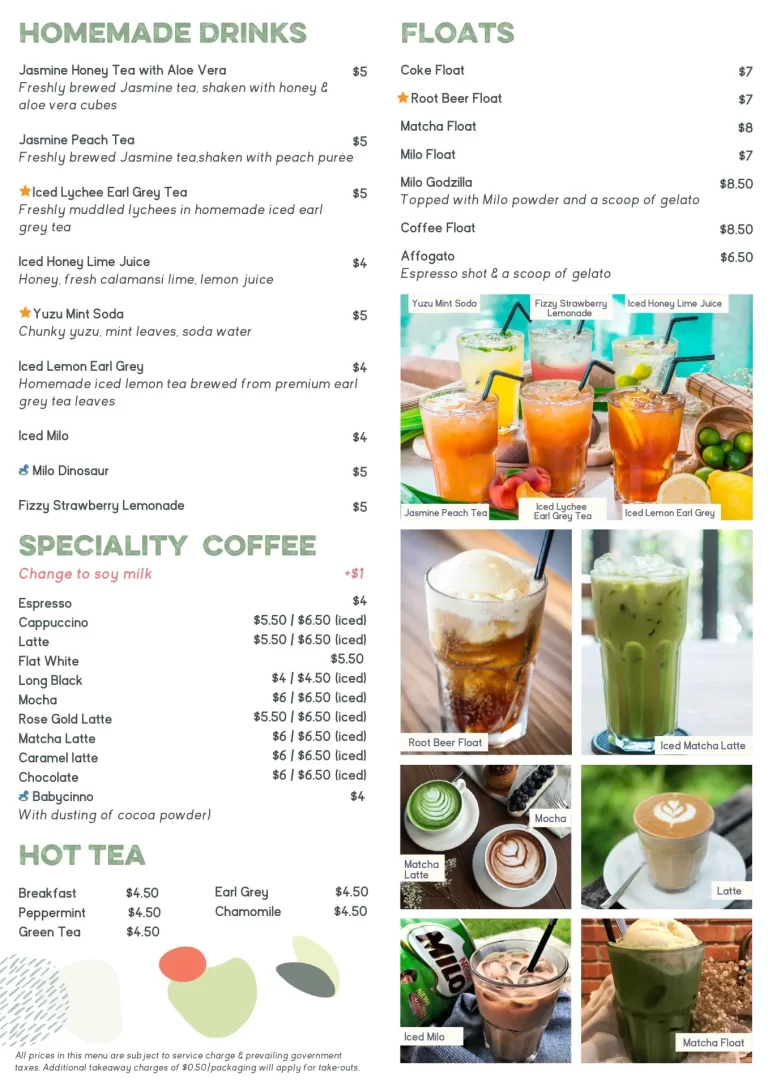 IS GRUB BURGER BISTRO SINGAPORE HALAL?
NO. They serve pork & Alcoholic Beverages, & for that reason Grub Burger Bistro is not Halal.
GRUB BURGER BISTRO – OUTLET LOCATIONS & OPERATING HOURS
STEVENS
Novotel @ Stevens
30 Stevens Road, #01-06
Singapore 257840
OPENING HOURS
11:00am – 10:00pm
CLOSED ON TUESDAY
CT HUB 2
114, Lavender Street #01-28 
(entrance along Lavender St)
Singapore 338729
OPENING HOURS
DAILY : 11:00am – 6.30pm
JUNCTION 8
9 Bishan Place #01-38
Singapore 579837
OPENING HOURS
MON – FRI : 11:00am – 10:00pm
SAT, SUN & PH: 9:00am – 10:00pm
All the prices and pictures are taken from the following official sources of Grub Bistro Bar Singapore.