Last Updated on June 14, 2023
Hello Cantonese food lovers, are you looking for the latest Char restaurant menu? You have arrived at the right place then. We have uploaded their complete menu with pictures & updated prices. Prices are taken from the official sources of Char restaurant Singapore.
Char Restaurant Menu 2023
Char Restaurant Soups Menu With Prices
Soups
Hot and Sour Soup
A soup that's jam-packed with wood ear fungus, tofu, pickled vegetables, chilli, shrimp and pork. Vegetarian option available.
S$6.90
Signature Double Boiled Chicken Soup
Our signature double boiled chicken soup with scallops and fungi has been cooked on low-heat for many hours to extract the maximum flavours is a great start to your meal.
S$11.50
Fish Maw Soup
A luxurious soup made with decadent fish maw, Japanese dried scallops and seafood broth.
S$12.10
Soup of the day
Freshly-made Soup of the Day (Individual Portion)
S$5.40
Char Restaurant Appetizers Menu
XO Sambal Fried Carrot Cake
Hand-made radish (Carrot) cake, filled with dried shrimps and lup-cheong (Chinese sausage) is stir-fried with our house-blend XO Sambal chilli sauce and silver sprouts
S$12.80
Prawn Paste Fried Chicken Wings
Deep fried chicken wings marinated with prawn paste and special herbs that are bound to stimulate your senses
S$15.20
Spicy Chicken Szechuan Style
Deep fried chicken chunks stir fried with pepper corns, spring onions and filled with Szechuan dried red chilies. Keep a glass of water handy
S$15.20
Pumpkin and Eggplant Strips
Strips of pumpkin and eggplant are deep-fried, topped with pork floss and acompanied with mayonnaise
S$10.30
Salt and Pepper Fish Skin
Crispy fish skin deep-fried with salt and pepper. A great side to go with ales
S$7.00
Golden Trio of Mushrooms
Perfect combo of shitake, golden and oyster mushroom deep fried in a crispy Tempura batter and served with a special sesame sauce.
S$12.40
Cold Spiced Smashed Cucumber
A delightful cold dish of crunchy cucumbers mixed with chilli oil, chili padi, garlic and vinaigrette dressing.
S$6.30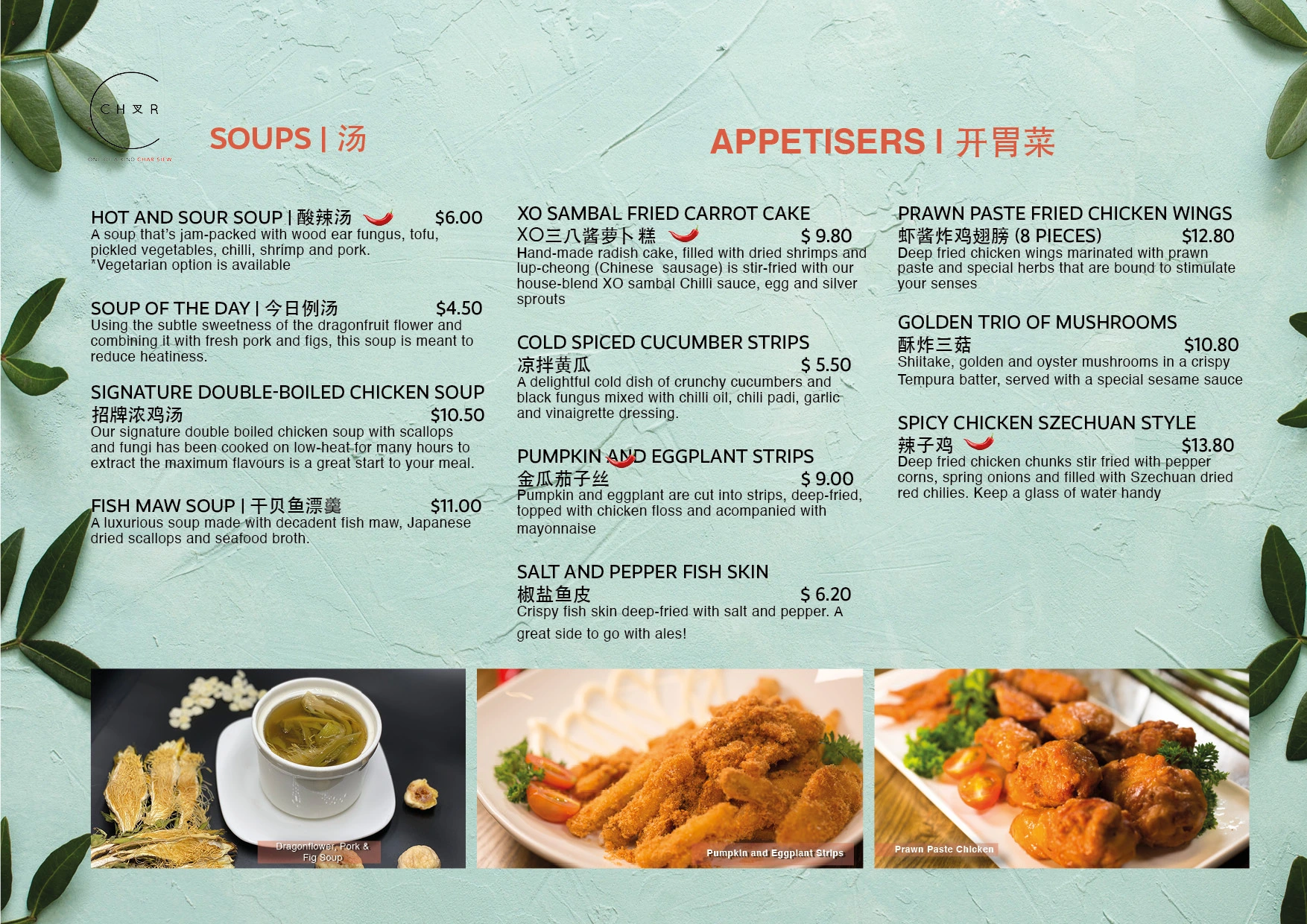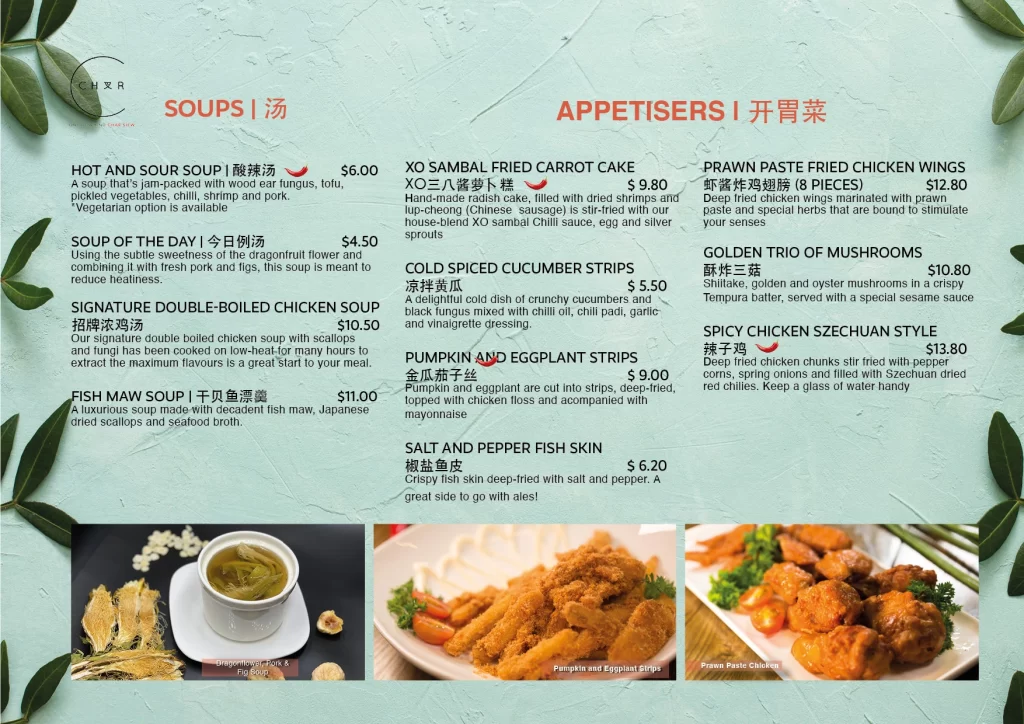 See Also: Khansama Tandoori Restaurant Menu
Char Restaurant Signature Roasts
Signature Char Siew (300g)
Using a combination of modern cooking science with traditional roasting, Char's signature dish is melt-in-your-mouth tender and the sauce that covers this sublime piece of meat is the perfect blend of salty, sweet and is ever so sticky.
S$28.00
Crispy Roast Pork Belly (300g)
The crackling that comes from the roast pork belly is the main character of a good roast. The meat has been marinated in a blend of Chinese (and not so Chinese) herbs and spices and roasted on a high heat.
S$28.00
Double Roast (400g)
Signature Char Siew & Crispy Roast Pork
S$36.00
Jasmine Roast Duck
Char's new duck, using traditional Cantonese roasting technique, but taking it to a completely new level with the infusion of Jasmine tea, not only tenderises the meat but also imparts a subtle flavour to the meat. The skin a amazingly crispy too
S$15.40
Soya Sauce Chicken
A Cantonese specialty, the free-range chicken is marinated in a blend of soya sauce and Chinese spices and poached gently for hours to create a flavourful and tender dish
S$11.00
Garlic Roast Spring Chicken
Brined in a special garlic salt solution, our new Garlic roast Spring Chicken is juicy, tender with crispy skin
S$13.80
See Also : Bakalaki Menu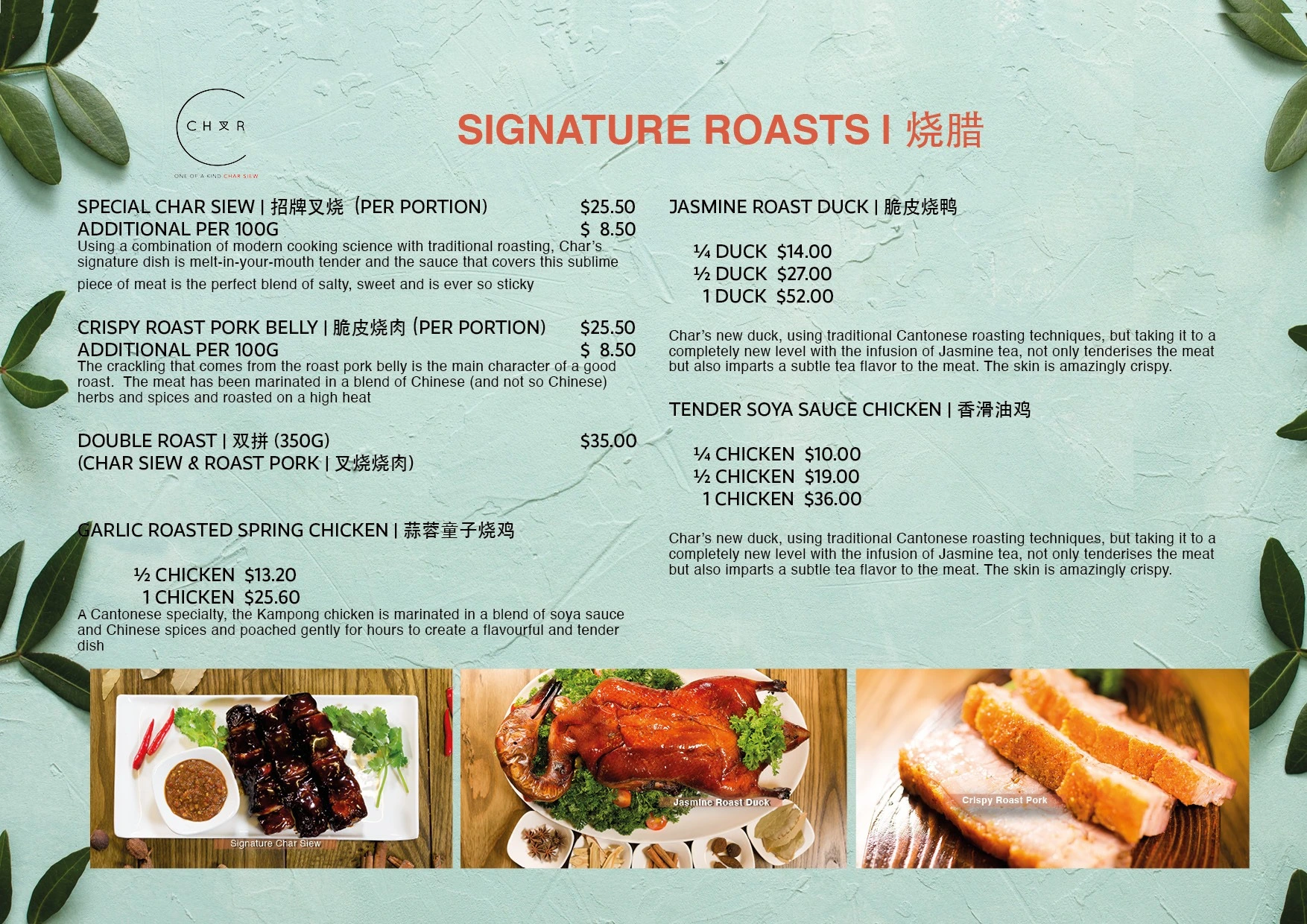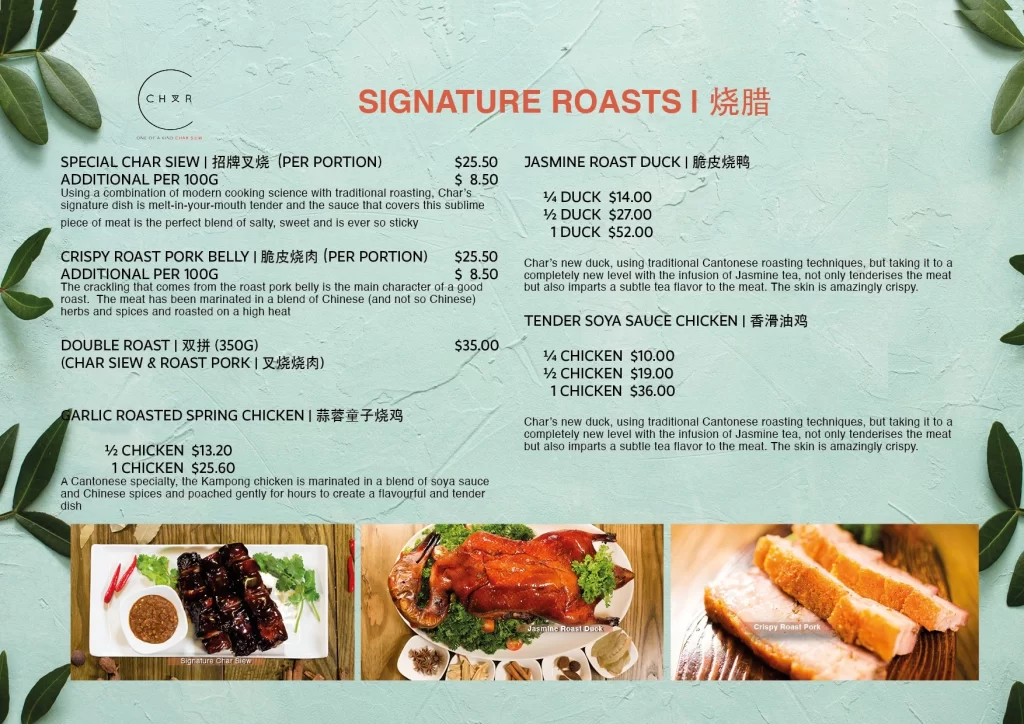 Here is the link to their official Facebook Page : Char restaurant Singapore
Char Restaurant Serves Non Halal Food
Char Restaurant uses pork as one of their ingredients, and they serve Alcoholic beverages. For that reason they are not Halal.
Char Restaurant Meat & Seafood Menu
Butter Chicken
A special recipe of fried tender chicken thighs that are coated with a delicious concoction of evaporated milk, curry leaves and chili
S$15.20
Kung Po Chicken
Tender chicken chunks pan-fried in peanuts, onions and a tangy Kungpo sauce
S$15.20
Black Garlic Stewed Chicken with Mushrooms
Roasted sweet black garlic is stewed with chicken thighs and mushrooms in a deliciously smoky sauce.
S$16.10
Salted Egg Pork
Tender pieces of boneless rib meat, deep fried for a crispy exterior yet tender centre. Then the meat is stir fried in a creamy sauce of salted egg, chilli, and curry leaves.
S$15.90
Minced Pork with Aubergine in Casserole
This traditional bubbling aubergine bake is gorgeous with its sticky flavours. This healthy veg combined with pork mince and mushrooms is great with rice
S$16.20
Sweet and Sour Pork with Peaches
Chunks of pork sautéed with capsicums and peaches in a tangy, sweet and sour sauce
S$16.20
Angelica Beef Cubes with Crispy Garlic
Tender beef cubes marinated in angelica sauce, stir-fried with spring onions and topped with crispy fried garlic
S$19.30
Beef with Ginger and Spring Onion
Slices of Sirloin beef pan-fried in ginger and spring onions
S$16.90
Stir-fried Beef with Black Pepper sauce
Tender sirloin beef slices stir fried with capsicums and onions in an addictive black pepper sauce
S$16.90
Steamed or Fried Silver Cod Fish
Wild Silver Cod served in a steak cut with spring onions, coriander. Please pick your cooking style from 'HK Steamed with Superior Soya Sauce', 'Deep Fried with Superior Soya Sauce' or 'Steamed with Black Garlic'
S$28.10
Sweet and Sour Fish Fillet
Toman fish strips are deep fried then tossed in our own blend of sweet and sour sauce with onions, peppers and peaches
S$17.80
Steamed Toman Fish Slices in Superior Soya Sauce
Steamed Toman fish slices with coriander and topped with Superior Soya Sauce
S$16.50
Salted Egg Prawns
NEW! The prawns are deep-fried and then stirred in a yummy salted egg sauce, fried curry leaves and chili padi
S$24.80
Double Sauce Prawns
Two flavours on one plate – Wasabi-Mayo prawns for the thrill-seekers, Mango prawns for the sweet and tangy folks. Served with fried pineapples
S$25.80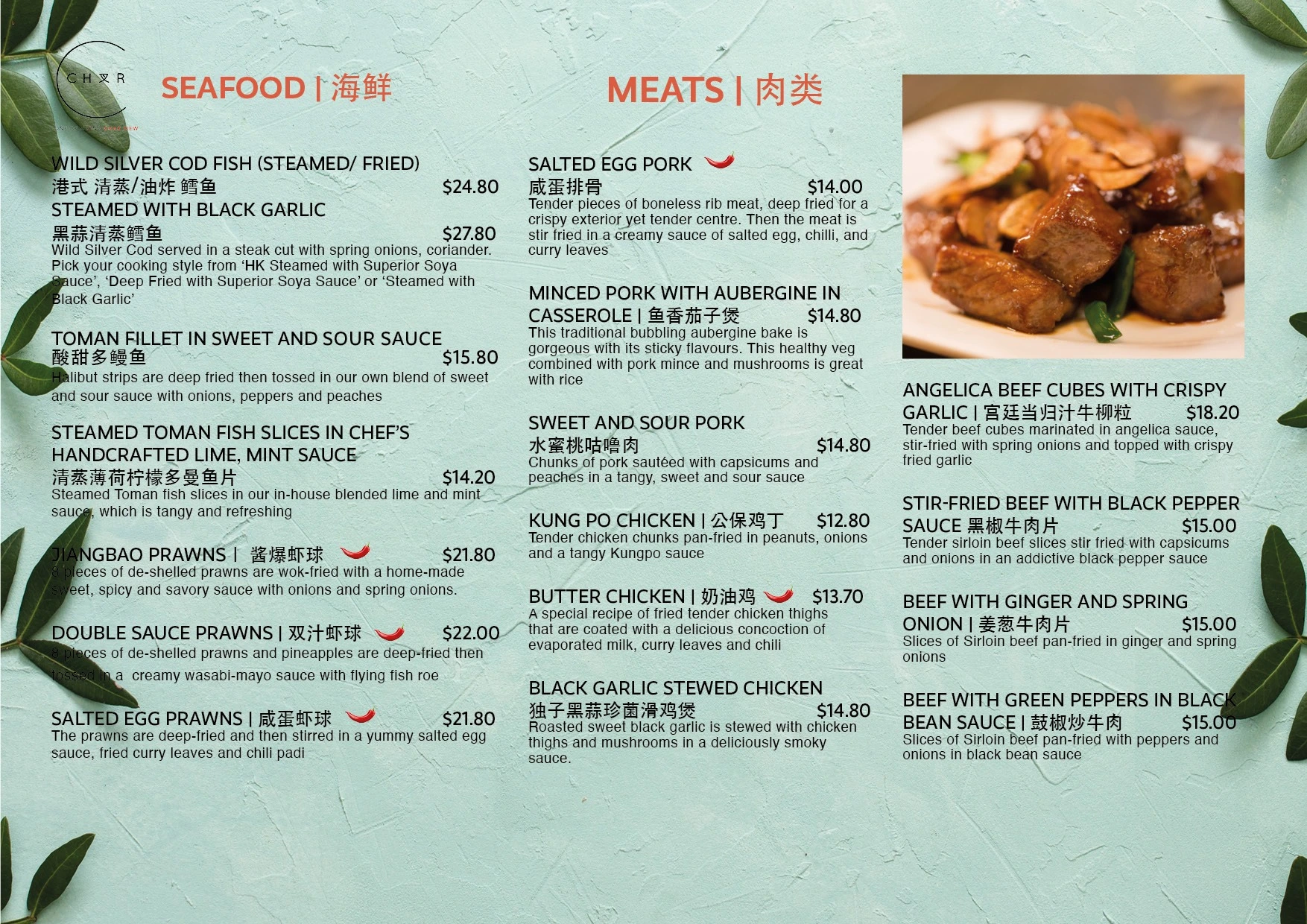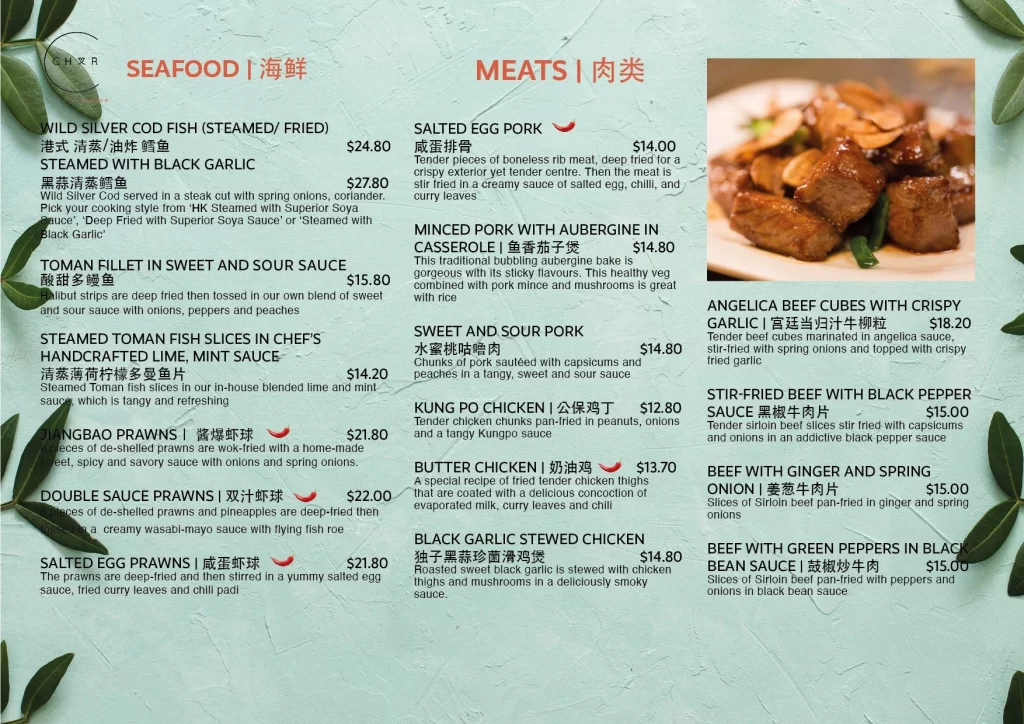 Below is the complete Beancurd & Vegetables, Rice & Noodles Menu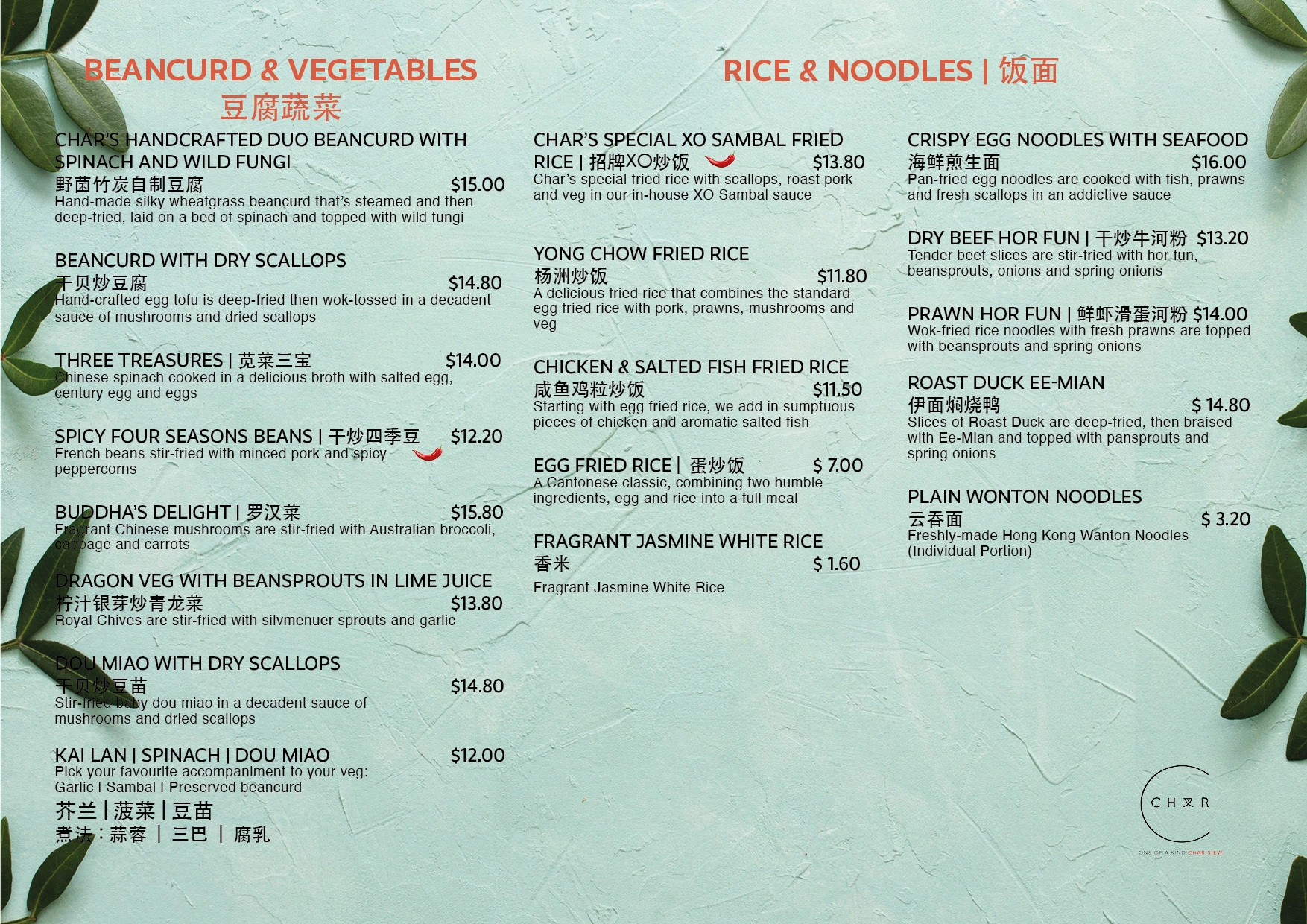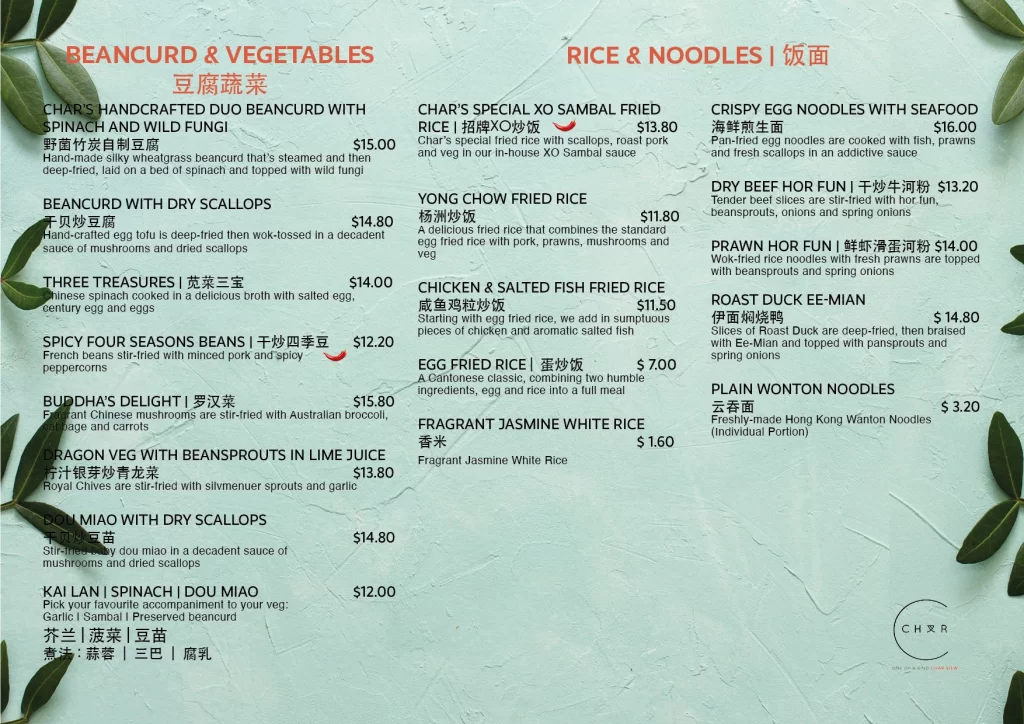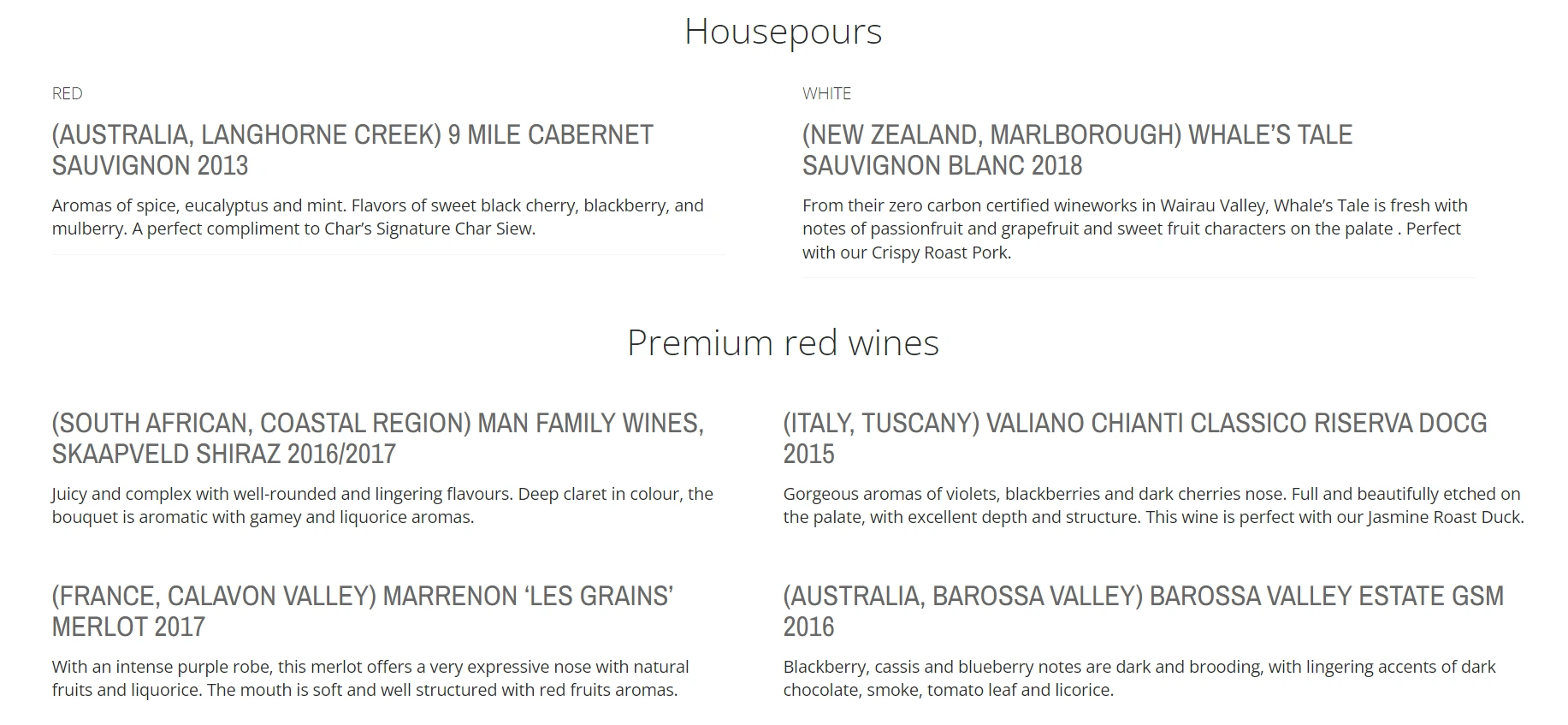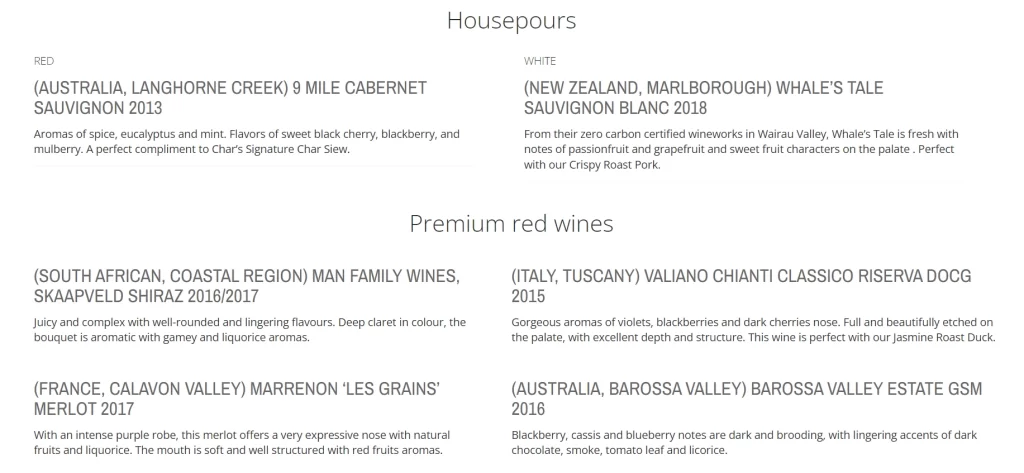 Address
Here is the link to their official Website : Char Singapore