Last Updated on June 14, 2023
Hello Foodies, are you looking for the latest Soul of India menu ? You have arrived at the right place then. We have uploaded their complete menu with updated prices. Prices are taken from the official sources of Soul of India.
Soul Of India Menu 2023
APPETIZERS & TANDOORI SIZZLERS MENU PRICES
Soup or Salad of the Day SGD 6.00
Bombay Bhel SGD 7.00
Onion Bhajia SGD 6.00
Vegetable Pakora SGD 6.00
Chicken Pakora SGD 7.00
Saag Tikki SGD 6.00
Vegetable Platter SGD 12.00
Vegetable Samosas SGD 7.00
Lamb Samosa SGD 9.00
Chipotle Paneer Tikka Kebab SGD 10.00
Kebab Platter SGD 14.00
Chef Platter SGD 14.00
Chicken Seekh Kabab SGD 9.00
Dahi ke Tikki SGD 10.00
Tandoori Chicken SGD 18.00
Tandoor A Noor SGD 22.00
Chicken Tikka Kebab SGD 15.00
Garlic Lemon Chicken SGD 15.00
Boti Kebab SGD 19.00
Tandoori Fish or Shrimp SGD 22.00
Soya Chops SGD 16.00
Achari Shrimps SGD 22.00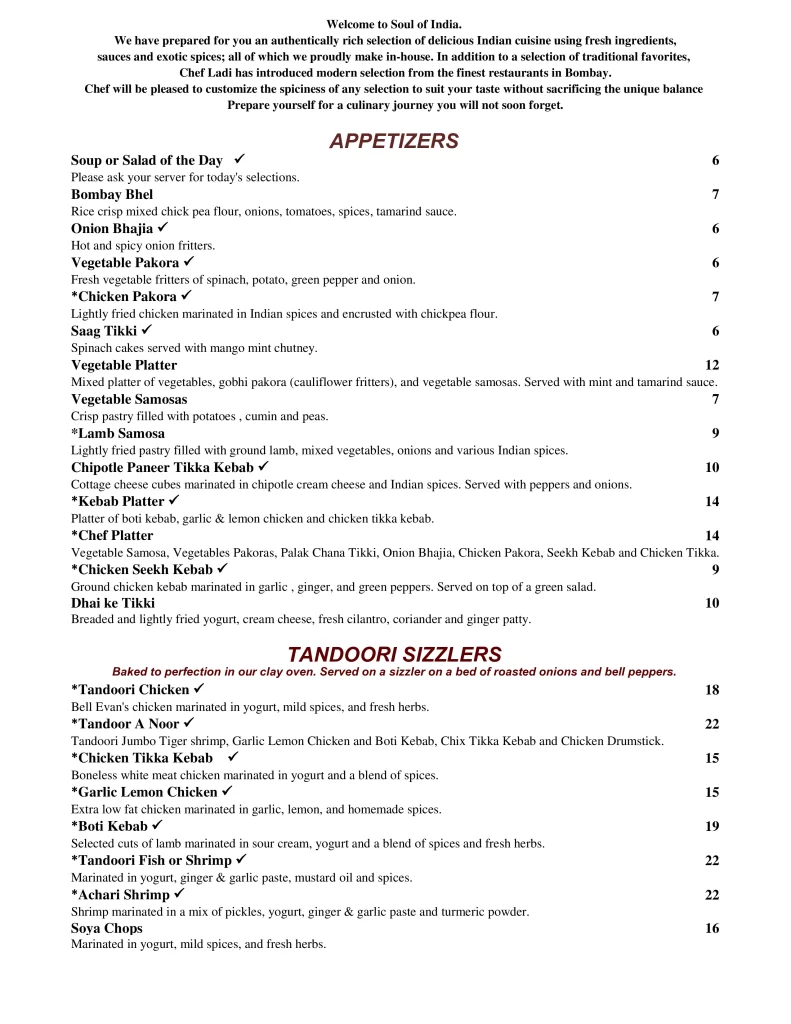 VEGETARIAN & LAMB CURRY MENU
Saag Paneer SGD 14.00
Saag Chole SGD 14.00
Aloo Palak SGD 14.00
Baingan Bharta SGD 14.00
Navratan Qorma SGD 14.00
Aloo Chole SGG 14.00
Zera Aloo SGd 13.00
Punjabi Khadi SGD 13.00
Vegetable Coconut Curry SGD 14.00
Lamb Saag SGD 18.00
Lamb Bhuna SGD 18.00
Lamb Do Piazza SGD 18.00
Aloo Gobi SGD 14.00
Dal Fry SGD 13.00
Dal Makhni SGD 13.00
Jaipuri Bhindi SGD 14.00
Suneri Paneer SGD 15.00
Shahi Paneer Makhani SGD 15.00
Matar Paneer SGD 13.00
Malai Kofta SGD 14.00
Kashmiri Rogan Josh SGD 18.00
Lamb Vindaloo SGD 18.00
Lamb Masala SGD 18.00
Lamb Curry SGD 18.00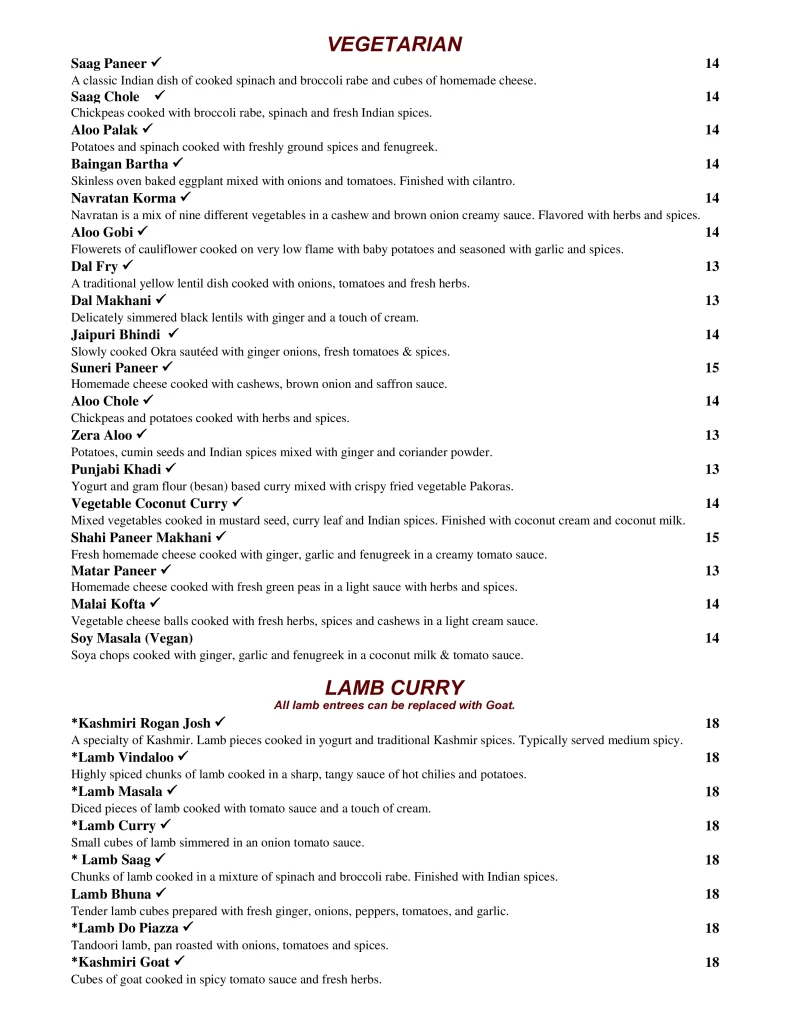 See Also : Raj Restaurant Menu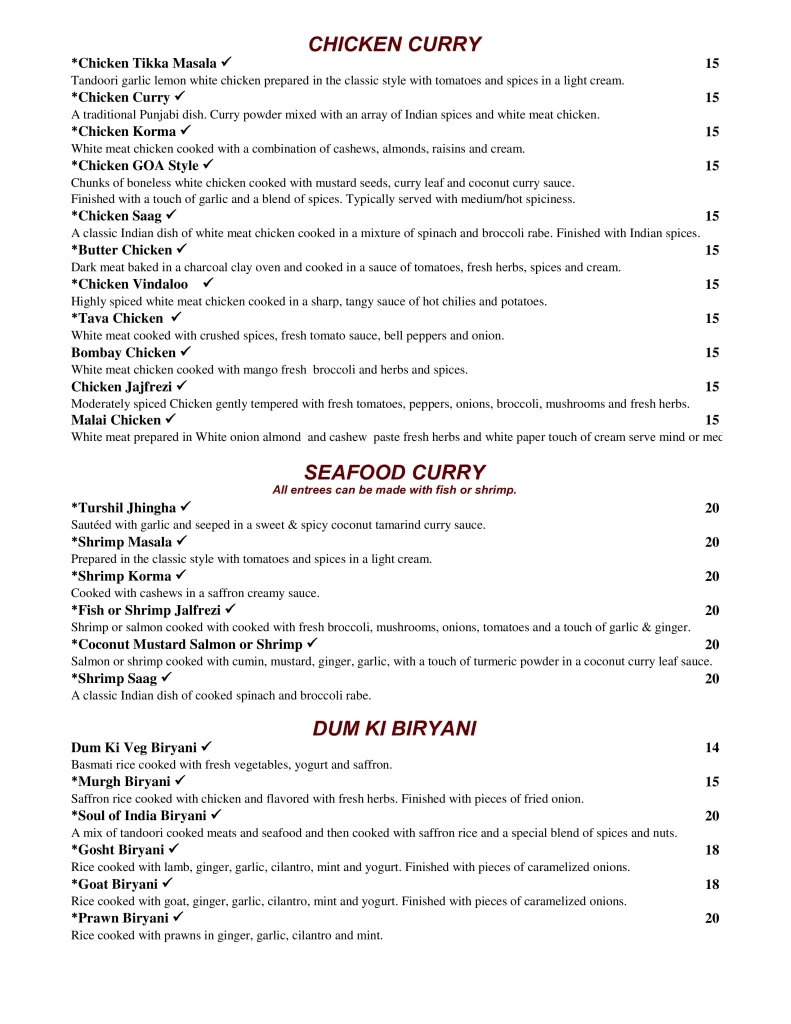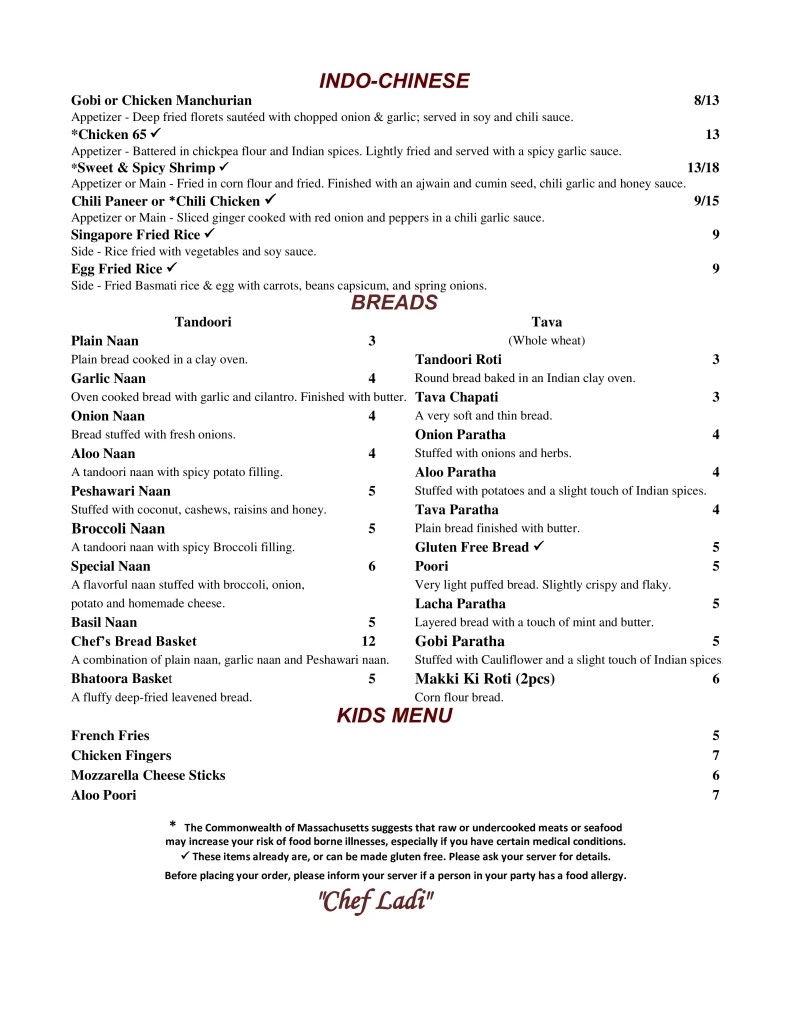 Soul of India Serves Non Halal Drinks.
Soul of india offers wine & alcoholic beverages and for that reason they are not Halal Certified.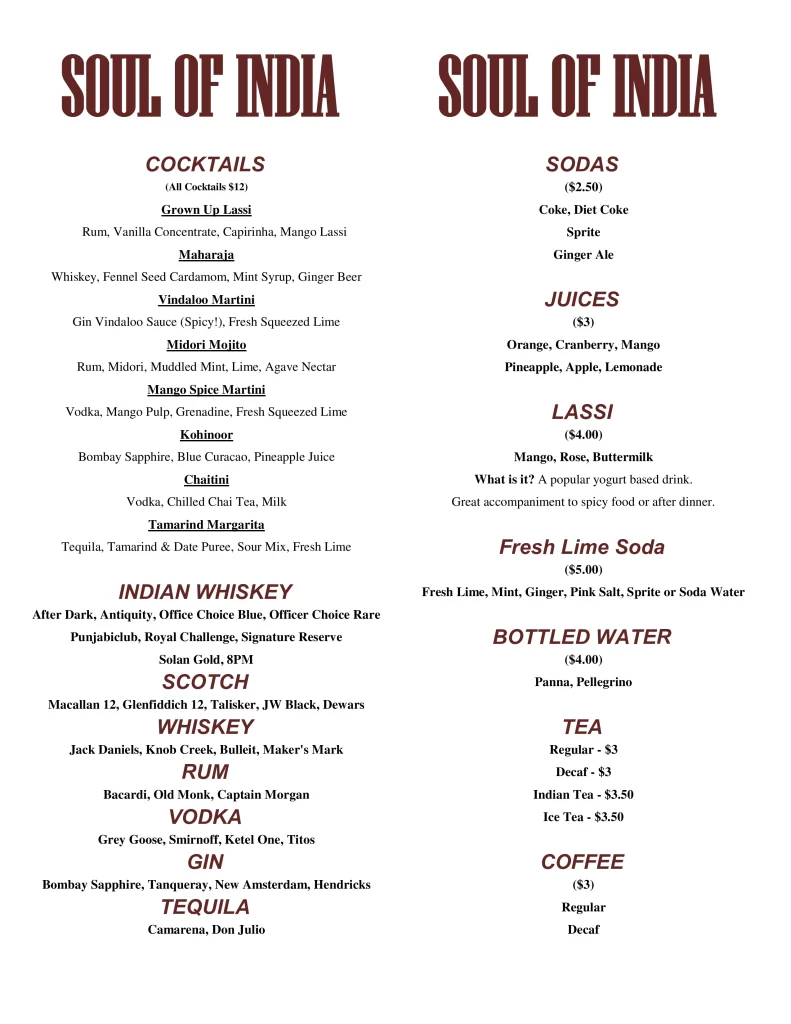 See Also: Golden Thai Village Menu