Last Updated on May 2, 2023
Hello Italian food lovers, are you looking for the latest La Nonna Singapore Menu Prices? You have arrived at the right place then. We have uploaded their complete menu with picture and updated price. Prices are taken from the official sources of La Nonna Singapore.
LA NONNA MENU PRICES 2023
La Nonna Singapore menu can be categorized as Pizzas, Primi (Pasta & Risotto), Main Courses, From the Wood Oven, Salads, & Starters, Bar Nibbles, Soups, Desserts, & Beverages. Let's see them in detail one by one.
LA NONNA SALADS & STARTERS PRICES
MENU
PRICE
Mozzarella E Parma
Pan-fried Mozzarella wrapped in 18-month aged Parma Ham
SGD 25.00
Carpaccio
Thinly-sliced Beef Tenderloin with Rucola, White Bean puree & Basil Pesto
SGD 23.50
Caprese
Buffalo Milk Mozzarella, Tomatoes and Pesto 'Genovese' sauce
SGD 24.00
Cold Cuts Platter
An assortment of Italian cured Meats
SGD 28.00
Caesar Salad
SGD 21.50
LA NONNA PIZZA MENU WITH PRICE
MENU ITEMS
PRICE
Salmone E Rucola
Tomato, Mozzarella, smoked Salmon, Rucola Salad, Mascarpone and Capers
SGD 29.00
Prosciutto E Ananas
Tomato, Mozzarella, cooked Ham and Pineapples
SGD 28.00
La Nonna
'Our Signature Pizza' – Tomato, Mozzarella, Parmesan, Asparagus, Egg and Black Truffle
SGD 29.00
Cinque Formaggi
Tomato, Mozzarella, Taleggio, Scamorza, Gorgonzola and Goat Cheese
SGD 28.00
Margherita
Tomato, Buffalo Mozzarella and fresh Basil
SGD 27.00
Vegetariana
Tomato, Bell Pepper, Zucchini, Asparagus, Artichoke and Mushroom
SGD 28.00
Nera
Squid Ink, Tomato, Mozzarella, Prawns, Scallops and Calamari
SGD 29.00
Meat Lovers
Tomato, Mozzarella, Onion, Salami, cooked Ham, Pancetta and roasted Chicken
SGD 30.00
Prosciutto E Rucola
Tomato, Mozzarella, Parma Ham, Rucola salad and shaved Parmesan
SGD 29.00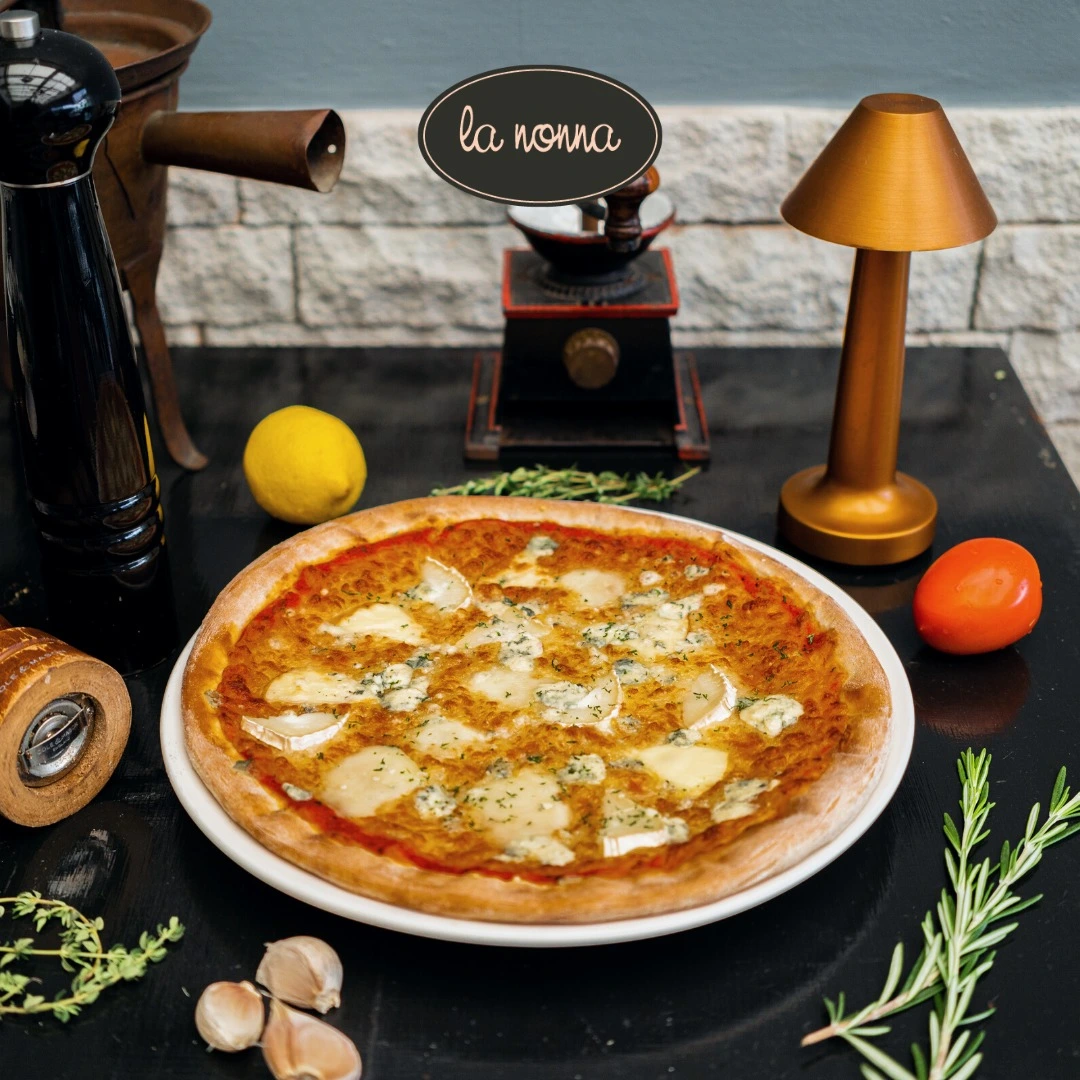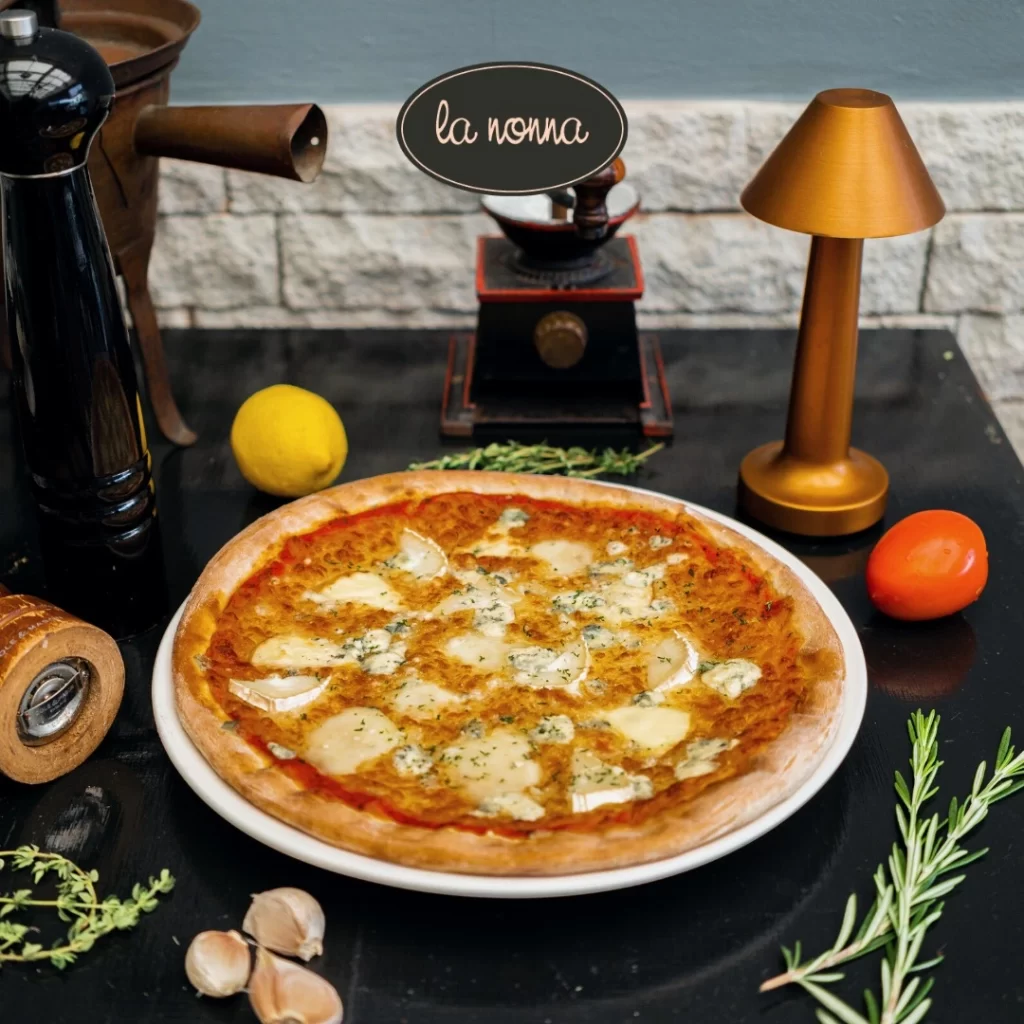 LA NONNA PASTA & RISSOTO PRICES
MENU
PRICE
Taglierini Al Tartufo
Homemade Taglierini Pasta, Shiitake Mushrooms and Black Truffle cream
SGD 35.00
Fettuccine Ai Spinaci
Homemade Spinach Fettucine with Chicken breasted, sun-dried Tomatoes and Mozzarella
SGD 29.00
Gnocchi di Barbabietola
Homemade Beetroot Gnocchi in 'Quattro Formaggi' classic Italian 4-Cheese sauce
SGD 29.00
Pappardelle Coda Di Bue
Homemade Pappardelle Pasta with Oxtail ragout and Rosemary
SGD 32.00
Linguine Al Granchio
Linguine Pasta served with Crab Meat in Tomato Cream sauce and Basil
SGD 31.00
See Also: Thai Tai Menu
LA NONNA MAIN COURSES MENU PRICES
MENU
PRICE
Agnello
Pan-seared Lamb Rack with sauteed Mushrooms, Aparagus, Potato mash & Brown sauce
SGD 44.00
Maiale
Pork Chop with roasted Potatoes, Broccoli & Honey-Balsamic glaze
SGD 38.50
Merluzzo
Oven-baked Cod Fish with mashed Potatoes and grilled Asparagus & Balsamic dressing
SGD 42.00
Manzo
Beef Rib-Eye with Barolo Red Wine sauce, roasted Potatoes and steamed Vegetables
SGD 44.00
Spigola
Sea Bass Filet 'al Cartoccio' with Mediterranean Vegetable and White Wine sauce.
SGD 42.00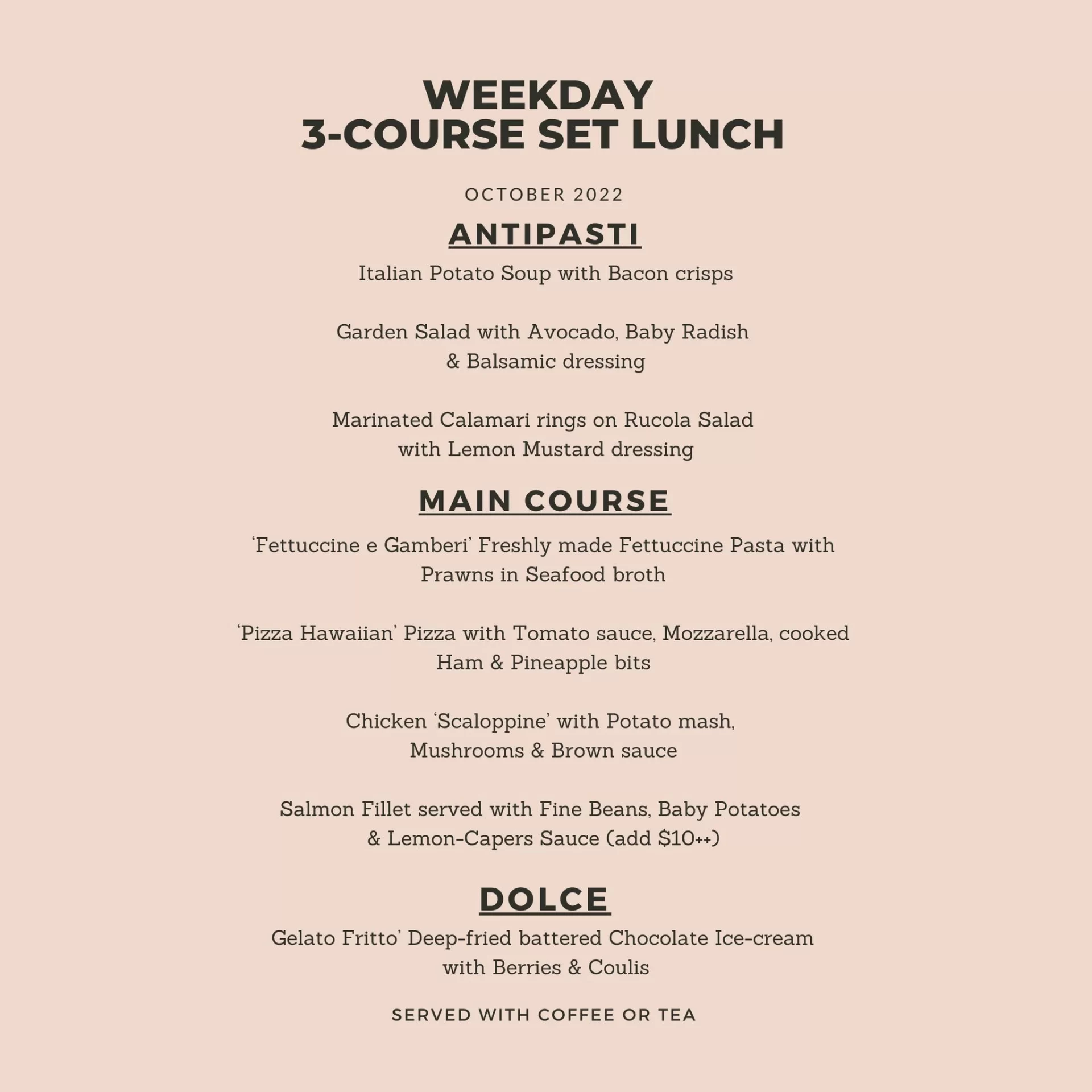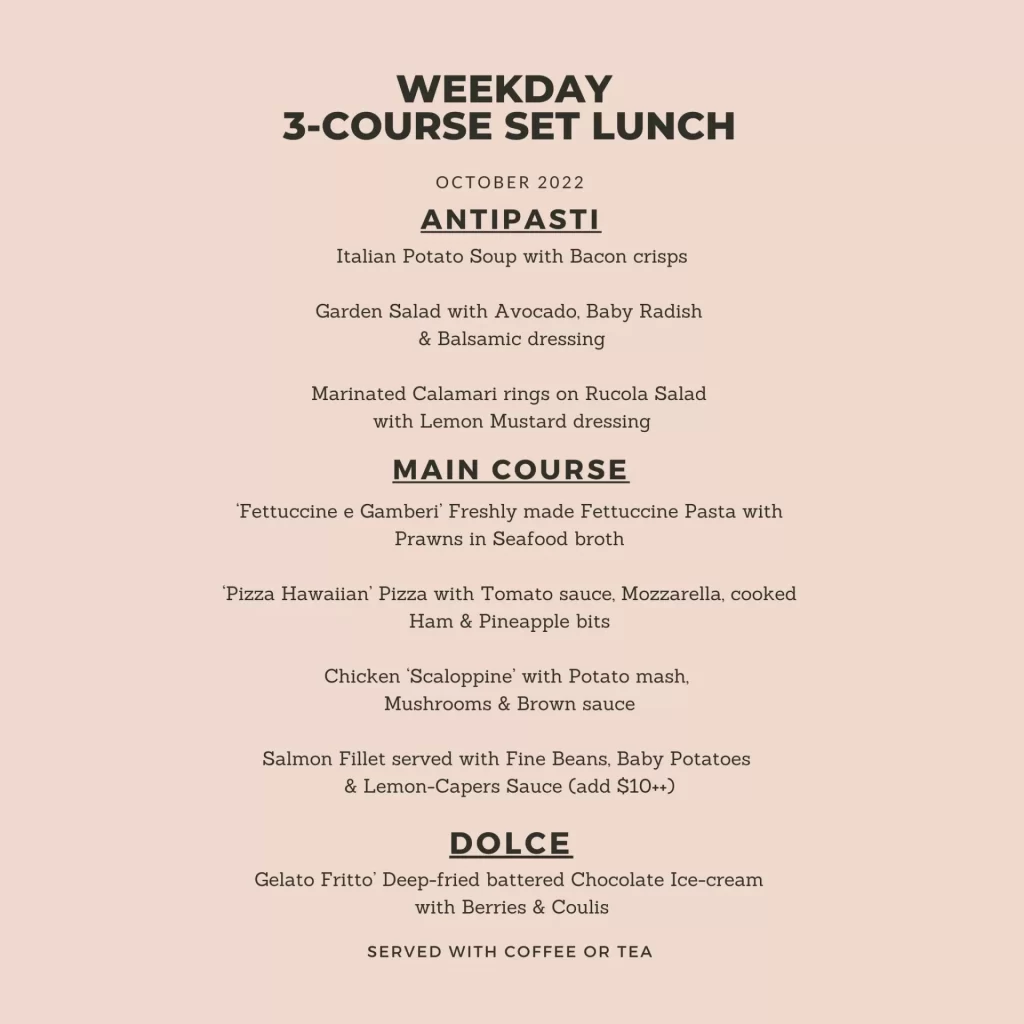 LA NONNA MENU – FROM THE WOOD
MENU
PRICE
Macaroni & Cheese Della Nonna
Macaroni Pasta in Cream sauce with cooked Ham.
SGD 25.00
Parmigiana
Oven-baked traditional Eggplant 'Parmigiana'
SGD 24.00
Lasagna
Oven-baked Classic Lasagna with 'Bolognese' sauce
SGD 26.00
LA NONNA SOUPS & BAR NIBBLES
MENU
PRICE
Funghi
Wild Mushroom Soup with Bacon Crisps
From SGD 13.00
Bruschetta
Selection of 'La Nonna' Bruschetta topped with Tomatoes, sautéed Porcini Mushrooms
SGD 16.00
Italian Sausages
An assortment of Pork, Beef, Chicken & Lamb Sausages
SGD 17.00
Calamari
Golden crispy Squid rings with Arrabbiata sauce
SGD 21.50
Arancini
Deep-fried Risotto Balls filled with Buffalo Mozzarella, with Pomodoro sauce
SGD 18.00
LA NONNA SINGAPORE DESSERTS MENU
MENU
PRICE
Pannacotta
Egg-less Vanilla Custard Cream served with fresh Berries & coulis
SGD 13.50
Tiramisu
Traditional Venetian Tiramisu
SGD 13.50
LA NONNA BEVERAGES MENU
NON ALCOHLIC BEVERAGES
| MENU | PRICE |
| --- | --- |
| San Benedetto Sparkling/Still Water 750ML | SGD 6.50 |
| Ginger Ale | SGD 2.50 |
| Tonic | SGD 2.50 |
| Coke/Sprite/Fanta | SGD 2.50 |
| Soda | SGD 2.50 |
ALCOHLIC BEVERAGES
| MENU | PRICE |
| --- | --- |
| Tiger Beer 330 ml | SGD 6.50 |
| Birra Moretti 330 ml | SGD 6.50 |
| Prosecco Bottle | SGD 62.00 |
| Italian Wine Bottle Red/White | SGD 62.00 |
| French Wine Bottle Red/White | SGD 58.00 |
IS LA NONNA SINGAPORE HALAL?
NO. La Nonna Singapore serves alcohol and for that reason they are not Halal.
All the images and prices are taken from the following official sources of La Nonna Singapore.