Last Updated on May 2, 2023
Hello western food lovers, are you looking for the latest la cafe & bar menu prices? You have arrived at the right place then. We have uploaded their complete menu with updated prices. Prices are taken from the official sources of La cafe & bar.
SG's Favorite items of La Cafe Menu are.
Sirloin Steak SGD 18.70
Banger & Mash SGD 12.95
Chopsuey SGD 11.65
La Cafe & Bar Menu 2023
LUNCH MENU
Pork Sisig With Rice
Authentic style sisig, sauteed chopped parts of pig head mixed with pork belly & onion. Served with fried egg & mayonnaise
S$8.45
Chicken Pork Adobo With Rice
Chicken and Pork stew pieces are marinated in soya sauce and spices, and stew until it tender.
S$8.45
Sirloin Steak
Pan-seared sirloin with yellow rice, french beans, onion, brown sauce served in sizzling plate.
S$18.70
Banger & Mash
Bratwurst sausage serve with mash potato and caramelized onion sauce.
S$12.85
Fried Milkfish (Bangusilog)
Golden fried boneless milkfish serve with garlic rice, fried egg and tomato salsa.
S$11.65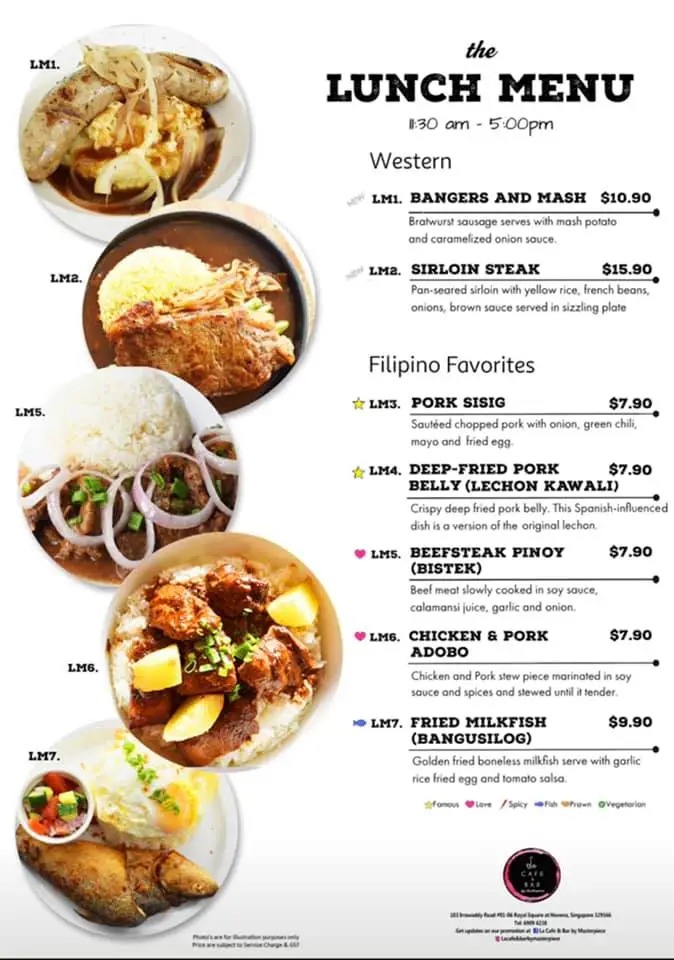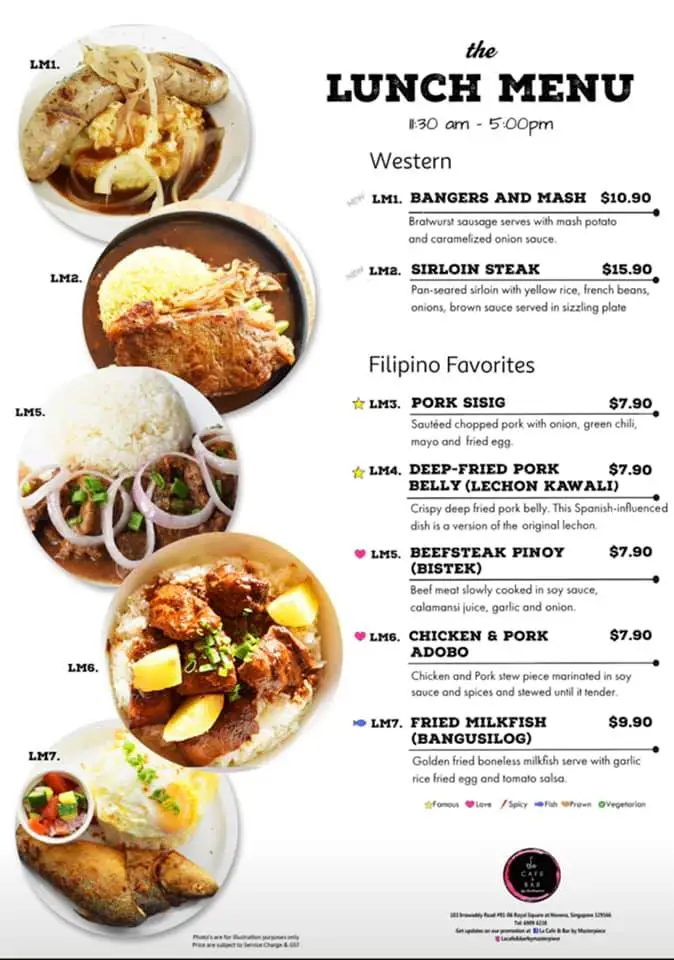 BAR BITES
Truffle Fries

S$9.30
Luncheon Fries

S$9.30
Chicken Cheese Ball

S$9.30
La Cafe Wings

S$12.85
Sizzling Pork Sausage

S$16.35
La Cafe Bite Bite Platter
Fries, Wings, Pork Spring Roll
S$23.40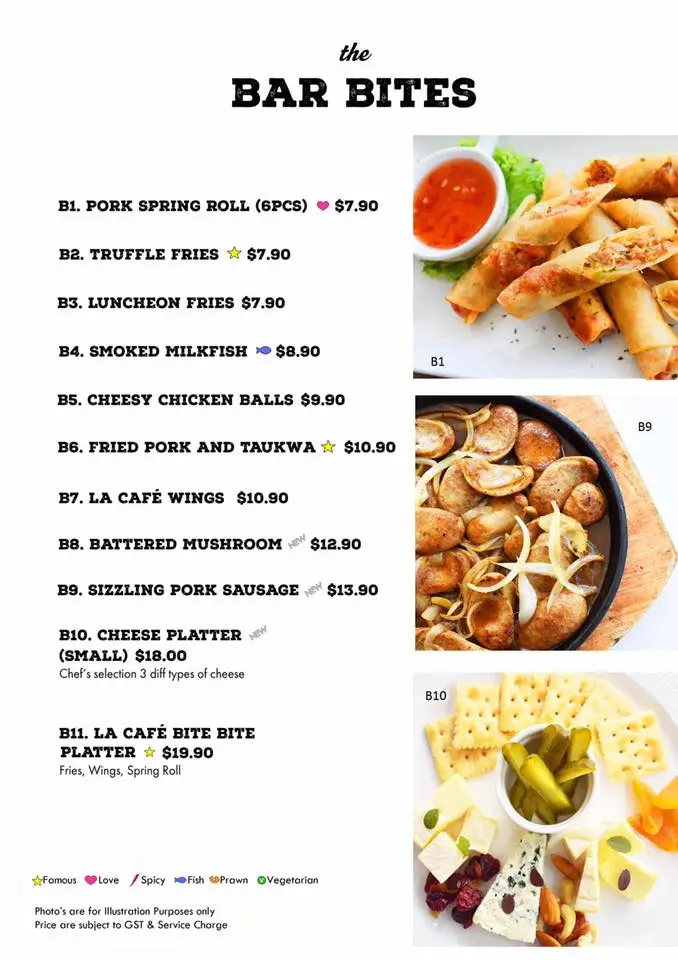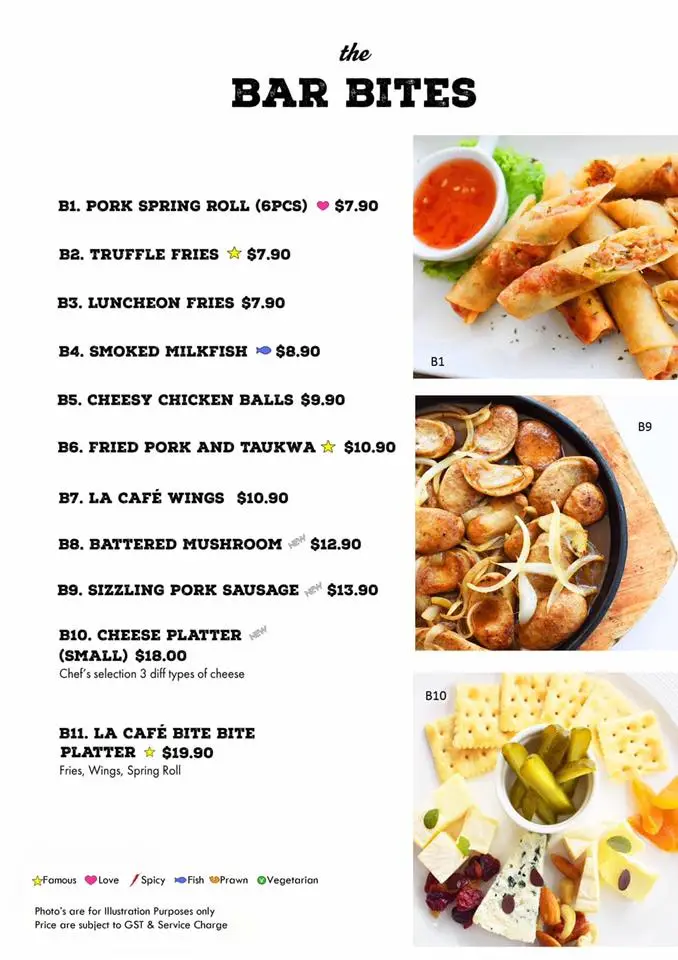 PASTA MENU
Spicy Prawn Aglio Olio
Spaghetti pasta with prawn, olive oil, garlic and chilli flakes.
S$16.35
Vegetarian Pasta
Shaghetti pasta with broccoli, green and red capsicum, onion, carrots cooked with tomato sauce.
S$12.85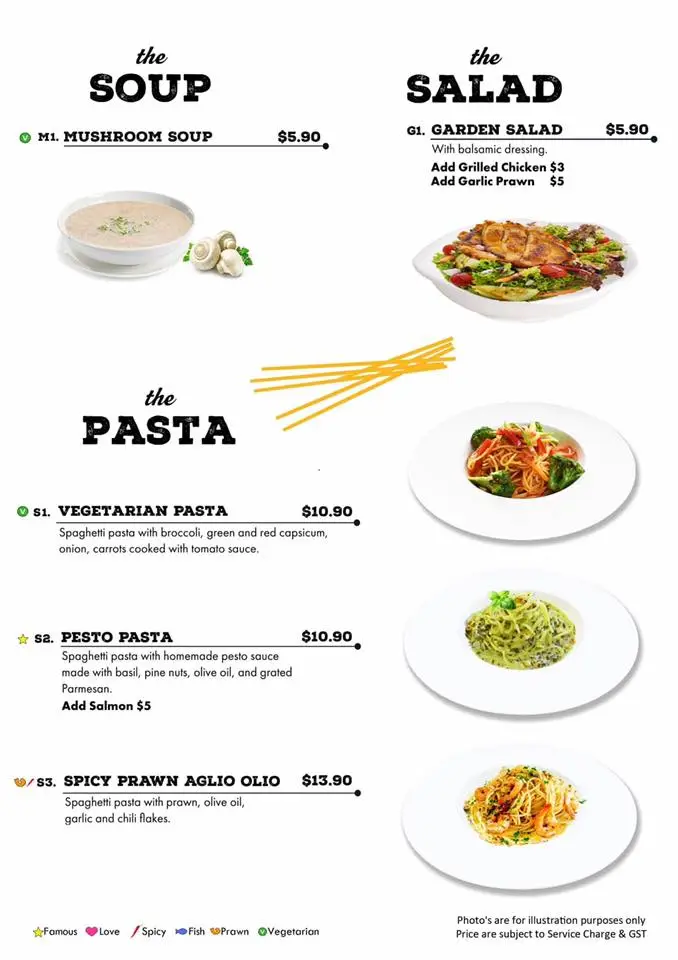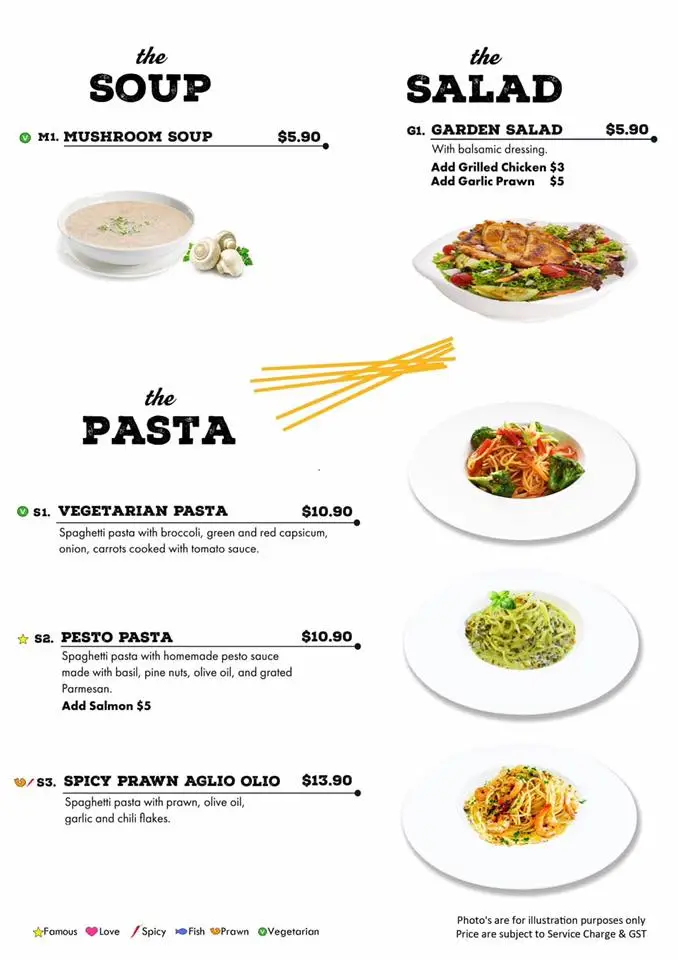 WESTERN
Fish & Chips
Fish deep-fried in a crispy batter served with fries mixed green and tartar sauce.
S$15.20
Salmon
Pan grilled salmon served with mixed veggies and our homemade creamy pesto sauce.
S$21.20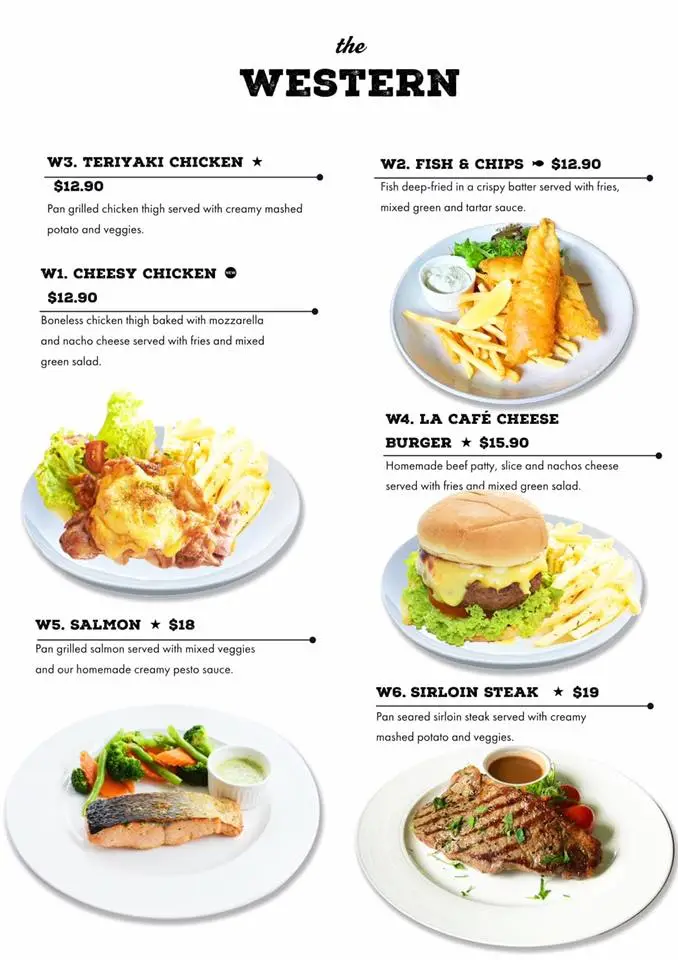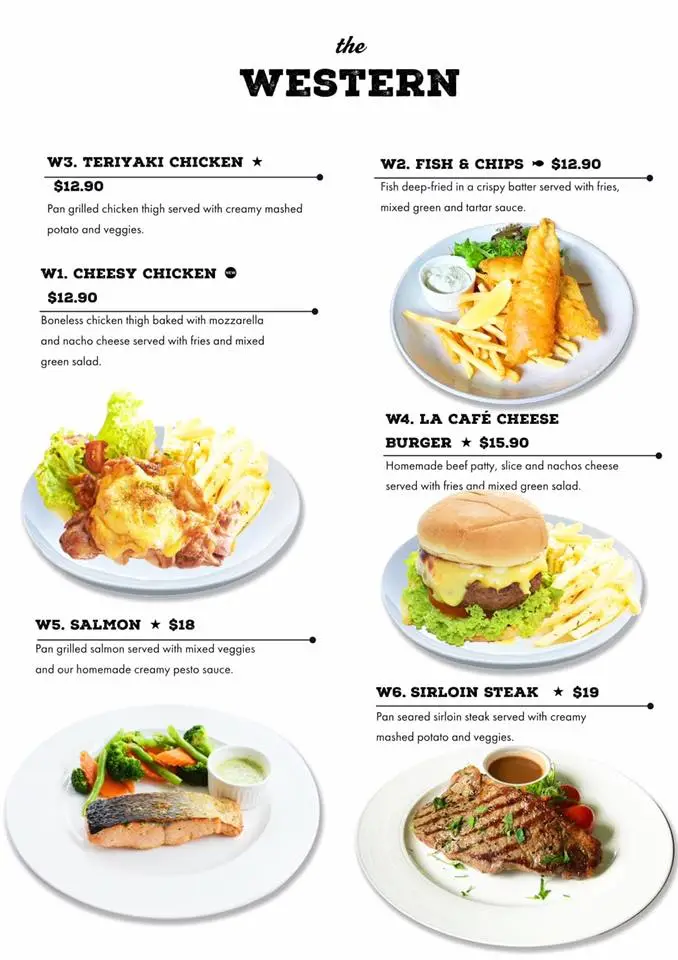 PHILIPPINES
Chopsuey
Stir-fried vegetables with prawn & oyster sauce
S$11.65
Hot Plate Pork Sisig
Authentic Style Sisig, Sauteed chopped parts of pork mask and pork belly, onion, egg, green chili and mayonnaise.
S$17.65
Fried Whole Milkfish
Golden fried boneless milkfish serve with tomato salsa.
S$18.85
Sweet & Sour Fish
Battered fish fillet cooked with tasty sweet and sour sauce with carrot, capsicum and onion.
S$14.10
Stir Fry Glass Noodle (Pansit Bihon)
Filipino style stir fry glass noodle with soy sauce and chopped veggies.
S$8.10
Pork Rib Sour Soup ( Sinigang)
Is a delicious filipino sour soup dish with pork ribs and vegetables.
S$17.65
Milkfish Sour Soup (Bangus Sinigang)
Is a delicious filipino sour soup dish with milkfish and vegetables.
S$20.00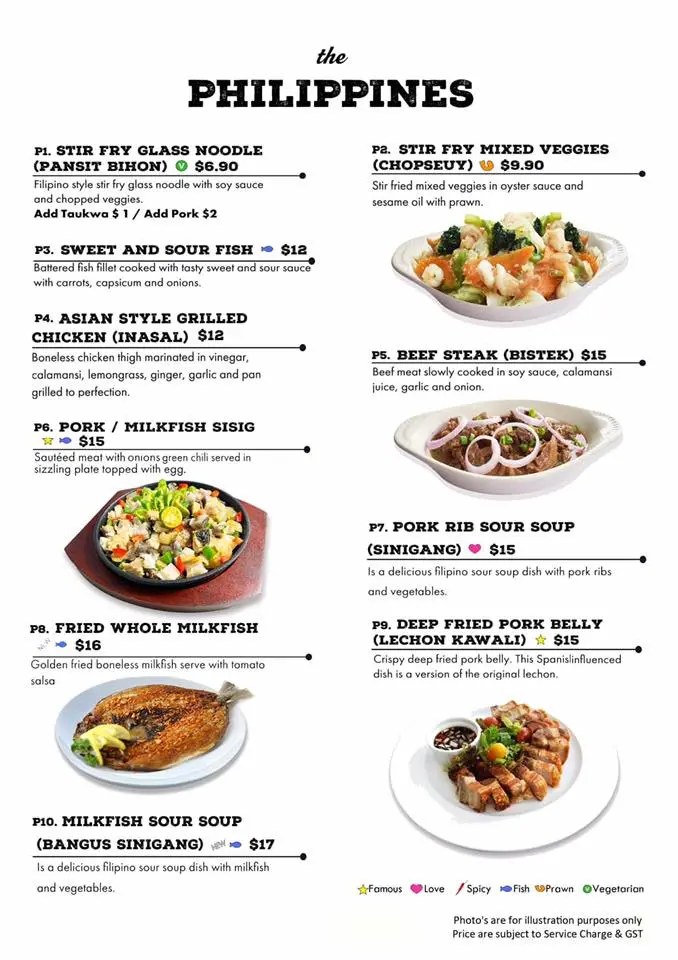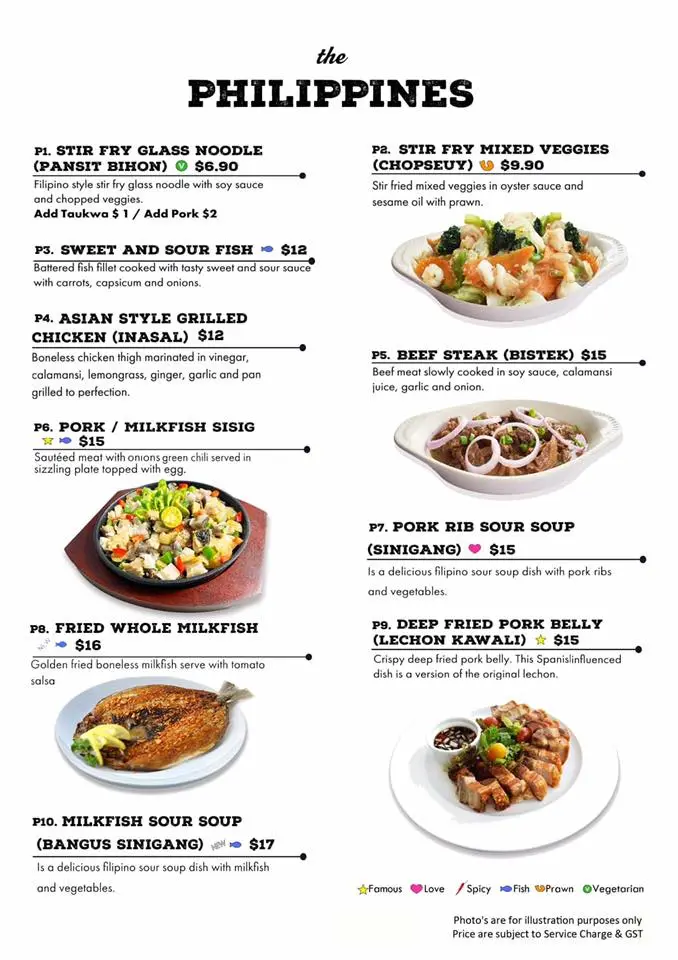 See Also : Big Fish Small Fish Menu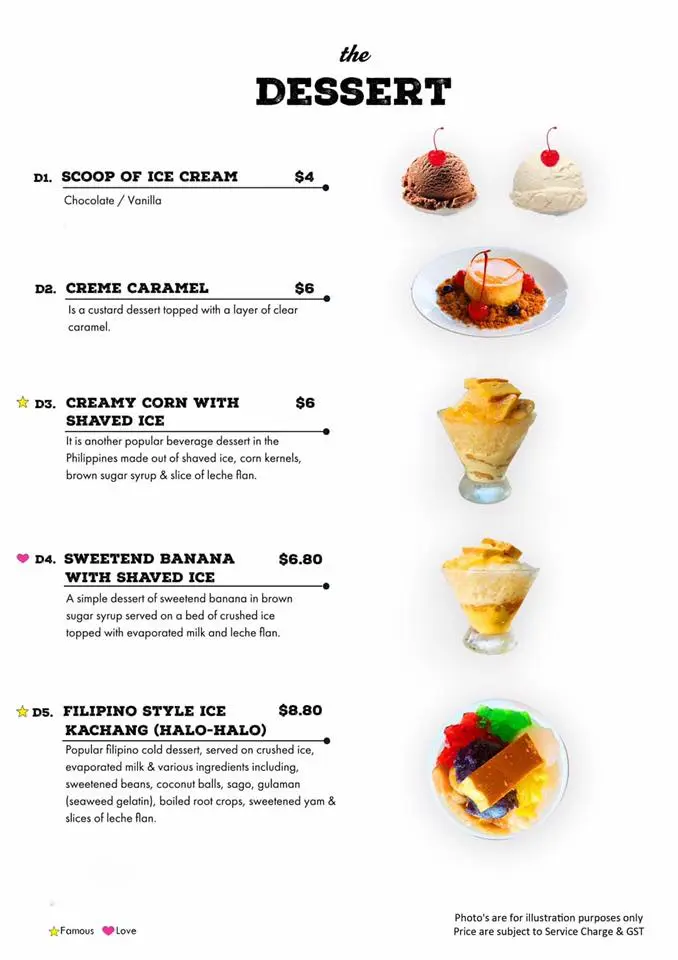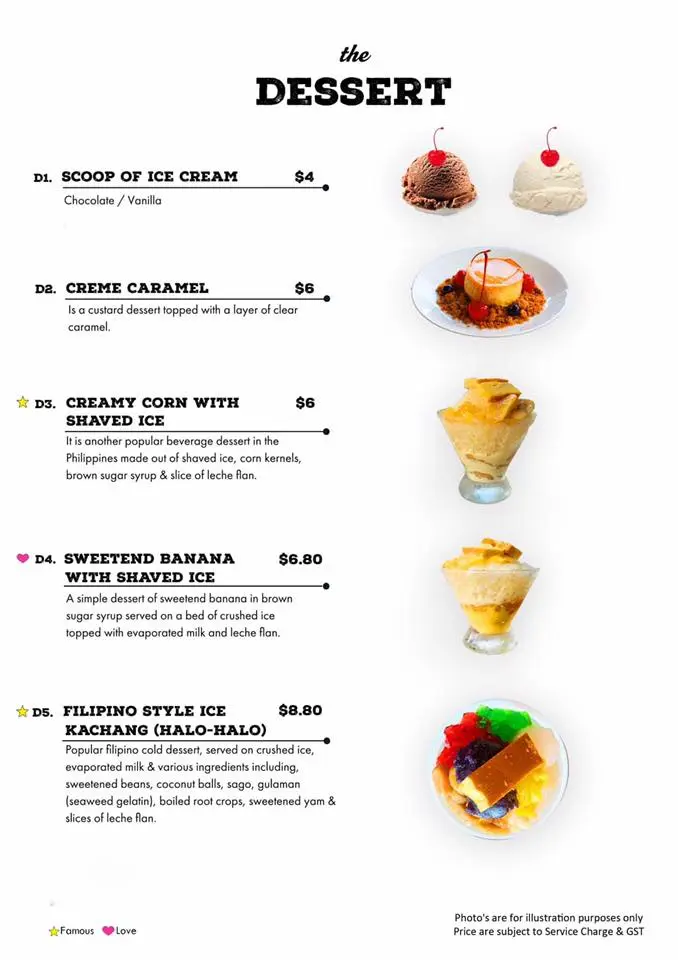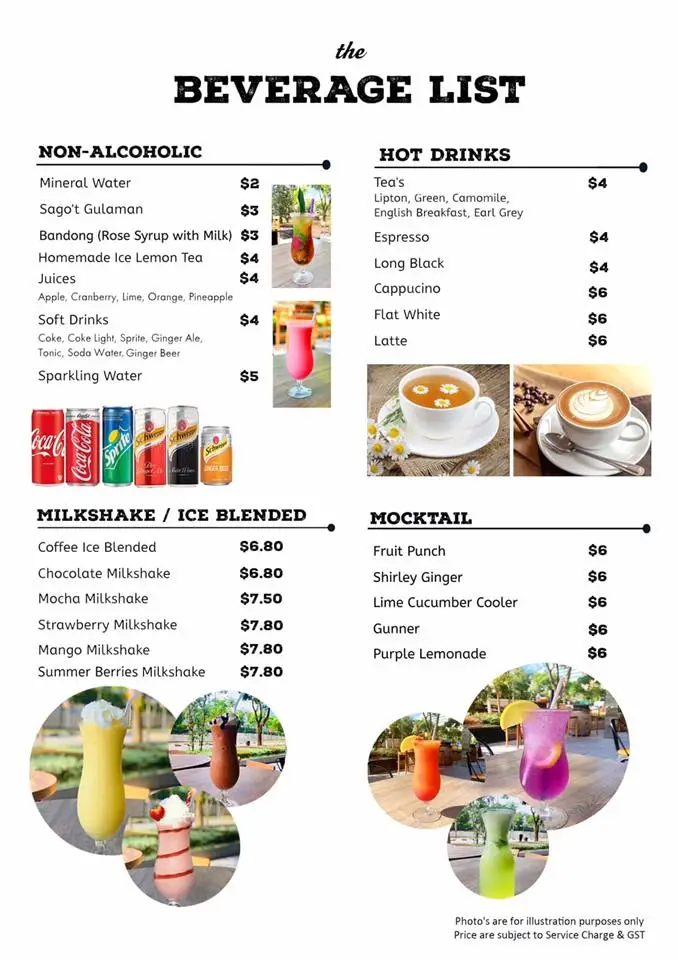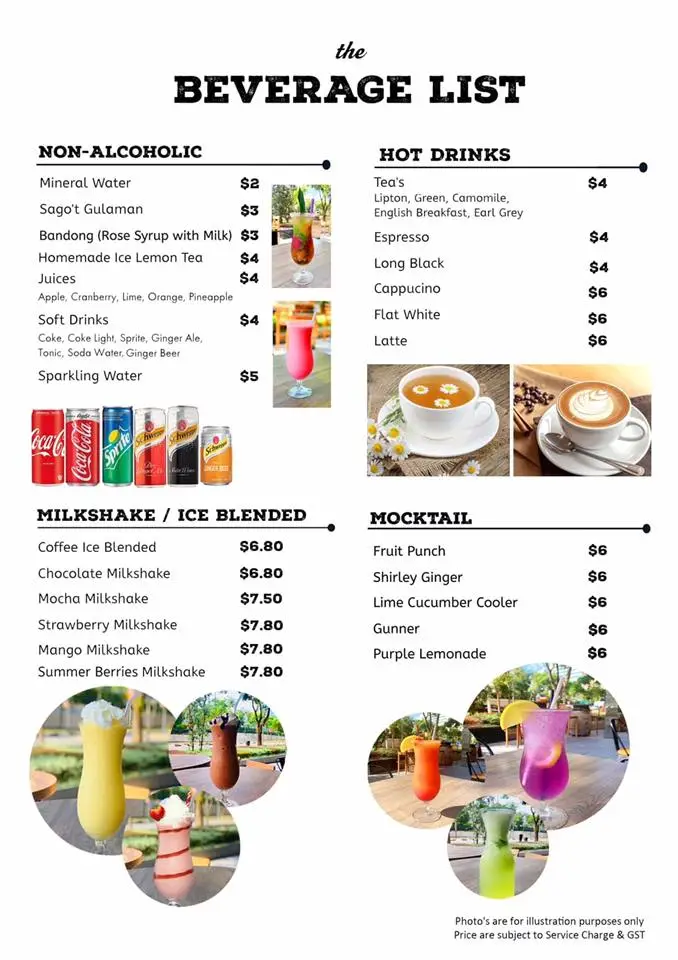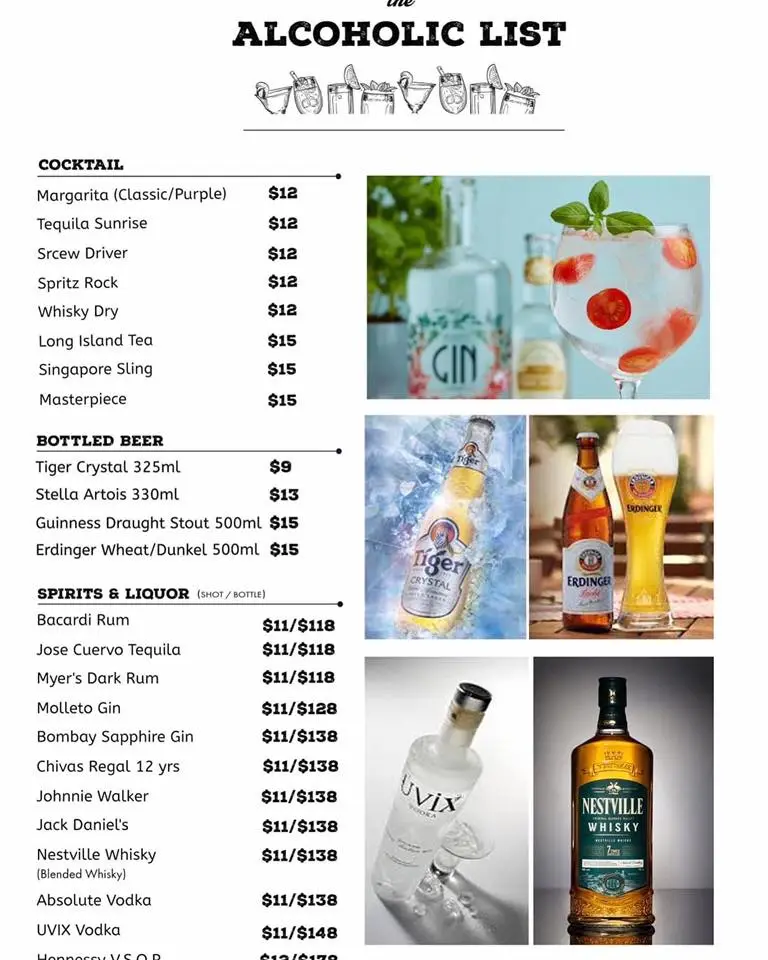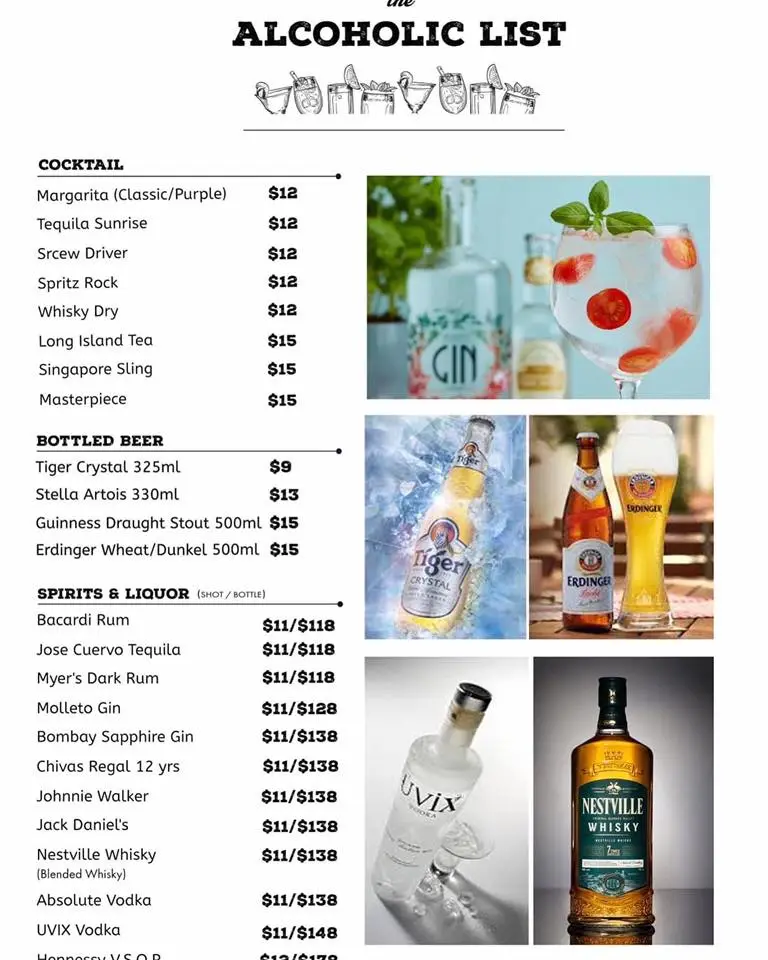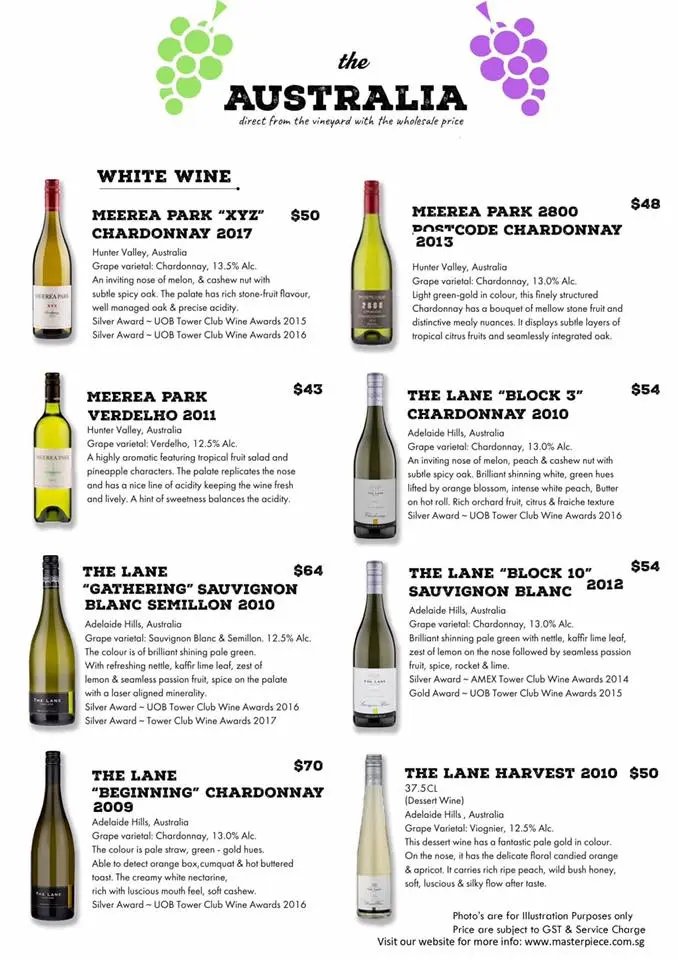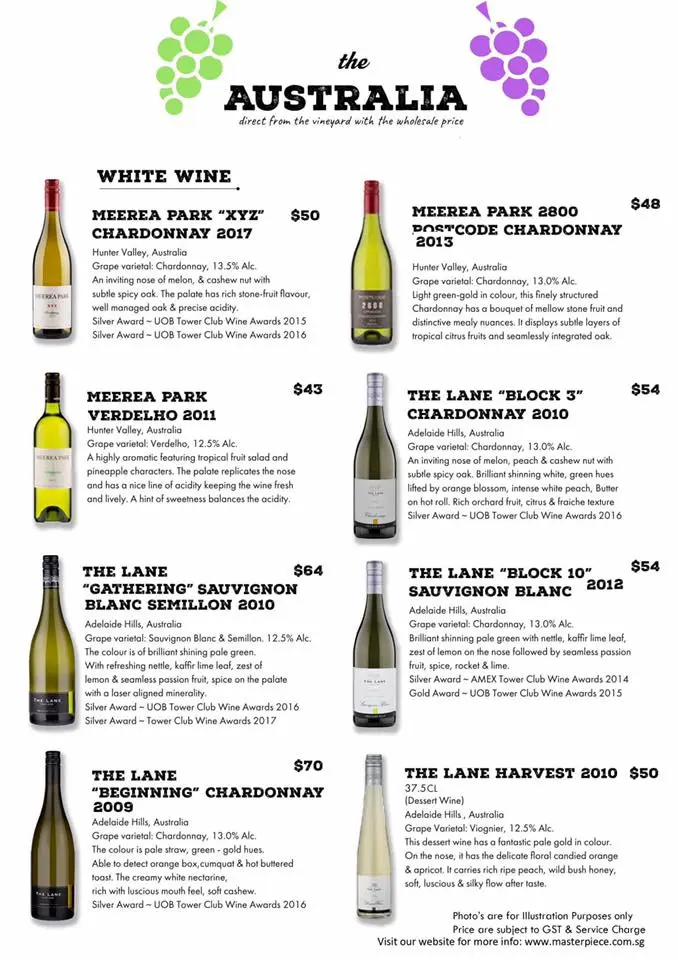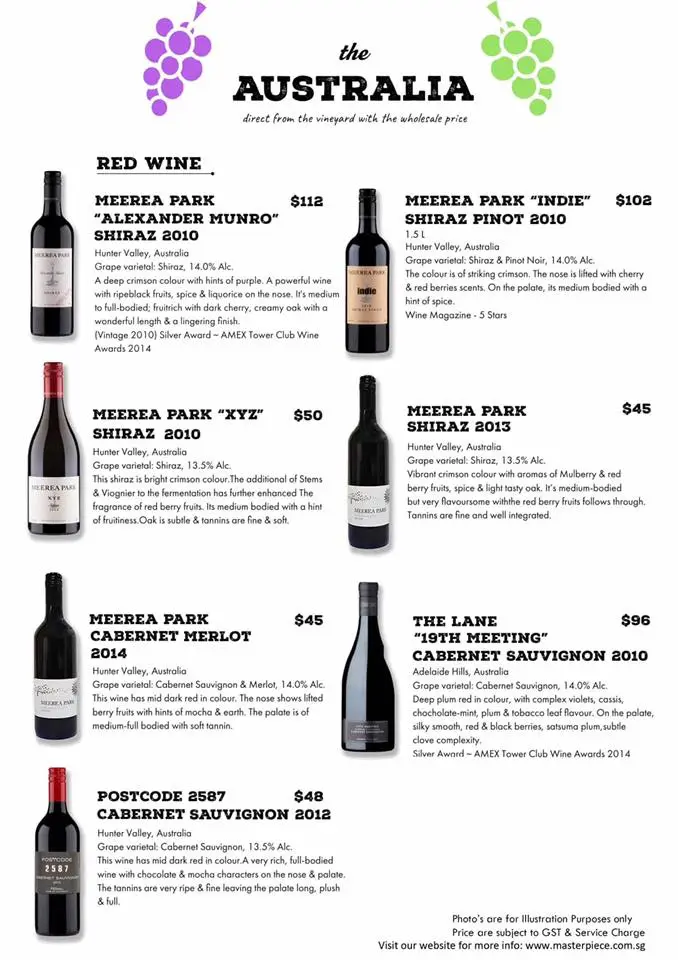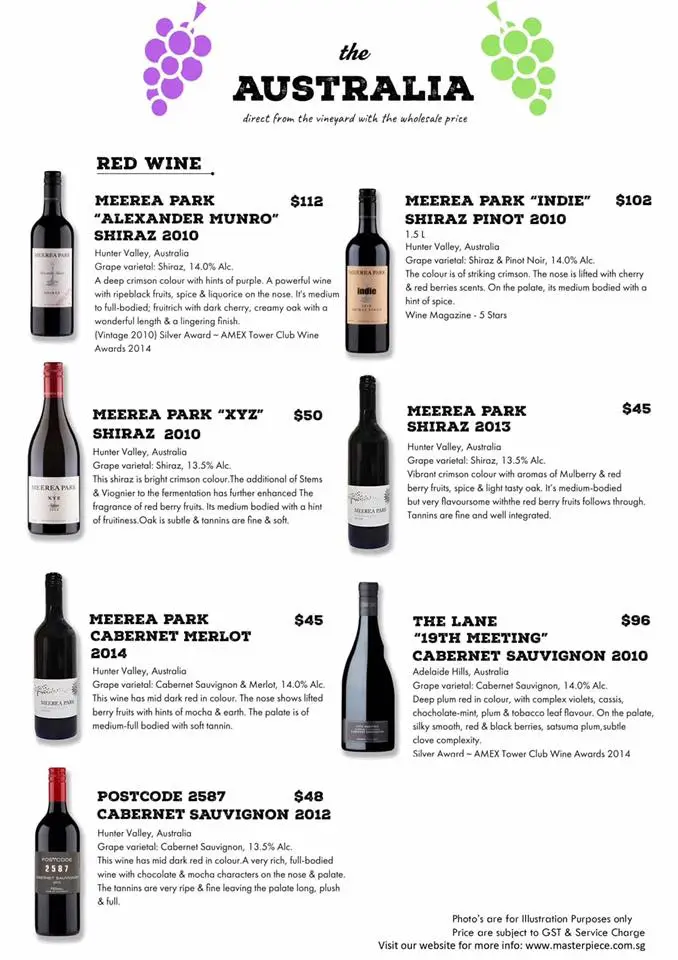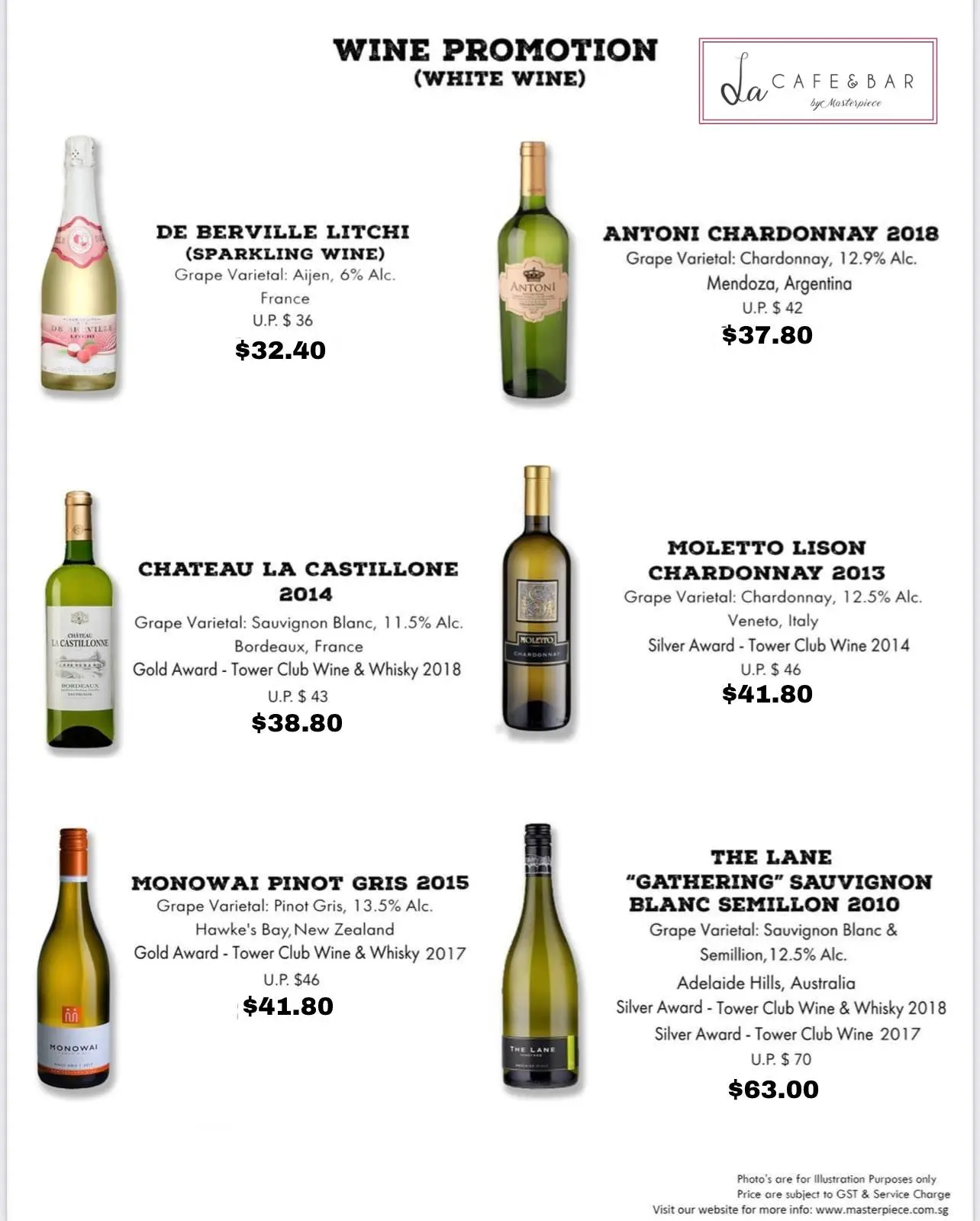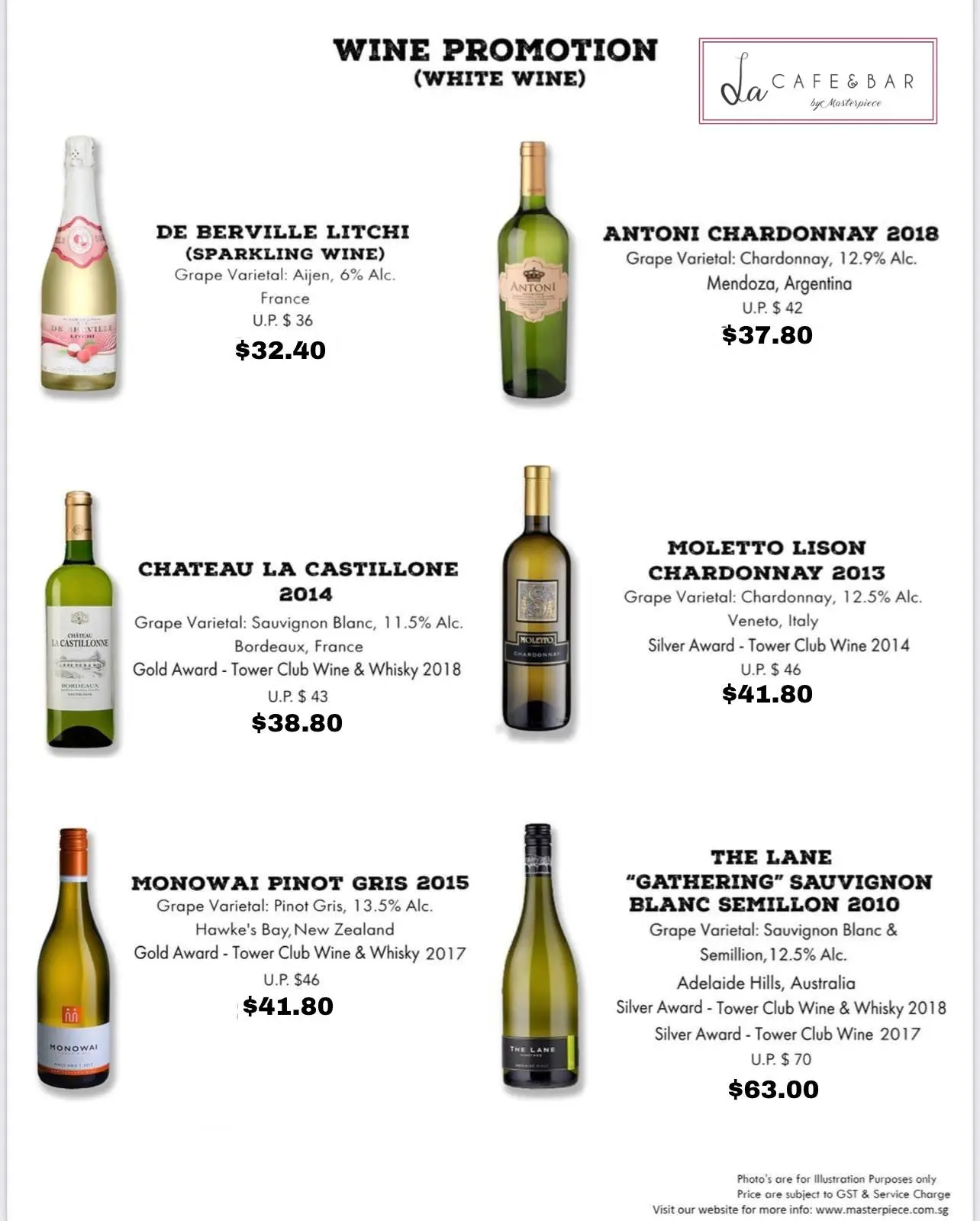 La Cafe & Bar Serves Non Halal Menu
La cafe and bar serves pork and alcoholic beverages, and for that reason it is not Halal.
Here is the link to their official Facebook Page : La Cafe & Bar Singapore
Address
---
Here is the official website of the restaurant: La Café & Bar