Last Updated on May 2, 2023
Hello Buffet Lovers, are you looking for the latest clove menu prices? You have arrived at the right place then. We have uploaded their complete buffet menu with pictures and prices. Prices are taken from the official sources of Clove Singapore.
CLOVE MENU 2023
Clove Singapore menu can be categorized as Lunch Buffet, Dinner Buffet, Fri & Sat Choc Dinner, Sunday Choc Lunch & Beverages. Let's see them in detail one by one.
CLOVE LUNCH BUFFET MENU
LUNCH BUFFET
MONDAY TO FRIDAY, 12PM TO 2.30PM
SATURDAY, 12.30PM TO 3PM
68 PER ADULT, 34 PER CHILD
VITALITY SALAD BAR
Aquaponics Greens, Baby Spinach
Hummus, Baba Ghanoush, Quinoa, Beetroot, Wakame
Cherry Tomato, Bean, Mushroom, Onion, Cucumber, Dried Cranberry, Corn,
Garbanzo, Crouton, Bacon Bits, Olive,
Sunflower Seeds, Almond Flake, Pumpkin Seeds
DRESSING & EMULSION
Balsamic, Thousand Island, Honey Mustard, Goma, Italian, Ranch, Lemon Clove Vinaigrette
SMOKED FISH & CHARCUTERIE
Smoked Salmon, Beef Pastrami, Honey Baked Ham
Dijon Mustard, Grain Mustard, Caper, Lemon Wedge, Onion, Pickled Pearl Onion, Cornichon
CLOVE'S SALAD
Heirloom Tomato, Mozzarella, Ponzu Vinaigrette (V)
Greek Salad, Marinated Feta Cheese, Olive (V)
Omni Tuna Legume Salad, Lemon Vinaigrette (V)
Beef Bulgogi Salad, Kimchi, Asian Vegetable Slaw
Ahi Tuna, Nicoise Salad
Assorted Sashimi, Assorted Sushi with Condiments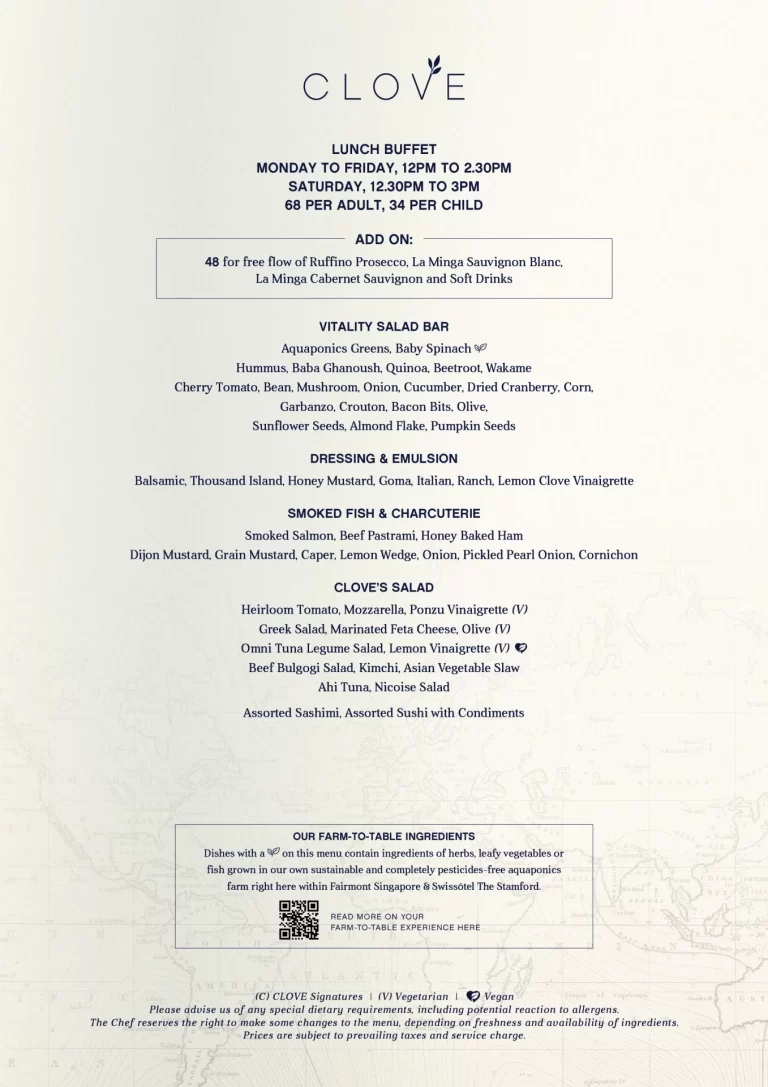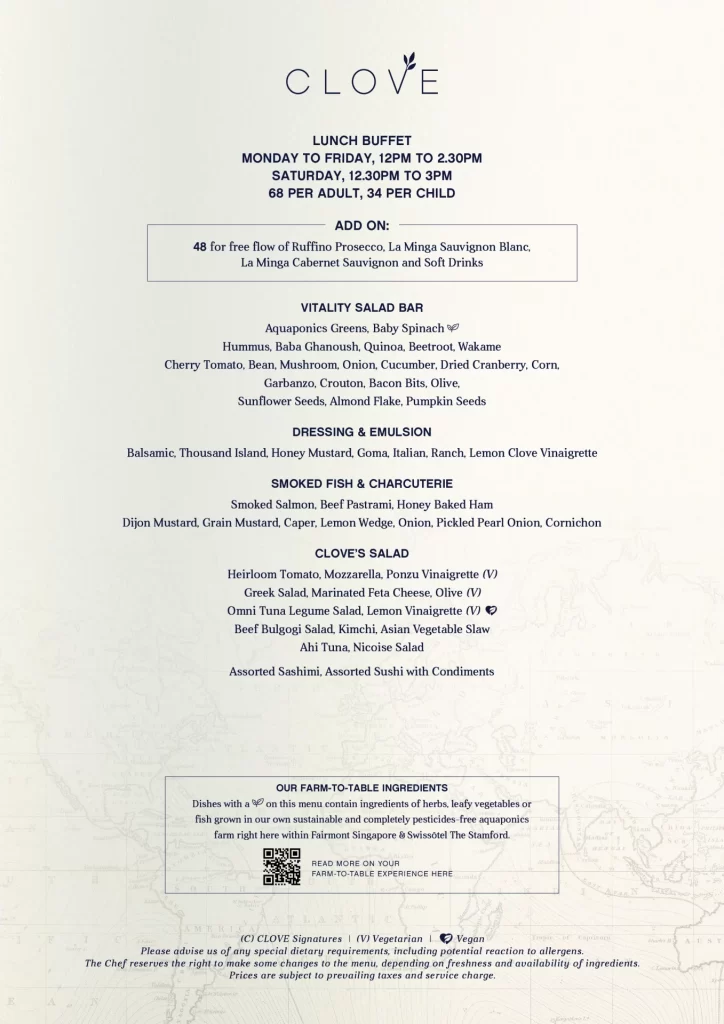 SEAFOOD ON ICE
Cooked Prawn, Venus Clam, Black Mussel, Half Shell Scallop
Lemon, Cocktail Sauce, Tabasco, Mignonette Sauce
CLOVE Seasonal Seafood Salad
BAKERY SELECTION
Home Baked Sourdough, Focaccia, Baguette
Mini Bread Roll, Sun Dried Tomato, Soft Roll, Lavosh, Grissini
Butter, Onion Chutney, Sea Salt
CHEESE SELECTION
Brie, Cheddar, Emmental, Gruyère, Blue Cheese
Chutney, Cheese Cracker, Nuts
SOUP
Butternut Cream (V)
Herbal Chicken Soup
LIVE STATION
Brioche
Gammon Ham, Gruyère Cheese, Mustard Mayonnaise
Omnimeat
Spiced Cauliflower, Caper Flower, Marinated Raisin
CARVING STATION
1 TYPE PER DAY
Slow Roasted Striploin
Dijon Mustard, Horseradish Cream, Thyme Jus
OR
Slow Roasted Lamb Leg
Mint Jelly, Dijon Mustard, Rosemary Jus
OR
Roasted Spatchcock Chicken
Wild Mushroom Sauce, Cranberry Sauce
OR
Roasted Salmon Fillet
Lemon Wedges, Saffron Beurre Blanc
Accompaniments
Truffle Mash Potato (V)
Roasted Root Vegetable with Brown Butter Gastrique (V)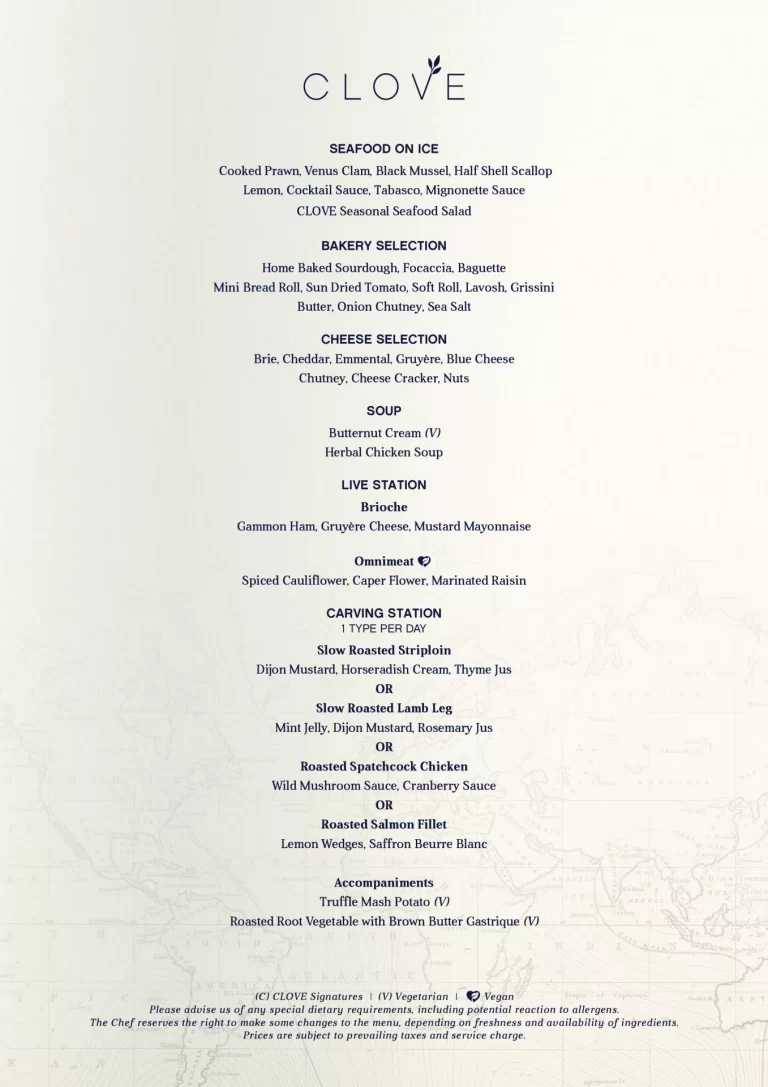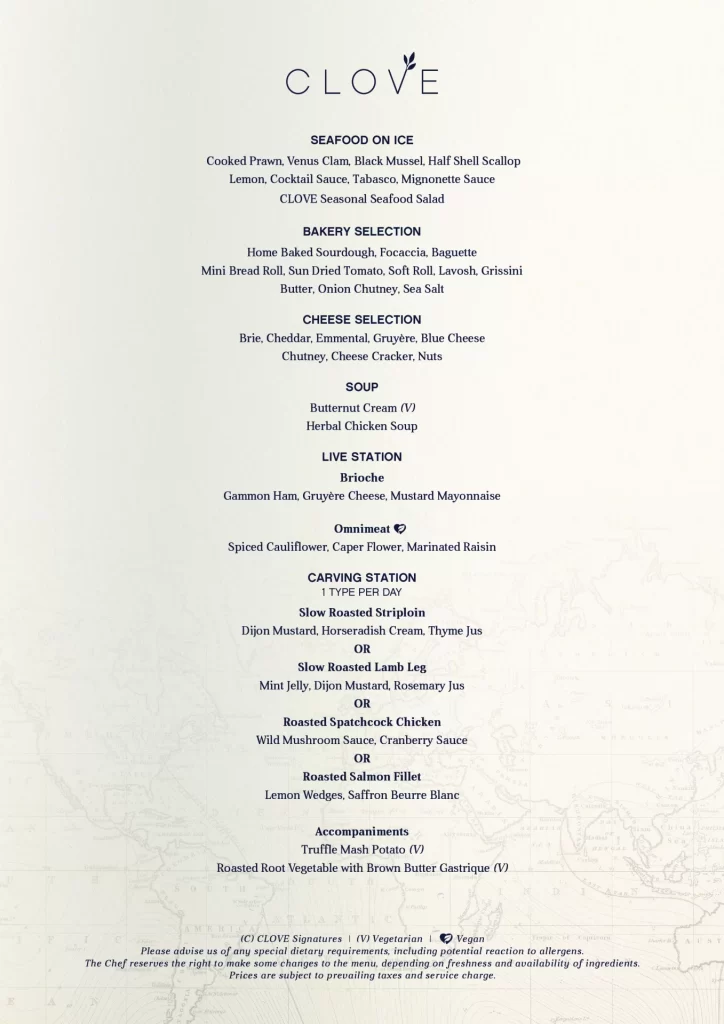 DIY STATION
Kopitiam Seafood Laksa
King Prawn, Fish Roe Ball, Mussel, Bean Sprout, Quail Egg, Tau Pok, Rice Noodle
LOCAL SELECTION
Steamed Sea Bass with Garlic, Leek & Coriander Leaf
Beef Shank Rendang, Turmeric, Coconut (C)
CLOVE Braised Pork Belly, House-made Chilli Sauce
Wok-Fried Seasonal Greens
XO Seafood Fried Rice, Egg, Spring Onion
INDIAN SELECTION
Biryani Rice, Almond, Raisin (V) (C)
Butter Chicken
Dal Makhani (V)
Indian Pickle, Raita
INTERNATIONAL SELECTION
CLOVE Braised Pork Rib (C)
Butter Roasted Dory Fillet with Shellfish Beurre Blanc
Grilled BBQ Chicken, Corn Salsa
Trio Cheese Baked Pasta (V)
DESSERT
Black Sesame Genoa
Parmesan Cheesecake
Cocoa Chocolate Bean
Petit Nonya Kueh
Taco Water Chestnut
Muscat Fruit Salad
Jardin Macaron
Grand Cru Chocolate Sable
Tropical Fruits
ICE CREAM & SORBET
Assorted Condiments
WARM DESSERT
Warm Apple Crumble, Maple Sauce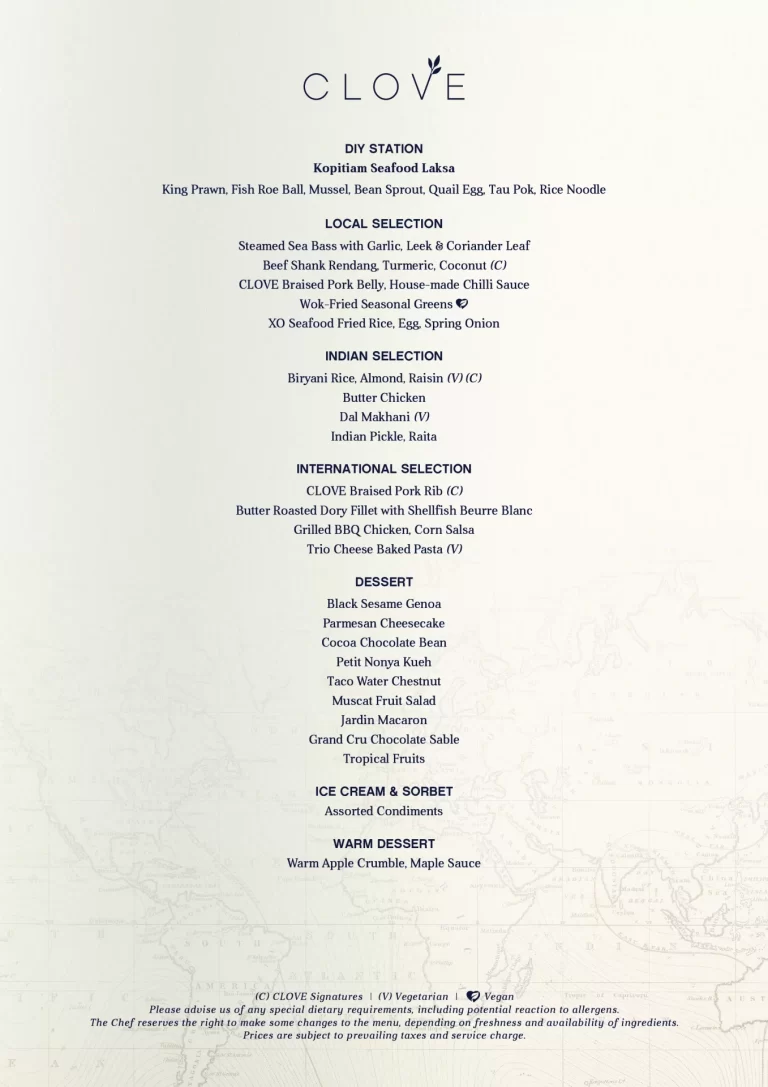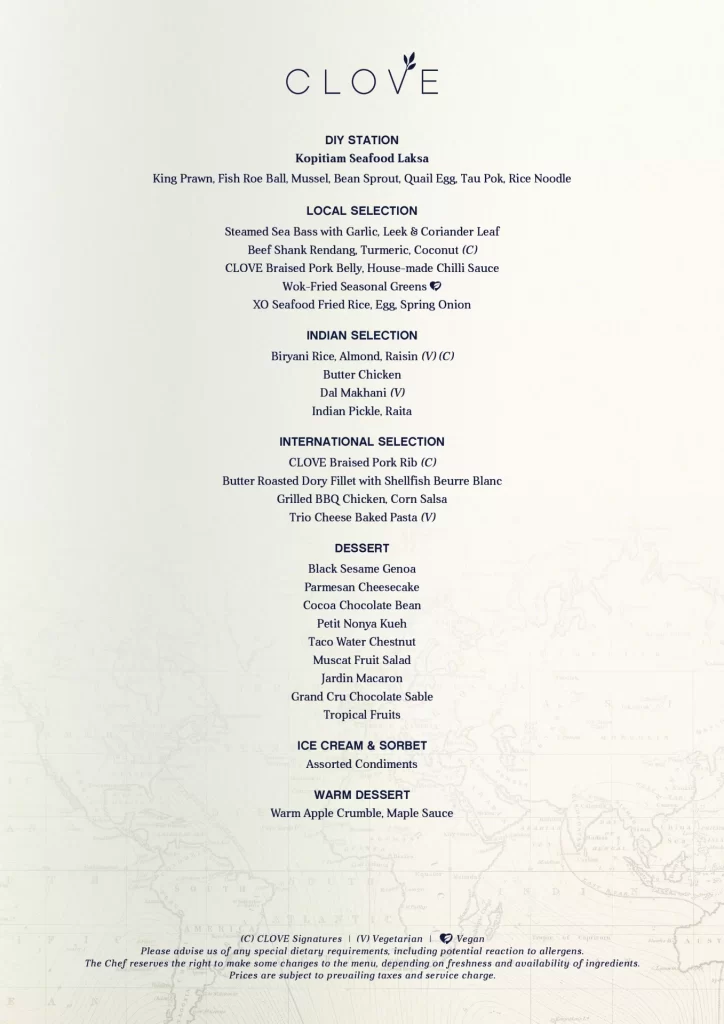 CLOVE DINNER BUFFET MENU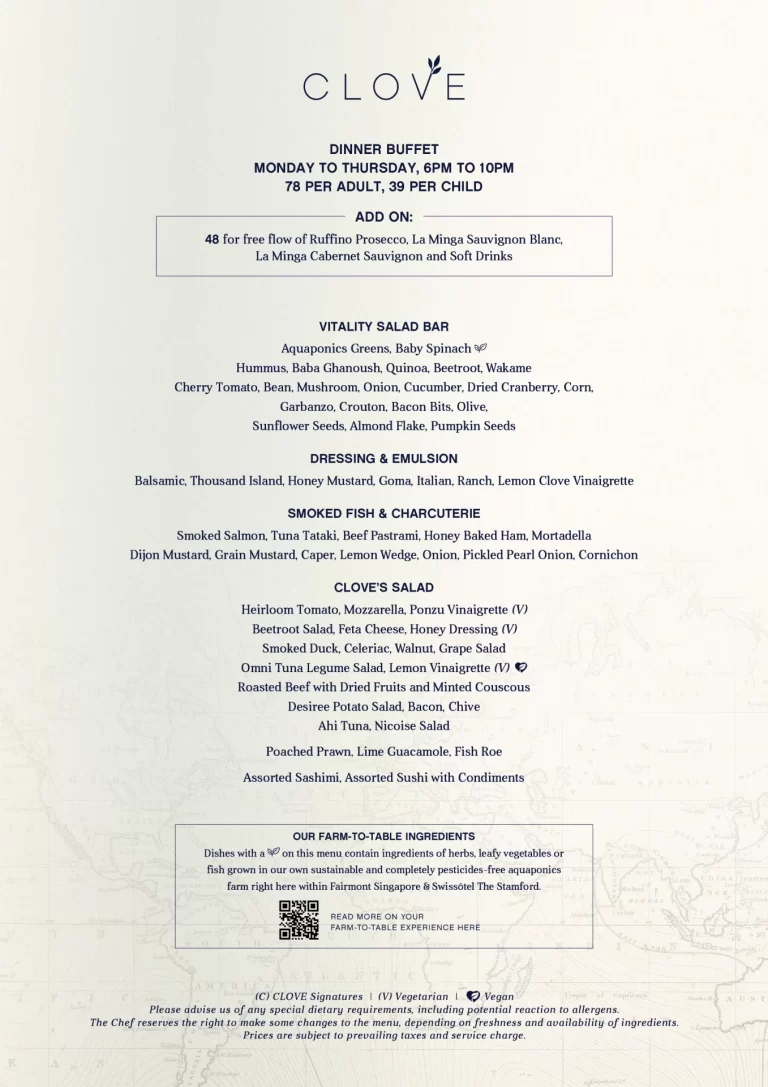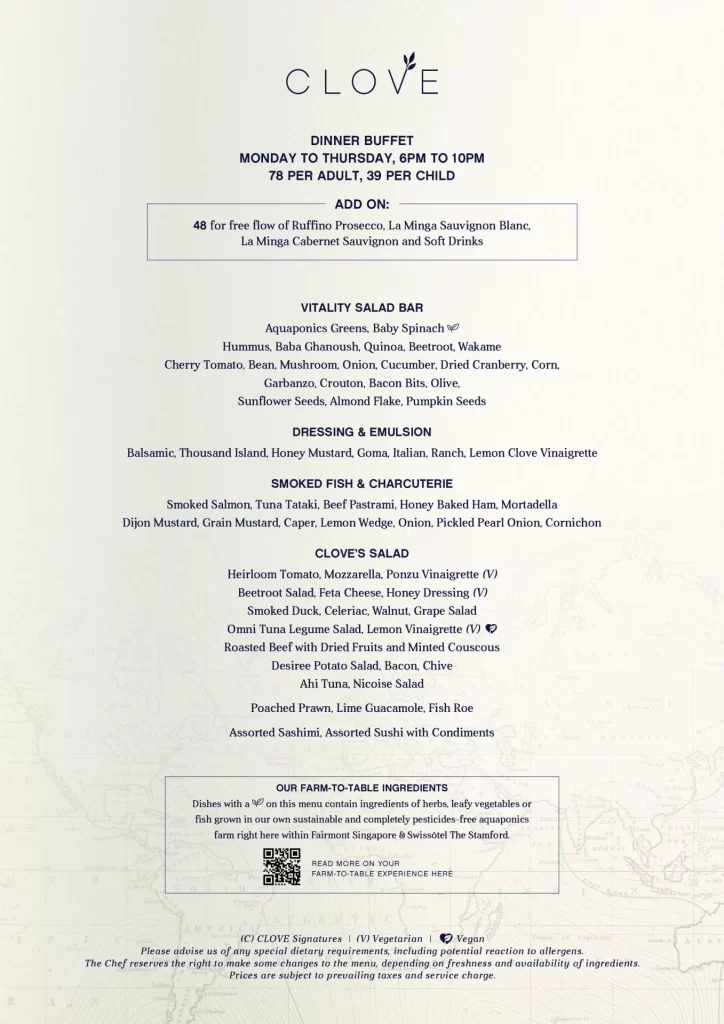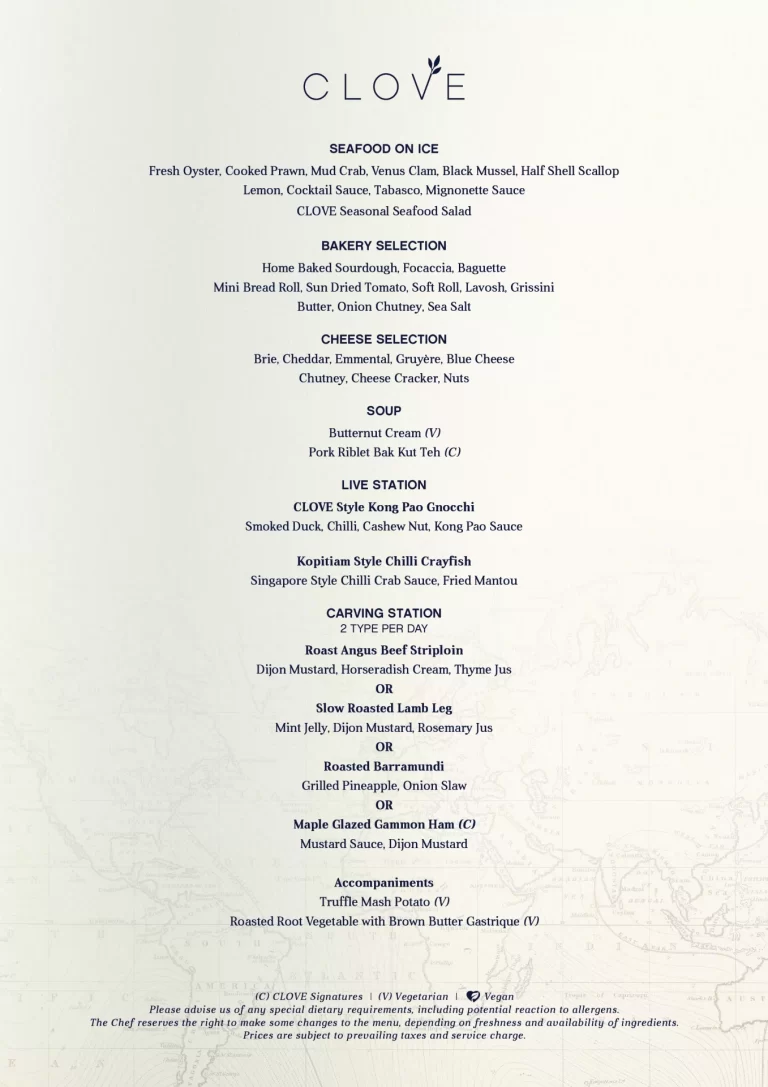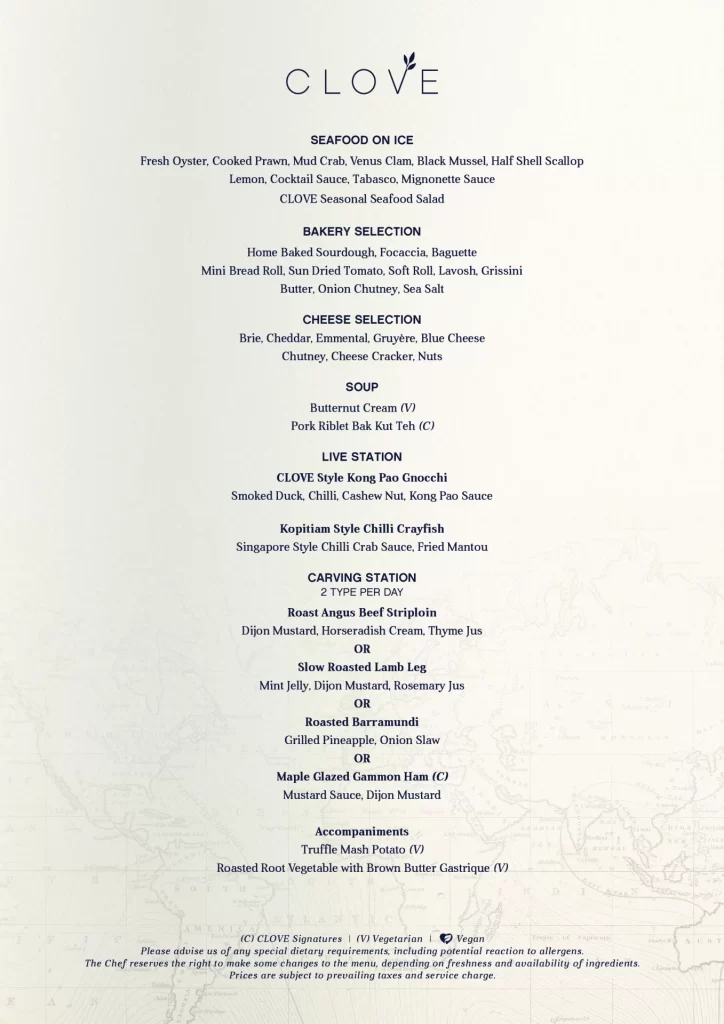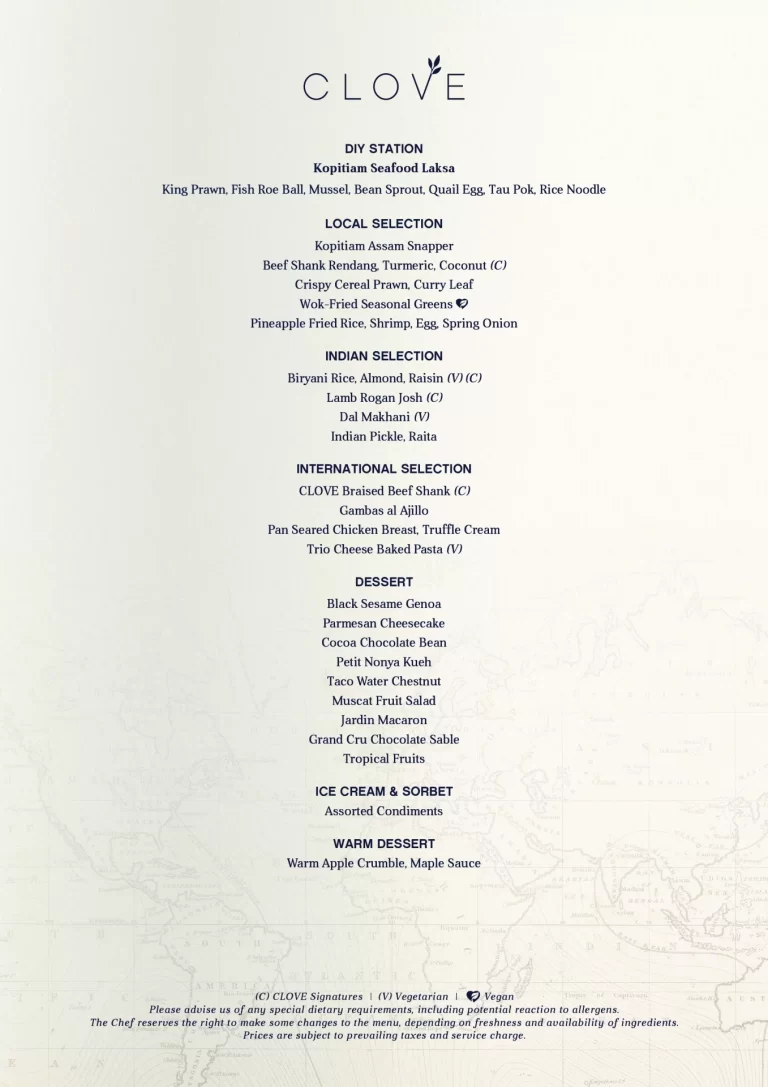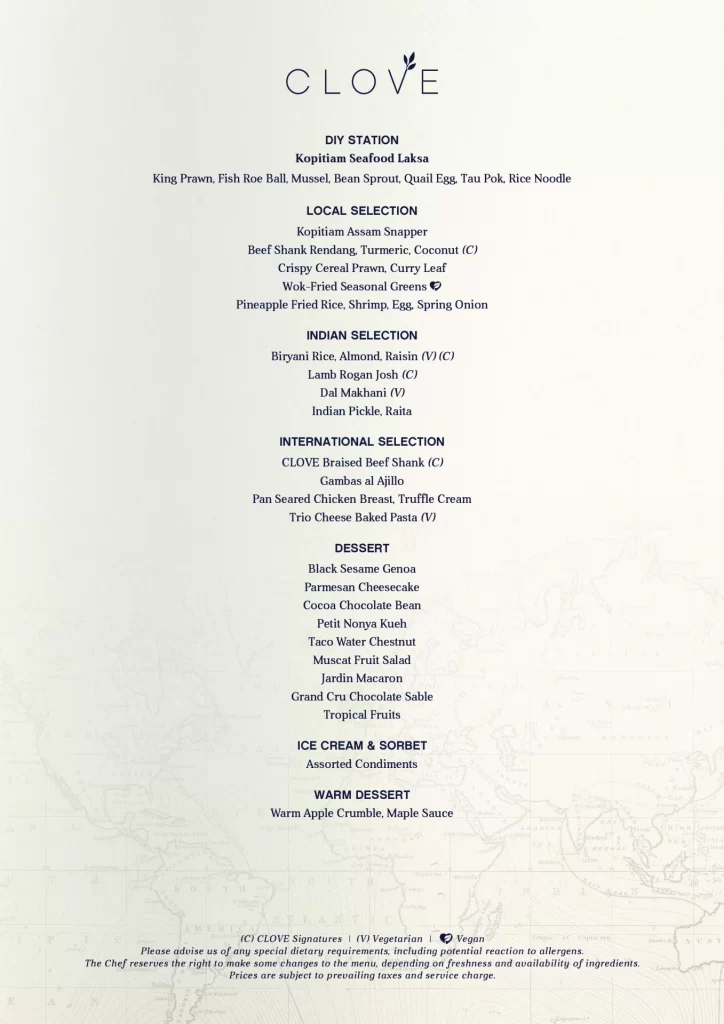 CLOVE FRI & SAT CHOC DINNER PRICES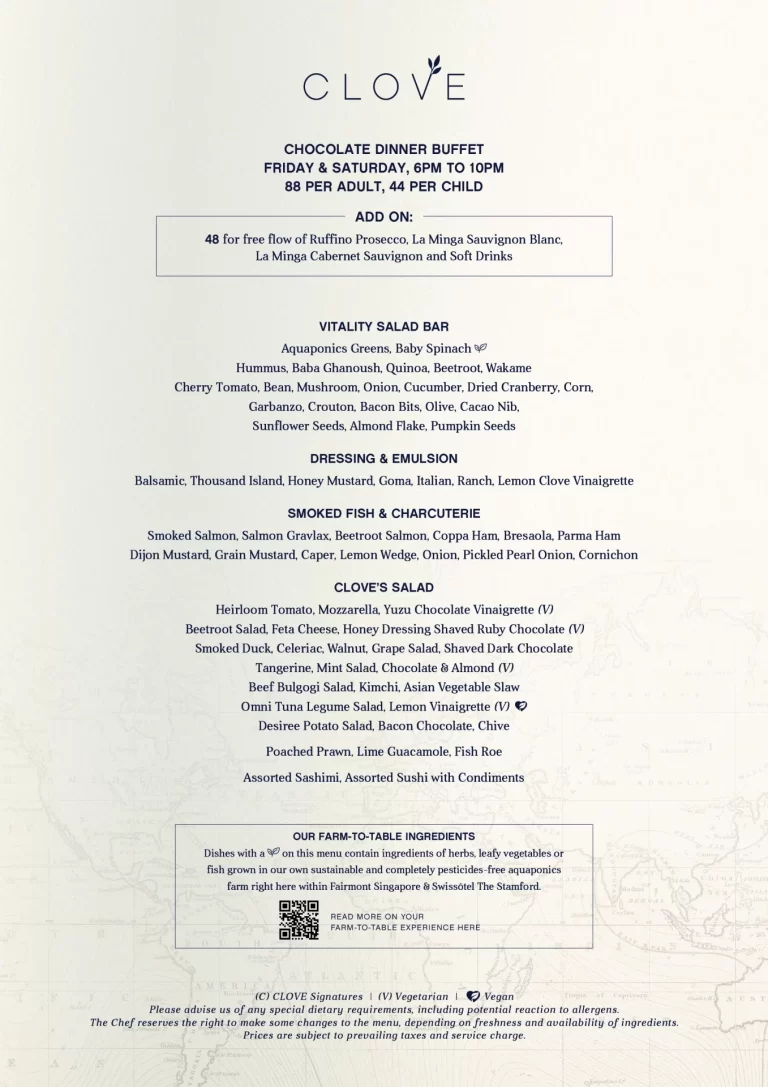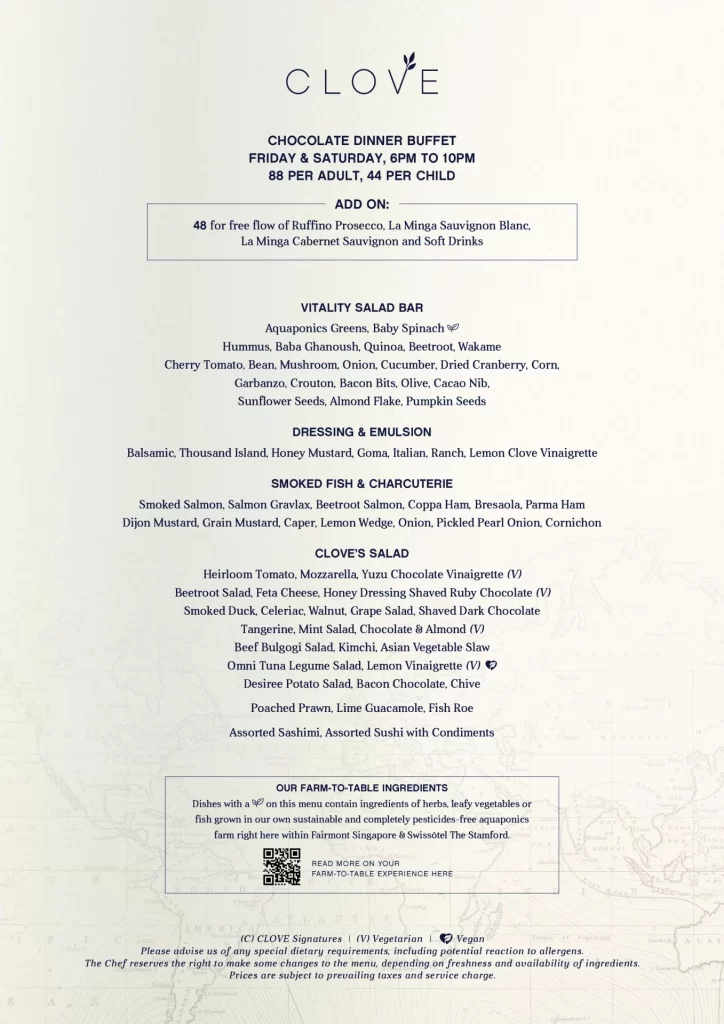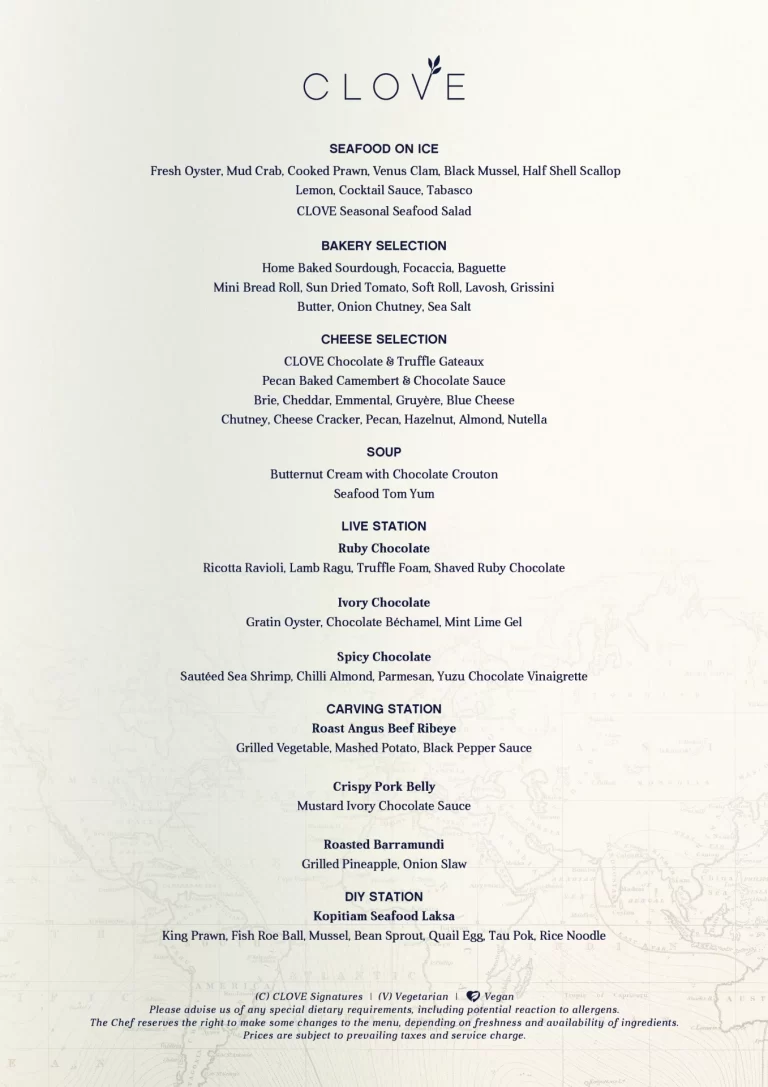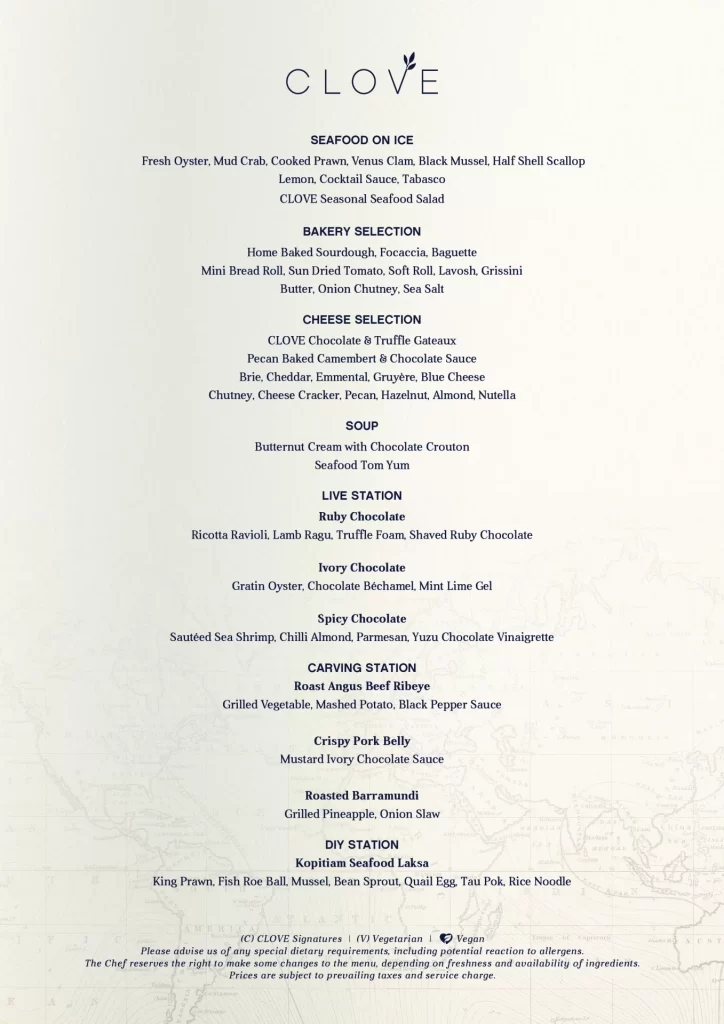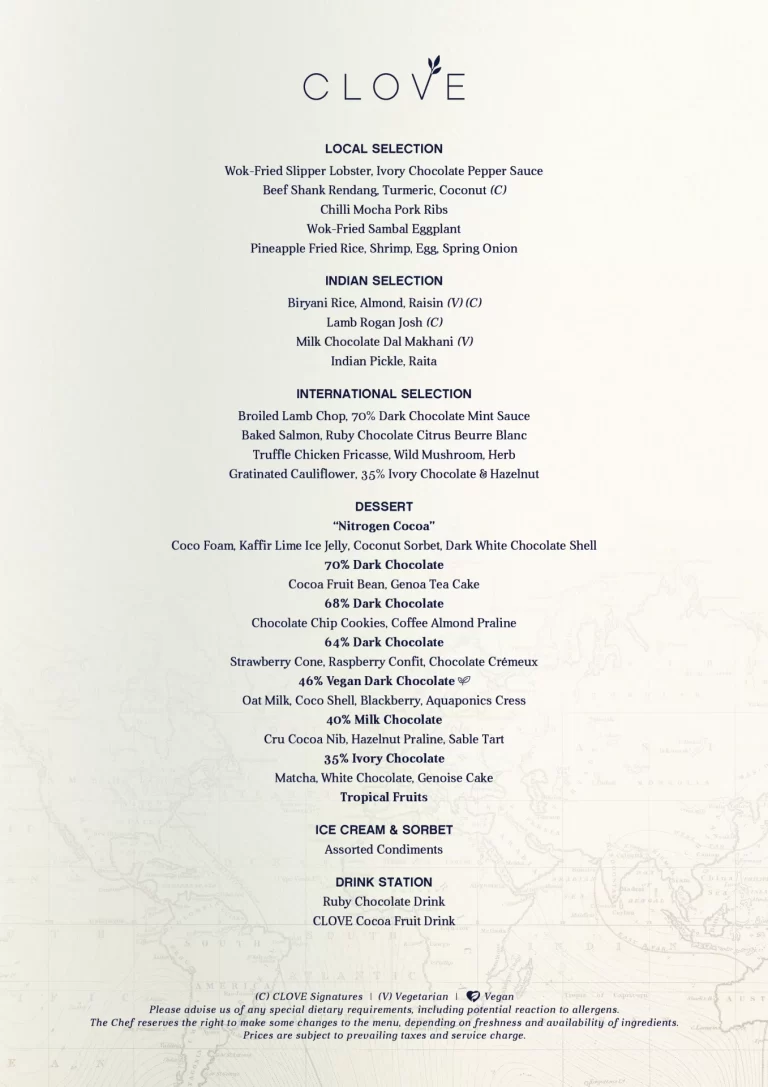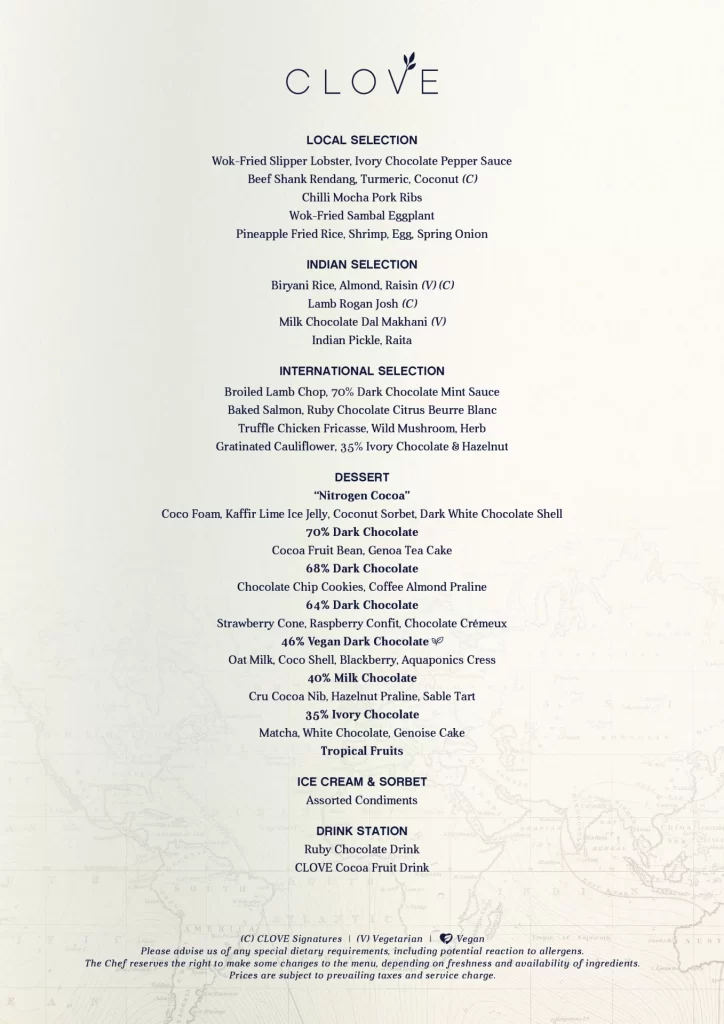 CLOVE SUNDAY CHOC LUNCH PRICES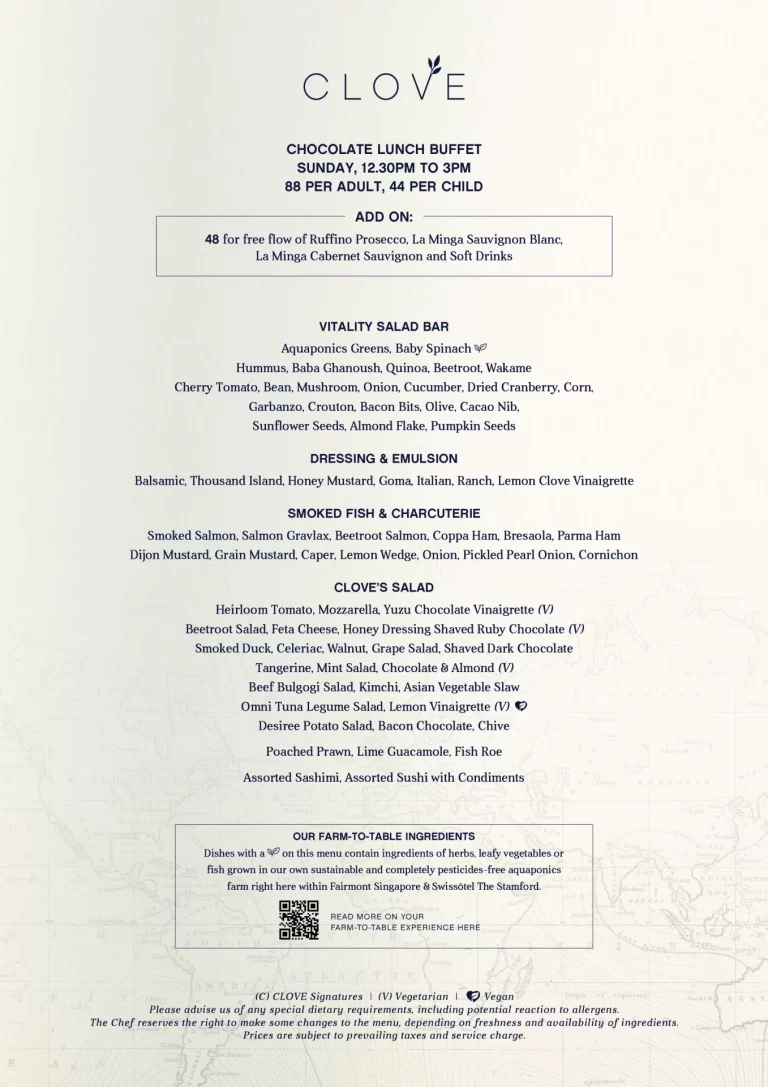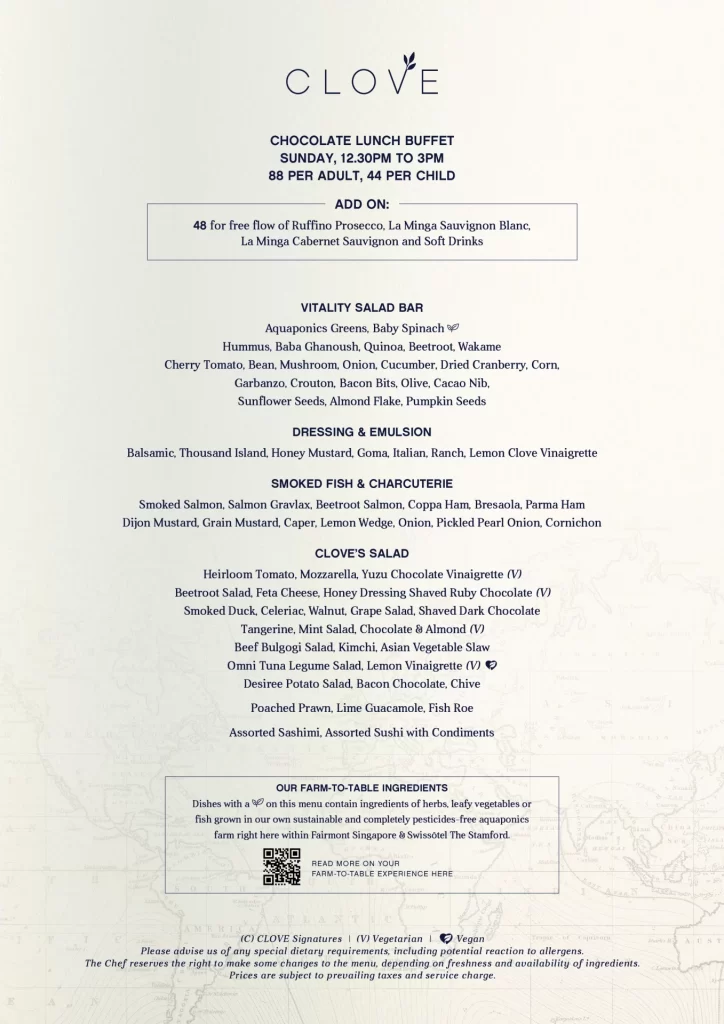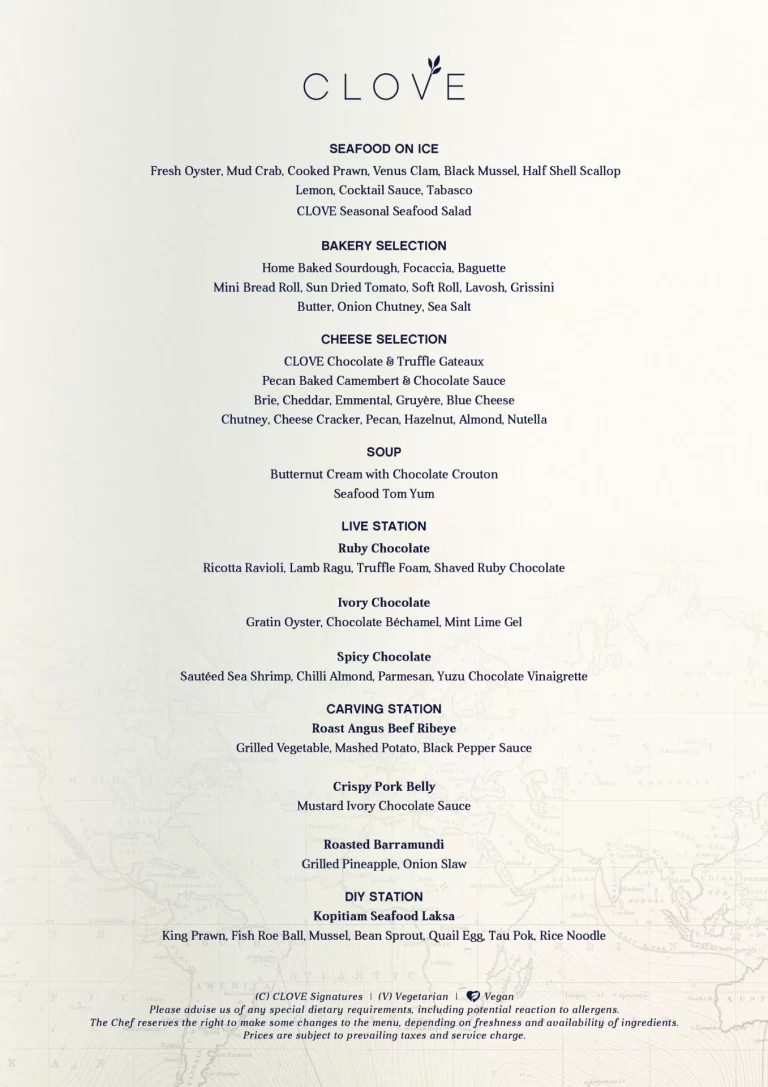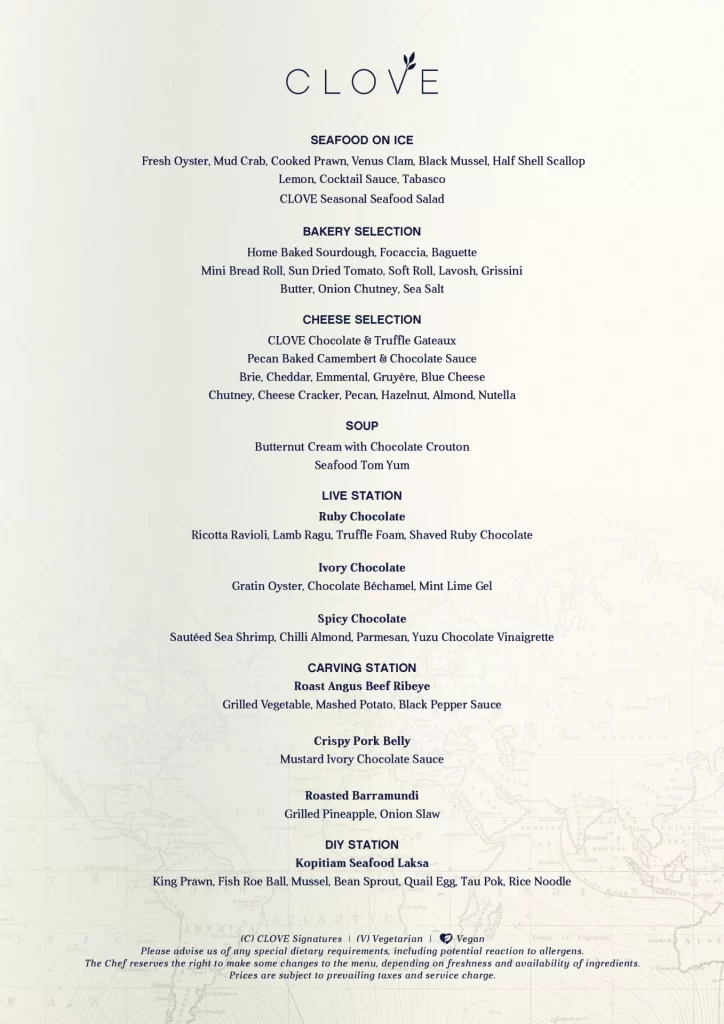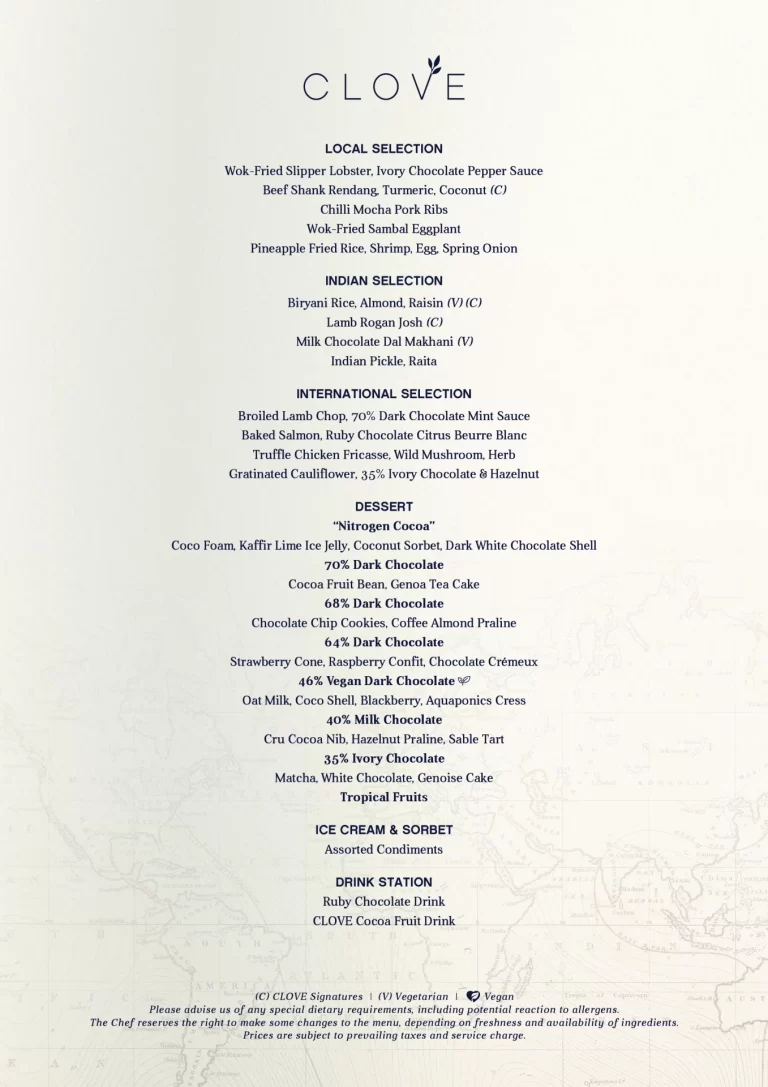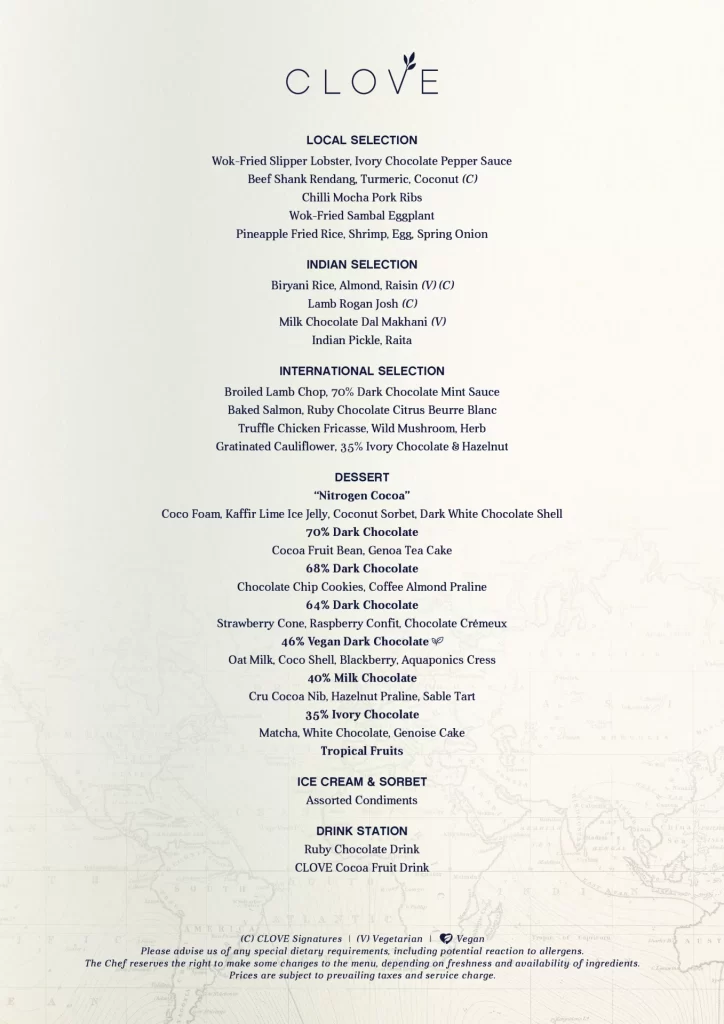 See Also: Shake Farm Menu
CLOVE BEVERAGES PRICES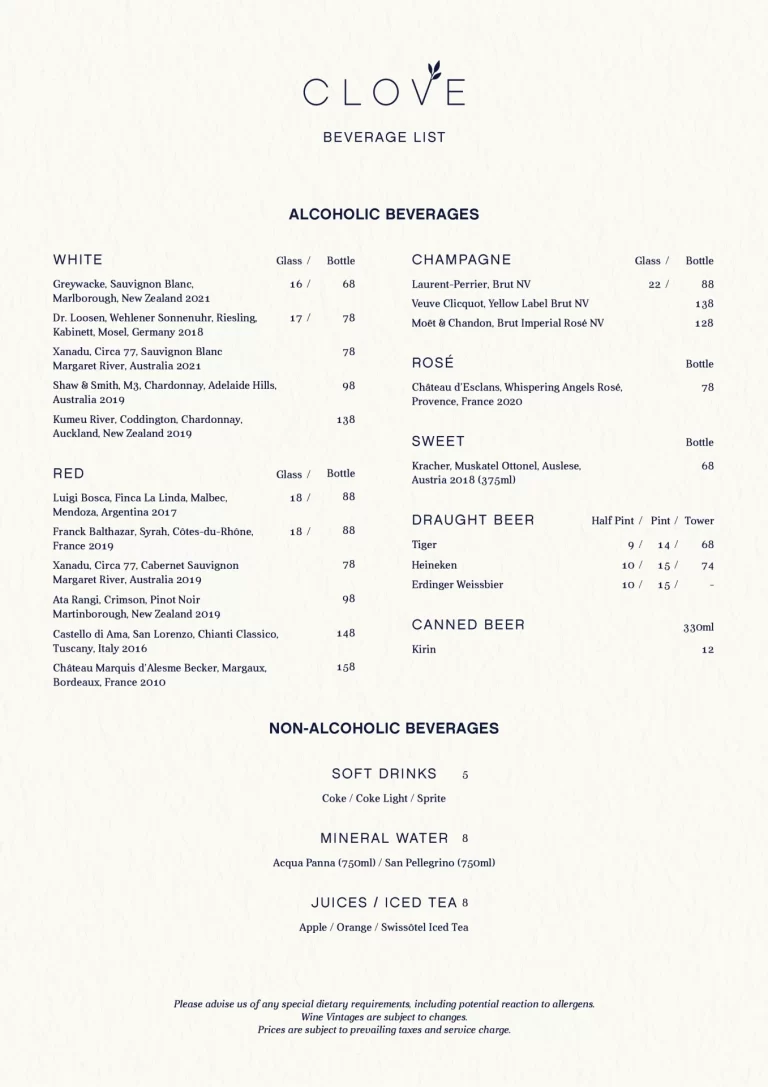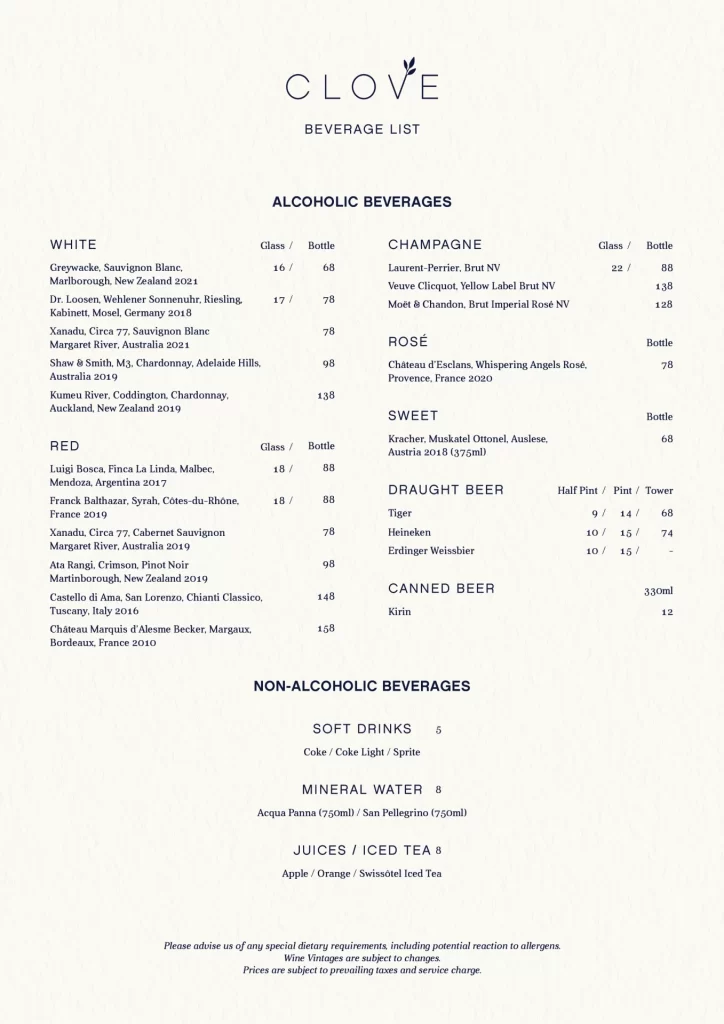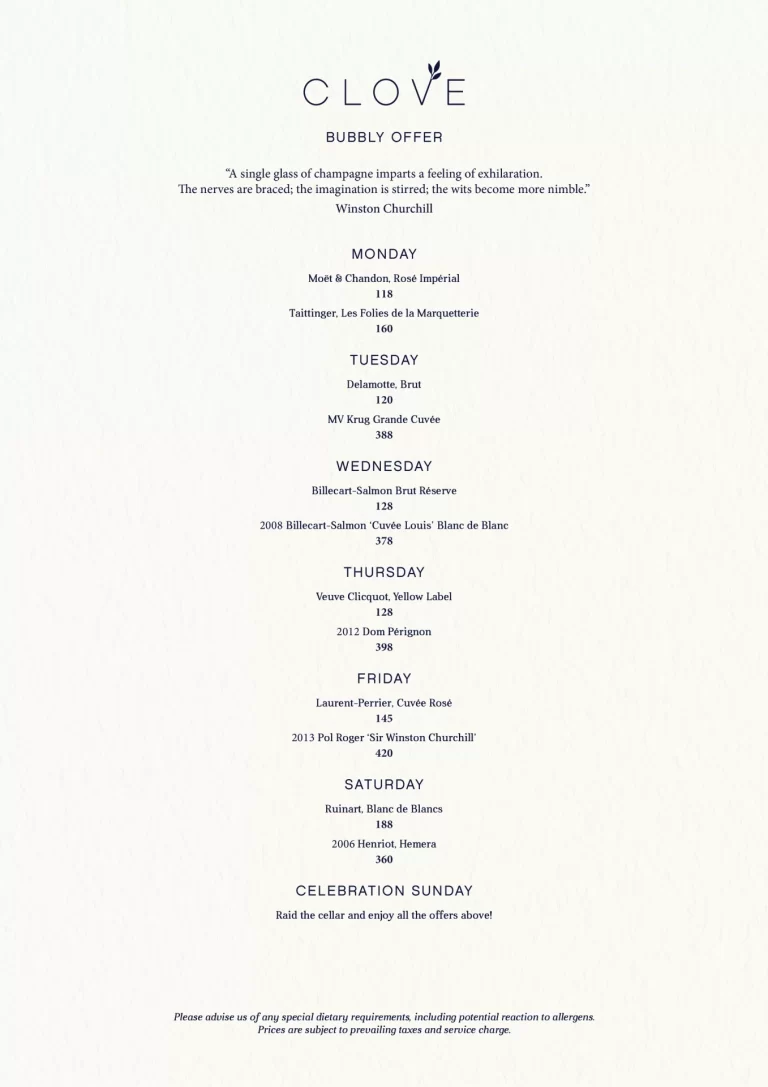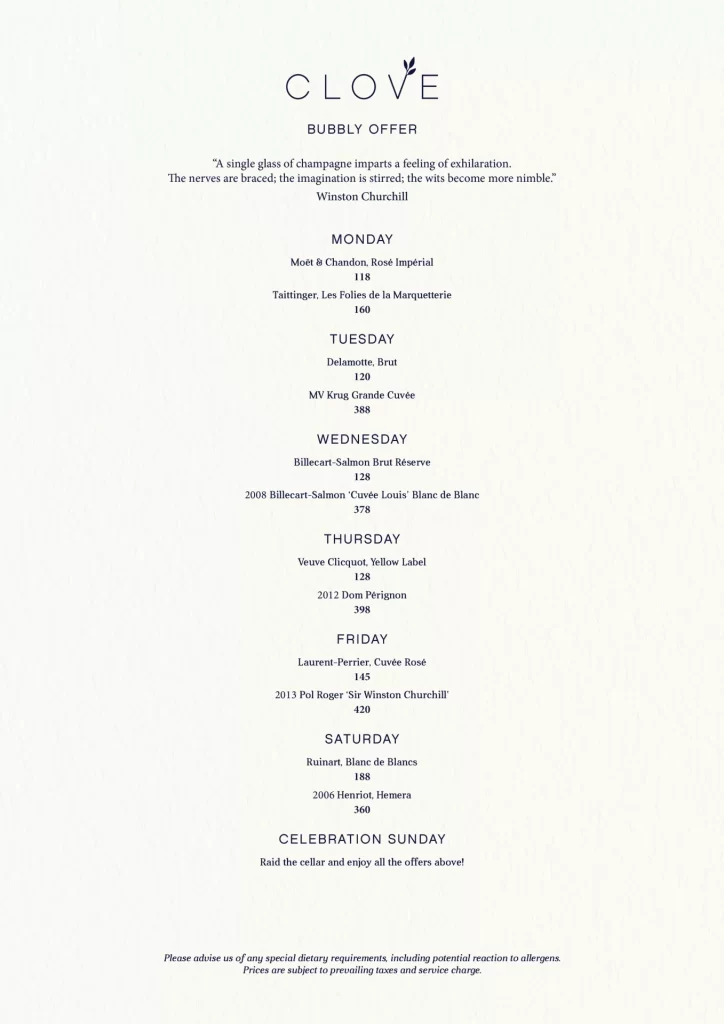 IS CLOVE HALAL?
NO. Clove Singapore is not Halal Certified.
All the images and prices are taken from the following official sources of Clove Singapore.