The Best Italian Restaurants in Singapore- Delicious Italian Delights
Craving some tasty Italian food in the heart of Singapore? You're in for a treat! We've gathered the top Italian restaurants that will have your taste buds singing with joy. Whether you're a pasta lover or can't resist a cheesy pizza that screams 'Mamma Mia!' Singapore's Italian food scene has you covered.
Let's dive right into the best Italian restaurants in Singapore. These fantastic dining spots bring a slice of Italy that will leave you wanting more. Get set for a mouthwatering Italian food drive in Singapore!
13 Italian Eateries in Singapore That Are Worth a Visit
Want to savor Italian flavors in Singapore? You're in luck! We've put together a list of 13 Italian restaurants that you definitely shouldn't miss. Whether you're craving pizza or pasta, these spots are a food lover's paradise. So, bring your hunger and let's dive into a tasty journey!
Before we get to the mouthwatering details, let's have a look at some of Singapore's finest Italian eateries.
Rosso Vino
Osteria Mozza
Fiamma
Otto Ristorante
Gotti Italiano
Garibaldi
Pietrasanta
Braci
Caffe Fernet
Pastaria Abate
Matera
Basilico
Publico
La Bottega Enoteca
Get ready to embark on a culinary journey as we take you through the best Italian eateries in Singapore that are sure to tantalize your taste buds.
Rosso Vino
Located in 15 Merbau Rd, Rosso Vino exudes warmth and coziness. It's known for its authentic Italian cuisine and an extensive wine list, making it an excellent choice for a relaxing evening.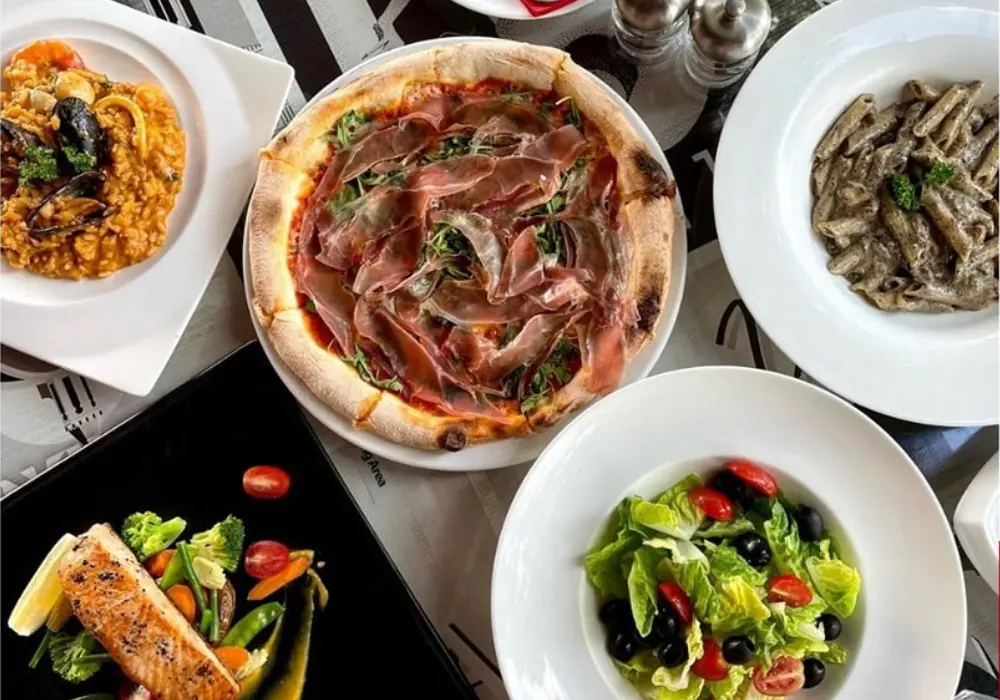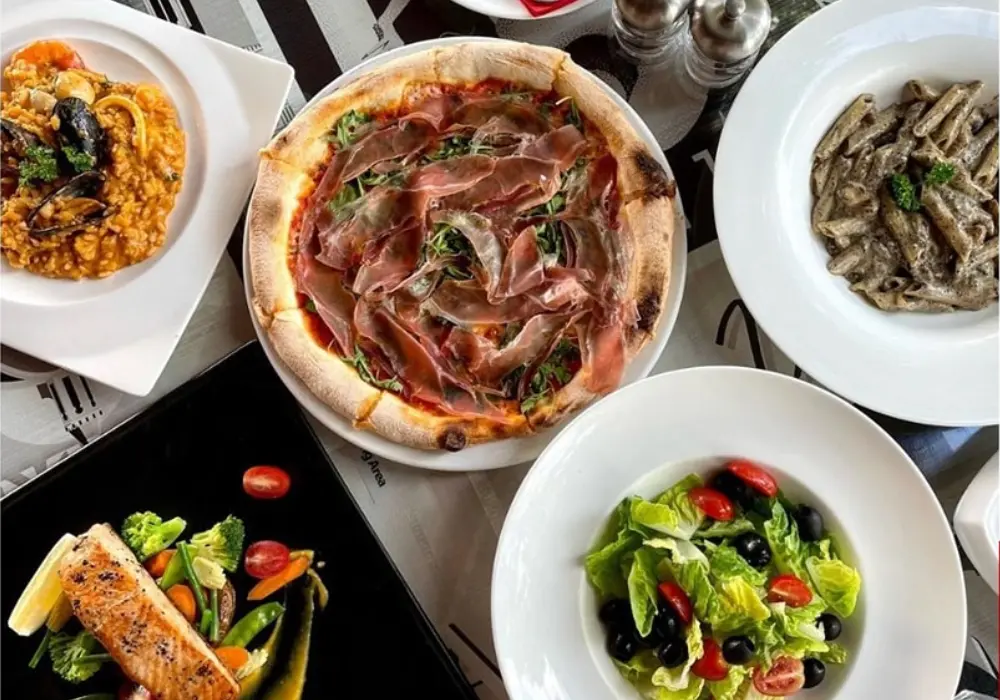 Signature Dishes:
Focaccia con Misto di Olive: They serve up homemade focaccia bread, perfectly paired with a side of marinated mixed olives, making it a delightful choice for those who crave the classic combination of warm bread and savory olives.
Tiramisu: Savor the "Tiramisu" at the end of your meal, a timeless Italian dessert that's the ideal conclusion to your dining experience. This traditional treat features layers of ladyfinger biscuits, mascarpone cheese, and a rich espresso coffee infusion, creating a delectable sweet finale.
Google Rating: 4.7/5
Osteria Mozza
Osteria Mozza is a renowned Italian restaurant located in the Hilton Singapore Orchard. It offers an upscale dining experience with a sophisticated and contemporary setting.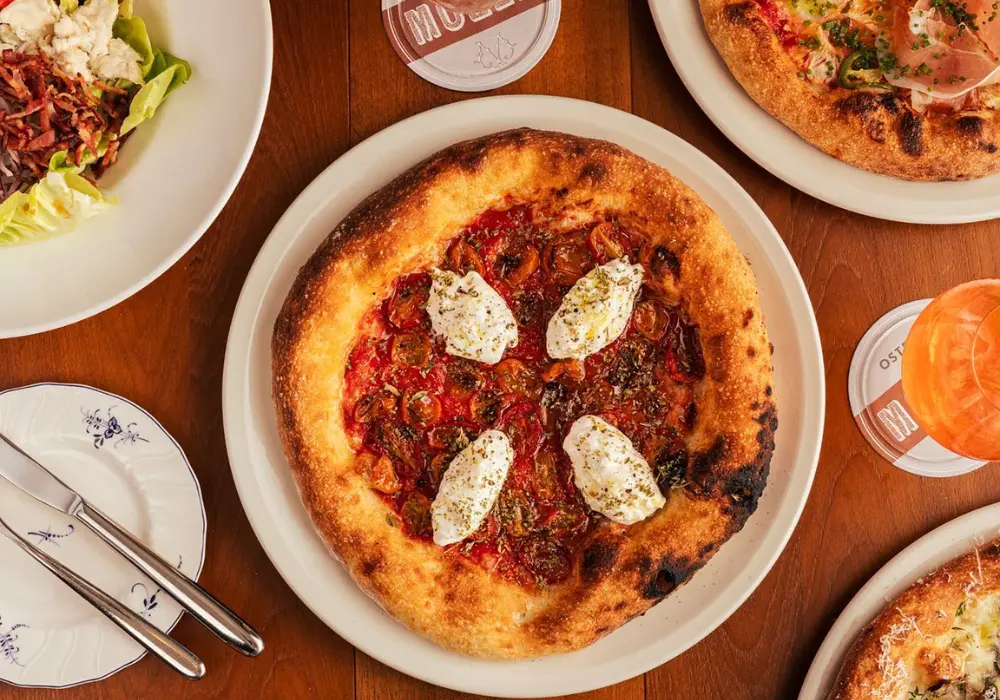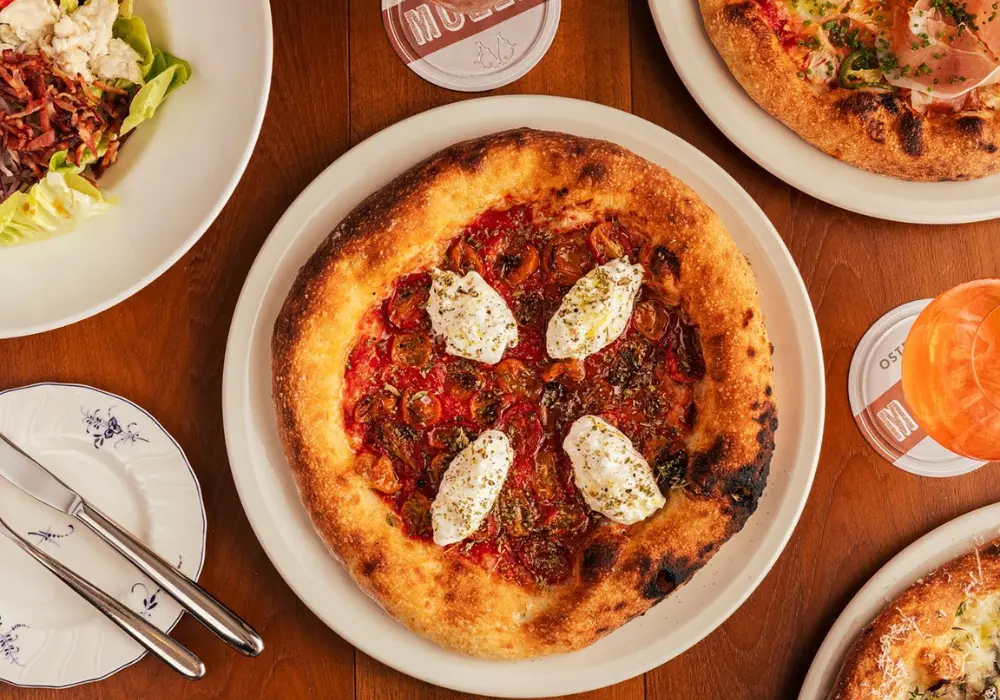 Signature Dishes:
Burrata: Savor the appetizing combination of creamy burrata, savory bacon, escarole, and caramelized shallots in the delightful "Burrata" dish, where flavors are perfectly balanced to create a delightful appetizer.
Ricotta & Egg Raviolo: For a delectable primo (first course) option, consider the "Ricotta & Egg Raviolo" at the restaurant, served with a rich browned butter sauce that elevates the flavors of this dish to a whole new level.
Google Rating: 4.7/5
Fiamma
Fiamma, located in Capella, is known for its inviting and family-friendly atmosphere. It offers an extensive menu of classic Italian dishes.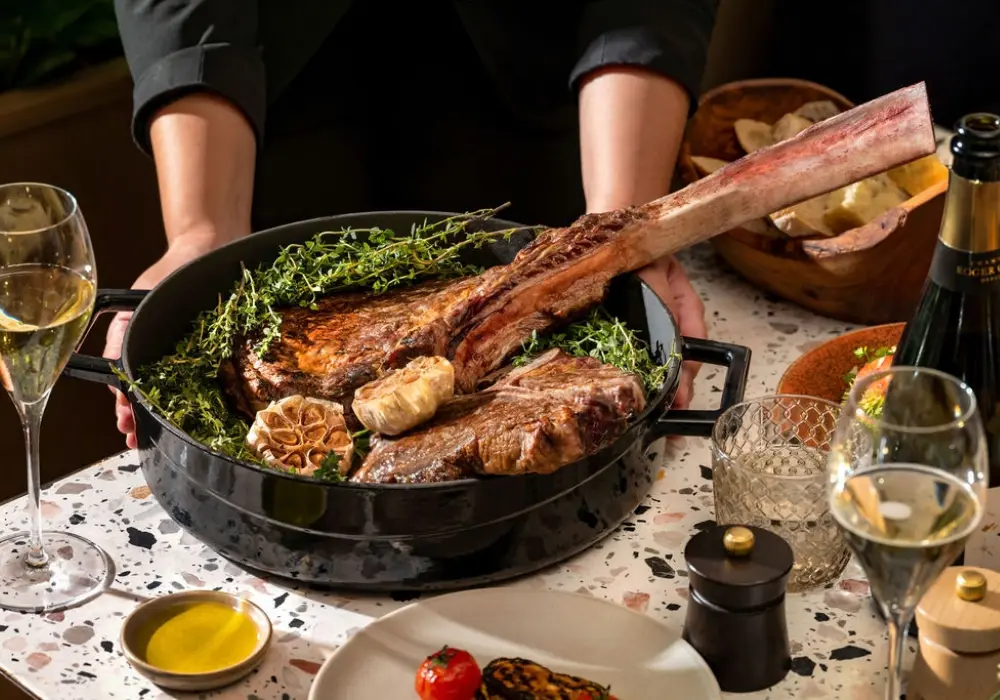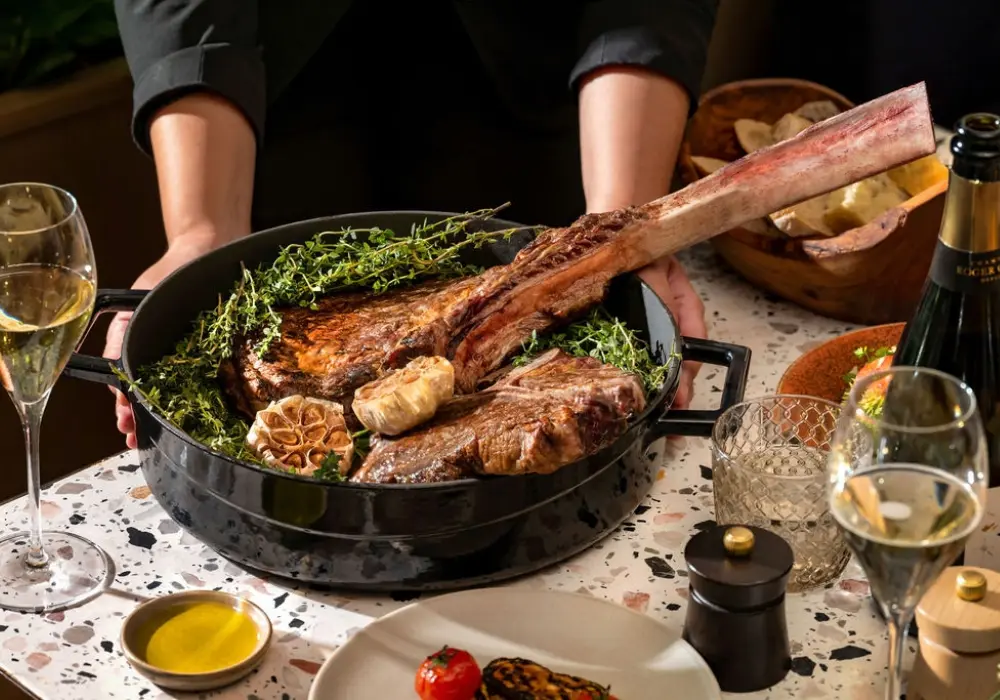 Signature Dishes:
Margherita Pizza: Enjoy the timeless perfection of a Margherita Pizza, where the harmonious trio of tomato, mozzarella, and fresh basil comes together on a perfectly crisp crust, delivering a burst of Italian flavors in every bite.
Gnocchi alla Sorrentina: Dive into the comforting embrace of house-made potato dumplings, generously coated in a rich tomato and mozzarella sauce, a dish that captures the heartwarming essence of Italian cuisine.
Google Rating: 4.7/5
Otto Ristorante
Located in Maxwell Chambers, Otto Ristorante is a fine-dining Italian restaurant that offers an elegant setting. It's known for its exceptional service and a menu that blends classic and contemporary Italian dishes.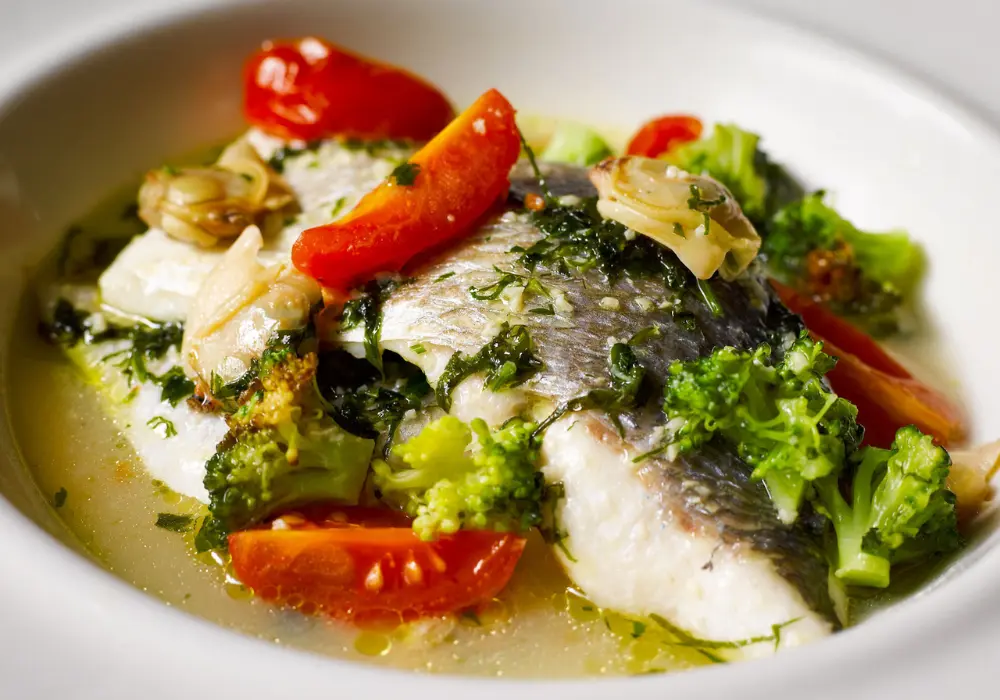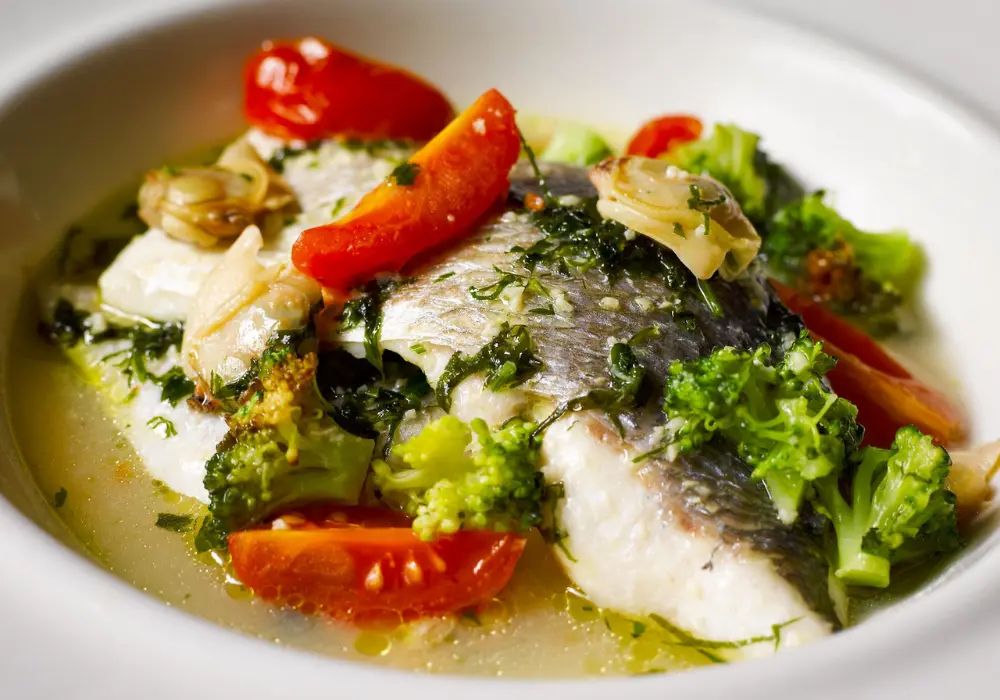 Signature Dishes:
Linguine con Astice alla Busera Piccante e Pomodorini di Sicilia: This delightful creation features linguine paired with succulent Boston lobster, all bathed in a spicy Sicilian date tomatoes sauce that adds a burst of flavors to every bite.
Tortino Tiepido al Cioccolato con Gelato alla Vaniglia: It's a warm chocolate cake paired perfectly with creamy Haitian vanilla ice cream, a heavenly combination that's sure to satisfy your dessert cravings.
Google Rating: 4.6/5
Gotti Italiano
Gotti Italiano is a vibrant Italian eatery located in Amoy St. It offers a casual and welcoming atmosphere with a focus on classic Italian comfort food.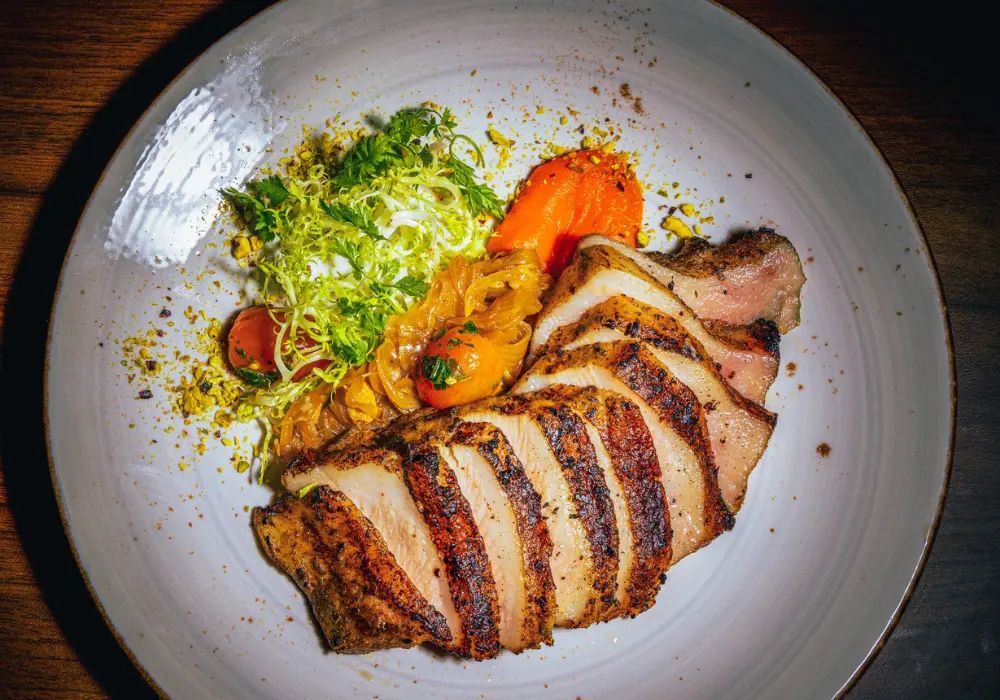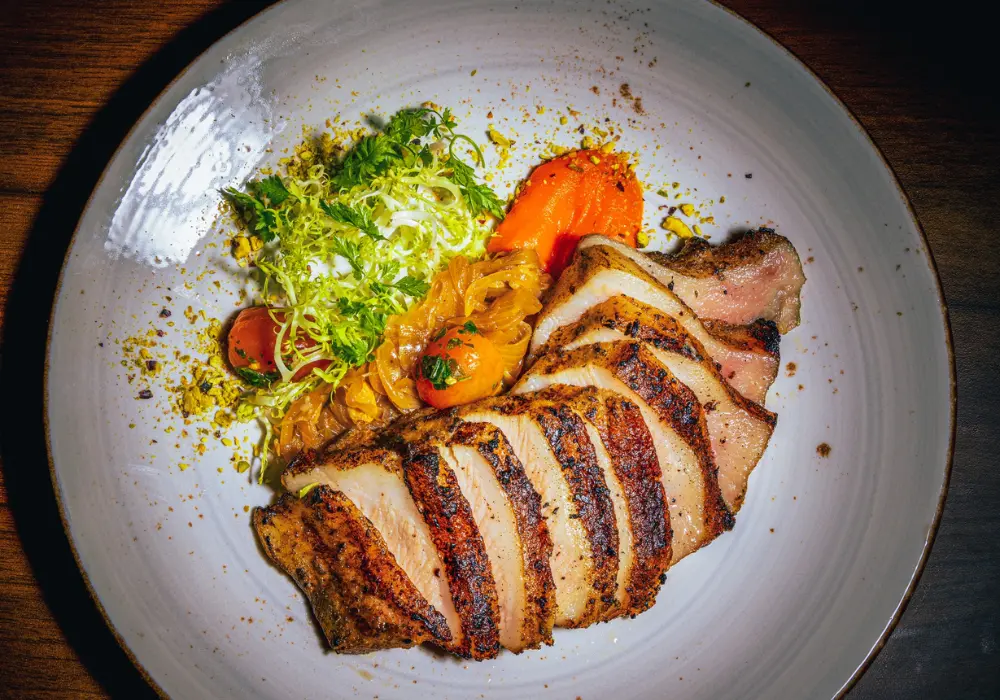 Signature Dishes:
Burratina: Experience the delightful "Burratina" – a creation that combines artisanal burrata with olive oil caviar, heirloom tomatoes, and a drizzle of basil pesto. It's a harmonious symphony of creamy, fresh, and herbaceous flavors that will leave your taste buds dancing.
Zuppa Di Mare: Delve into this dish from the soup section which is a flavorful sea-inspired masterpiece. It features a medley of ingredients, including succulent black tiger prawns, ocean clams, black mussels, tender baby squid, all enveloped in a rich and decadent lobster bisque.
Google Rating: 4.5/5
Garibaldi
Garibaldi is an iconic Italian restaurant located in the heart of the city at Purvis Street. It offers an elegant and contemporary dining setting, renowned for its commitment to authentic Italian flavors.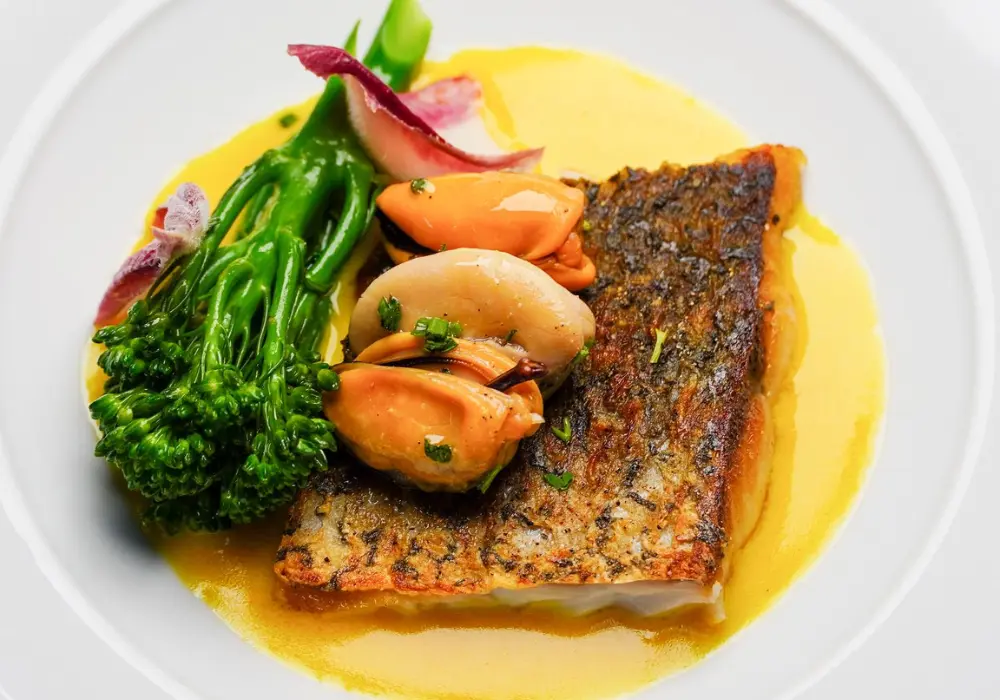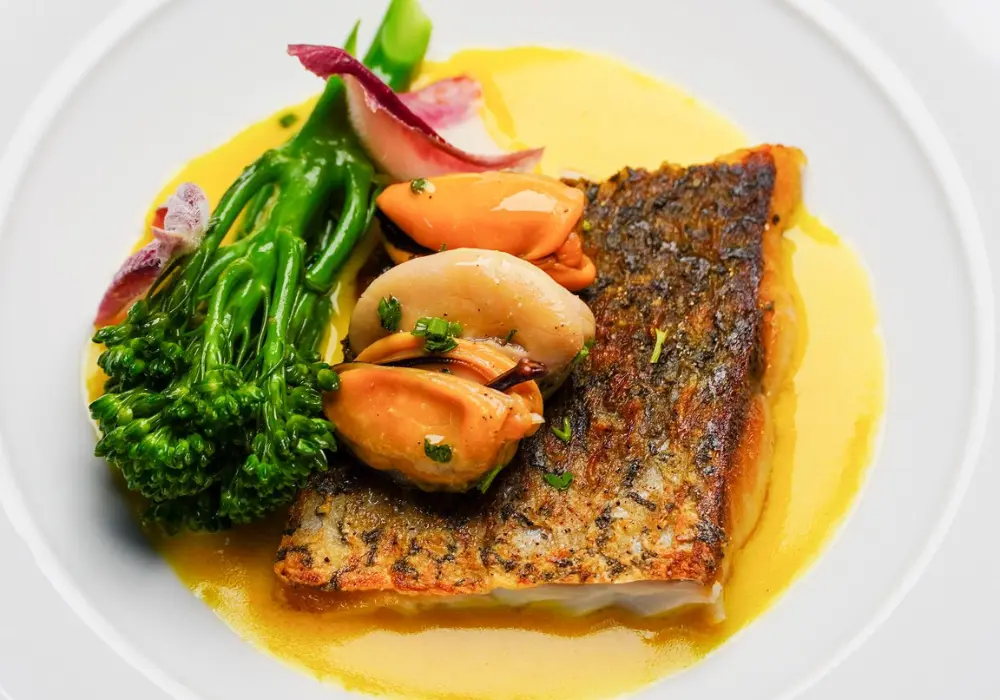 Granchio e Ricci: Indulge in this exquisite dish that presents cold angel hair pasta adorned with delicate snow crab, rich Bafun sea urchin, and a touch of Siberian caviar. It's a balance of flavors and textures that elevates your dining experience to pure treat.
Gari-Bruschetta: Savor this delectable cuisine which is a cold starter that features the flavors of Italian tomatoes, fresh basil, and Pecorino cheese generously spread on toasted garlic focaccia bread. It's a delightful way to begin your meal with a burst of Mediterranean-inspired tastes.
Google Rating: 4.5/5
Pietrasanta
Pietrasanta, situated in 1 Fusionopolis Way, brings a taste of Tuscany to Singapore. It offers an inviting and family-friendly atmosphere with a focus on authentic Italian cuisine.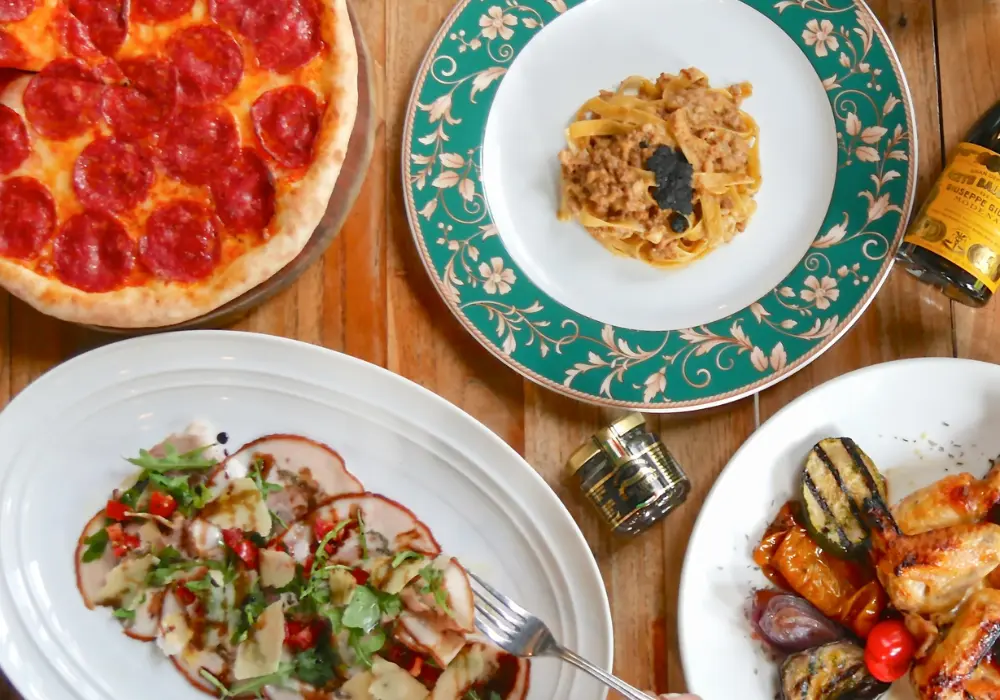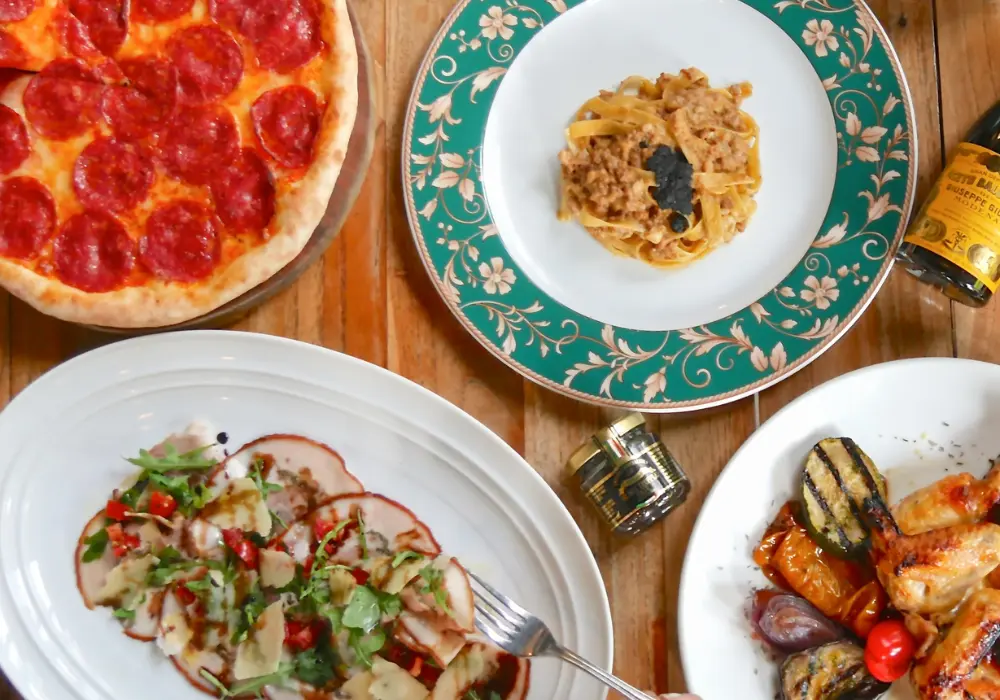 Signature Dishes:
Florentine Steak: Pamper your tastebuds with this yummy treat from the second course selection. This dish features a generously grilled Angus Beef T-Bone Steak, served alongside perfectly roasted potatoes and cannellini beans. It's a hearty and flavorful option that promises to delight your taste buds.
Classic Pistocchi – For a delightful dessert from Pietrasanta, don't miss the "Classic Pistocchi" under the dessert section. It's a heavenly Florence Dark Chocolate Fudge Cake that promises an indulgent and rich chocolate experience to round off your meal on a sweet note.
Google Rating: 4.5/5
Braci
Braci is a rooftop Italian grill and rooftop bar situated in the vibrant Boat Quay area. It offers stunning views of the Singapore River and contemporary Italian cuisine.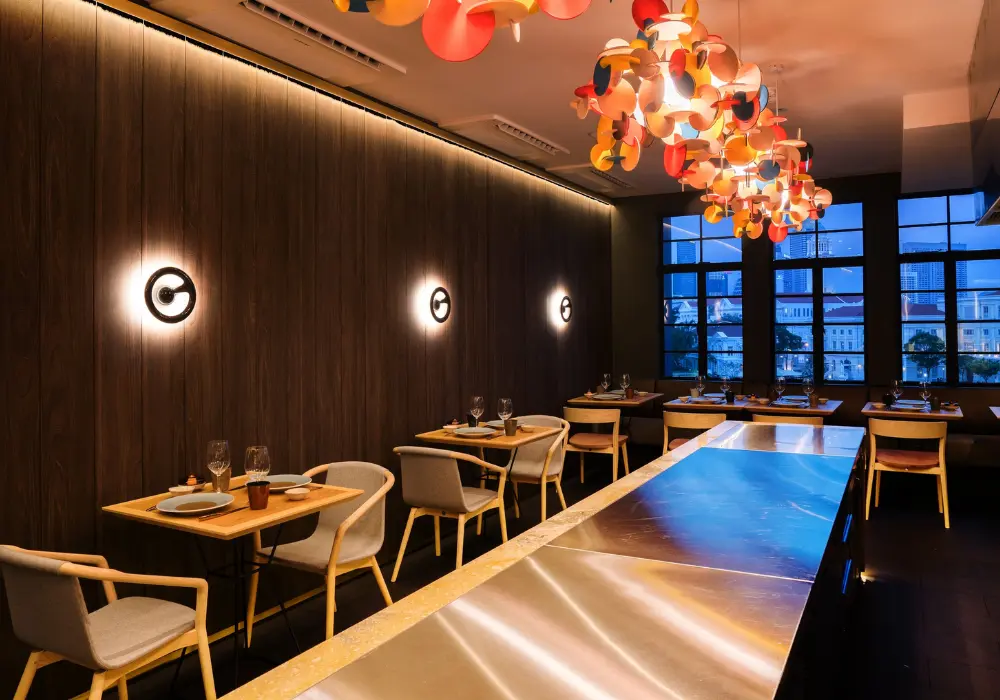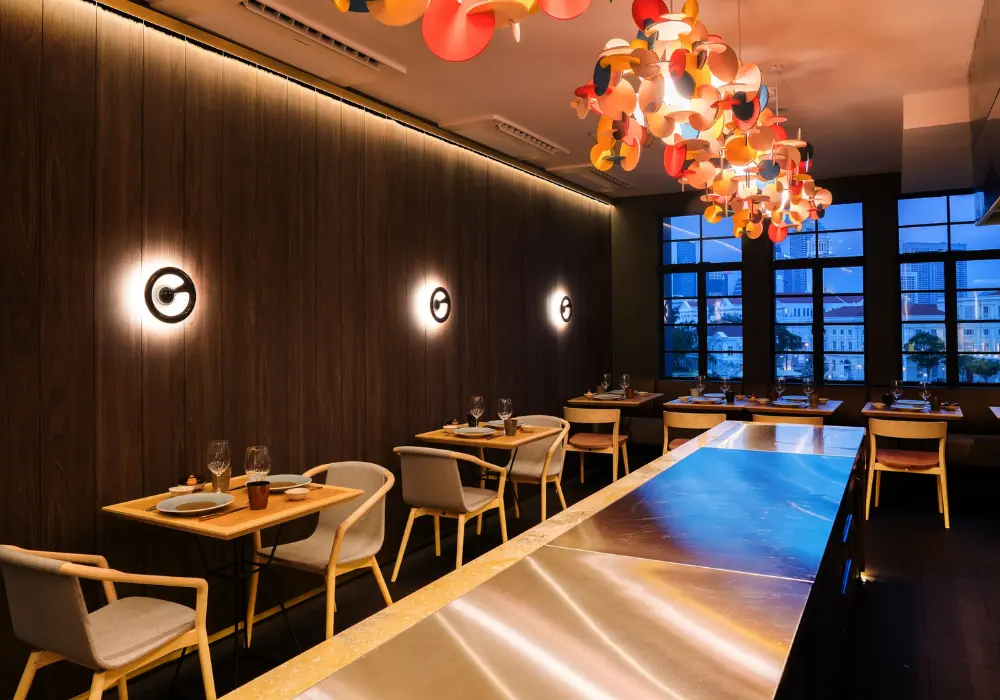 Signature Dishes:
A5 Miyazaki Wagyu: Enjoy this special dish, where perfectly cooked Perlina eggplant meets the richness of San Marzano tomatoes and a luscious Vermouth jus. This masterpiece combines the quality of Japanese Wagyu beef with the sweetness of eggplant drenched in the flavors of tomato and Vermouth sauce, creating a balance of tastes that's absolutely exceptional.
32 Egg Yolk Tagliolini: Indulge in the lip-smacking pasta featuring delicate Shiro Murasaki and decadent Oscietra Caviar. This exquisite pasta dish combines the richness of 32 egg yolks with the briny elegance of caviar, creating a luxurious and unforgettable culinary experience.
Google Rating: 4.5/5
Caffe Fernet
Caffe Fernet, nestled in Customs House with panoramic views of the Marina Bay Sands, offers a blend of classic Italian dishes with a modern twist. Its chic and stylish ambiance, combined with a scenic outdoor terrace, makes it a perfect spot for both casual and romantic dining.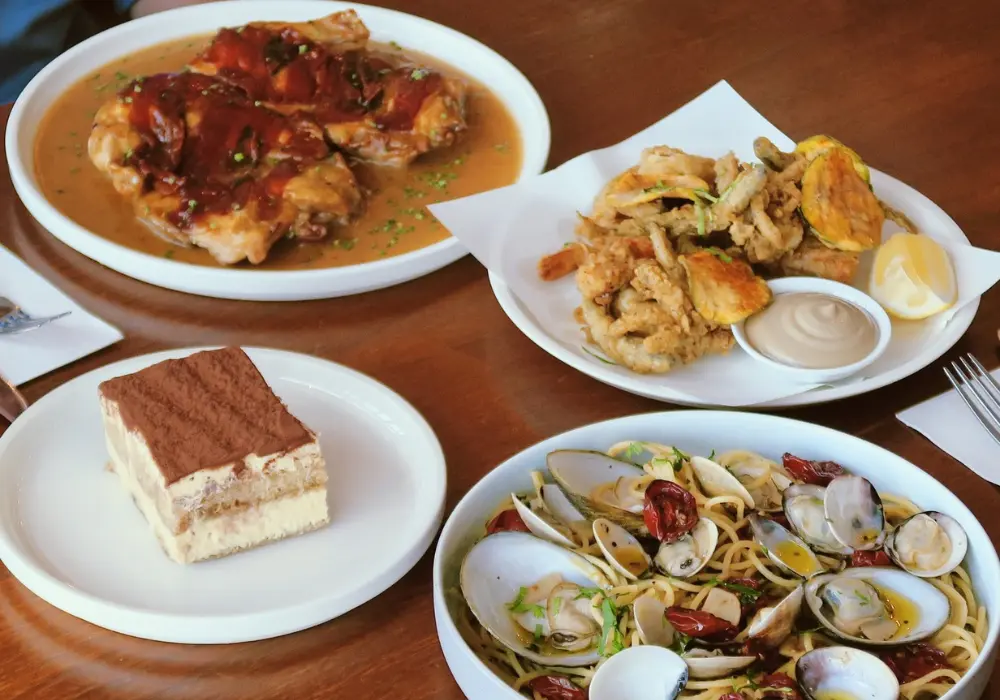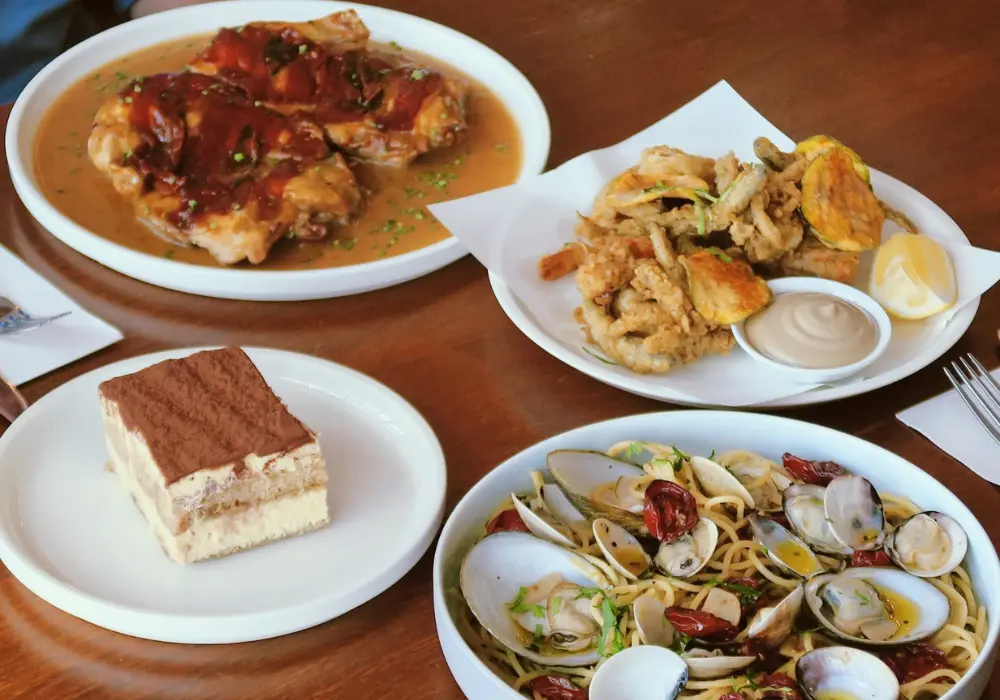 Signature Dishes:
Beef Tagliatelle: it's a pasta masterpiece with juicy wagyu ribeye, delightful shimeji mushrooms, and a luscious mushroom jus that'll make your taste buds dance! It's a treat for meat and pasta lovers.
House Ricotta: For a delightful starter at Cafe Fernet, you can't go wrong with their House Ricotta which is served with a drizzle of honey pecan, a hint of lemon thyme, and accompanied by warm sourdough, creating a perfect blend of sweet and savory flavors on your palate.
Google Rating: 4.4/5
Pastaria Abate
Tucked away in 86 Neil Rd, Pastaria Abate is a charming Italian eatery known for its handmade pasta and comforting classics. Its cozy and intimate setting is perfect for family dinners and pasta enthusiasts.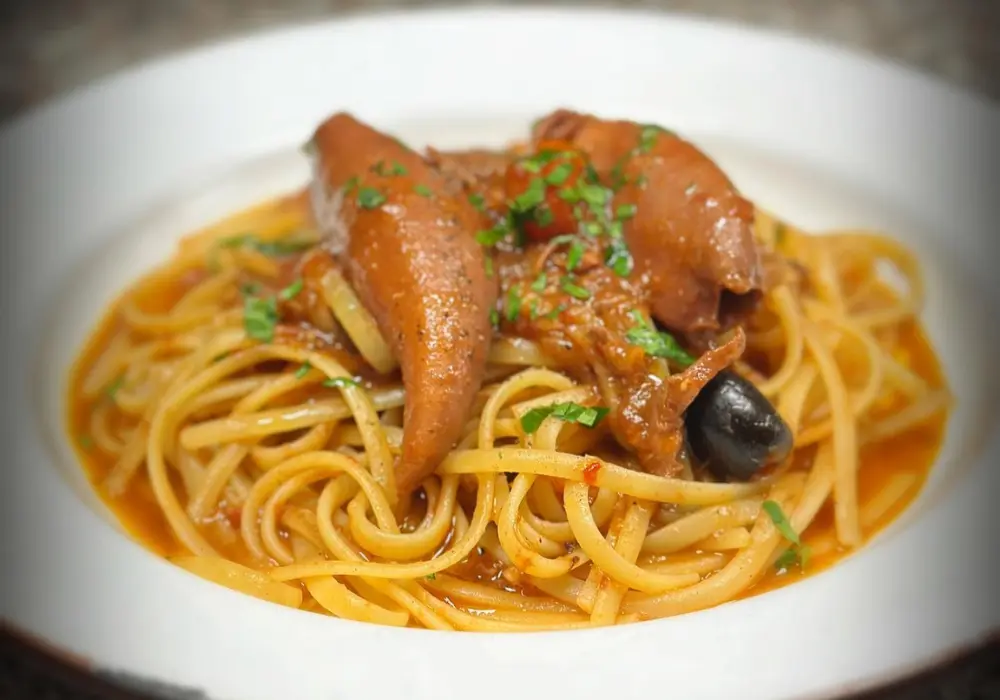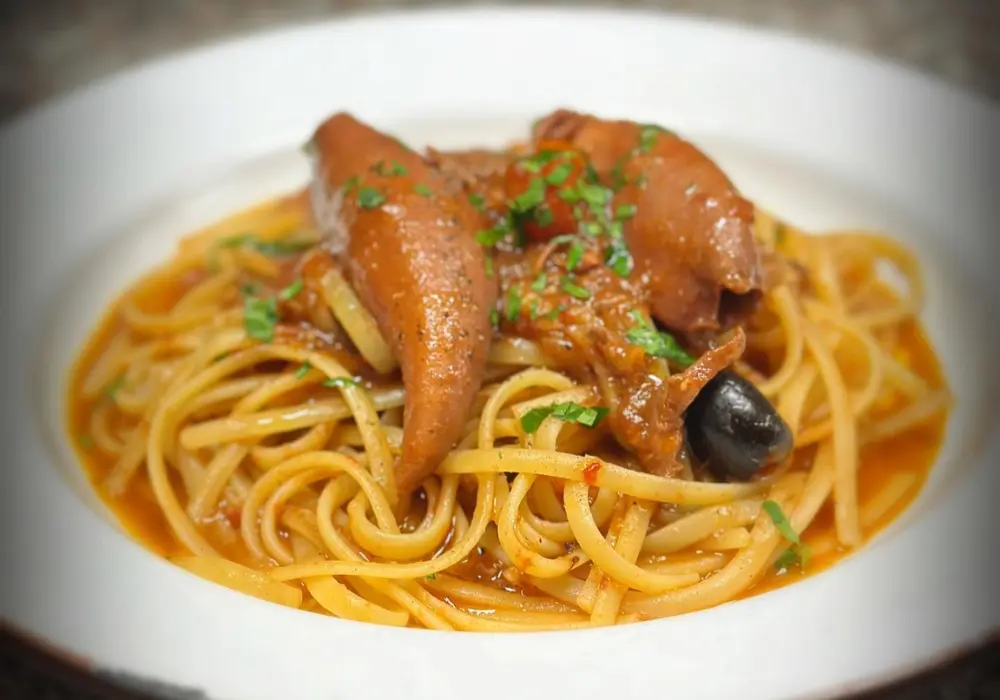 Signature Dishes:
Lasagna: For a hearty and satisfying choice under the specialty pasta section, don't miss out on the Lasagna. It's a mouthwatering dish made with homemade 100% egg pasta sheets, layered generously with cheese and bathed in flavorful Marzano tomato sauce, then baked to perfection for a fresh and comforting dining experience.
Calamari Frito: Experience a delightful twist on pasta with "Calamari Frito" from the White Wine Sauce Pasta selection. This dish features tender pasta coated in a zesty lemon butter sauce and topped with crispy local squid, offering a tantalizing combination of flavors and textures that will leave your taste buds craving for more.
Google Rating: 4.4/5
See Also: Best Korean Restaurants In Singapore
Matera
Matera, situated in The Fullerton Waterboat House, exudes a rustic and cozy charm reminiscent of an Italian trattoria. It's celebrated for its Southern Italian cuisine.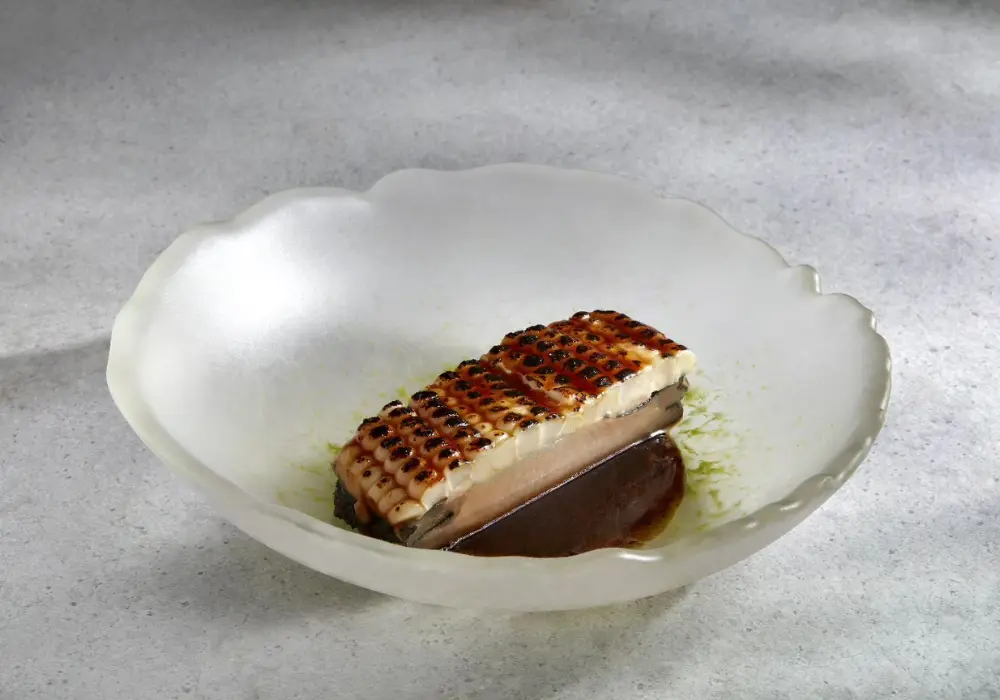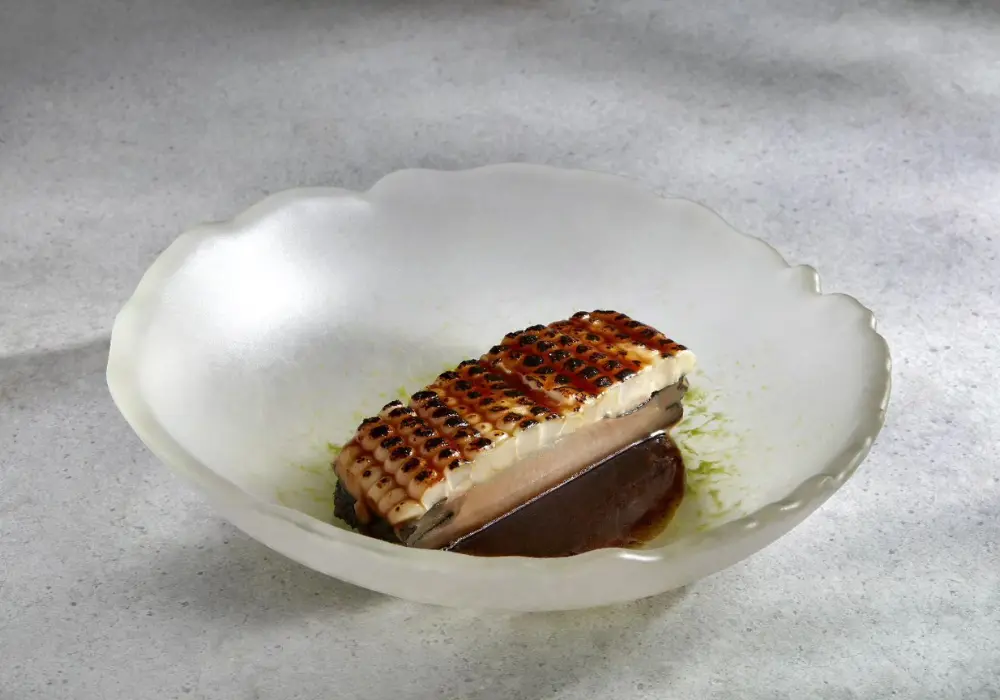 Signature Dishes:
Ravioli: At Matera, delight in the flavors of their Ravioli, a dish that combines succulent lobster, delicate egg, and aromatic garlic, creating a culinary masterpiece that's both indulgent and savory.
Foie Gras: At Matera, experience the luxurious flavor of Foie Gras paired with grapes, elderflower, and truffle, a culinary delight that combines rich and diverse ingredients for a memorable dining experience, showcasing the exquisite French tradition of this delicacy.
Google Rating: 4.4/5
Basilico
Basilico is an Italian restaurant located in Conrad Singapore Orchard, offering a refined and contemporary setting. It's known for its extensive buffet spread and a la carte Italian dishes.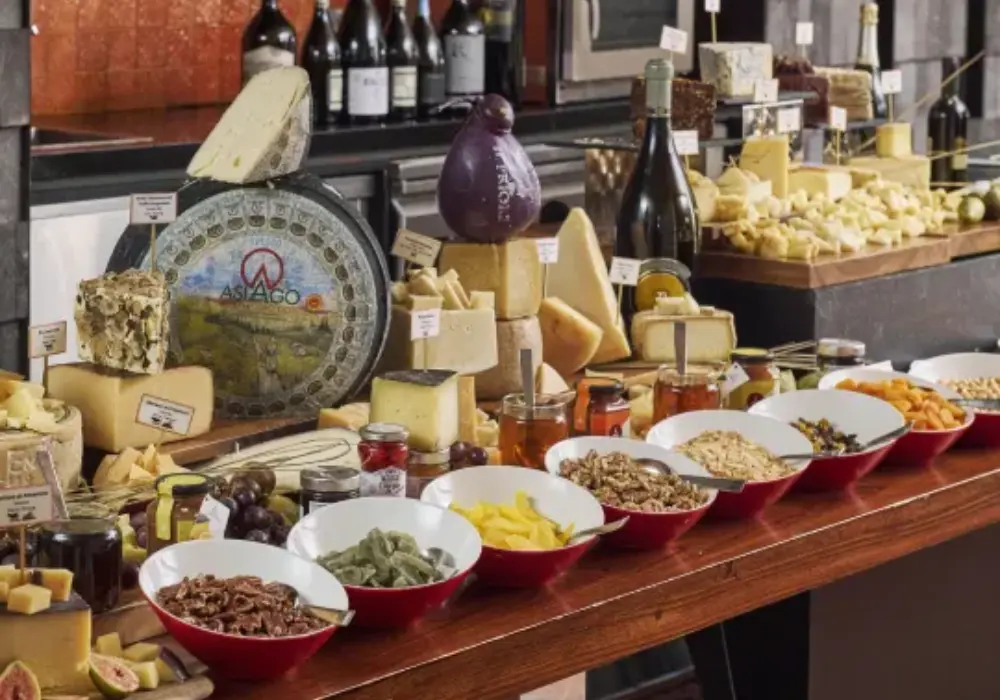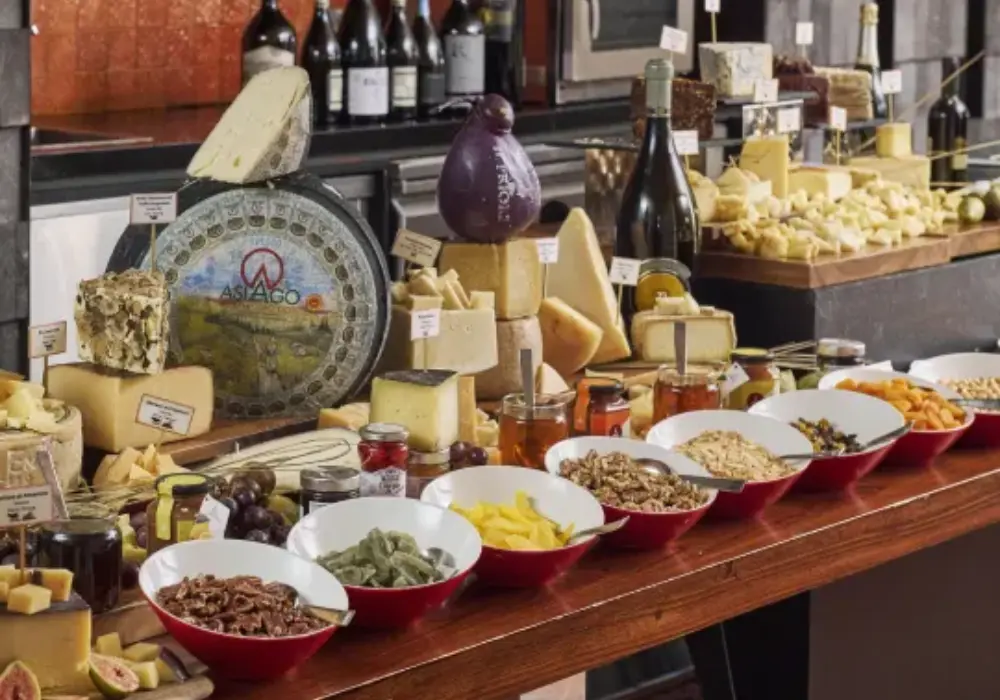 Signature Dishes:
Pizza Margherita: Savor the simplicity and perfection of a classic Pizza Margherita, where the flavors of tomato, mozzarella, and fresh basil come together harmoniously on a delightful pizza crust.
Panna Cotta: Indulge in the creamy delight of Panna Cotta, a velvety Italian dessert that melts in your mouth, leaving a lingering sweetness with every spoonful.
Google Rating: 4.4/5
Publico
Publico, along the scenic Singapore River at InterContinental Singapore Robertson Quay, offers a vibrant Italian dining experience. Its contemporary design and lively ambiance are complemented by a menu featuring wood-fired pizzas and creative cocktails.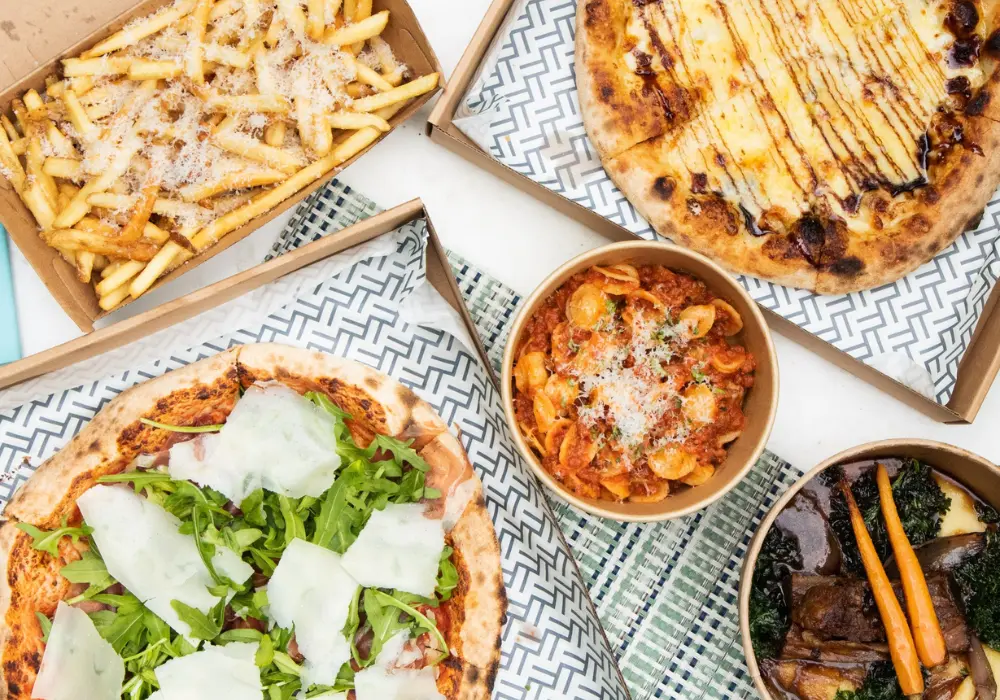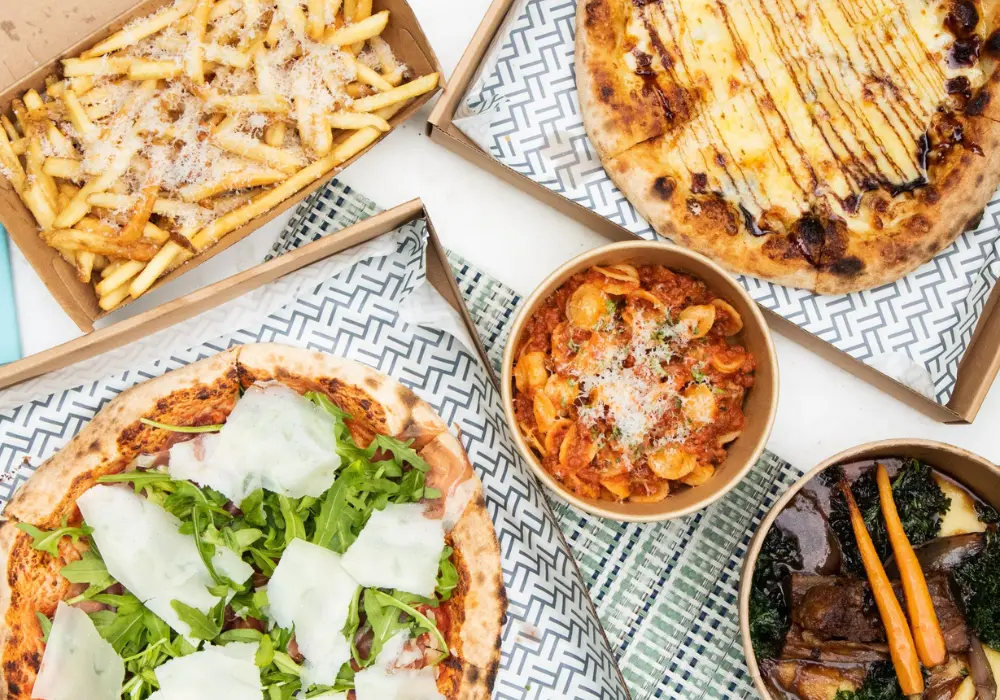 Signature Dishes:
Burrata: At Publico, you can relish their Woodfired Pizza with Burrata, Cherry Tomatoes, Arugula, and a drizzle of Olive Oil, a delicious combination that brings the creaminess of burrata together with the freshness of cherry tomatoes and the peppery kick of arugula for a delightful pizza experience.
Publico Tiramisu: This delectable dessert features layers of espresso-soaked Savoiardi biscuits, velvety mascarpone cheese, and a hint of coffee liqueur, creating a harmonious blend of flavors that's a sweet ending to your meal at Publico.
Google Rating: 4.3/5
La Bottega Enoteca
La Bottega Enoteca, nestled in 346 Joo Chiat Rd, combines the charm of an Italian enoteca with a cozy dining experience. It's known for its curated wine selection.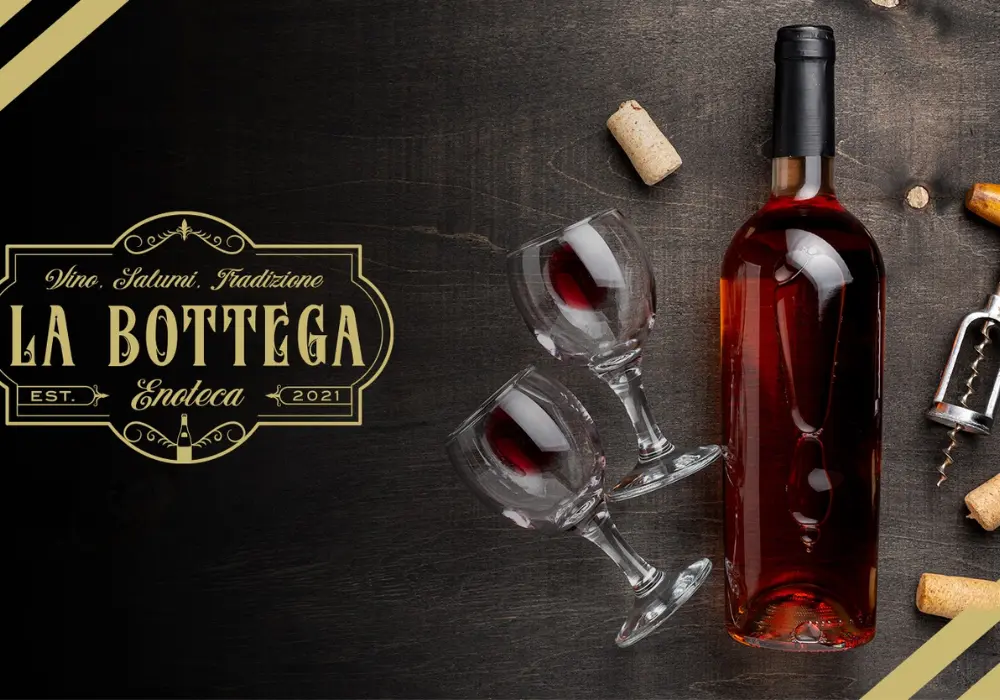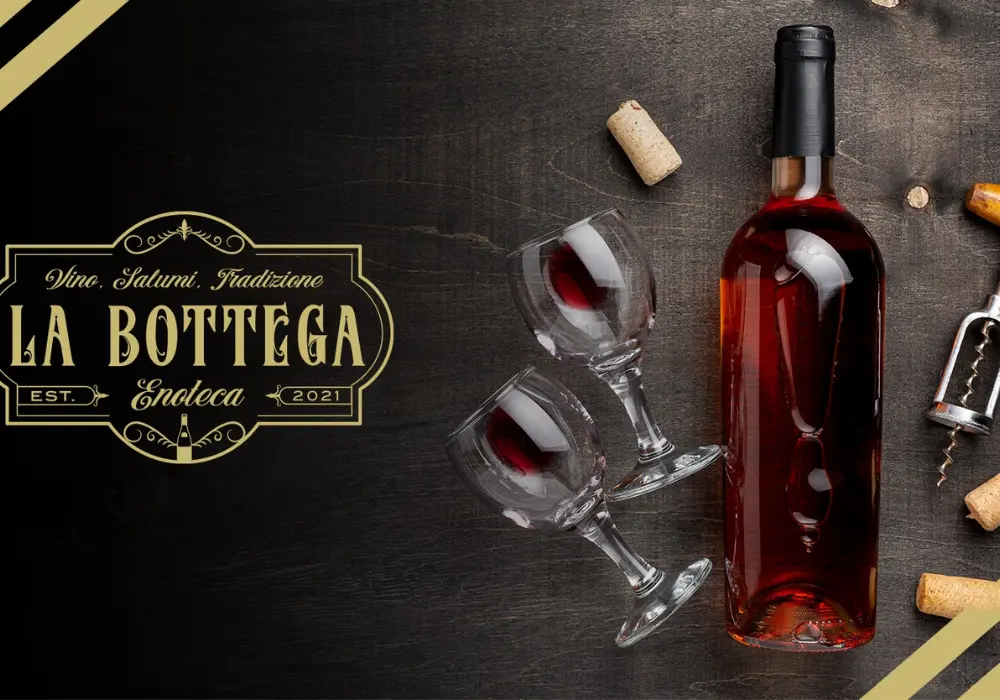 Signature Dishes:
Spaghetto alle Sarde: Try their Sicilian classic pasta that beautifully blends flavors from the sea and the mountains. It combines cured sardines, wild mountain fennel, pistachios, saffron, and pine nuts for a taste of true Sicilian tradition.
Paccheri Salsiccia e Pistacchio: This dish features large, tube-shaped paccheri pasta, paired with flavorful sausage and the nutty crunch of pistachios and lemon crumble creating a satisfying and memorable Italian pasta experience.
Google Rating: 4.2/5
Conclusion:
In Singapore's diverse food scene, these Italian restaurants stand out, giving you a delicious slice of italy in the city. Whether you prefer a cozy spot or a fancy dinner, each place has its own special taste to offer.
Whether you're savoring a classic pizza, indulging in creamy risotto, or enjoying a sweet tiramisu, these Italian spots offer a delightful journey through the diverse world of Italian cuisine.
So, gather your friends and family, and embark on a culinary adventure that's bound to satisfy your cravings for all things Italian in this vibrant city.