The Best Indian Restaurants In Singapore-Spice Delights
Hello there, food enthusiasts! If, like me, you find the taste of Indian cuisine irresistible, Singapore's dining scene holds a treasure of aromatic and flavorful experiences just for you. Join us as we go on a journey to uncover Singapore's best Indian restaurants, where you can savor mouthwatering dishes like fragrant curries and sizzling tandoori creations that will set your taste buds alight with delight.
Prepare to treat your taste buds because we are about to dive into the best Indian restaurants in Singapore. In this guide, we'll reveal the top spots to enjoy the most exquisite Indian dishes. From biryanis to sizzling kebabs, these food spots are the real deal. Let's embark on this delectable Indian culinary journey! 🌶️🍛🎉
18 Best Indian Restaurants to satisfy your cravings
Are you longing for the rich flavors of Indian cuisine? Look no further! We've gathered the vibrant culinary food points of Singapore to present you with 18 Indian food gems ready to satisfy your cravings.
Yarana
Yantra
Thevar
Tambi
Shikar
Shahi Maharani
Rang Mahal
Punjab Grill
Prata Alley
Nalan Restaurant
Masalaa Bar
Manam
Jaggi's
GupShup
Firangi Superstar
Chat Masala
Adda
Aapon
Ready to indulge your Indian food cravings? Let's delve into the unique flavors and stories behind these top-notch Indian eateries.
Yarana
Yarana, situated by the riverside, offers a delightful experience of authentic Indian cuisine. Known for its vibrant decor and live music, it's a perfect place to enjoy delicious food with friends and family while enjoying the soothing riverside view.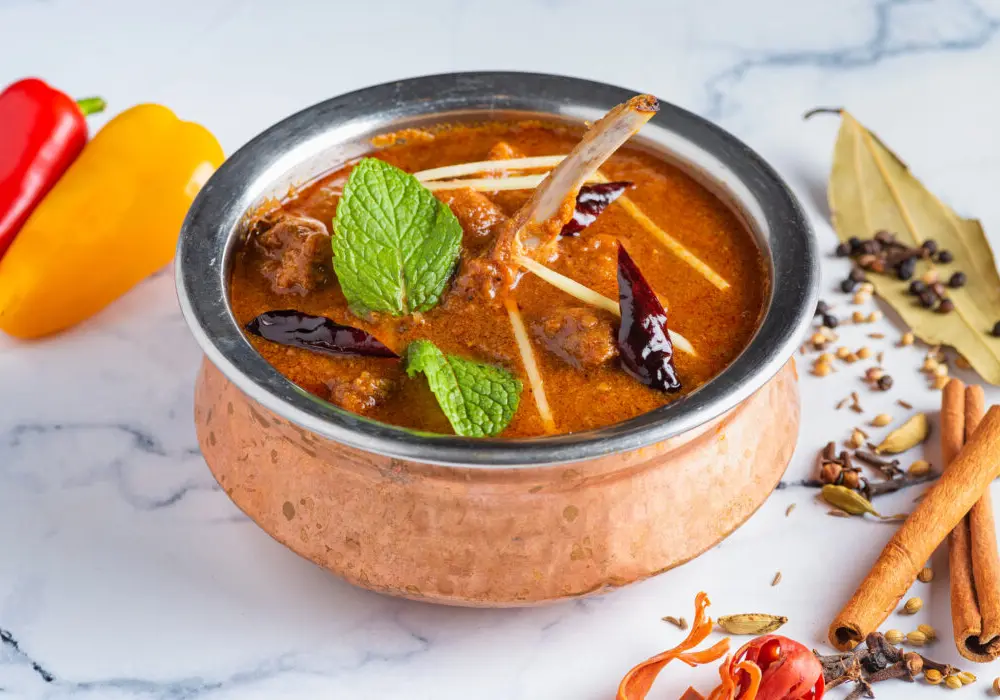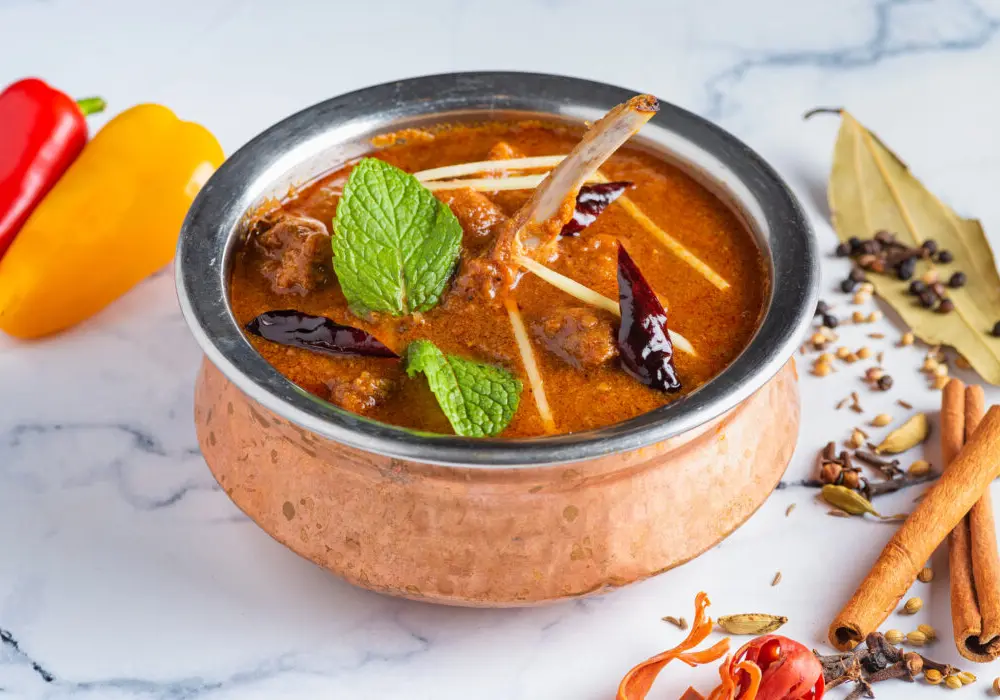 Type: Fine Dining
Location: Singapore Indoor Stadium
Signature dishes:
Mumbai Central Keema Pav: It's a spicy mutton mince dish, slow-cooked with aromatic spices, and served with toasted pav (bread rolls), onions, and green chillies. It's a must-try for anyone looking to savor the iconic flavors of Mumbai's street food scene.
YA-RA-NA Butter Chicken: It is a standout dish from the "Forever Young" section of the menu. It's a true pride of Indian restaurants, offering a flavorful and memorable chicken experience that's sure to leave a lasting impression.
Yantra
Yantra is a chic restaurant located in the city center, renowned for its modern take on classic Indian flavors. With its elegant ambiance and innovative dishes, it's an ideal choice for those seeking a touch of sophistication in their Indian dining experience.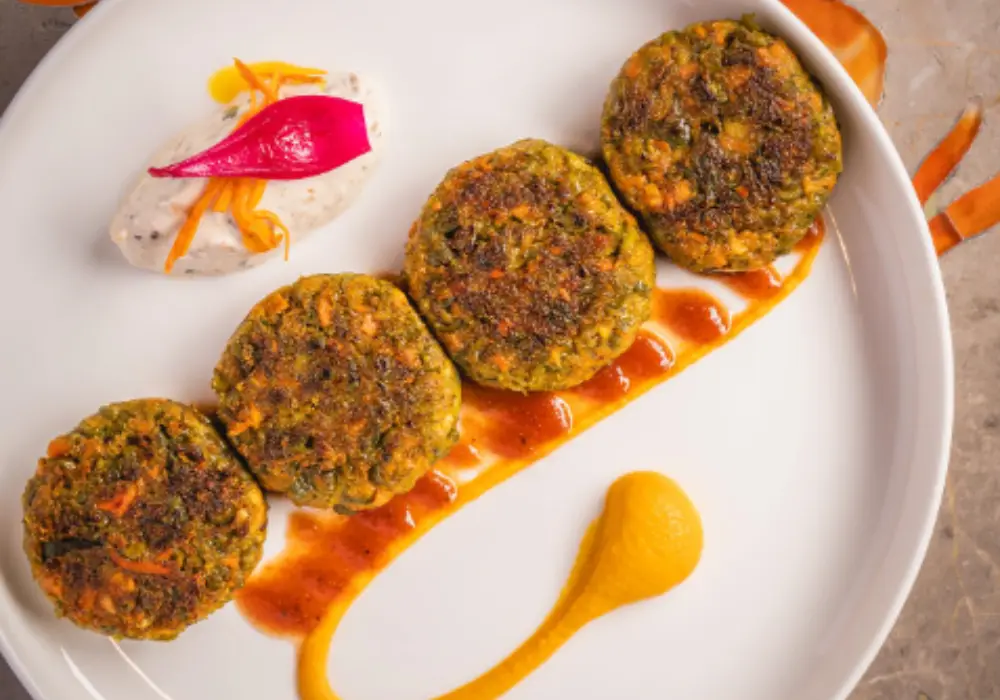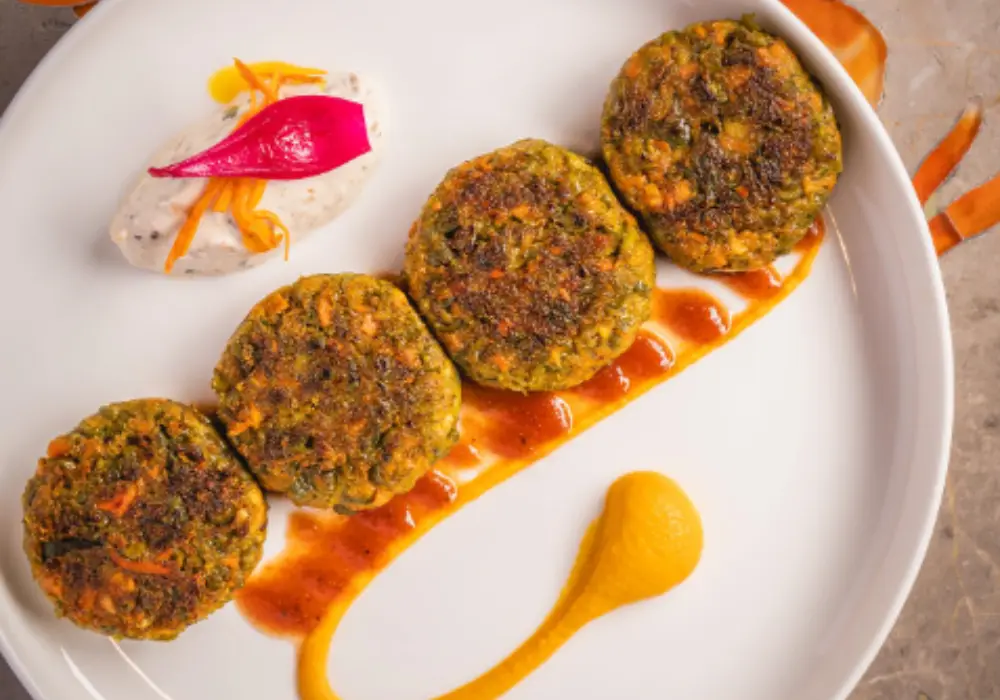 Type: Fine Dining Indian Cuisine
Location: Tanglin Mall
Signature dishes:
Maithali Maach: This is a delightful dish featuring snapper cooked in a flavorful blend of garlic, coriander, turmeric, and mustard gravy, enhanced with the aromatic spices of Panch Phoran.
Nizam's Kathi Kebabs: It offer succulent charcoal-grilled mutton kebabs served with mini paratha and a touch of aromatic mustard oil.
Thevar
Thevar, nestled in a trendy neighborhood, is your destination for smoky and grilled delights. With its rustic charm and open kitchen concept, it offers a unique dining experience where you can savor the flavors of the grill.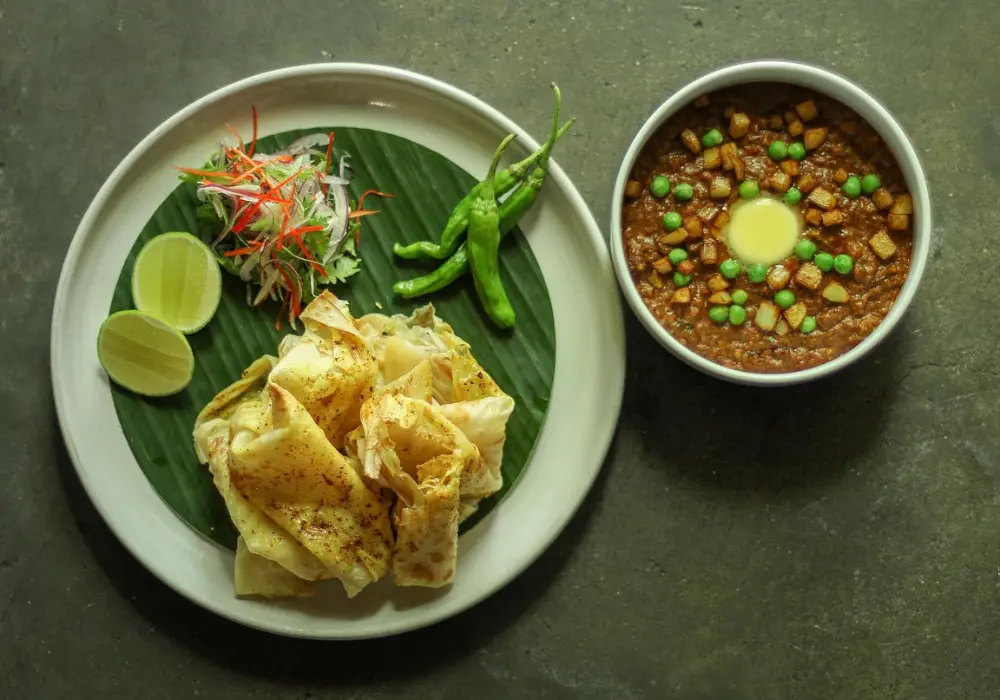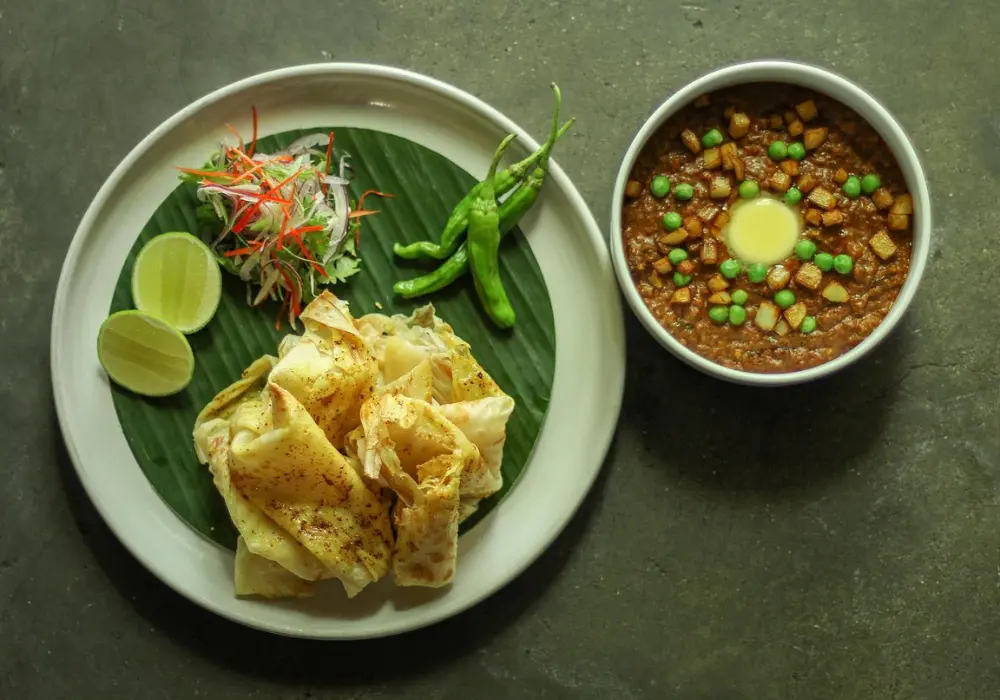 Type: Modern Indian Restaurant
Location: 9 Keong Saik Rd
Signature dishes:
The Cured King Fish Idli: It is a unique treat that combines the freshness of kingfish with the comforting softness of idli. It's like a flavorful fusion of seafood and South Indian cuisine, creating a tasty and satisfying dish.
Kokum Spiced Gujiya: It is a delightful treat that adds a twist of tangy kokum flavor to the traditional sweet Gujiya, resulting in a mouthwatering combination of sweet and tangy notes.
Tambi
Tambi is a charming restaurant that brings the flavors of Southeast Asia to your plate. Located in a tranquil neighborhood, it's known for its delightful dishes and relaxed ambiance, offering a taste of the region's diverse cuisine in a serene setting.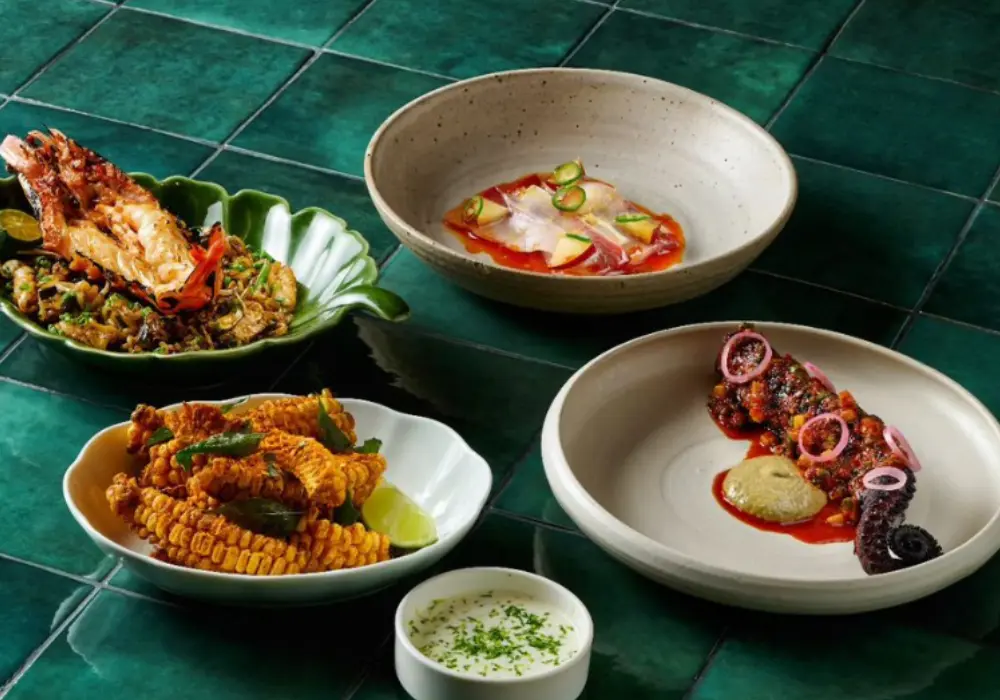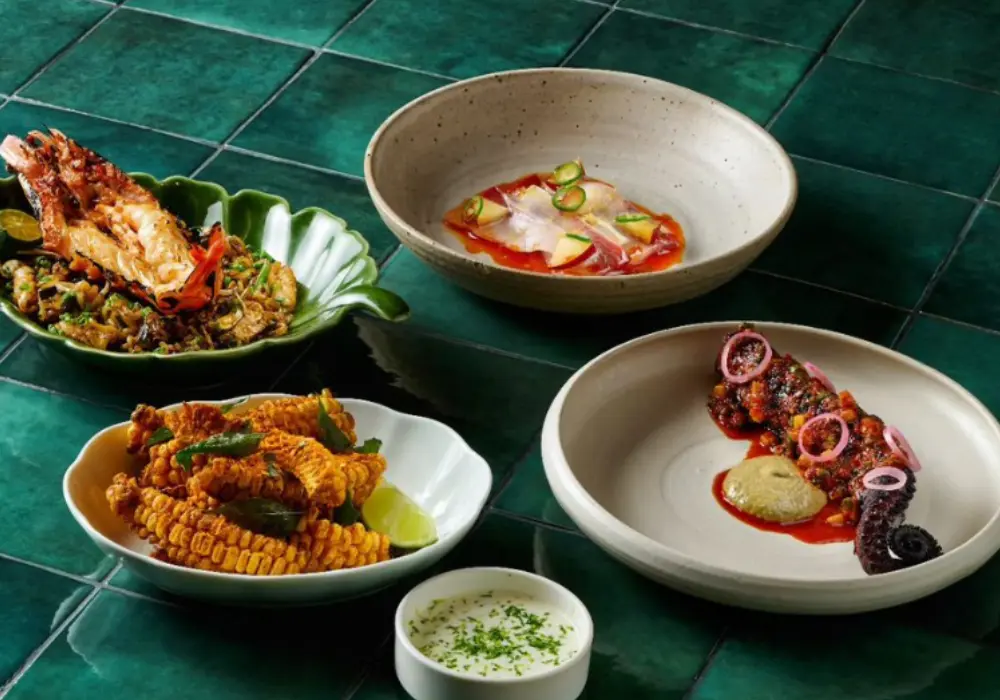 Type: Southern Indian-Korean cuisine
Location: Chinatown Point
Signature dishes:
Tambi's Bibimmyeon: It's a Korean cold noodle salad tossed in a spicy and tangy sauce, typically featuring fresh vegetables and your choice of protein. It's a refreshing and zesty option that's perfect for those seeking a unique and satisfying meal.
Prawn Tosai Pajeon: Served with a flavorful Sothi dipping sauce, this dish combines the succulence of prawns with the savory goodness of Pajeon, a Korean-style pancake, creating a delectable and satisfying combination that's perfect for dipping and enjoying.
Shikar
Shikar is a cozy restaurant located in the heart of the city, famous for its mouthwatering meat dishes. The rustic ambiance and friendly staff make it a great spot for meat enthusiasts looking for hearty flavors and a warm atmosphere.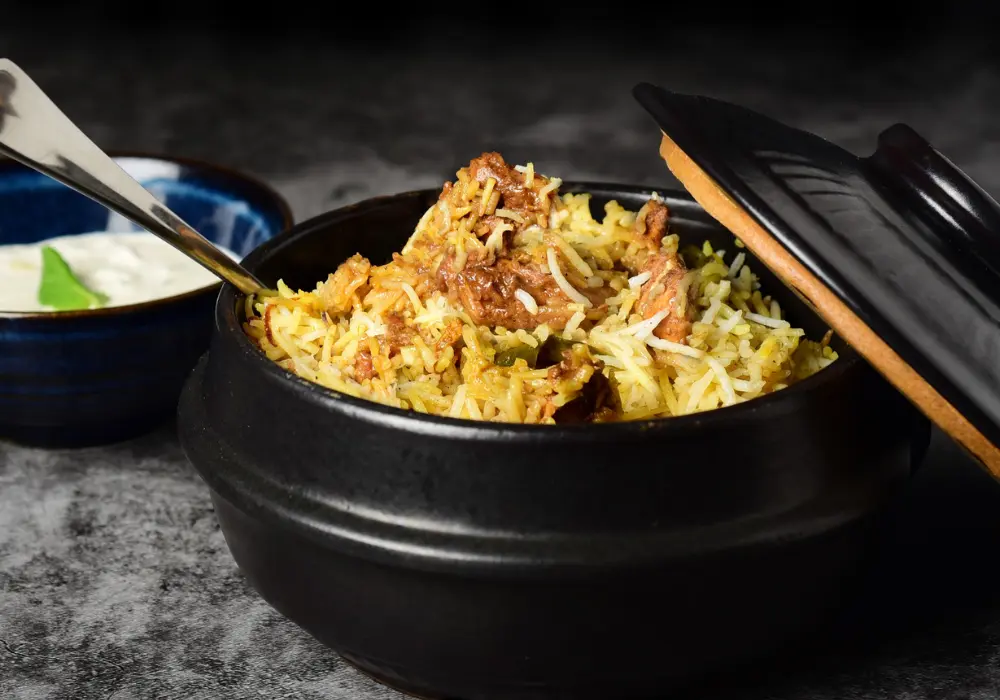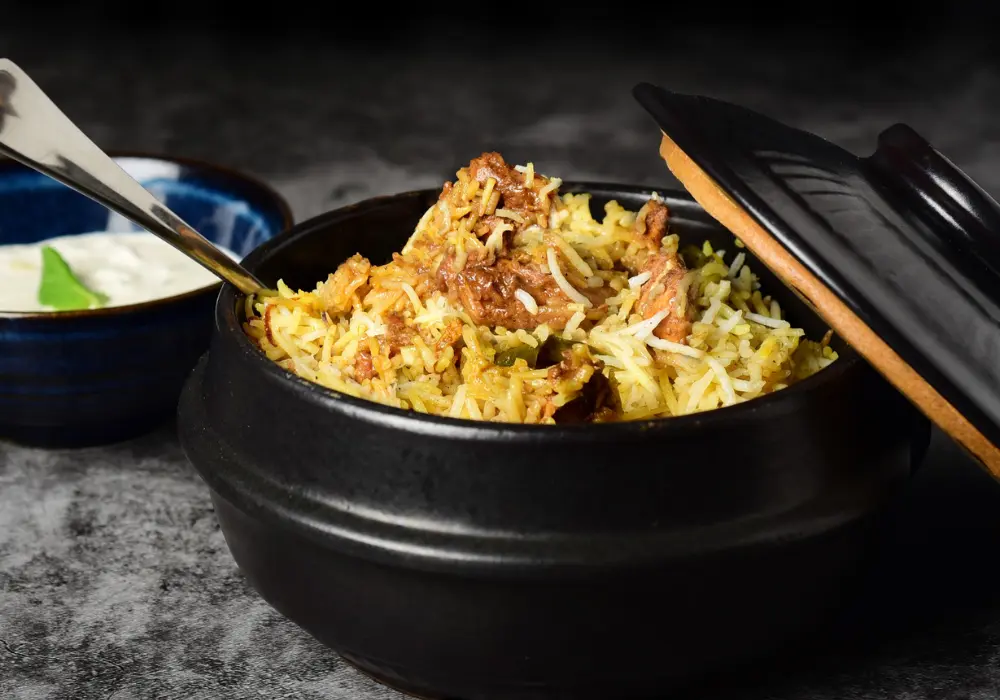 Type: Fine dining
Location: 2 Cook Street at Maxwell Reserve
Signature dishes:
Charred Cream Chicken Tikka: Priced at $49 for 250g, is a delightful dish featuring tender chicken coated in a rich cream sauce with the flavors of royal cumin and green cardamom.
WildCaught Tiger Prawns: This dish is a part of the "Charcoal Tandoor & Josper Grill" selection, offer a delectable experience. Served in a range of 200g-250g, they're complemented by roasted garlic-cream cheese and Kashmiri chillies, priced at $59.
Shahi Maharani
Shahi Maharani is a regal restaurant nestled in an elegant corner of the city. Renowned for its royal Indian cuisine, it offers a dining experience fit for kings and queens, with a majestic ambiance to match.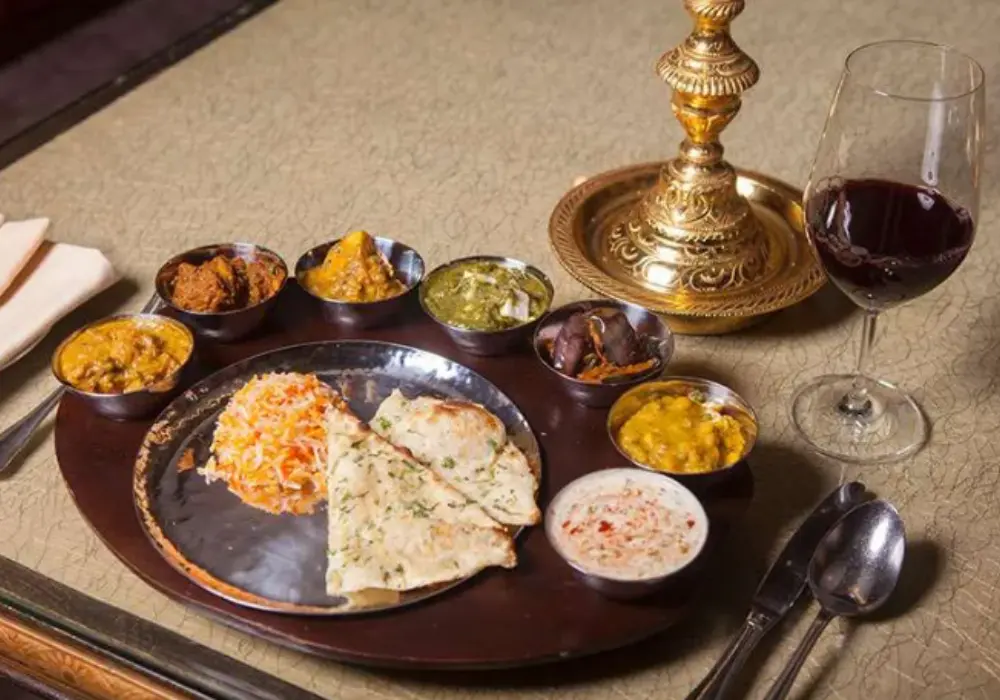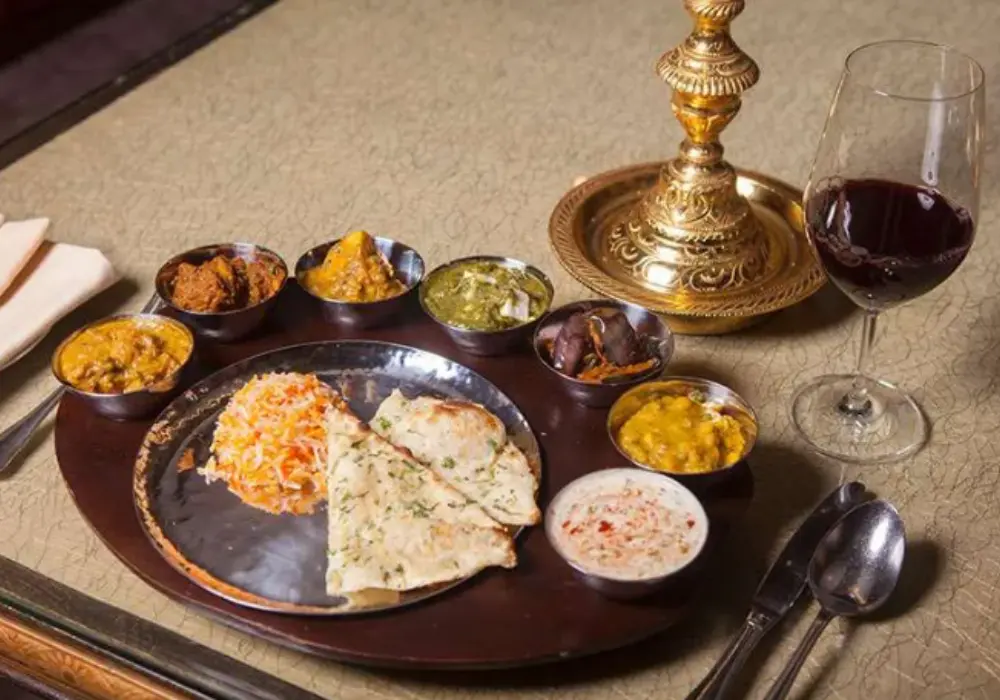 Type: Authentic North Indian Cuisine
Location: Raffles City
Signature dishes:
Tandoori Lamb Chops: Indulge in the Tandoori Lamb Chops for $47.00 from the "Maharani Specials." These lamb chops are expertly prepared, marinated with a blend of fresh spices, and grilled to perfection in the tandoor, ensuring tenderness and flavor. If you'd like, you can opt to have them served with a delightful onion-tomato sauce on the side for an additional $3.00.
Bengali Fish Curry: Savor the flavors of Bengal with the Bengali Fish Curry priced at $34.00 from the "Royal Seafood Specialities." This dish features tender fillets of kingfish cooked in a fragrant onion-based sauce infused with the distinctive spices of Bengal, offering a royal seafood experience.
Rang Mahal
Rang Mahal is a high-end restaurant located in a luxurious part of town. Celebrated for its exquisite Indian cuisine, it's a fine-dining destination that promises a symphony of flavors in an opulent and sophisticated setting.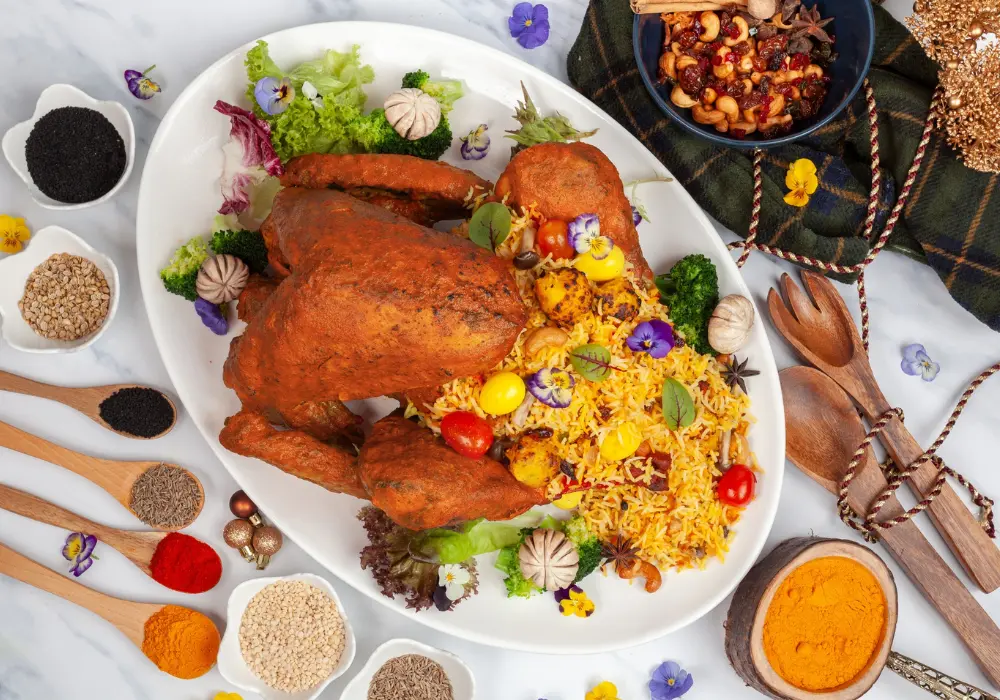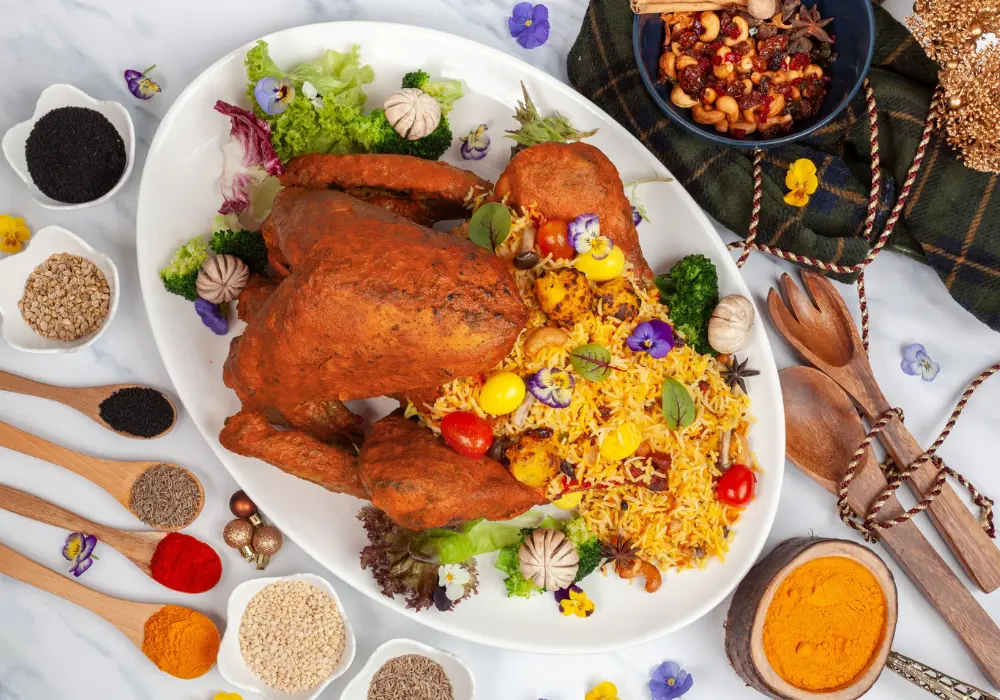 Type: Fine Dining Indian Restaurant
Location: Pan Pacific Singapore
Signature dishes:
Tandoori Fondue: It's a delightful fusion of tandoori flavors and fondue-style dining, offering a unique and interactive experience where you can dip and savor a variety of succulent tandoori delights in a creamy and flavorful sauce.
Bombay Pani Puri: These crispy hollow spheres are filled with a delicious mixture of spiced potatoes, tamarind chutney, and flavored water, creating a burst of sweet, tangy, and savory flavors that capture the essence of Mumbai's street food scene.
Punjab Grill
Punjab Grill by Jiggs Kalra is your gateway to the rich flavors of Punjabi cuisine. Located in a bustling area, it's renowned for its delicious Punjabi dishes, offering a taste of North India in a vibrant and contemporary setting.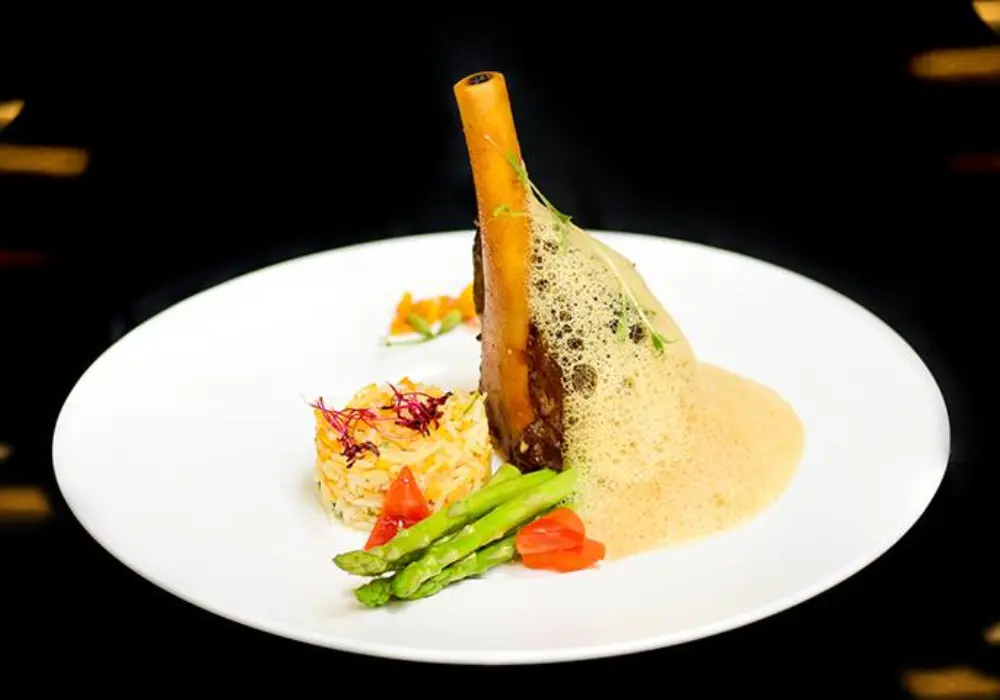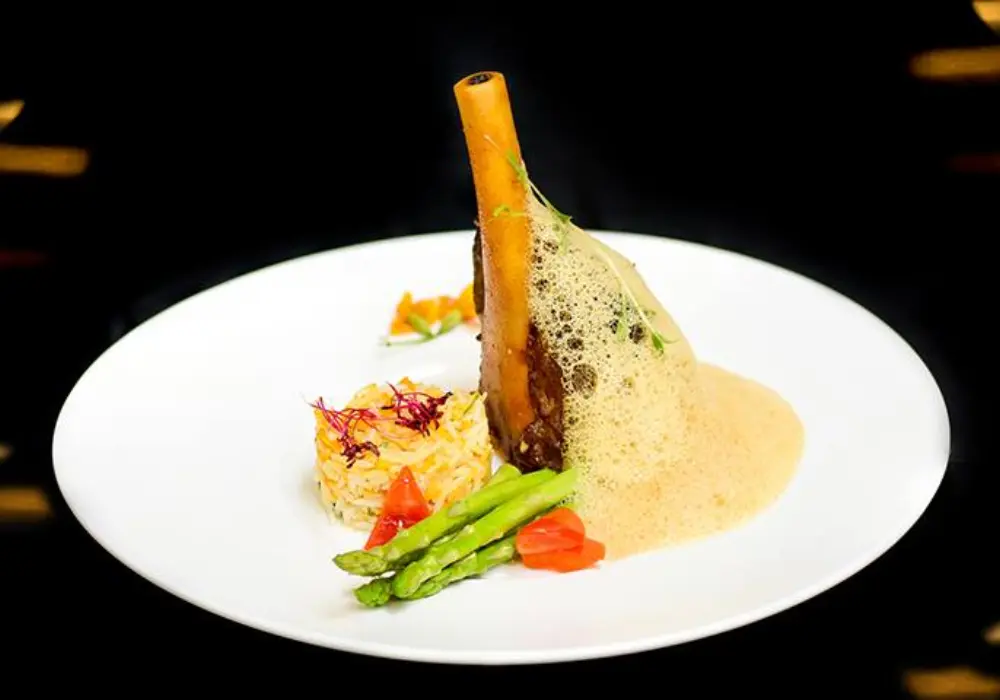 Type: Indian Fine Dine Restaurant
Location: Marina Bay Sands Singapore
Signature dishes:
Punjab Grill Paneer Lababdar: Found in the "Veg Curries" section, this dish features tender cubes of paneer cottage cheese bathed in a luscious, thick gravy enriched with the flavors of tomato and onion. It's a mouthwatering dish that combines the creaminess of cheese with the tanginess of tomatoes, creating a delightful vegetarian curry.
Punjabi Samosa: It is a crispy, triangular pastry puff generously stuffed with a flavorful blend of potatoes, green peas, and fresh coriander. These delectable parcels are deep-fried to a light golden perfection, making them a popular and irresistible snack.
Prata Alley
Prata Alley is a casual eatery that specializes in the art of making prata, a South Asian flatbread. Nestled in a cozy corner of town, it's a favorite among prata enthusiasts looking for delicious and affordable options.
Type: Indian Muslim Restaurant
Location: 321 Alexandra Rd
Signature dishes:
Fish Head Curry: Enjoy the Fish Head Curry, available starting at $15.00. This dish features a delectable curry with the flavorful and tender head of a fish, offering a unique and satisfying dining experience for seafood enthusiasts.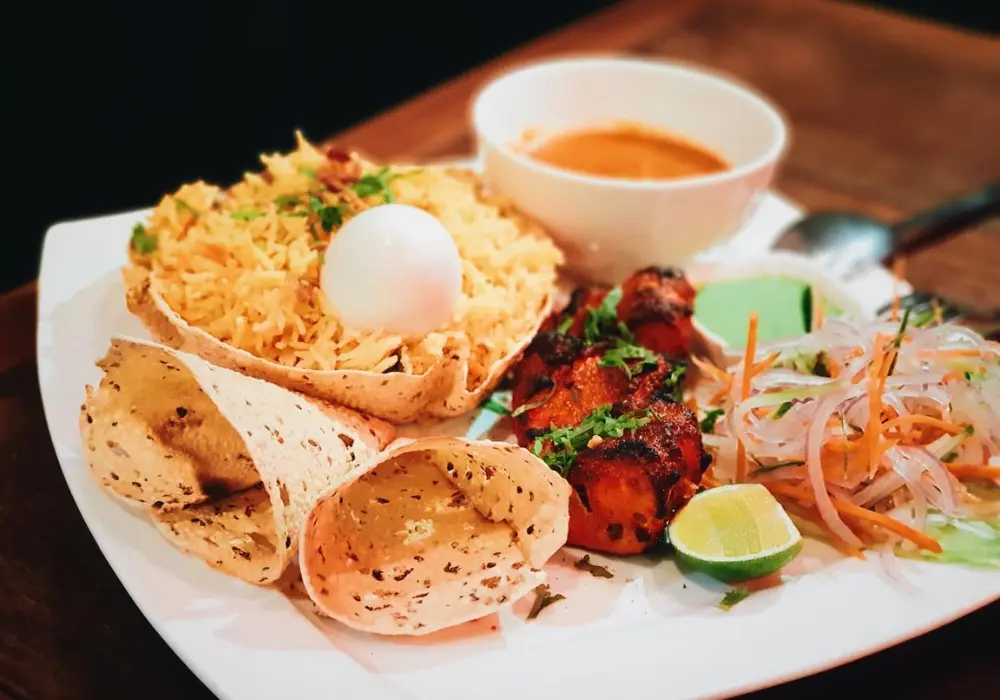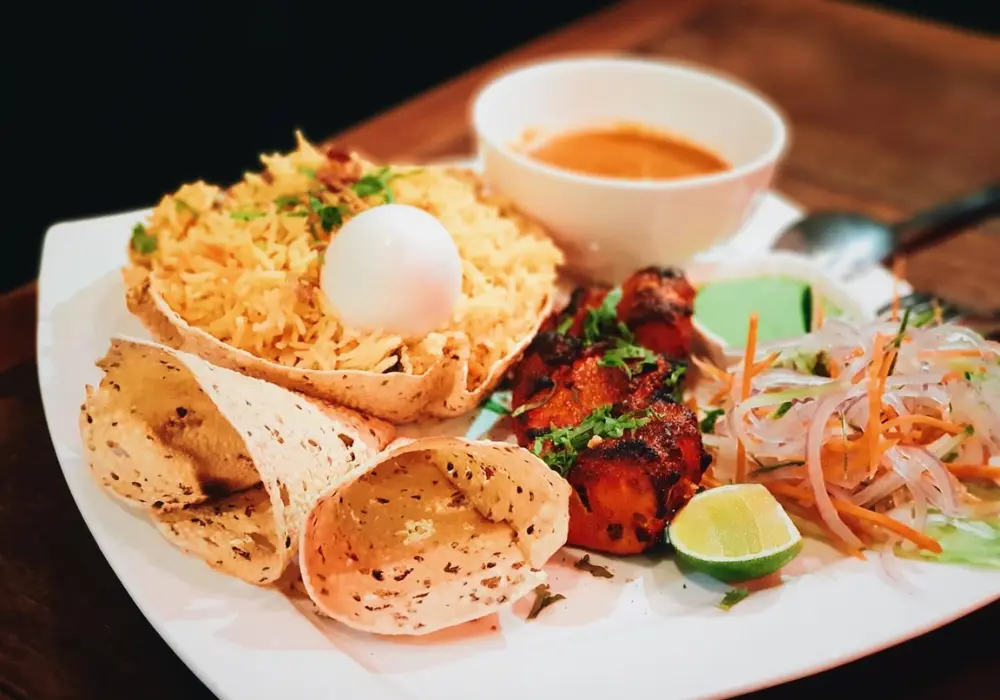 Dessert Pratas: Indulge in Dessert Pratas, available starting at just $3.00. These delightful treats promise a sweet and satisfying end to your meal, with a variety of flavors and toppings to choose from.
Nalan
Nalan Restaurant is a hidden gem that serves up authentic South Indian dishes. Tucked away in a quiet neighborhood, it's a haven for those in search of traditional flavors and a peaceful dining experience.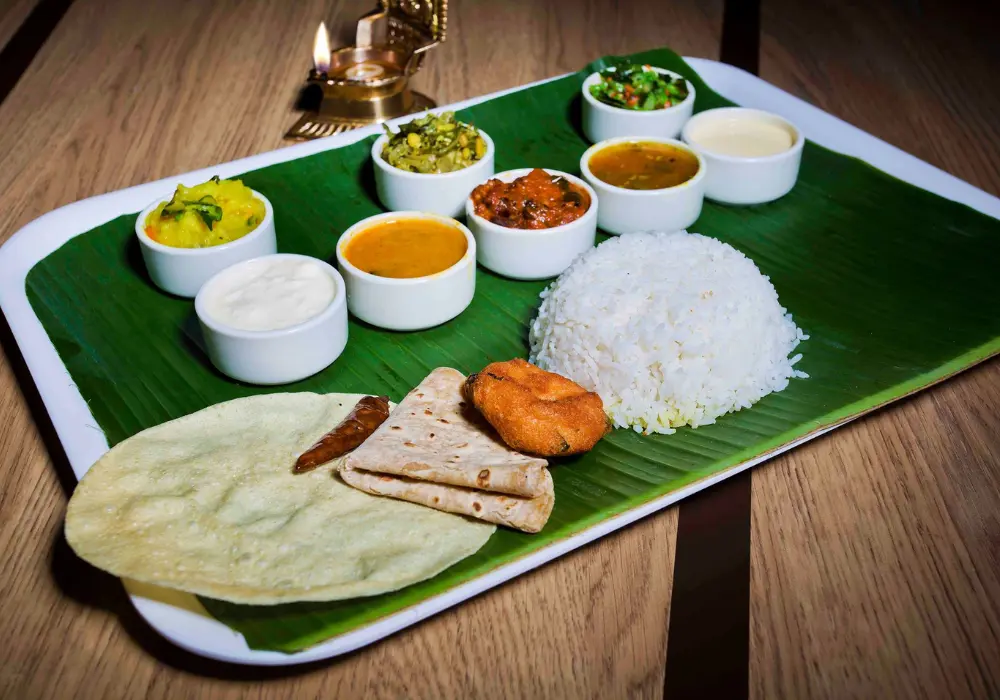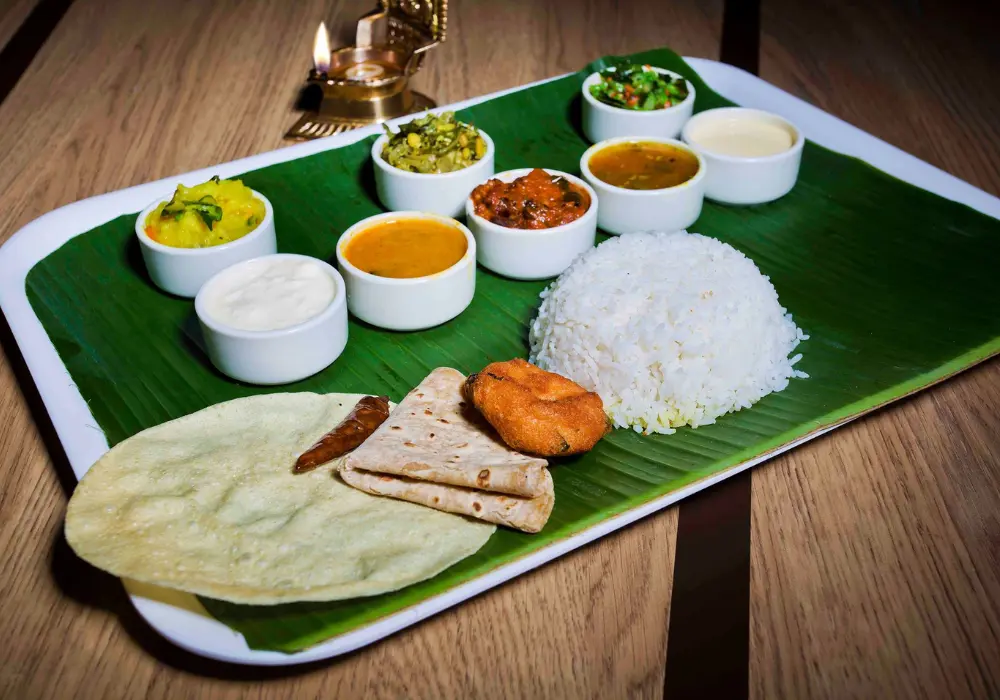 Type: Vegetarian restaurant
Location: Capitol Singapore
Signature dishes:
Organic Finger Millet Thosai: A serving of two millet-lentil crepes, served with a delightful array of chutneys and sambar. This dish offers a nutritious and wholesome experience with a blend of flavors that perfectly complement the crispy, savory crepes.
Broccoli Almond Soup: Indulge in this smooth and creamy delight that combines the goodness of broccoli, almonds, carrots, and spices. This comforting soup offers a perfect blend of flavors and textures, making it a cozy and nutritious choice for a comforting meal.
See Also: Best Spanish Restaurants In Singapore
Masalaa Bar
Masalaa Bar is a lively eatery known for its bold and flavorful dishes. Located in the heart of the city, it's a great place to experience the rich and spicy tastes of Indian cuisine in a casual and vibrant setting.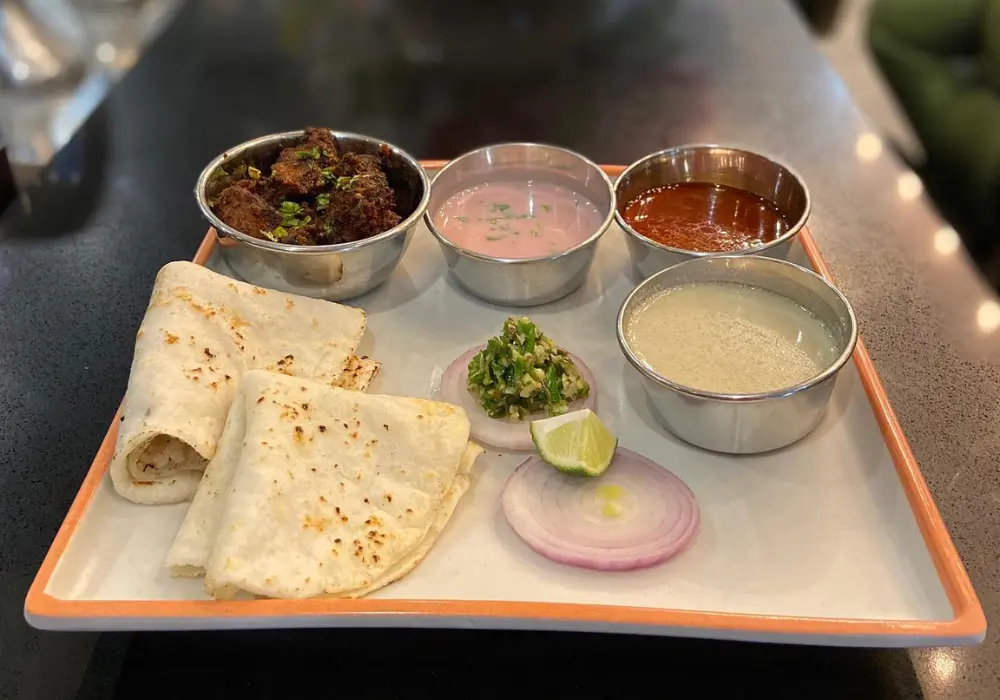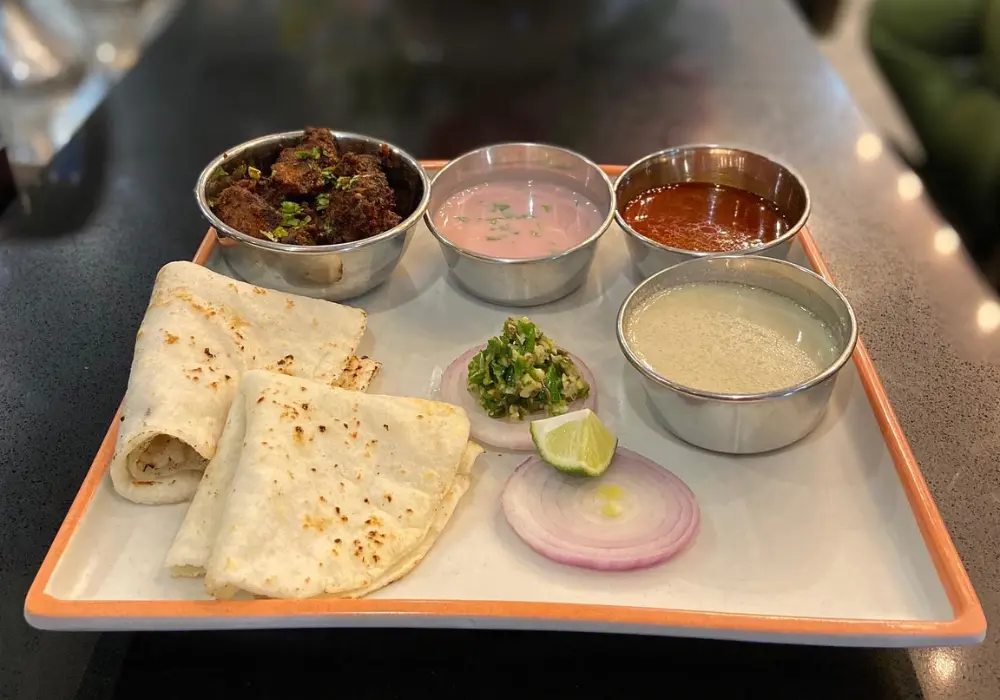 Type: A Quirky Bar and Bonhomie
Location: 723 E Coast Rd
Signature dishes:
The Bombay Onion Fritters: from the "Pass on the Chakna" section are a crispy and savory treat, perfect for snacking and sharing. These fritters are a popular choice for enjoying the classic flavors of Indian street food in a relaxed setting.
Naanzaa: Found in the "Faadu Fusion – Meet Our Meat" section, this dish offers a fusion twist with a delightful blend of Indian flavors, making it a perfect accompaniment to the "Twisted Dhaba Chicken Pizza."
Manam
Manam is a trendy eatery known for its innovative take on Indian cuisine. Located in a vibrant part of town, it's famous for its creative dishes that blend traditional Indian flavors with a modern twist, all in a stylish and casual atmosphere.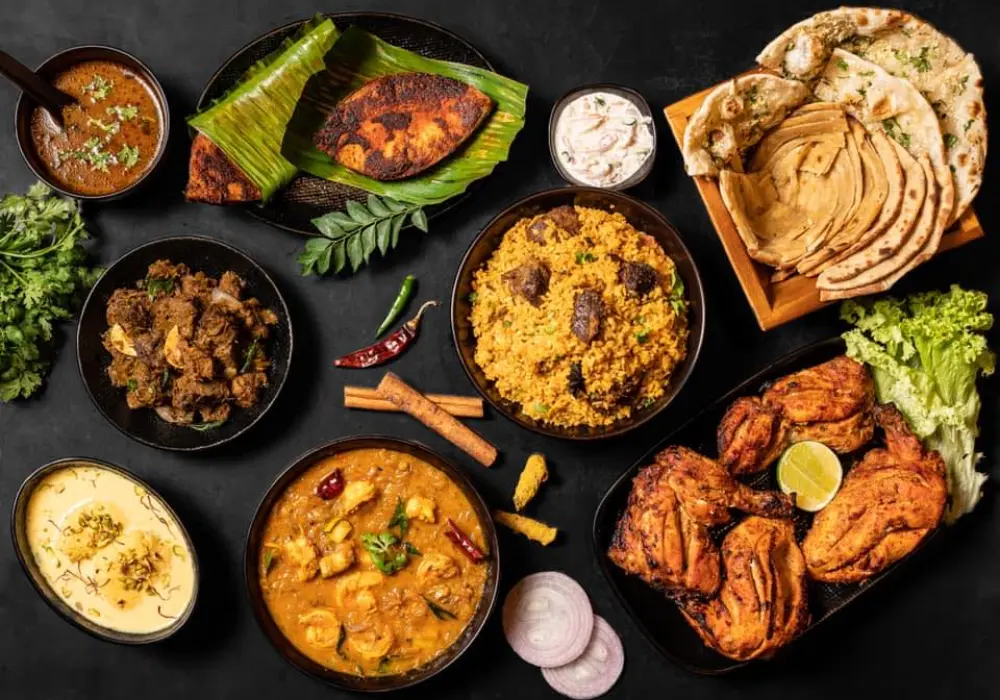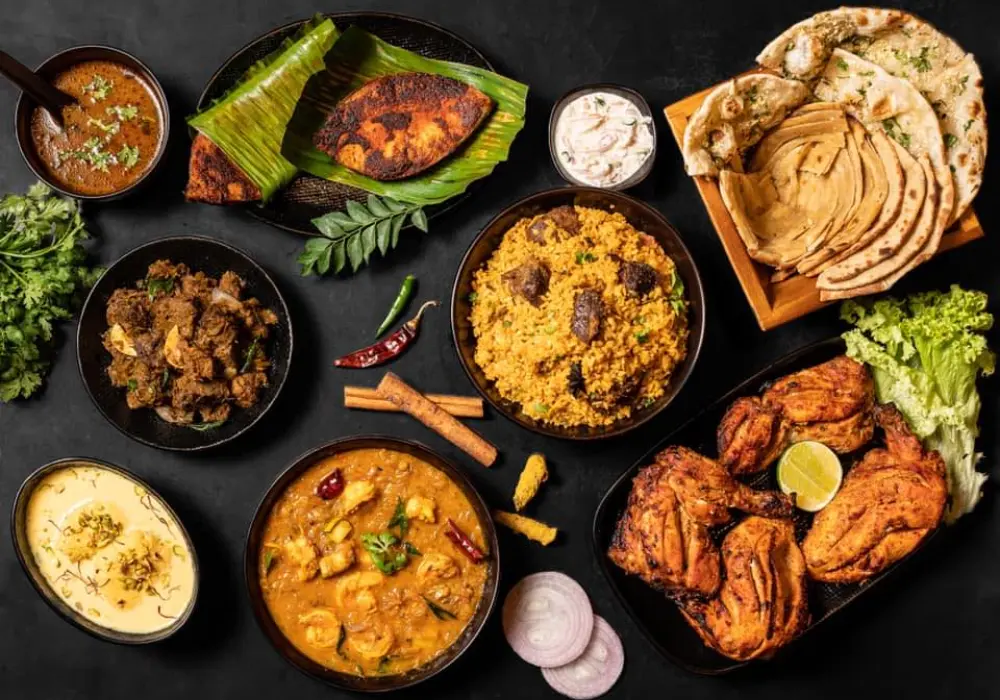 Type: Indian Cuisine
Location: 15 Upper Circular Rd
Signature dishes:
Royyala Iguru: Try this delicious Andhra-style prawn dish that features prawns tossed with onions, tomatoes, and a medley of ground spices. This flavorful preparation is a delightful blend of savory ingredients that capture the essence of Andhra cuisine, offering a mouthwatering prawn experience.
Nalli Elumbu Rasam: A flavorful and spicy broth made by stewing mutton with a blend of aromatic spices. This dish offers a rich and robust taste, making it a perfect choice for those who enjoy bold and hearty flavors.
Jaggi's
Jaggi's is where tradition meets taste, situated in a historic part of town. Known for its authentic Indian dishes, it's a must-visit for those looking to savor classic flavors in a charming and culturally rich atmosphere.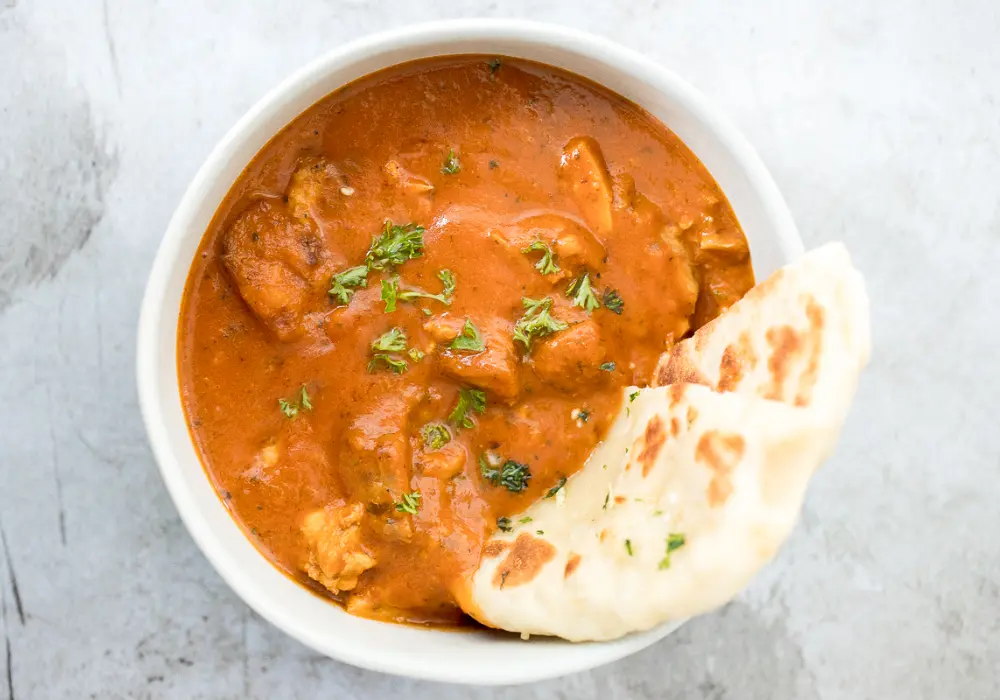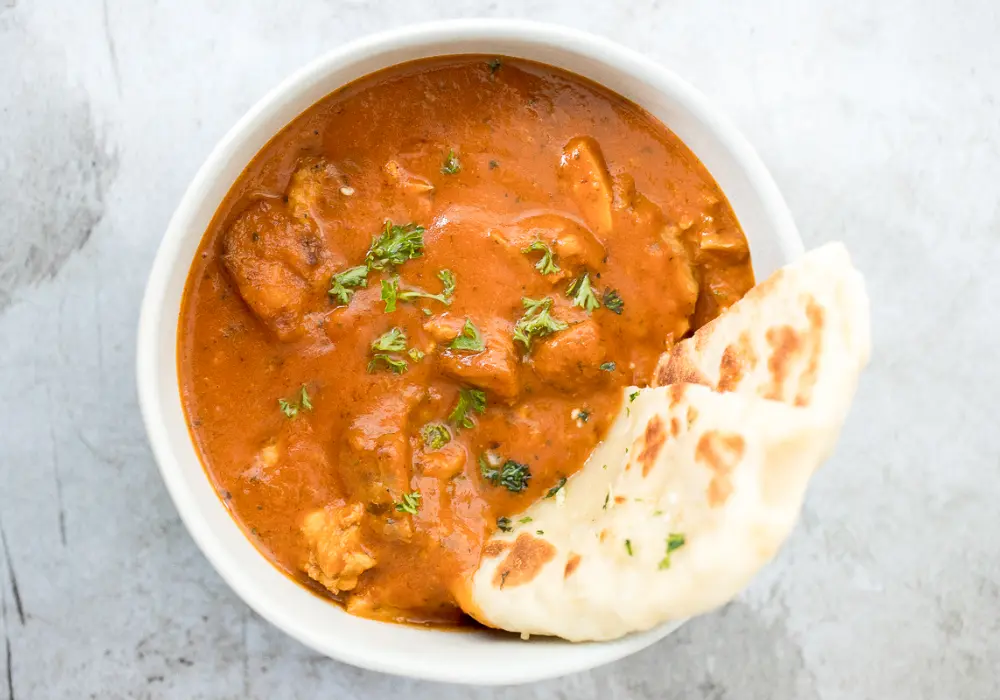 Type: Northern Indian Cuisine
Location: 36 Race Course Rd
Signature dishes:
Curries: These signature curries, including Butter Chicken, Peshwari Chicken, and Kudai Paneer, are available for $14.95 each. They promise a flavorful journey through Indian cuisine with options ranging from creamy and indulgent to spicy and savory.
Sambar Idly and Vada: For starters, you can enjoy the Sambar Idly and Vada combo, featuring one steam rice soft cake and one lentil doughnut, both served with a delicious portion of sambar. This delightful combination is priced at $8.95, making it a perfect way to kickstart your meal.
GupShup
GupShup, nestled in a bustling neighborhood, is the go-to spot for tasty bites and lively conversations. The colorful decor and laid-back vibe create a fantastic backdrop for catching up with friends over flavorful Indian snacks and drinks.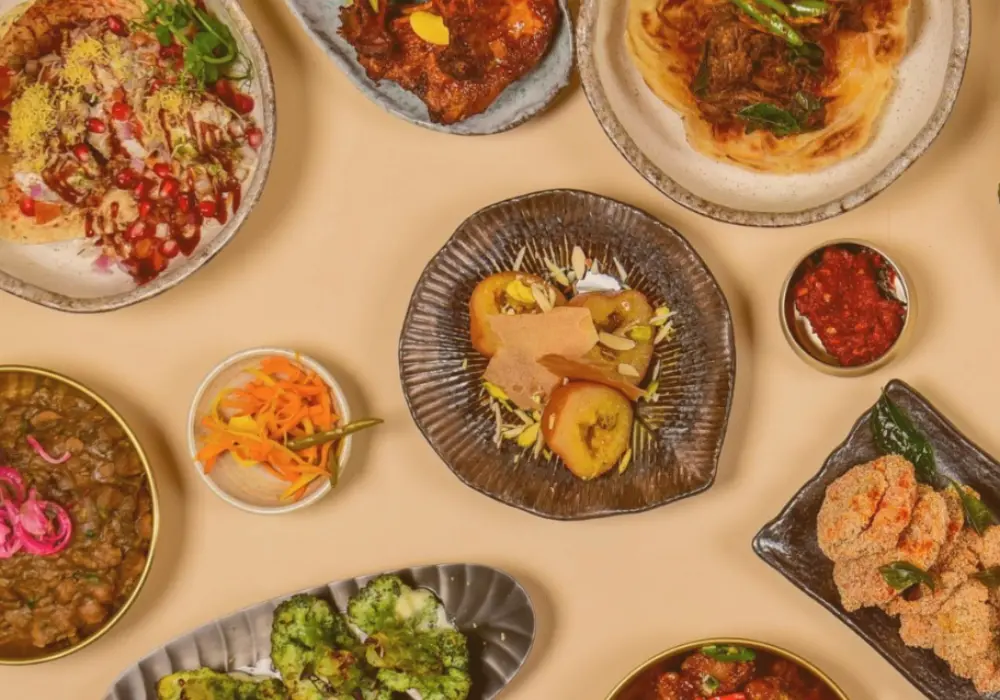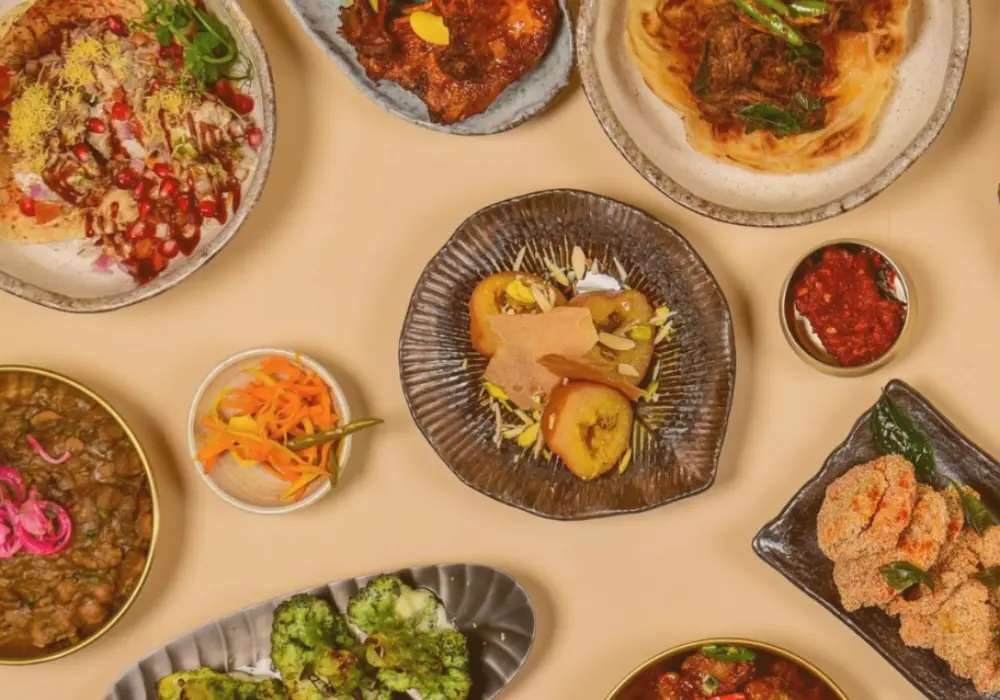 Type:Indian street food
Location: 301 Serangoon Rd
Signature dishes:
Kathi Kebab Roll: From the "Tandoor, Grilled & Small Plates" section, these rolls come with a side of sweet potato fries. You have two options: Tandoori Chicken Tikka for $25.00 and Tandoori Paneer Tikka (Veg) for $23.00. It's a delightful combination of flavorful kebab rolls and crispy sweet potato fries.
Dosa: Dosa is a South Indian crispy crepe served with sambhar and chutney, featuring fillings like Paneer or Masala Potatoes. It's served with sambhar and chutney. You have two filling options: Paneer (Vegan, Gluten-Free) for $19.00 or Masala Potatoes (Vegan, Gluten-Free) for the same price. It's a fantastic choice for a flavorful and satisfying meal.
Firangi Superstar
Firangi Superstar is a trendy restaurant where Indian cuisine gets an international twist. Situated in a hip neighborhood, it's famous for its fusion dishes and vibrant atmosphere, making it a hotspot for foodies looking to explore global flavors in a casual setting.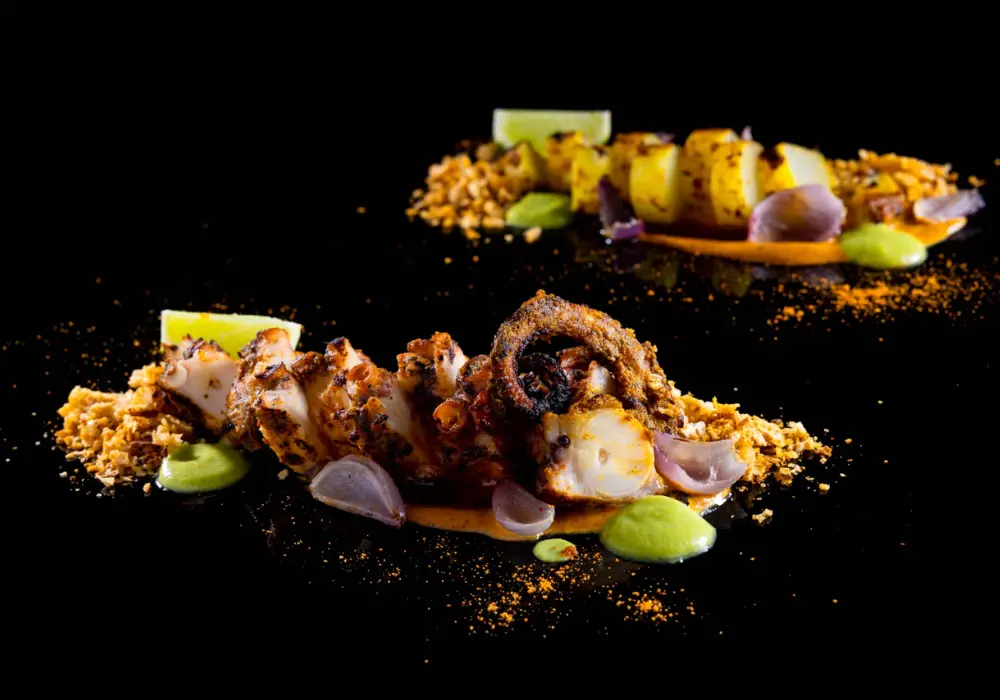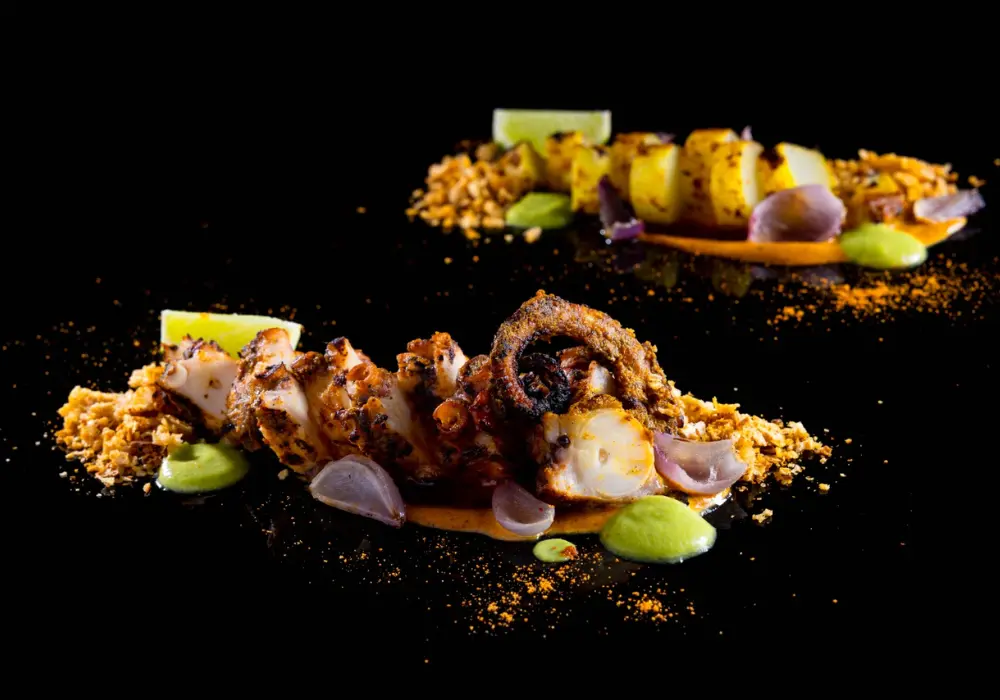 Type: Modern Indian restaurant
Location: 20 Craig Rd
Signature dishes:
The Bengal Bake-Off: presents a baked red snapper dish elevated with the rich flavors of Kasundi cream and the subtle essence of banana leaf oil.
Cheezi Freezi: From the "Tiny Plates, Big Tastes" section, it is a delightful dish featuring creamy burrata paired with confit bell peppers and a refreshing tomato "Gazpacho" sauce.
Chat Masala
Chat Masala is a bustling eatery known for its burst of Indian flavors. Located in a lively part of town, it's famous for its street food-inspired dishes, making it a go-to spot for those craving spicy and tangy delights in a casual setting.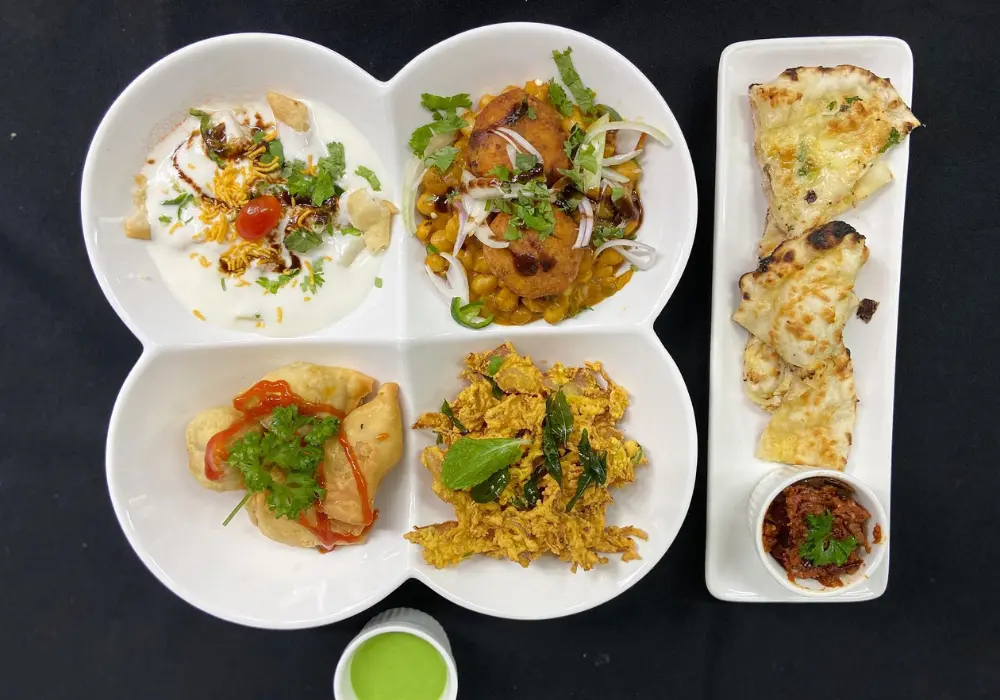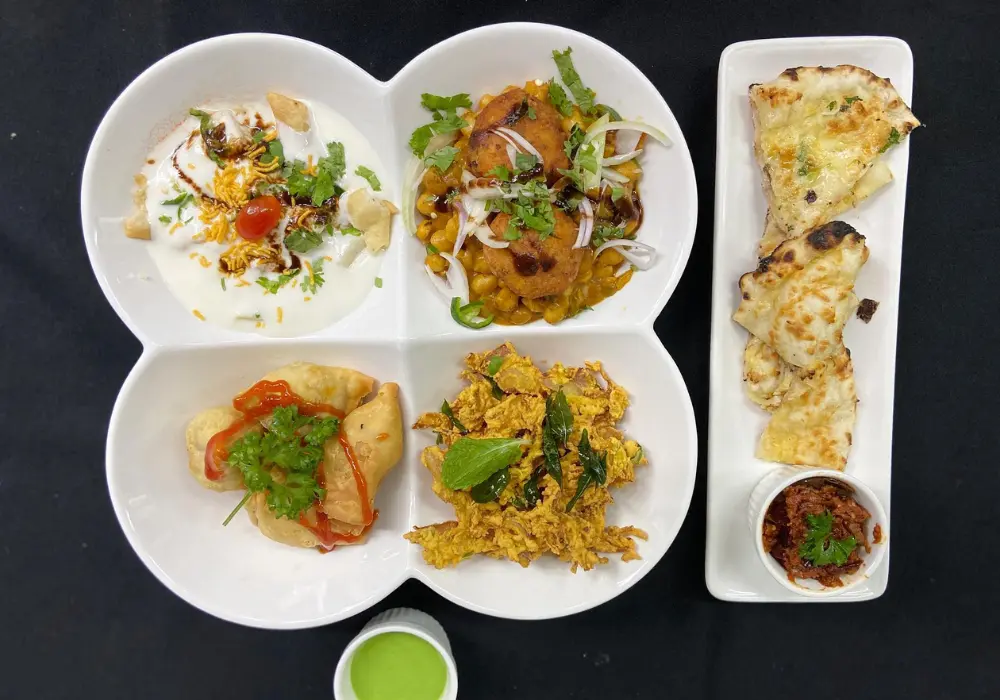 Type: Authentic Indian Cuisine
Location: 158 Upper E Coast Rd
Signature dishes:
Chicken Perattu Rice: If you're up for a spicy adventure, the "Chicken Perattu Rice" from the "Rotis and Rice" section is a daring choice at $16.80. A word of caution, though: this dish is seriously hot, so dive in only if you're ready for some fiery flavors to ignite your taste buds!
Mushroom Pepper Fry: If you're a fan of mushrooms and love a good kick of spice, the "Mushroom Pepper Fry" from the "Vegelicious" section is a must-try at $14.80. It's all about button mushrooms cooked with peppers and an extra dose of pepper for that extra zing, making it a flavorful and satisfying choice.
Aapon
Aapon is a cozy restaurant that feels just like home. Tucked away in a quiet corner of the city, it serves up homemade dishes with a warm and welcoming ambiance, making it the perfect spot for comfort food.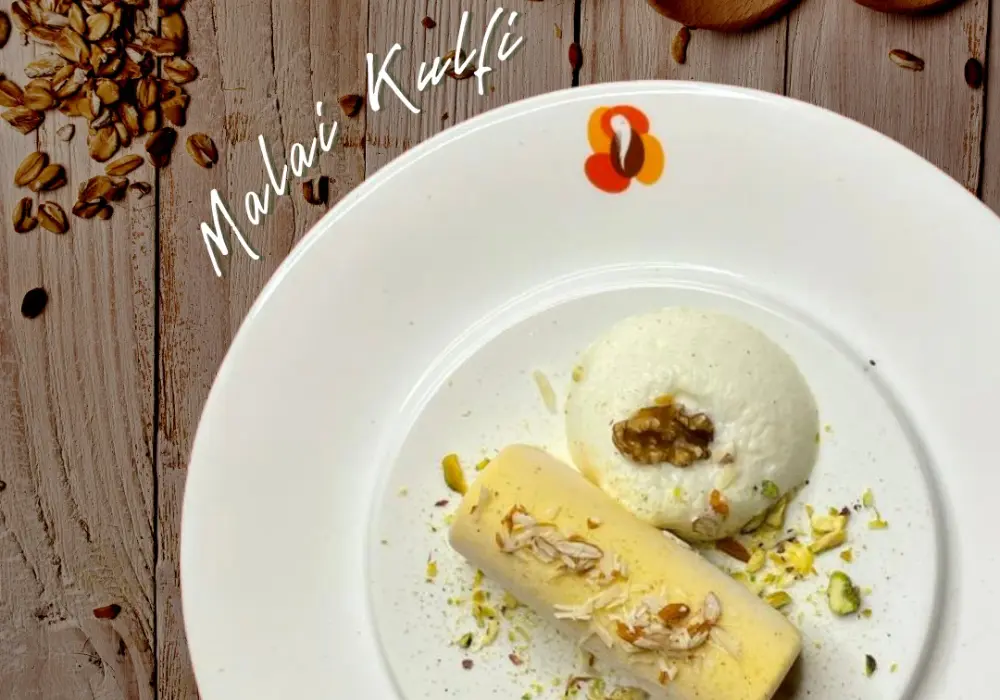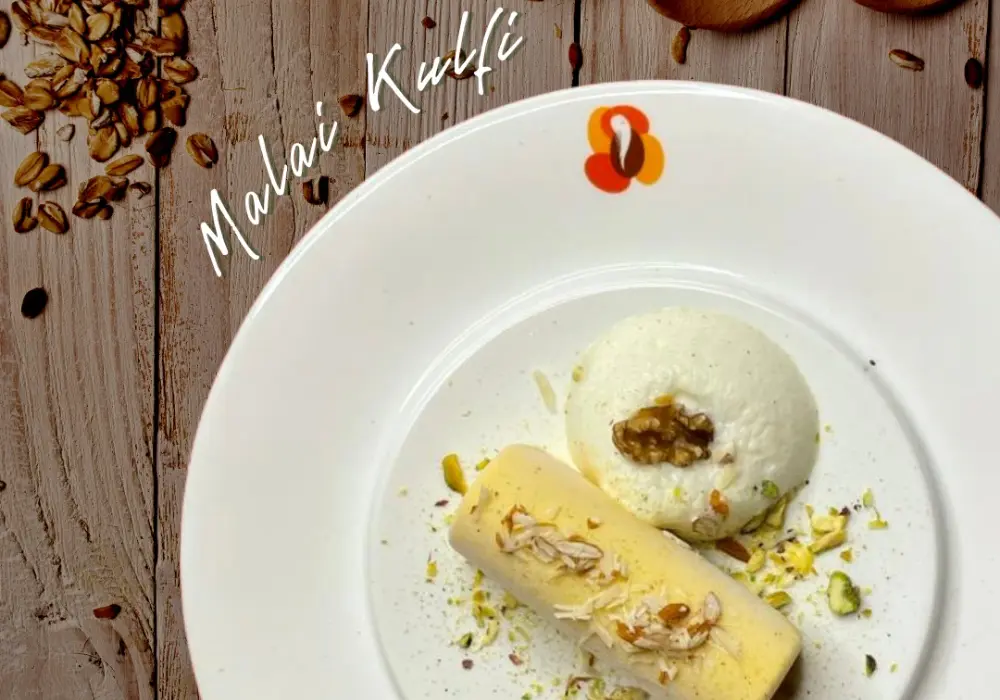 Type: Fine Dining Restro-Bar
Location: 140 Robinson Rd
Signature dishes:
The Kolkata Fish Fry: This is a classic dish with historical roots dating back to the British rule in India when Kolkata was the country's capital. This mouthwatering delicacy features crispy, crumb-coated fish, typically made with the sweetwater fish Barramundi, known locally as Bhetki. It's a beloved dish that combines a crunchy exterior with tender, flavorful fish on the inside, making it a delightful and iconic treat.
Malai Kulfi: Whether it's the Rajbhog or Gulkhand variety, this is a beloved frozen dessert hailing from India. Made with rich milk cream and generously garnished with dry fruits, it offers a sweet and creamy indulgence that's perfect for satisfying your dessert cravings. The price is SGD 20.00, and it's a delightful treat to end your meal on a sweet note.
Adda
Adda is a lively restaurant that captures the essence of Indian street food culture. Found in the heart of the city, it's a popular choice for those looking to enjoy a variety of Indian snacks and beverages in a vibrant and social environment.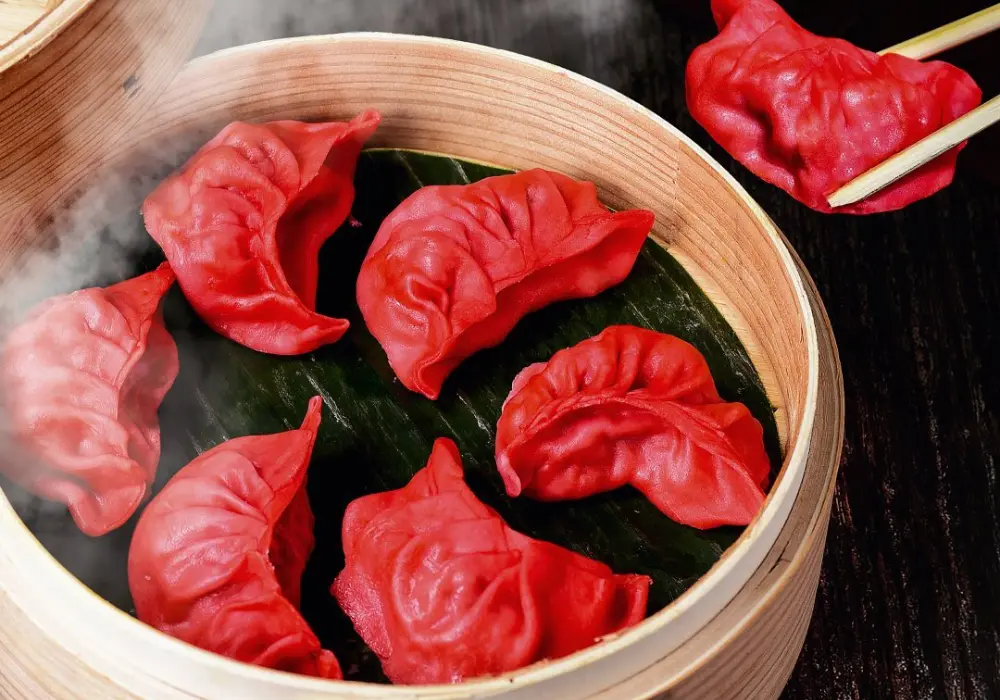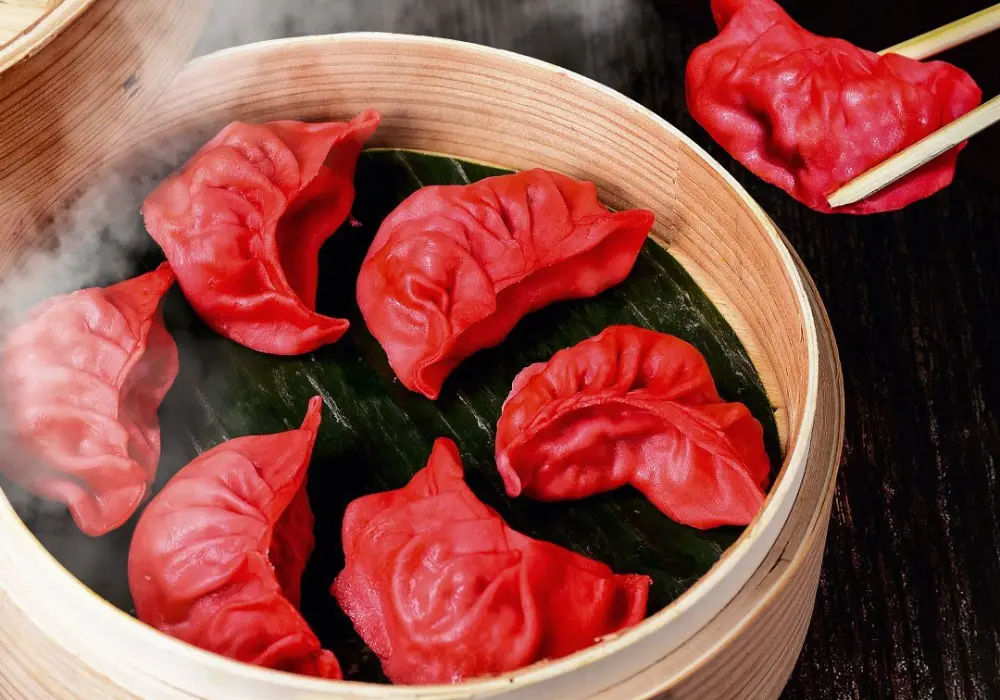 Type: Modern Indian restaurant
Location: The Plaza
Signature dishes:
ADDA Fried Chicken: Pamper your tastebuds with A.F.C (ADDA Fried Chicken) for $22. This chef's special fried chicken is served with a curry leaf-infused mayonnaise, offering a unique and delicious twist on classic fried chicken.
Kolkata Momos: Available in both vegetarian and non-vegetarian options, try these momos. The Vegetarian version is priced at $18 and features assorted vegetables spiced with a hint of ginger, encased in a traditional momo casing. They are steamed to perfection and served with Indo-XO sauce, offering a delightful twist on dumplings.
The Non-Vegetarian version, priced at $20, includes minced chicken flavored with green onion, pickled garlic, and soy, all enclosed in a traditional momo casing. These dumplings are also steamed to perfection and served with Indo-XO sauce, providing a flavorful and satisfying take on the subcontinent's dumpling tradition.
Final Words:
So, there you have it, folks! Singapore's vibrant Indian restaurant scene offers a spicy, savory, and satisfying adventure for your taste buds. From biryanis to butter chicken, these best Indian restaurants in Singapore serve up a delicious taste of India right here in Singapore.
Grab your friends, embrace the spices, and let the culinary journey begin!