The Best High Tea Places In Singapore – Tea Treasures
Hello, High tea lovers! If you adore high tea like I do, get ready for a tasty adventure in Singapore. Come with me as we discover the best places for high tea in this city. You'll treat your taste buds to a delightful mix of flavors and teas.
Prepare to enjoy the classy delight of high tea as we find the best high tea places in Singapore. These places are a dream come true for tea lovers, with yummy pastries and the best teas. Let's brew the perfect cup and start this high tea journey! ☕🍰🥪
Top 10 High Tea In Singapore
Craving a calm afternoon with delicious snacks and tea? You're in luck! We've checked out Singapore's high tea spots and found 10 fancy places for your perfect high tea.
Let's start exploring these magical places for an unforgettable food adventure!
Ginger.Lily
Arteastiq
Royal Palm Meat & Dine
Colony
ATLAS
National Kitchen by Violet Oon
The Marmalade Pantry
The Landing Point
ANTI:DOTE
Angelina
Longing for a serene afternoon tea? Let's relish the flavors and stories behind these top high tea places in Singapore.
Ginger.Lily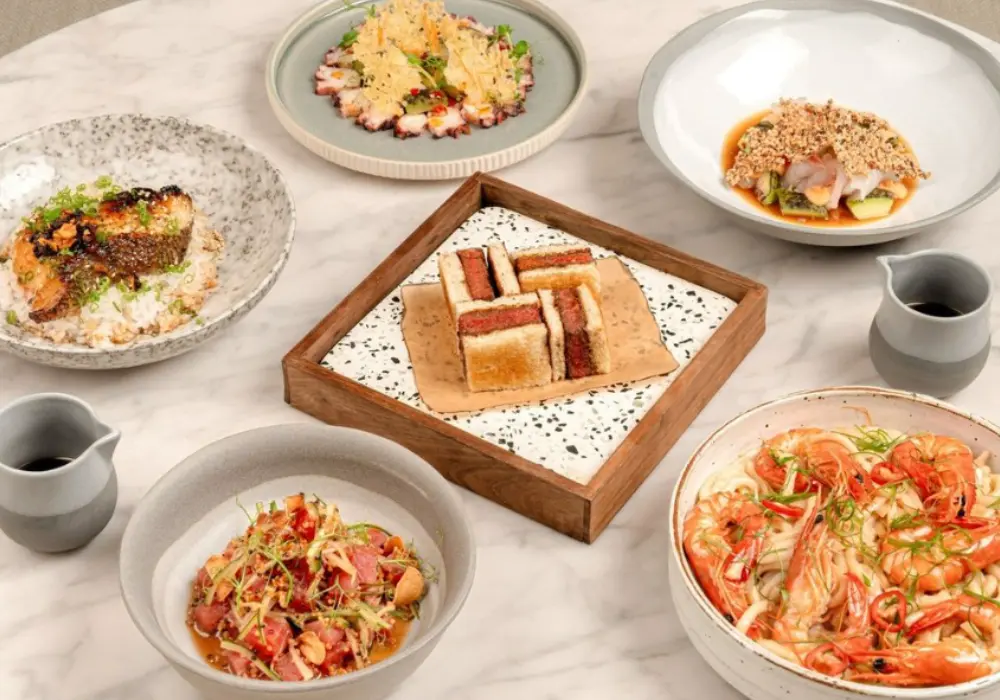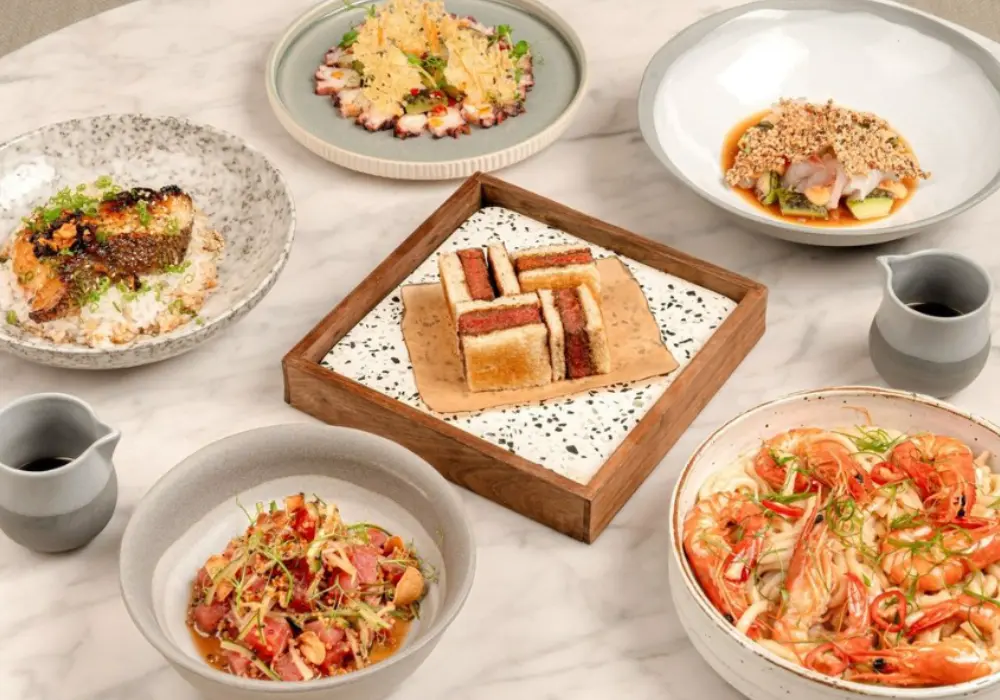 A cozy lounge perfect for a relaxing afternoon tea experience, offering the best high tea in Singapore.
High Tea:
What a fantastic high tea experience! I enjoyed a variety of delectable dishes, including Nikkei-style salmon, sando with Kurobuta pork, and delightful Nikkei nigiri.
The scones were perfectly sweet, and the Japanese-inspired sweets were a dream, featuring Matcha & Sudachi, Japanese Mango Cheesecake, and more.
The tea selection was extensive, offering a range of flavors, from oolong to herbal options. The whole experience was a journey through delicious flavors, leaving me thoroughly content and satisfied. It was a perfect afternoon escape.
Google ratings: 4.8
Location: 333 Orchard Rd, Level 5, Singapore 238867
Time:

First seating: 1pm-3pm
Second seating: 3.30pm-5.30pm

Price:

$68 ++ Per Person (Food Only)
$88 ++ With A Glass of Champagne
Arteastiq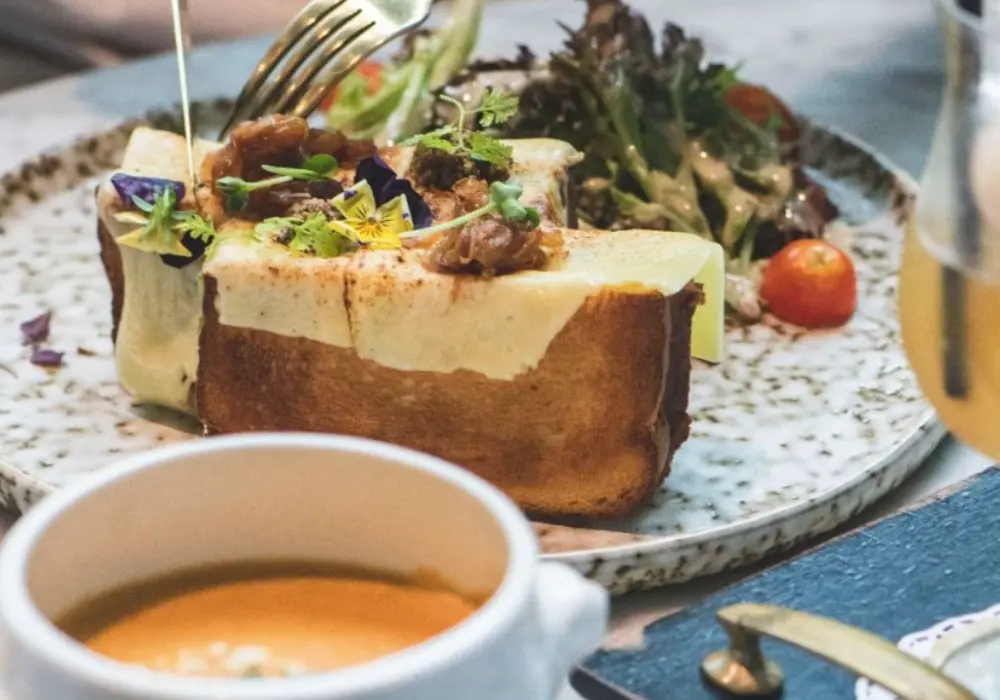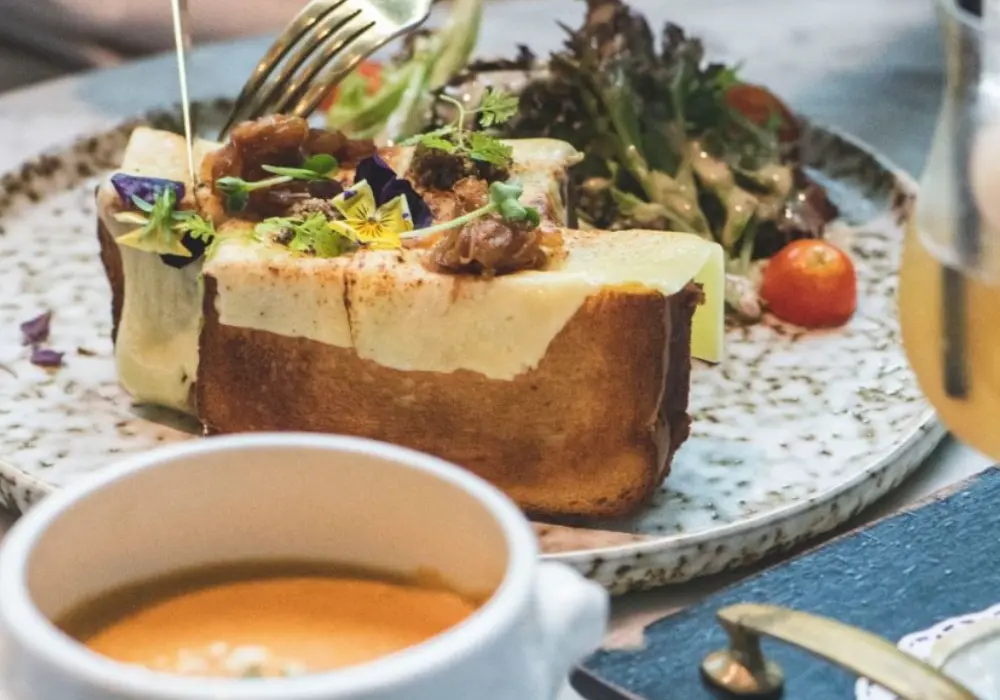 This is an artsy and inviting spot where you can enjoy a delightful high tea, making it one of the best high tea places in Singapore.
High Tea:
This high tea experience was a delightful journey through a range of unexpected flavor combinations and beautifully presented dishes. It started with the refreshing Soursop Sorbet and the surprising Seasonal Fresh Oyster, offering a tropical twist.
The Truffle Croque Monsieur brought a touch of luxury, while the Smoked Snow Fish Jelly was a gem of flavors and textures.
Moving on, the Mezzi Paccheri pasta was a rich and creamy indulgence, followed by the visually stunning Crispy Netted Rice Paper, a delightful mix of sweet and salty notes.
For dessert, the Bird Nest De Marrons was a showstopper, both visually and in taste. Traditional Japanese sweets provided a gentle finish to the culinary journey.
In conclusion, this high tea was an extraordinary experience that left me content and amazed at the culinary creativity on display, making it an unforgettable and indulgent afternoon.
Google ratings: 4.7
Location: 333A Orchard Rd, #04-14/15 Mandarin Gallery, Singapore 238897
Timing: 1 – 5pm daily
Price:
Royal Palm Meat & Dine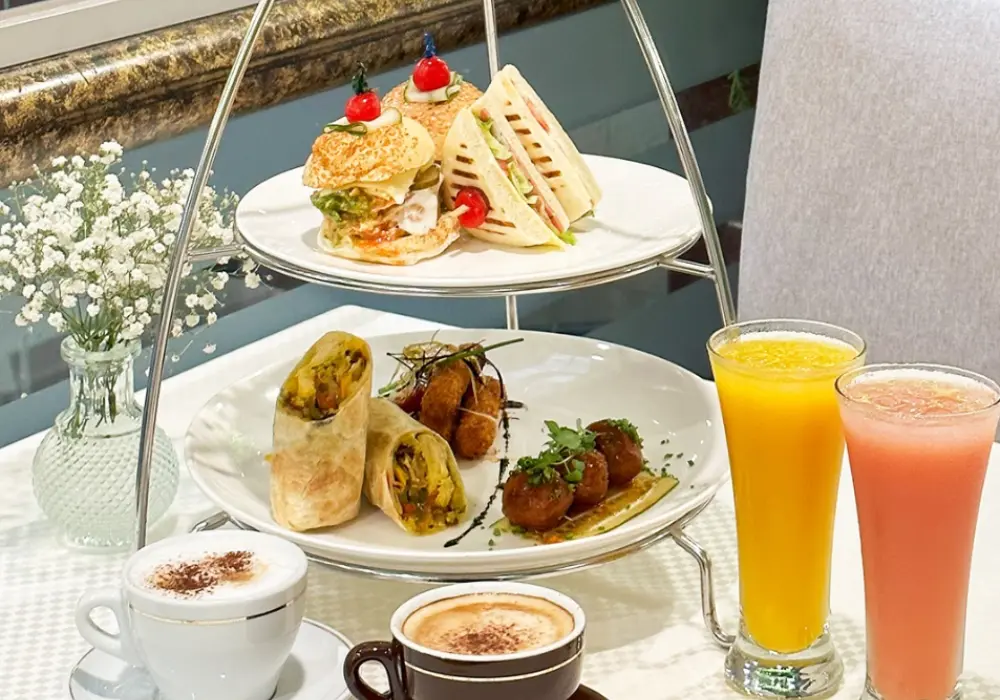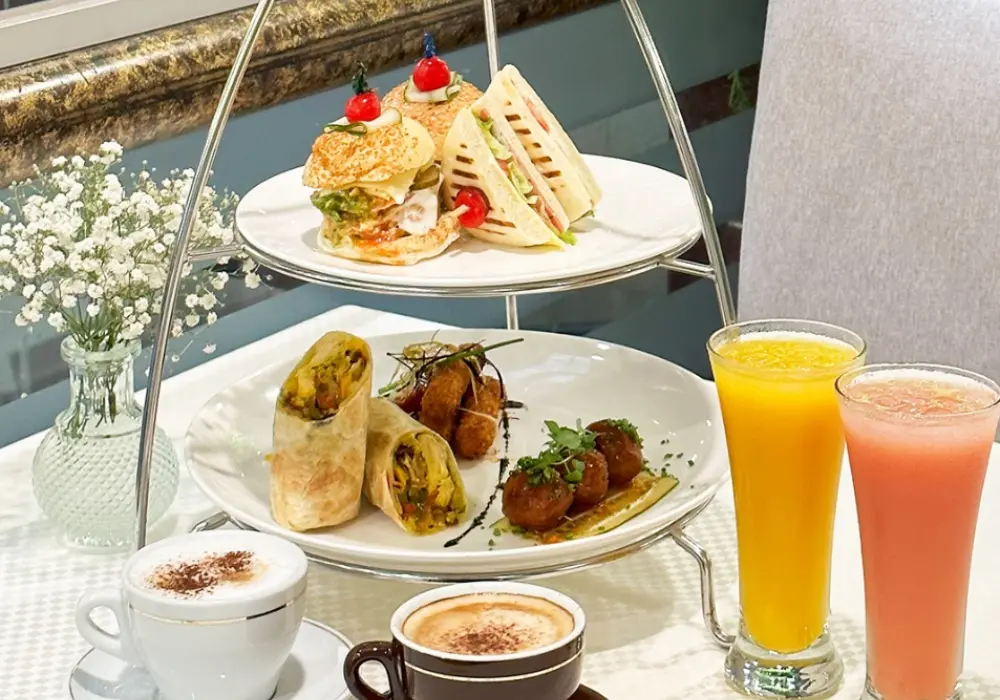 A Halal restaurant where you can savor a unique high tea experience with a variety of meat-based dishes.
High Tea:
The high tea experience featured a lavish seafood display with boiled prawns, crab clusters, mussels, and clams, accompanied by luxurious oven-baked oysters and half scallops.
The free-flow high tea menu offered a delightful mix of Western and Asian dishes, including a juicy Wagyu beef burger, a classic turkey ham and cheese sandwich, crunchy chicken fajitas, and exotic Asian beef bites.
Cold appetizers comprised sushi, a cheese platter, and olives, each offering a blend of textures and flavors.
The dessert selection was a sweet paradise, featuring carrot cake, mousse cake, red velvet cake, and onde onde cake, along with assorted macarons and pastries for a delightful variety.
An array of beverages included mineral water, coffee, tea, and various juices.
In a personal experience, this high tea was a culinary journey brimming with diverse flavors and textures, leaving me content and delighted. It was a truly memorable and satisfying experience.
Google ratings: 4.7
Location: 390 Victoria St, #03-12A, Singapore 188061
Timing:

First Session: 12pm – 2pm
Second Session: 2.30pm – 4.30pm

Price:

1-For-1 Hi Tea (Mon – Thurs): Adult $75.50++ ($89.69 Nett for 2pax)
1-For-1 Hi Tea (Fri – Sun & PH): Adult $84.95++ ($100.92 Nett for 2pax)
Colony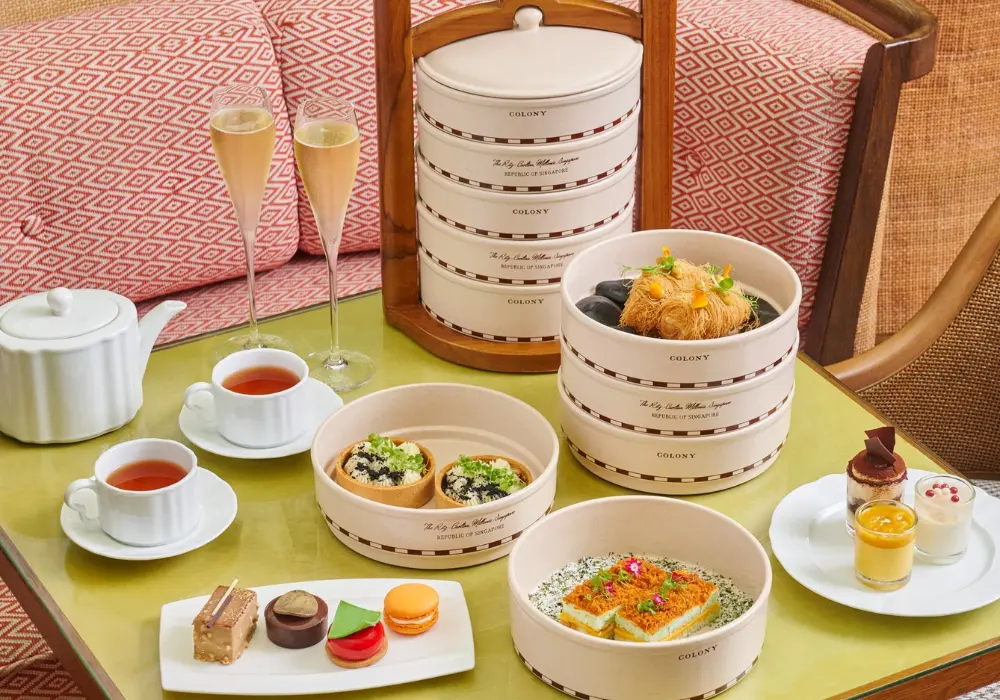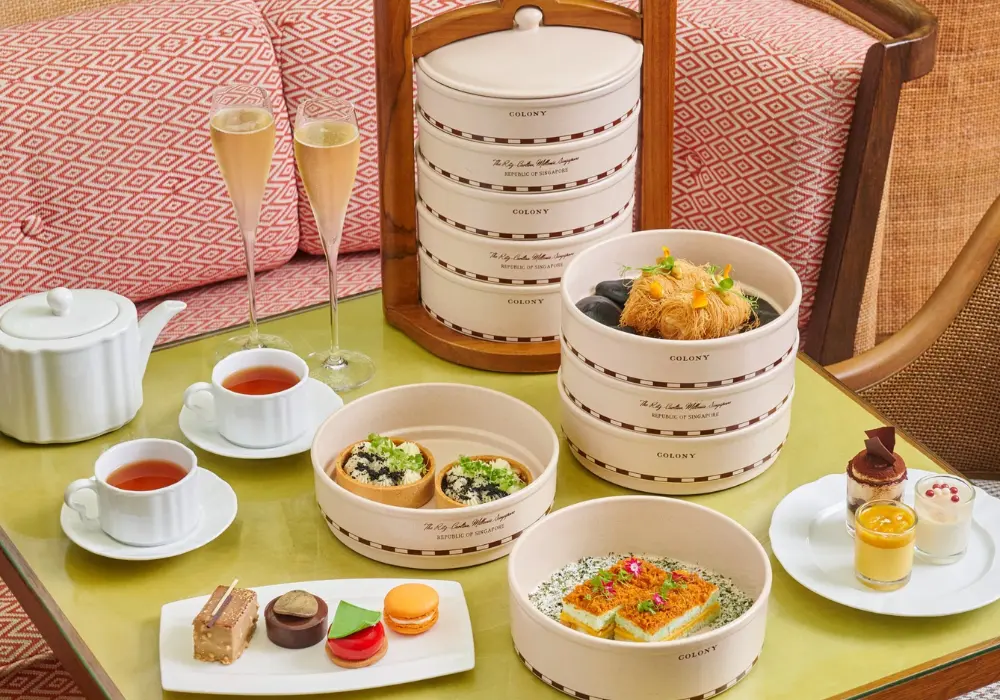 An upscale hotel eatery known for its airy ambiance and extensive buffet offering a diverse range of global dishes for high tea.
High Tea:
Highlights included the luxurious Oscietra Caviar with Crabmeat and Green Apple Gel, the balanced Unagi Kabayaki Bun, and the rich Duck Rillettes Tart with Foie Gras Mousse.
The dessert section offered a paradise for those with a sweet tooth, with unlimited servings of assorted scones, miniatures, chocolates, cookies, candy, and a variety of ice cream and sorbet.
The À La Minute section provided a warm crêpe with strawberry compôte, vanilla chantilly, chocolate sauce, and crumble, accompanied by a choice of ice cream.
To complement the meal, a selection of specialty teas from Tea Bone Zen Mind added a unique touch to the dining experience, from spicy tropical flavors to caffeine-free elegance.
Google ratings: 4.6
Location: 7 Raffles Ave., Singapore 039799
Timing:

Mon – Sat: 3.30pm – 5.30pm

Price: SGD 65 per person
Atlas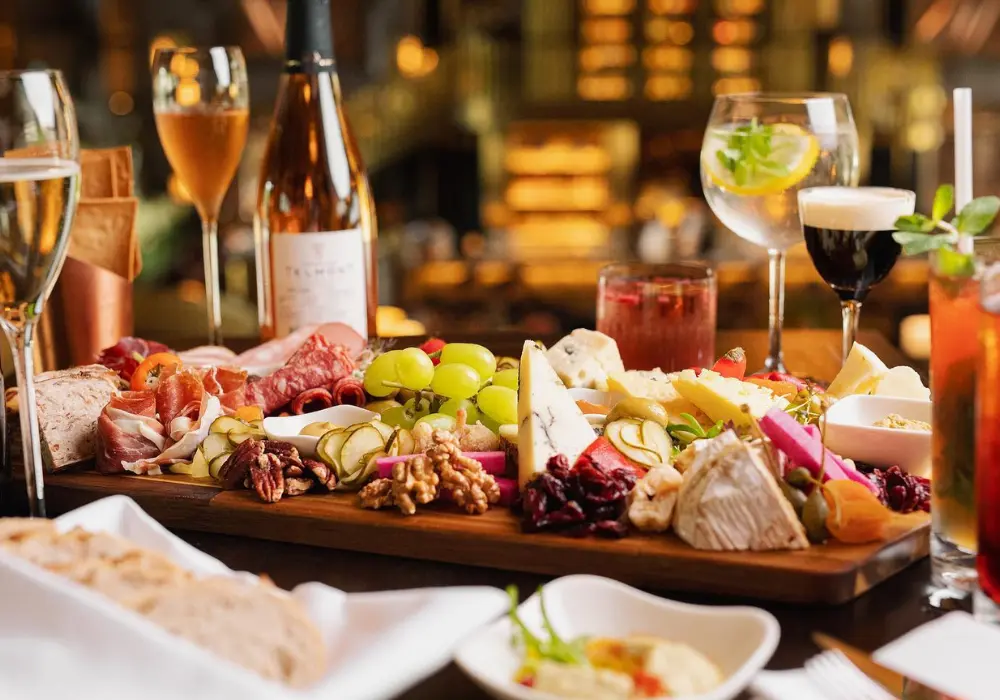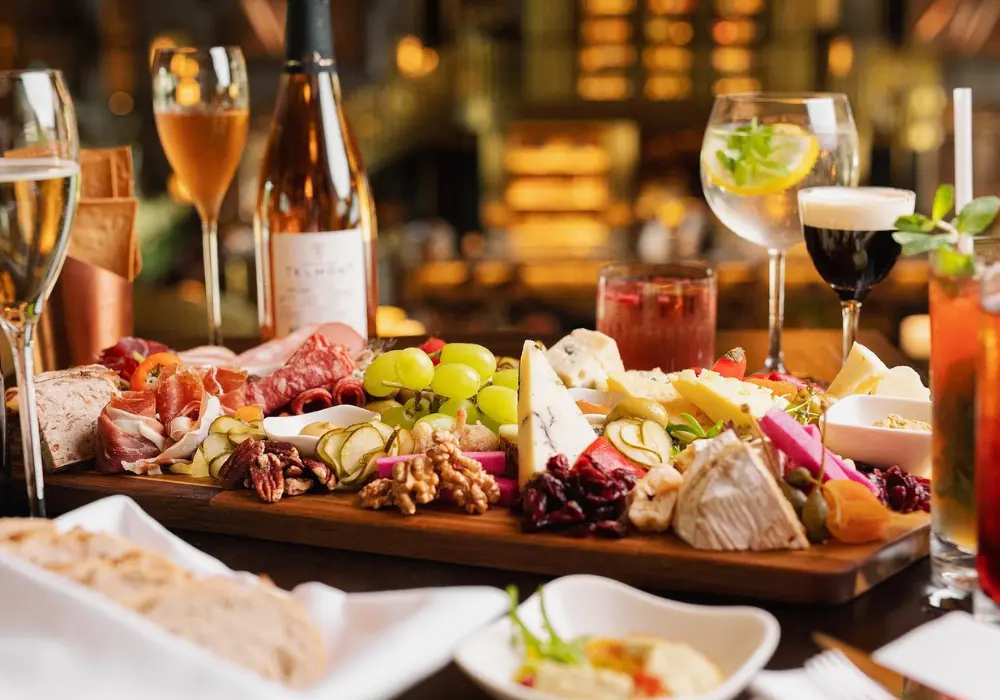 A luxurious 1920s-inspired cocktail bar that also serves European cuisine and afternoon tea amidst elegant art deco decor.
High Tea:
The savory dishes were a great start. I loved the truffled egg on brioche and the aubergine on crystal bread, which had a Mediterranean taste. The classic smoked salmon on pumpernickel was also enjoyable.
Moving to the sweets, I relished the comforting scones with jam and clotted cream. The popcorn custard ball was a fun surprise. I equally enjoyed the creamy banana almond éclair and the crunchy pistachio cannoli.
The highlight was the tea selection. The ATLAS Art Deco Blend, crafted for this experience, was impressive. The Regal Earl Grey and Royal English Breakfast teas were delightful too.
The white teas, like Muscat White and Pai Mu Dan, offered delicate and complex flavors. Green teas like Hojicha and Kukicha had a toasty, nutty taste I liked.
The oolong teas, such as Jin Xuan and Osmanthus Oolong, had floral and creamy aromas. The Peach Green Oolong and Milk Oolong added fruity and milky notes.
In my experience, this high tea was a journey of diverse flavors with a perfect balance of savory and sweet. The tea selection added a layer of sophistication, making it a memorable and satisfying experience for all my senses.
Google ratings: 4.5
Location: Ground floor, 600 North Bridge Rd, Parkview Square, 188778
Timing:
Price:
See Also: Best Cafes In Singapore
National Kitchen by Violet Oon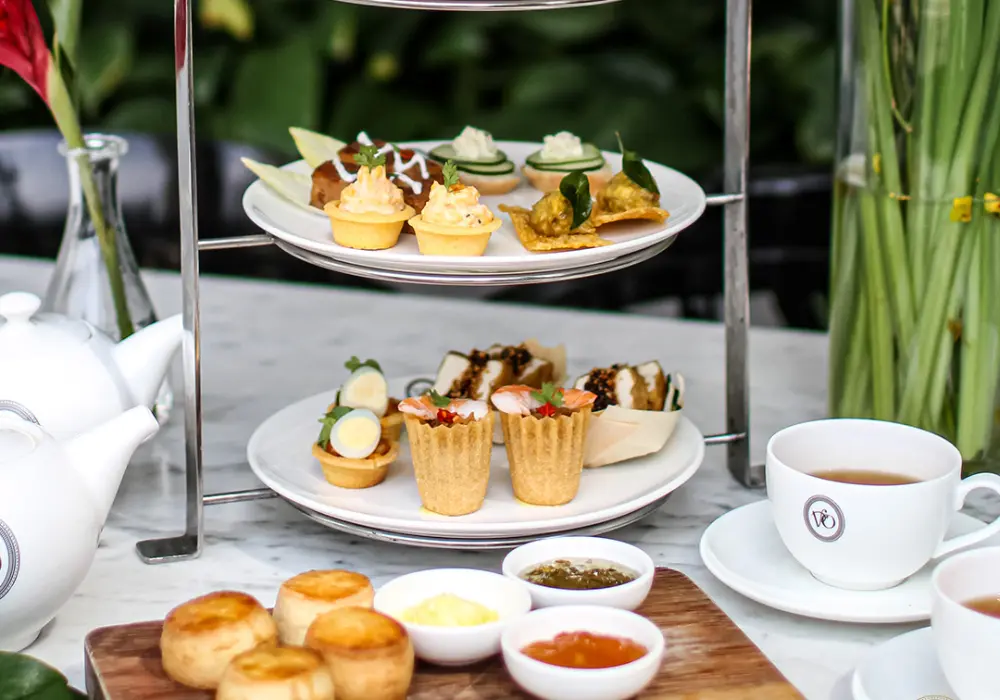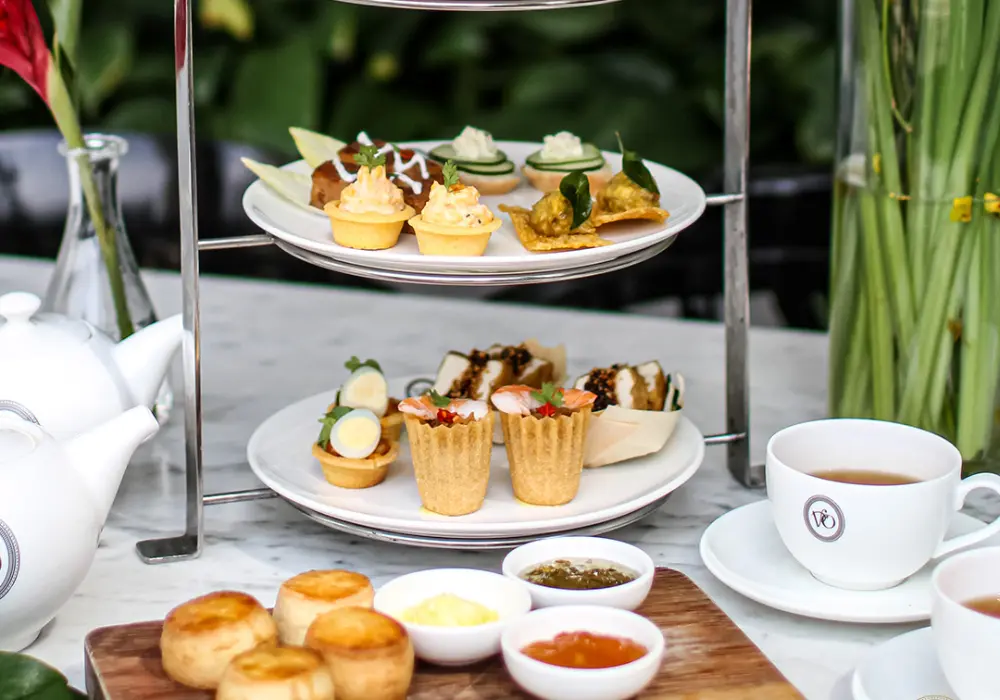 This Nyonya restaurant offers a distinctive high tea experience with its unique flavors and dishes.
High Tea:
The Coronation Chicken on Crispy Wonton Skin was a tasty treat. It had diced chicken in a mild, creamy, curry-flavored mayo with raisins on a crispy wonton leaf. The mix of flavors and textures made it really enjoyable.
The Chilli Crab Tartlet with a quail egg was a real standout. It was a cheese tartlet filled with spicy chili crab and topped with a tiny quail egg. It was both creamy and spicy in every bite.
If you like noodles, the Dry Laksa was a delight. It had fresh rice noodles covered in Violet's special laksa sauce, with prawns, tau pok (tofu puffs), and bean sprouts on top. It was a mix of flavors and textures that tasted great.
The Coconut Pineapple Tart was a classic and comforting dessert. It had grated coconut and pineapple jam in a buttery tart.
The Chendol Pudding was a sweet tropical ending. It had chendol, red beans, and gula Melaka on a coconut pudding.
Finally, the Valrhona Chocolate Flourless Cake was a rich and moist dark chocolate cake that was perfect for chocolate lovers.
Google ratings: 4.5
Location: 1 St Andrew's Rd, #02–01 National Gallery, Singapore 178957
Timing:
Price: $59++ (serves 2)
The Marmalade Pantry (Downtown)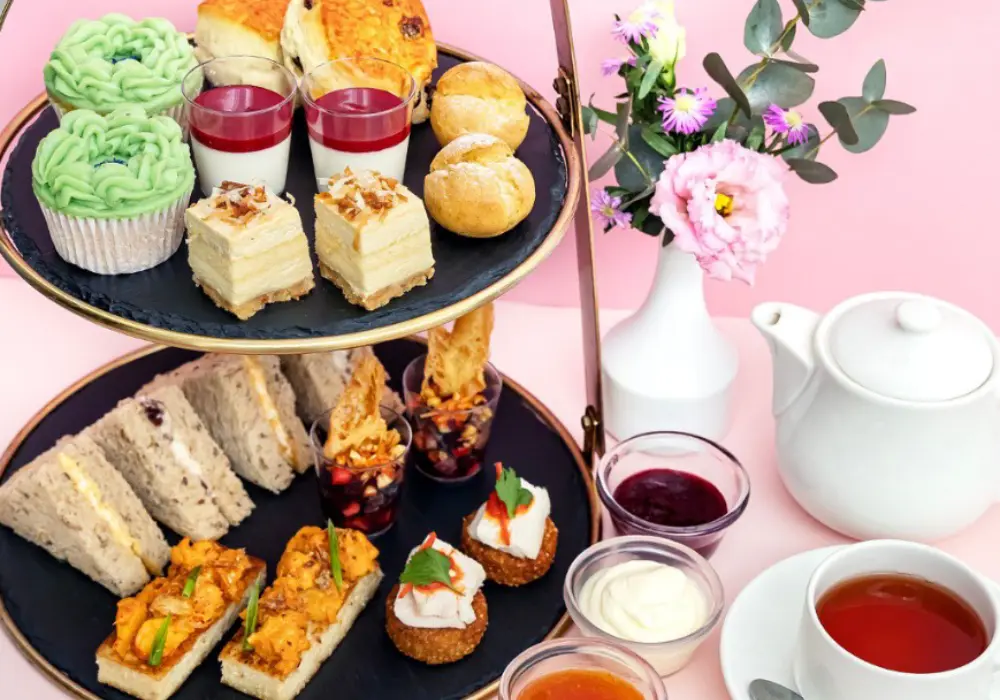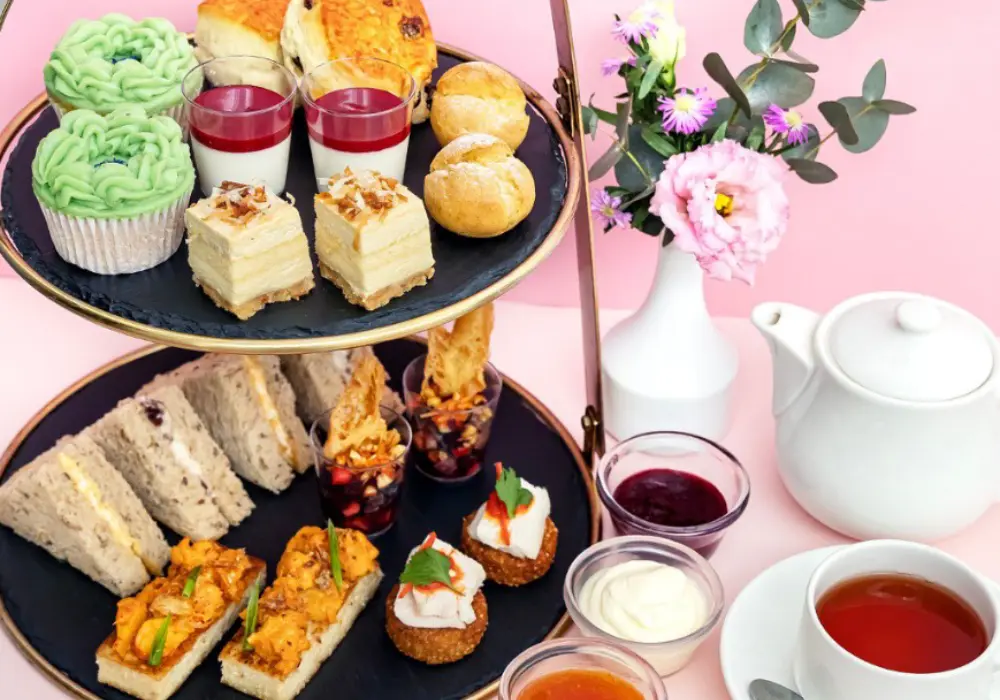 Located in the heart of downtown Singapore, this is a chic and inviting place to enjoy a delightful high tea experience.
High Tea:
In my personal experience, this high tea was a delightful journey. The savory selections, like Prosciutto with Cantaloupe Shooter and Chicken Stroganoff Pie, were both comforting and flavorful.
The sweet treats, such as the Pecan Earl Grey Tart and Chocolate Praline, offered a mix of unique and familiar flavors.
The Plain and Raisin Buttermilk Scones, served with clotted cream, homemade Berry Jam, and Ginger Yuzu Marmalade, were a classic touch that added a sense of coziness.
The Artisan Tea, with two pots of tea by Monogram, brought a touch of sophistication to the experience. Each tea had its own special aroma, enhancing the overall enjoyment.
Overall, this high tea was a delightful and satisfying experience, with a mix of both familiar and new flavors to enjoy.
Google ratings: 4.5
Location: 100 Peck Seah St, #01-01 Oasia Hotel Downtown, Singapore 079333
Timing: 3pm – 6pm daily
Price: $78 for two persons
The Landing Point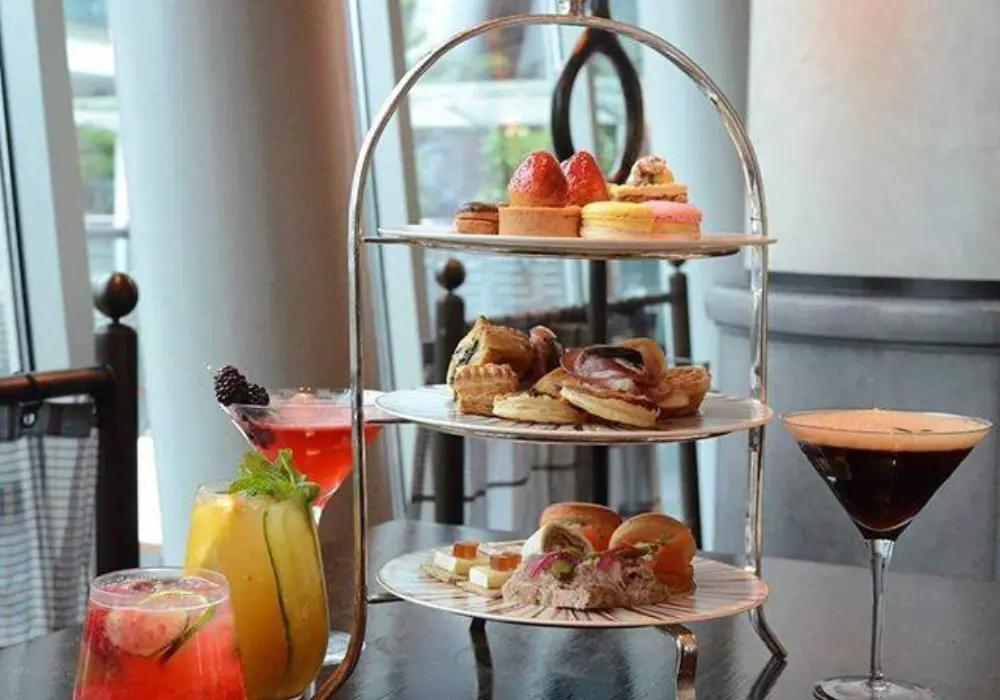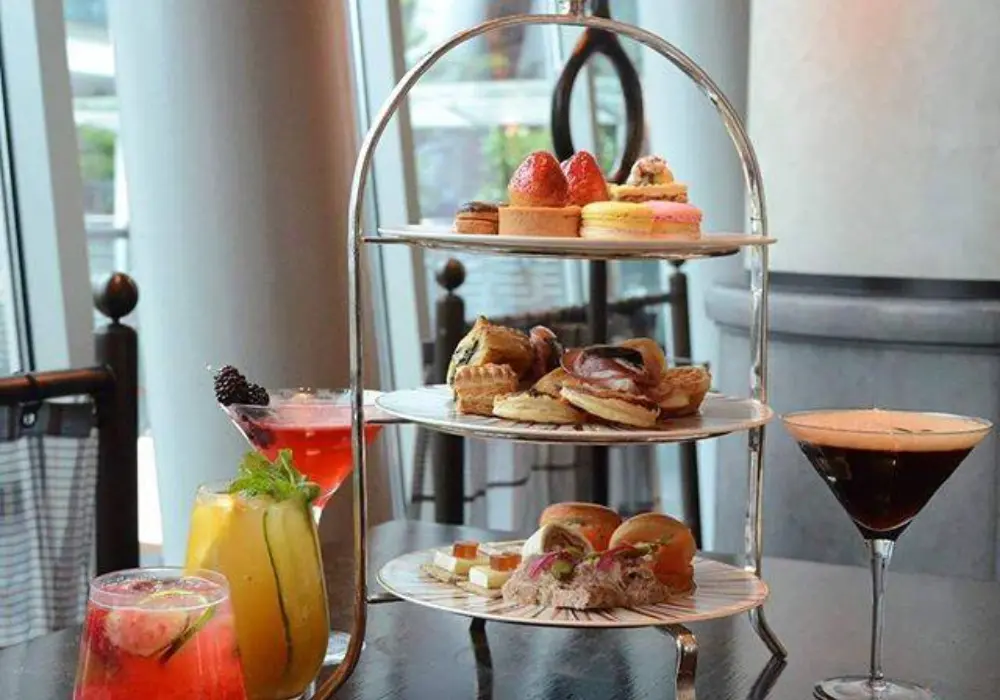 A stylish bar situated at 80 Collyer Quay in Singapore, known for its high tea offerings in a captivating setting.
High Tea:
The savory options included delicious seafood like Marinated Boston Lobster and Smoked Salmon with Caviar. Duck Rillettes and Prosciutto with other tasty bites gave a perfect mix of flavors. Classic and modern sandwiches catered to different tastes.
For sweets, there was a burst of creativity and flavors, from Lychee Rose to Kopi & PB Toast. Traditional scones added a comforting touch. The tea selection, with green tea and Chocolate Earl Grey, added to the experience.
In my experience, this high tea was a culinary journey through diverse savory and sweet flavors, elevated by the sophisticated tea selection. It was a memorable and satisfying experience for my palate.
Google ratings: 4.3
Timing:

Mon – Thurs: 3pm – 5.30pm
Fri: 3pm – 5.30pm
Sat – Sun & PH: First seating: 12pm – 2.30pm; Second seating: 3.30pm – 6pm

Price:

Mon – Thurs: 62/adult; 31/child (6-11 yrs old)
Fri: 68/adult; 34/child (6-11 yrs old)
Sat – Sun & PH: 68/adult; 34/child (6-11 yrs old)

Location: 80 Collyer Quay, Singapore 049326
ANTI:DOTE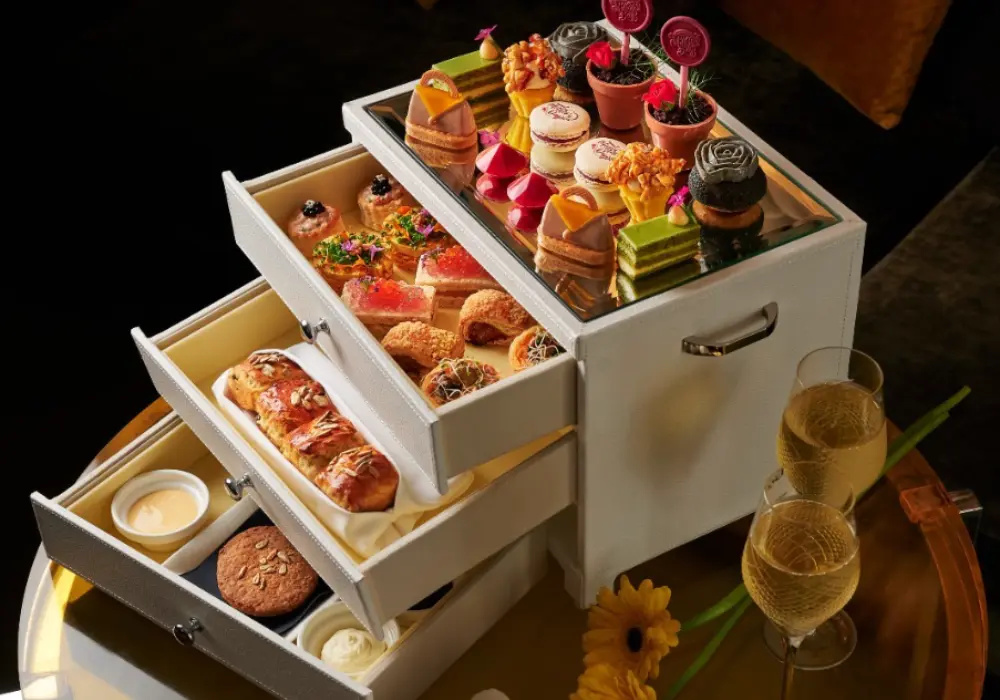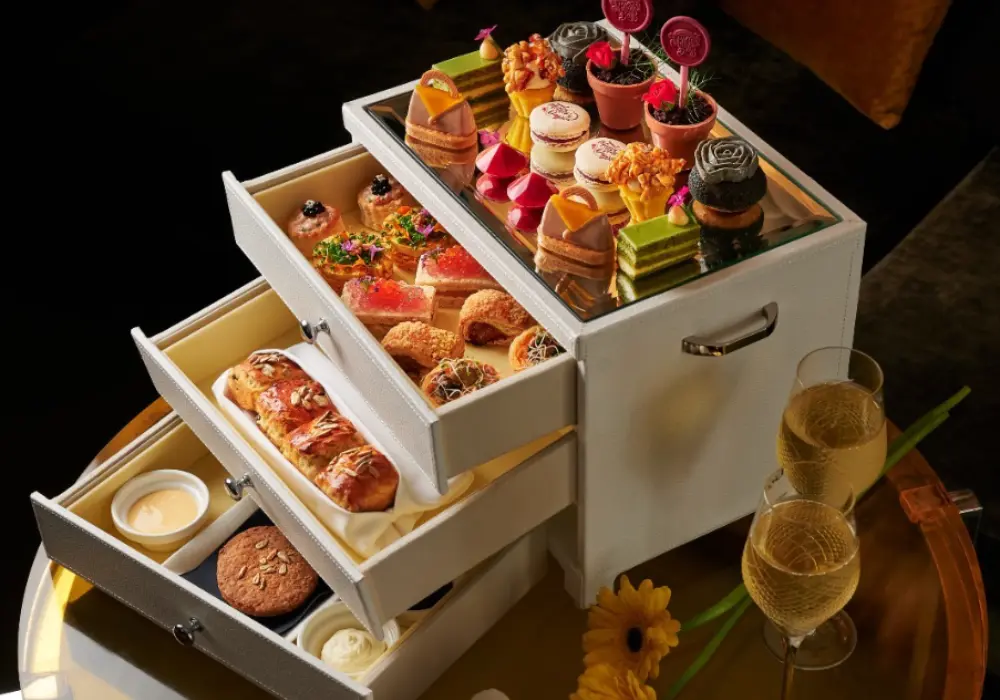 A sophisticated hotel bar where you can savor contemporary cocktails, global tapas, and a high tea with delectable pastries.
High Tea:
The amuse bouche offered unique flavors, with options like Cured Scallop with White Ponzu and BBQ Carrot with Candied Orange Gel.
The standout sandwiches included Poached Boston Lobster on Saffron Brioche and Pork Pie with Cauliflower Piccalilli. Sweets featured a burst of tropical flavors, especially the Ivory Chocolate with Guava Mango Passion Fruit Coulis.
The tea selection was fragrant and diverse, with choices like "Holiday in Paris" and "The Bellini." Overall, this high tea was a memorable culinary journey through various flavors and aromas.
Google ratings: 4.2
Location: 80 Bras Basah Rd, Level 1 Fairmont, Singapore 189560
Timing:

Mon – Fri: 3pm – 5pm
Sat & Sun: 12pm – 2pm; 3pm to 5pm

Price: 85 per person with two Amuse Bouche; 75 per person with one Amuse Bouche
Angelina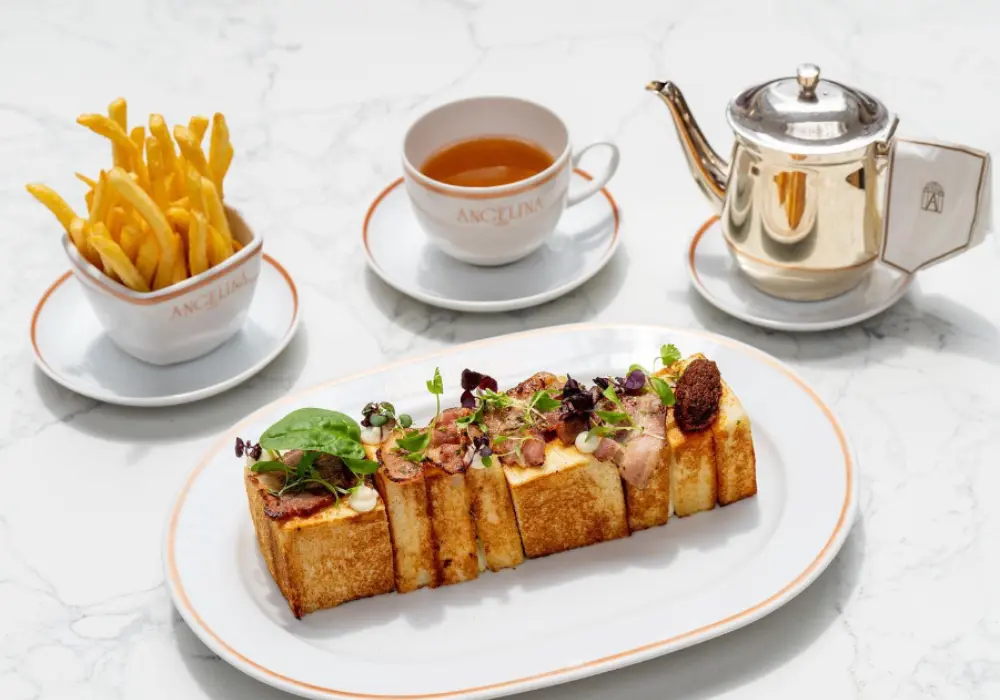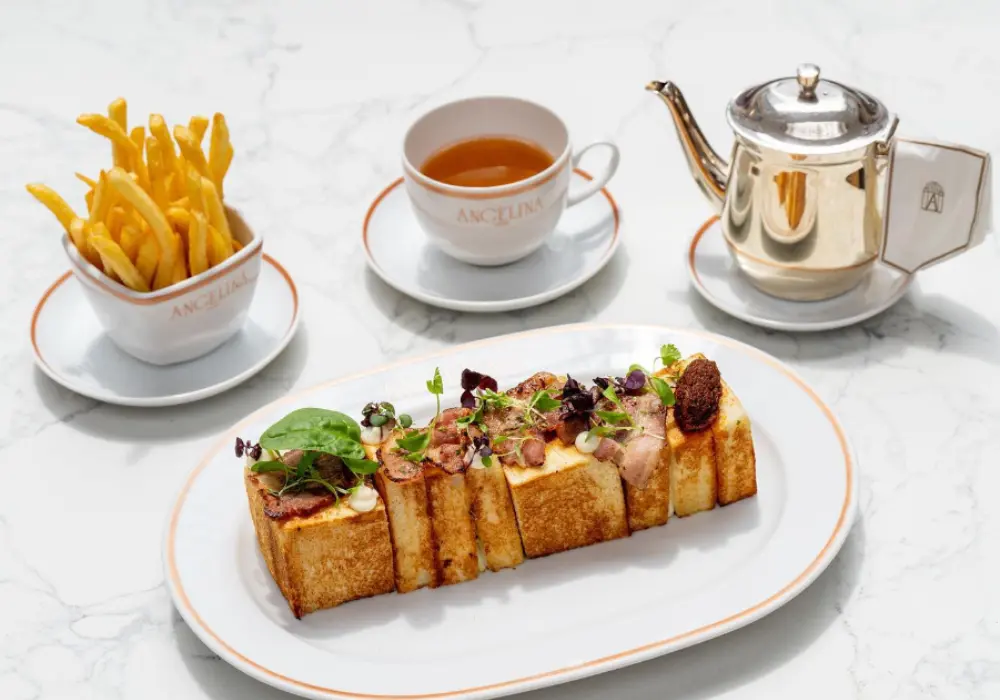 This patisserie offers a classic and refined high tea experience, known for its exquisite pastries and treats.
High Tea:
The sweets were a delight, with tasty treats like Chef's Macaron, Mini Mont-Blanc, Mini Lemon Tart, and Mini Fresh Chocolate.
On the savory side, the Signature Alaska Crab Cake stood out, and the Fruity Cheese on crackers with sun-dried cranberries was a tasty contrast. The Classic French Rillettes and Smoked Salmon Flower were savory pleasures.
The Top Refresh Veggie was a fresh and crispy surprise.
You could choose tea, coffee, or other beverages to accompany the spread.
In my experience, this high tea offered a mix of sweet and savory delights, with a range of beverage choices to match.
Google ratings: 4.1
Location: 2 Bayfront Ave, #B2 – 89 89A, Singapore 018972
Timing: Daily 2pm – 4.30
Price: $ 86.00 for 2 pax
Final Words
In our search for the best high tea places in Singapore, this experience was a tasty adventure of different flavors and textures. We got to enjoy a variety of sweets and savories, and the beverage options made it a full and tasty meal.
Overall, it was a memorable and fulfilling experience, and I'd definitely suggest it for a delightful afternoon treat.