The Best Doughnuts Shops In Singapore – Doughnut Delights
Hello, doughnut lovers! If you enjoy delicious, doughy treats as much as I do, get ready for a fun adventure in Singapore. Let's explore the best places in the city for doughnut enthusiasts like us. We're about to enjoy a wide range of tasty doughnuts and treats.
Let's dive into the delicious world of doughnuts as we go in search of the best doughnut shops in Singapore. These places are like sweet heavens for dessert fans, offering a tasty selection of doughnuts and pastries. Get ready to savor the perfect doughnut and start this delightful doughnut journey! 🍩🍭🍬
Top 11 Doughnut Shops In Singapore
If you're in the mood for some delicious doughnuts, you're in for a tasty treat! We've searched all around Singapore to find 10 amazing places for your doughnut cravings. Let's begin our journey to explore these wonderful spots for a memorable dessert adventure!
Puffs And Peaks Bakery
Doughter Bakery
Burnt Ends Bakery
Donatzu
Haritts Donuts & Coffee
The Fat Kid Bakery
Doughnut Shack
Dunkin' Donuts
Krispy Kreme
Sourbombe Bakery
City Donut
If you're really wanting a scrumptious doughnut, let's enjoy the yummy flavors and learn the stories of these best doughnut shops in Singapore.
Puffs And Peaks Bakery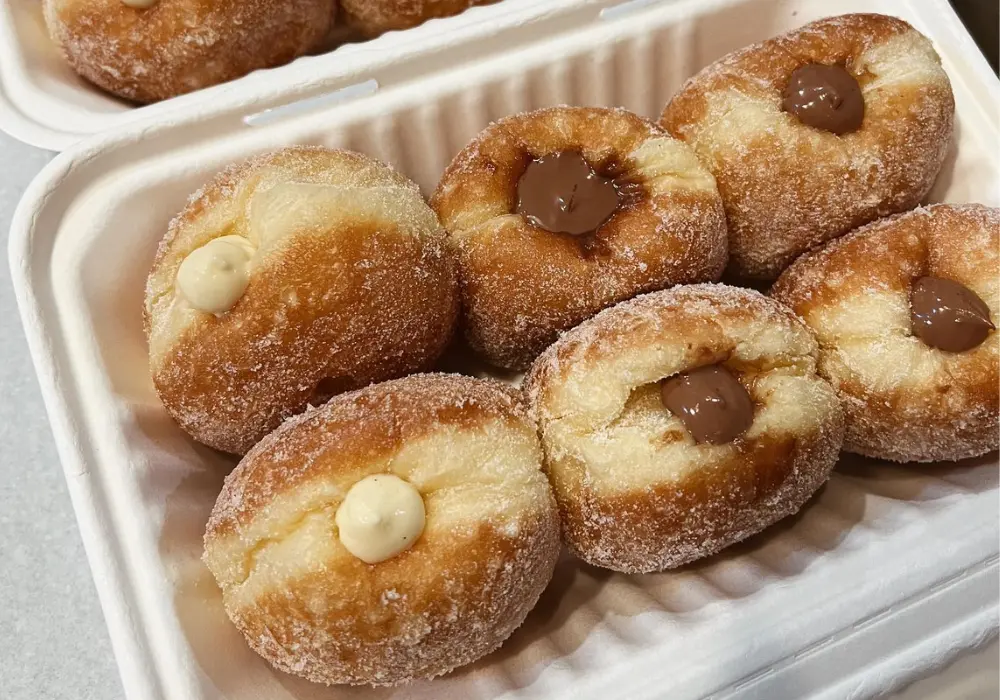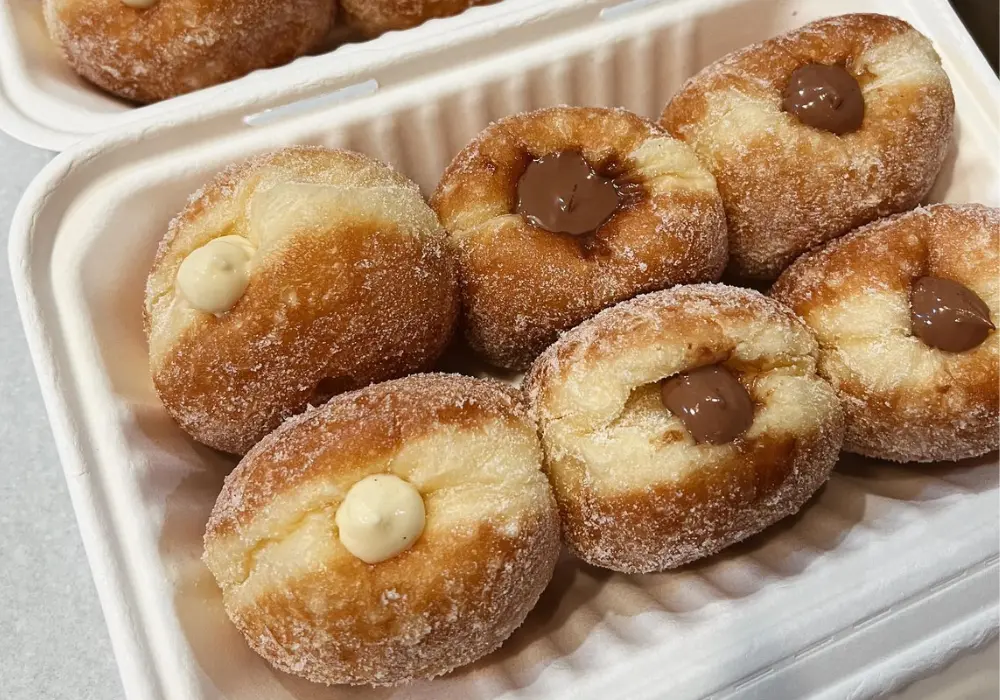 Puffs And Peaks is like my go-to doughnut haven. The selection is out of this world, and I can't resist their perfectly glazed treats. They've got a way of turning every visit into a delightful doughnut adventure.
Signature doughnuts
Donuts, Hazelnut Praline & Apple:
When I tried this donut, I felt like I was getting a warm, cozy hug in my mouth. It has sweet apple jam with a hint of cinnamon, and a nutty hazelnut praline filling that gives it a delightful crunch.
It's only S$4.20, so I think it's a great deal for something so tasty.
Donuts, Strawberries & Cream:
I absolutely loved this donut. It's filled with fresh strawberry jam and a fluffy cream that makes me feel like a kid again. It's sweet and tangy, and at S$4.20, I think it's a tasty and affordable treat.
Google ratings: 4.7
Location: 866A Tampines Street 83, #03-03 Central Community Complex, Singapore 521866
Doughter Bakery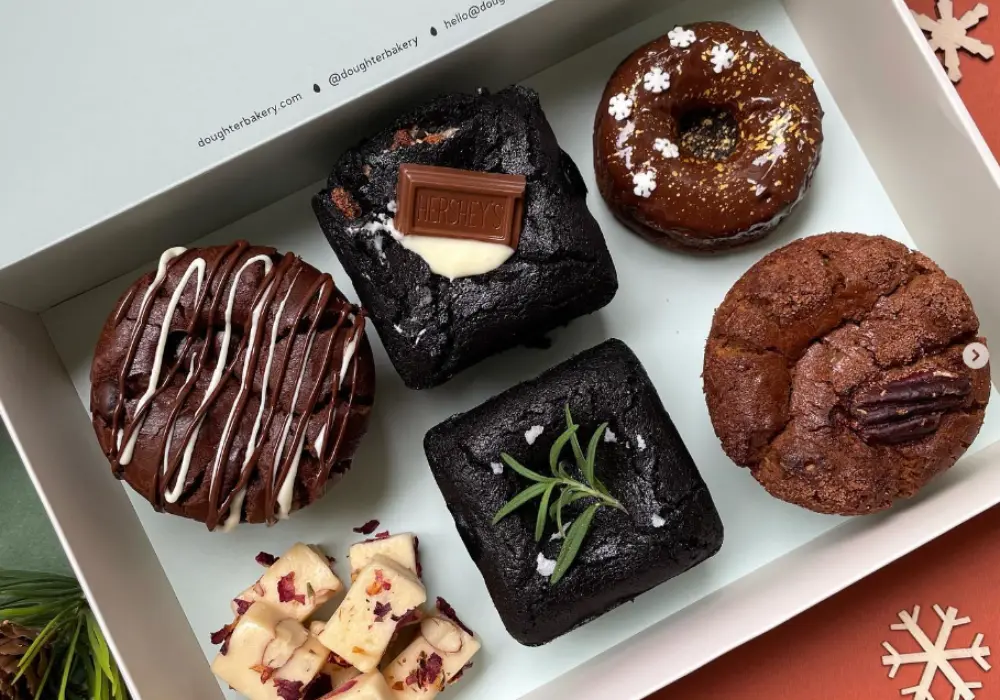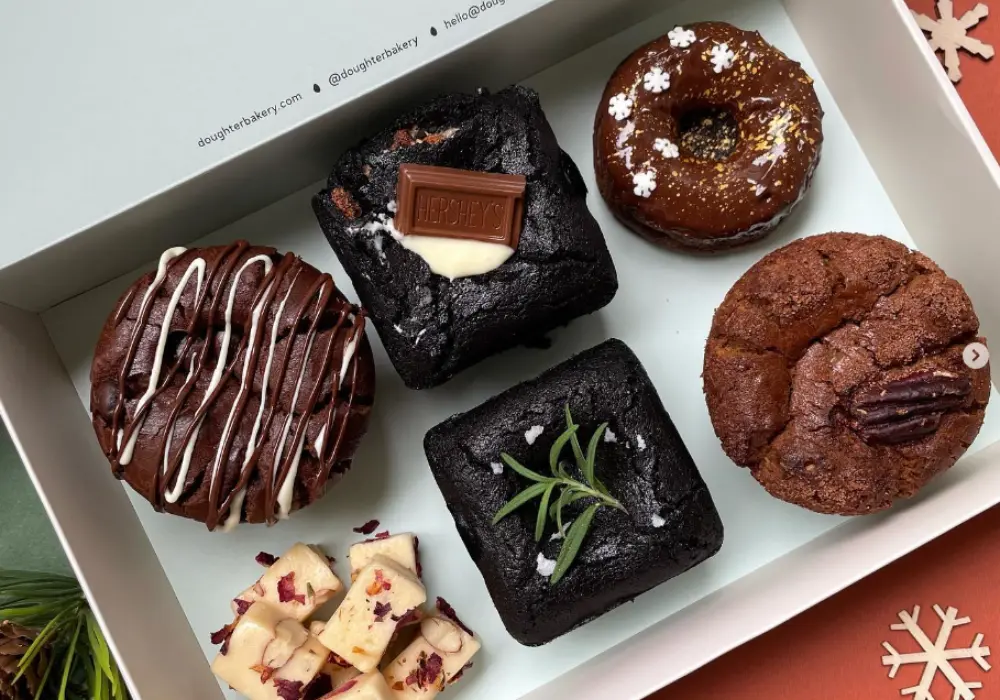 Doughter Bakery is my ultimate comfort doughnut spot. The moment I step inside, the aroma of freshly baked doughnuts wraps around me like a warm hug. Their classic flavors and friendly staff keep me coming back for more.
Signature doughnuts
Chocolate Mochi Donuts:
I recently tried these Chocolate Mochi Donuts, and they were a delightful treat. They're not your typical fried donuts; these are baked to perfection.
They come with a variety of delicious toppings like Caramel Crumble, Dried Flower Petals for a unique touch, and their best-seller, the Ferrero Rocher with real gold flakes!
One thing that sets these donuts apart is that they use the finest Belgian chocolate, which makes them incredibly rich and tasty.
However, it's important to note that they contain eggs and, although they're gluten-free, they're made in a kitchen that handles gluten products.
Some of the flavors also have nuts, so be cautious if you have nut allergies. These donuts are a chocolate lover's dream come true!
Google ratings: 4.7
Location: 127 Lor L Telok Kurau, Singapore 425562
Burnt Ends Bakery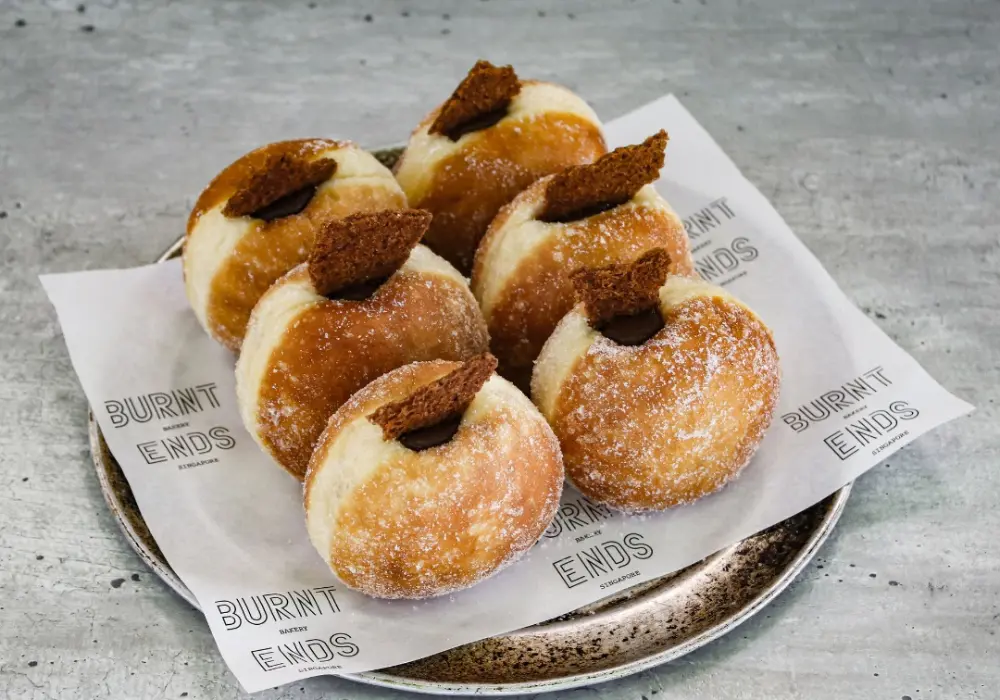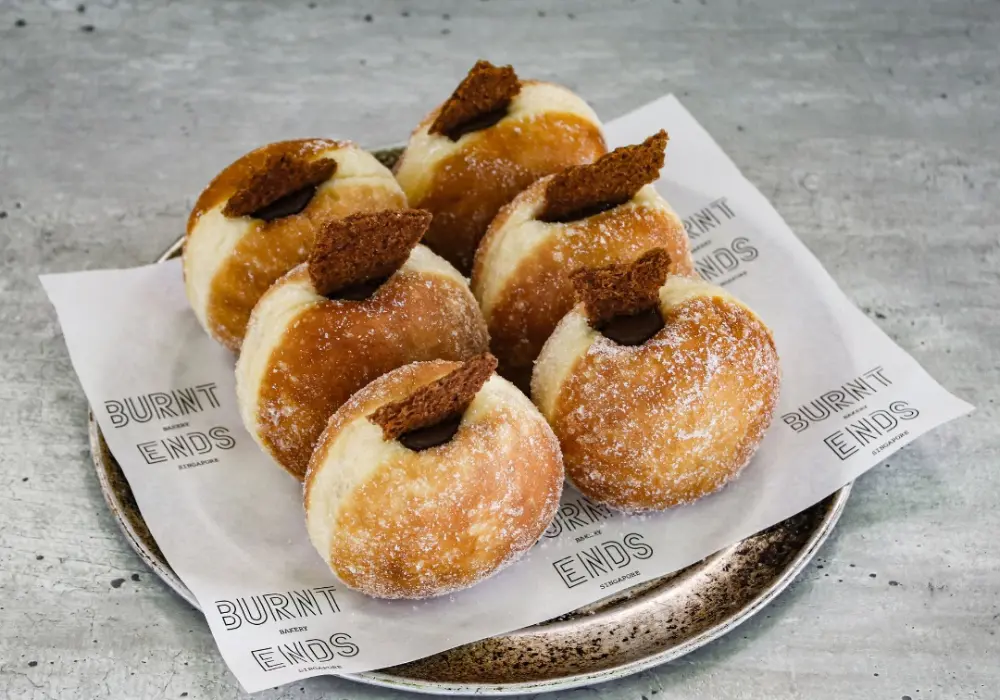 At Burnt Ends Bakery, the doughnuts are a little different, but that's what makes them special. It's a place where I can savor gourmet doughnuts that are crispy on the outside and soft on the inside, all while enjoying the trendy vibes.
Signature doughnuts
I had the chance to try two amazing doughnuts from Burnt Ends Bakery: the Passionfruit Curd Doughnuts and the Vanilla Cream Doughnuts. They were both priced at $30.00 each, and let me tell you, they were worth every penny!
Passionfruit Curd Doughnuts:
The Passionfruit Curd Doughnuts were a burst of tropical flavor. They had this tangy and sweet passionfruit curd inside that was like a burst of sunshine. The doughnut was soft, and the passionfruit curd was just the right amount of zesty and sweet.
Vanilla Cream Doughnuts:
Then, there were the Vanilla Cream Doughnuts. These were like a dream for anyone who loves vanilla. The cream inside was rich and velvety, with that classic vanilla taste that's so comforting. The doughnut itself was so soft and just melted in my mouth.
Google ratings: 4.6
Location: 7 Dempsey Rd, #01-01, Singapore 249671
Donatzu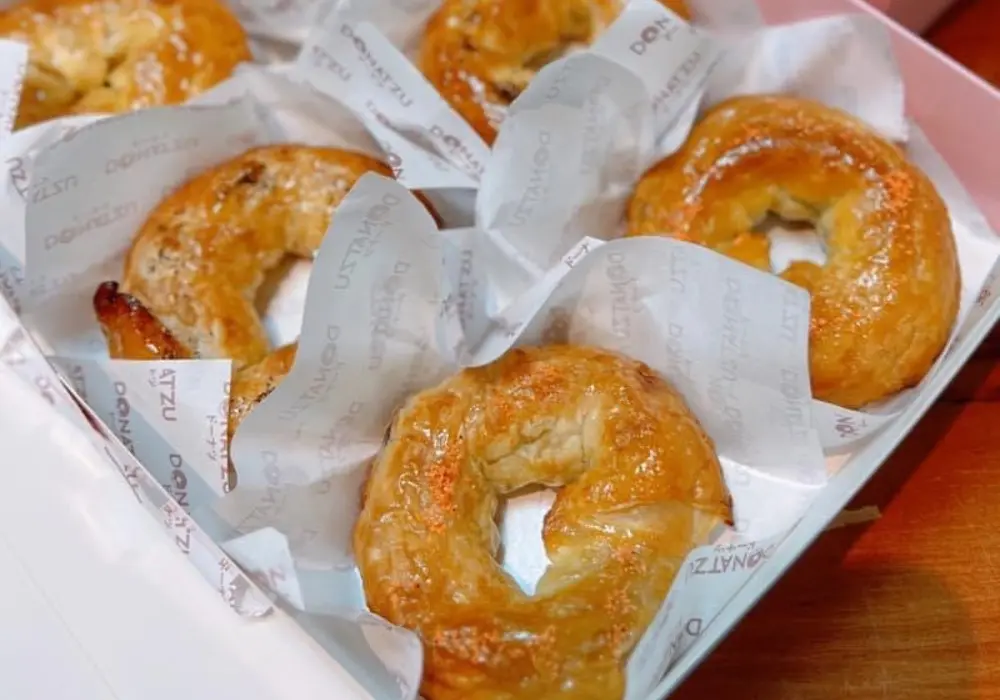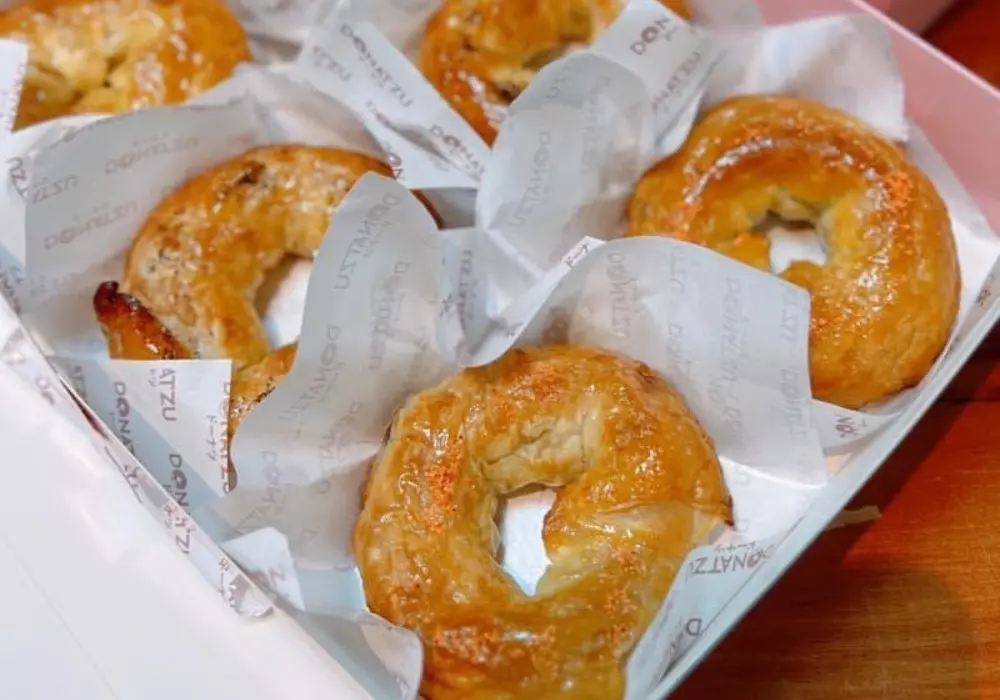 Donatzu is where I get my donut fix whenever the craving hits. Their donuts are like bite-sized pieces of joy, with flavors that range from traditional to adventurous. It's the kind of place that never disappoints.
Signature doughnuts
Apple Earl Grey:
It had the sweet, comforting taste of apple combined with the aromatic notes of Earl Grey tea leaves.
The combination was a bit like sipping on a warm cup of tea and enjoying a slice of apple pie all in one. It was a lovely, unique experience.
Crispy Pineapple:
As for the Crispy Pineapple, it was like a burst of tropical sunshine. These little treats were filled with pineapple bits that gave them a sweet and tangy zing. It was a tropical flavor explosion, and I couldn't get enough.
At $20.80 for a box of six, I thought it was a reasonable price for these unique and delicious treats from Donatzu. If you're looking for something different and delightful, I'd recommend giving them a try.
Google ratings: 4.6
Location: 1 W Coast Dr, #01-42 NEWest, Singapore 128020
Haritts Donuts & Coffee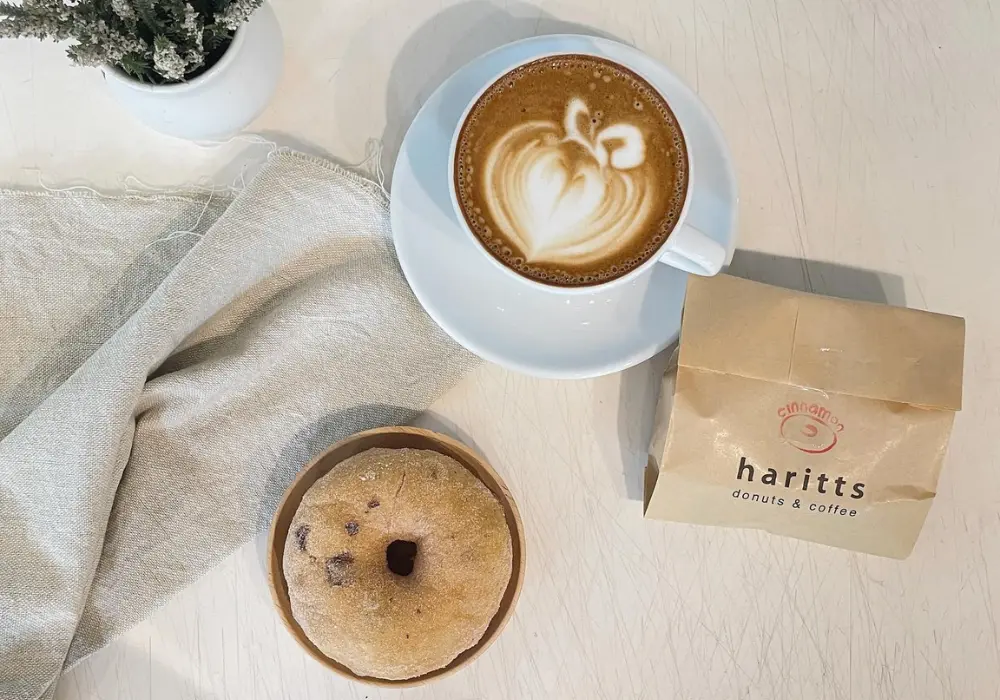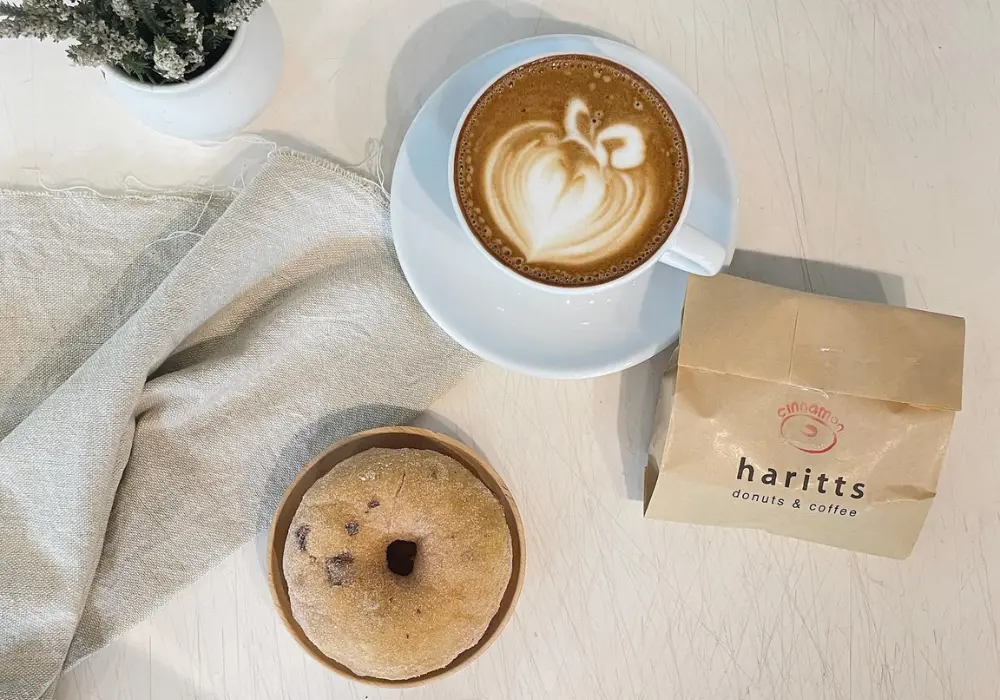 Haritts is not just a doughnut shop; it's a dessert experience. I love the combination of their freshly brewed coffee and uniquely crafted doughnuts. It's my cozy escape when I need a sweet pick-me-up.
Signature doughnuts
I had the pleasure of trying two delightful donuts from Haritts Donuts & Cottee. The first was the Cinnamon Currants donut, and the second was the Cream Cheese donut.
Cinnamon Currants:
The Cinnamon Currants donut was a real treat. It had the perfect balance of cinnamon and currants, creating a harmonious blend of sweet and slightly spicy flavors. It felt like a cozy, comforting hug in every bite.
Cream Cheese:
Now, the Cream Cheese donut was something special. It had a ring filled with Philadelphia cream cheese. It was creamy, rich, and lived right in the middle of the donut. Each bite was like a delightful surprise with that luscious cream cheese filling.
Google ratings: 4.4
Location: 2 Havelock Rd, #01-08, Singapore 059763
See Also: Best Sushi In Singapore
The Fat Kid Bakery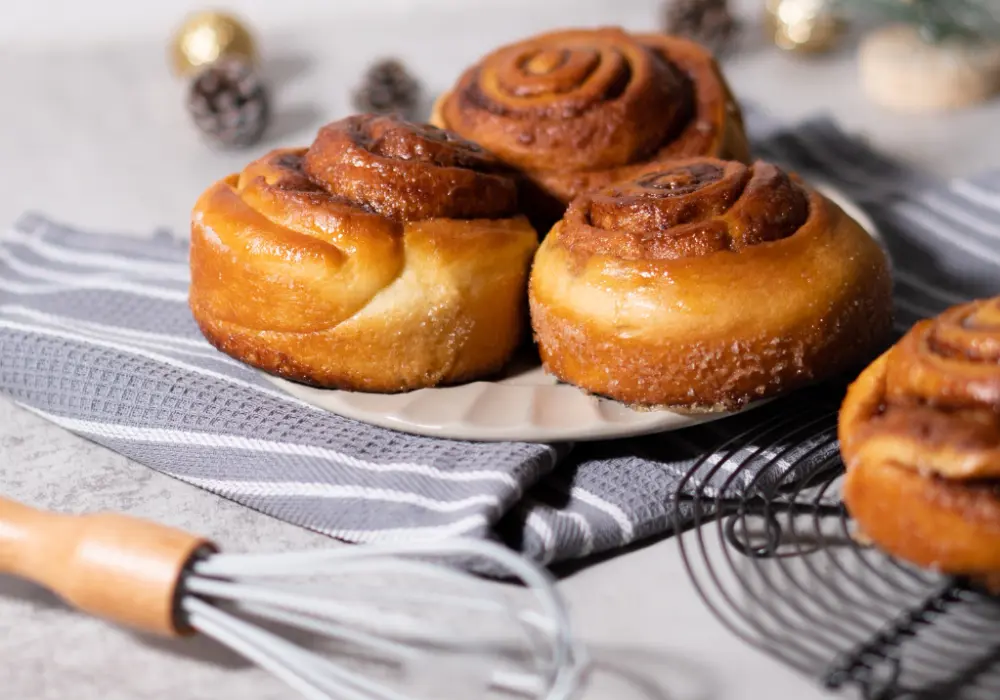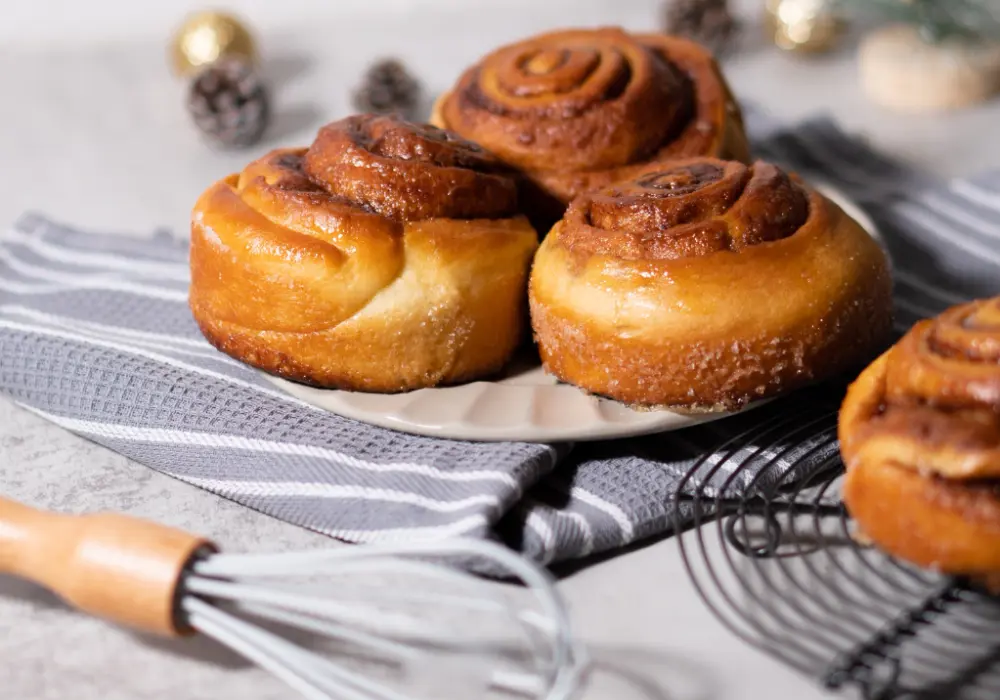 The name says it all, and that's exactly why I adore The Fat Kid Bakery. Their doughnuts are pure indulgence. I can't help but feel a bit like a kid in a candy store when I'm surrounded by their array of sweet and savory doughnut delights.
Signature doughnuts
Blueberry Cheesecake:
The Blueberry Cheesecake was a sweet delight. The creamy cheesecake paired perfectly with the burst of blueberry goodness. Each bite was like a sweet symphony of flavors, making it a must-try for those with a sweet tooth.
Torched Mentaiko Cream:
On the other hand, the Torched Mentaiko Cream was a savory sensation. The torched mentaiko cream had a rich, umami flavor that was simply delicious. It was a unique and savory treat, perfect for those who crave something different and flavorful.
Google ratings: 4.4
Location: 39 Amoy St, Singapore 069865
Doughnut Shack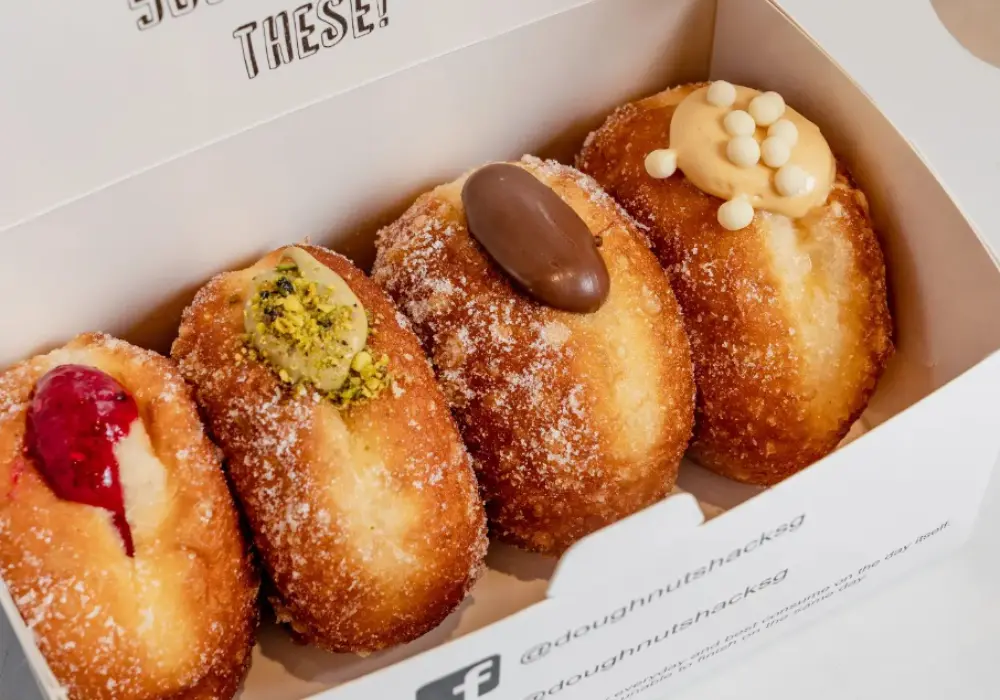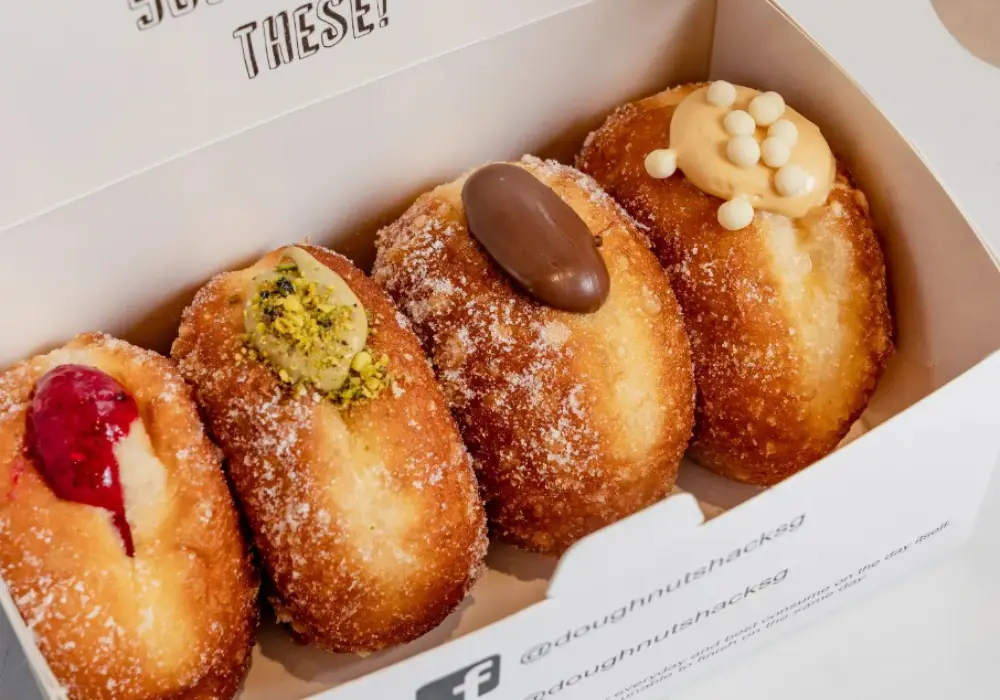 Whenever I'm in the mood for a quaint and humble doughnut experience, Doughnut Shack is my top choice. Their artisanal sweet and savory donuts are a true treat, and those donut holes make for perfect bite-sized delights. With a cup of coffee, it's the ideal stop for a relaxed doughnut break.
Signature doughnuts
I tried two scrumptious doughnuts from Doughnut Shack. Each costs S$4.20.
Pistachio Ganache:
The Pistachio Ganache doughnut was a real treat. It's a light and fluffy Italian-style doughnut, covered in a delicate sugar coating and filled with a creamy pistachio ganache. The nutty pistachio flavor mixed with the sweet ganache was just heavenly.
Crème Brulee:
The Crème Brulee doughnut was something special. It had a crispy caramel shell that cracked when you bit into it, revealing a creamy vanilla custard inside. It's like enjoying the classic dessert but in a doughnut form. It was so satisfying!
Google ratings: 4.2
Location: 151 Kitchener Rd, Singapore 208526
Dunkin' Donuts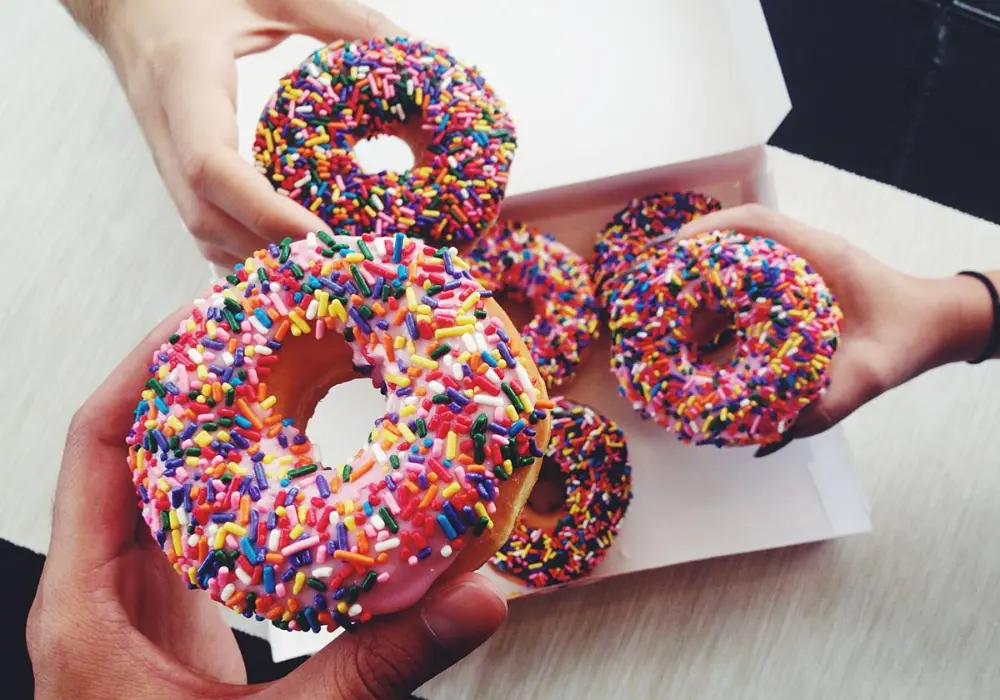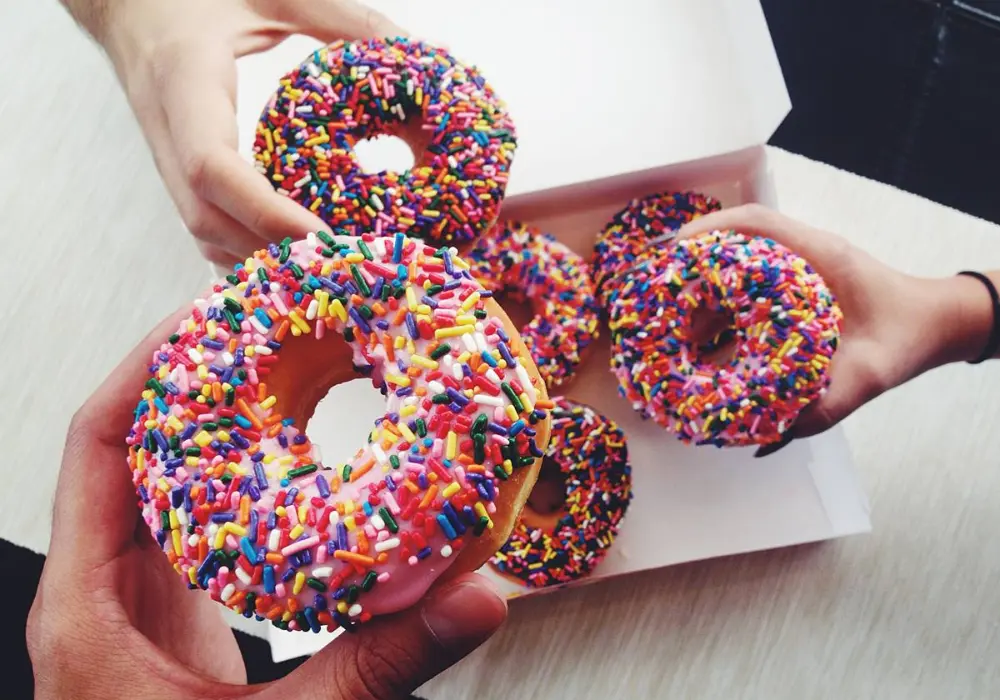 Dunkin' Donuts is a name that brings back fond memories. It's the place where I can grab a classic donut and a cup of coffee on the go. It's that reliable spot for familiar flavors that never disappoint.
Signature doughnuts
Black Forest:
The Black Forest donut was a chocolate lover's dream. It had a rich, chocolate frosting with chocolate sprinkles on top. Every bite felt like I was in a chocolate wonderland.
Almond White Choc:
The Almond White Choc donut was a different kind of delight. It had white chocolate frosting and plenty of almond flakes. The combination of the sweet, creamy white chocolate and the crunchy almonds was just perfect.
Both of these donuts were so tasty, and if you enjoy chocolate or white chocolate treats, I'd definitely recommend giving them a try at Dunkin' Donuts.
Google ratings: 4.2
Location: 1 Jurong West Central 2 01, K6, 648886
Krispy Kreme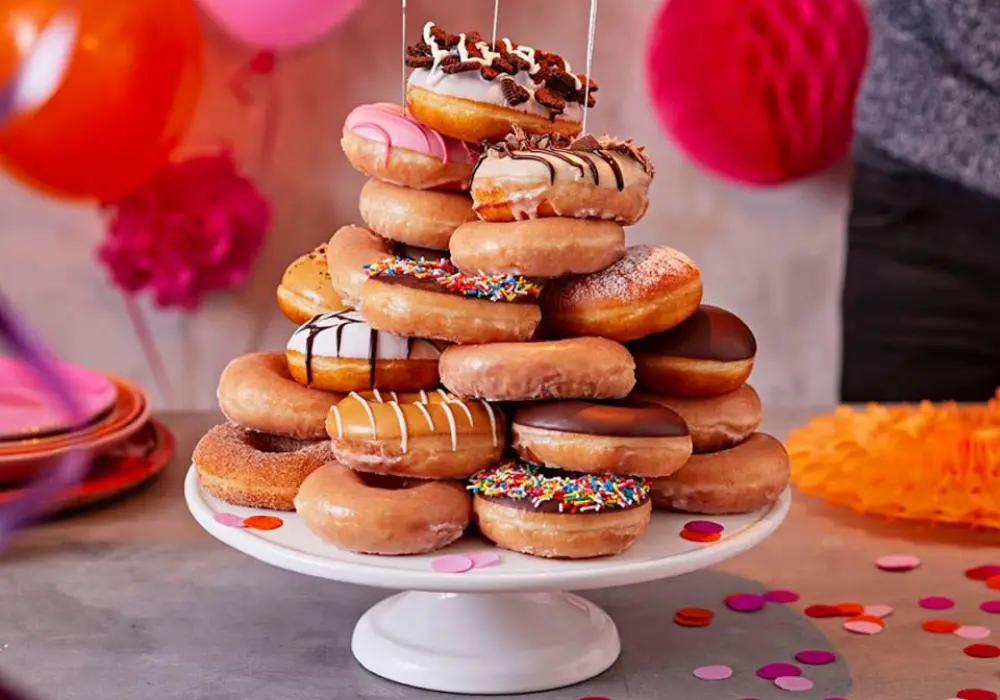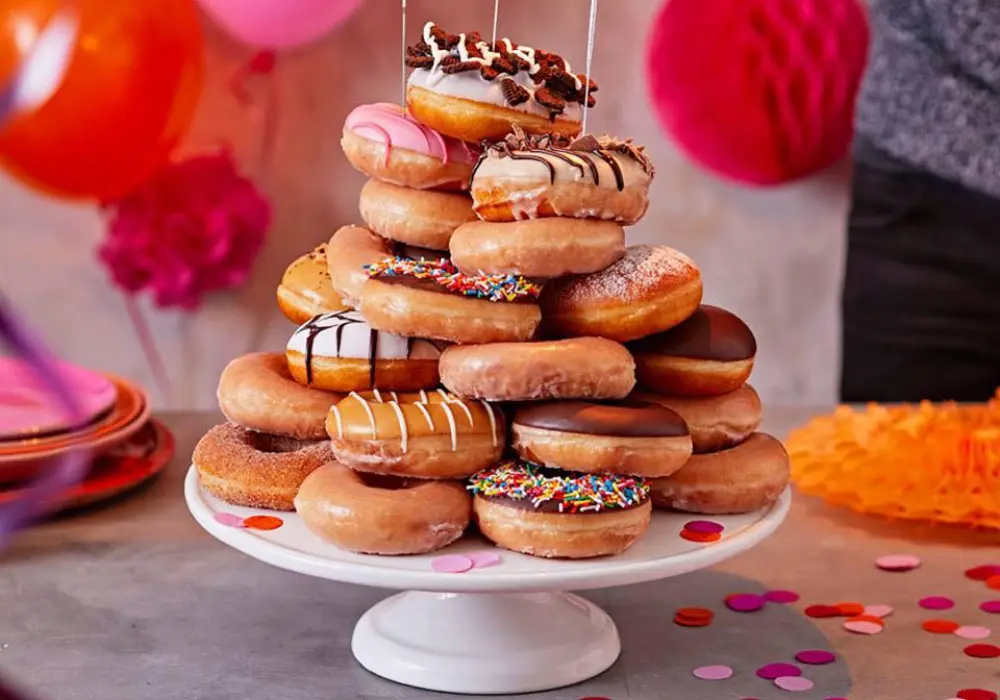 Krispy Kreme is like a timeless classic. It's the go-to chain for a wide variety of doughnut flavors and shapes. Whenever I need my fix of that melt-in-your-mouth experience, Krispy Kreme delivers.
Signature doughnuts
I recently had a tasty experience at Krispy Kreme, where I tried two of their scrumptious donuts.
Original Glazed:
The Original Glazed donut is like a classic favorite. It's a light and fluffy donut with a sweet and shiny glaze. Each bite feels like a piece of pure sweetness and nostalgia. I can never resist getting one when I'm at Krispy Kreme.
Red Velvet:
Now, the Red Velvet donut was something special. It's a unique twist on a classic cake flavor. The donut had that rich, cocoa-infused red velvet taste, and it was topped with a velvety cream cheese frosting. The combination of flavors made it a delightful treat for my taste buds.
Google ratings: 4.0 
Location: 3 Temasek Blvd (Tower 5), #01-419 / 420 Suntec City Mall, 038983
Sourbombe Bakery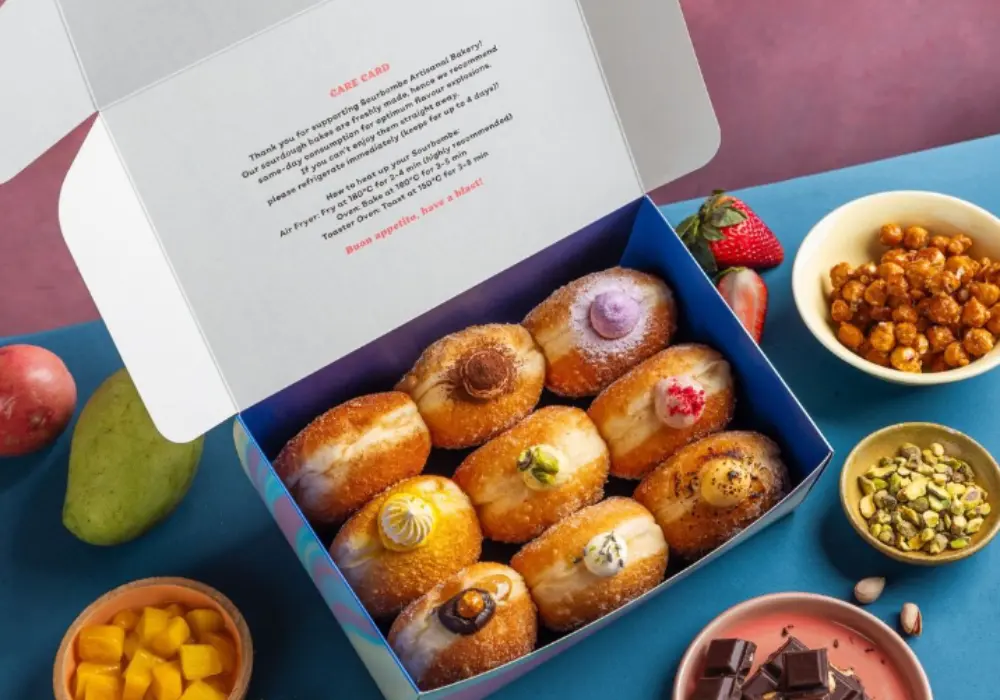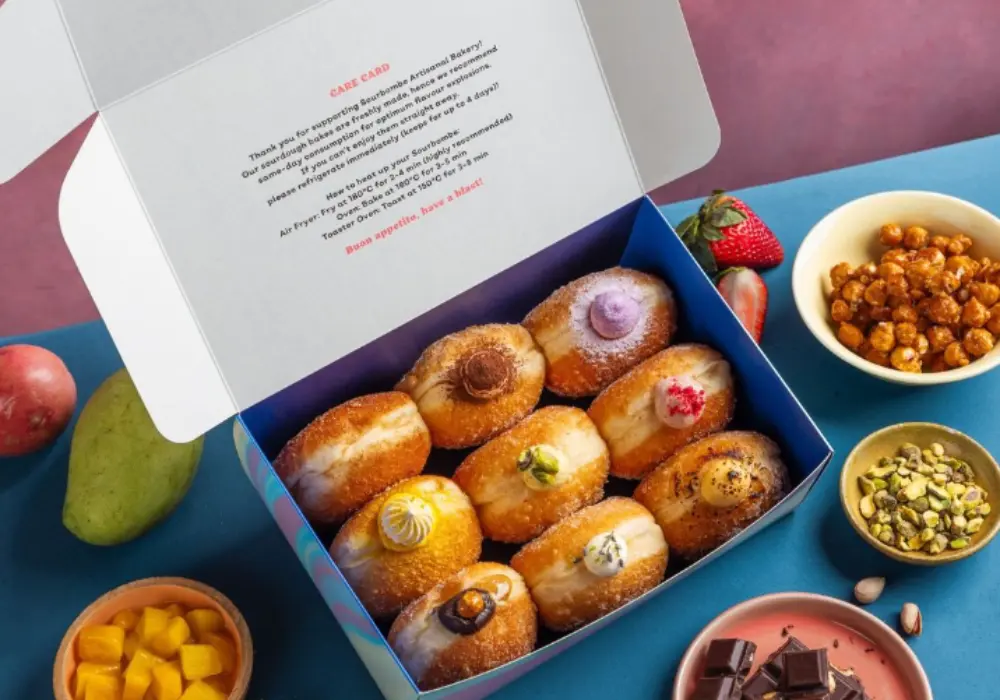 Sourbombe Bakery is my escape to a world of artisanal and unique doughnuts. The combination of sweet and tangy flavors in their creations is a delightful discovery. It's a bakery where I can't resist trying something new each visit.
Signature doughnuts
I got to try two fantastic bombe pastries from Sourbombe Bakery, and I can tell you, they were quite the experience.
Lavender Lime Mascarpone:
Lavender Lime Mascarpone bombe was something truly special. It mixed the flowery lavender and the zesty lime, and it felt like a refreshing twist. The flavors were like a beautiful orchestra, creating a unique and refreshing treat.
Cinnabombe:
Now, the Cinnabombe was a classic treat in its own league. It's the original Sourbombe, and it was bursting with sour goodness. The bombe was generously coated with cinnamon and sugar, creating that perfect balance of sweet and spicy.
Both of these treats were really delightful, each in its own special way. If you're looking for something unique and tasty, I'd say give them a try from Sourbombe Bakery.
Google ratings: 4.0
Location: 9 Penang Rd, #02-03, Singapore 238459
City Donut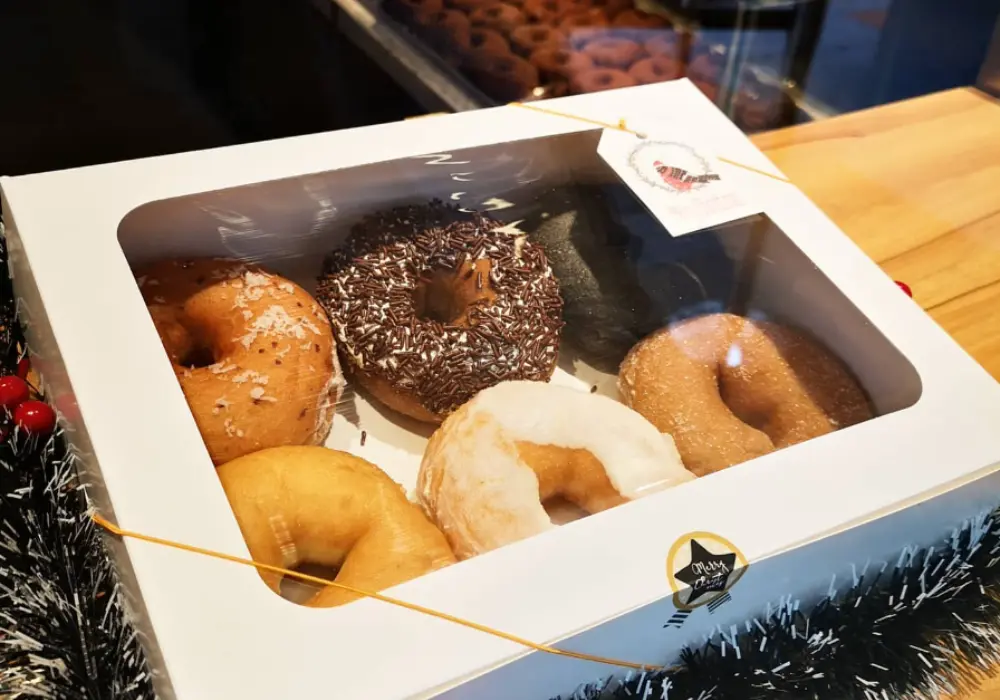 City Donut is where I head when I'm looking for a quick and satisfying doughnut fix. Their donuts are simple and delicious, making it the perfect place for a fast and tasty treat.
Signature doughnuts
I had two donuts recently, and let me tell you, they were pretty good.
Citruz Yuzu:
The Citruz Yuzu donut, priced at S$3.30, had a refreshing citrusy taste with a hint of yuzu. It was tangy and quite enjoyable.
Milo Dinosaur:
Then, there's Milo Dinosaur at S$3.10. This donut had that rich Milo flavor, which many of us love. It was really satisfying.
Both of these donuts were tasty, and the prices were fair. If you're in the mood for something refreshing or craving that familiar Milo flavor, give them a try.
Google ratings: 3.9
Location: 2 McCallum St, Singapore 069043
Final Thoughts
As we searched for the best doughnut shops in Singapore, it was a delightful adventure exploring a wide range of flavors and textures. We enjoyed trying various sweet treats, and the many choices made it a truly satisfying dessert journey.
All in all, it was a memorable and indulgent experience, and I highly recommend it for a joyful afternoon filled with delicious doughnuts. 🍩🎉