The Best Turkish Restaurants In Singapore- Turkish Temptations
When it comes to exploring the diverse world of flavors, there's something about Turkish cuisine that always brings a smile to my face. From the rich aroma of sizzling kebabs to the heavenly sweetness of baklava, Turkish food has a unique charm that's hard to resist.
So, if you're in Singapore and craving a taste of Turkey, you're in luck! Join me on a delightful journey through some of the best Turkish restaurants in Singapore.
Top 13 Turkish Restaurants In Singapore You Don't Want To Miss
Craving the tempting tastes of Turkey without leaving Singapore? You're in luck then! We've curated a list of the finest Turkish restaurants that you absolutely cannot miss.
But before we dive into the mouthwatering details, let's take a sneak peek at some of Singapore's most exceptional Turkish eateries:
Cappadocia Turkish & Mediterranean Restaurant
Ayasofya Turkish Restaurant
The Mediterranean Deli Turk
Alaturka Mediterranean & Turkish Restaurant
Sultan Turkish Restaurant
Bosphorus Turkish Kebap
Turkish Lezzet House
Byblos Grill
Sofra Turkish Café & Restaurant
Pasha Mezza and Grill
Derwish
Istanbul Turkish Restaurant
Hummus & Tandoor
Get ready to embark on a culinary adventure as we guide you through these top Turkish restaurants in Singapore, guaranteed to tantalize your taste buds and transport you to the heart of Turkey.
Cappadocia Turkish & Mediterranean Restaurant
Cappadocia offers a diverse menu featuring both Turkish and Mediterranean flavors. You can expect a range of dishes, from falafels and mezzes to hearty lamb stews, all in a relaxed setting.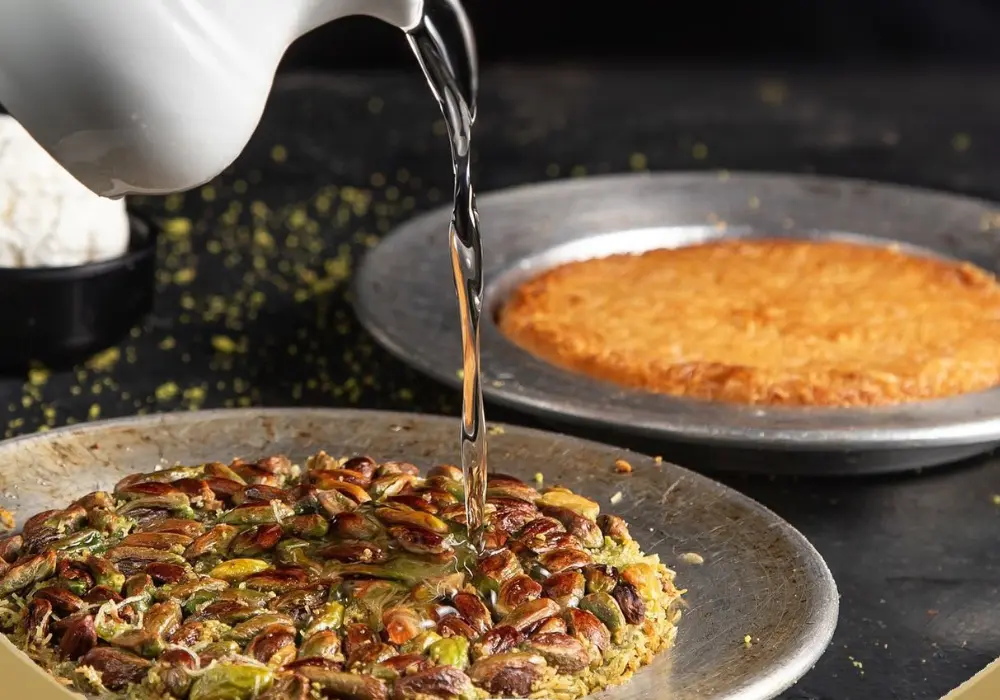 Google Ratings: 4.8/5
Location: 69 Bussorah St, Singapore 199482
Signature Dishes
Chicken Liver: Priced at $18.90, the Chicken Liver dish is a delightful blend of flavors and textures. The chicken liver is pan-fried to perfection, creating a crisp exterior while maintaining its tender interior. Lebanese spices fill the liver with a rich taste and aroma, elevating its taste.
To add a tangy and refreshing touch, the dish is drizzled with lemon and pomegranate sauce. If you're looking to explore new flavors and textures, the Chicken Liver is a delightful choice that won't disappoint.
Adana Lamb Kebab: Priced at $31.90, this dish features hand-minced lamb that's expertly seasoned with a blend of aromatic spices. The result is a kebab that's bursting with rich and savory flavors, with just the right amount of spice to tantalize your taste buds.
To complete the meal, the kebab is served with fragrant rice pilaf, adding a wholesome and satisfying element. A fresh salad accompanies the dish, providing a refreshing contrast to the flavors of the lamb.
Ayasofya Turkish Restaurant
Ayasofya brings a touch of Istanbul to Singapore with its Turkish delights. The menu features a variety of grilled meats, seafood, and vegetarian options, all served in a charming and inviting ambiance.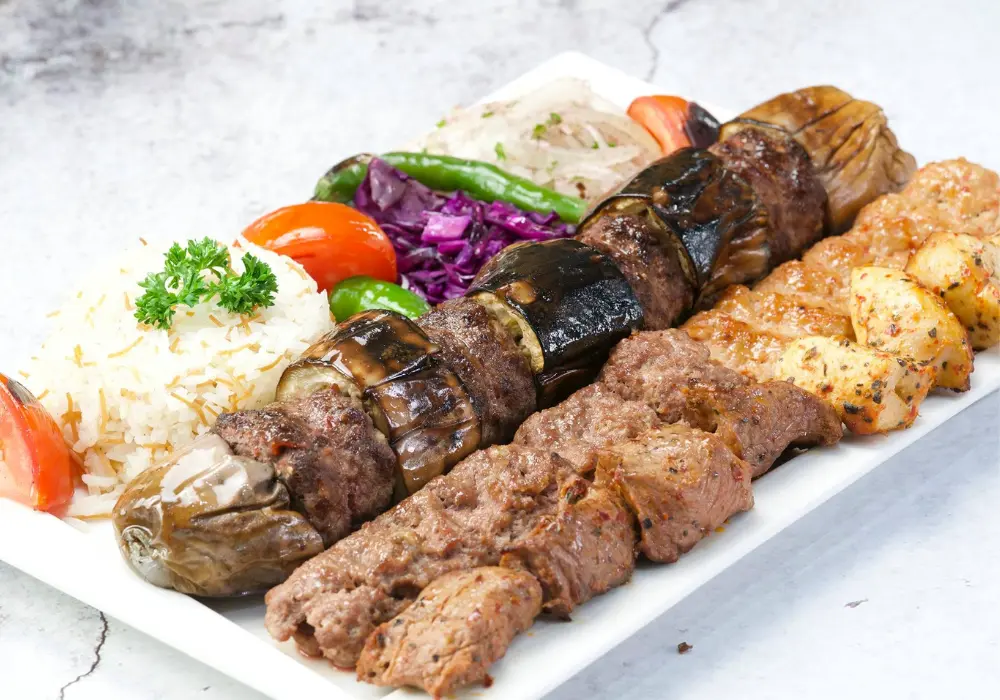 Google Ratings: 4.8/5
Location: 51 Bussorah St, Singapore 199467
Signature Dishes
Yaprak Tavuk: It's a hearty creation where tender chicken meat takes center stage, stuffed with a flavorful mixture of Turkish rice, veggies, and mushrooms. As I sliced through the chicken, I could see the colorful medley of ingredients inside, promising a burst of tastes and textures.
And to make this dish even more comforting, it was served with a generous portion of creamy mashed potatoes. It's a dish that's both satisfying and indulgent, offering a taste of Turkey that I won't soon forget. And at $29.90, it's a true value for the incredible flavors it delivers.
Babaganoush: This dish is a creamy blend of smoked eggplant, yogurt, tahini, and a medley of aromatic spices. The moment I dipped a piece of warm pita bread into this velvety concoction, I knew I was in for a treat.
The smokiness of the eggplant added depth to the creamy base, while the yogurt and tahini brought a delightful tanginess and nuttiness to the mix.
At just $13.90, it's a flavorful appetizer that's both comforting and incredibly satisfying, making it a must-try for anyone looking to savor the tastes of the Mediterranean.
The Mediterranean Deli Turk
This deli specializes in Mediterranean and Turkish dishes, offering a variety of flavorful options. From Turkish coffee to savory kebabs and wraps, it's a spot to savor Mediterranean flavors in a relaxed setting.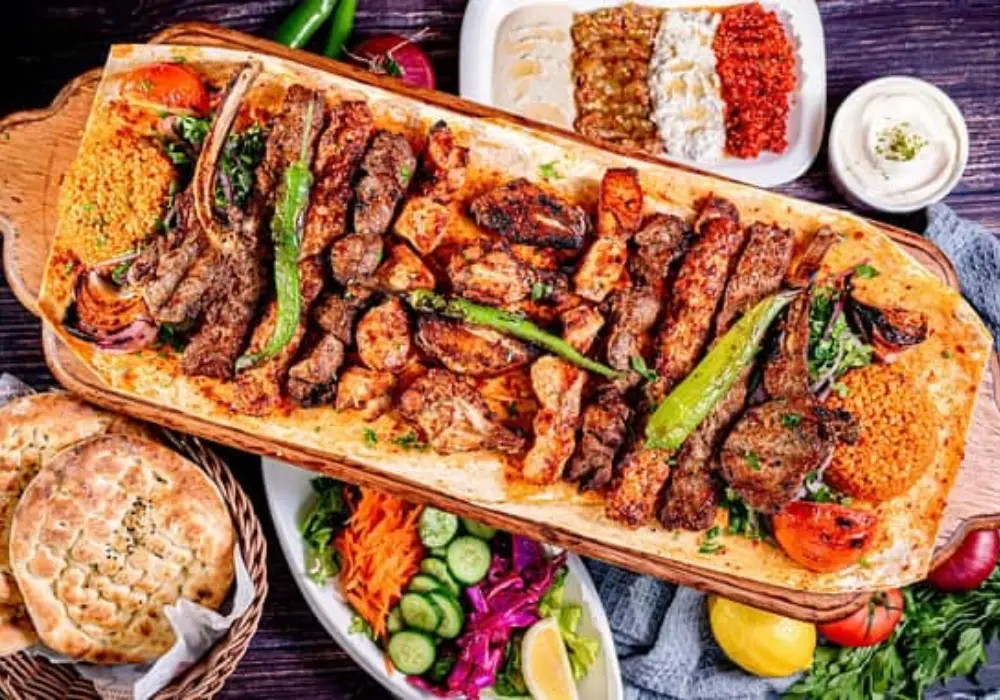 Google Ratings: 4.7/5
Location: 14 Scotts Rd, #01-17/18/19, Singapore 228213
Signature Dishes
Braised Lamb Shank: If you're a fan of lamb, the Braised Lamb Shank is a must-try that won't disappoint. Each bite was a proof to the time and care put into the cooking process, resulting in a lamb shank that melted in your mouth.
The taste was deep and full of flavor, especially in the meat. It felt like the meat was cooked slowly with lots of tasty seasoning. It made me really enjoy the meal and understand how braising meat can make it taste so amazing.
Yogurtlu Kebab: The meat was really tender and tasted delicious. It was the main focus of the dish and it was juicy and flavorful. What made it even better was the creamy yogurt, which was cool and smooth and balanced out the savory meat
But the best part was the chef's special sauce. It had a secret mix of spices that made the dish taste unique and unforgettable. When you put together the tender meat, creamy yogurt, and the special sauce, it created a perfect combination that made the Yogurtlu Kebab stand out as an excellent choice.
Alaturka Mediterranean & Turkish Restaurant
Alaturka is a cozy neighborhood spot known for its authentic Turkish cuisine. They serve up flavorful kebabs, hearty mezze platters, and delicious baklava desserts in a warm and welcoming atmosphere.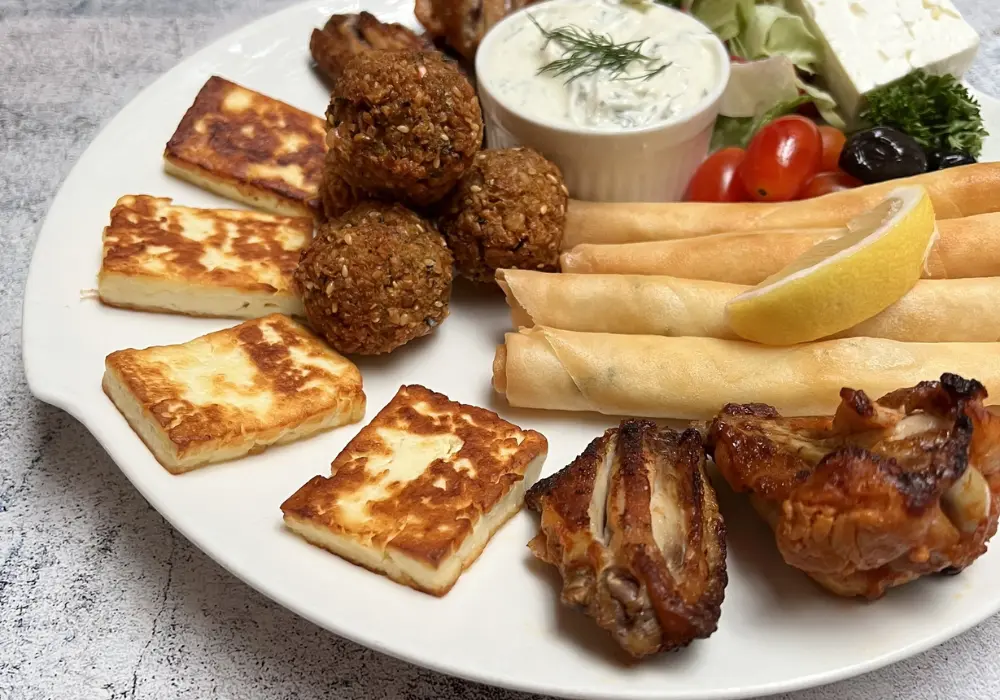 Google Ratings: 4.6/5
Location: 15 Bussorah St, Singapore 199436
Signature Dishes
Tas Kebab: Oh, Tas Kebab, it's like a cozy Turkish hug in a dish. Imagine this: super tender beef stew that's been slow-cooked to perfection, generously poured over a velvety bed of creamy potato purée.
When your fork dips into that beef, it's like a warm greeting for your taste buds. Plus, it's safe for folks with dietary restrictions because it's egg-free and nut-free. You really shouldn't miss trying this dish.
Baklava: For dessert, I had to try the Baklava—it's a Turkish sweet that always hits the spot. What came to my table was a real masterpiece – layers of crispy, flaky pastry stuffed with lots of chopped pistachios and walnuts. But what made it extra special was the drizzle of syrup that soaked through every layer.
With every bite, you could taste the amazing contrast between the crunchy layers and the sugary syrup. It's a memory that stays with you long after your Turkish dining adventure.
Sultan Turkish Restaurant
Sultan Turkish Restaurant offers a taste of Turkey with a wide range of dishes, from traditional kebabs to Turkish pizza (lahmacun). It's a great place to savor Turkish flavors in a relaxed setting.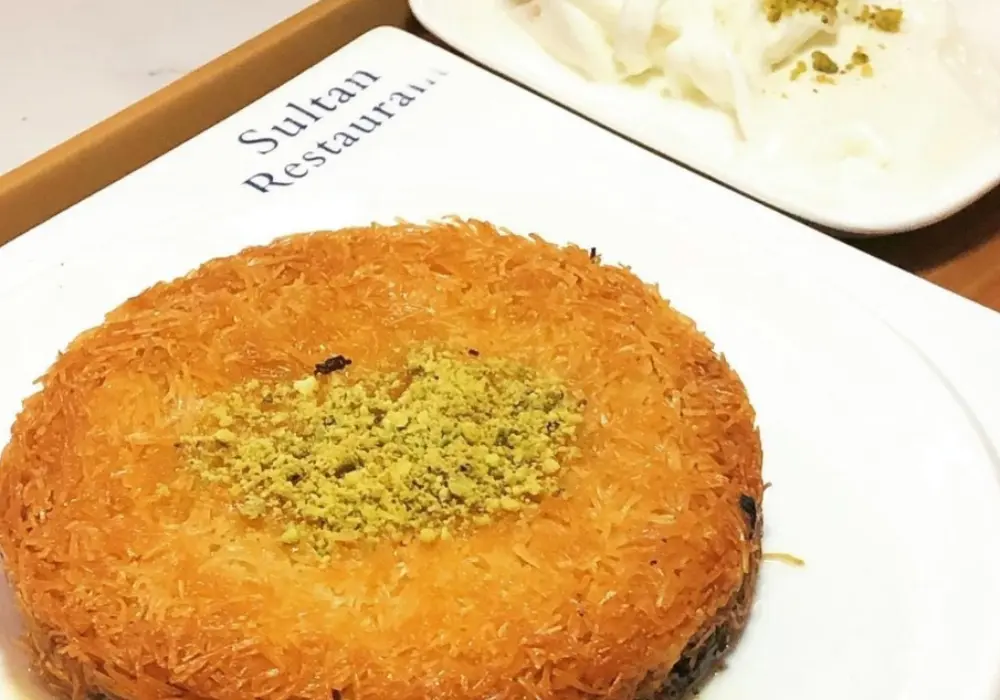 Google Ratings: 4.6/5
Location: 30 Bussorah St, Singapore 199448
Signature Dishes
Ali Nazik: This dish is like a delicious trip to Gaziantep, a place famous for its amazing food. Picture this: tender pieces of grilled lamb on a bed of roasted and smoky eggplant. The eggplant's smoky flavor mixes perfectly with the juicy lamb, making a perfect combo of tastes and textures.
And here's the best part – you get freshly baked Turkish bread, ekmek, to scoop up all the yummy goodness. It's a dish that transports you straight to the heart of Turkey, where tradition and taste join hands for a fantastic culinary experience.
Incik: When I had the Sultan Special, I couldn't believe how incredibly tender the lamb shank was. They slow-cook it for almost ten hours until it's so tender it practically falls apart. This makes the meat super juicy and bursting with flavor. You get to choose if you want to enjoy it with Turkish bread or with Turkish rice, for a tasty combo.
Lahmacun Chicken: Imagine this: warm flatbread, just out of the oven, covered with marinated veggies and perfectly seasoned minced chicken. Every bite is like a burst of flavors in your mouth, with the fresh veggies going hand in hand with the tender chicken.
And to make it even better, there's a side of Lahmacun salad that adds a nice crunch Whether you share it as a starter or have it as your whole meal, Lahmacun chicken brings the taste of Turkey right to your plate; it's traditional and simply yummy.
Bosphorus Turkish Kebap
Bosphorus Turkish Kebap is known for its flavorful and authentic kebabs. They serve up a variety of kebab options, including lamb, chicken, and vegetarian choices, all prepared with Turkish spices and expertise.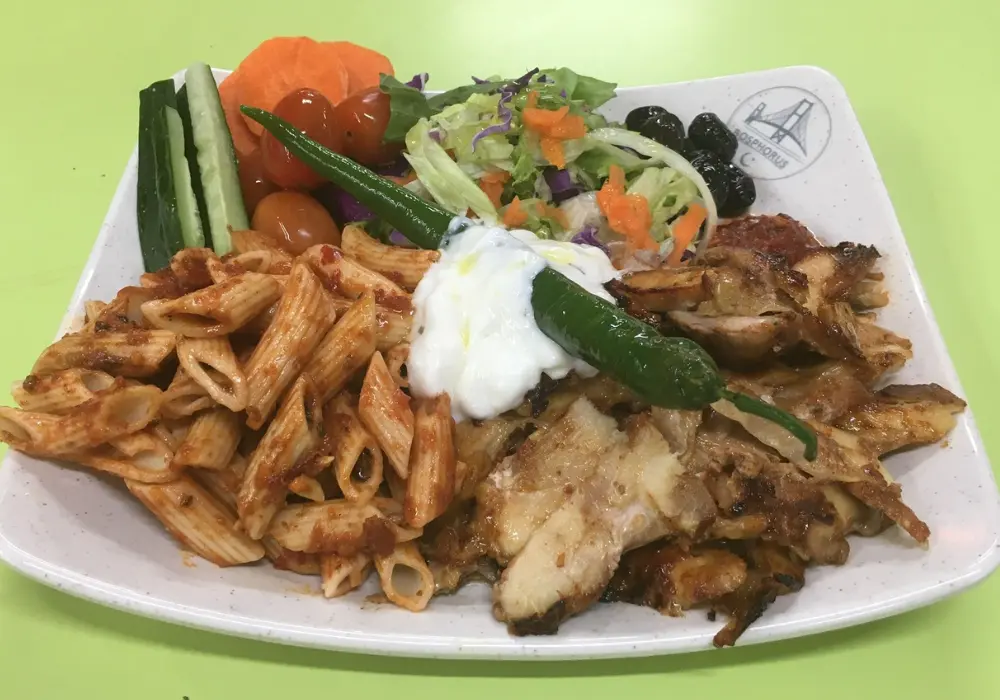 Google Ratings: 4.6/5
Location: Beach Rd, B1-28 505, Singapore 199583
Signature Dishes
Chef's Platter: The Chef's Platter, only $8, was a real treat. It had a mix of delicious things, like crispy homemade potatoes that added a nice crunch to the plate. The pasta was seasoned just right and gave a satisfying carb fix. It came with a tasty salad that had green chilies, black olives, and cherry tomatoes, so you got lots of different flavors.
But the best part was the hot chicken kebab; it was cooked perfectly and topped with the restaurant's special Turkish sauce. This dish was a winner!
Special Roti Kebab with Cheese: The Special Roti Kebab with Cheese, just $7, was a tasty mix of flavors and textures. It had a French baguette filled with juicy chicken kebab in the center, making it really satisfying. There was also a fresh salad on top of the kebab that added a nice crunch and a burst of freshness.
But what made it extra special was the thick layer of mozzarella cheese that covered the kebab, making it super creamy and indulgent. Then, there was Turkish sauce that added lots of flavors. This dish was not only yummy but also easy on the wallet, perfect if you wanted something tasty and filling.
Turkish Lezzet House
Turkish Lezzet House is a casual spot where you can enjoy Turkish comfort food. Their menu includes classics like doner kebabs, mixed grills, and delicious desserts like kunefe.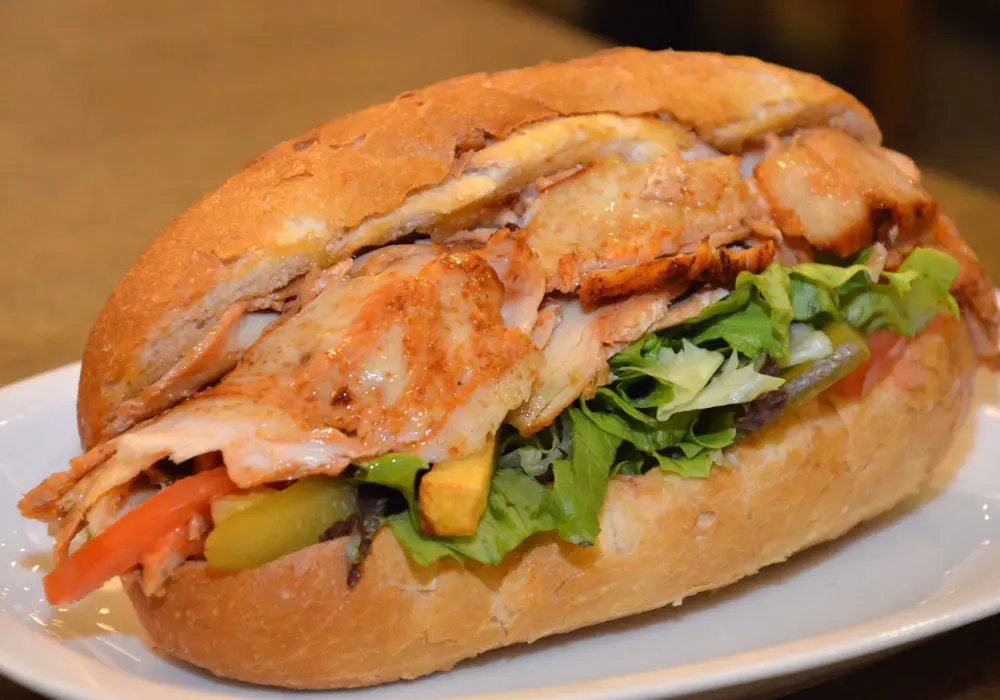 Google Ratings: 4.6/5
Location: 3 Temasak Boulevard, Mall, B1-105 Suntec City, 038985
Signature Dishes
Falafel Sandwich: The Falafel Sandwich, priced at S$13.70, was a tasty and satisfying option. It had healthy falafel tucked inside fresh Eastern bread. What made it even better was the homemade hummus, which was creamy and savory.
There was also a fresh salad that added a nice crunch to every bite, giving a burst of freshness and texture. And to bring all the flavors together, there was homemade sauce that made everything taste just right.
If you're looking for a meal that's both flavorful and good for you, the Falafel Sandwich is a great choice.
Vegan Samsun Pide: The Vegan Samsun Pide was a tasty mix of fresh veggies and vegan cheese, making it a satisfying dish. Every bite was packed with veggie goodness, and the creamy vegan cheese balanced it out perfectly.
The Turkish pizza dough was made just right, giving a great base for all those toppings. Whether you're vegan or just want a guilt-free Turkish pizza, this dish was a fantastic pick.
See Also: Best Malay Restaurants In Singapore
Byblos Grill
While Byblos Grill primarily serves Lebanese cuisine, it also offers a selection of Turkish dishes, like shawarmas and kebabs. It's a fusion of Middle Eastern flavors, perfect for those looking for diverse options.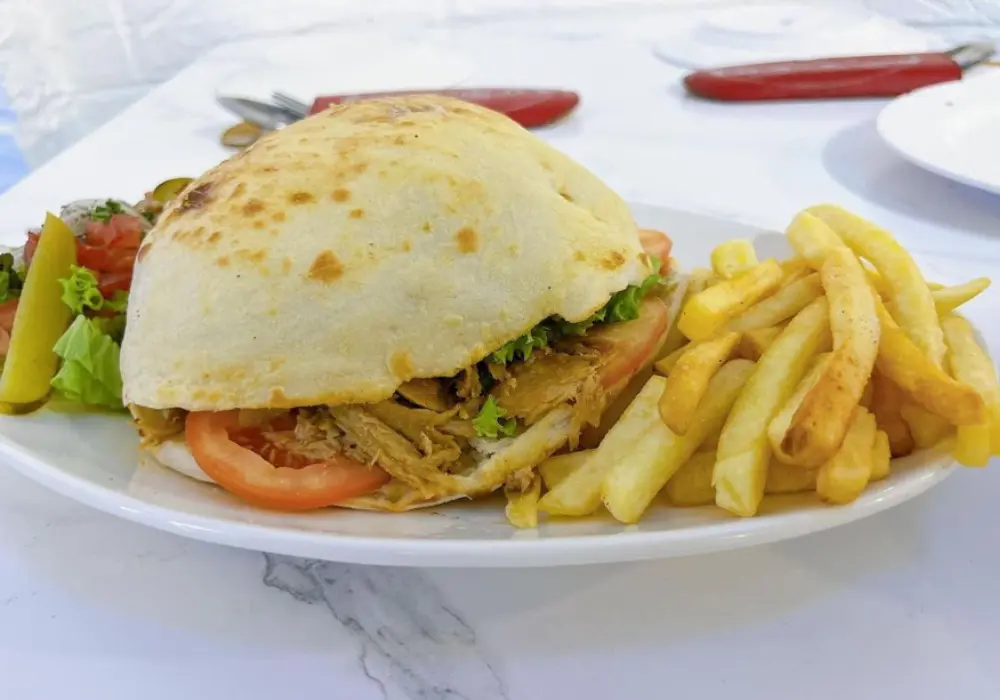 Google Ratings: 4.5/5
Location: 14 Bussorah St, Singapore 199435
Signature Dishes
Chef Special Tasty Kebab: This dish was the best part of my meal. The star of this hearty dish was the tender beef stew, cooked slowly the old-fashioned way until it was just perfect. When I took a bite, I found the beef was so tender it practically melted in my mouth, and it came with perfectly cooked potatoes, carrots, peppers, and onions.
Every bit of these ingredients soaked up the amazing Mediterranean spices and cooking style. At $44.90, it was a real culinary masterpiece that was worth every cent. It left me really impressed.
Salted Baked Fish: What came to my table was a seafood masterpiece – a whole fish that was perfectly prepared. It had a generous layer of rock salt on top and was perfectly baked in the oven.
When I took my first bite, I was blown away by how tender and tasty the fish was. The rock salt did something magical, keeping all the fish's natural juices inside and giving it this subtle, salty taste that made every bite special. The texture was amazing, and the fish practically fell off the bone.
At $58.90, it might seem like a splurge, but trust me, it's worth every dollar. If you love seafood, you absolutely have to try the Salted Baked Fish. It's a food adventure you won't want to miss.
Sofra Turkish Café & Restaurant
Sofra is a charming café and restaurant that serves up delightful Turkish cuisine. With generous portions and a welcoming atmosphere, it's a popular spot for enjoying kebabs, Turkish coffee, and sweet treats like baklava.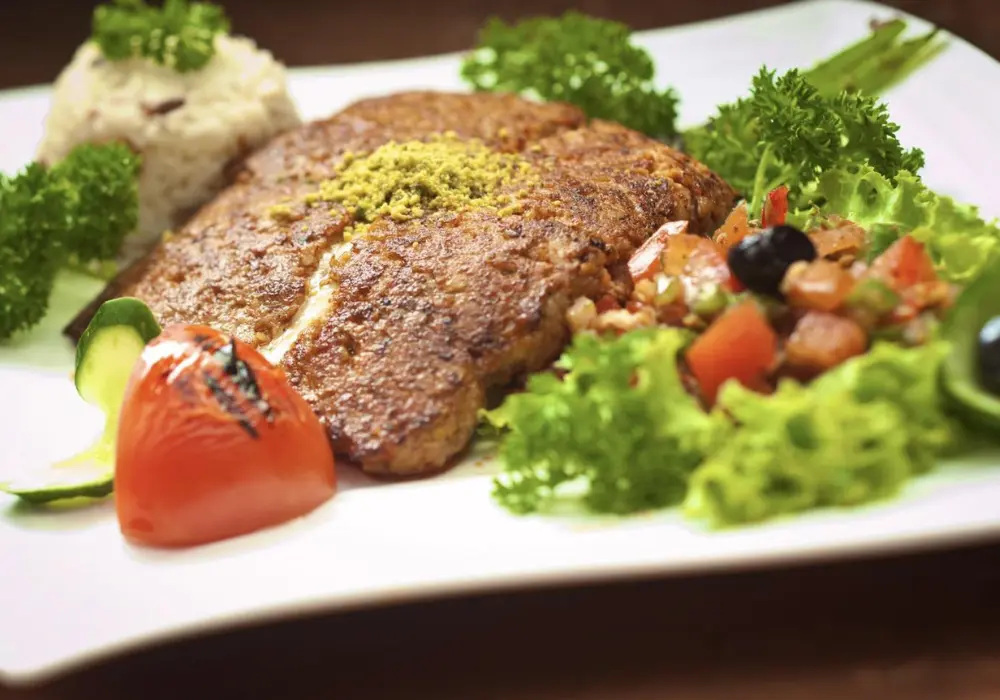 Google Ratings: 4.5/5
Location: 6 Raffles Boulevard 3 Floor, #03-129A Marina Square, 039594
Signature Dishes
Karışık Kebap: The Kebab Platter is the ultimate kebab treat, and it's priced at $107.50, perfect for four hungry folks. It's loaded with juicy lamb chops, tasty chicken and lamb Adana kebabs, tender chicken and lamb shish kebabs, and perfectly grilled chicken wings.
But there's more! It also comes with a bunch of fresh salads, fragrant Turkish pilav rice, and healthy bulgur. Whether you're enjoying it with friends or family, the Kebab Platter guarantees an unforgettable meal that's absolutely worth savoring.
Doner-Iskander Kebab: When you're craving comfort food, the Iskander Kebab really hits the spot. You can choose chicken for $19.75 or lamb for $22.25. Here's the tasty picture: thin slices of doner meat, whether it's chicken or lamb, stacked up high and generously covered with tasty tomato puree.
But what sets this dish apart is the crispy cubed bread under the meat, giving a satisfying crunch with every bite. To balance out all that rich goodness, they serve it with yogurt on the side, which adds a cool and creamy touch to the savory flavors. It's a comfort food dream come true!
Pasha Mezza and Grill
Pasha Mezza and Grill offers a mix of Mediterranean and Turkish cuisine, with a focus on grilled meats and mezzes. It's a great place to share a variety of small plates with friends or indulge in a hearty kebab.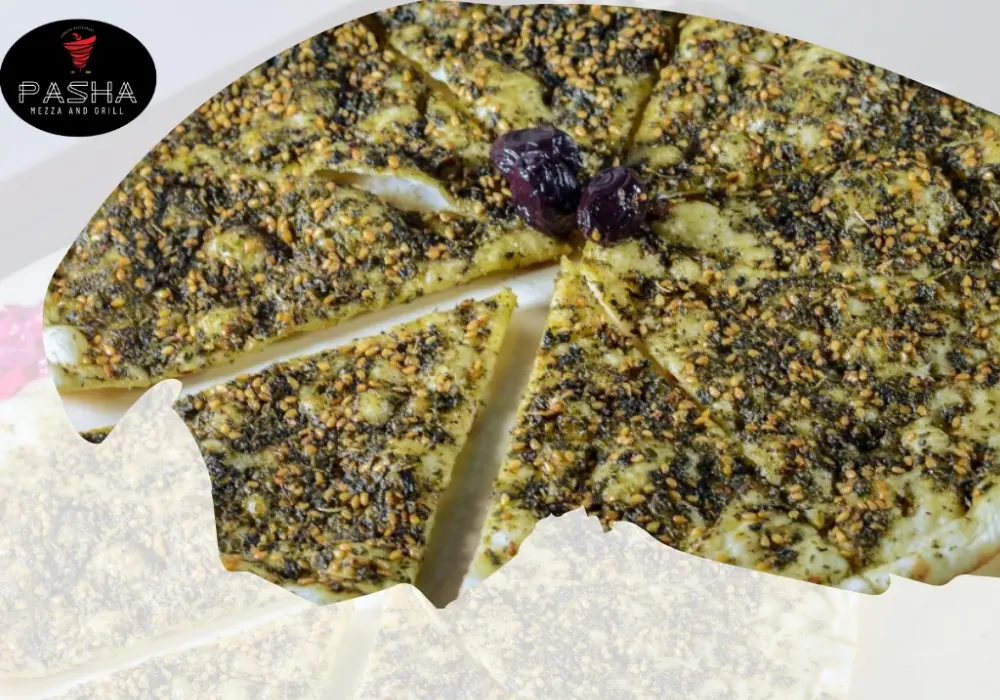 Google Ratings: 4.4/5
Location: 24 Haji Ln, Singapore 189217
Signature Dishes
Shish Taouk: priced at $27.90, this dish features succulent chicken cubes, expertly char-grilled to perfection. What sets it apart are the Middle Eastern spices used for marination, which fill the chicken with a rich and aromatic flavor profile. Shish Taouk is a culinary journey that showcases the flavors of the Middle East in a way that's both satisfying and memorable.
Zaatar dishes: My experience trying the Zaatar dishes at this place was really nice. The regular Zaatar dish, at $23.90, had a mix of thyme, coriander, sesame seeds, and sumac that made the flavors really rich and tasty. And for those who wanted something extra, the Zaatar dish with cheese, priced at $27.90, added a creamy and savory touch that went perfectly with the spices.
To go along with these dishes, I got the Lavash Bread, which was $7.50 And if you're into sides, the Garlic Bread for $8.50 and Cheese Bread for $6.50 were both really good options.
Derwish
Derwish is a one of the best Turkish restaurant known for its traditional and flavorful Turkish dishes. From kebabs to pide (Turkish pizza), you can enjoy a taste of Turkey in a comfortable and welcoming environment.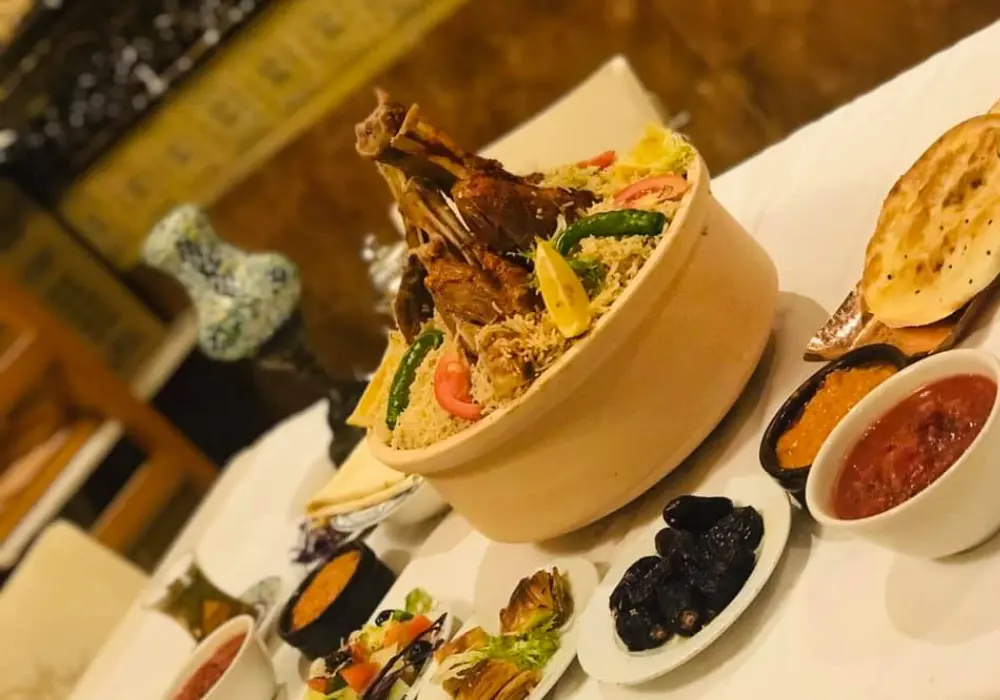 Google Ratings: 4.2/5
Location: 60 Bussorah St, Singapore 199476
Signature Dishes
Beyti: The Beyti, costing $26.90, is a real specialty from the Ottoman era at Osmali Mutfagi. It's a yummy dish with a mix of lamb and beef mince, all wrapped up carefully in fresh lavash bread.
But what really makes this dish amazing is the house yogurt dip that comes with it. It's cool and creamy, which balances out the tasty meat. And to make it even better, they top it all off with a delicious brown sauce that brings a bunch of flavors to the party.
Testi Kebab: The Testi Kebab, priced at $48.00, is a dish you absolutely have to try. It's famous for its unique way of cooking that comes from the historical Cappadocia region. They cook the lamb in a special "pottery" container, and that's what makes it so tender and full of flavor.
If you want to experience a fantastic culinary journey through Turkey's rich history, the Testi Kebab is a great choice.
Istanbul Turkish Restaurant
Istanbul Turkish Restaurant offers a taste of Turkey with a menu that includes classics like doner kebabs and Turkish pides. The restaurant's cozy setting makes it a great place to enjoy a leisurely meal with friends or family.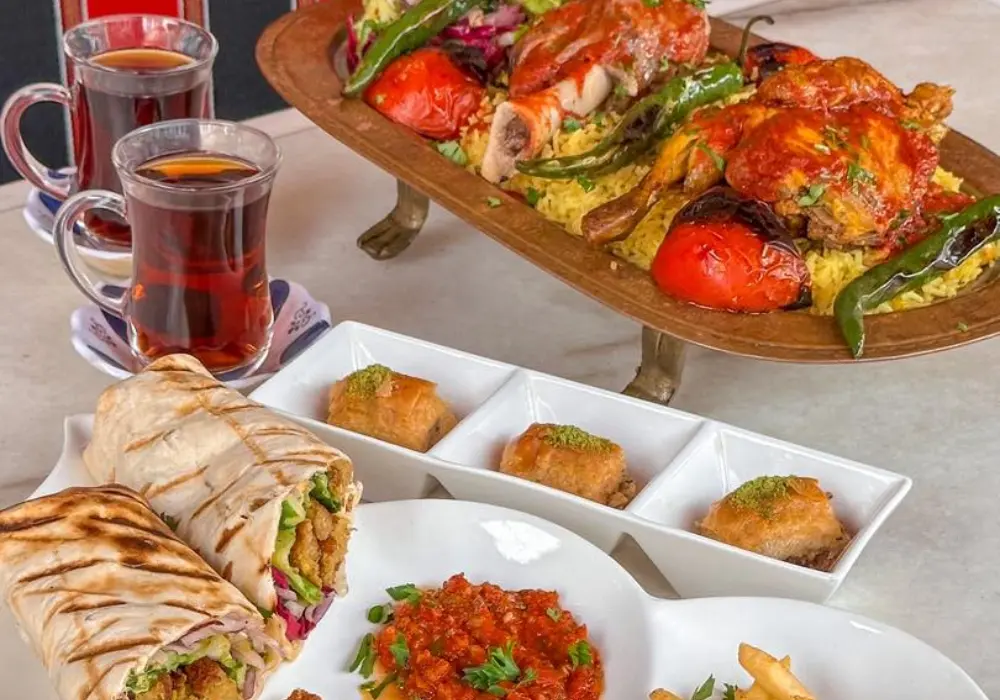 Google Ratings: 4.1/5
Location: 25 Baghdad St, Singapore 199664
Signature Dishes
Tomahawk Steak: I just had to try the Tomahawk Steak, which costs $68.90. It's a big piece of meat, around 600-700 grams, and it's covered in this delicious black pepper sauce. And let me tell you, the flavors were out of this world.
They served it with crispy French fries and a fresh salad, which made it a really tasty and filling meal. I couldn't help but want more. If you're like me and love steak, you absolutely have to try the Tomahawk Steak.
Lamb Mandhi: The Lamb Mandhi, at $29.90, is a real treat. It comes with fragrant mandi rice and tender lamb that's been cooked to perfection.
They also add a spicy sauce that gives it a nice kick, and there's a fresh salad that brings a refreshing taste to every bite. It's a mix of flavors and textures that you just have to try, especially if you want to enjoy genuine Turkish tastes all in one dish.
Hummus & Tandoor
While primarily known for its Middle Eastern and Indian cuisine, Hummus & Tandoor also offers Turkish options like shawarmas and kebabs. It's a fusion of flavors, perfect for those looking for a mix of tastes.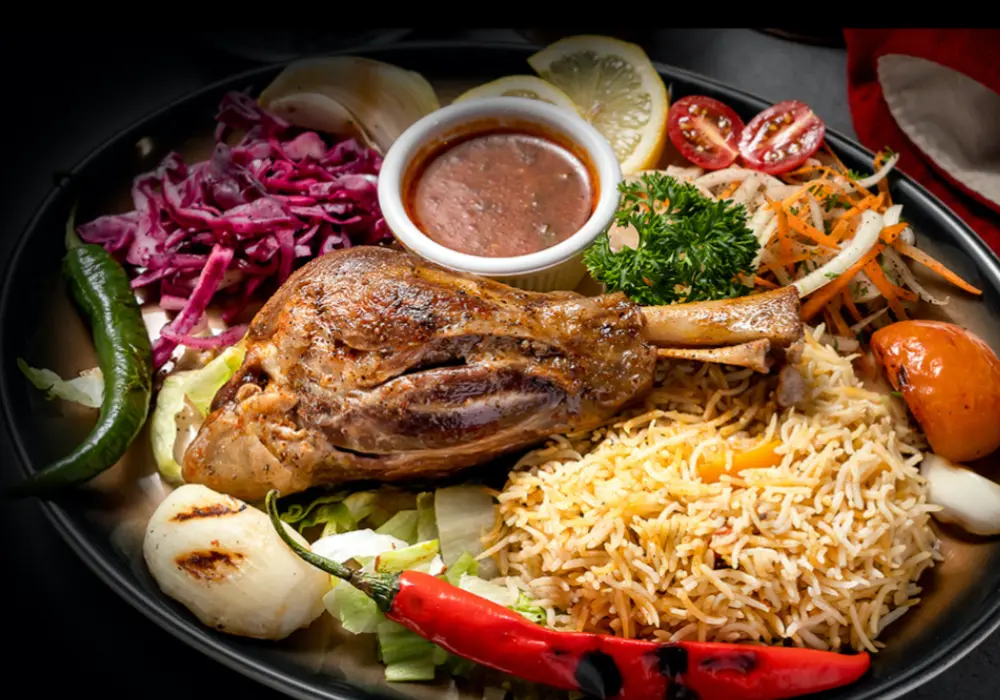 Google Ratings: 4.0/5
Location: Clarke Quay, Singapore 179023
Signature Dishes
Lamb Steak: The Lamb Steak, at $33.90, is really something special. It lives up to all its promises – tender, bursting with flavor, and cooked just right.
No matter if you like your steak rare, medium-rare, or well-done, this one will make your taste buds happy. It's a dish that shows off top-quality ingredients and amazing cooking skills. If you're someone who loves a perfectly cooked steak, this one's a real treat.
Panner Tikka Burrito: At $25.00, this dish is a perfect fusion of a hearty burrito with the delicious Indian flavors of Paneer Tikka. The star of the dish, the Paneer Tikka, was a wonderful mix of creamy and spiced, which balanced out the other ingredients really well.
Inside the burrito, there were big chunks of cottage cheese, refried beans, shredded lettuce, and diced tomatoes. They also added a nice drizzle of sour cream for a bit of richness and tanginess, and a favorite chili sauce gave it a nice kick. It was a delightful twist on the usual, blending Indian and Mexican flavors in a way that was both comforting and exciting.
Final words:
Tasting the flavors of Turkey in Singapore was an amazing experience. The rich tastes, friendly service, and wonderful smells in these Turkish restaurants were captivating. Every bite felt like a trip through the lively streets of Istanbul, and each restaurant had its special charm.
From the delicious kebabs to the sweet baklava, this food adventure was truly satisfying. If you're ever in Singapore and want a taste of Turkey, don't hesitate to visit one of the best Turkish restaurants in Singapore, as mentioned in this article. I'd happily go on this culinary journey again and again.