The Best Steak Restaurants in Singapore – Savor the Sizzle
Hey there, steak aficionados! If you're like me and have a love for perfectly cooked steaks, you're in for a treat in Singapore. Join me as we embark on a culinary journey to discover the best steak restaurants in the Lion City, where you can relish mouthwatering cuts of beef that will make your taste buds sing with delight.
So, get ready to satisfy your carnivorous cravings as we delve into the best steak restaurants in Singapore. From juicy ribeyes to tender filet mignons, these places are a meat lover's paradise. Let's fire up the grill and get this steakhouse adventure started! 🥩🍖🔥
11 Best Steaks In Singapore
Craving the sizzle and succulence of perfectly cooked steaks? Look no further! We've scoured the dining scene in Singapore to bring you 11 steakhouse hotspots that are ready to satisfy your meaty desires.
Let's dive right in and explore these delectable steak restaurants that promise an unforgettable dining experience.
Bistecca Tuscan Steakhouse
Cut
The Feather Blade
Wakanui Grill Dining
Les Bouchons
Angus Steak House
The Ranch
Wooloomooloo Steakhouse
Ruth's Chris Steak House
Bedrock Bar & Grill
L'entrecôte
Bar-Roque Grill Ready to satisfy your steak cravings? Let's dig into the flavors and stories behind these top-notch steakhouse destinations.
Bistecca Tuscan Steakhouse
Bistecca is a classic Tuscan steakhouse known for its exceptional Florentine steaks. The warm and rustic ambiance creates the perfect setting to enjoy these mouthwatering cuts of meat, making it the best steakhouse in Singapore for those seeking an authentic and memorable Italian dining experience.
Google ratings: 4.6
Location: 26 Mohamed Sultan Rd, Singapore 238970
Signatures
Costata: I couldn't resist ordering the costata at Bistecca, and it was a true carnivore's dream. The 1.1kg signature bone-in ribeye was perfect for sharing, and it was beautifully cooked. Each succulent bite was a celebration of flavor, and the experience was worth every penny.
Black Pepper Steak: I also tried the black pepper steak, a 380g stockyard grain-fed Angus delight. The black pepper seasoning added a delightful kick to each juicy slice. For $88, it was a mouthwatering experience I would gladly repeat.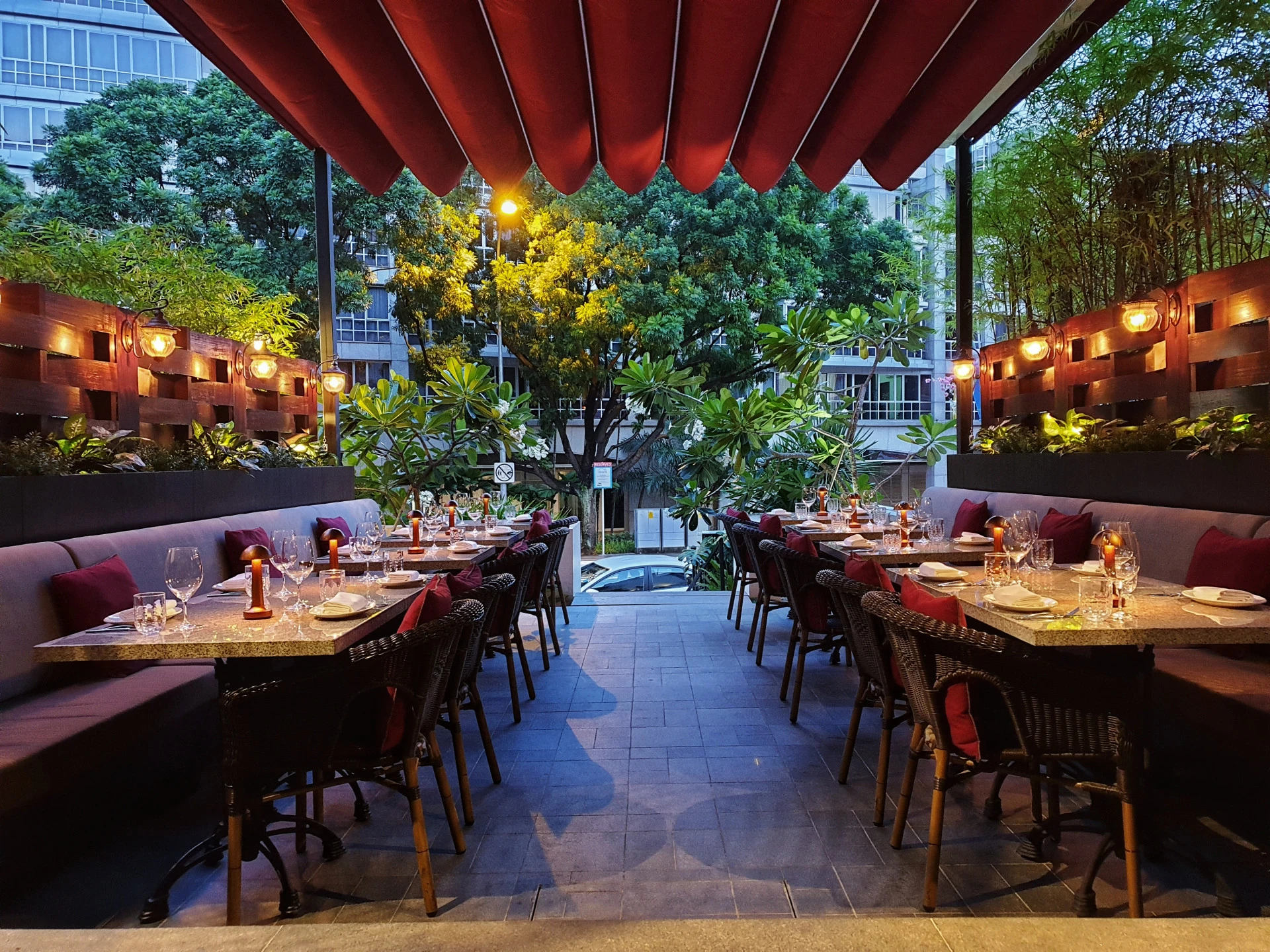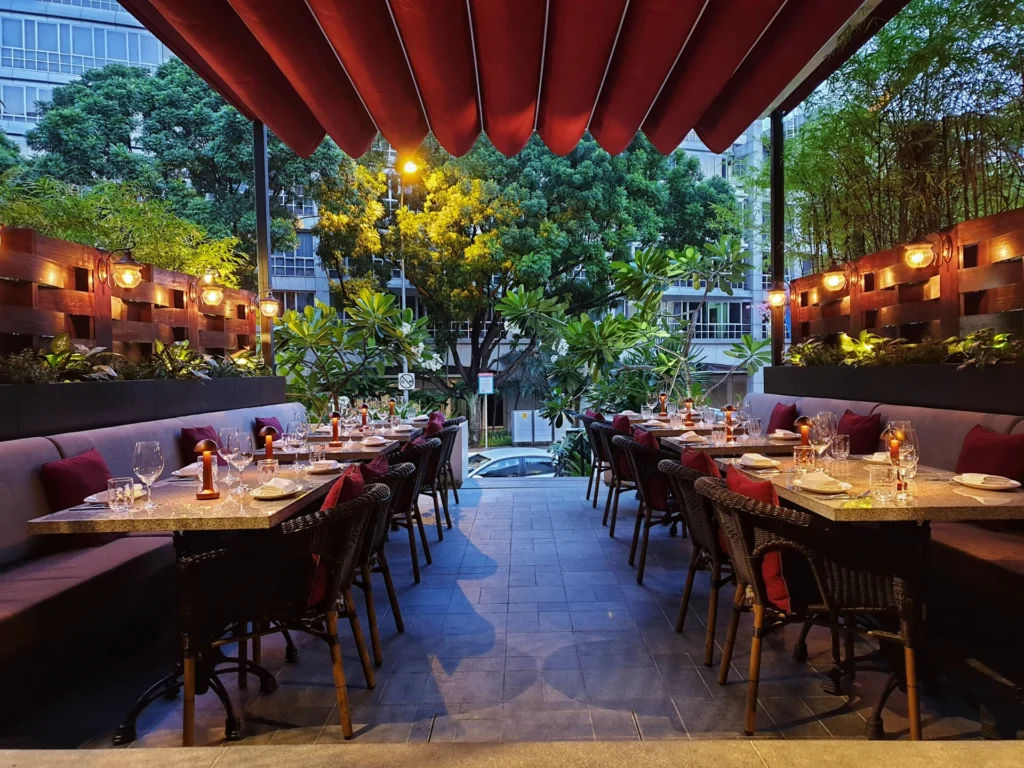 CUT
If you're looking for a steak experience with a modern twist, CUT is the place to be. With its contemporary design and innovative steak offerings, it's a paradise for steak aficionados.
Google ratings: 4.6
Location: 2 Bayfront Ave, B1 – 71, Singapore 018972
Signatures
Sendai Prefecture, Rib Eye Steak: I had to try the Japanese Pure Breed Wagyu Beef, and the 230g Rib Eye Steak from Sendai Prefecture was a delightful choice. The marbling and tenderness made it an unforgettable experience, and I savored every bite.
Rib Eye Steak: I also sampled the 395g Rib Eye Steak from CUT, aged 21 days and made from USDA Prime, Illinois Corn-Fed beef. The aging process brought out exceptional flavors, and each bite was a journey of taste. At CUT, the steaks are truly a cut above the rest.
The Feather Blade
The Feather Blade takes a simple yet effective approach to steak. They specialize in flat iron steaks cooked to perfection, giving you a delightful and straightforward steak experience. It's the go-to destination for those in search of the best affordable steak in Singapore without compromising on quality and flavor.
Google ratings: 4.6
Location: 61 Tg Pagar Rd, Singapore 088482
Signatures
Signature Feather Blade Steak: The 200g Signature Feather Blade Steak paired with triple-cooked beef fat fries is an absolute delight. The steak is cooked to perfection and melts in your mouth, while the free-flow fries are a fantastic bonus. At $28, it's a must-try under "Steak & Fries."
Tri Tip Steak: If you're looking for a unique steak experience, the Hancock Agriculture, Eastern Australia, grain-fed 400+ days Tri Tip Steak is a great choice. The flavors are exceptional, and it's a delightful departure from the usual cuts. A true gem for steak lovers.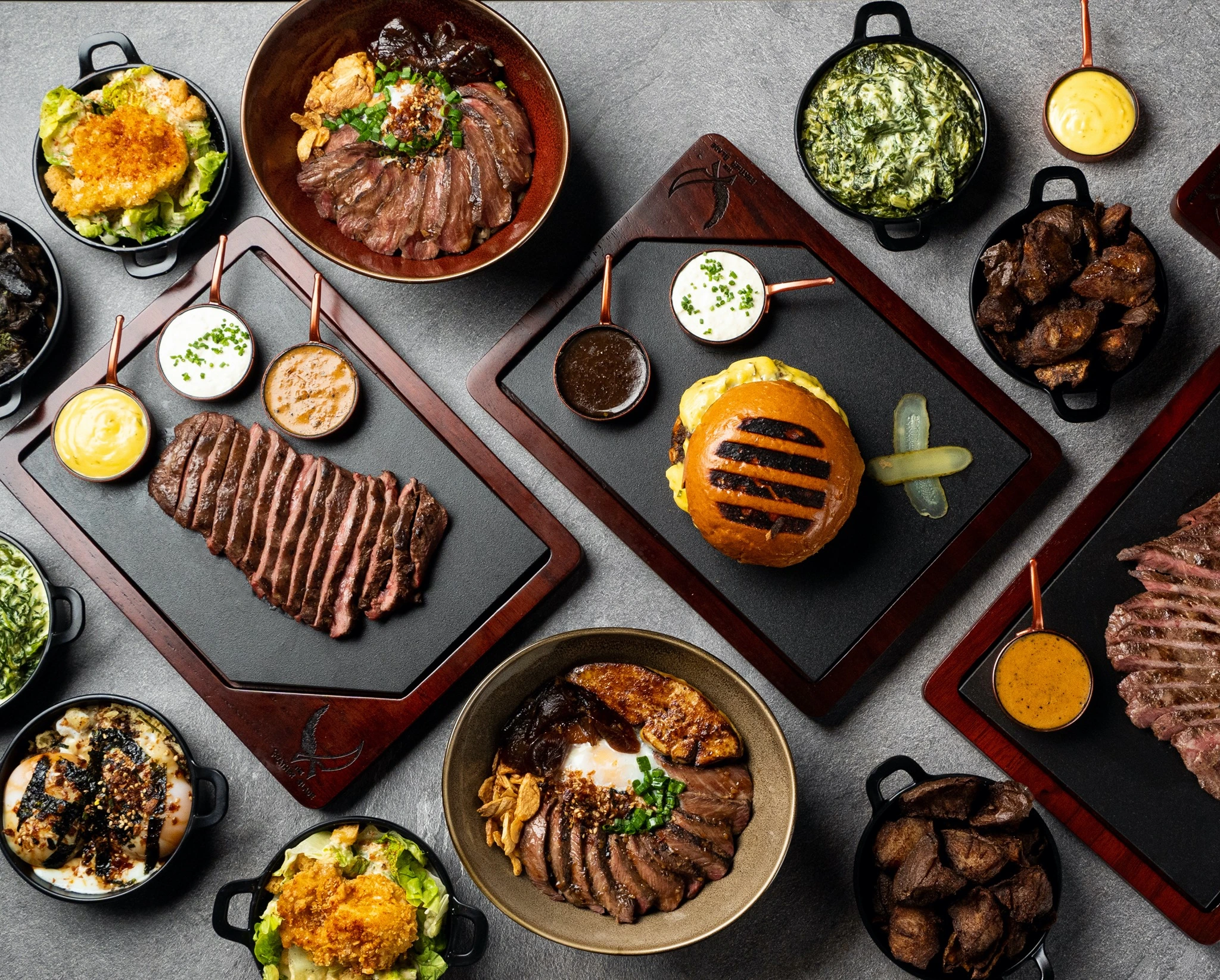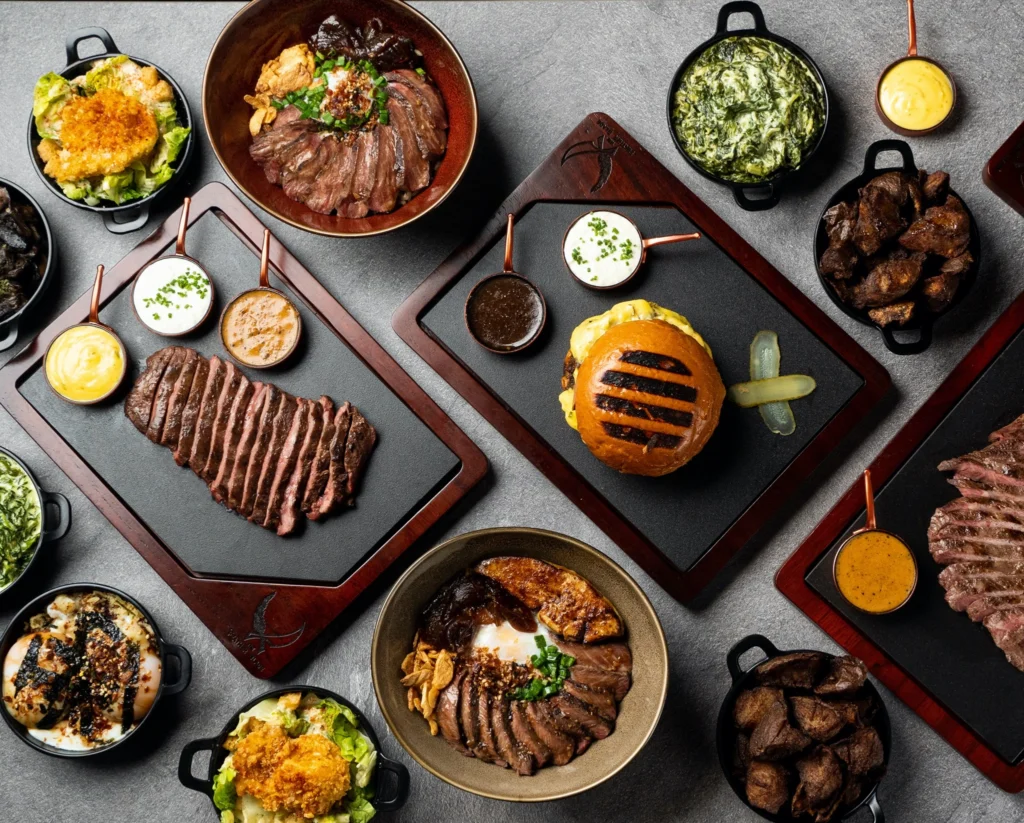 Wakanui Grill Dining
At Wakanui, you can savor the unique flavors of New Zealand beef cooked over Japanese binchotan charcoal. It's a fusion of tastes that offers a memorable dining adventure.
Google ratings: 4.5
Location: 5 Straits View, Marina One West Tower, #04-02, The Heart, 018935
Signatures
Canterbury Grass-fed Fillet: The 150g Canterbury Grass-fed Fillet from Wakanui is a savory delight. Served with fresh watercress and their special Wakanui sauce, it's a classic choice. The option of mashed potatoes or hand-cut potato wedges, with the additional truffle oil, adds an extra layer of deliciousness to the meal.
Kagoshima A5 Wagyu Diced Steak: If you're looking for something truly extraordinary, the Kagoshima A5 Wagyu Diced Steak is a premium treat. The rich marbling and quality of the beef are unparalleled. Served with seasonal vegetables, wasabi, and salt from Christmas Island, it's a gastronomic experience that's worth every penny.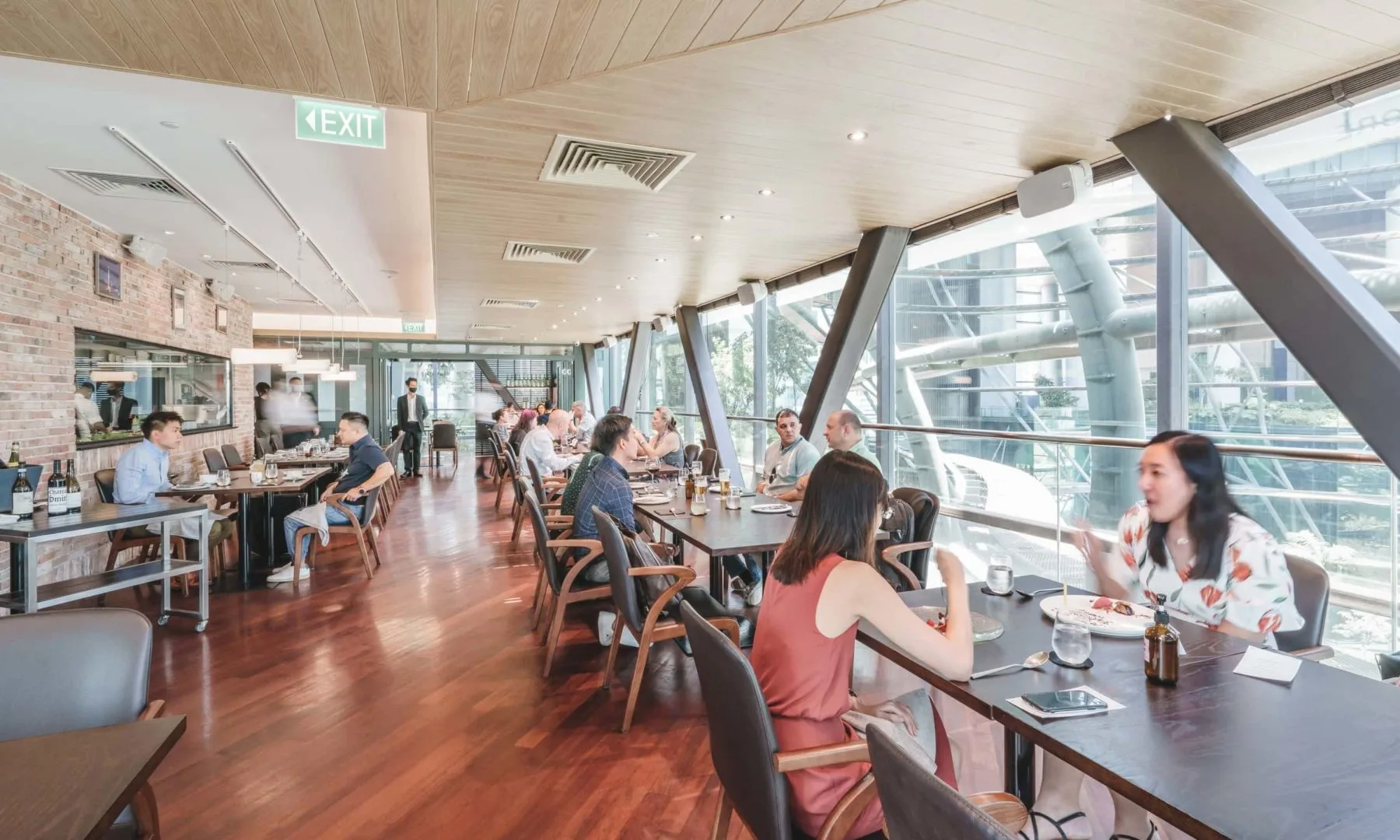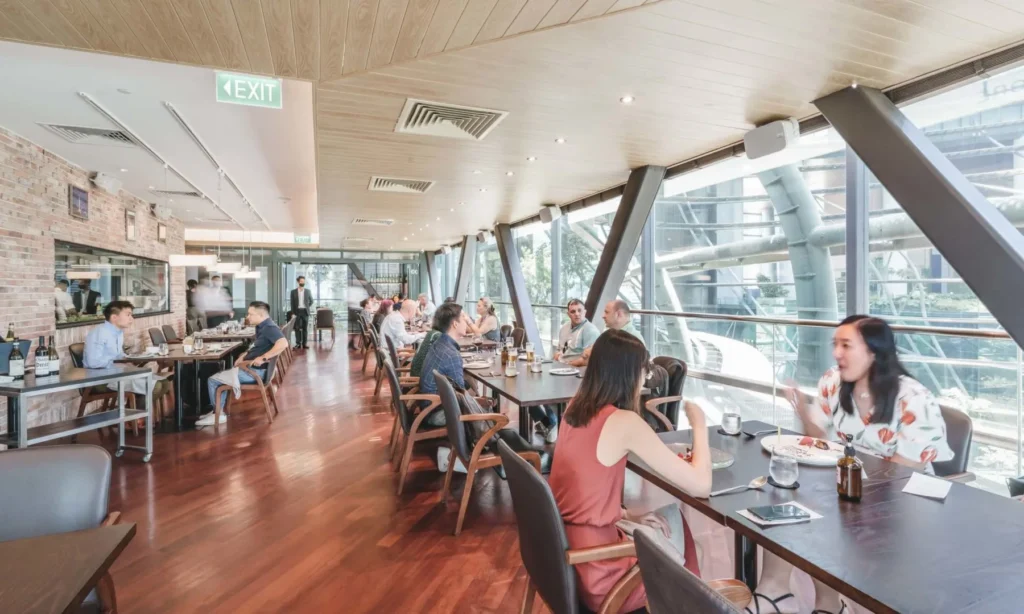 Les Bouchons
Les Bouchons is one of the best steak restaurants in Singapore that brings a touch of Paris to the Lion city. Known for their exquisite French steaks, it's the ideal place for those who love their meat with a French twist.
Google ratings: 4.5
Location: 60 Robertson Quay, #01-02, Singapore 238252
Signatures
Grilled Angus Sirloin Steak with Herbs: This dish is truly a crowd-pleaser. The Grilled Angus Sirloin Steak is cooked to perfection with herbs, and it's always been a favorite. For $50.00, you get a satisfying meal that includes salad and fries. It's a classic choice that never disappoints.
Impossible Steak Hache Grille: If you're looking for a plant-based option, the Impossible Steak Hache Grille is a great pick at S$34.00. You can choose your preferred doneness, whether you like it medium rare or well done. It comes with a salad and fries, making it a delightful choice for both vegetarians and meat-lovers.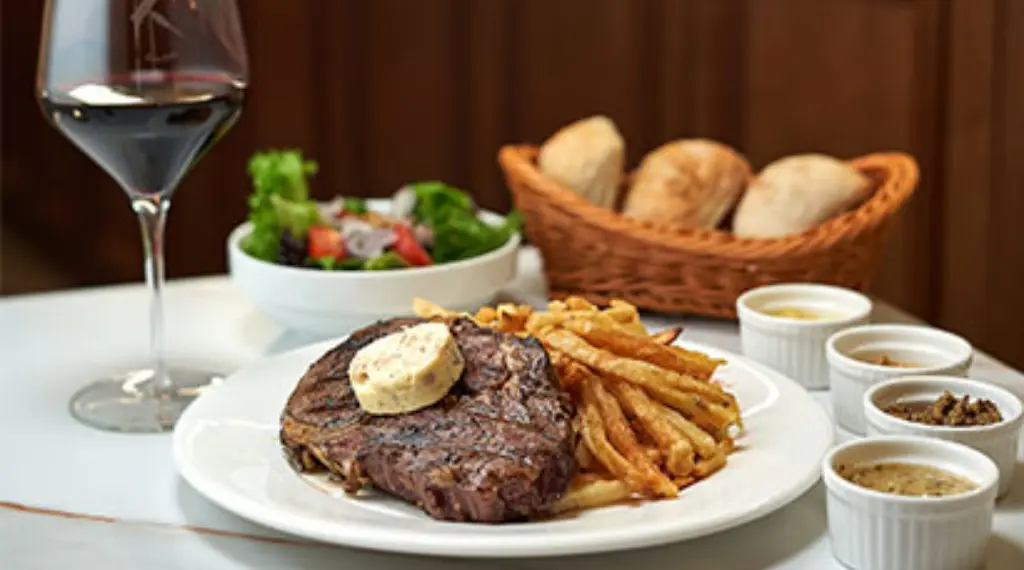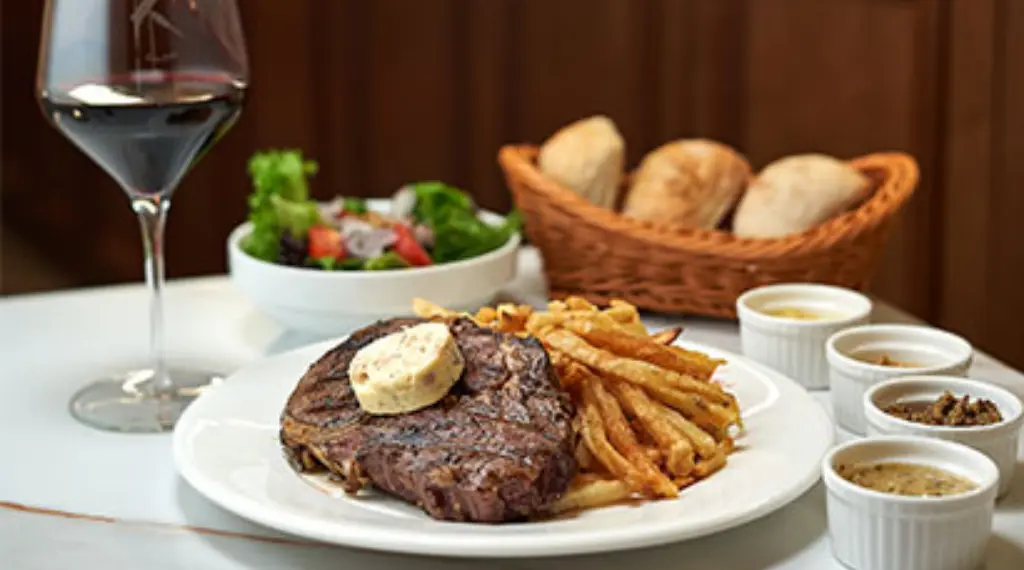 See Also: The Best Breakfast Spots In Singapore
Angus Steak House
Angus Steak House offers a classic steakhouse experience with an array of Angus beef options. The cozy ambiance and a variety of sides make it a go-to spot for a hearty steak meal. earning its place as the best steak in Singapore 2023.
Google ratings: 4.4
Location: 391 Orchard Road, #04-25, Takashimaya Shopping Centre, Ngee Ann City. Singapore 238872
Signatures
Miyazaki Wagyu Sirloin Steak: I absolutely loved the 250g Miyazaki Wagyu Sirloin Steak at Angus Steak House. It's a Japanese Wagyu beef sensation that melts in your mouth. It's important to note that it contains allergens, but for a Wagyu enthusiast like me, every bite was a taste of perfection.
Tenderloin Steak: Angus Steak House provides flexibility in portion size for their Tenderloin Steak, offering choices of 150g, 200g, 250g, or 300g. Made from Australia Wagyu beef, it's a hearty and fulfilling dish. I particularly enjoyed how I could select the size that suited my appetite, and the beef quality was exceptional.
The Ranch
If you're in the mood for a Wild West experience, The Ranch is the place to be. Known for its American-style steaks, it offers a laid-back setting and an extensive menu of meaty delights.
Google ratings: 4.4
Location: 12 Purvis St, #01-01, Singapore 188591
Signatures
Bone-In Ribeye: I couldn't resist trying The Ranch's Bone-In Ribeye, and it was worth every bite. Priced at $23 for every 100g, this Signature USDA Prime steak was dry-aged for 30 days in their own aging fridge, based on the Chef's Cut. The result was an incredibly flavorful and tender steak that satisfied my steak cravings perfectly.
Porterhouse T-Bone: I also savored The Ranch's Porterhouse T-Bone, which was priced at $19 for every 100g. This dry-aged beauty, also USDA Prime and aged for 30 days in their unique aging fridge, had a rich and intense flavor. The combination of the tenderloin and sirloin on the bone made this steak an absolute delight. It's a must-try for any steak enthusiast.
Wooloomooloo Steakhouse
Wooloomooloo Steakhouse provides a top-notch steak experience with panoramic views of Singapore's skyline. Their dry-aged steaks are a highlight, and the elegant setting adds to the overall appeal.
Google ratings: 4.4
Location: 2 Stamford Rd, Level 3 Swissotel the Stamford, Singapore 178882
Signatures
Beef Wellington: The Beef Wellington at Wooloomooloo was a treat I won't soon forget. It's made with a 220g Victoria, Australian grass-fed tenderloin, stuffed with a mouthwatering combination of mushroom duxelle, parma ham, and foie gras. The result was a flavorful and perfectly cooked dish that delighted my taste buds.
Wagyu Tomahawk: Another star on the menu was the Wagyu Tomahawk. Priced at $199 per kg, this 400-day grain-fed marvel from Sanchoku, Queensland, boasts a marble score of 5. The Wagyu Tomahawk is an excellent choice for sharing, and it's sure to impress. All steaks at Wooloomooloo come with a selection of sauces, ensuring each bite is as delightful as the last.
Ruth's Chris Steak House
For a touch of sophistication, Ruth's Chris Steak House delivers. Their sizzling hot plates and high-quality steaks are complemented by a classic and upscale atmosphere.
Google ratings: 4.4
Location: 4th Level, 6 Raffles Blvd, Hotel Royal Collection Marina, Marina Square, Singapore 039594
Signatures
Ribeye Steak: Ruth's Chris offers a delicious Ribeye Steak. It's cut from the front of the loin, and the minimal work of these muscles makes it incredibly tender. This USDA Prime beef is beautifully marbled and full of rich, beefy flavor. If you go for the bone-in version, it's even more exceptional.
New York Strip Steak: Another superb choice is the New York Strip, also from the loin. Known for its marbling, robust flavor, and tenderness, it's cut from the shorter side of the loin, where the muscles don't work much. Ruth's Chris serves a boneless and bone-in USDA Prime version of this short loin steak. It's a true treat.
Bedrock Bar & Grill
Bedrock Bar & Grill is well-known for its dry-aged beef and premium steak cuts. The stylish décor and a wide range of wines make it a great choice for a memorable steak dinner.
Google ratings: 4.4
Location: 96 Somerset Rd, #01-05 Pan Pacific Serviced Suites Orchard, Singapore, Singapore 238163
Signatures
Bedrock Pepper Steak: If you're a fan of bold flavors, you'll love the 300g grain-fed Wagyu ribeye. I couldn't resist the rich and spicy kick of the black peppercorn sauce, and it paired perfectly with a glass of "Basket Press" Rockford Shiraz for S$48.
Tomahawk Steak: As a true carnivore, I couldn't pass up the Tomahawk Steak. This grain-fed long-bone ribeye is all about succulence and flavor. While the price varies with the market, it's worth every bite for steak enthusiasts like me.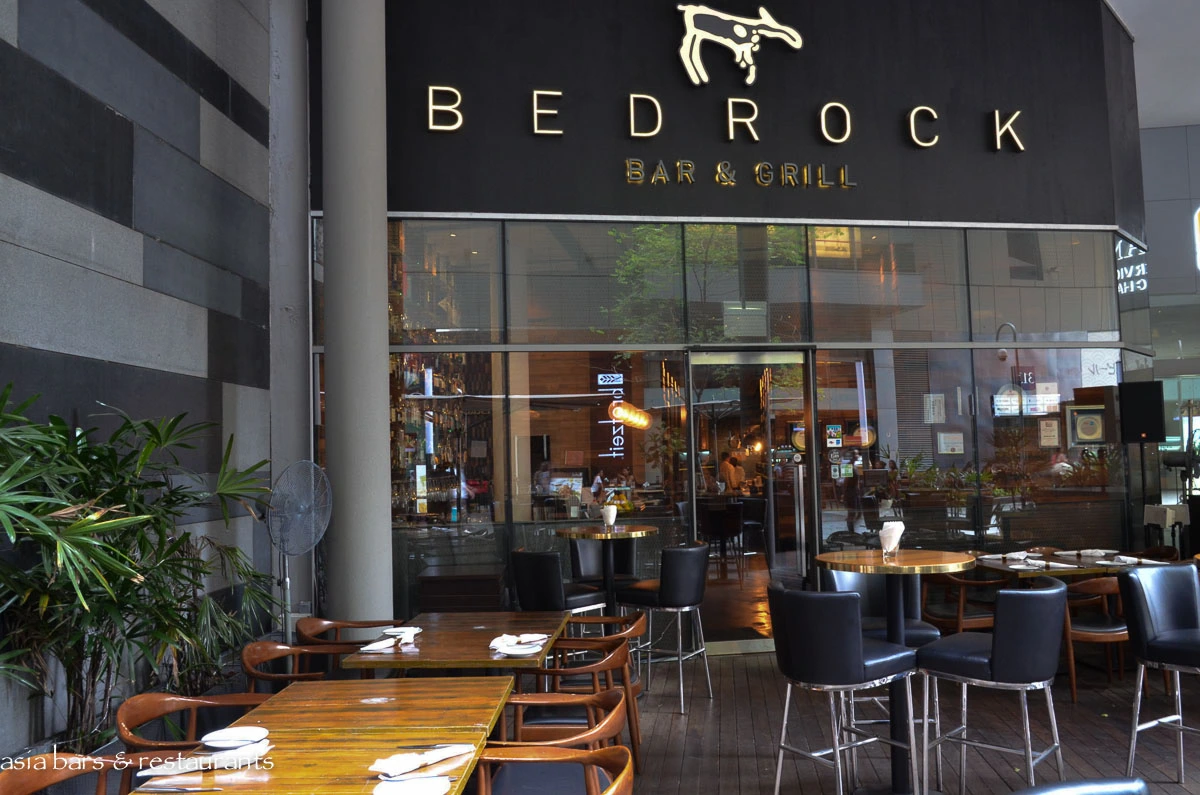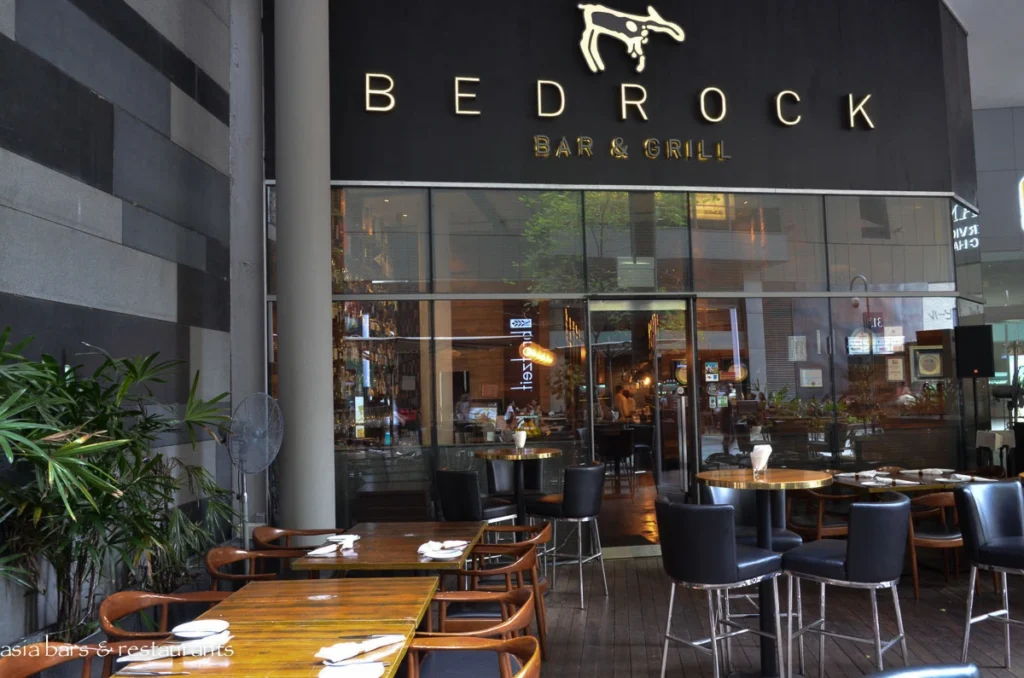 L'Entrecôte
If you're a fan of simplicity, L'entrecôte offers a unique concept – steak and fries, done to perfection. The classic French bistro setting adds a delightful touch to your meal.
Google ratings: 4.2
Location: 36 Duxton Hill, Singapore 089614
Signature steak
L'Entrecôte's Trimmed Entrecote Steak: This steak is a true gem. Sliced tender steak smothered in L'Entrecôte's secret sauce, accompanied by golden French fries and a walnut salad. You get to choose how you want your steak done – rare, medium, or well-done, it's up to you. All this goodness comes at a reasonable price of S$42.80. A must-try steak that's full of flavor and character.
In conclusion
To sum it up, if you're a steak lover in Singapore, you're in for a delightful treat. With the best steak restaurants in Singapore, you can relish a wide variety of steaks and enjoy an exceptional dining experience.
From classic cuts to unique creations, there's something for everyone. So, satisfy your steak cravings and head over to these sizzling spots for a memorable culinary adventure.