The Best Spanish Restaurants In Singapore- Savor España
Hi foodies! If you love Spanish food, you're in luck in Singapore. Let's explore the best Spanish restaurants in town, where you can enjoy delicious dishes like paella and tapas that'll make you feel like you're in Spain.
Get your taste buds ready for a tasty journey as we explore the best Spanish restaurants in Singapore. In this guide, we'll uncover where you can savor the most genuine Spanish flavors. From delicious paellas to mouthwatering tapas, these spots are the real deal. So, let's jump into this Spanish culinary adventure! 🥘🍷
10 Spanish Restaurants to Satisfy Your Cravings
Craving the rich and savory flavors of Spanish cuisine? Look no further! We've combed through Singapore's culinary landscape to bring you 11 Spanish food havens ready to tantalize your taste buds.
Let's jump right in and explore these delightful Spanish restaurants that promise an unforgettable dining experience.
Asador
Binomio
Esquina
Kulto
La Taperia
My Little Spanish Place
Next Door Spanish Café
Pura Brasa
Tapas 24
The Great Mischief
Excited to fulfill your Spanish food desires? Let's dive into the flavors and tales that make these Spanish restaurants exceptional.
Asador
Asador is one of the hotspots in our "Savor España" guide. This place is all about smoky and flavorful grilled meats that make your taste buds dance. It's a must-visit for anyone craving a taste of Spain in Singapore.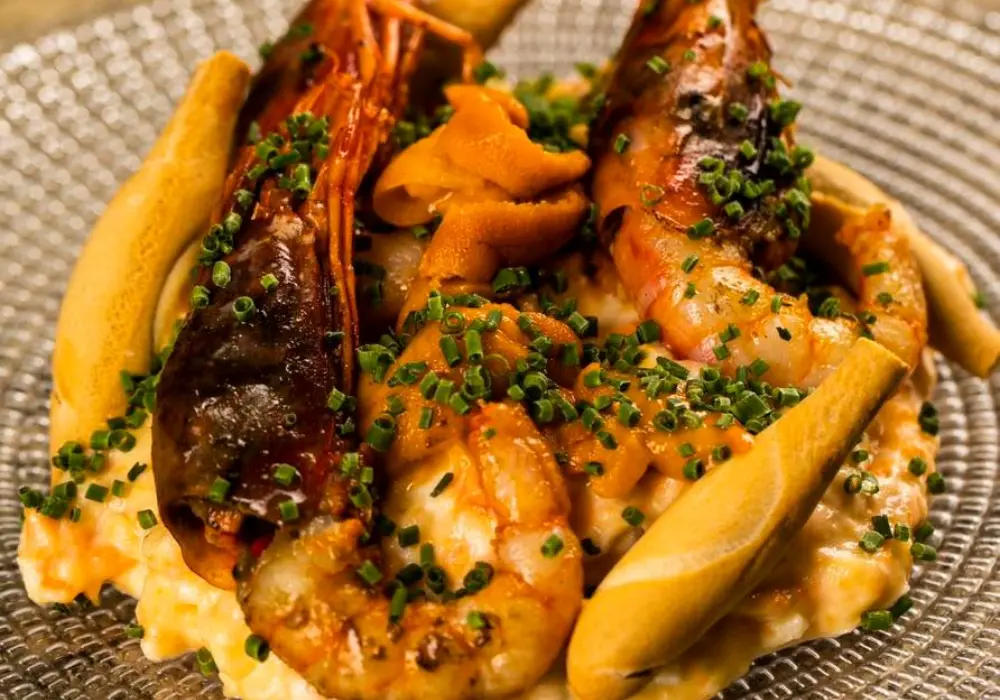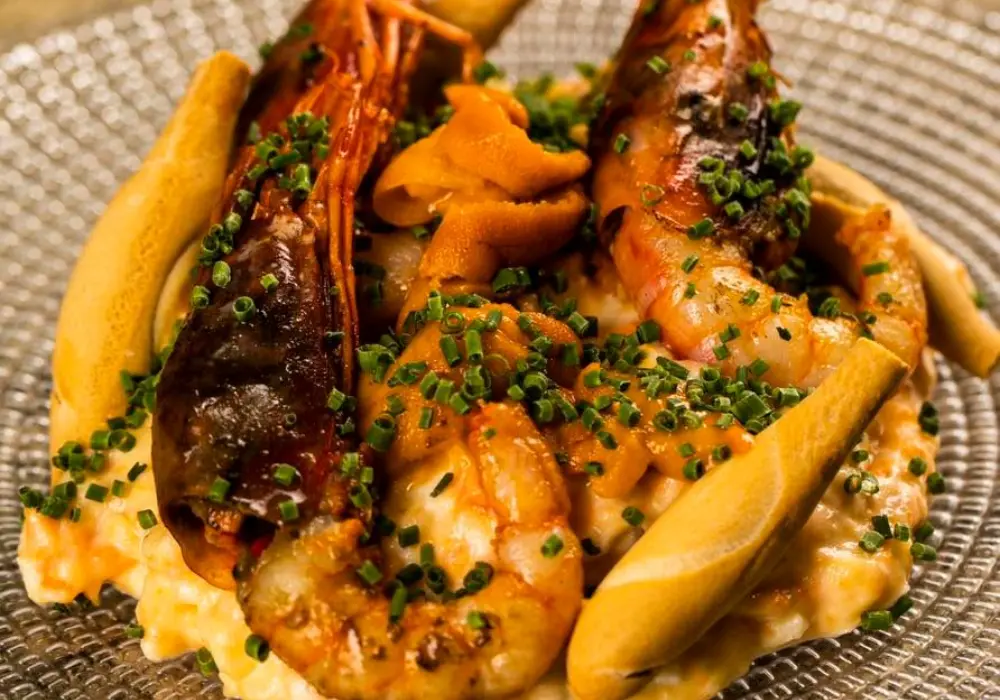 Type: Spanish Grill
Location: 51 Joo Chiat Pl, Singapore 427775
Signature dishes
Zamburiñas: Oh, the grilled baby scallops with kombu butter from their menu! These delectable bites bring the flavors of the seaside to your plate. You'll savor tender baby scallops, expertly grilled, and served with a mouthwatering kombu butter sauce. One taste, and it's like a mini getaway to the coast. Seafood enthusiasts, this dish is a must-try!
'Col: When I tried it, I was struck by the unique combination of flavors and textures. The charred cabbage had a delightful smokiness and just the right amount of crispiness. The burnt spring onion ranch dressing added a creamy and tangy twist that I found truly satisfying. And those touches of wakame brought in a subtle taste of the ocean, perfectly complemented by the rich, nutty notes of the noisette butter. It's a dish that takes you on a culinary journey, and I highly recommend giving it a try!
Dessert:
Sorbete de Limon: This sweet treat is like a burst of sunshine on your palate. Imagine zesty lemon sorbet paired with delicate gin jelly and a surprising touch of pickled starfruit. It's a refreshing and tangy finale to your Spanish dining experience, leaving your taste buds tingling with delight.
Binomio
Binomio is another gem from our Spanish food adventure. They serve up delicious paella that's like a taste of Valencia right here in the Lion City. It's a real deal for paella lovers.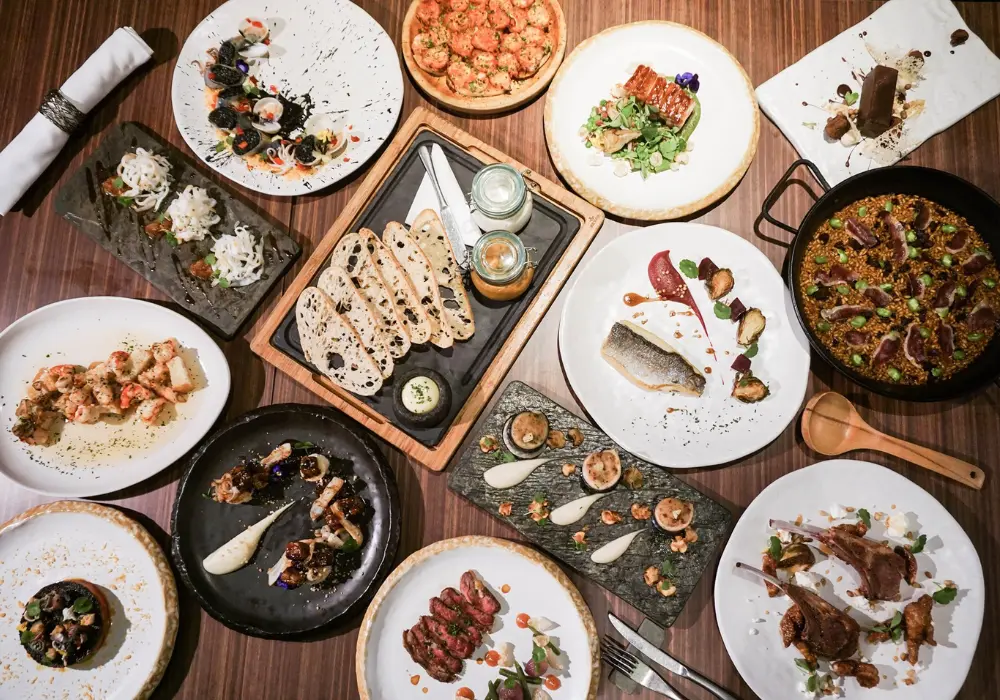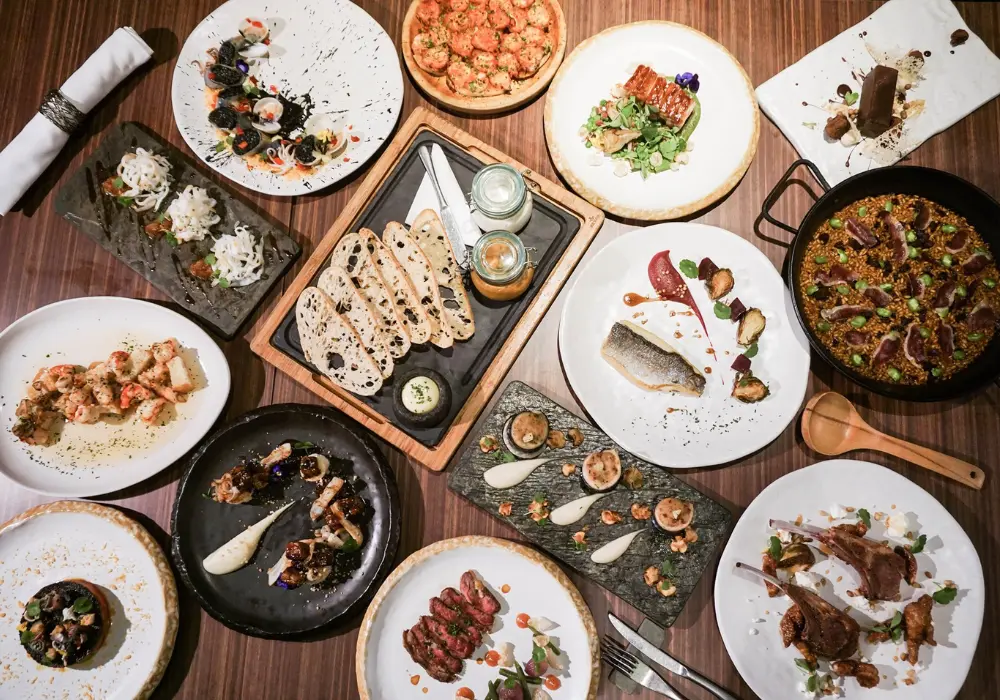 Type: Authentic Spanish Cuisine
Location: Craig Place
Signature dishes
Pates de la casa: The 'Homemade duo meat pates' from their menu, a delightful choice for those who love to start their meal with something special. These are house-made pates that truly showcase the chef's expertise. Picture rich and savory spreads bursting with flavor, accompanied by warm and rustic bread that's perfect for spreading these delicious creations.
Arroz mar y montaña: It's a tasty mix of both land and sea. Think of a hearty paella that's loaded with tender chicken, juicy shrimp, and flavorful clams. All these ingredients blend together to create a satisfying dish that's a must-try for anyone who loves paella.
Dessert:
Crema Catalana: For dessert, we have the classic "Crema Catalana," a sweet delight from Catalonia. It's like savoring a piece of Spanish tradition. Picture creamy custard with a perfectly caramelized top, offering a delightful contrast of textures and flavors. It's a sweet note to end your meal, and every spoonful is a taste of Catalan culinary history.
Pura Brasa
Pura Brasa brings the smoky goodness of Spanish grills to Singapore. The aroma of grilled meats is enough to make your mouth water, and it's a top pick in our Spanish culinary journey.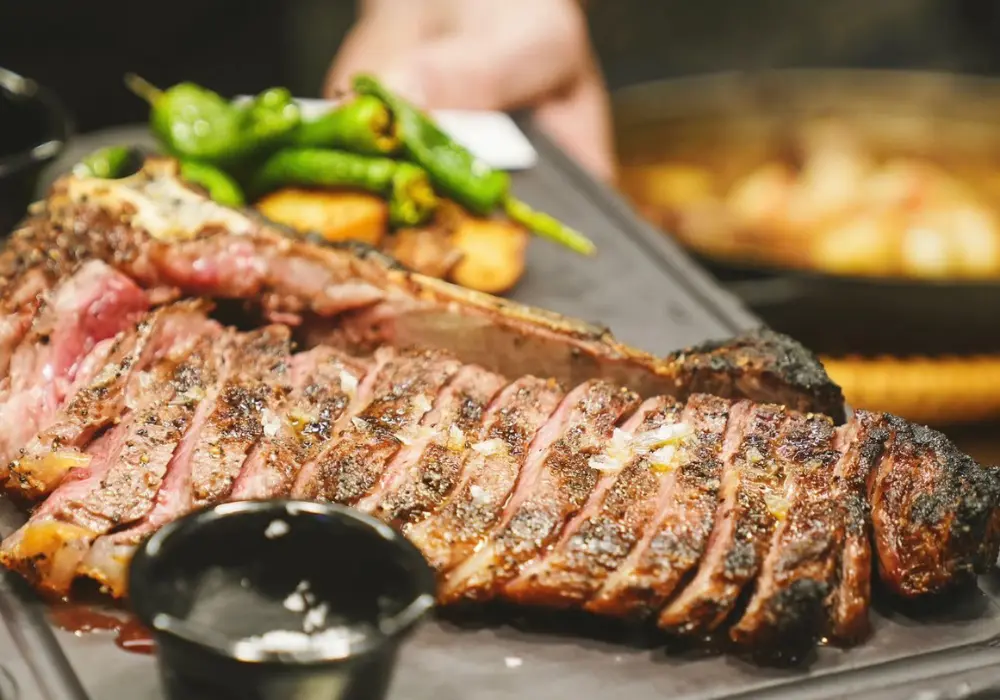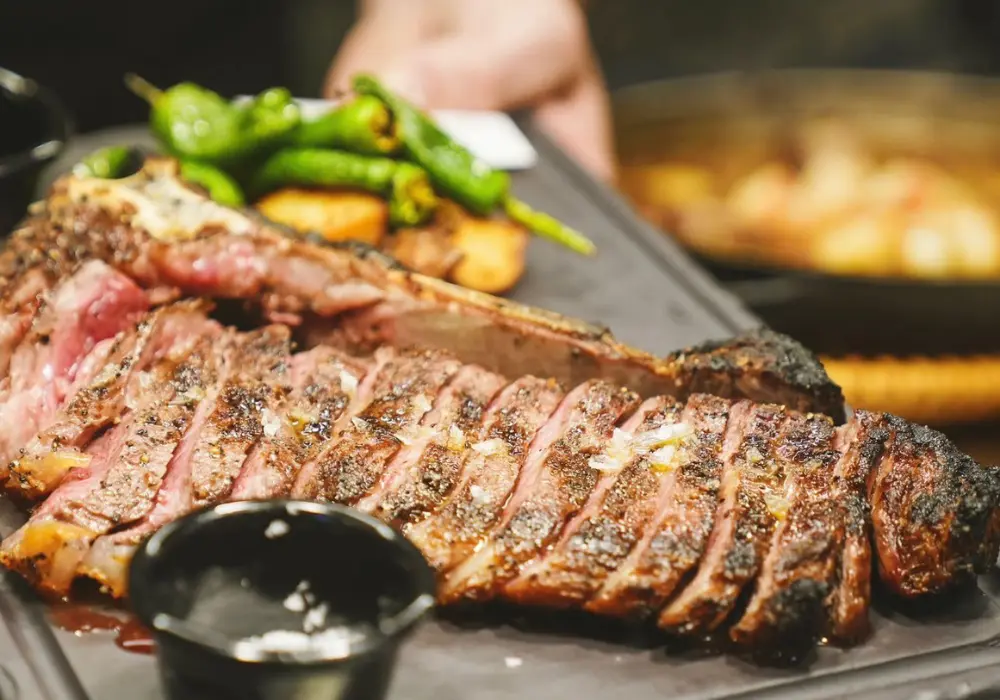 Type: Gastronomic Grill
Location: Guoco Tower
Signature dishes
Grilled Mussels: These mussels are prepared in a way that's neither steamed nor a la marinera. Instead, they are cooked directly over an open flame on the Josper grill. This method infuses them with a smoky and charred flavor that sets them apart. Each bite is a delightful explosion of grill-kissed goodness, making them a must-try for those seeking a different twist on mussels.
Seafood Paella: Next up, we have the "Seafood Paella," a dish that's truly a masterpiece. This paella is prepared using the Josper grill, infusing it with a unique charcoal flavor that sets it apart. It's loaded with a delectable selection of seafood that's tender and bursting with flavor. Each spoonful is a journey through the sea, making it a must-try for paella enthusiasts and seafood lovers alike
Esquina
Esquina is a charming spot that captures the essence of Spanish dining. From their tapas to seafood dishes, it's like a culinary journey through Spain's coastal regions.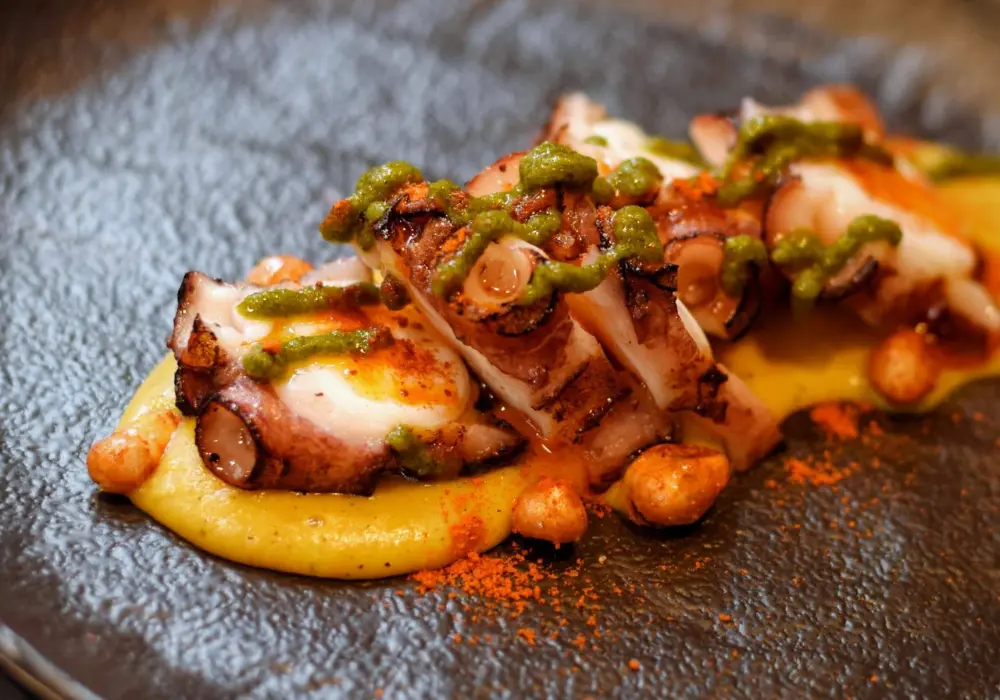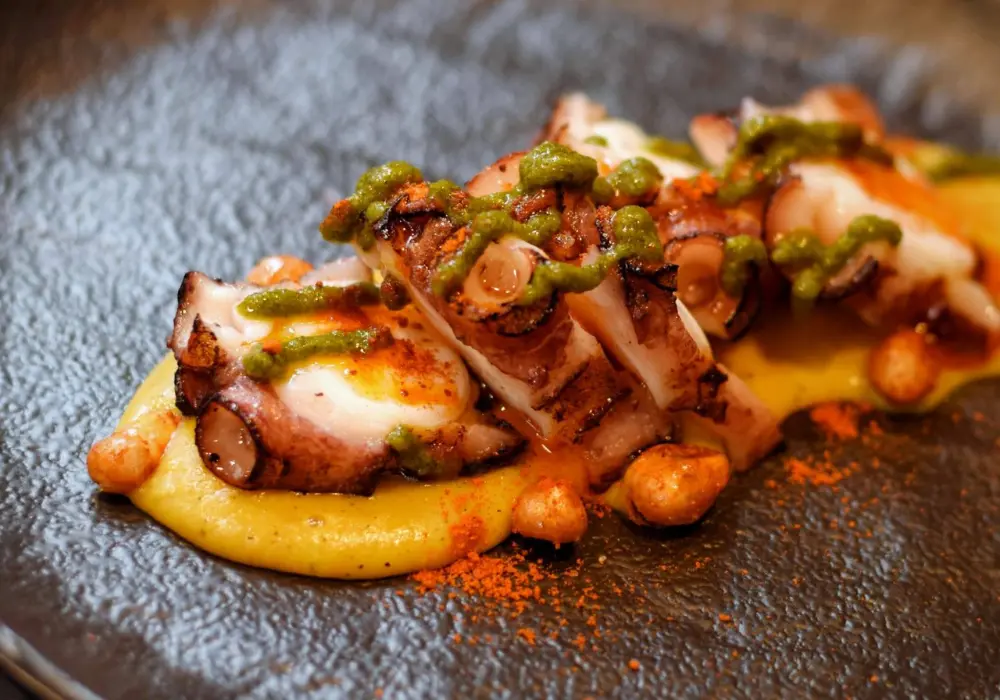 Type: Modern Spanish Restaurant
Location: 16 Jiak Chuan Rd, Singapore 089267
Signature dishes
Smoked Burrata: Imagine a luscious burrata cheese, smoked to perfection, and nestled beneath a bed of pickled chioggia beetroot. It's served with a fragrant tom kha gai broth and a delightful crunch of fried peanuts. This dish is a delightful surprise, where the smokiness of the burrata meets the earthy notes of beetroot and the exotic flavors of tom kha gai. A must-try for those seeking an adventurous culinary experience!
Carabinero Prawn Paella: This delightful dish features lobster rice cooked to perfection and adorned with two Spanish carabinero prawns. It's all brought together with the fragrant touch of saffron allioli. Imagine the richness of lobster paired with the sweet, succulent flavor of carabinero prawns, and the saffron allioli adds a burst of Mediterranean charm. It's a paella experience that truly feels like a journey to the depths of the sea. A must-try for seafood lovers!
Dessert:
Spanish Strawberries: Now, let's satisfy our sweet tooth with "Spanish Strawberries" from the desserts section. Picture plump and juicy Spanish strawberries paired with a sweet basil sorbet that adds a refreshing twist. They're topped with a delightful layer of burnt marshmallow, which gives a hint of smokiness, and a dollop of vanilla Chantilly to add a creamy contrast. This dessert is like a symphony of flavors and textures that will leave your taste buds dancing with joy.
Kulto
Kulto brings a modern twist to traditional Spanish cuisine. With dishes that surprise and delight, it's a place where the flavors of Spain get a contemporary makeover.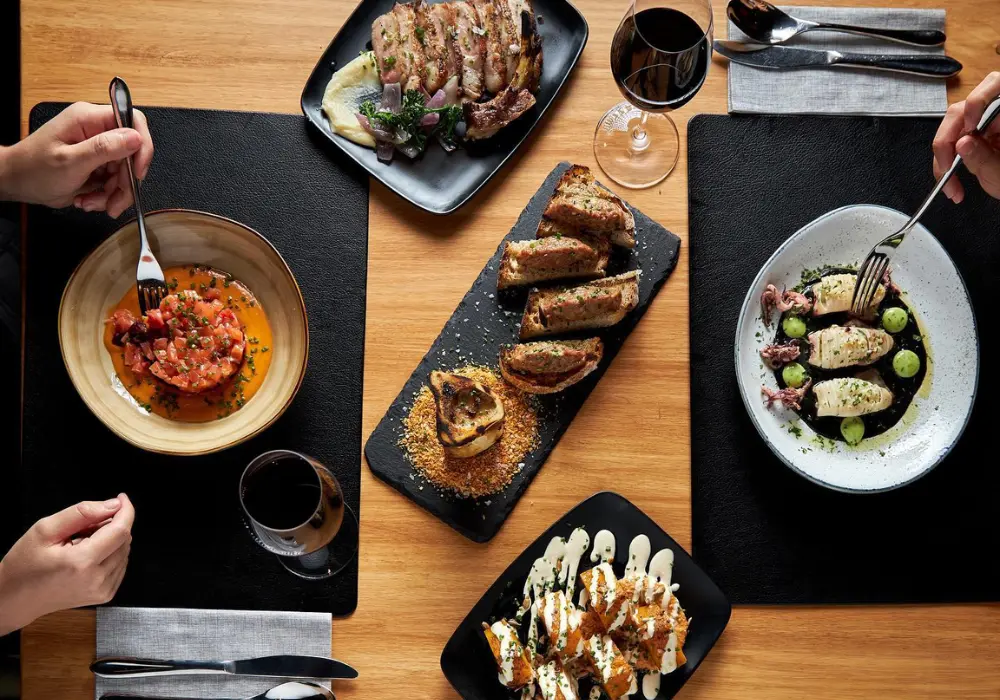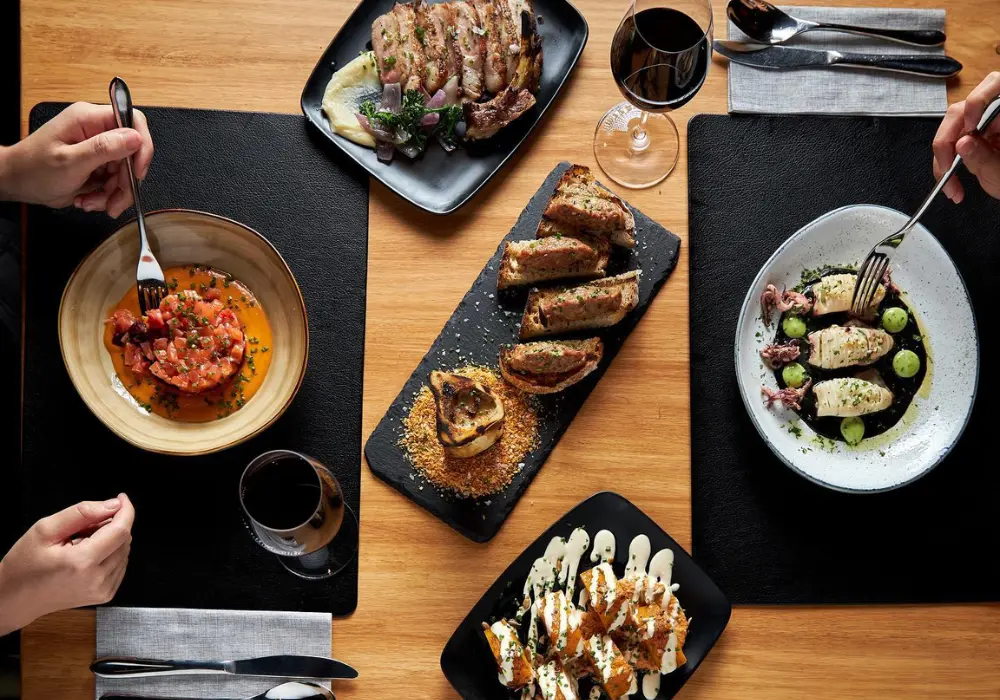 Type: Elevated Spanish Gastronomy
Location: 87 Amoy St, Singapore 069906
Signature dishes
Homemade Cheese Terrine with Quince Puree: Let's kick off our Spanish culinary adventure with this dish. This delightful tapa combines creamy cheese terrine with the sweet and fruity notes of quince puree. To elevate the flavors, there's a drizzle of truffle and honey olive oil. It's a perfect starter, where the creaminess of the cheese meets the sweet and earthy undertones, creating a harmonious blend that's sure to please your palate. A delightful way to begin your Spanish feast!
Charcoal Chicken with Brussels Sprouts: This dish is a flavorful journey where succulent charcoal-grilled chicken meets the earthy goodness of Brussels sprouts. It's a hearty and satisfying combination that showcases the smoky char of the chicken and the wholesome taste of Brussels sprouts. A perfect choice for those who crave a comforting and fulfilling meal.
Dessert:
Apple Tarte Tatin with Rum Raisin Ice Cream: Now, let's satisfy our sweet cravings with this delightful dessert. Picture warm, caramelized apples nestled in a buttery pastry, paired with a scoop of indulgent rum raisin ice cream. It's a sweet sensation that's both comforting and decadent. The warm and cold elements blend perfectly, making every bite a delightful treat for your taste buds. A sweet ending to your Spanish culinary journey!
See Also: Best Turkish Restaurants In Singapore
La Taperia
La Taperia is a cozy place featured in our "Savor España" guide. It's like a little corner of Spain in Singapore, where you can relish authentic tapas and enjoy the vibrant Spanish atmosphere. A must-try for those looking to experience the finest in Spanish cuisine!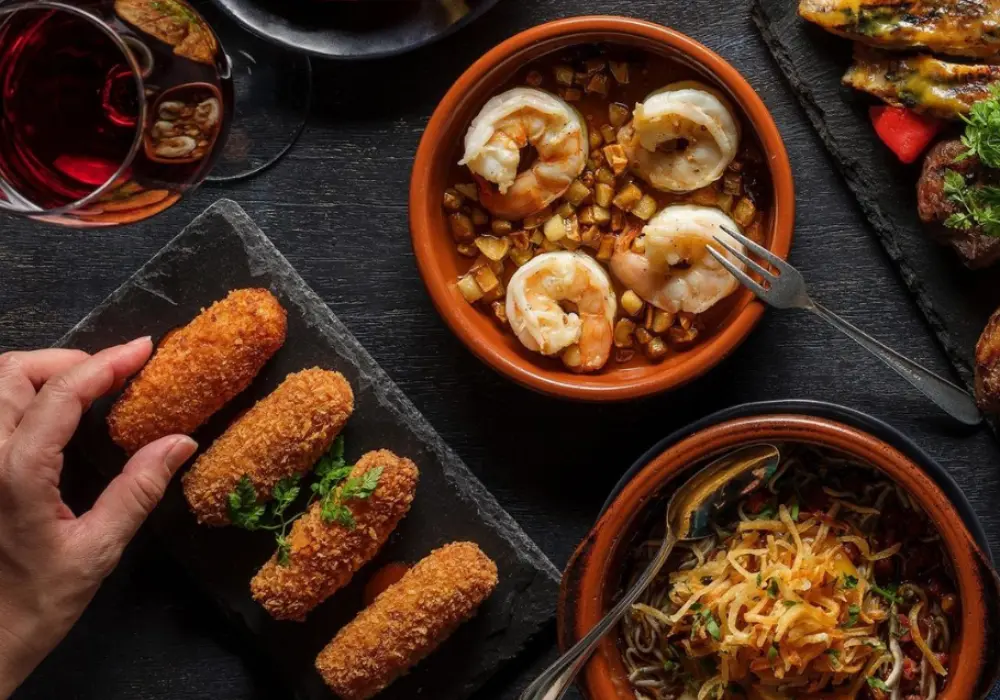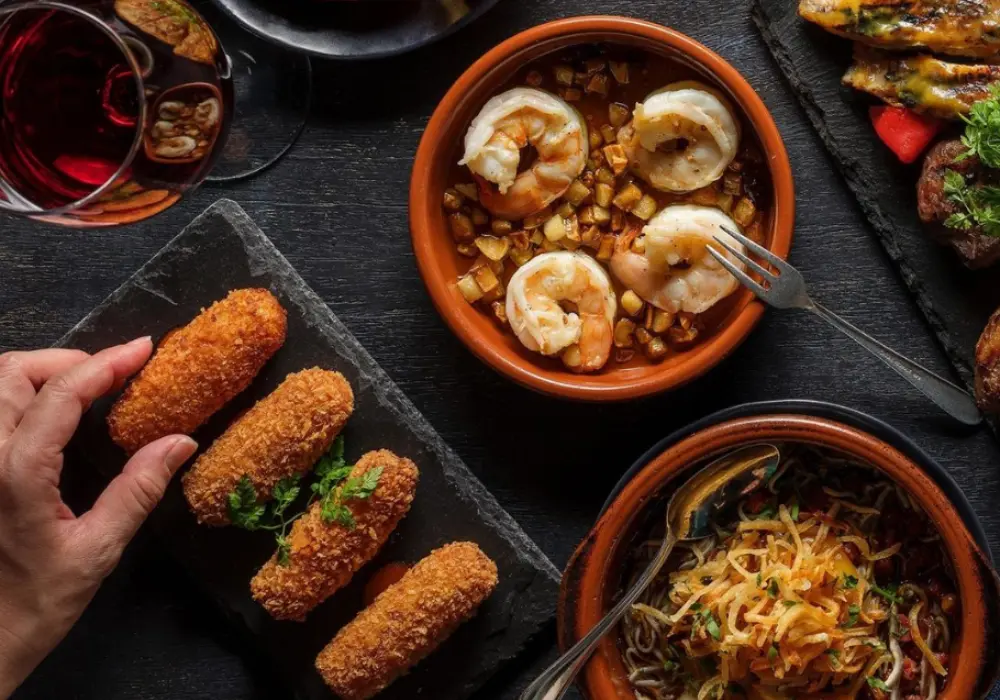 Type: Spanish Tapas Bar
Location: Shaw Centre
Signature dishes
Gambas al Ajillo: A delightful choice to kickstart your Spanish dining experience! Imagine plump prawns cooked with a kick of garlic, chili, and extra virgin olive oil. It's a fiery and flavorful combination that elevates the natural sweetness of the prawns. Each bite is a burst of spicy and garlicky goodness, making it a must-try for those who love a bit of heat in their dishes.
Paella de Bogavante: This paella is all about indulgence, featuring succulent lobster paired with fragrant saffron, tender runner beans, and ripe tomatoes. It's a harmonious blend of flavors that transforms into a rich and aromatic masterpiece. While it comes with a premium price, each bite is a taste of opulence that's worth savoring.
Dessert:
Marquesa de Chocolate: Now, for a sweet finale, we have the "Marquesa de Chocolate." This dessert is like a chocolate lover's dream come true. Picture a velvety chocolate marquise, crowned with a delectable layer of baked almond praline. It's a treat that balances the richness of chocolate with the crunch of almond praline. Every bite is a balance of textures and flavors that will leave you craving for more.
My Little Spanish Place
This spot is perfect for a casual Spanish dining experience. It's a hidden gem where you can feast on classic dishes like paella and feel like you're in a quaint Spanish village. A great way to embrace the naturalness of Spanish cuisine!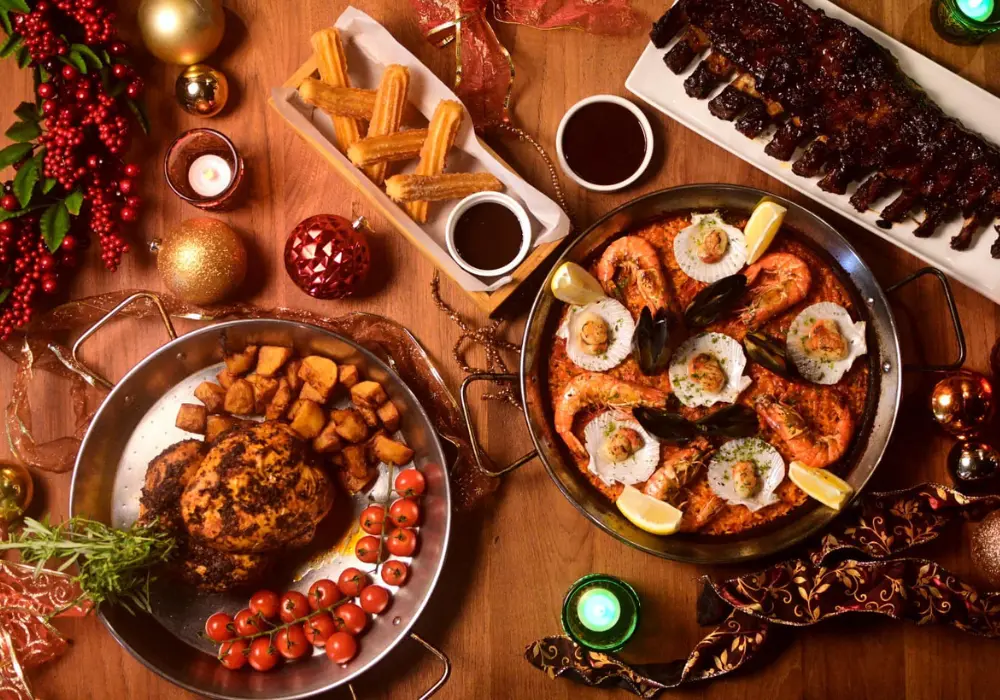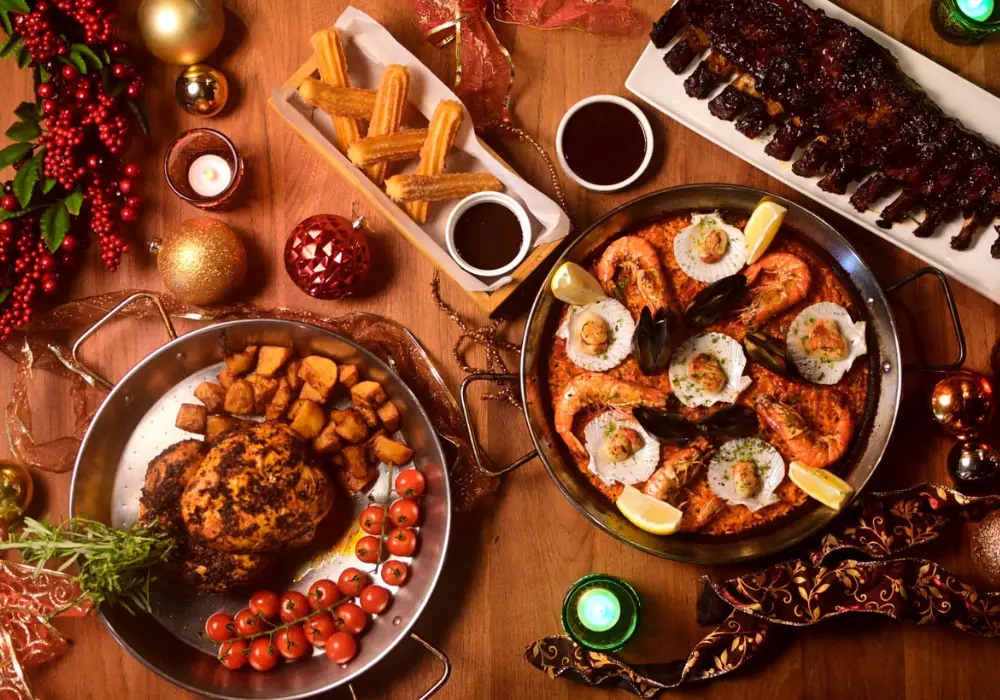 Type: Spanish home-style dishes and desserts
Location: 619 Bukit Timah Road Singapore 269720
Signature dishes
Especial del Día: This special dish varies depending on the day and features seasonal fish, seafood, and meat selections. It's a delightful surprise that our servers will present to you. So, if you're looking for an adventurous dining experience, just ask our servers for the daily specials, and they'll guide you through the exciting options available.
Gambas al Ajillo: This dish is all about the perfect balance of flavors. Imagine plump prawns cooked in a fragrant blend of olive oil, garlic, and chili, elevated by our secret sauce. It's a harmonious fusion of spicy, garlicky, and savory notes that make each prawn a burst of deliciousness. If you're a fan of bold flavors, this one is a must-try on your Spanish culinary journey.
Dessert:
Tarta de Queso: Now, let's satisfy your sweet cravings with the "Tarta de Queso." This dessert is a delightful treat that combines a light and creamy Basque burnt cheesecake with a speculoos crust. It's crowned with a drizzle of raspberry coulis, adding a fruity and tangy twist to the creamy cheesecake. Each bite is a perfect blend of textures and flavors, making it a delightful choice to conclude your Spanish dining experience on a sweet note. A must-try for dessert lovers!
Next Door Spanish Café
As the name suggests, this café is right next door to Spain's flavors. It's known for its relaxed vibe and hearty Spanish breakfast options to kickstart your day.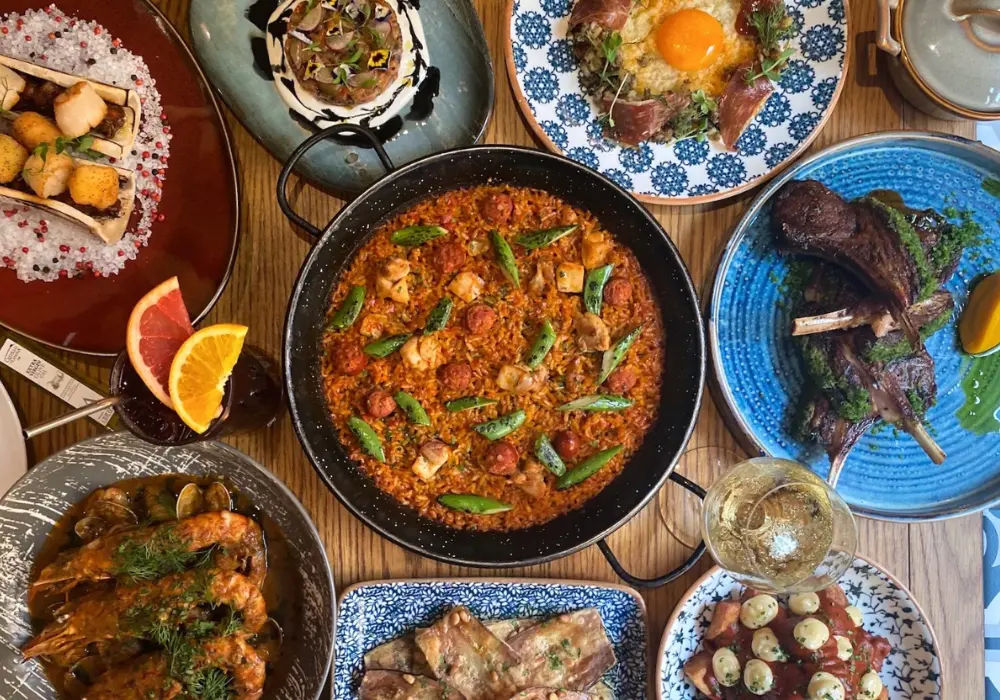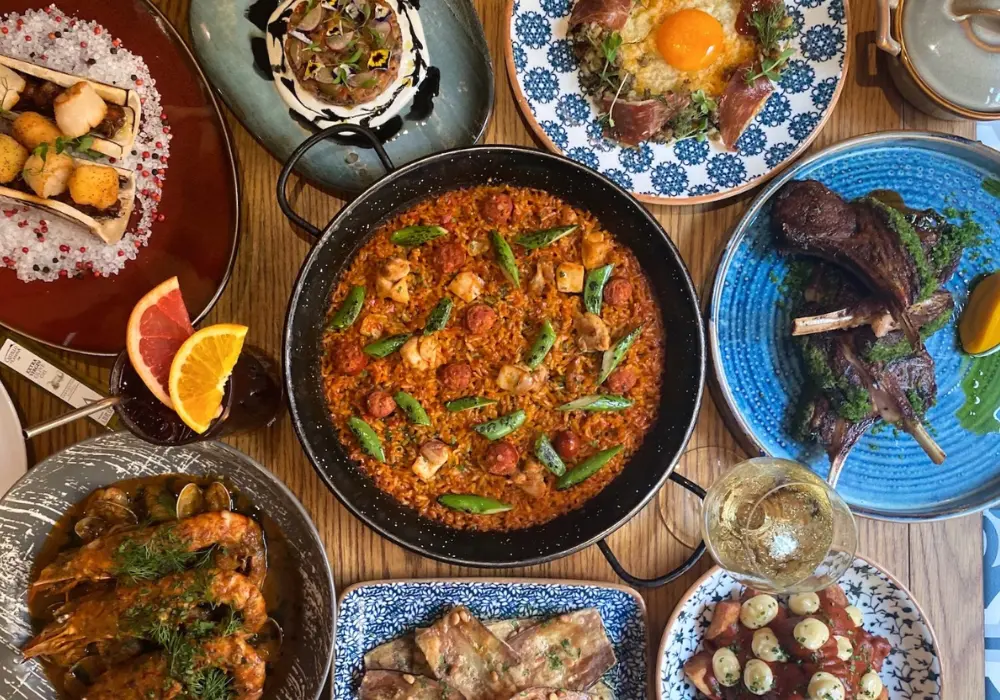 Type: Authentic Traditional Spanish Taste
Location: 699 E Coast Rd, Singapore 459061
Signature dishes
Pescado a la Brasa: It features the catch of the day, grilled to perfection. To add to the excitement, it is offered at market price, ensuring you get the freshest and finest selection available. It's a dish that lets you embrace the naturalness of Spanish cuisine, and their servers will be happy to provide you with details on the daily catch. A perfect choice for those who appreciate the flavors of the sea!
Jarrete de Cordero: Let's talk about the dish that's a true delight for lamb lovers. It features a tender and flavorful lamb shank that's been slow-cooked to perfection. It's served alongside a couscous and nuts salad, creating a balanced and satisfying meal. At $34, it's a value-packed choice that combines the richness of lamb with the freshness of the salad. A must-try for those seeking a hearty and fulfilling dish!
Dessert:
Flan: Now, for a sweet ending, we have the "Flan." This dessert is a delightful combination of crème caramel, topped with a dollop of whipped cream and a hint of kaffir lime. It's a harmonious blend of creamy and citrusy flavors that will satisfy your sweet tooth. Priced at $10, it's a perfect way to conclude your Spanish culinary journey on a sweet and refreshing note. A must-try for dessert enthusiasts!
Tapas 24
Tapas 24 is one of the best Spanish restaurants in Singapore where you can find some of the most delightful tapas in town. It's like a taste of Barcelona, and their "bombas" are a must-try!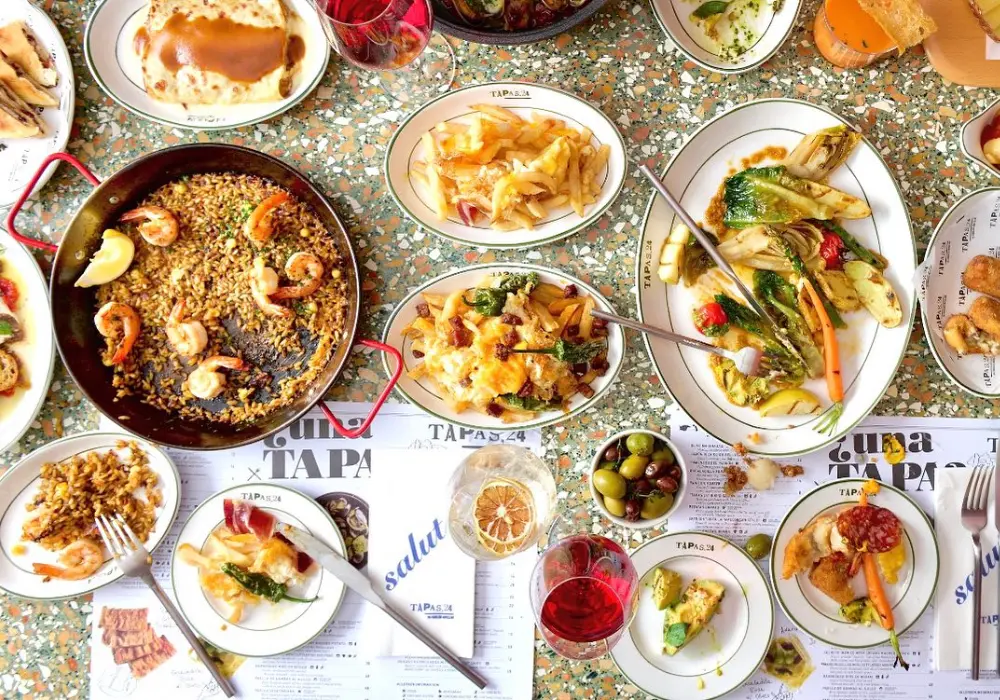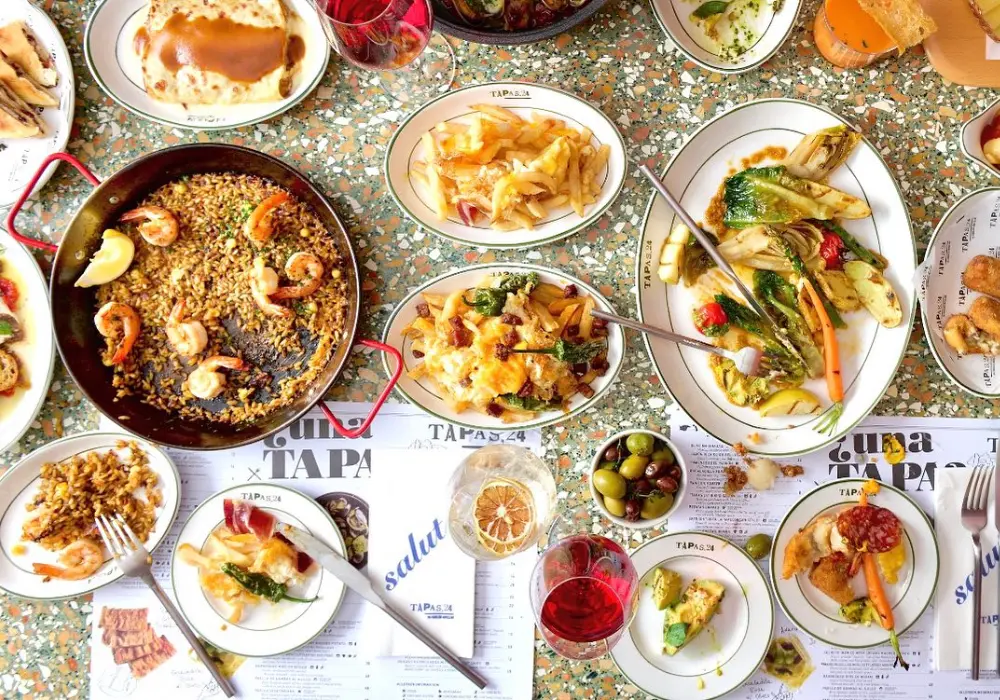 Type: Authentic Spanish Dining
Location: The Quayside
Signature dishes
Pargo a la Donotiarran: It's all about that perfectly grilled plancha red snapper. This fish is grilled just right, so it's tender and flavorful. It comes with a side salad, keeping it simple and fresh. If you enjoy grilled fish, you'll definitely want to give this dish a try. It's a tasty and wholesome seafood option that hits the spot!
Patatas Bravas: This dish features quartered potatoes served with a zesty "Bravas Sauce." It's a classic Spanish snack that combines the crispy goodness of potatoes with the bold flavors of the sauce. Each bite offers a satisfying crunch and a kick of spice, making it a must-try for those looking to enjoy a flavorful and comforting snack or side dish.
The Great Mischief
This spot adds a playful twist to Spanish cuisine. With creative dishes and cocktails, it's where you can enjoy Spanish flavors with a dash of mischief.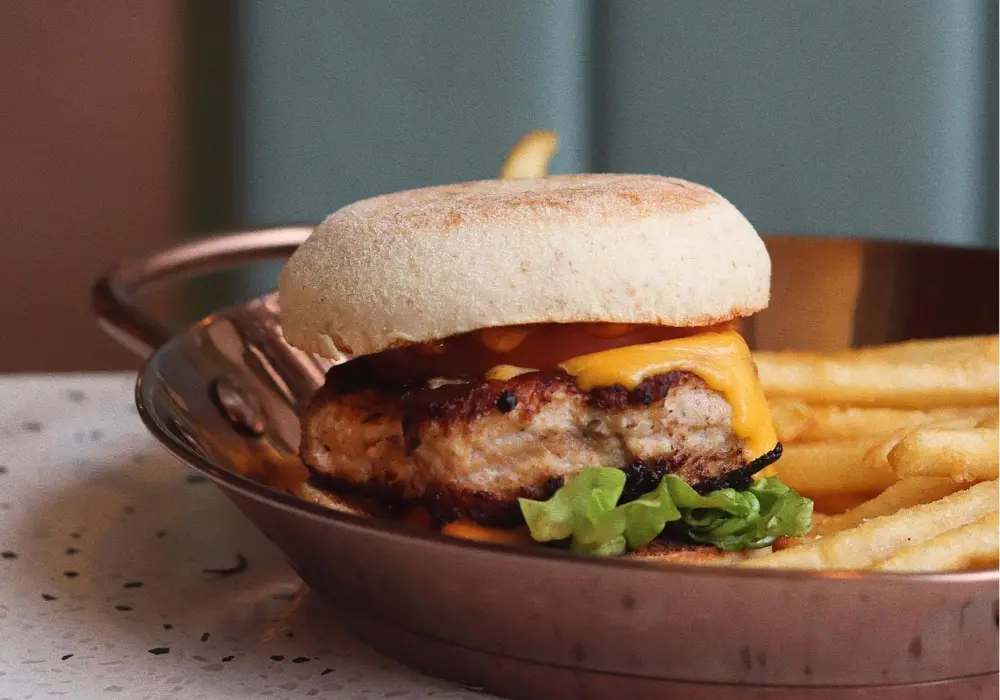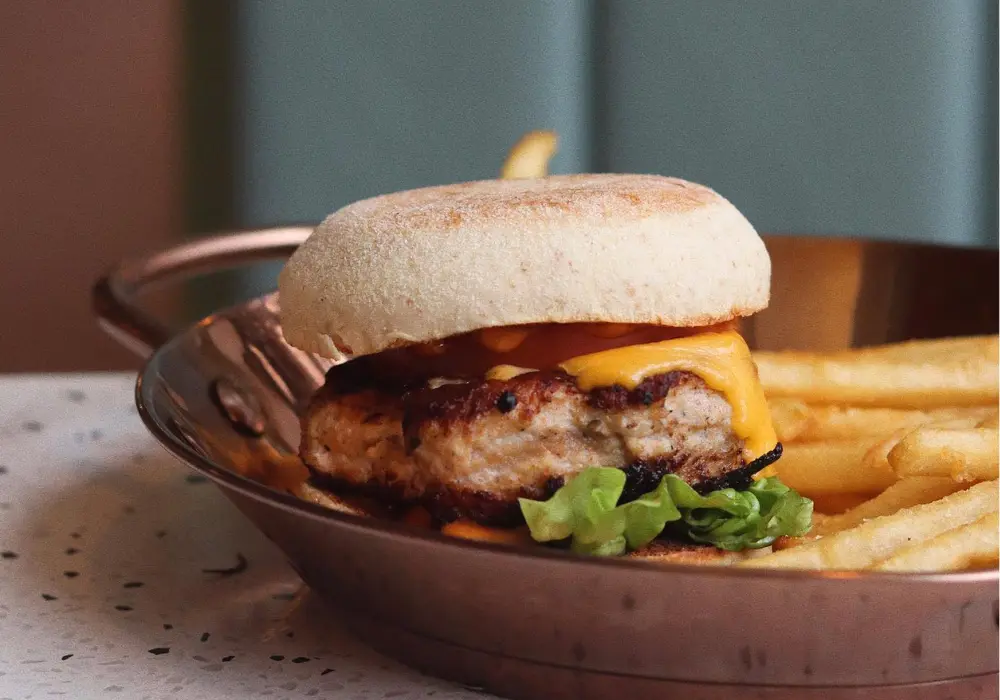 Type: Catalan-inspired food
Location: National Gallery Singapore
Signature dishes
Pescado Sando: This dish features battered seabass sandwiched between brioche buns, dressed with tartar sauce and guindilla peppers. It comes with a side of crispy fries, making it a hearty meal. If you're a seafood lover and craving some comfort food, this dish is the perfect choice. It's a crowd-pleaser and a must-try to satisfy your cravings.
El Pollo: It features a spiced-rubbed, half-roasted chicken served with a delicious mushroom ragu, green peas, watercress, and a rich jus. The combination of tender chicken, earthy mushrooms, and vibrant greens creates a harmonious and satisfying meal. If you're in the mood for a hearty and well-balanced dish, "El Pollo" is a fantastic choice. A delightful option for those looking to enjoy a tasty and wholesome meal.
Burnt Cheesecake: Now, let's talk about a classic dessert that's always a crowd-pleaser, the "Burnt Cheesecake." This dessert is a timeless favorite, featuring a rich and creamy cheesecake with a beautifully caramelized top. It's a delightful combination of sweet and slightly charred flavors that will satisfy your sweet tooth. If you're a fan of cheesecake, this classic rendition is a must-try. It's a perfect way to end your meal on a sweet and indulgent note, and it's suitable for both vegetarians and those with gluten preferences.
In Conclusion
Well, that's a wrap on our Spanish culinary journey through Singapore! We've explored some of the best Spanish restaurants in Singapore, each with its own unique charm and flavors.
So, the next time you're craving authentic Spanish cuisine, you know where to go. Whether it's a cozy tapas dinner or a paella feast with friends, Singapore's Spanish eateries have got you covered. Bon appétit! Enjoy your Spanish food cravings!