The Best Pizza Joints In Singapore
If you're in the mood for a slice of heaven in Singapore, you're in for a treat! Let me tell you about the best pizza joints in Singapore, where cheesy, saucy goodness awaits. I've been on a quest to find the most mouthwatering pies, and trust me, these places are pizza paradise.
So, get ready for a pizza adventure like no other as I take you through the top pizzerias in Singapore. 🍕🍽️
The 12 Best Pizza Places In Singapore
Craving a slice of pizza paradise in Singapore? Look no further! Discover the top 12 pizza joints in the city, where cheesy, saucy delights await your taste buds.
MyPizza
Daniele's Pizza
Peperoni Pizzeria
Goldenroy Sourdough Pizza
Mr. Kneady's
PizzaFace
Zazz Pizza
Thin Crust Pizza
Chooby Pizza
Domino's
LINO
Pizza Hut
Here's an overview for the best pizza joints in Singapore
Restaurant Name
Ambiance
Price Range (SGD)
Pros
Cons
MyPizza
Cozy
20 – 30
Creative pizza options
Limited space for large groups
Friendly service
Can get crowded during peak hours
PizzaFace
Lively
15 – 25
Wide variety of classic pizzas
Sometimes noisy atmosphere
Affordable prices
Limited parking availability
Zazz Pizza
Upscale
25 – 40
High-quality ingredients
Higher prices compared to some others
Elegant setting
Reservations may be required
Peperoni Pizzeria
Family-friendly
20 – 35
Family-friendly atmosphere
Some outlets may be crowded
Extensive menu options
Prices slightly on the higher side
LINO
Stylish
20 – 35
Stylish and trendy ambiance
Can get busy during peak hours
Unique artisanal pizzas
Reservations recommended
Thin Crust Pizza
Casual
15 – 25
Homely, casual setting
Limited variety compared to others
Affordable prices
Not many branch locations
Daniele's Pizza
Quaint
25 – 40
Authentic Italian flavors
Limited parking space
Quaint and charming ambiance
Reservations recommended
Chooby Pizza
Modern
20 – 30
Unique fusion pizza options
Limited vegetarian choices
Modern and comfortable setting
Prices may be a bit higher
Goldenroy Sourdough
Rustic-Chic
30 – 45
Exotic and gourmet pizza selections
Higher price range
Rustic-chic ambiance
May require reservations
Mr. Kneady's
Relaxed
15 – 25
Unique flavor combinations
Limited locations
Relaxed and cozy atmosphere
Limited menu options
Pizza Hut
Casual Dining
10 – 20
Wide variety of menu items
Fast-food style ambiance
Affordable prices
May not be suitable for upscale dining
Domino's
Quick Bites
10 – 20
Quick service and delivery options
Limited dine-in experience
Affordable prices
Fast-food style
Now that we've explored the pizza joints across Singapore, let's dive into what makes each of these establishments a must-visit for pizza lovers.
MyPizza
MyPizza is a one of the best pizza joints in Singapore known for its diverse selection of pizza flavors. They offer everything from classic Margherita to unique creations. The casual and no-frills ambiance makes it a great spot for a quick, affordable, and satisfying pizza fix. However, don't expect a fancy dining experience here.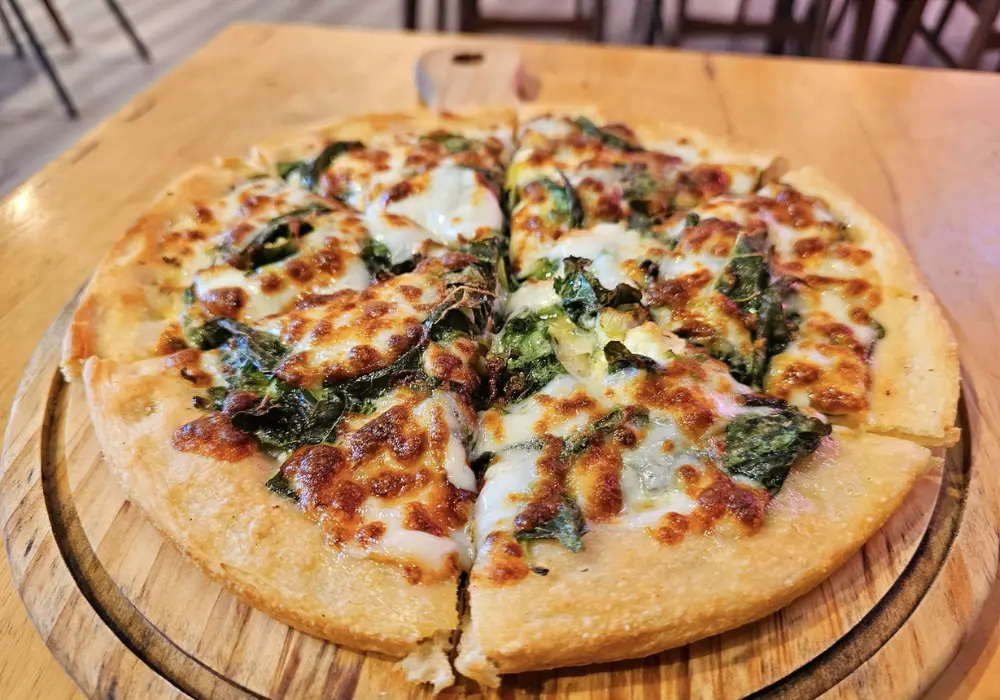 Google rating: 4.9
Location: 60 Springside Walk #01-07, #1 The Brooks I, 786020
Signature Pizza
Pesto Chicken Pizza: If you're a pizza lover like me, you've got to try MyPizza's Pesto Chicken pizza. I absolutely love it! It all starts with that delicious pesto base that packs so much flavor. Then come the toppings: onions, smoked chicken, parmesan, black olives, and mozzarella. The smokiness of the chicken and the tangy black olives, oh boy! And the best part? You can make it just the way you like it, choosing the size and crust that suits your mood.
Midnight Express Pizza: Now, if you're into a little spice, like I am, then the Midnight Express pizza is the one for you. I can't get enough of it! It's got a tomato base, and they load it up with beef salami, turkey ham, beef sausages, jalapeños, red chilies, and mozzarella. You can make it your own with your choice of size and crust.
And here's the best part: you can take your pizza game to a whole new level by adding extra toppings, like more mozzarella, smoked chicken, or even extra jalapeños (you can pick up to 3 favorites). Don't forget to sprinkle some Parmesan and chili flakes on top for that extra zing!
Daniele's Pizza
Daniele's Pizza is a hidden gem known for its authentic Italian-style pizzas. They use traditional recipes and high-quality ingredients to create flavorful pizzas. The cozy and intimate atmosphere adds to the dining experience, making it great for a romantic date night.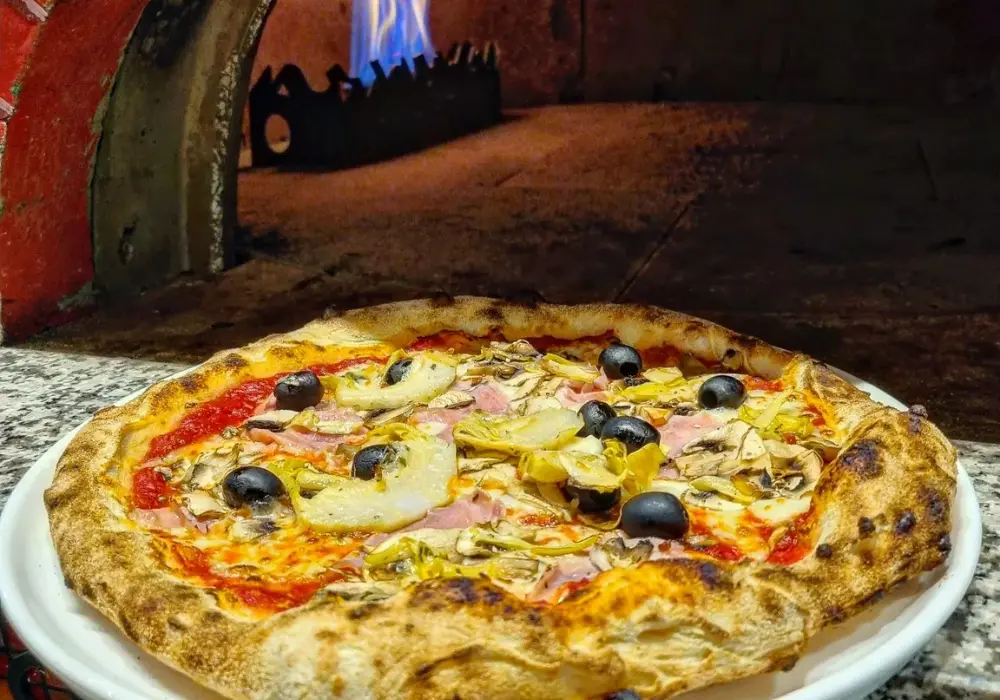 Google rating: 4.9
Location: 1 Changi Business Park Crescent, #01-19, Plaza 8, Podium, C, 486025
Signature Pizza
Pizza Bufalina: When I'm in the mood for a classic with a twist, Pizza Bufalina hits the spot. Imagine a perfectly crafted 12″ pizza with a flavorful tomato sauce base, topped with creamy Bufalo cheese, and garnished with fragrant basil leaves. This one's a must-try for anyone who appreciates the simplicity and elegance of Italian cuisine.
Pizze Misto Funghi: For those veggie-loving pizza enthusiasts, the Pizze Misto Funghi is a real treat. It features a luscious bed of Mozzarella cheese, generously adorned with a medley of roasted mixed mushrooms. The addition of parsley and a drizzle of truffle oil elevates the flavors to a whole new level.
You can take your pizza to the next level by adding your choice of toppings, like olives, salami, or even Burrata cheese. So, the next time you're craving pizza, give Daniele's creations a try. You won't be disappointed!
Peperoni Pizzeria
Peperoni Pizzeria at United Square follows the same formula as its other locations, offering hearty and generously topped pizzas. It's a family-friendly spot with a comfortable atmosphere. Like its other branches, it can get busy during peak hours.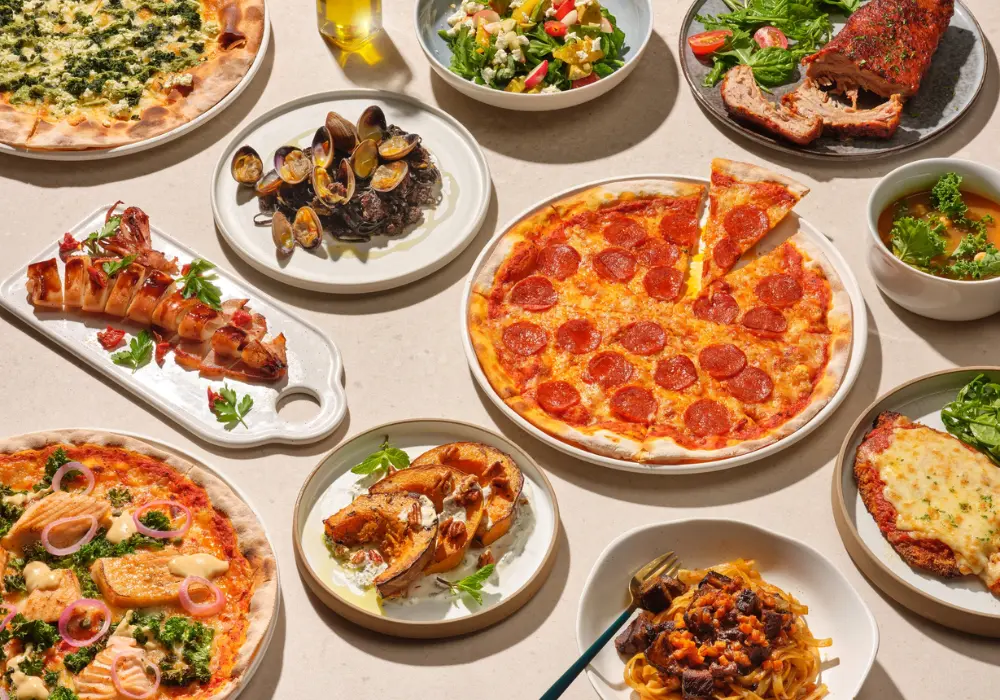 Google rating: 4.8
Location: 101 Thomson Rd, #01-07/60, Singapore 307591
Signature Pizza
Margherita (Classico): When I'm craving the classic goodness of pizza, I go straight for the Margherita. It's simplicity at its finest with Bufala Mozzarella, sweet Cherry Tomatoes, fragrant Basil, and a dash of Oregano. You just can't go wrong with this classic choice.
Frutti di mare (Speciale): Now, if you're in the mood for something more adventurous, the Frutti Di Mare is a seafood lover's dream. It's loaded with tender Squid, succulent Prawns, and flavorful Venus Clams, all sprinkled with a touch of Oregano. If you're a fan of seafood, this one's a must-try.
So, the next time you're at the pizza joint, give one of these a try; your taste buds will thank you!
Goldenroy Sourdough Pizza
Goldenroy Sourdough Pizza stands out for its unique sourdough crust, which adds a distinctive flavor to their pizzas. They offer a range of creative toppings and provide a cozy atmosphere for pizza enthusiasts looking for something a bit different.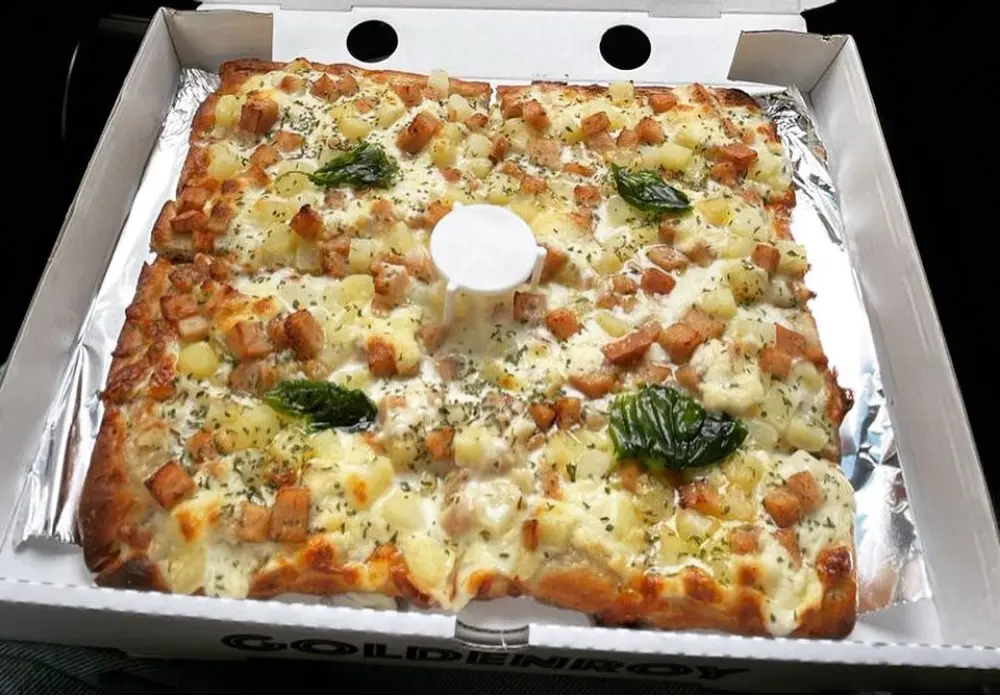 Google rating: 4.8
Location: 125 Desker Rd, Singapore 209642
Signature pizza
Kryptonite: When I want a pizza that's as unique as it is delicious, I go for Kryptonite. It's all about the flavors of the sea with the Clam & Garlic Sourdough. The natural sourdough leaven crust is a standout. Picture tender clams and aromatic garlic, perfectly balanced on a crispy sourdough base. It's a seafood lover's dream and a pizza that leaves a lasting impression.
Spongebob's Revenge: Spongebob's Revenge is a must-try. It's all about the Browned Butter Scallops with Onions on Sourdough. The 100% olive oil base adds a richness that's complemented by the natural sourdough leaven crust. The scallops are seared to perfection, and when paired with onions, they create a symphony of flavors.
Mr. Kneady's
Mr. Kneady's is in top pizza joints known for its artisanal approach to pizza-making. They use high-quality ingredients and offer unique flavor combinations. The welcoming ambiance and attention to detail in their pizzas make it a great choice for a special pizza night.
Google rating: 4.7
Location: 348 Bedok Rd, #02-24 The Bedok Marketplace, Singapore 469560
Signature pizza
Space Oddity: When I'm in the mood for a pizza that's bold and packed with flavor, Space Oddity is the way to go. It starts with a classic tomato sauce base, and then comes the delicious duo of salami and pepperoni, generously layered with mozzarella. It's a pizza that's out of this world.
Remedy: Now, if you're craving something a bit different, the Remedy pizza hits the spot. It swaps out the tomato sauce for a garlic sauce, adding a rich and aromatic twist. On top of that garlicky goodness, you'll find smoked chicken and red onion, all generously covered with mozzarella. This pizza is the perfect remedy for a pizza lover's cravings.
You can personalize your pizza with up to two add-ons, like jalapeños for a spicy kick or sun-dried tomatoes for an extra burst of flavor.
See Also: Best Middle Eastern Restaurants In Singapore
PizzaFace
PizzaFace is a cozy eatery that specializes in thin-crust, crispy pizzas. They offer a variety of toppings to suit different tastes. It's a friendly and casual place with quick service, perfect for a relaxed meal. Keep in mind that seating can be limited, and it may get crowded during busy hours.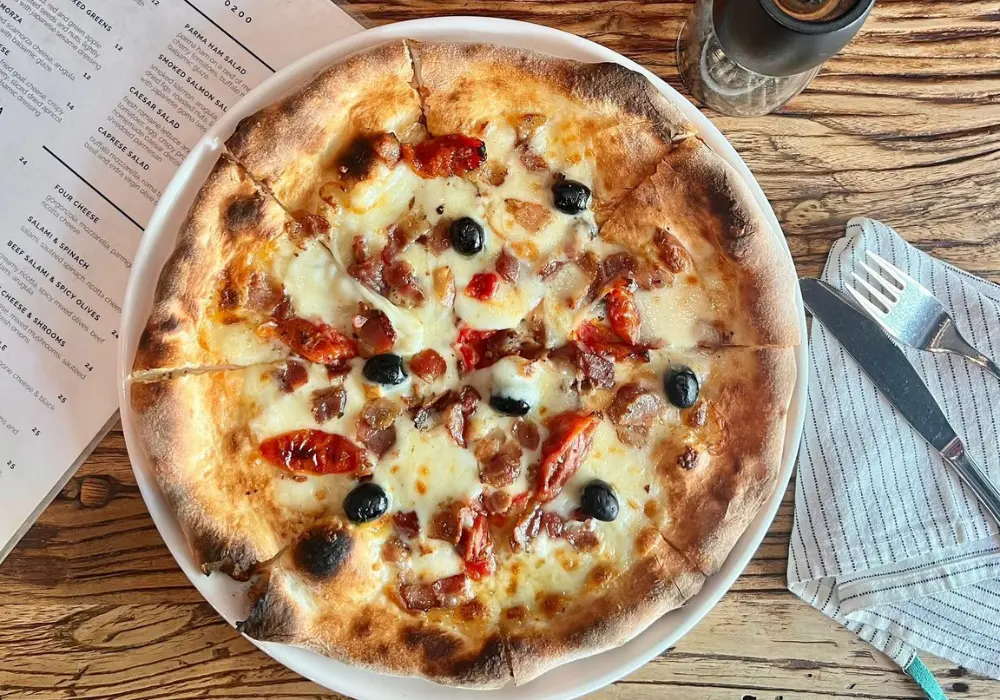 Google rating: 4.6
Location: 302 Beach Rd, #01-03 Concourse Skyline, Singapore 199600
Signature Pizza
Margherita: When I'm in the mood for a classic, I can't resist PizzaFace's Margherita. It's a red pizza that keeps it simple yet oh-so-delicious. The combination of mozzarella cheese, fresh basil, and tangy tomato sauce is pure pizza perfection. It's like a taste of Italy right in every bite.
Gorgonzola & Spinach: Now, if you're in the mood for something creamy and dreamy, PizzaFace's Gorgonzola & Spinach pizza is a winner. It's a white pizza that's pure comfort. Loaded with mozzarella, gorgonzola, sweet caramelized onions, and fresh spinach, it's like a cozy hug for your taste buds. The blend of rich cheese and earthy spinach is simply irresistible.
Zazz Pizza
Zazz Pizza is known for its gourmet pizzas prepared with high-quality ingredients. The restaurant boasts a warm and inviting ambiance, making it a suitable choice for a more upscale pizza experience. However, prices tend to be on the higher side, and reservations are recommended during peak times.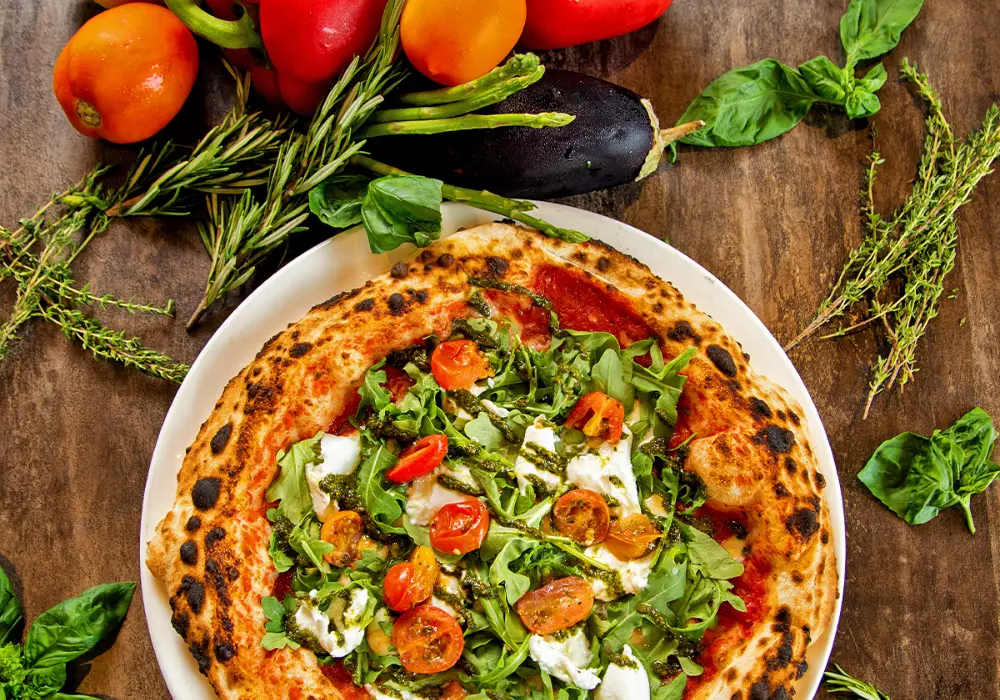 Google rating: 4.6
Location: 18 Cross Street 01-108 Cross Street Exchange, 048423
Signature Pizza
Fennel Sausage Pizza: When I'm in the mood for a slice of pizza heaven, Zazz's Fennel Sausage pizza never disappoints. It's a cheese base masterpiece loaded with mozzarella, homemade fennel sausage, creamy taleggio cheese, sweet cipollini onions, juicy cherry tomatoes, and vibrant bell peppers.
Bismark: Now, if you're looking for a hearty and satisfying choice, the Bismark pizza from Zazz is where it's at. It's a red pizza with a tomato base, generously covered in mozzarella, topped with savory ham, crispy bacon, a perfectly cooked egg, and a drizzle of truffle cream. The flavors blend together beautifully, and that egg yolk adds a creamy richness that's out of this world.
Thin Crust Pizza
Thin Crust Pizza by Kevinbakery is a popular choice for those who love a crispy and light crust. They offer a variety of toppings and are known for their consistent quality. The ambiance is casual, making it suitable for a quick and delicious pizza meal.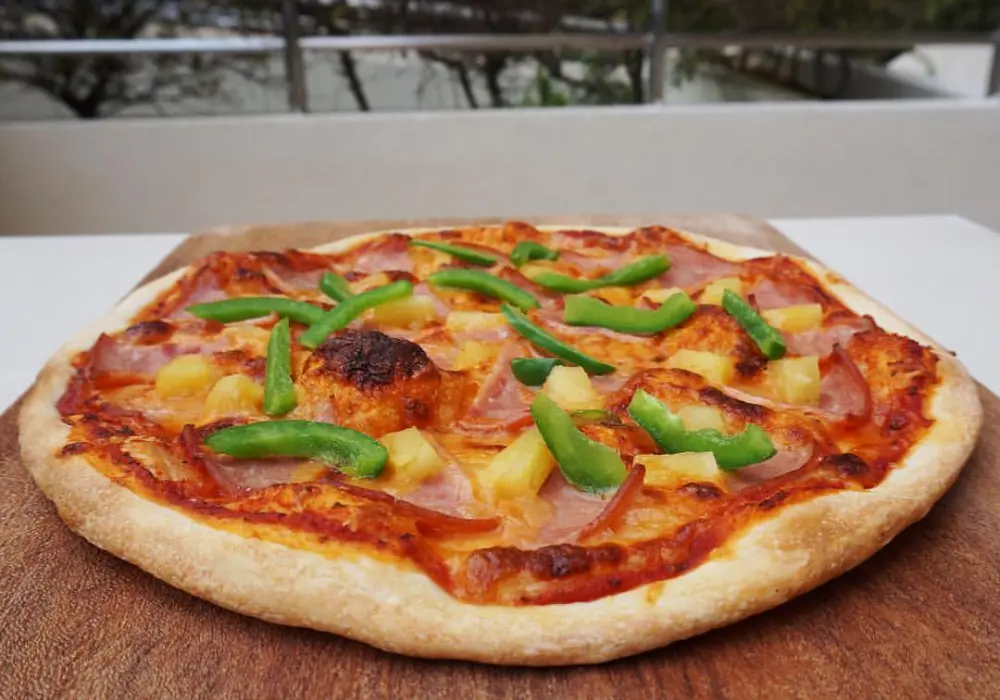 Google rating: 4.6
Location: 121 Meyer Rd, #01-07, Singapore 437932
Signature Pizza
Neapolitan: When I'm in the mood for pizza, the 12″ Neapolitan is a top choice. It's got coarsely sliced tomatoes, lots of chopped garlic, and thick parmesan slabs. The magic happens with the aromatic extra virgin olive oil and their unique herb-infused tomato sauce, all on that super crisp handmade thin crust. It's a twist on classic Marinara and Margherita pizzas, but with more flavor and texture. Trust me; it's pizza perfection.
Hawaiian: If I want a slice of Hawaii without the beach crowds, the 12″ Hawaiian pizza is the answer. Premium pork ham, juicy pineapple, and crunchy bell peppers meet melted mozzarella and their special tomato sauce on that crisp thin crust. It's no wonder this pizza is a favorite; it's a blend of tranquility and the bold flavors of Hawaii. Give it a try, and you'll understand why it's so popular.
Chooby Pizza
Chooby Pizza is a local favorite, known for its affordable and tasty pizzas. They have a wide range of toppings to choose from, and their quick service ensures you won't have to wait long for your pizza fix. The casual setting makes it perfect for a laid-back meal with friends.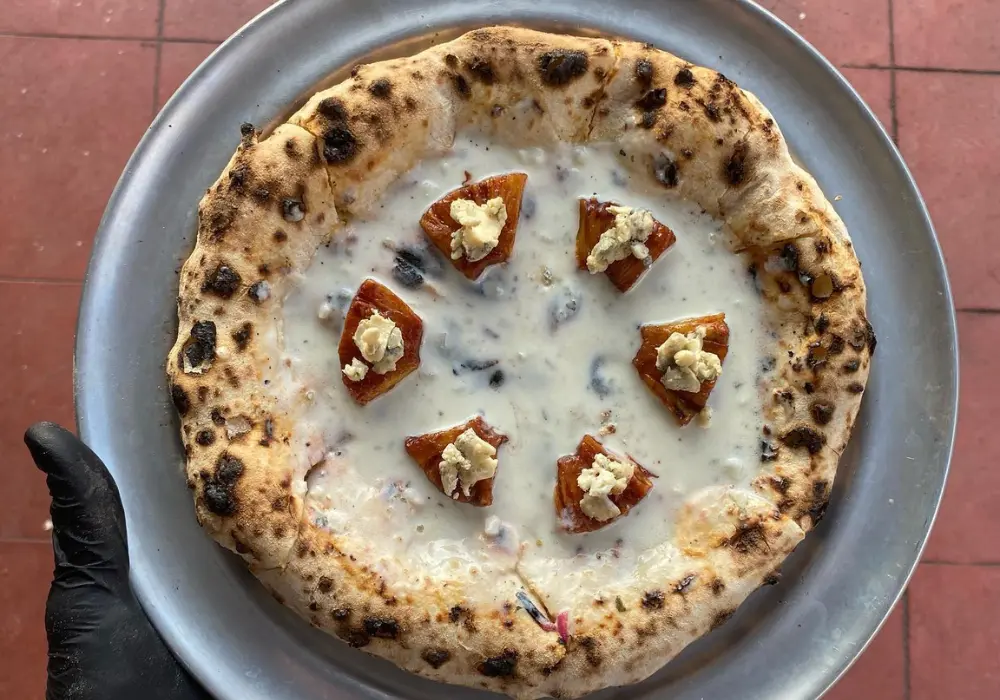 Google rating: 4.6
Location: 125 Owen Rd, Singapore 218929
Signature Pizza
Marinara: If you're in the mood for a taste of Italy's simplicity, the Marinara pizza is a real gem. It's all about the pure flavors with San Marzano tomato sauce, aromatic garlic, oregano, and a drizzle of olive oil. It's a classic that never goes out of style.
Spiced Coconut Chicken: When you're craving something adventurous and exotic, the Spiced Coconut Chicken pizza is a delightful surprise. It starts with a tom kha sauce base, then comes tender chicken thigh, mushrooms, onions, grana padano, and mozzarella. The finishing touches of coriander and a dash of chili oil add a burst of flavors that dance on your taste buds. It's like a fusion of Thai and Italian cuisine in one bite, and it's absolutely addictive.
Domino's
Domino's is all about convenience and speedy delivery. The pros include fast service, affordable prices, and a wide delivery range. It's perfect for a night in or a quick bite. On the flip side, the dine-in experience is quite limited, and the ambiance is geared towards a grab-and-go atmosphere.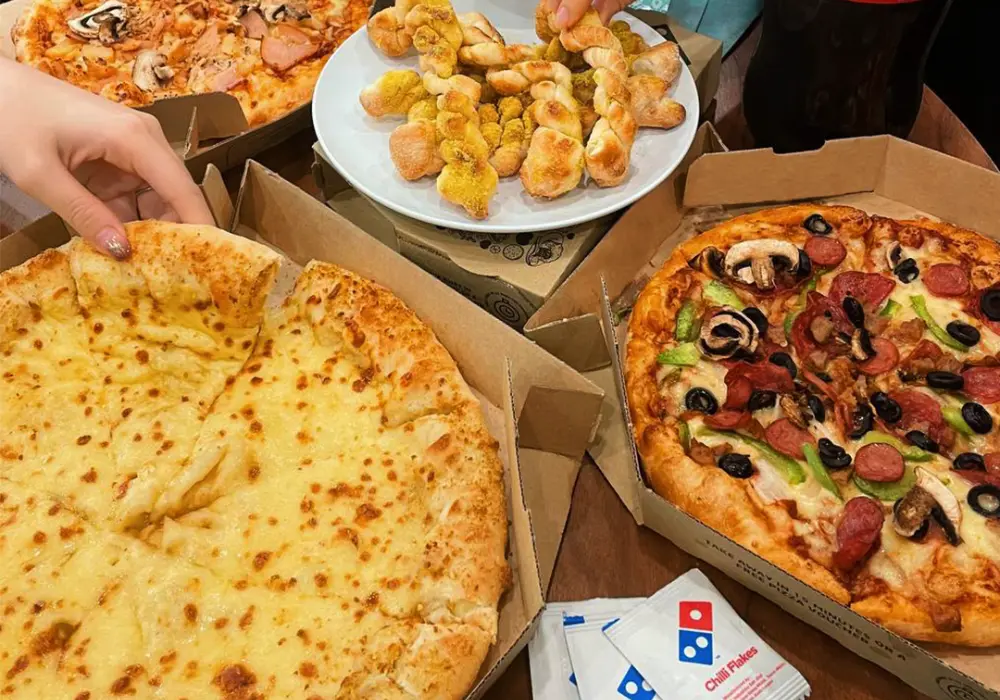 Google rating: 4.6
Location: Multiple outlets including 574 Ang Mo Kio Ave 10, #01-1827 Cheng San Court, Singapore 560574
Signature pizza
The Big BBQ: When it comes to satisfying my craving for a bold and smoky pizza, The Big BBQ from Domino's is a top choice. It's loaded with 100% Mozzarella cheese that's perfectly melted and creamy. But what makes it stand out is the succulent smoked chicken breast, complemented by the zing of onions and the freshness of green peppers.
Classified Chicken: If I'm in the mood for a pizza that's all about the classics, Classified Chicken from Domino's hits the spot. It features the same gooey 100% Mozzarella cheese that I love, paired with succulent smoked chicken breast, fresh onions, and earthy mushrooms.
LINO
LINO is a trendy restaurant with a chic ambiance, perfect for a special night out. They offer artisanal pizzas that blend Italian and Mediterranean flavors for a unique dining experience. Keep in mind that dining here can be relatively expensive, and parking options in the area may be limited.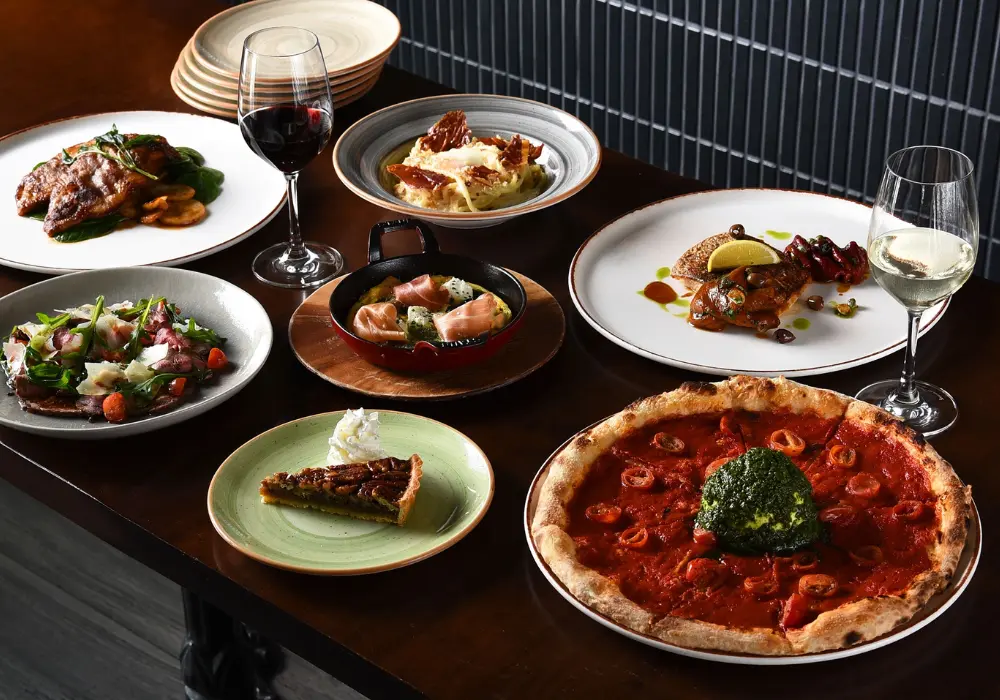 Google rating: 4.5
Location: 7 Binjai Park, Singapore 589821
Signature Pizza
Meatless Meat Pizza: Now, if you're on the hunt for a meatless marvel, the Meatless Meat pizza is where it's at. It's a 12-inch delight that's packed with Beyond Meat, baby kale, and mushrooms. They don't skimp on the mozzarella either, and the addition of sesame seeds adds a delightful crunch. But here's the twist – they drizzle it with both mayonnaise and teriyaki sauce. Perfect for veggie lovers who crave something unique.
Pancetta Pizza: If you're in the mood for something savorier and more indulgent, the Pancetta pizza has you covered. It's loaded with Swiss smoked farmer raw bacon, a perfectly cooked white sandy egg, duck fat potatoes, and a drizzle of basil pesto. Of course, the mozzarella and parmesan cheese tie it all together.
Don't forget you can add extra toppings like prosciutto, spinach, bacon, or mushrooms (or even more mozzarella).
Pizza Hut
Pizza Hut is a popular chain known for its wide variety of pizzas. The pros include a vast menu selection, affordability, and quick service. It's a great option for a casual family meal or a quick pizza fix. However, the ambiance tends to be more fast-food style, which may not suit those looking for an upscale dining experience.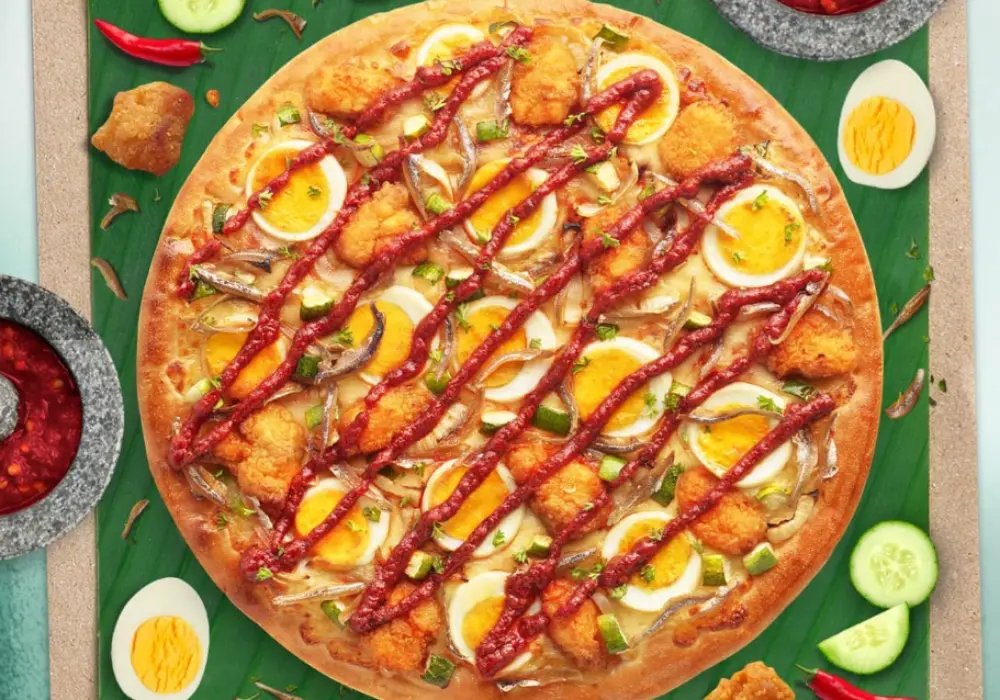 Google rating: 4.1
Location: Multiple outlets including: 68 Orchard Rd, B2-01 Plaza, Singapore 238839
Signature pizza
Hawaiian Supreme: When I'm in the mood for a pizza that combines sweet and savory, the Hawaiian Supreme never disappoints. It's a specialty pizza that boasts juicy pineapple chunks, tender chicken ham slices, and a unique Parmesan Crumbs crust. What sets it apart is the creamy cheese drizzle that adds an extra layer of indulgence.
Super Supreme: For a classic pizza loaded with flavors, the Super Supreme is my go-to choice. This pizza is all about abundance, featuring a whopping nine tasty toppings. Think ham, pepperoni, Italian sausage, beef, onions, mushrooms, green peppers, black olives, and pork.
Final Words
In the pizza game, Singapore really knows how to please. We've taken a tasty tour of the best pizza joints in Singapore, so whether you're craving for a cheesy trip down memory lane or a wild flavor adventure, these places have got your back. Now, go get your pizza fix and let your taste buds savor the magic. They'll love you for it!