The Best Peruvian Restaurants In Singapore – Peru Plate
Hey, food lovers! If you enjoy the delicious flavors of Peruvian food, you're in for a great time in Singapore. Let's go on a tasty adventure and find the best Peruvian restaurants in the city. You can try mouthwatering dishes like ceviche and anticuchos that will make your taste buds dance with joy.
Get ready to tantalize your taste buds as we explore the best Peruvian restaurants in Singapore. We'll introduce you to places that serve up exceptional dishes, from the flavorful lomo saltado to the delightful papas a la huancaína. Let's kickstart this Peruvian food journey! 🍲🍤🇵🇪
5 Peruvian Gems To Satisfy Your Cravings
If you're craving for the rich and diverse flavors of Peruvian cuisine, you've come to the right place! We've explored Singapore's culinary landscape to uncover 5 fantastic Peruvian restaurants that are ready to satiate your cravings.
Join us in this exploration as we uncover the delightful Peruvian restaurants that promise an unforgettable dining experience.
Canchita
FLNT
Chifa
Tonito
Mosella
Ready to embark on a Peruvian culinary journey? Let's dive into the tales and tastes offered by these outstanding Peruvian restaurants.
Canchita Peruvian Cuisine
Canchita in the city center is a lively spot for authentic Peruvian cuisine. The colorful decor and vibrant atmosphere make it a great place to savor classic Peruvian flavors. Whether you love ceviche, anticuchos, or lomo saltado, your Peruvian food cravings will be covered in Canchita Peruvian cuisine menu.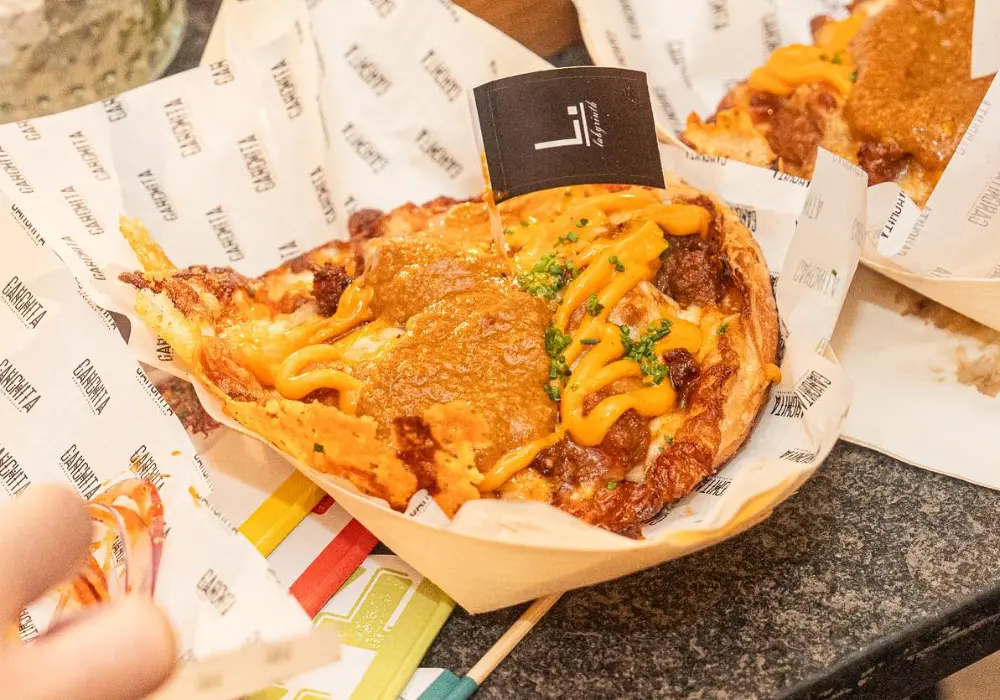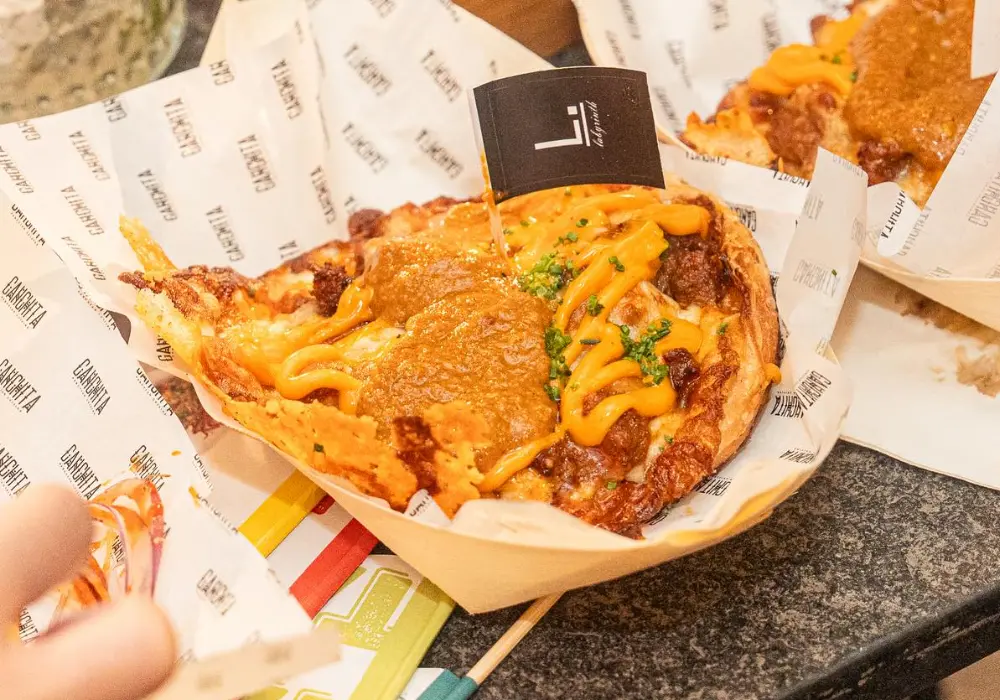 Google ratings: 4.7
Location: Dempsey Rd, #9A 9B, Singapore 247698
Signature dishes
Ceviche Classico: I tried the Ceviche Classico at Canchita, and it's the real deal! It's a classic dish with market fish, marinated in White Tiger's Milk, topped with zingy red onions, sweet potato, and crunchy Canchita Corn. Plus, it's gluten-free, so definitely give it a go!
Lomo Saltado: The Lomo Saltado at Canchita is a burst of flavors. It's a Peruvian-Cantonese stir-fry with Wagyu Beef Tenderloin, juicy tomatoes, sautéed onions, green peas, and crispy potato fries. A hearty and satisfying dish that'll delight your taste buds.
FLNT
FLNT is one of the best Peruvian restaurants in Singapore that offers a modern take on Peruvian cuisine in a stylish setting. Their menu is inspired by Peru's culinary traditions but with a contemporary twist. If you're up for an adventurous dining experience with a Peruvian touch, FLNT is the spot. Their fusion of flavors and modern presentation is truly memorable.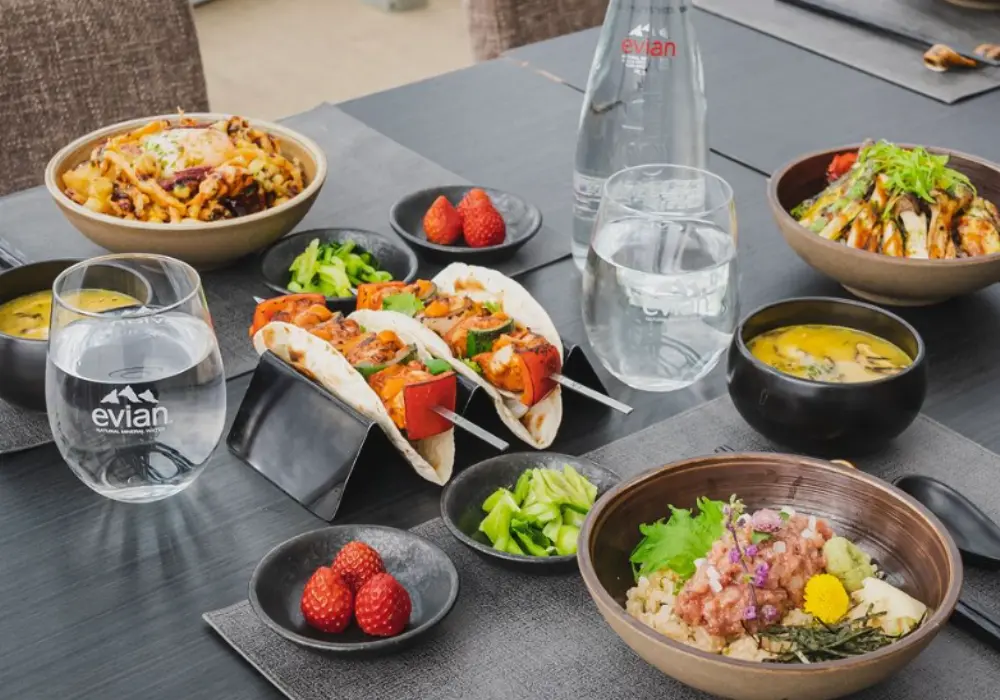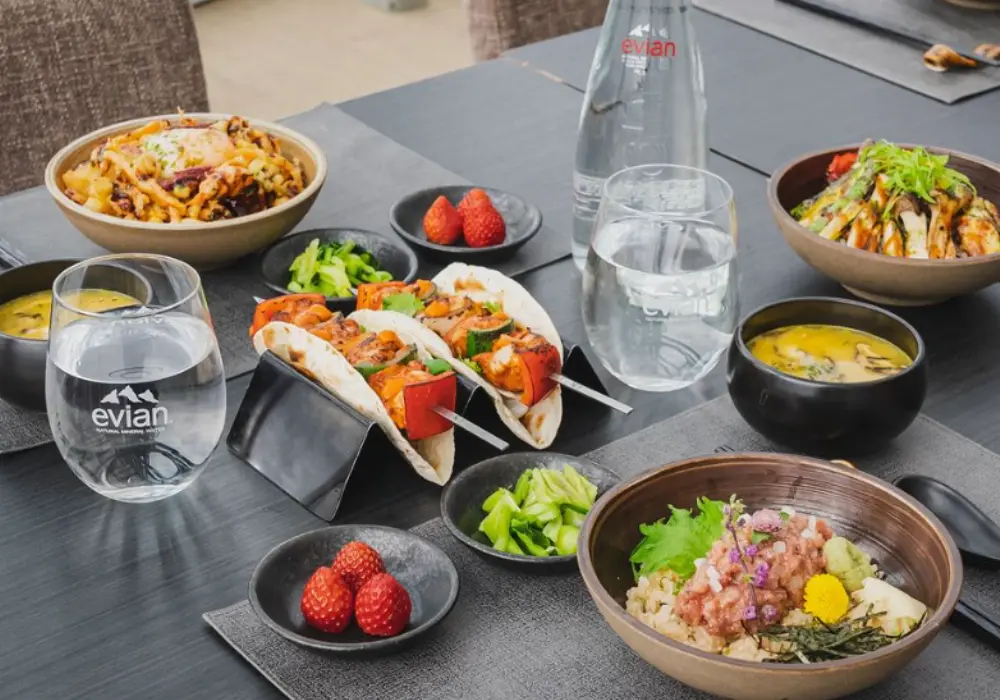 Google ratings: 4.5
Location: 2 Orchard Turn, #55-01 ION Orchard, Singapore 238801
Signature dishes
Nikkei Bara Chirashi Don: FLNT's Nikkei Bara Chirashi Don was a delightful treat. Priced at $48, it offers a chef's selection of fresh sashimi beautifully served on a bed of rice. The Aji Amarillo (Yellow Pepper), Corn Nut, and Ikura added a burst of complementary flavors to the sashimi, making it a truly enjoyable dish.
Tsukemono: I also had the Tsukemono, a vegan option for $18. It's a unique combination of Braised Burdock with Shoyu, fresh mountain yam with wasabi, and Pickled Mustard Leaf. The balance of flavors and textures was quite pleasing, offering a distinct taste that I found delightful.
Chifa
At Chifa, traditional Peruvian ingredients meet Chinese culinary techniques for a unique dining experience. The fusion of flavors in their dishes is a delightful surprise and a must-visit for those looking for something different in Singapore's food scene.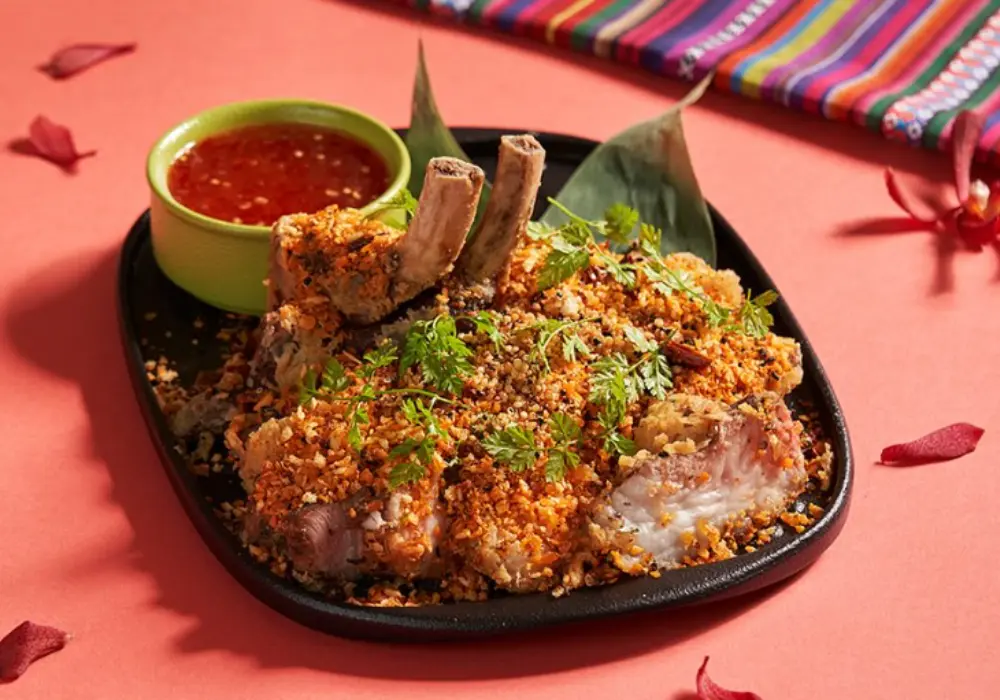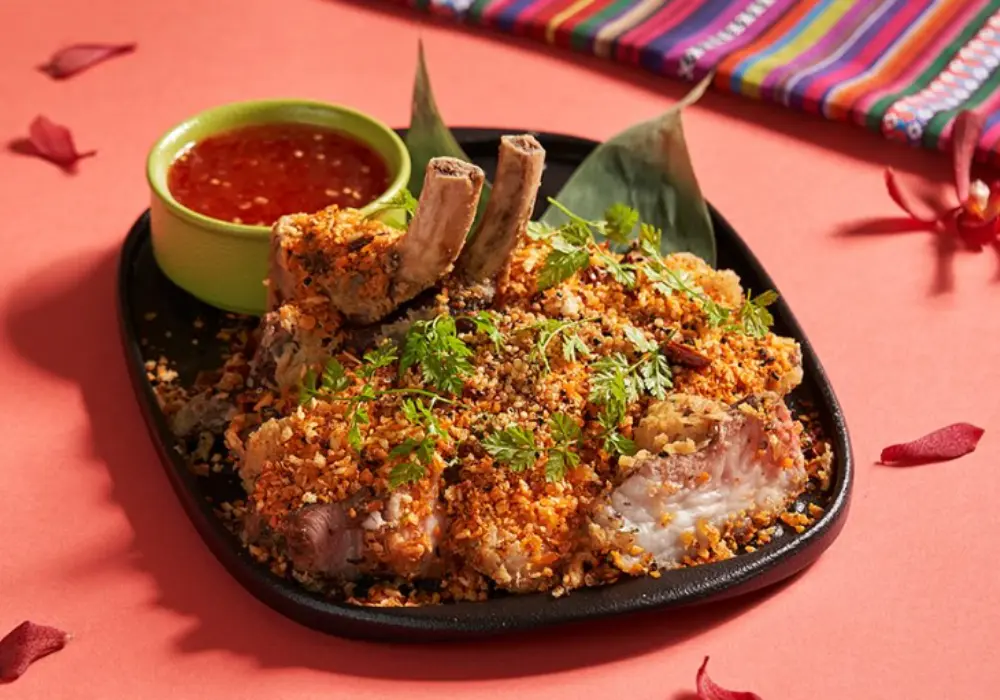 Google ratings: 4.4
Location: 8 Sentosa Gateway, #01-103 Hotel Michael, 098269
Signature dishes
Yellowfin Tuna Tamarind Ceviche: Chifa's Yellowfin Tuna Tamarind Ceviche was a burst of flavors. Priced at $24, it featured a mix of sweet and sour "Tamarind Leche de Tigre," fresh avocado, Kyuri, and Daikon. A true chef's recommendation that's worth trying.
Wok Fried Seafood XO Aeropuerto: For a more substantial dish, I had the Wok Fried Seafood XO Aeropuerto at Chifa. Priced at $40, this dish is perfect for 2-4 people. It's a delightful combination of wok-fried grains of fragrant rice, quinoa, and fried wanton noodles, sautéed scallops, prawns, calamari, egg omelette, all served with seasonal vegetables and XO Sauce. This chef's recommendation is a must-try for seafood lovers.
Tonito
For a classic and comfy Peruvian meal, pick Tonito. It's a friendly and laid-back place that serves beloved Peruvian dishes that'll make your taste buds happy. Whether you're into Paella De Gambas or tasty tacos, Tonito brings a cozy experience.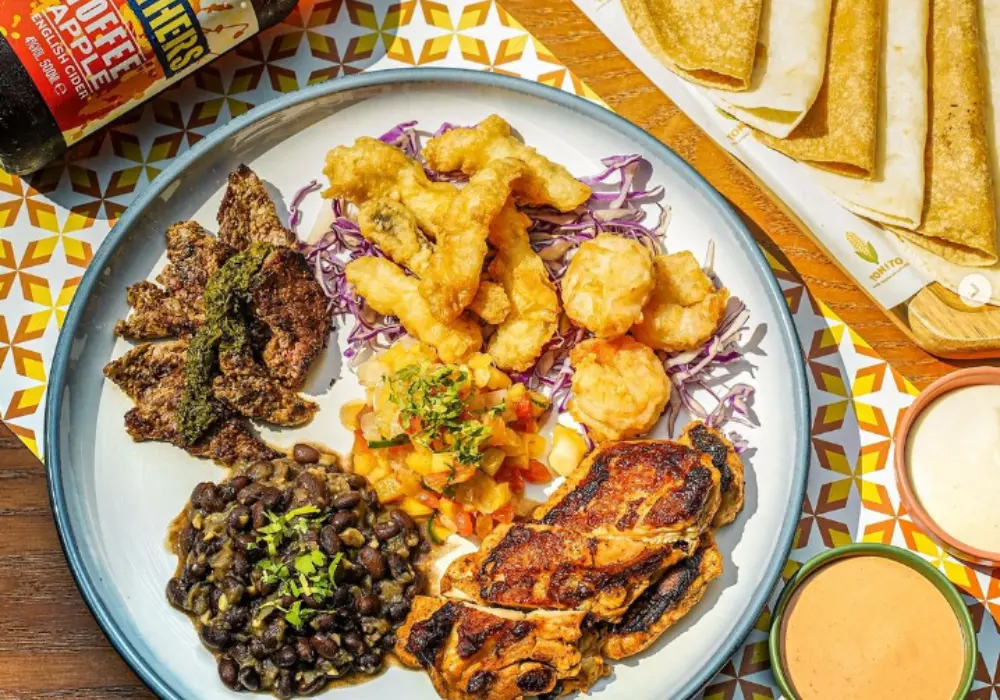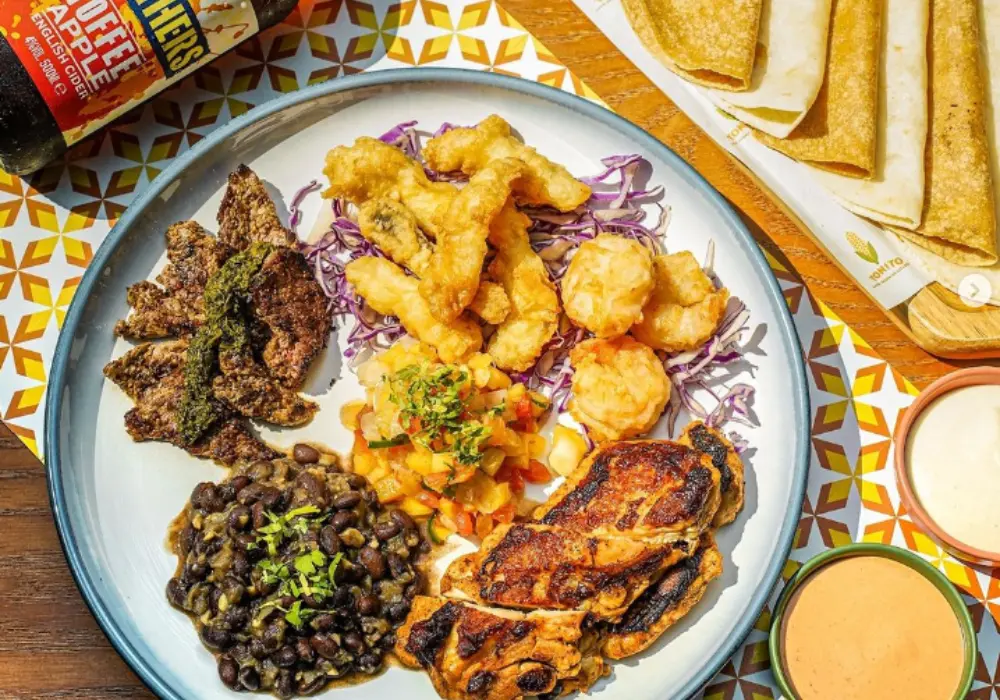 Google ratings: 4.4
Location: 78 Airport Blvd., #02 – 248, Singapore 819666
Signature dishes
Fish Taco: I tried the signature Fish Taco at Tonito, and it was a delightful treat. For $20, you get 2 pieces of crispy fish tucked into a flour tortilla, topped with tartar sauce and Pico De Gallo. A flavorful and crunchy combination that's definitely worth a try.
Paella De Gambas: Tonito's Paella De Gambas is a special dish priced at $32. It features juicy Argentinian prawns, Cebolla Rice, Kurobuta Sausage, charred tomato, and cilantro mayo. Served in a special pan, it's a fantastic blend of flavors and textures that I would highly recommend.
See Also: Best Breakfast Spots In Singapore
Mosella
Mosella combines Peruvian and European tastes in a stylish way. It's where you can enjoy both Peru's traditional flavors and a touch of European elegance. This restaurant offers a sophisticated dining experience, showcasing their culinary team's creativity making it a top choice for savoring the best Peruvian food in Singapore.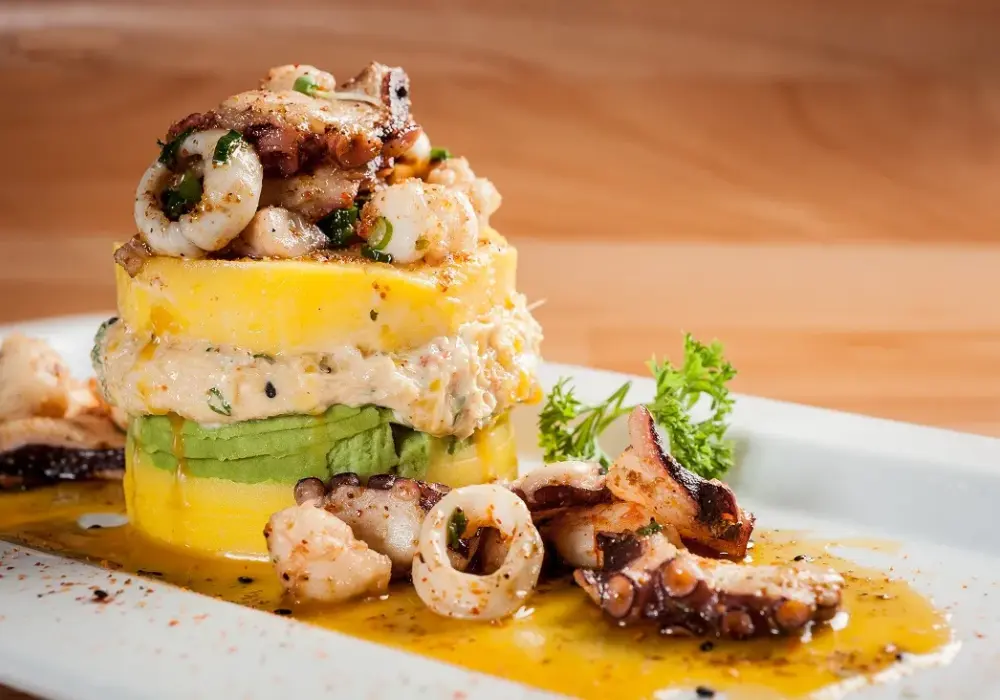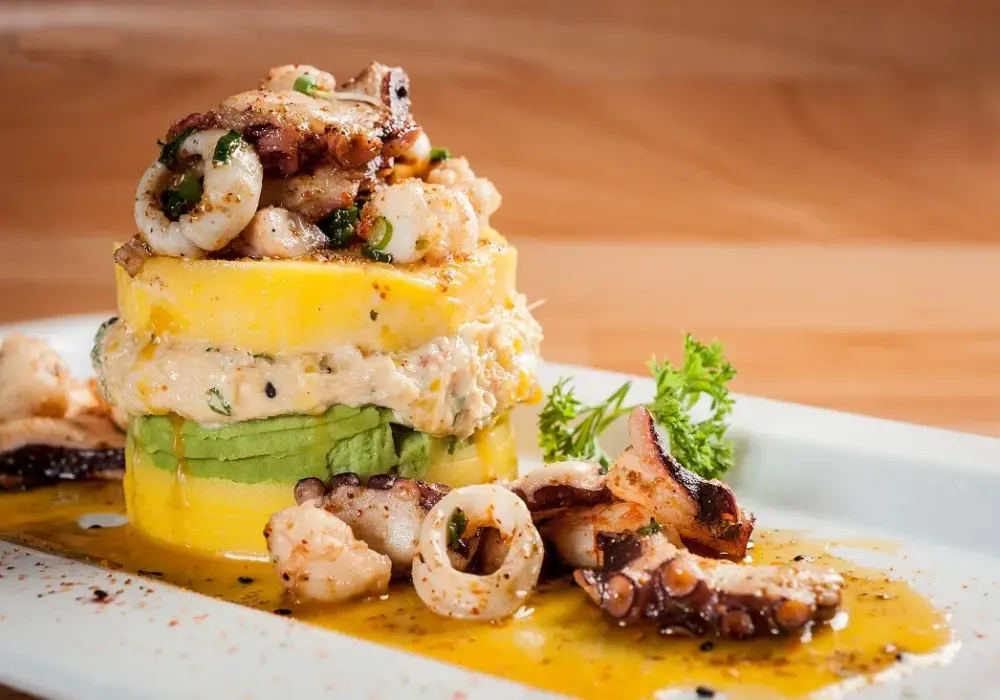 Google ratings: 4.2
Location: 10 Claymore Rd, Singapore 229540
Signature dishes
Hamachi Tiradito: I thoroughly enjoyed the Hamachi Tiradito at Mosella. It cost $36, and the mandarin ponzu, truffle, and garlic chips made it a fantastic, crudo dish. I highly recommend it.
Hokkaido Scallop Ceviche: I couldn't resist trying the Hokkaido Scallop Ceviche at Mosella, and it was worth it. Priced at $38, it came with amarillo leche de tigre (Peruvian ceviche spice blend), mixed with tomatoes and pickled onion. The flavors were a perfect blend of sweet and tangy, and I would definitely recommend this delightful crudo option.
Final Words
Our Singaporean Peruvian restaurant tour was a culinary delight, from Canchita's Ceviche Classico to FLNT's Nikkei Bara Chirashi Don. These are the best Peruvian restaurants in Singapore.
These places have something for everyone, whether you're into seafood, bold flavors, or just exploring. With inviting atmospheres and delicious food, they're definitely worth a visit. So, if you're in Singapore and craving Peruvian cuisine, give them a shot – you won't be disappointed!