The Best Breakfast Places In Singapore – Breakfast Bliss
Hey there, early birds! Singapore knows how to do breakfast right. Whether you're into classic flavors or crave something a bit different, this city's got you covered. Join us as we uncover the top breakfast spots in Singapore – where the day begins with a burst of deliciousness!
Grab your coffee, get comfy, and let's explore where to find the best breakfast places in Singapore!
Top 11 Breakfast Places In Singapore
If you're yearning for the delicious and diverse flavors of Singaporean breakfast, you're in for a treat! We've scoured the city to discover 11 fantastic breakfast spots that are all set to satisfy your morning cravings.
Join us on this journey as we reveal the charming breakfast places that guarantee a memorable start to your day.
Merci Marcel
Brunches Cafe
My Awesome Cafe
Two Men Bagel House
The Food Peeps
The Dempsey Project
Common Man Coffee Roasters
Tolido's Espresso Nook
The Book Cafe
Atlas Coffeehouse
The Populus
Are you up for a tasty breakfast journey? Come along as we explore the stories and delicious dishes at these great breakfast places in Singapore.
Merci Marcel
Merci Marcel is a charming spot that feels like a slice of Paris in Singapore. With a stylish yet relaxed atmosphere, it's an ideal place for a leisurely breakfast. Their croissants are flaky perfection, and sipping coffee while people-watching on Orchard Road is a delightful experience. When it comes to finding the best breakfast spots in Singapore, Merci Marcel offers a touch of French elegance and a memorable morning escape.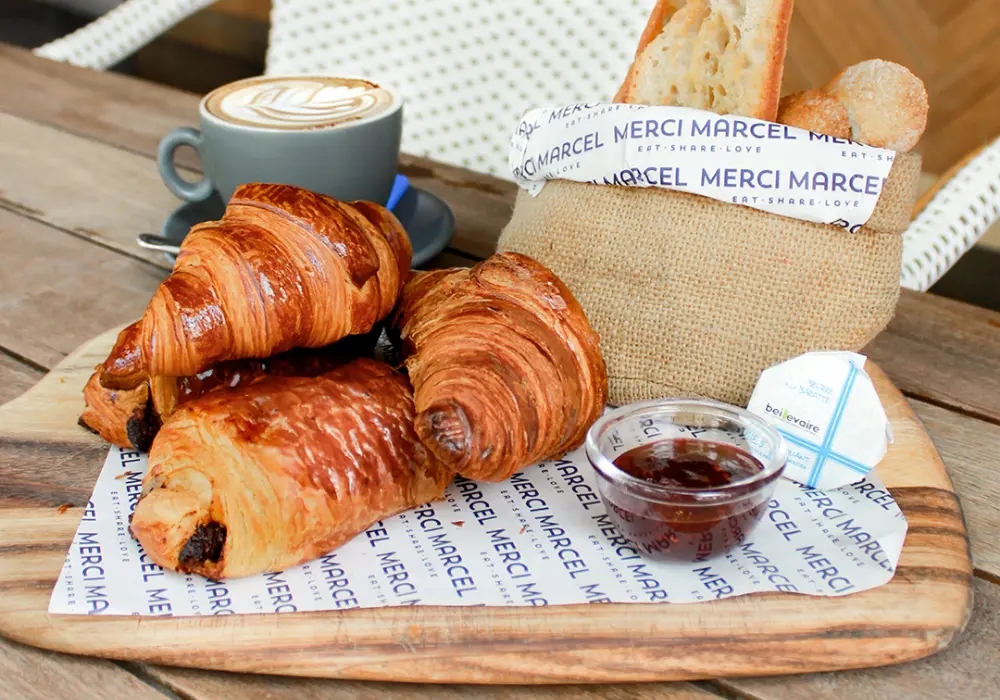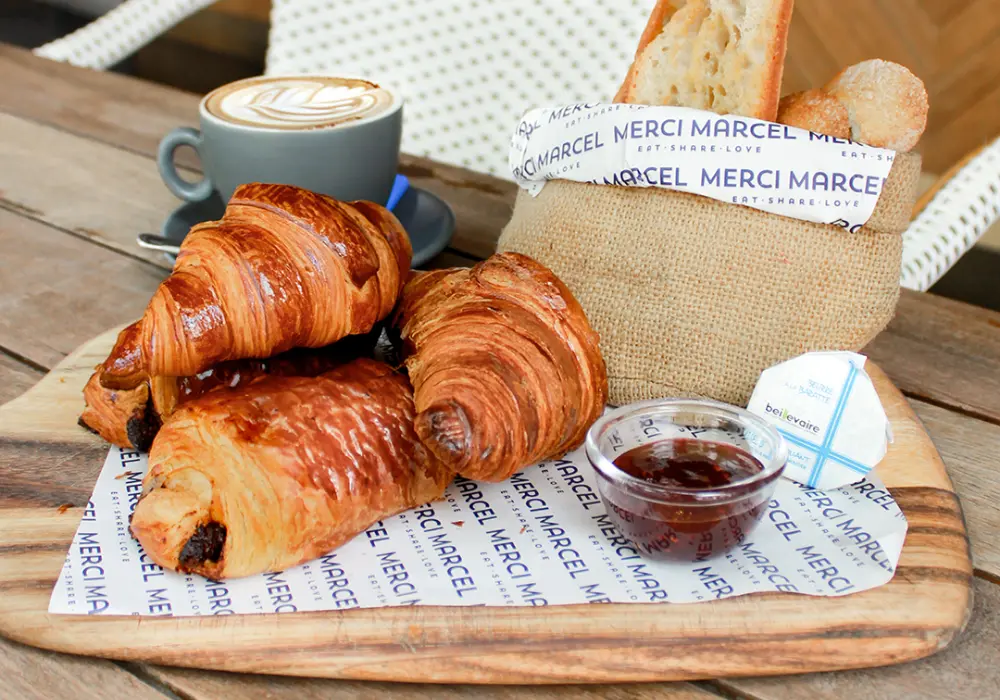 Google ratings: 4.7
Address: 390 Orchard Road, 01-03 Palais Renaissance, 390 Orchard Rd, #01 – 03 / 04, Singapore 238871
Signature dishes
Benedict Eggs: If I had to pick one word for this dish, it's "indulgent." You've got these perfectly poached eggs, cozy under a blanket of hollandaise sauce. But what makes it special? The organic Bayonne ham adds a salty kick, and the portobello mushrooms bring this earthy, rich flavor. It's like a flavor party on your plate for $24. Oh, and they have this gluten-free option, too. It's just a real winner.
Croissant: Picture this – a croissant that's all about buttery goodness. It's like they took a slice of France and put it on your plate. They're not kidding when they say it's made with 100% French butter. It's flaky, it's buttery, it's perfection. It's the kind of croissant you'd dream about.
Brunches Café
Brunches Café is a cozy and welcoming place where I've enjoyed some of the fluffiest pancakes in town. The menu offers a variety of breakfast options, from classic eggs to creative dishes. It's a comforting spot for a hearty morning meal.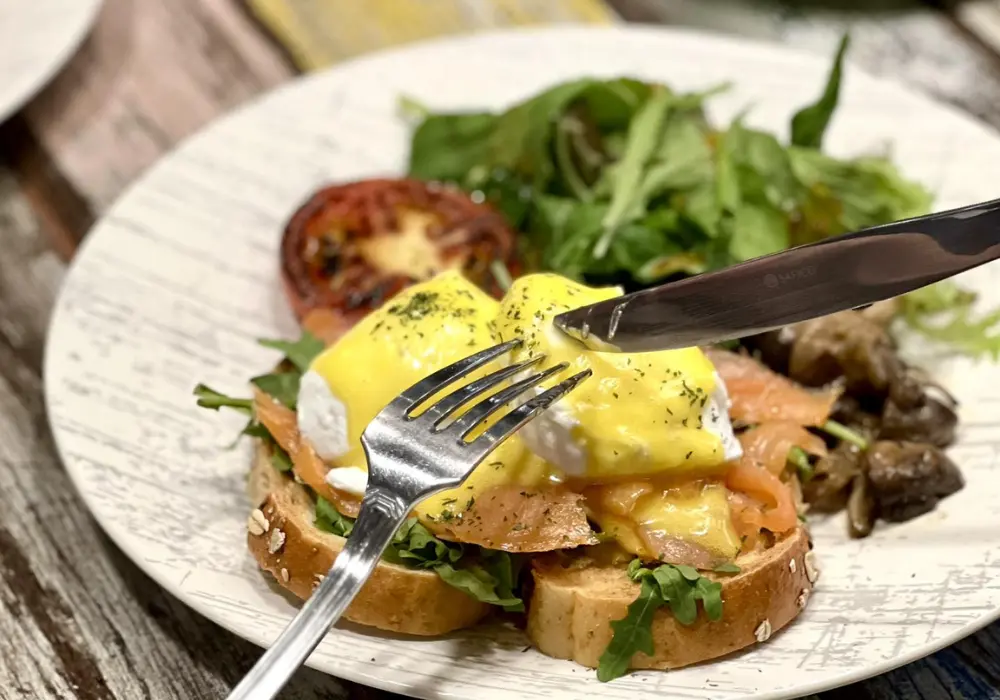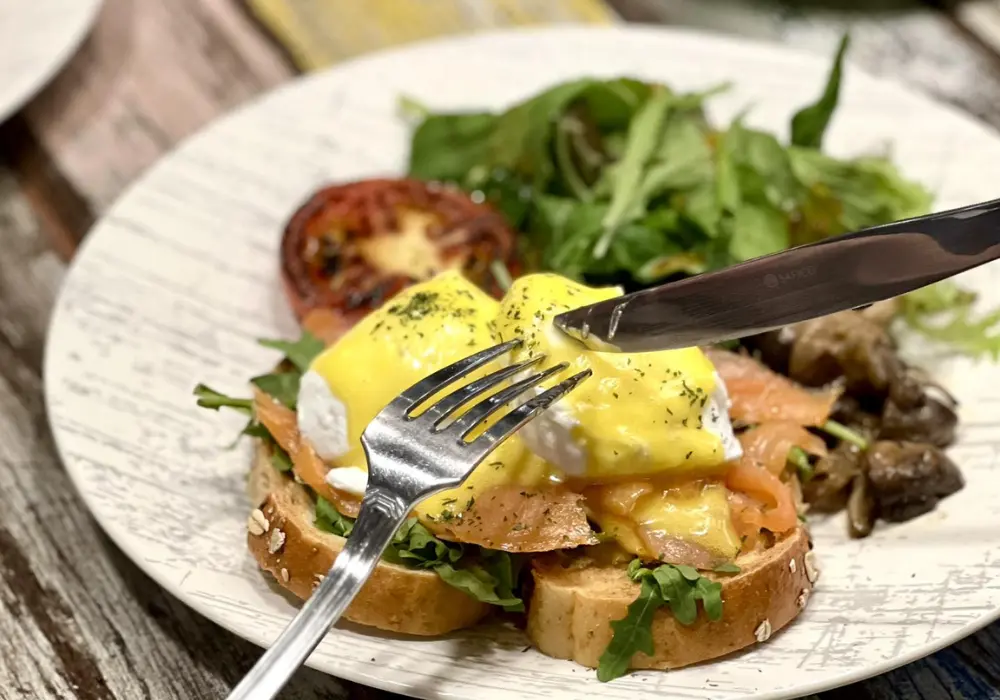 Google ratings: 4.6
Address: 96 Rangoon Rd, Singapore 218381
Signature dishes
Deluxe Spanish Omelette: This Deluxe Spanish Omelette is my go-to at Brunches Café, and it costs $15.50. It's like a flavor explosion on your plate. It's an open-faced omelette loaded with all the good stuff – chicken ham, cheese, mushrooms, tomatoes, onions, and bell peppers. It takes a bit longer to cook, around 12-15 minutes, but trust me, it's worth the wait. And they even throw in a slice of toast for that extra crunch. It's a hearty and filling breakfast that I absolutely love.
Eggs Porto: If you're into a vegetarian breakfast that's packed with goodness, Eggs Porto at $16.90 is the way to go. It's my personal favorite. It's all about poached eggs, sitting atop Portobello mushrooms and fresh arugula. They cover it with a homemade hollandaise sauce that's simply divine. And the wholemeal toasts make it even better. This breakfast is a veggie lover's dream come true, and I can't recommend it enough.
My Awesome Café
My Awesome Café lives up to its name with an eclectic and rustic ambiance. Their breakfast menu is a blend of international flavors, and I love their homemade granola bowls. The quaint setting and friendly staff create a relaxed and inviting breakfast atmosphere. This gem is among the best breakfast spots in Singapore with a view to complement your meal.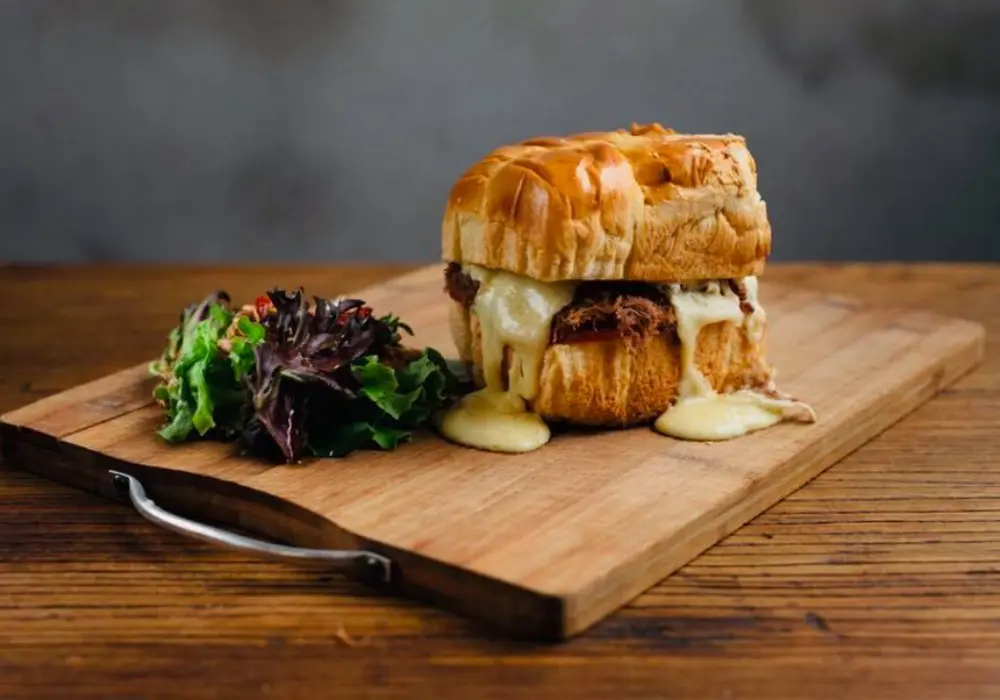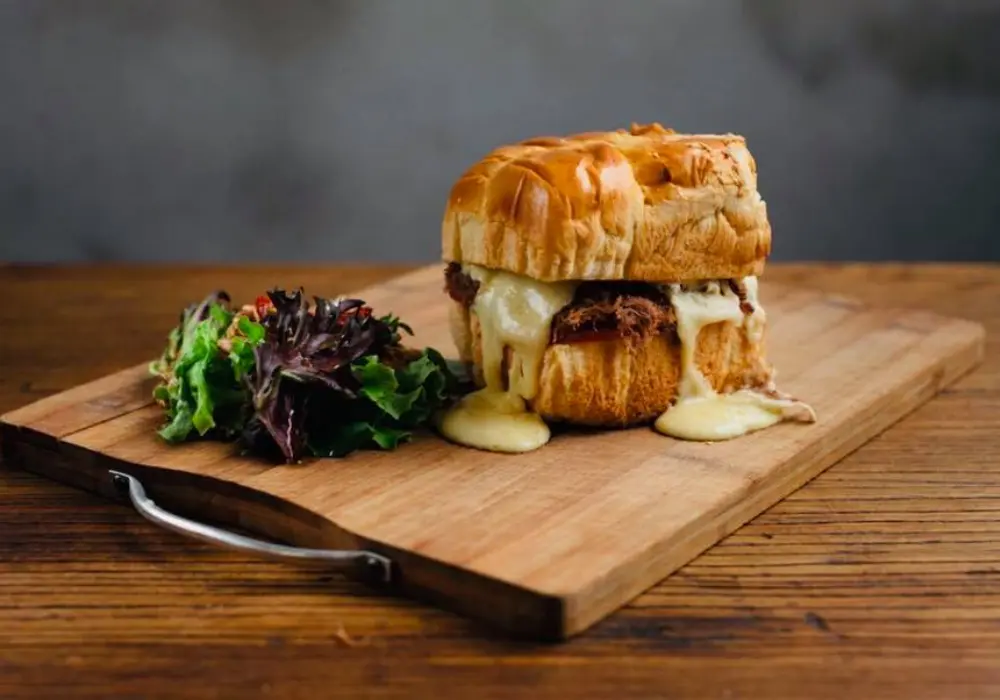 Google ratings: 4.6
Address: 202 Telok Ayer St, Singapore 068639
Signature dishes
Honey Glazed Ham and Scrambled Eggs: I couldn't resist the classic combo of honey-glazed ham and creamy scrambled eggs. The sweetness of the ham perfectly complements the richness of the eggs. It's like a breakfast hug in your tummy. Add a slice of toasted brioche, and it's a delightful morning treat.
Smoked Duck Breast and Parma Ham: When I'm feeling fancy for breakfast, it's got to be the smoked duck breast and Parma ham. The smoky, savory flavors are pure indulgence. I love how they pair it with some crunchy wholemeal pita. It's like a mini breakfast feast to kickstart the day.
Two Men Bagel House
This place is my go-to for a satisfying bagel breakfast. The bagels are freshly baked and come with a range of delectable toppings. The casual setting and the aroma of freshly baked bagels make it a favorite morning stop.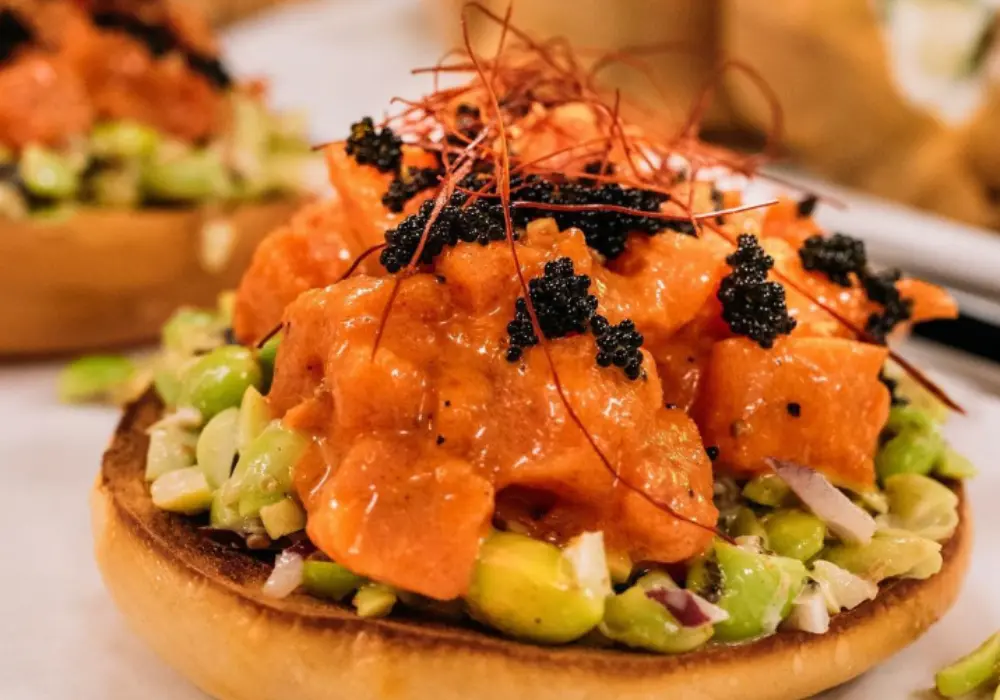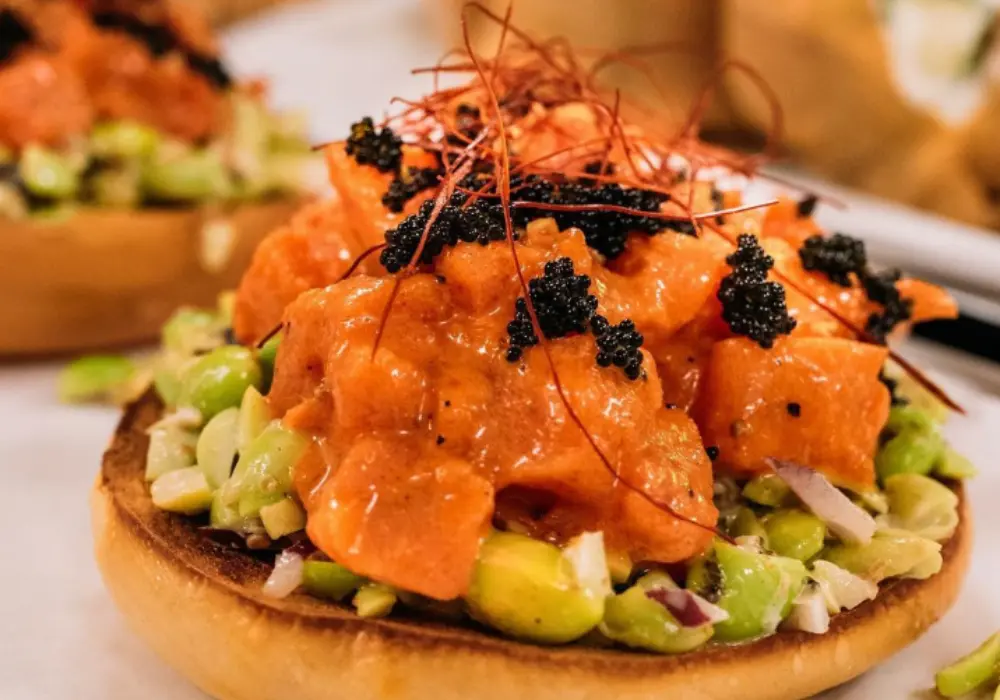 Google ratings: 4.6
Address: 16 Enggor St, #01-12 Icon Village Altez, Singapore 079717
Signature dishes
Personal Best: If you're up for some morning adventure, "The Best" is the way to go at $16.5. It's not your ordinary sandwich. Stacked with Spam, hashbrowns, peanut butter, a sunny-side-up egg, and a zesty hit of spicy aioli, this one is a party for your taste buds. A delightful mix of white meat and nuts.
Angry Bird: When you're in the mood for a spicy twist, "Angry Bird" at $19.5 is your choice. It's all about the Sriracha chicken, Maple Bacon, sunny side-up egg, a crunchy cabbage slaw, and a drizzle of Sriracha glaze. This breakfast option strikes the perfect balance between spicy and savory, adding a fiery kick to your morning. More white meat goodness to savor.
The Food Peeps
The Food Peeps Coffee and Deli offers a simple yet delicious breakfast experience. Their hearty sandwiches and aromatic coffee have a comforting appeal. It's a great place for a quick and satisfying morning bite.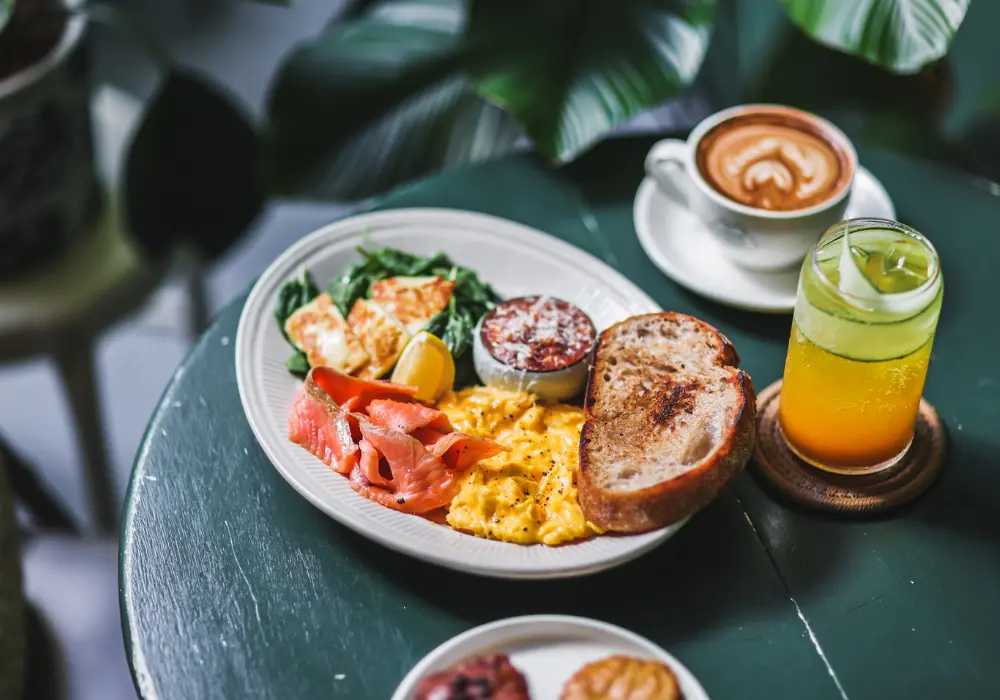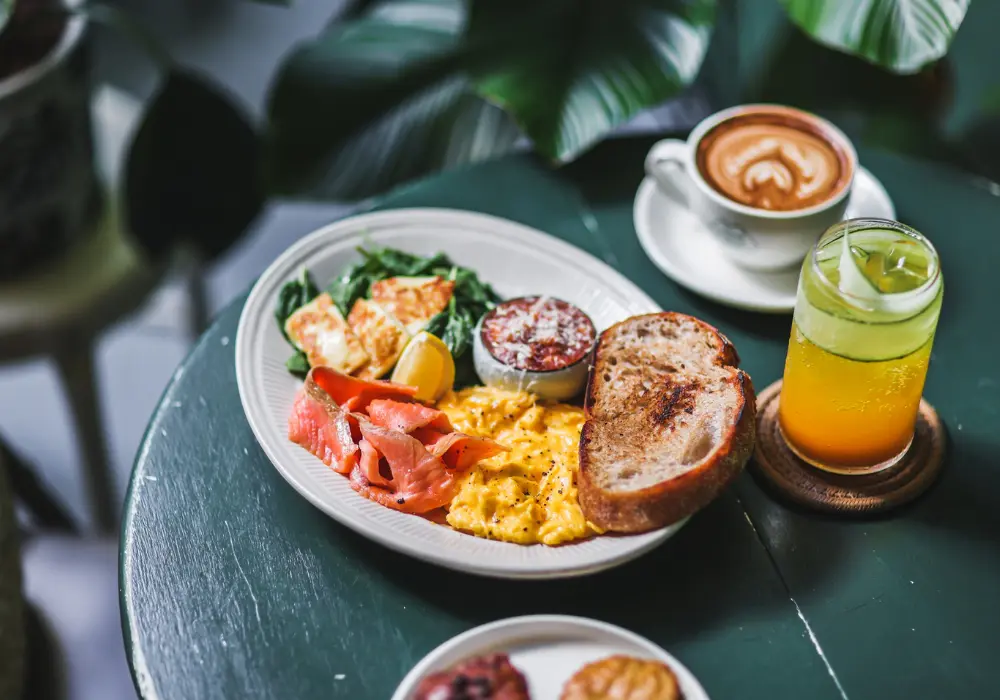 Google ratings: 4.5
Address: 34 Sago St, #01-01, Singapore 059026
Signature dishes
Sure, in simpler words:
Omelette Crepe: This Omelette Crepe is a real winner for $16. It's a breakfast delight. The crepe is filled with spinach, creamy avocado, a touch of chili flakes, and your choice of smoked salmon or mushrooms. It's bursting with flavors, and the crepe is wonderfully light and fluffy. I could have this every morning!
Avocado on Toast: Avocado on Toast is my all-time favorite, and it's just $15. It's a plate of pure deliciousness. Creamy avocado, dill, and honey sour cream, all topped with a perfectly poached egg and served on sourdough. You can pair it with smoked salmon, mushrooms, or baked bacon. Every bite is a taste of heaven. The creamy avocado and the runny yolk make it a perfect breakfast treat.
The Dempsey Project
The Dempsey Project is a serene oasis in the heart of the city, making it one of the best breakfast spots in Singapore for vegetarians. Surrounded by lush greenery, it's a perfect spot for a peaceful breakfast. The menu is diverse, and their homemade pastries are a highlight. Dining here feels like a retreat from the hustle and bustle of the city.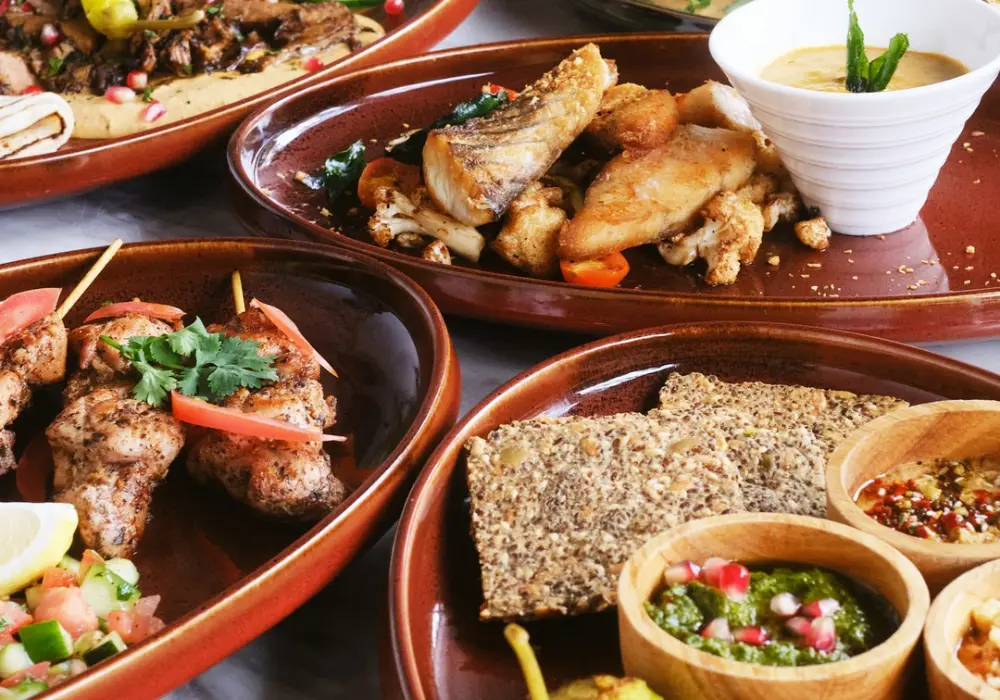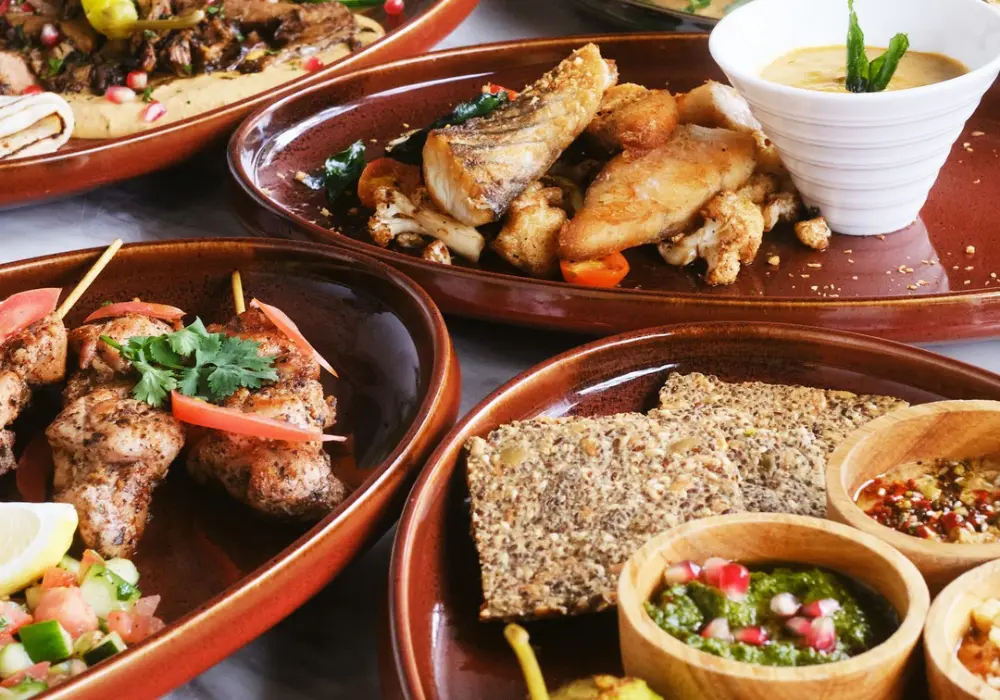 Google ratings: 4.5
Address: Block 9 Dempsey Rd, #01-12, Singapore 247697
Signature dishes
Huevos Rancheros: The Huevos Rancheros at The Dempsey Project are a vegetarian treat, and they cost $26. You've got baked eggs, cheddar, jalapeno, bell peppers, a zesty tomato relish, guacamole, and a sprinkle of onions, all served with tortillas. The flavors and textures are a real delight, making it a fantastic breakfast option. And the fact that its vegetarian is a big plus!
Gluten-Free Banana Oat Pancakes: If you've got a sweet tooth, you can't miss the Gluten-Free Banana Oat Pancakes for $23. They come with fresh berries, banana slices, a drizzle of maple syrup, and a dollop of Greek yogurt. And here's the fun part – if you prefer, you can switch that Greek yogurt for some coconut yogurt. It's like having a plate of pure joy for breakfast.
Common Man Coffee Roasters
Common Man Coffee Roasters is a coffee lover's paradise. The rich aroma of freshly roasted beans fills the air as you enjoy your breakfast. Their hearty dishes, like the full breakfast platter, are a perfect match for their top-notch coffee.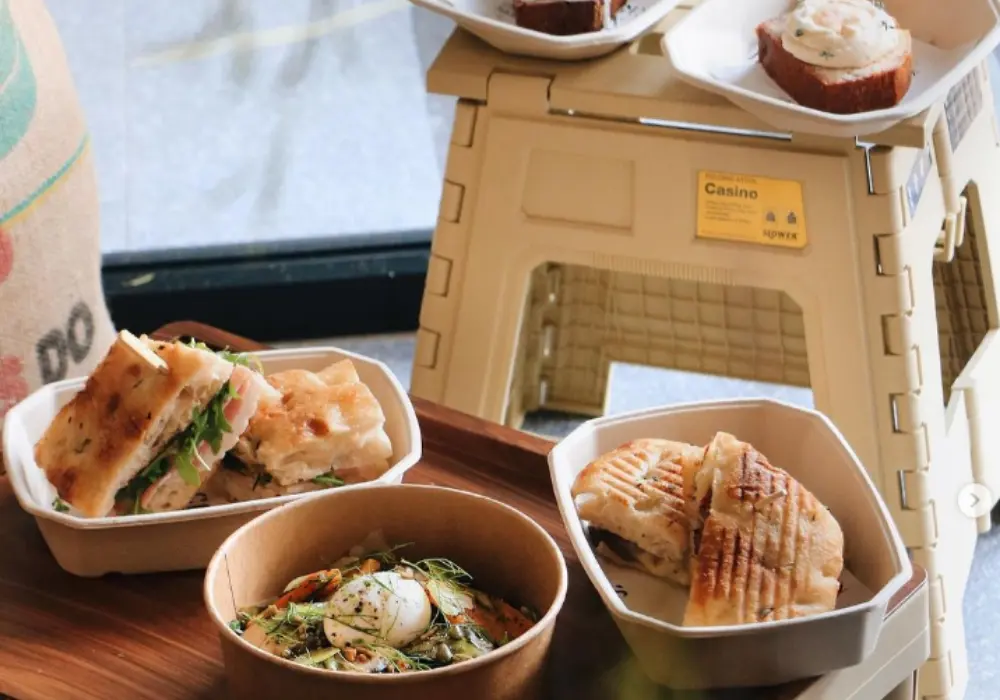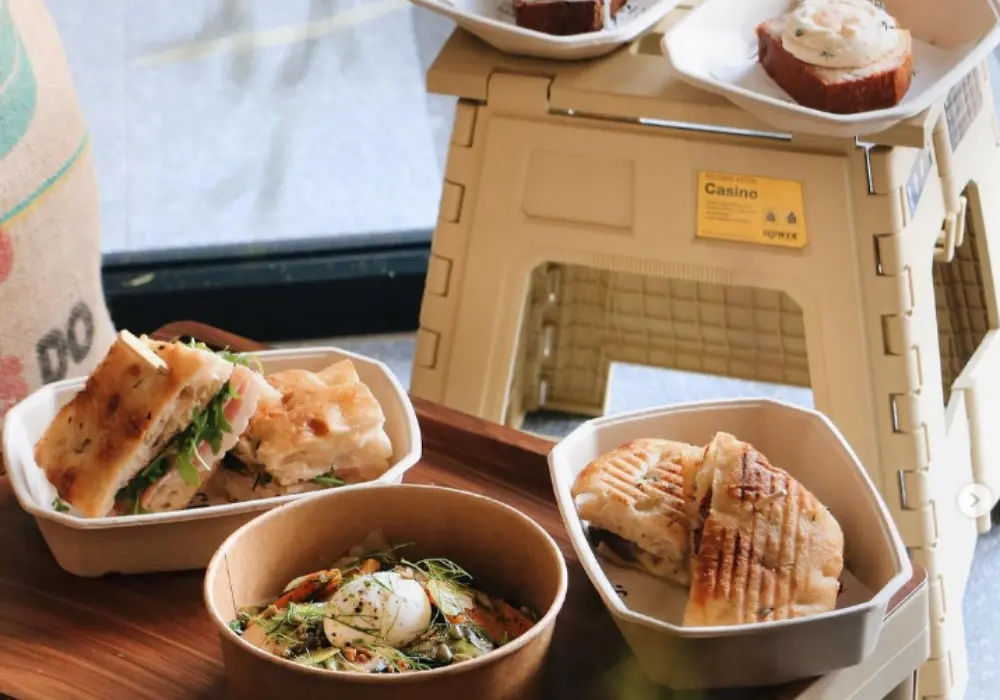 Google ratings: 4.4
Address: 11, 12 Stanley St, 068730
Signature dishes
Common Man Full Breakfast: So, the Common Man Full Breakfast is my go-to at $30. It's the real breakfast champion. You get to pick how you want your two free-range organic eggs cooked. They throw in some crispy bacon, tasty pork sausage, a juicy herbed roma tomato, golden hash browns, hearty portobello mushrooms, and a side of their house-made baked chorizo beans. And you can choose between artisanal sourdough or wholemeal toast. This breakfast spread is just a delicious, hearty feast that has it all – from savory to crispy, it's super satisfying.
House-Made Crunchy Granola: Now, if you're feeling like something on the lighter side, I'd say go for the House-Made Crunchy Granola, priced at $18. It's like a healthy little treat. They mix up spiced nuts and seeds, add sweet coconut, goji berries, creamy Greek yogurt, and a refreshing combo of mandarin oranges and plum compote. It's like a sweet and crunchy bowl of goodness, perfect for a fresh start to the day.
Tolido's Espresso Nook
Tolido's Espresso Nook is a cozy spot where I've relished some of the best eggs Benedict in town. The warm and inviting atmosphere makes it a perfect place to start your day. The personal touch in every dish and cup of coffee sets it apart.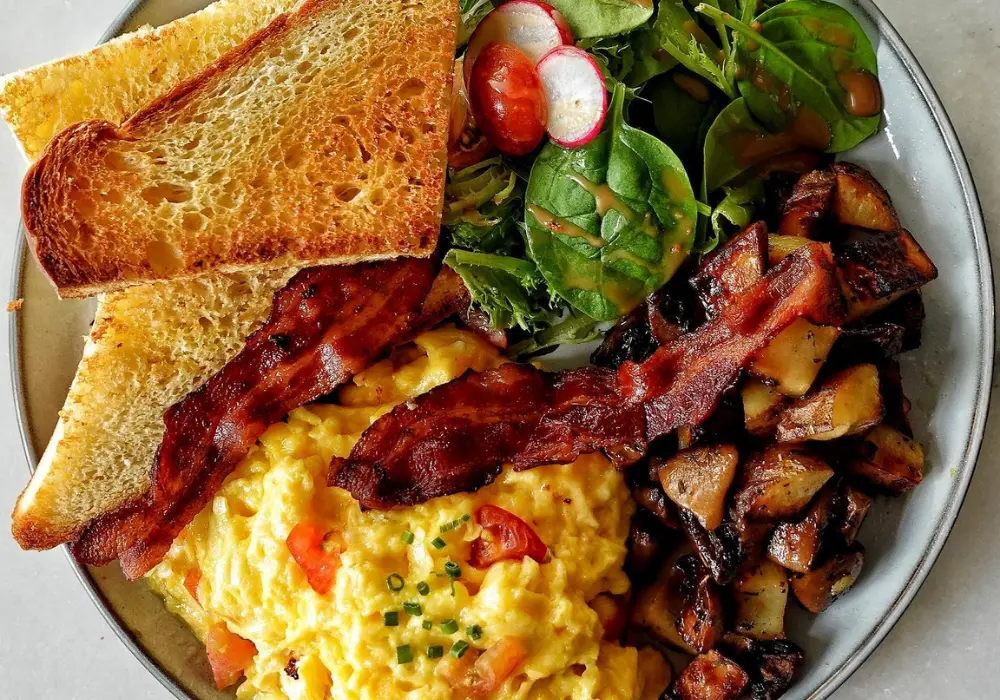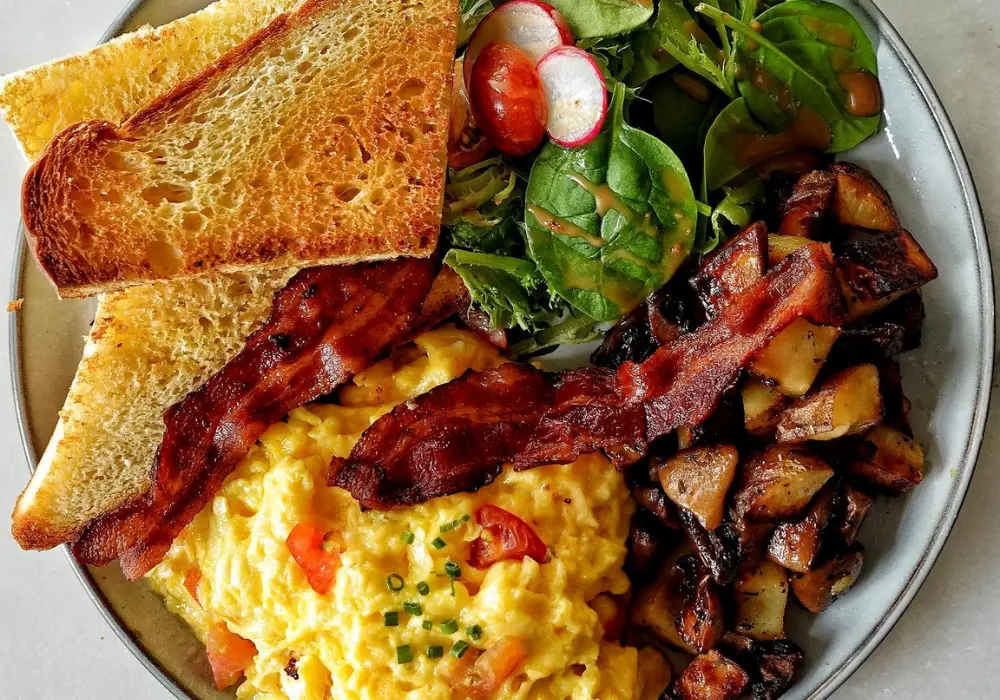 Google ratings: 4.4
Address: 462 Crawford Ln, #01-63, Singapore 190462
Signature dishes
Shakshouka Eggs: You've got to try the Shakshouka Eggs – a Middle-Eastern delight for about S$21. Its eggs poached in a smoky, spicy tomato stew with chickpeas, peppers, and onions, served with toasted sourdough and fresh salsa. Choose either veggies (VEG) or savory BRATWURST to go with it. It's a flavor-packed dish.
Stout-Glazed Bacon French Toast: If you're craving both sweet and savory, go for the Stout-Glazed Bacon French Toast at S$20. It's fluffy brioche French toast with marscapone, topped with Guinness stout-glazed bacon and maple syrup. It's a mouthwatering combo of flavors and textures.
See Also: Best Steaks In Singapore
The Book Café
The Book Café is a charming blend of literature and breakfast delights. Enjoying a morning meal surrounded by books is a unique experience. Their pancakes and pastries are a sweet treat, and it's a place where you can lose yourself in a good book.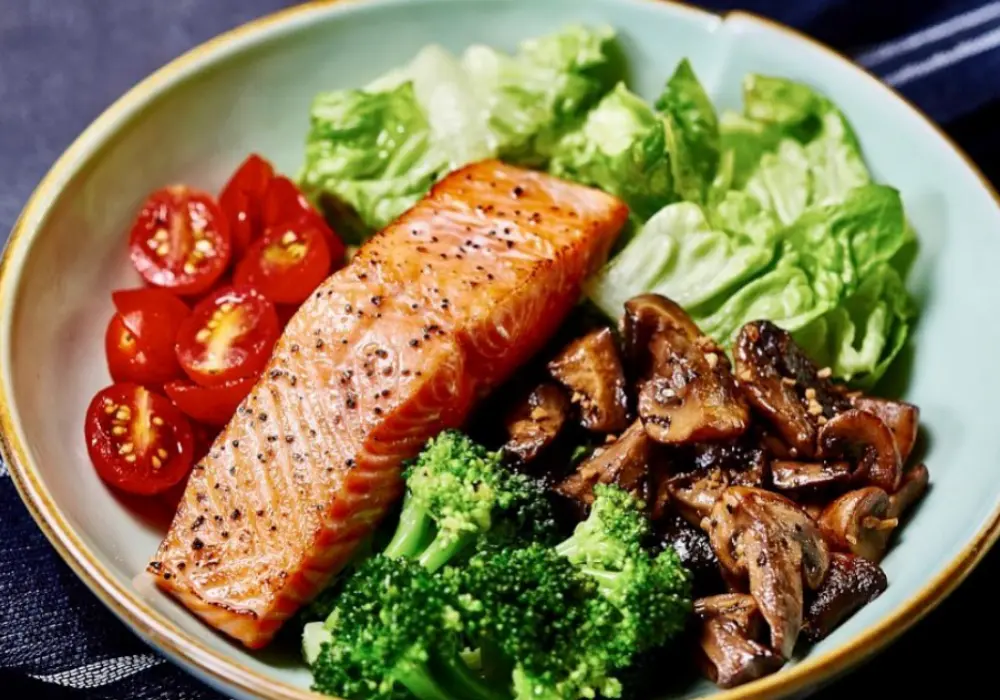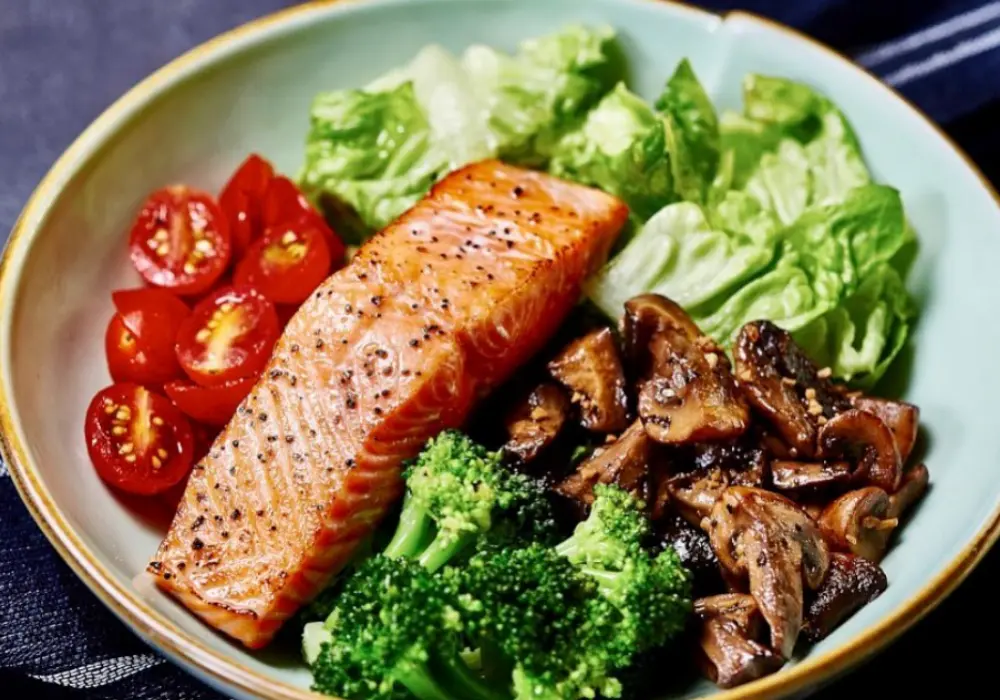 Google ratings: 4.3
Address: 20 Martin Rd, #01-02 Seng Kee Building, Singapore 239070
Signature dishes
Eggs Blackstone: I've got to tell you about Eggs Blackstone for $22.95. It's a delightful plate with a toasted English muffin, crispy maple bacon, grilled tomatoes, fresh baby spinach, poached freedom range eggs topped with creamy hollandaise sauce, and a side of rosti potato. It's a real breakfast treat that combines all these flavors and textures for a fantastic morning meal.
Smoked Salmon: Now, if you're in the mood for something lighter, go for the Smoked Salmon, priced at $19.95. You get two freedom range eggs cooked just the way you like, served with a golden hash brown, grilled cherry tomatoes, and toast. And the star of the show is the generous serving of smoked salmon. It's like a classic breakfast with a touch of luxury.
Atlas Coffeehouse
Atlas Coffeehouse is where I've had some of the most Instagram-worthy breakfasts. The dishes are not only visually stunning but also incredibly delicious. From their fluffy pancakes to savory brunch options, it's a place that tantalizes all the senses. When searching for good breakfast spots in Singapore, Atlas Coffeehouse has consistently impressed me with its presentation and flavors.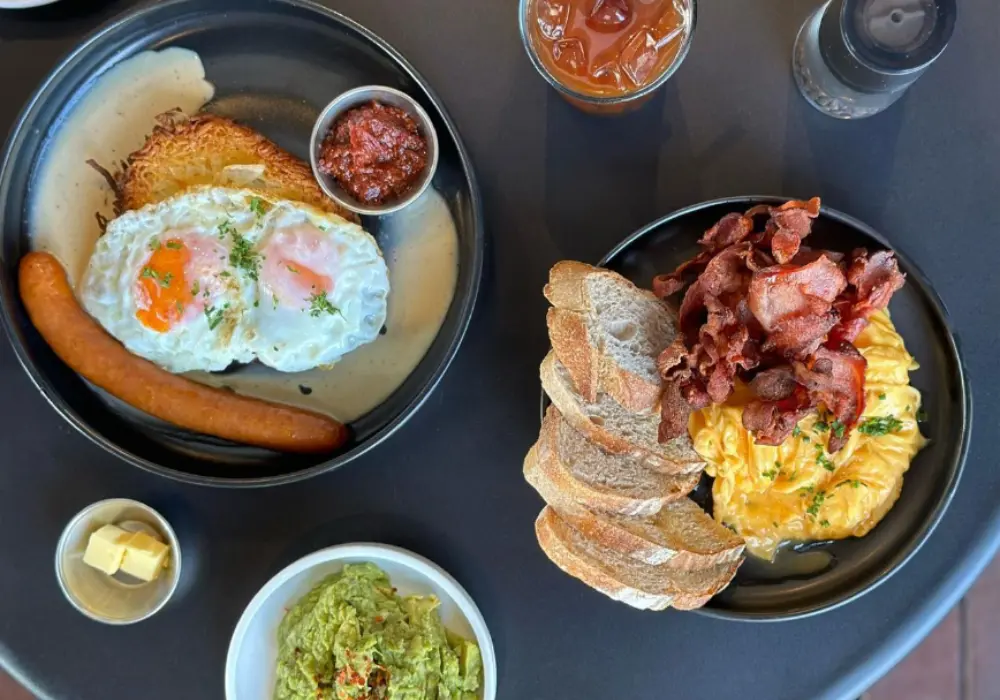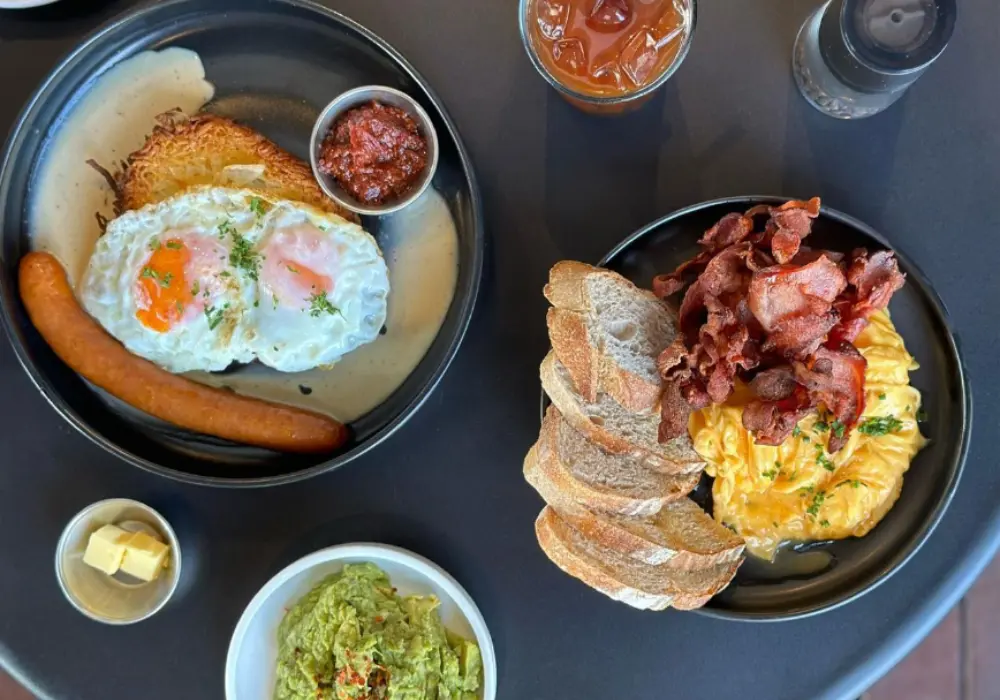 Google ratings: 4.3
Address: 6 Duke's Rd, Singapore 268886
Signature dishes
Mushroom Confit with Poached Eggs: This one's a gem at $21. It's a combo of mushroom confit, vine tomatoes, spinach, smashed avo, and two perfectly poached eggs, all generously coated in hollandaise sauce, and served with sourdough. A delightful breakfast mix.
The Gentleman's Relish: Looking for something comforting? Try The Gentleman's Relish, priced at $16.80. It's all about soft scrambled eggs, charred san-marzano tomatoes, compound butter, honey mascarpone, and sourdough. A rich and savory breakfast option that's perfect for indulging in the morning.
The Populus
The Populus is a trendy spot that offers a range of breakfast choices. Their avocado toast and artisanal coffee are crowd-pleasers. The modern and vibrant atmosphere adds a touch of excitement to the morning meal.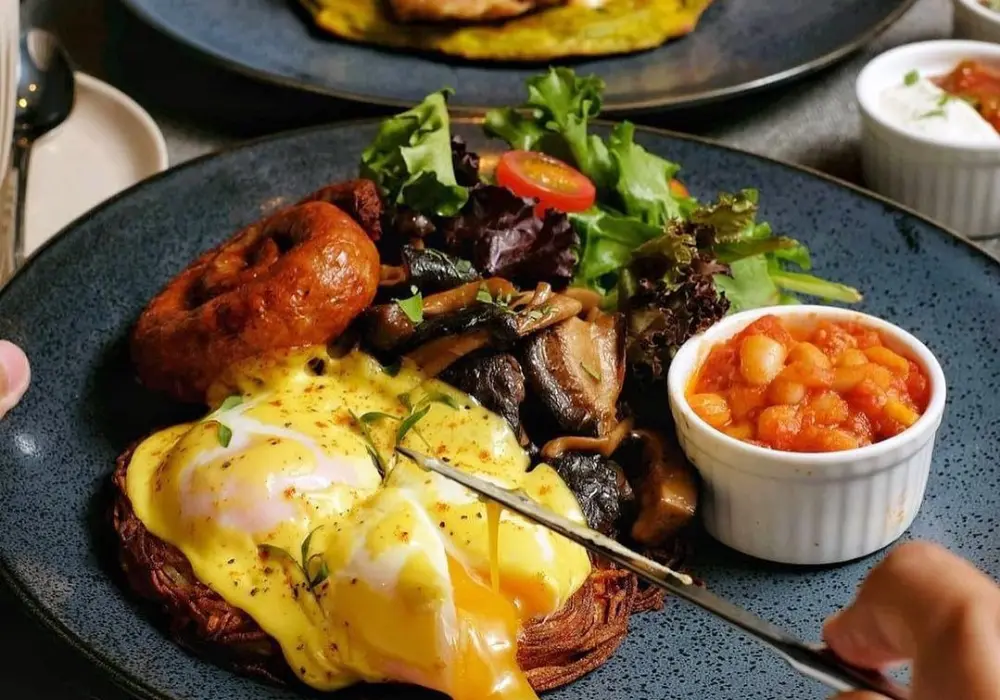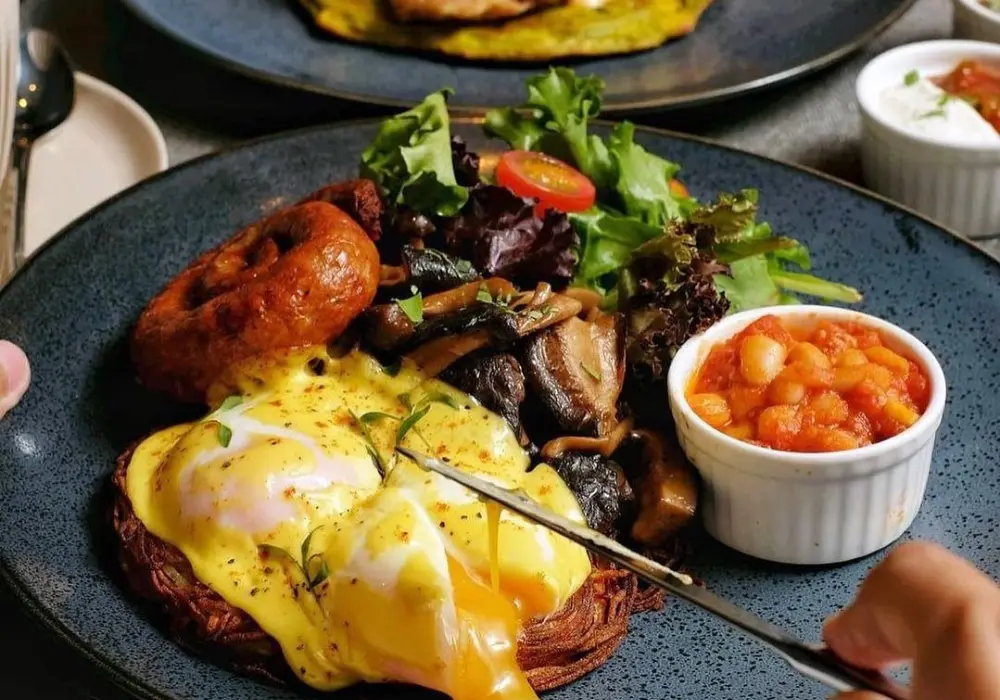 Google ratings: 4.3
Address: 146 Neil Rd, Singapore 088875
Signature dishes
The Populus Scramble: Let me tell you about The Populus Scramble, which goes for $22. It's all about soft, creamy scrambled eggs, a fresh herb mix, marinated feta, and turkey bacon, served with a toasted croissant. It's like a breakfast hug in your mouth.
Tuscan Lamb Harissa Baked Egg: Now, for something a bit different, you've got to try the Tuscan Lamb Harissa Baked Egg, priced at $25. It's a hearty dish with chunky homemade tomato sauce, slow-roasted Tuscan lamb, a soft 64° egg, a dollop of Greek yogurt, all sprinkled with sumac and fresh lime. And you can add some Ciabatta toast for an extra $4.
Final Words
In the heart of Singapore, the best breakfast places in Singapore offer a delightful adventure filled with flavors. From classic kaya toast to global-inspired dishes, each spot tells a unique story.
Whether you crave comfort or culinary exploration, these breakfast spots offer it all. The aromas and flavors make each meal a special start to the day. So, in Singapore, breakfast isn't just food; it's a taste of the city's essence.