The Best Lunch Restaurants In Singapore – Lunch Lounges
Hey, lunch enthusiasts! Join me on a journey to find the best lunch spots in Singapore, where mouthwatering dishes await. Wondering, "What should I eat for lunch in Singapore?" Let's dive in and discover the answers!
So, get ready to satisfy your midday cravings as we explore the best lunch restaurants in Singapore. From savory delights to international cuisine, these places are a lunch lover's dream. Let's set the table and kick off this lunchtime adventure! 🍽️🍲🥗
Top 10 Lunch Spots In Singapore
Hungry for a delectable lunch experience? Look no further! We've scoured the dining scene in Singapore to present you with 10 great restaurants in Singapore that are ready to cater to your culinary desires.
Let's dive right in and discover these delectable lunch restaurants that promise an unforgettable midday dining experience.
Merci Marcel Orchard
Whitegrass Restaurant
Les Amis
Rhubarb
MTR Singapore
Burnt Ends
Fat Belly
The Butcher's Wife
Ristorante Da Valentino
Waterfall Ristorante Italiano
Feeling hungry yet? Let's savor the flavors and stories behind these top-notch lunch restaurants.
Merci Marcel Orchard
Merci Marcel Orchard is a cozy French restaurant that offers a delightful escape in the heart of the city. With its chic interior, they serve up a range of classic French dishes and delicious brunch options, making it one of the good restaurants for lunch in Singapore.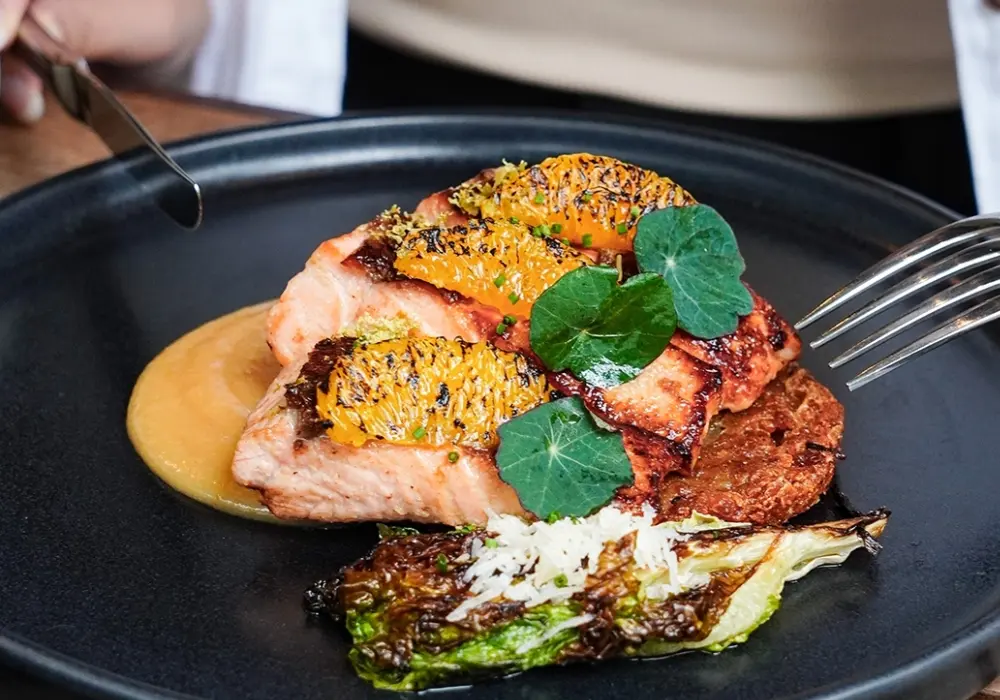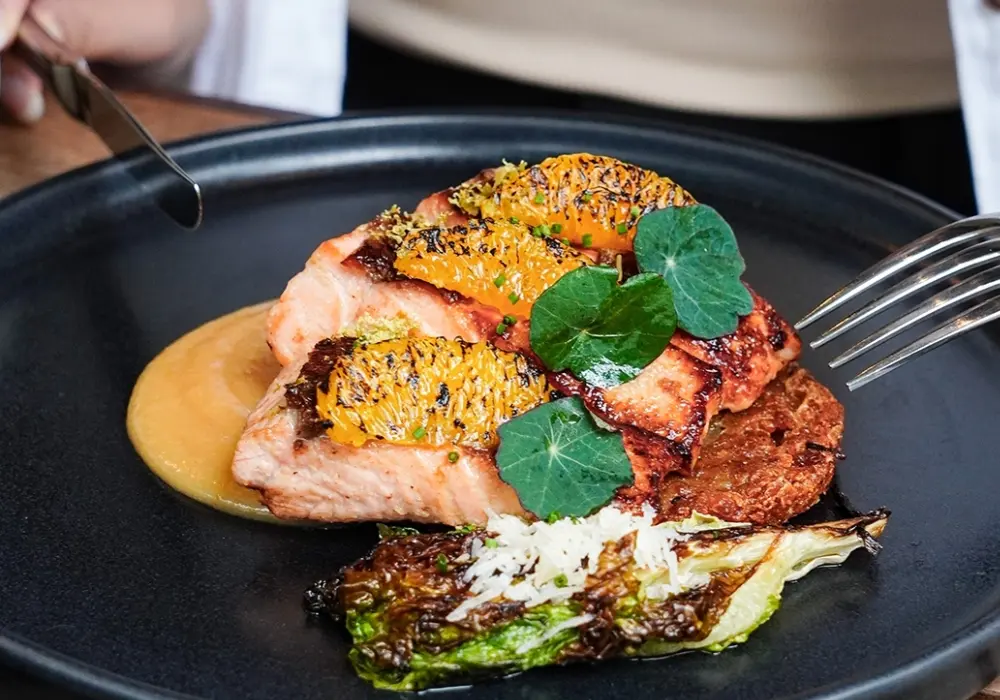 Signature dishes
Grilled Gambas:
These Grilled Gambas are fantastic. You get big, juicy prawns that are grilled just right, served on yummy basmati rice with sweet potato curry that's super tasty. There's also fresh spinach and chive oil that make it all extra good. It's a mix of flavors and textures that's hard to resist.
Beef Tenderloin Carpaccio:
If you like strong flavors, you've got to taste this Beef Tenderloin Carpaccio. It's like super-thin slices of beef that are so tender they melt in your mouth. Plus, you get these crispy purple sweet potato chips for a cool crunch. And the red Kampot pepper and wild rocket? They give it a nice spicy freshness. This dish is a winner!
Google ratings: 4.7
Address: 390 Orchard Road, 01-03 Palais Renaissance, 390 Orchard Rd, #01 – 03 / 04, Singapore 238871
Service options: Dine-in · Takeaway
Whitegrass Restaurant
Whitegrass Restaurant, a modern French gem, combines elegant dining with creative cuisine. The restaurant's modern take on French dishes in a lush setting provides a memorable and refined lunch experience that will leave you wanting more.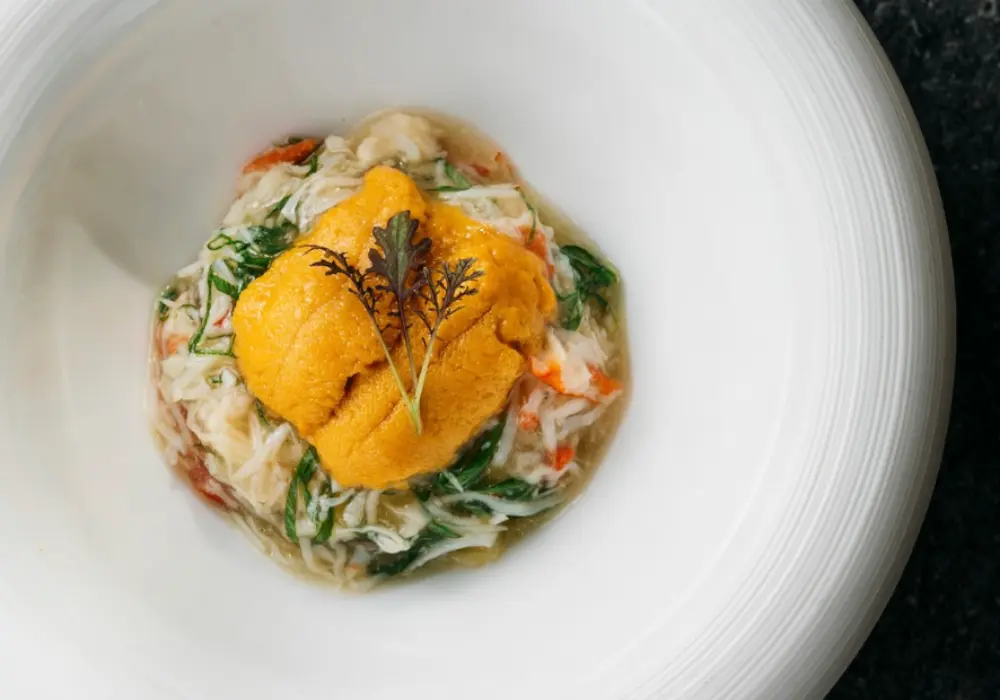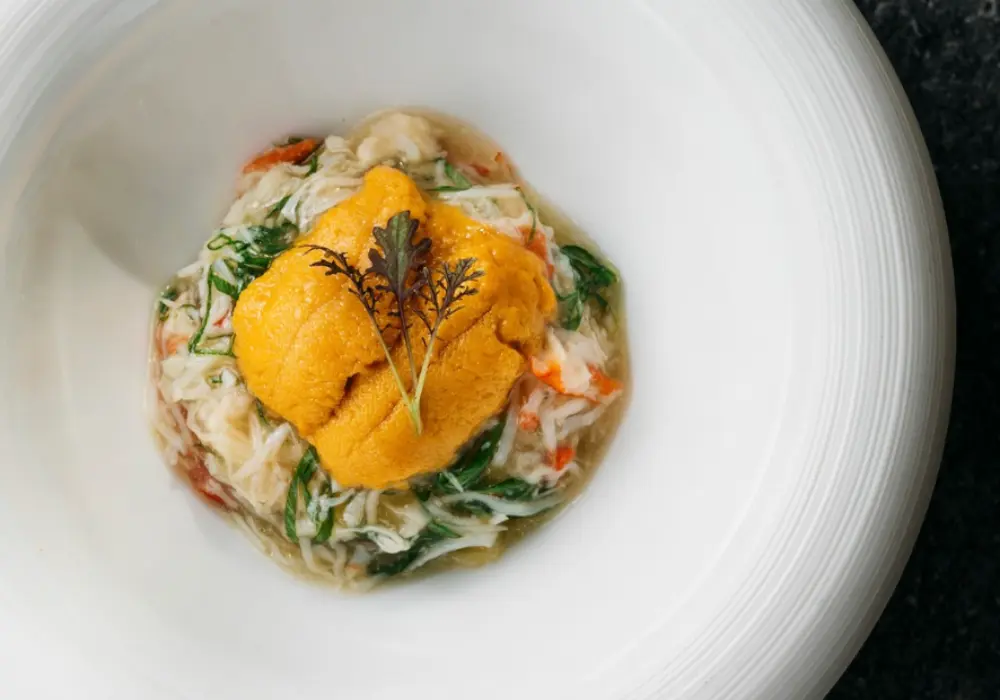 Signature dishes
Organic Poulet:
The Organic Poulet at Whitegrass is something special. It's like a perfectly cooked chicken with a rich Chasseur sauce and lots of tasty mushrooms. It's a comforting and satisfying main dish.
Jerusalem Artichoke:
The Jerusalem Artichoke dish at Whitegrass is really unique. You've got the sweet Jerusalem artichoke paired with savory grilled eel, and there's a smoky twist from the hojicha. It's an appetizer that's full of surprises and delicious flavors.
Google ratings: 4.7
Address: 30 Victoria St, #01-26/27 CHIJMES, Singapore 187996
Service options: Dine-in · No takeaway · No delivery
Les Amis
Les Amis, a haute French restaurant, is a true epicurean haven. Here, you'll experience the epitome of French cuisine with impeccable service and an extensive wine list. It's the perfect place for an indulgent and sophisticated lunch.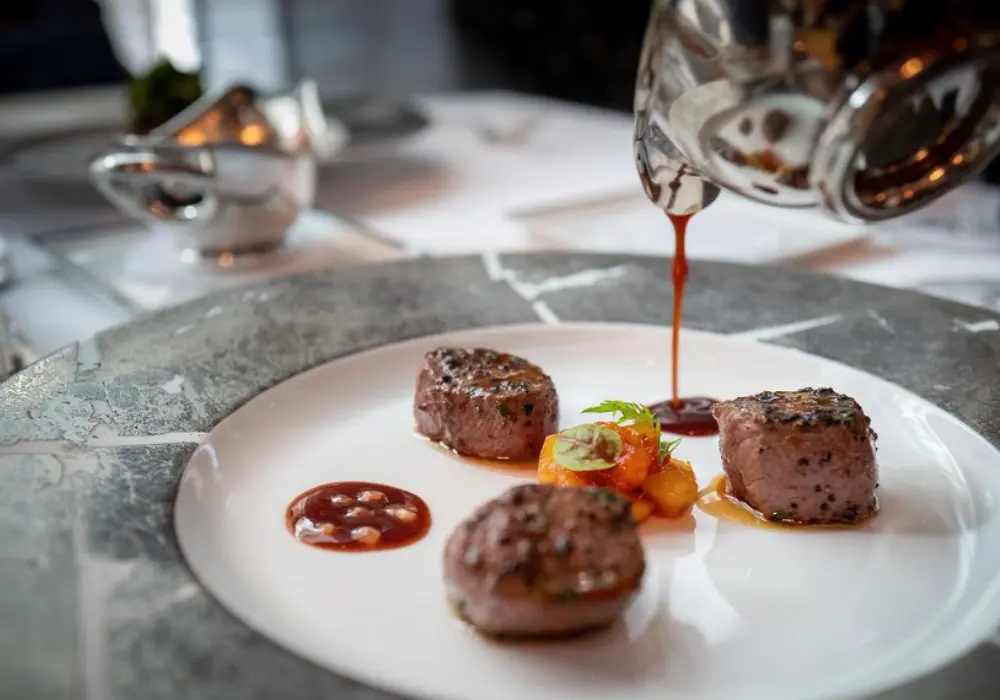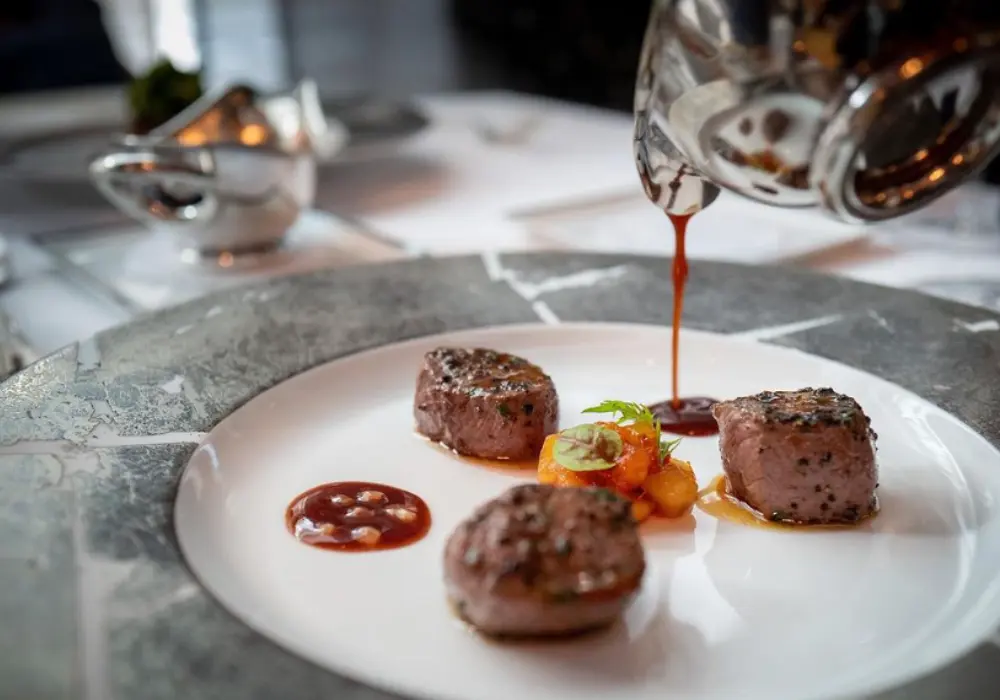 Signature dishes
Roasted Challans Duck Breast:
The Roasted Challans duck breast is something I loved. It's tender duck breast with ginger-infused caramelized pear on the side. The mix of flavors is simply delightful.
Wagyu Beef Tenderloin:
The Wagyu beef tenderloin was a favorite of mine. It's a perfectly cooked piece of Wagyu beef with tasty seasonings. And it comes with a natural jus that's full of flavor. The crispy potato soufflées on the side add a nice crunch. This dish is hard to forget!
Google ratings: 4.6
Address: 1 Scotts Rd, #01 – 16 Shaw Centre, Singapore 228208
Service options: Dine-in · No takeaway · No delivery
Rhubarb
Rhubarb is a charming French restaurant known for its delectable dishes prepared with a modern twist. The cozy ambiance and innovative menu make it a great choice for a leisurely lunch, where you can savor the flavors of France with a touch of creativity.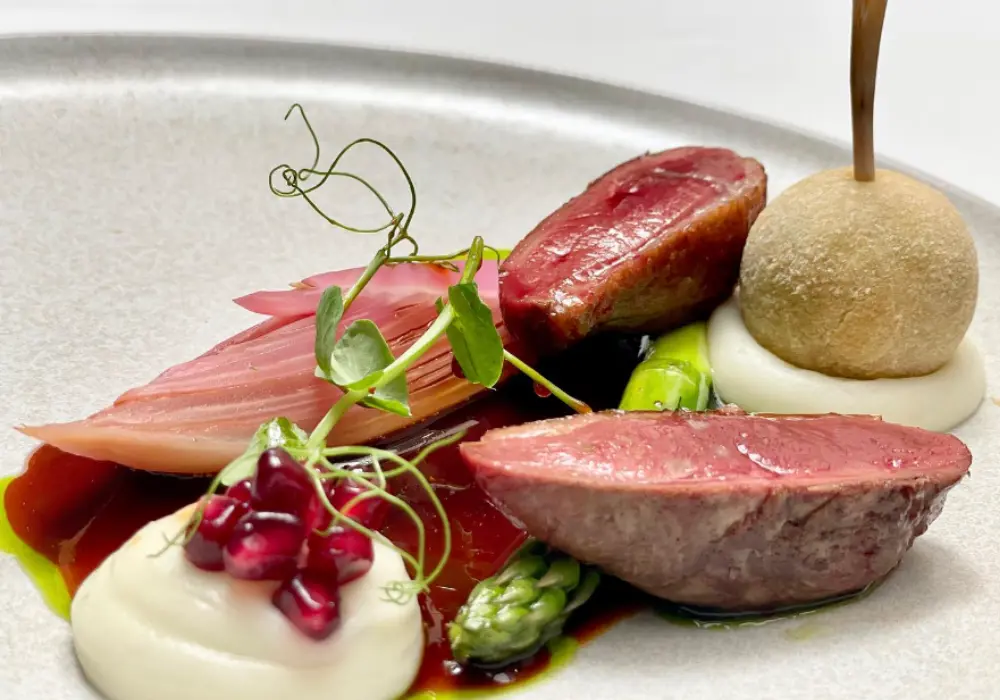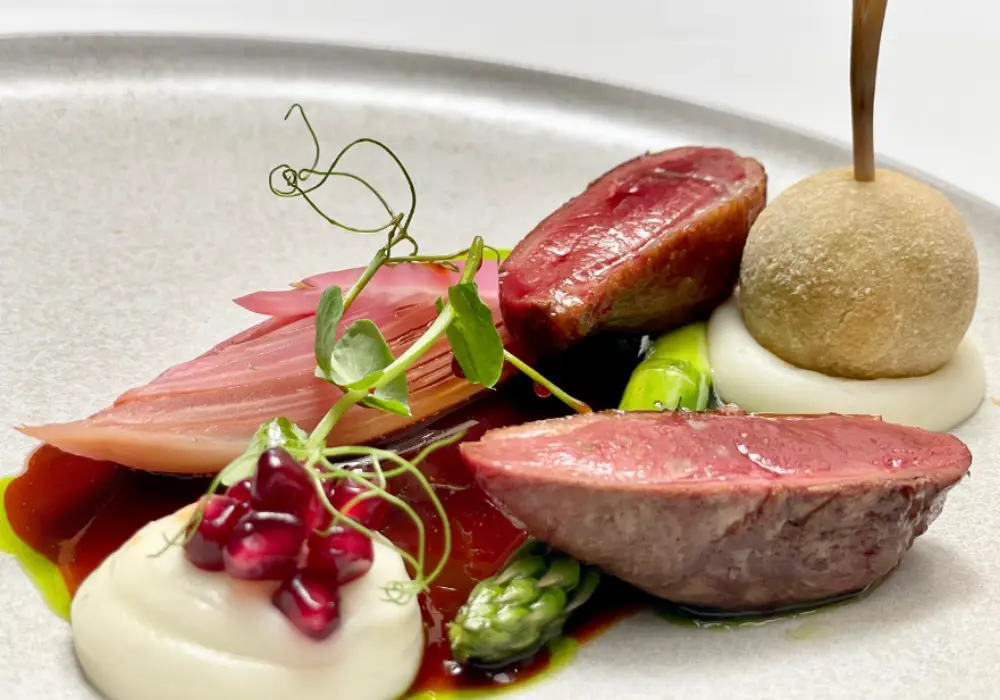 Signature dishes
Lunch omakase:
My lunch omakase at Rhubarb was excellent, with attentive service. The amuse bouche was a bit overshadowed by my excitement for the rest of the meal, but the olive bread and creamy butter were a delightful start.
The oyster stole the show with its perfect balance of flavors. The chestnut and mushroom soup was a pleasant surprise, and the scallop, while good, couldn't quite match the oyster's brilliance.
The pork main course was a highlight, and dessert was a visual and flavorful delight. The unique sparkling water with its soft bubbles was a standout. In summary, it was a memorable experience, and I'm looking forward to returning.
Google ratings: 4.6
Address: 3 Duxton Hill, Singapore 089589
Service options: Dine-in · Takeaway · No delivery
MTR Singapore
MTR Singapore is a vegetarian restaurant that specializes in South Indian cuisine. Known for its scrumptious dosas and idlis, this place offers a unique and flavorful lunch experience. The cozy atmosphere and authentic flavors will transport you to the streets of Bangalore.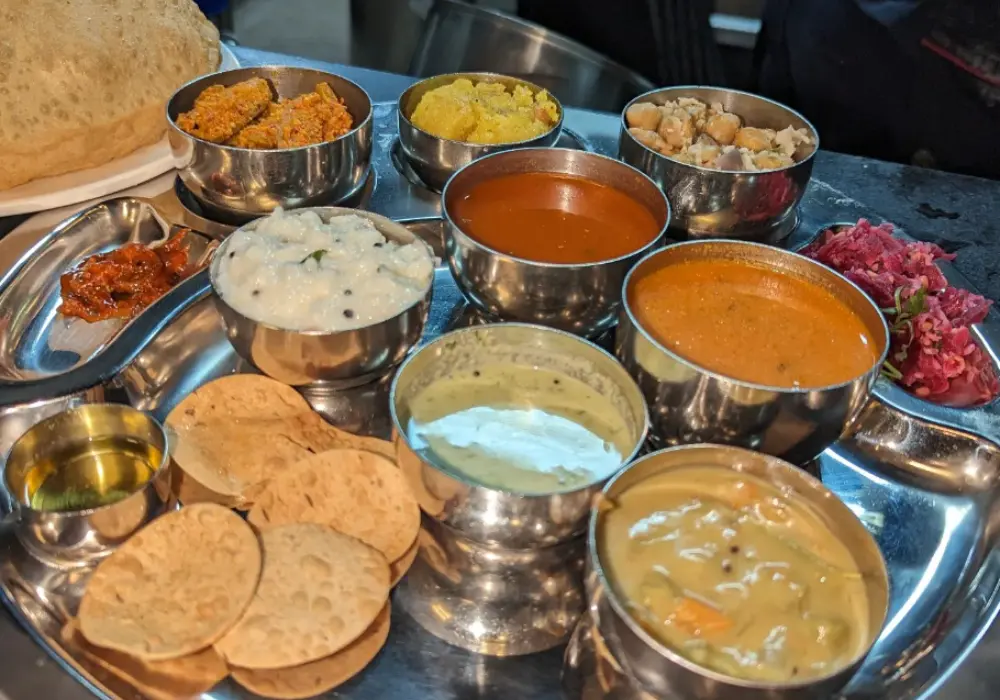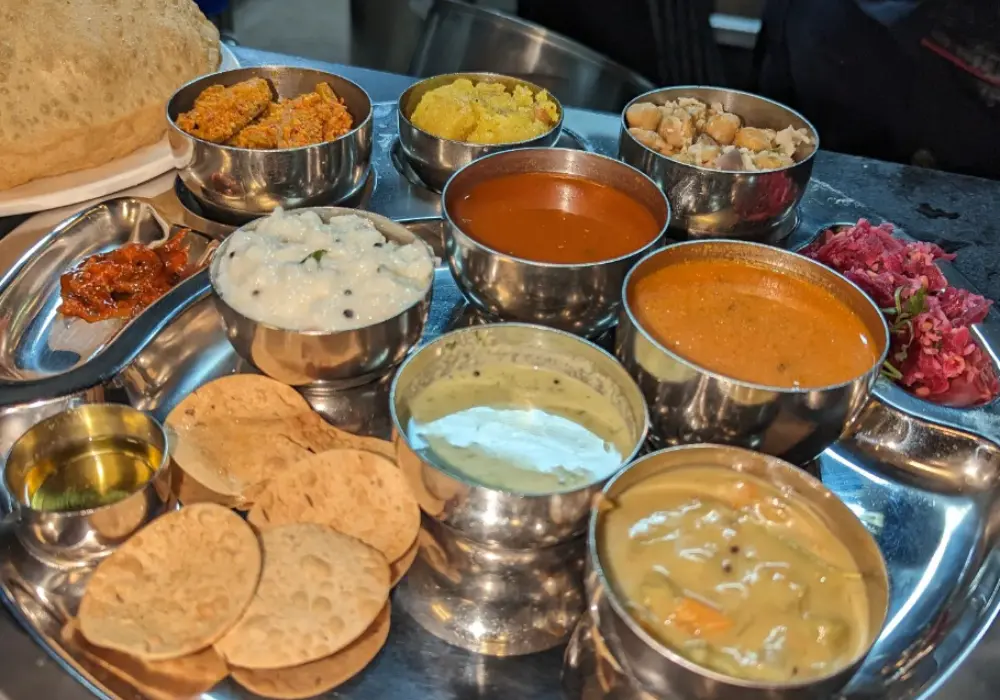 Signature dishes
Rava Idly:
At MTR Singapore, the Rava Idly is a tasty dish with a single piece of steamed semolina cake, made with yogurt, coriander, cashews, and more. It's served with potato saagu for $4.00.
Pudi Dosa:
If you're looking for something heartier, the Pudi Dosa is a thick rice and lentil dosa topped with flavorful chutney powder, ghee, and it comes with mint chutney and lentil sambhar for $6.50.
Just remember, both dishes take about 20 minutes to prepare. MTR prides itself on using quality ingredients and freshly made food with no preservatives or reused oil. There's a 10% service charge, a 10% surcharge for takeout, and GST is extra.
Google ratings: 4.5
Address: 440 Serangoon Rd, Singapore 218134
Service options: Dine-in · Takeaway · No-contact delivery
See Also: The Best Brunch Spots In Singapore
Burnt Ends
Burnt Ends is a barbecue haven where you can experience the magic of open flames and smoky flavors. The communal dining style and inventive barbecue creations make it a hotspot for a meat lover's lunch.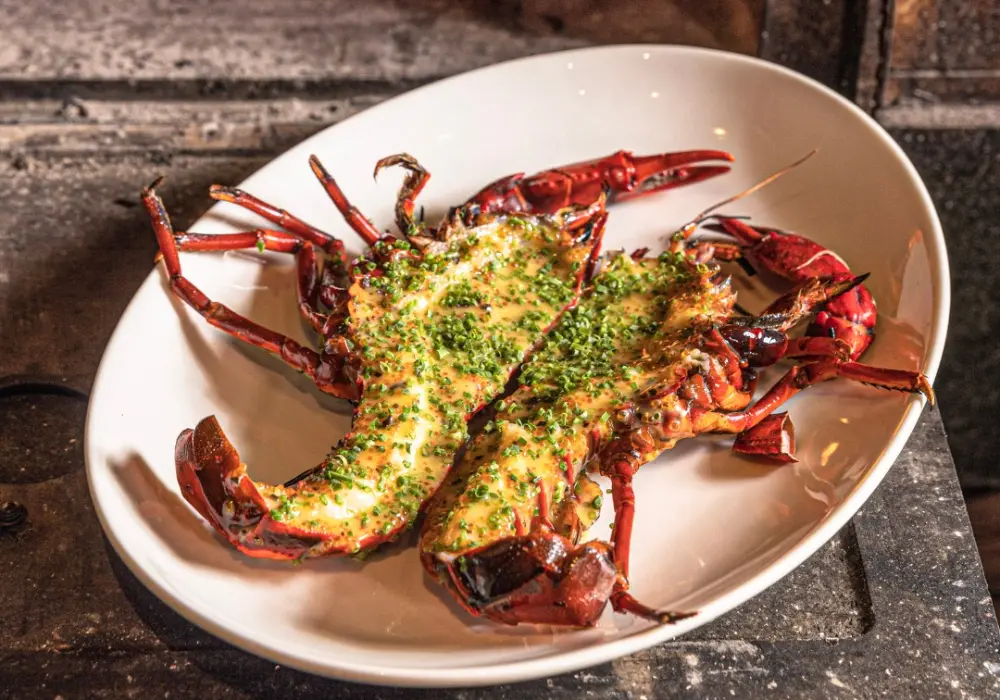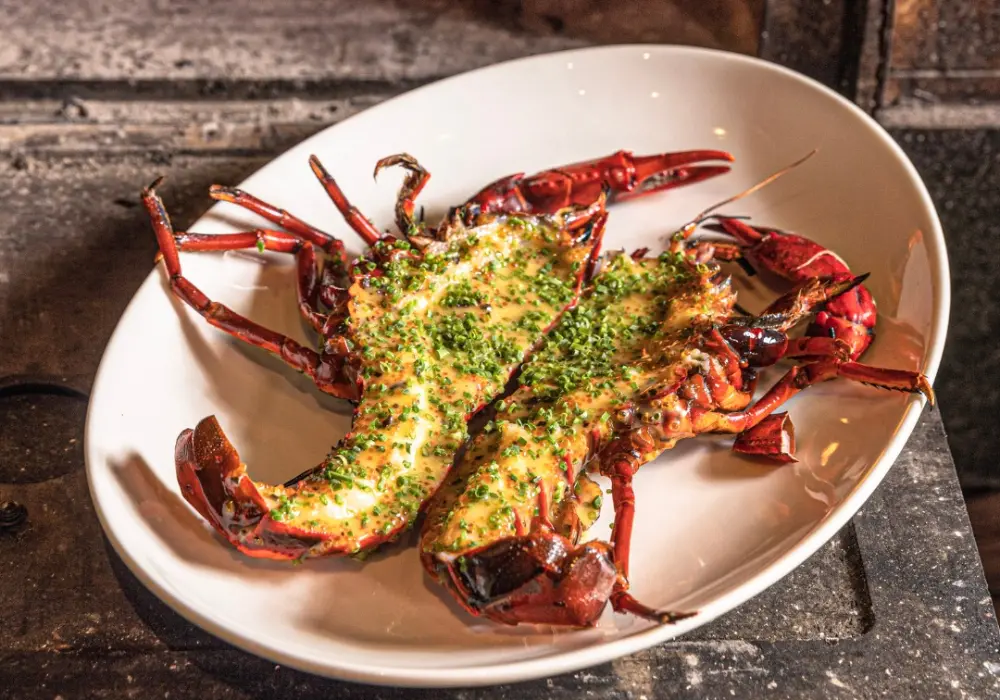 Signature dishes
Grissini and Taramasalata:
I absolutely loved the Grissini and Taramasalata at Burnt Ends. Those crispy grissini sticks served with creamy taramasalata, a fish roe dip, were a classic and delightful way to kick off the meal.
Bone Marrow Bun:
Now, when it comes to the Bone Marrow Bun, it's a real standout for me. At $15, it's a must-try. The buttery and rich bone marrow inside that bun creates an irresistible combination that's both savory and indulgent. It's a treat you won't want to miss.
Google ratings: 4.5
Address: 7 Dempsey Rd, #01-02, Singapore 249671
Service options: Dine-in · No-contact delivery
Fat Belly
Fat Belly is a steakhouse that promises a carnivore's delight. With a focus on premium cuts and impeccable cooking techniques, it's a fantastic spot for a hearty lunch where you can indulge in succulent steaks.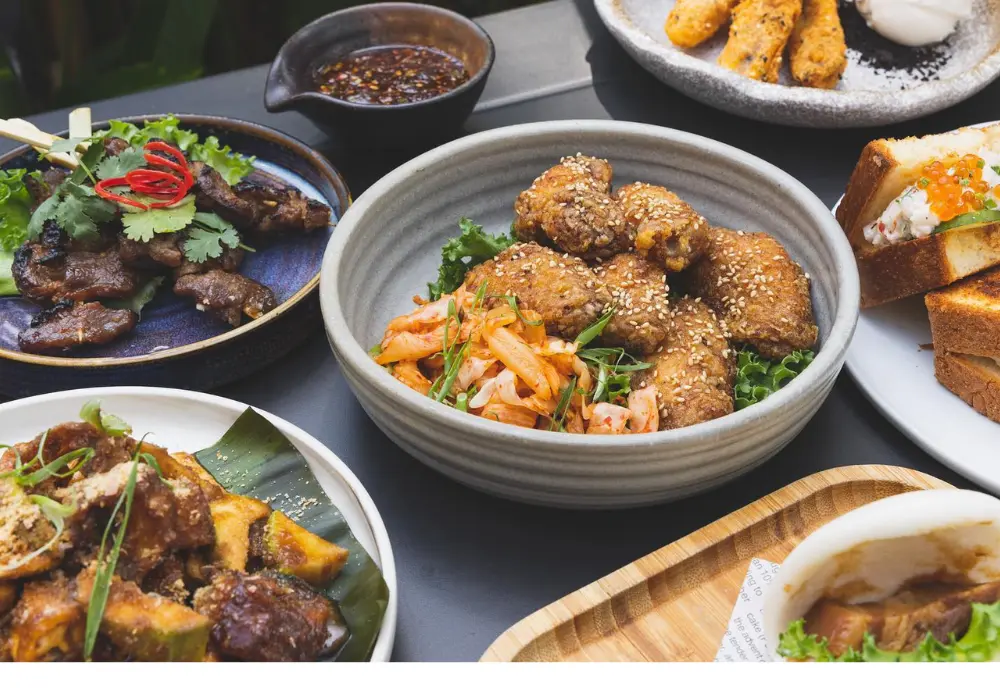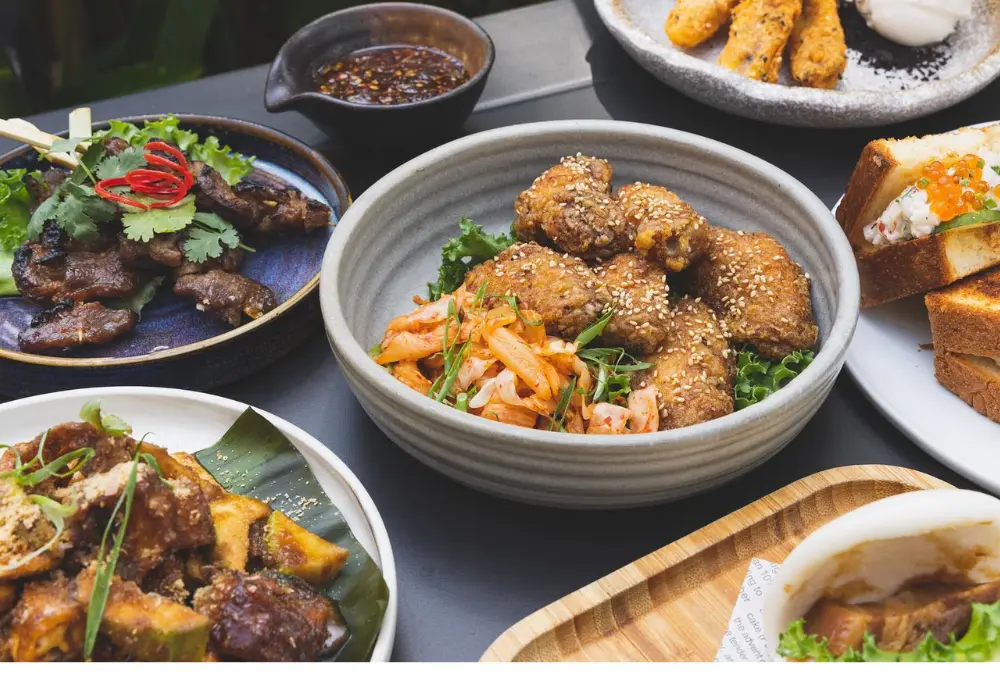 Signature dishes
Steak Frites:
The Steak Frites at Fat Belly is a real winner, featuring a 200g Grain-Fed Angus Steak that comes with salsa verde, salad, and a side of crispy fries, all for $32.
Rice Bowl:
If you're in the mood for something different, their Rice Bowl with deep-fried Brussels sprouts, garum caramel, pilaf rice, savory granola, and your choice of salsa verde or veal jus, is a delicious option.
You can top it with your preferred protein: Wagyu Steak MS9+ (140g) for $32, Grain-Fed Angus Steak (140g) for $26, or Pan-Seared Scandinavian Salmon (150g) for $24.
If you want to add a mesclun salad and coffee or tea, it's just an extra $12. So many tasty choices!
Google ratings: 4.5
Address: 10 Jln Serene, #01-04 Serene Centre, Singapore 258748
Service options: Dine-in · Takeaway · No-contact delivery
The Butcher's Wife
The Butcher's Wife is a gluten-free restaurant that's a haven for those with dietary restrictions. Here, you can enjoy a range of delicious, gluten-free dishes in a warm and welcoming setting, making it an ideal choice for a healthy and satisfying lunch.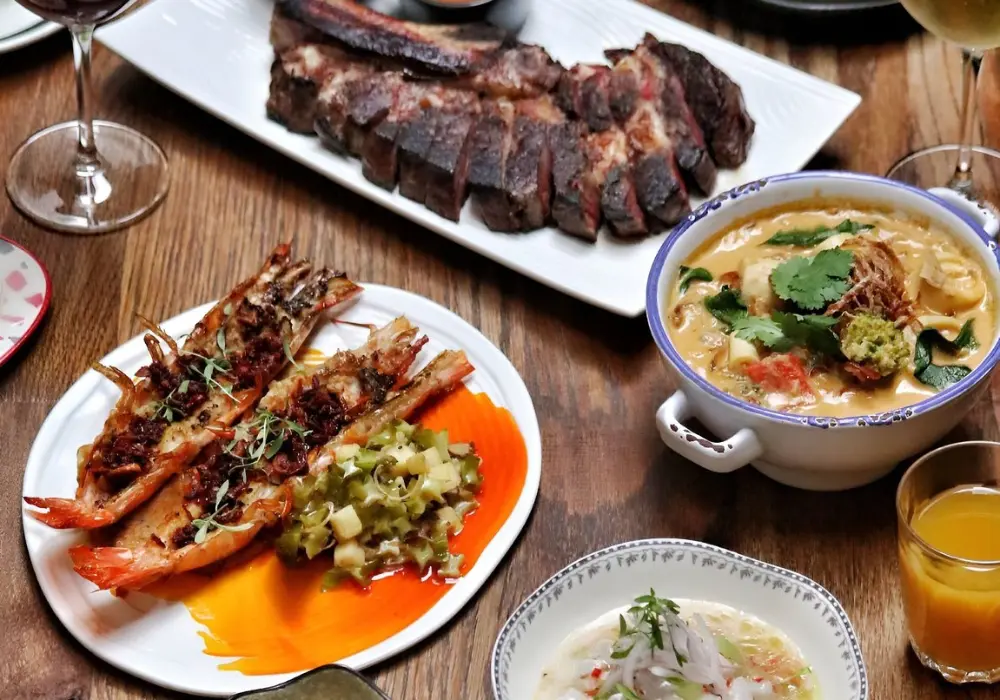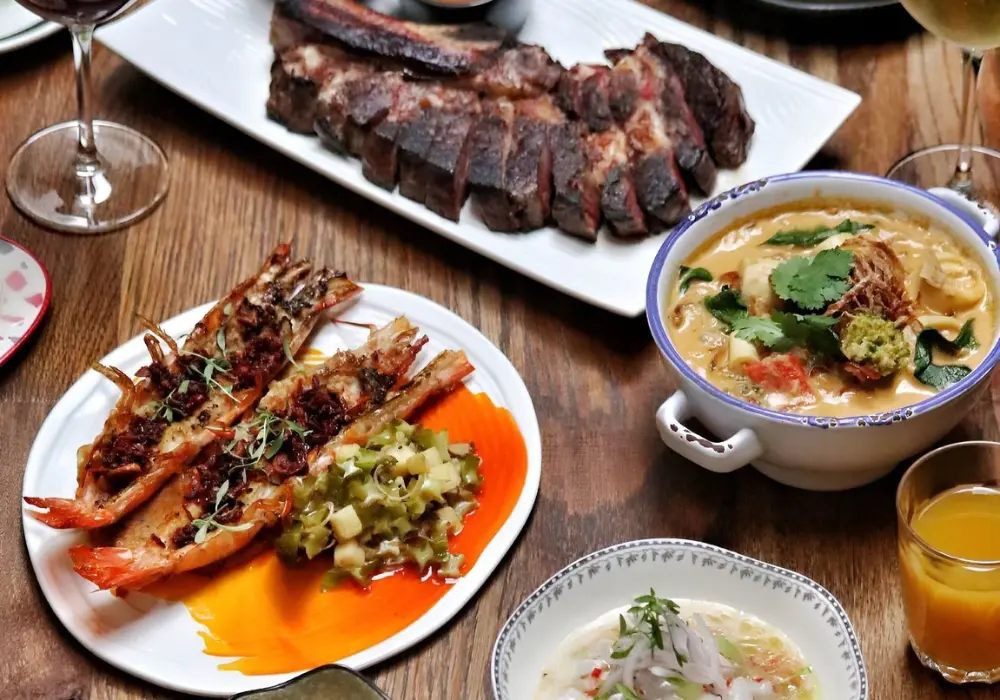 Signature dishes
The Wife's Croquetas:
I couldn't get enough of these croquetas – they're so crispy and creamy. The way they pair with the fermented cashew-chilli sauce is just perfect. The best part for me? They're completely vegan, making them a real treat for everyone.
Char-Grilled Wagyu Picanha:
Now, this dish is a must-try for me. I absolutely loved the 220g of Australian wagyu – it was cooked to perfection. The burnt ladies' fingers and the heirloom tomato salsa added such a burst of flavor. What's even better is that it's dairy-free, which is a win in my book.
Google ratings: 4.5
Address: 19 Yong Siak St, Singapore 168650
Service options: Dine-in · Takeaway · No-contact delivery
Ristorante Da Valentino
Ristorante Da Valentino is an Italian restaurant that brings the flavors of Italy to Singapore. With its authentic Italian cuisine and cozy ambiance, it's a great spot for a leisurely lunch that transports you to the heart of Tuscany.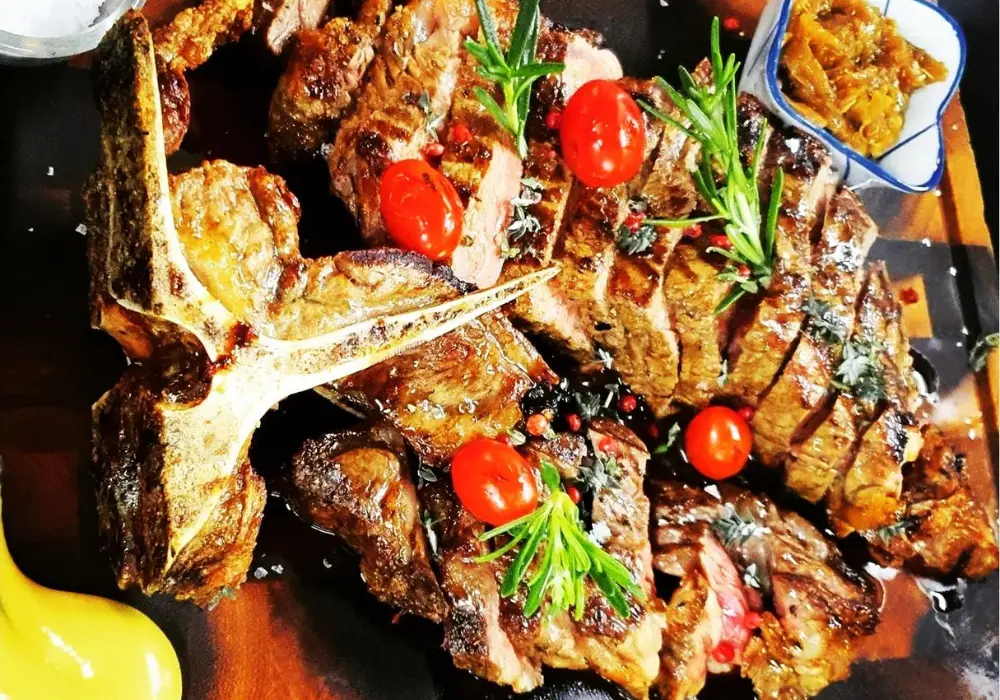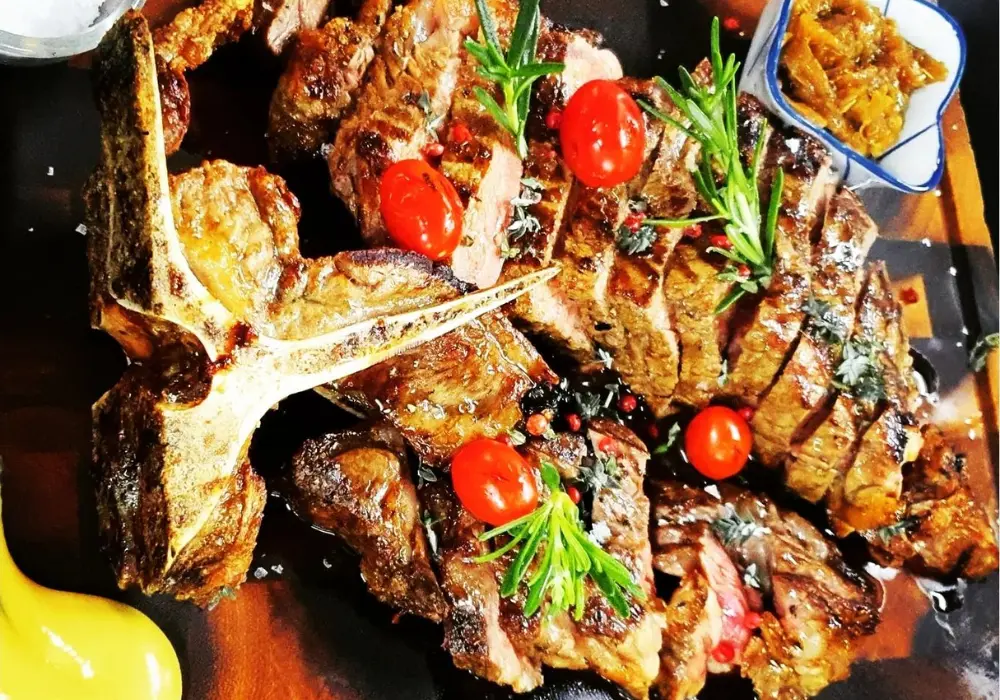 Signature dishes
Sakoshi Bay Japanese Oysters:
These Sakoshi Bay Japanese Oysters were an absolute delight. You'll want to order a minimum of 2 pieces at just 12.90 SGD each. They're the chef's recommendation and daily specials, making them a must-try for oyster enthusiasts.
Stinco Di Agnello Stufato:
The Stinco Di Agnello Stufato is something special. It's a braised lamb shank, a beloved recipe from Mama, and it's served with potatoes for 45.90 SGD. Whether you prefer meat or fish, this dish is a true standout.
Google ratings: 4.5
Address: 200 Turf Club Rd, #01 – 19, Singapore 287994
Service options: Dine-in · Takeaway · Delivery
Waterfall Ristorante Italiano
Waterfall Ristorante Italiano is a Southern Italian restaurant known for its regional dishes and a beautiful garden setting. It's the perfect place for a lunch that combines traditional Italian flavors with a tranquil, al fresco dining experience.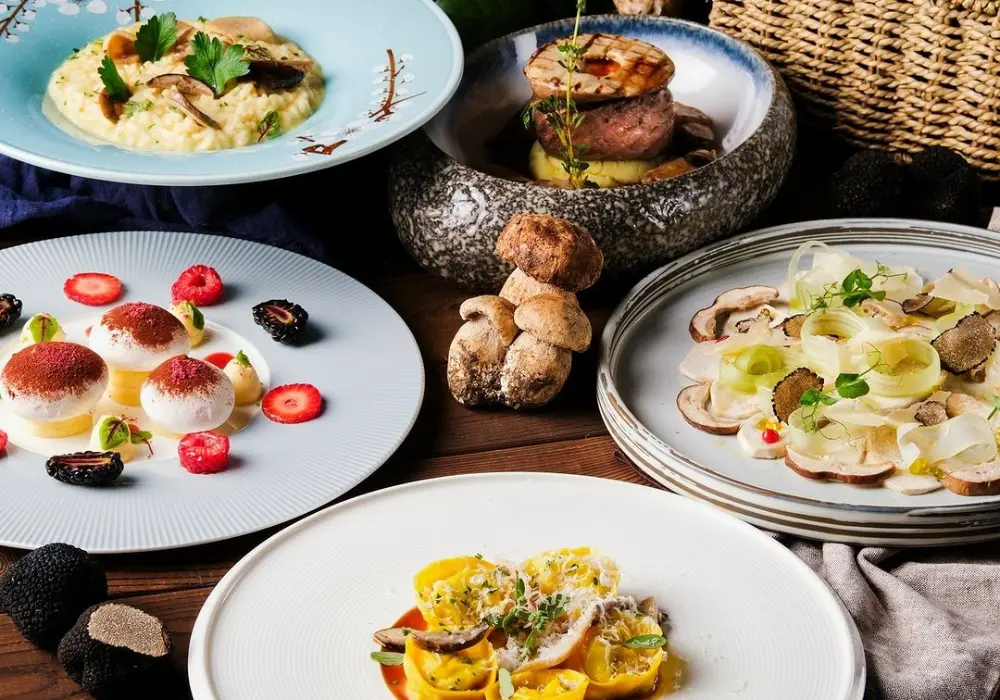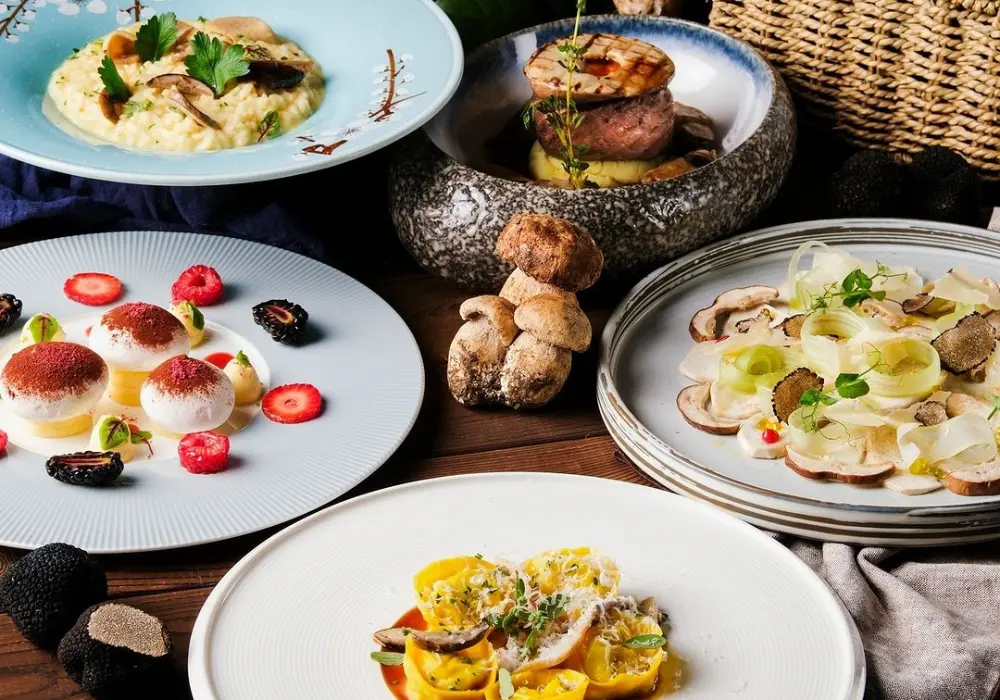 Signature dishes
Mista:
I absolutely loved the Mista. It's a terrific antipasti dish, with a Romaine salad loaded with chicken, buffalo mozzarella, tomatoes, avocado, croutons, and a mustard dressing that adds a burst of flavor. It's a fantastic way to start the meal.
Branzino Alla Griglia:
Now, when it comes to the Branzino Alla Griglia, it was a primo course that I won't forget. The grilled seabass was just perfect, and it came with sautéed vegetables, beetroot puree, and a grilled leek sauce that added a delightful touch. The blend of flavors and textures in this dish was simply amazing.
Google ratings: 4.5
Address: 22 Orange Grove Rd, Level One, Garden Wing, Singapore 258350
Service options: Dine-in · Takeaway
Final Words
Time to wrap things up, folks! Singapore's lunch scene offers a world of flavors for every palate. Whether you're into smoky barbecues, juicy steaks, or gluten-free delights, there's something for everyone among the best lunch restaurants in Singapore.
So, go ahead, treat yourself to a scrumptious midday meal at one of these fantastic eateries and make your lunchtime a memorable one. Bon appétit! 🍽️