The Best Indonesian Restaurants In Singapore
Hey there, food lovers! If you enjoy the exciting flavors of Indonesian food, you're in for a treat in Singapore. Join us as we go on a delicious journey to find the best Indonesian restaurants in the city, where you can try mouthwatering dishes that will remind you of Indonesia.
Get ready to enjoy the rich and delicious Indonesian tastes as we explore the best Indonesian restaurants in Singapore. In this guide, we'll show you the places that offer a memorable dining experience, from tasty rendang to delicious nasi padang. Let's start this Indonesian food adventure! 🍛🍢🎉
13 Top Indonesian Restaurants In Singapore
If you're craving the rich and aromatic flavors of Indonesian cuisine, you've come to the right place. We've thoroughly explored the dining scene in Singapore to bring you 13 Indonesian havens that are poised to satisfy your cravings.
Join us as we check out these fantastic Indonesian restaurants that promise an amazing dining experience.
Nusa Indonesian Grill
Kulon
Bara Food
Five Foot Lane
Warung Ijo
Bumbu
Indochili
Bebek Goreng Pak Ndut
Rumah Makan Minang
Cumi Bali
Pagi Sore
Kintamani
Tambuah Mas
Are you ready for a tasty journey through Indonesian food? Let's enjoy the flavors and stories behind these great Indonesian restaurants.
Nusa Indonesian Grill
Nusa is a cozy spot that serves up a delightful array of Indonesian dishes. The Tahu telor here is a hit and must-try.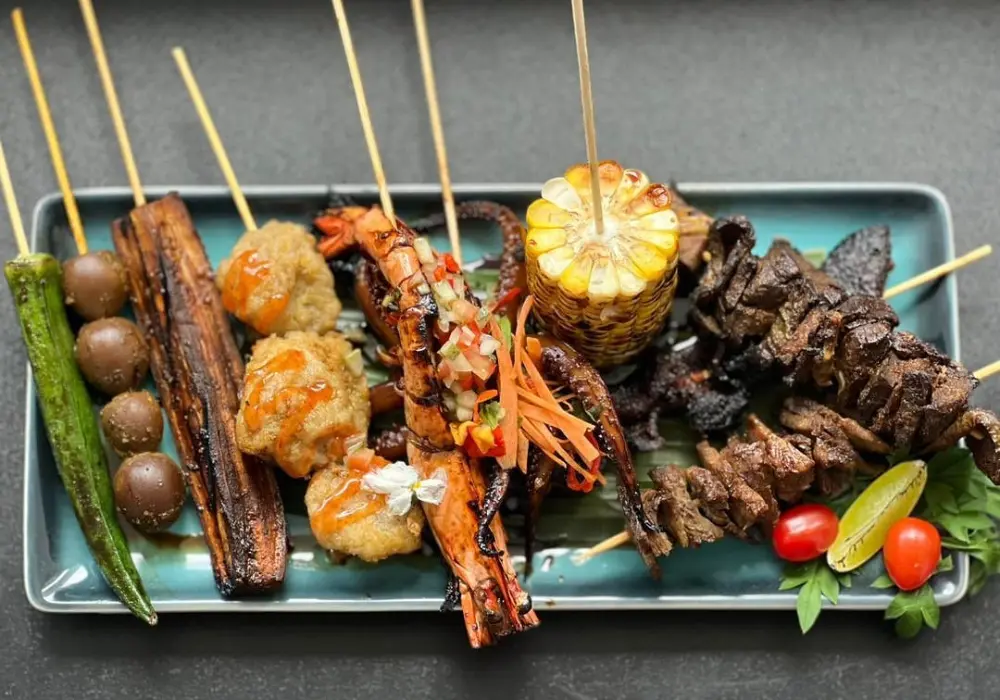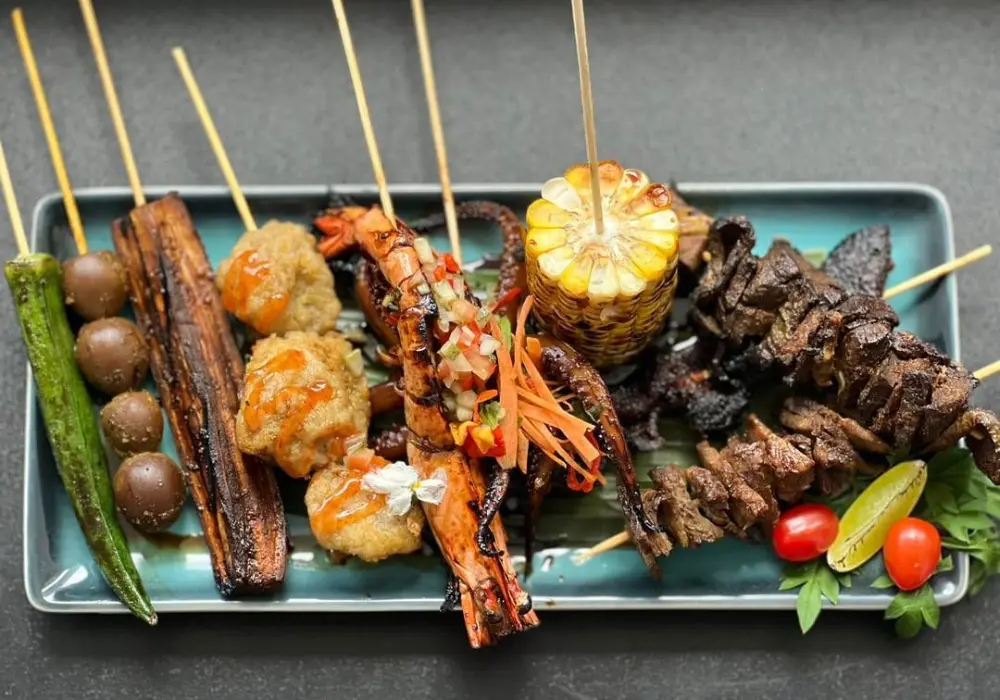 Google ratings: 4.9
Location: 70 Collyer Quay, #01 03, Singapore 049323
Signature dishes
Nusa's Signature Grilled Platter: When I visited Nusa Grill, I couldn't resist trying their Nusa's Signature Grilled Platter. It's a feast for four people, and it includes grilled seabass fillet, king prawns, squid, chicken, and beef ribs. The combination of flavors was outstanding, and it's perfect for sharing with friends or family.
Tahu Telor: To start, I ordered the Tahu Telor, which is a delightful mix of fried cubed beancurd and egg, served with spicy sweet sauce. The contrast of textures and the sweet-spicy sauce made it an excellent choice, especially for those who enjoy a combination of flavors and the heartiness of beancurd.
Kulon
Nestled in Singapore, Kulon is a delightful, cozy restaurant where you can indulge in the authentic tastes of Indonesia. Their expansive menu features a wide range of traditional dishes, ensuring a delightful culinary experience. Notably, the Bakmi stands out as a special and must-try dish.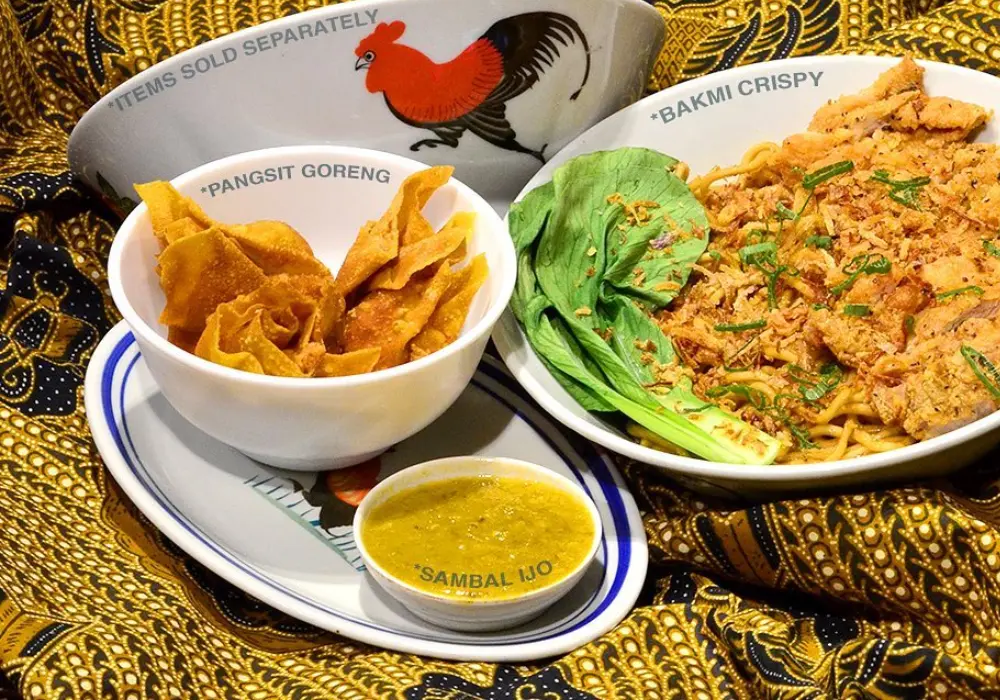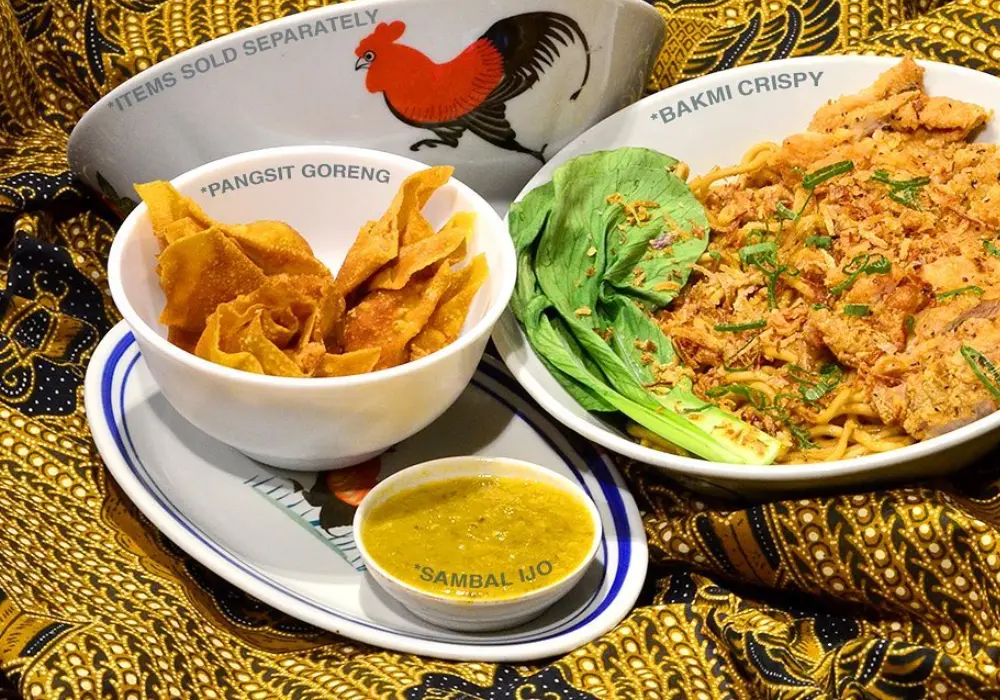 Google ratings: 4.8
Location: 30 Bali Ln, Singapore 189866
Signature dishes
Bakmi Special: I decided to try the Bakmi Special at Kulon, and it was a sweet and savory delight. This dish featured braised sweet soy sauce chicken, bakso beef balls, and blanched bok choy. The combination of flavors was truly satisfying, and for S$12.70, it was worth it.
Bakmi Crispy: As a fan of fried chicken, I couldn't resist ordering the Bakmi Crispy. It's a Javanese marinated and fried chicken thigh served with blanched bok choy. This dish leaned more towards the savory and salty side, and it's priced at S$9.70. It's popular for a reason, and I must say it's a must-try when you visit Kulon.
Bara Indonesian Food
Bara Food is a go-to place for affordable and tasty Indonesian street food. The ayam bakar here is legendary and brings a true taste of Indonesia to Singapore.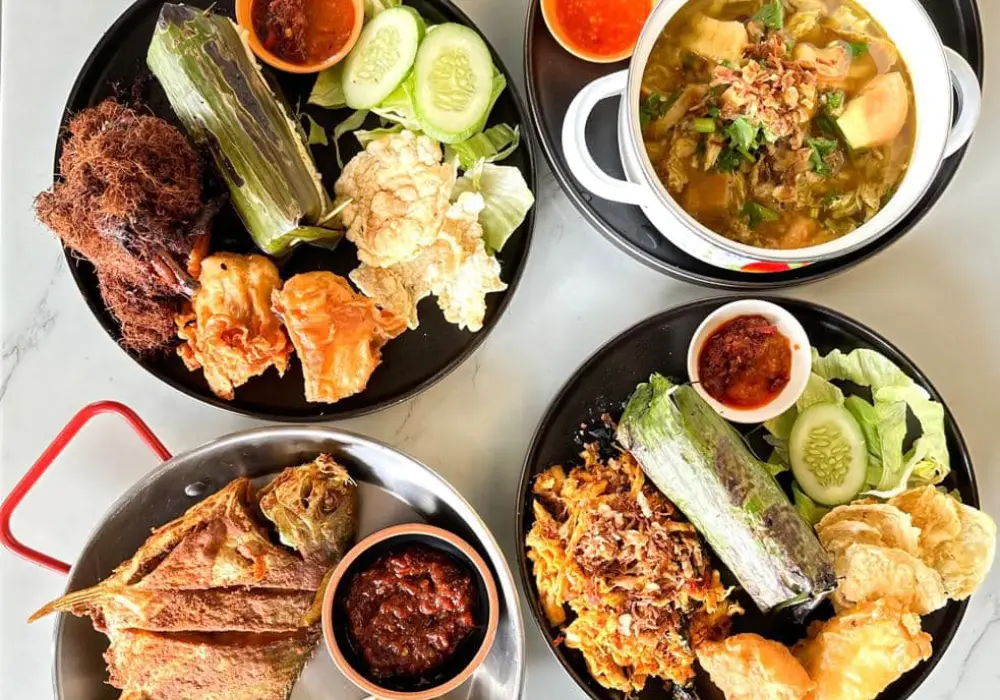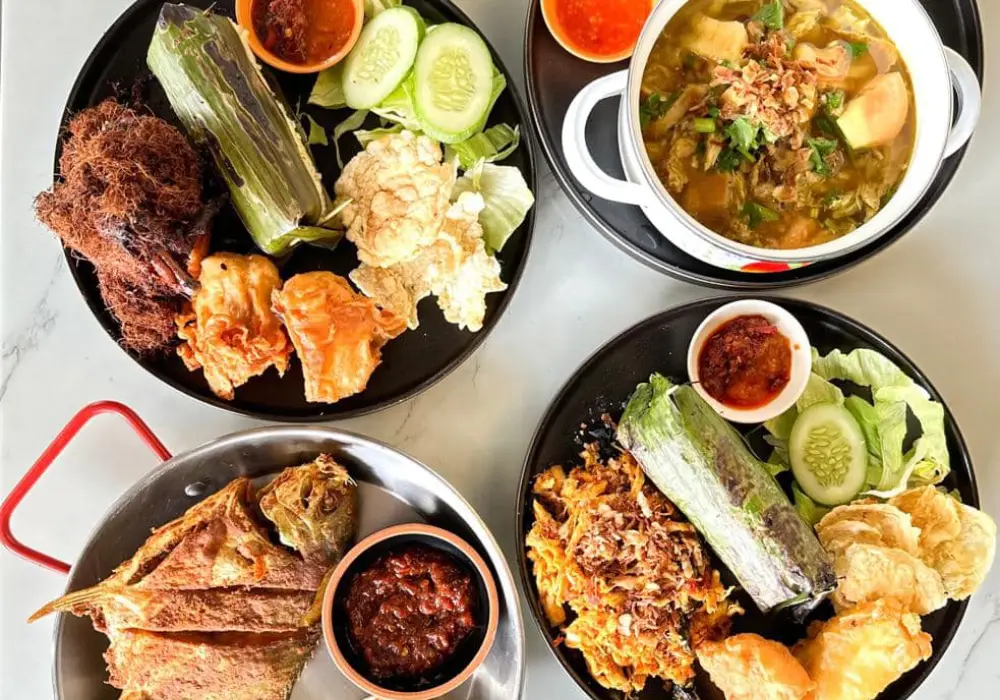 Google ratings: 4.7
Location: Altez / Icon Village Extension, 16 Enggor St, #01-10, 079717
Signature dishes
Sambal Udang Kentang: I highly recommend the Sambal Udang Kentang from Bara Food. The combination of prawns and potatoes cooked in that sambal sauce is a true flavor explosion. The spiciness of the sambal and the tenderness of the prawns and potatoes make it a mouthwatering dish.
Ayam Bakar: As for the Ayam Bakar Bara, it's a real delight. The chicken is succulent and perfectly grilled, and the Indonesian sweet sauce glaze adds a unique touch. It's a must-try, and the ala-carte option is perfect if you're looking for a more budget-friendly choice.
Five Foot Lane
Nestled among the Five Foot Way, this delightful eatery presents a diverse selection of Indonesian culinary delights. The Ayam Penyet, beloved by many, stands out as a crowd-pleaser, and the ambiance is ideal for a relaxed dining experience. It's undoubtedly one of the best Indonesian restaurants in Singapore.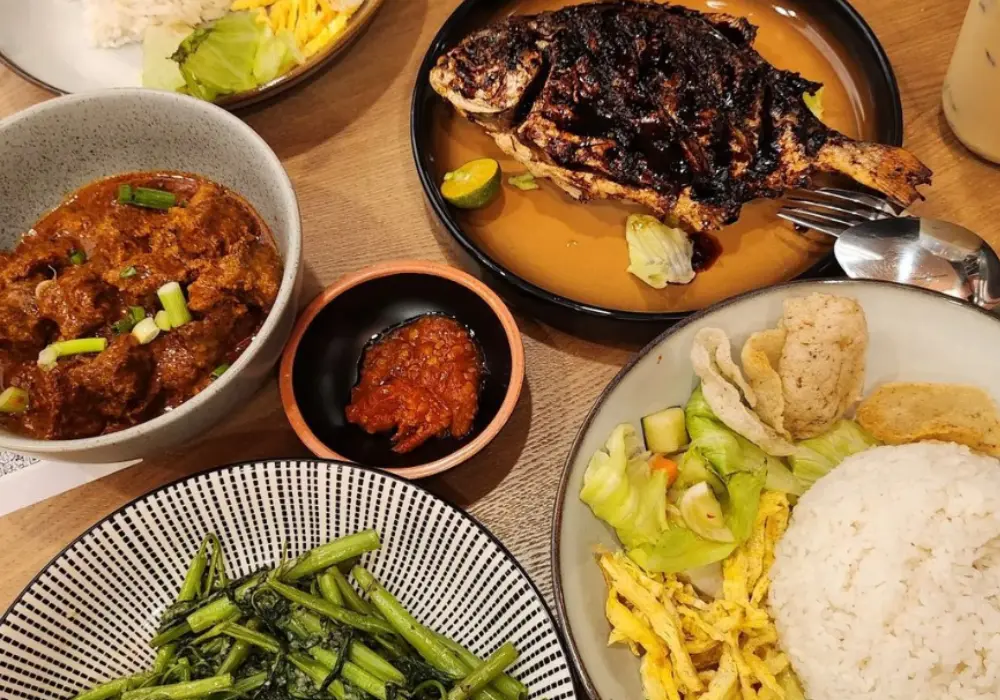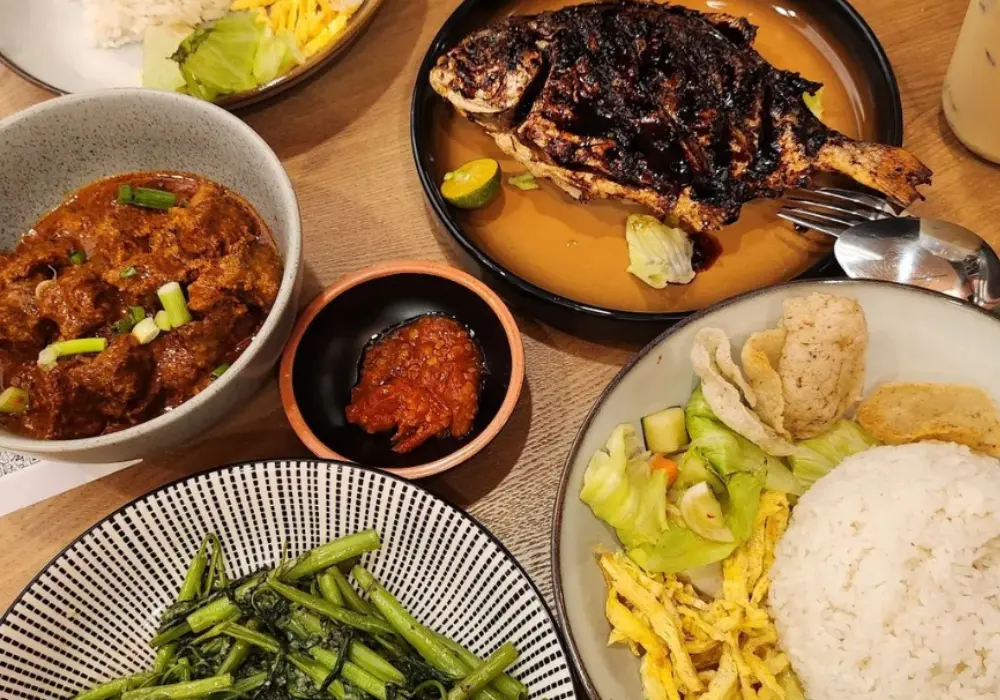 Google ratings: 4.6
Location: 107 North Bridge Road, Mall, b2-18 Funan, 179105
Signature dishes
Signature Beef Rendang: I personally tried the Signature Beef Rendang with Rice, and I must say it was a fantastic choice. The combination of acar, sliced egg omelette, and fish crackers added a delightful contrast to the rich and savory beef rendang. If you're a fan of beef dishes, I highly recommend giving it a taste.
Ayam Penyet: As for the Smashed Fried Chicken with Rice, also known as Ayam Penyet, I found it to be a real treat. The acar, sliced egg omelette, and fish crackers made it a complete and satisfying meal. If you're a chicken enthusiast like me, don't miss out on this flavorful dish.
Warung Ijo
Warung Ijo is a little corner of Indonesia in Singapore. The Chilli Crab is a highlight, and the friendly staff make you feel right at home.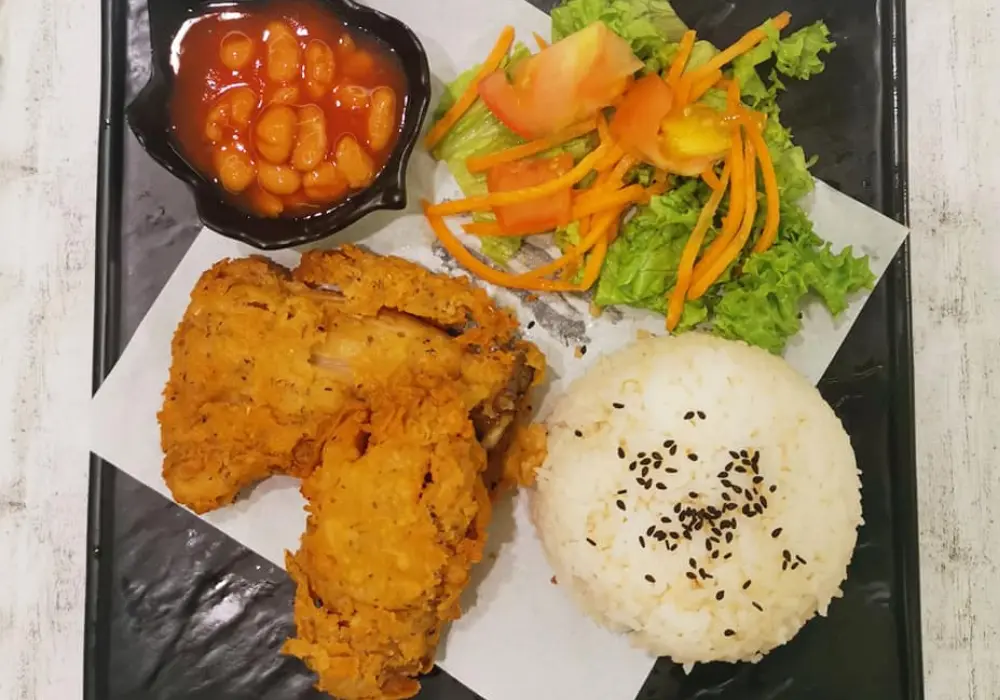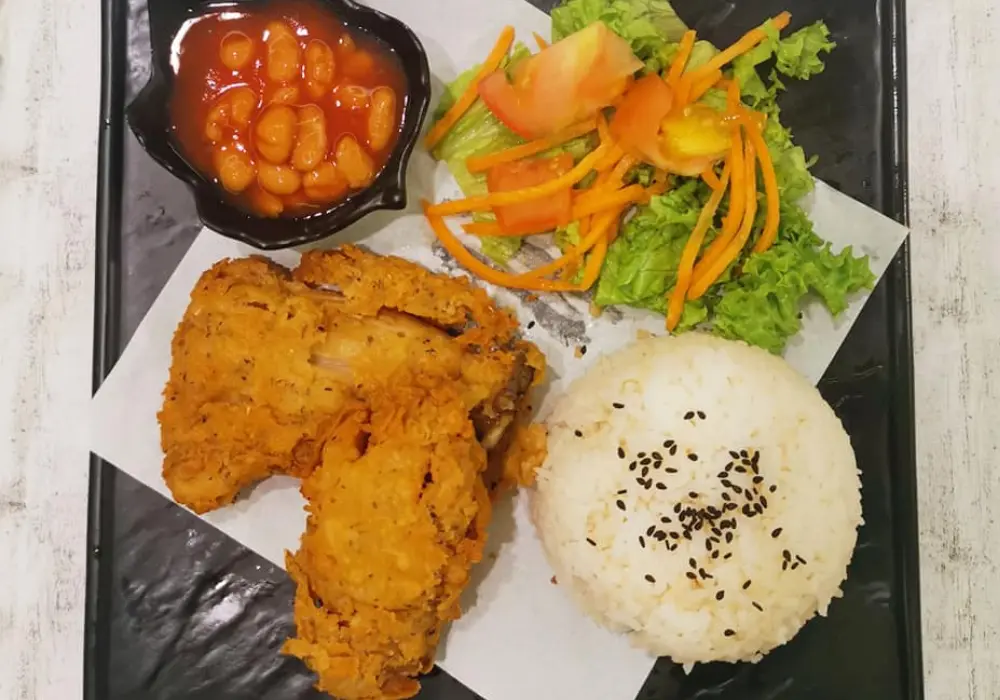 Google ratings: 4.6
Location: 601 MacPherson Rd, #01-61 Grantral Mall Tai Seng, Singapore 368242
Signature dishes
Chilli Crab: I couldn't resist trying the Chilli Crab at Warung Ijo, and it was a mouthwatering delight. It came with their homemade chilli crab sauce, 4 omnicrab patties, and 4 mantou buns. The option to choose between Chilli Crab with Egg or Chilli Crab – Vegan was a nice touch. This dish, starting from S$22.20, was a satisfying seafood experience.
Kwetiau Goreng: Another dish I tried was the Kwetiau Goreng, an Indo-style char kwe tiao. It was just like the version I remembered, with the addition of Warung Ijo's secret sauce and vegetables, served with kerupuk. Do note that you can select the spicy level from 1 to 3. Starting at S$12.80, it was a flavorful and spicy option that I enjoyed.
Bumbu Restaurant
Bumbu is a great place for Indonesian cuisine in a relaxed setting. The olive fried rice and rendang are simply mouthwatering. It's an excellent choice for a taste of Indonesia in Singapore.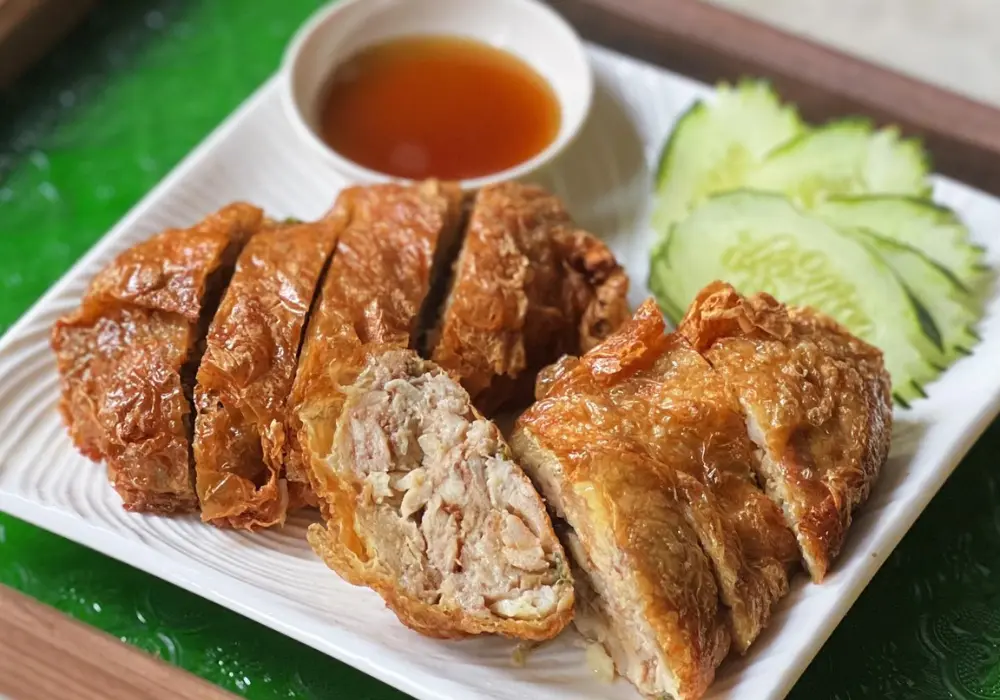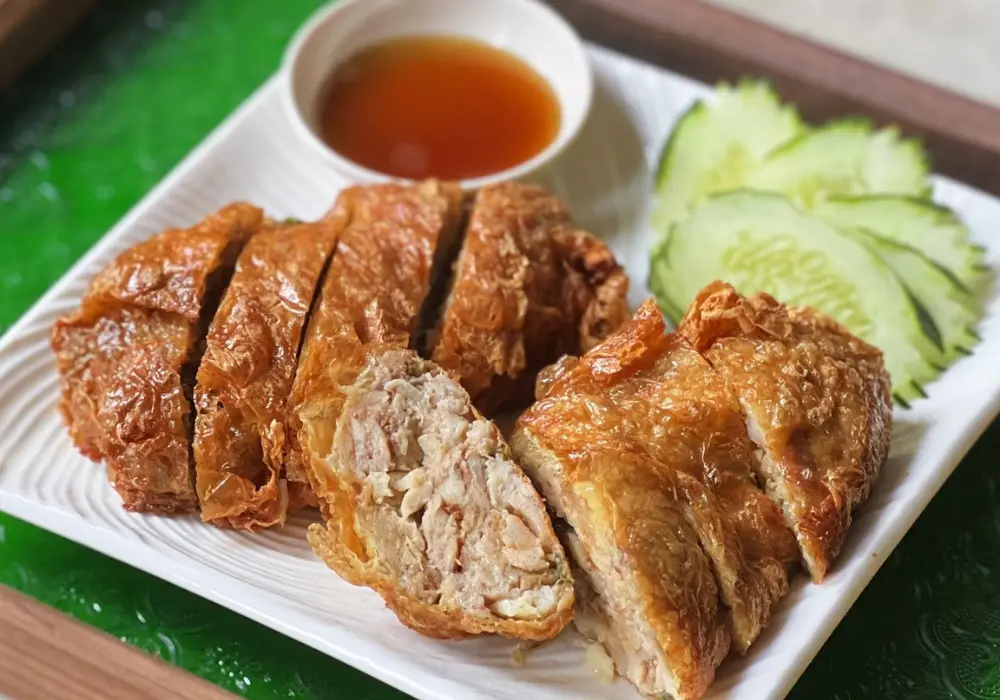 Google ratings: 4.5
Location: 44 Kandahar St, Singapore 198897
Signature dishes
Fragrant Olive Fried Rice: I had to try the Fragrant Olive Fried Rice, one of their signature dishes. It's a favorite among vegetarians, and the best part is, you can opt for it to be eggless. For $11.90, it was a flavorful choice that left me quite satisfied.
Beef Rendang: As a fan of beef dishes, I couldn't resist their signature Beef Rendang. The tender beef shank was slow-cooked to perfection with their original spice mix. Priced at $14.90, it was a delightful beef dish that I would definitely recommend.
Indochili
Indochili is a cozy restaurant that specializes in Indonesian and Peranakan cuisine. The Soto Betawi here is especially flavorful. The cozy vibe sets the stage for a relaxed and enjoyable dining experience.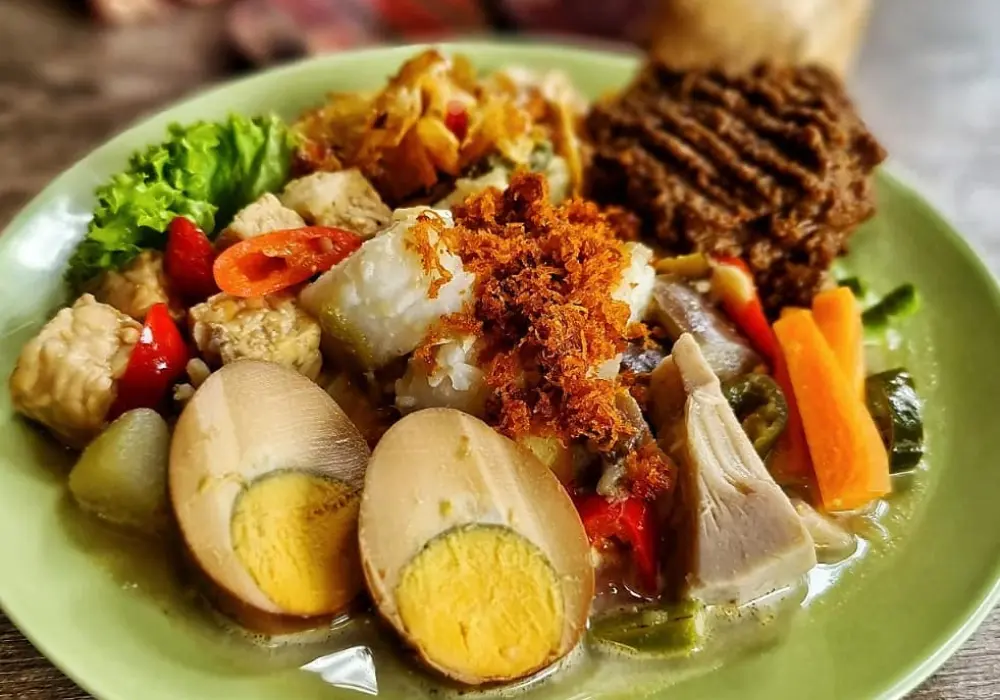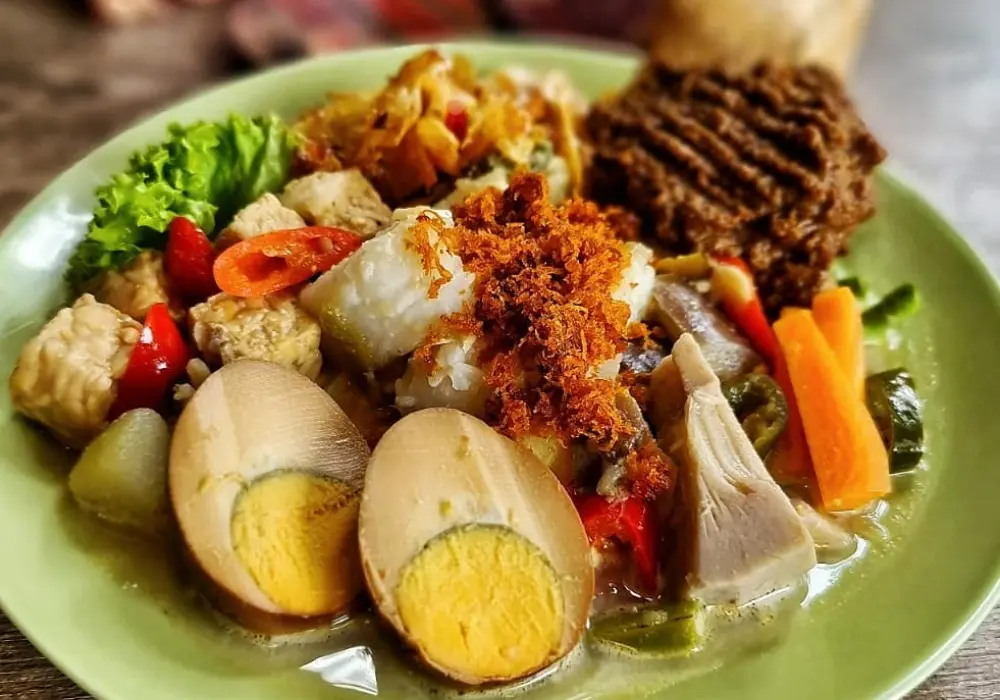 Google ratings: 4.4
Location: 54 Zion Rd, Singapore 247779
Signature dishes
Soto Betawi: I couldn't resist trying the Soto Betawi at Indochilli. It's a warm and comforting buttery beef soup that's simply delicious. The tender beef in this Batavian classic soup was satisfying, and at $17.8, it was a fantastic choice.
Combo Bakaran: If you're a seafood lover, the Combo Bakaran at Indochilli is a must-try. Priced at $68.8, it's a delightful combination of grilled black pomfret, squids, prawns, satay, and chicken. The variety of grilled seafood and meats brought together a mix of flavors that made the dish truly enjoyable.
See Also: Best Peruvian restaurants Singapore
Bebek Goreng Pak Ndut
If you're a fan of crispy duck, this place is a must-visit. Bebek Goreng Pak Ndut serves up delicious fried duck with rich Indonesian flavors, and it's a favorite for those looking for a savory indulgence.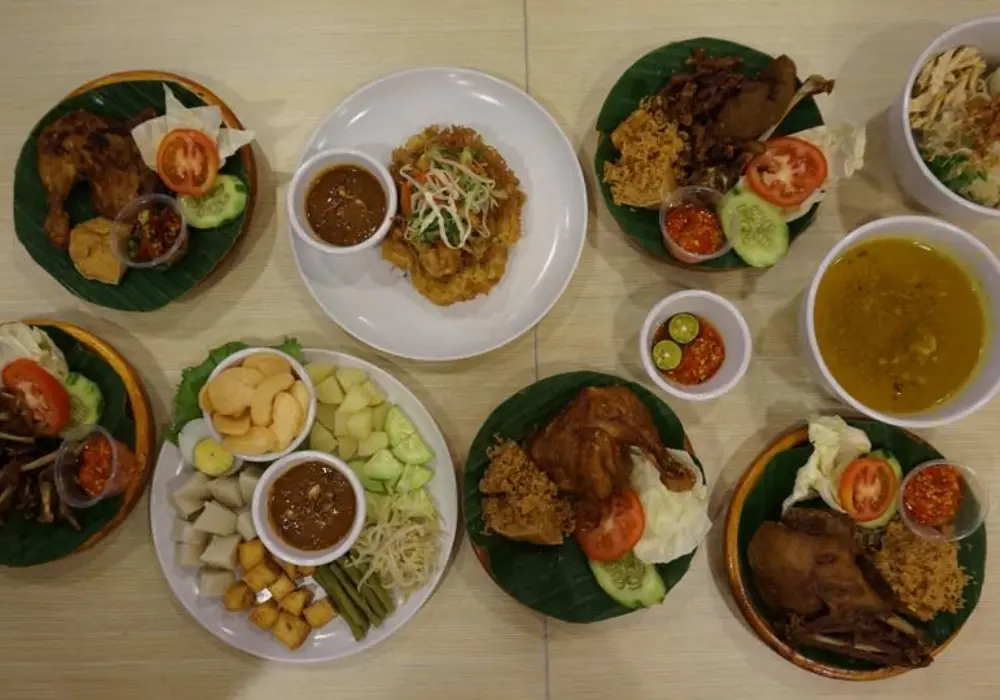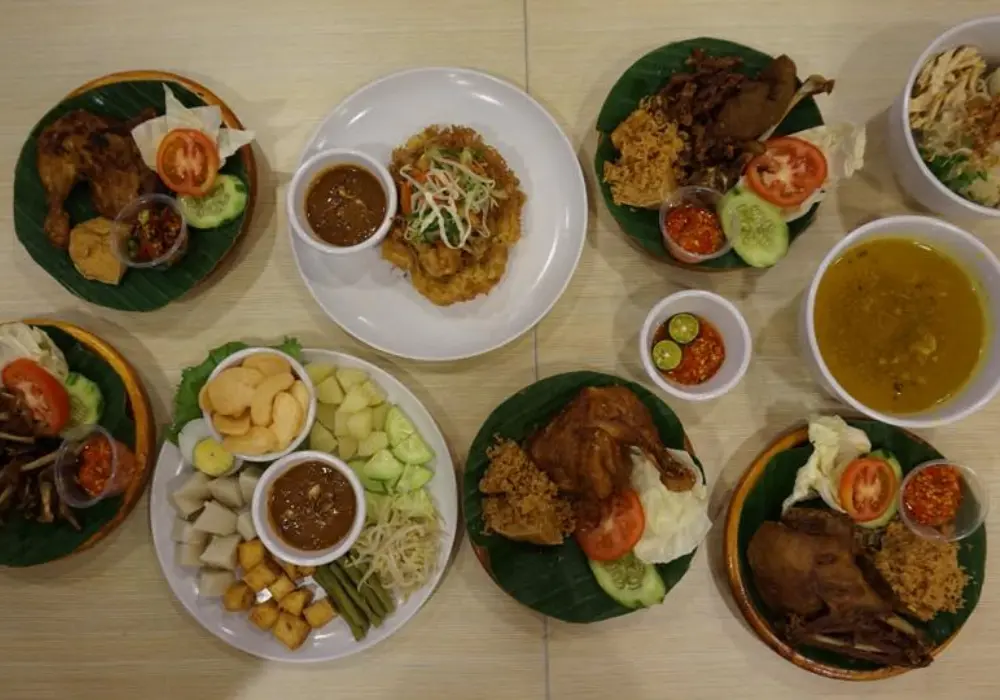 Google ratings: 4.4
Location: 304 Orchard Rd, #01-42 Lucky Plaza, Singapore 238863
Signature dishes
Original Crispy Fried Duck: I couldn't resist trying the Original Crispy Fried Duck with rice. The deep-fried duck is marinated with secret spices for a day, and it turned out incredibly flavorful. It came with tofu, tempeh, a side salad, and their signature original chili, making it a satisfying meal for just $10.90.
Tahu Telur: As for the Fried Egg & Tofu, I took the suggestion, and it didn't disappoint. It's a simple yet mouth-watering dish featuring an omelette with cubed tofu, all topped with a spicy-sweet sauce. At $7.50, it's a delightful option with really pleasing flavors.
They also offer a choice of chili sauces, from mild to spicy, so you can pick your preferred spice level. If you like, you can add steamed rice, mixed vegetable sauce, or some crackers for extra flavor.
Rumah Makan Minang
Rumah Makan Minang offers an authentic taste of Minangkabau cuisine. The nasi padang and rendang here are highly recommended, and the restaurant exudes a welcoming vibe.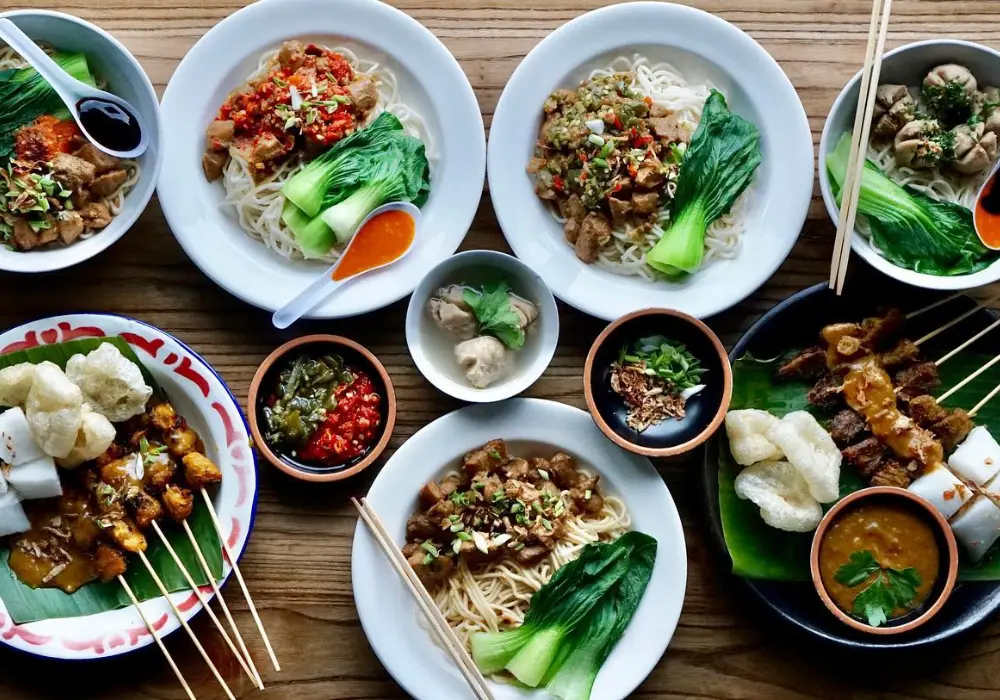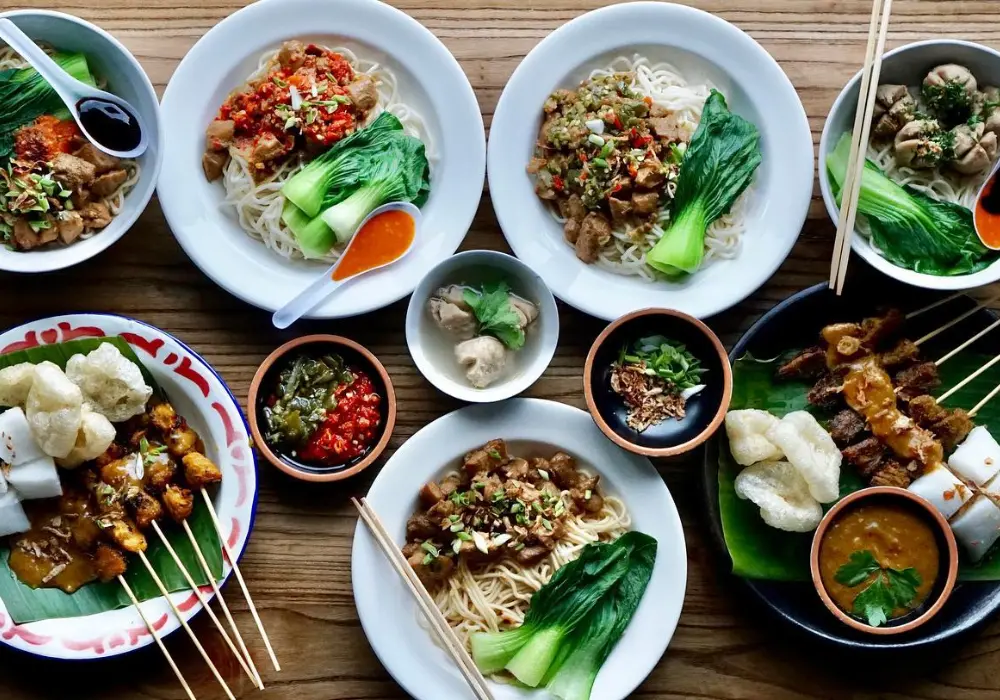 Google ratings: 4.3
Location: 18 & 18A Kandahar Street, 198884
Signature dishes
Beef Rendang Padang: I went for the Beef Rendang Padang from the Nasi Padang Combo Set, which was a Box Set with fragrant jasmine white rice, tender beef rendang, a side of vegetables, some bagedil, and a separate portion of sambal belacan. To top it off, they included Teh Botol drinks, making it a delicious and complete meal that I thoroughly enjoyed.
Ikan Bakar Minang: I also couldn't resist the Ikan Bakar Minang. It's a specialty featuring trevally fish marinated in traditional Minang sauce and grilled to perfection. The unique flavors were delightful, and at just S$9.60, it's definitely a seafood dish I recommend trying.
Cumi Bali
Cumi Bali brings the exotic flavors of Bali to Singapore. Their grilled squid and Balinese specialties are delightful, and the cozy setting adds to the dining experience.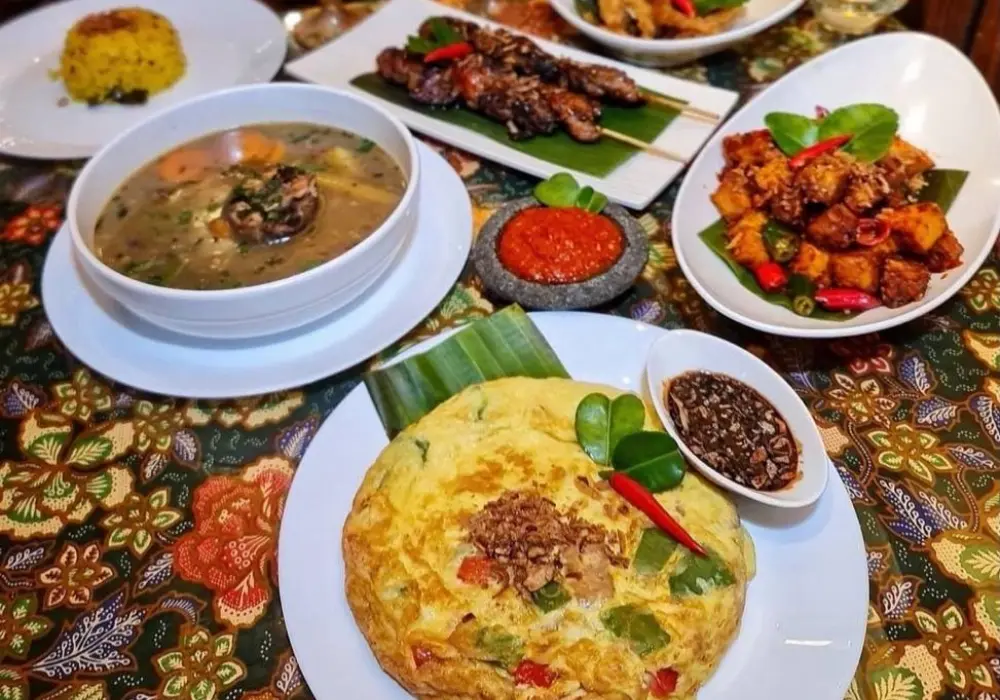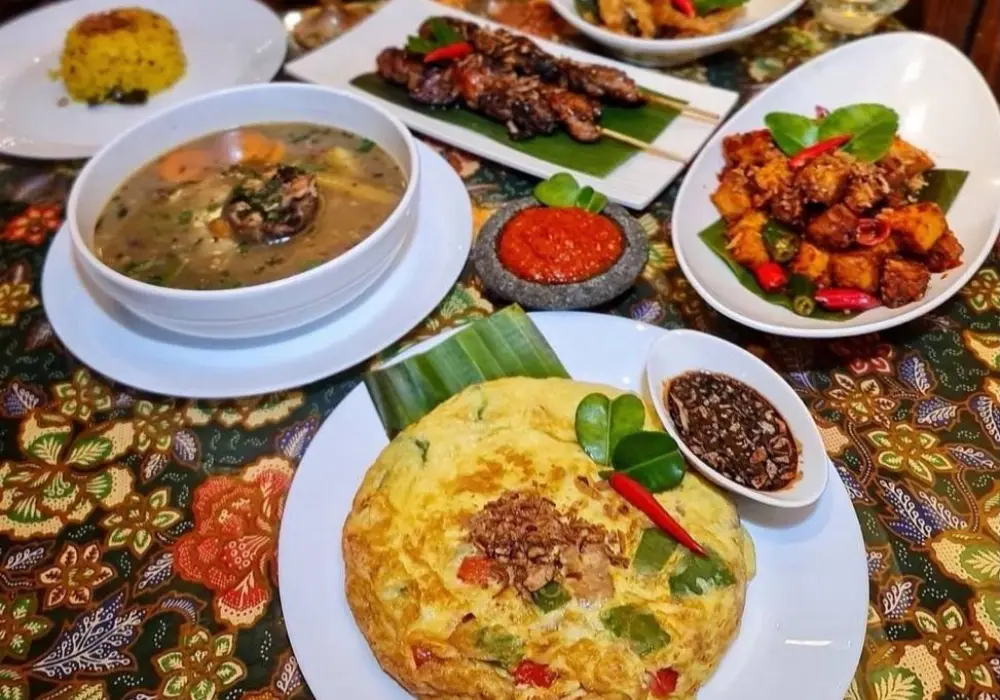 Google ratings: 4.1
Location: 50 Tras St, Singapore 078989
Signature dishes
Ayam Panggang: I tried the Ayam Panggang from Cumi Bali, and it was a delightful experience. The charcoal-grilled chicken, whether you prefer thigh or breast portions, was incredibly flavorful and had that perfect smoky touch. It's a meat lover's dream.
Cumi Bali: You've got to try the Cumi Bali – it's a must! This charcoal-grilled squid is incredibly tasty and truly satisfying. I highly recommend it, so make sure not to miss this seafood gem when you visit!
Pagi Sore
Pagi Sore is known for its rich Indonesian flavors and vibrant atmosphere. Their extensive menu includes favorites like ikan goreng and kangkong, making it a great spot for traditional Indonesian fare.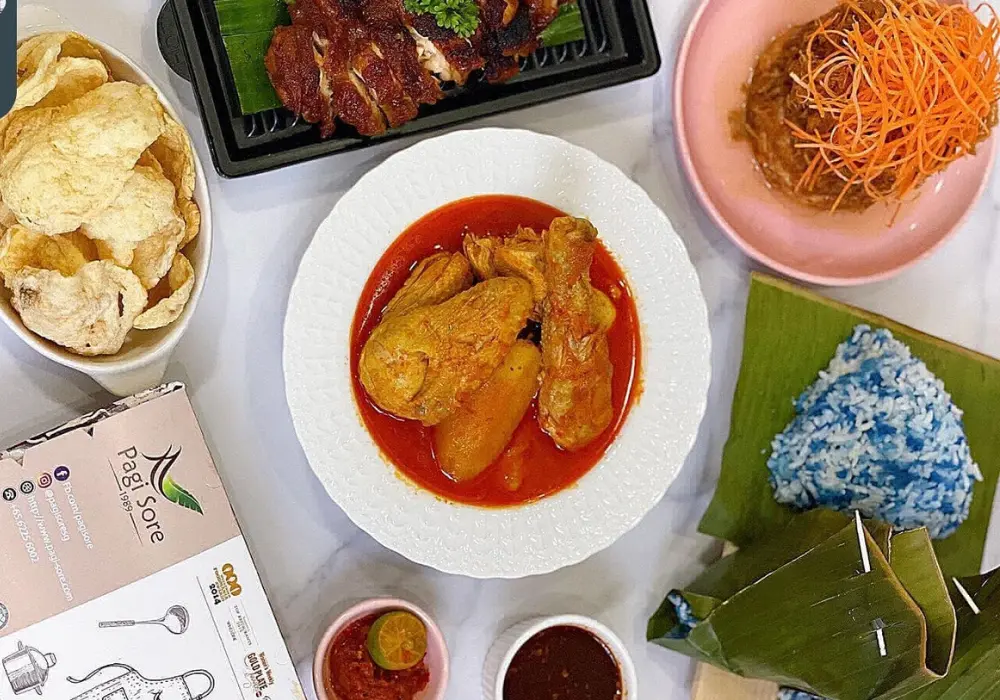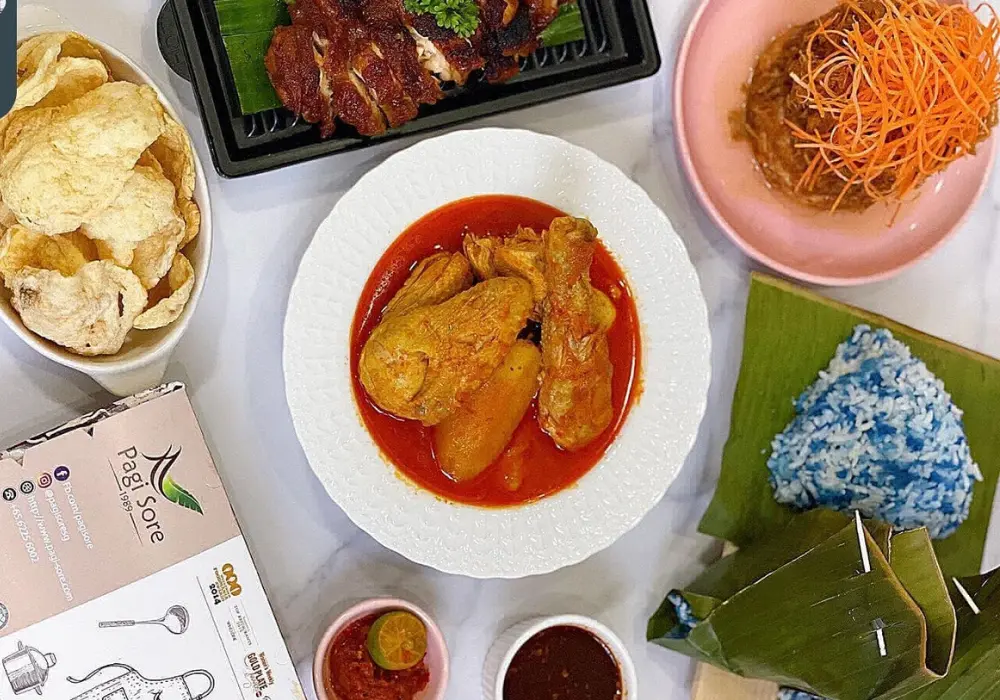 Google ratings: 4.1
Location: 88 Telok Ayer St, Singapore 048470
Signature dishes
Tumis Kangkong Belachan: I ordered their signature dish, the Stir-Fried Water Spinach in Belachan Chili. It was delightful, with the perfect combination of water spinach and Belachan chili. The small portion cost $10.80, and the regular was $11.80.
Ikan Goreng Balado: For my main course, I couldn't resist trying the Whole Deep-Fried Seabass topped with Rich Padang-Style Balado Chilli. The seabass was perfectly cooked, and the Padang-style Balado chili gave it a rich and spicy flavor. The regular size was priced at $28.90. Both dishes were truly worth trying, and I was completely satisfied with the flavors.
Kintamani
Kintamani offers a taste of Indonesian heritage through its dishes. The Beef Rendang is a highlight, and the ambiance is perfect for a family dinner.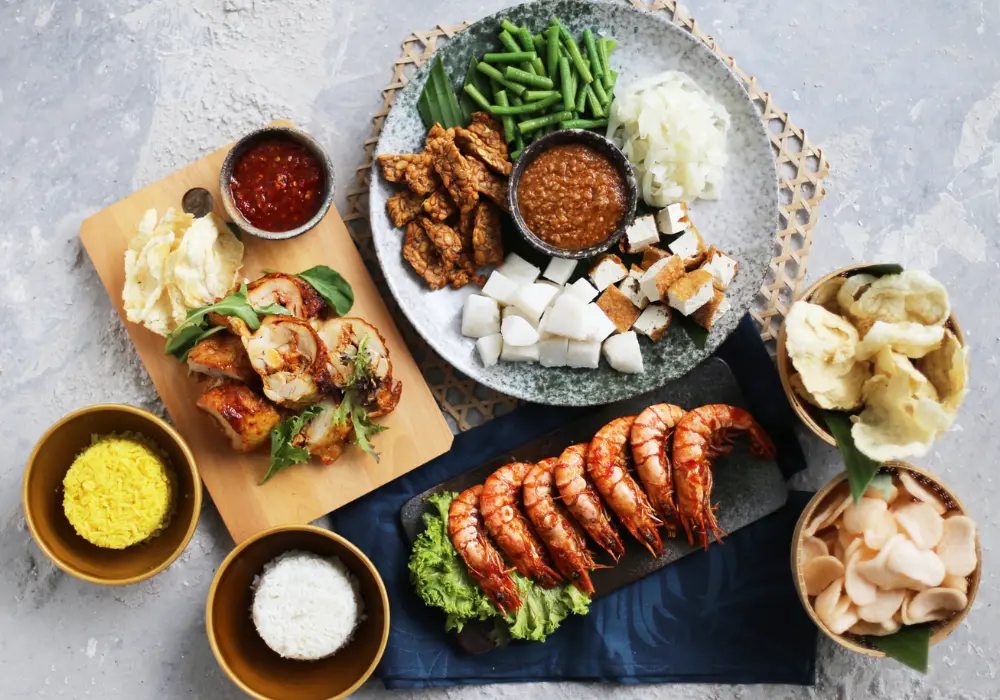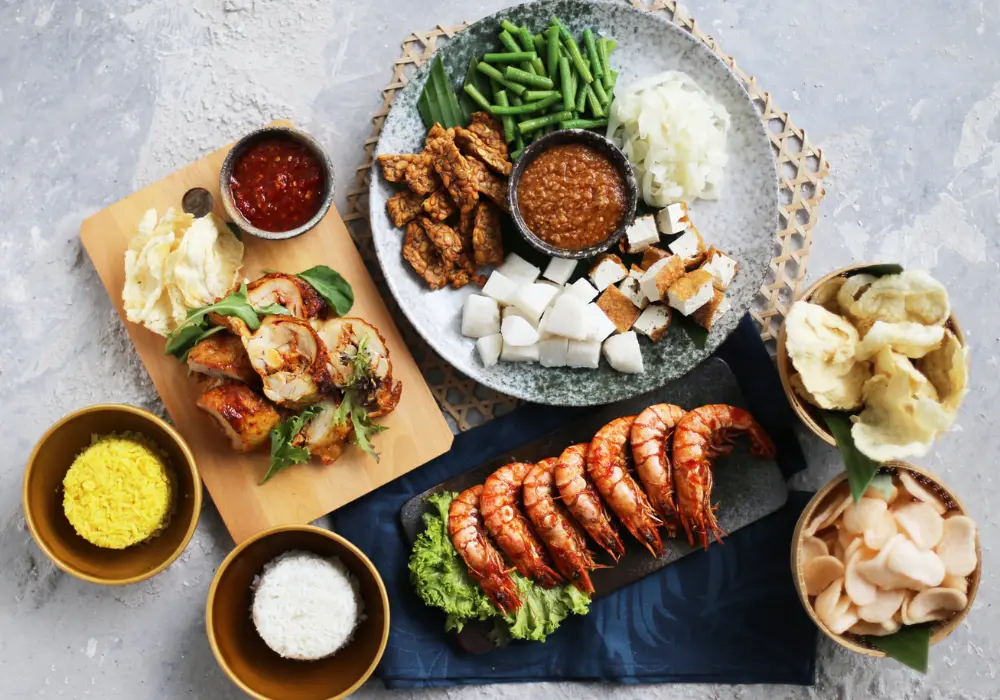 Google ratings: 4.0
Location: 405 Havelock Rd, Singapore, 169633
Signature dishes
Beef Rendang Bento Set: I tried the Beef Rendang Bento Set at Kintamani Indonesian Restaurant. It came with a serving of mixed vegetables and white rice, making it a wholesome meal. The beef in the rendang was rich and flavorful, and I opted for the add-ons of mixed crackers and Teh Botol Sosro for an extra treat.
Barbecue Prawns: For seafood lovers, the Barbecue Prawns (Udang Bakar) were a delightful choice. These Indonesian-style grilled prawns were succulent and had that delicious smoky flavor from the grill. The prices were reasonable, and I'd recommend trying these dishes when you visit Kintamani Indonesian Restaurant.
Tambuah Mas Indonesian Restaurant
Tambuah Mas is a place where you can enjoy authentic Indonesian food in a cozy setting. Their rendang and tahu telor are highly recommended for a true taste of Indonesia.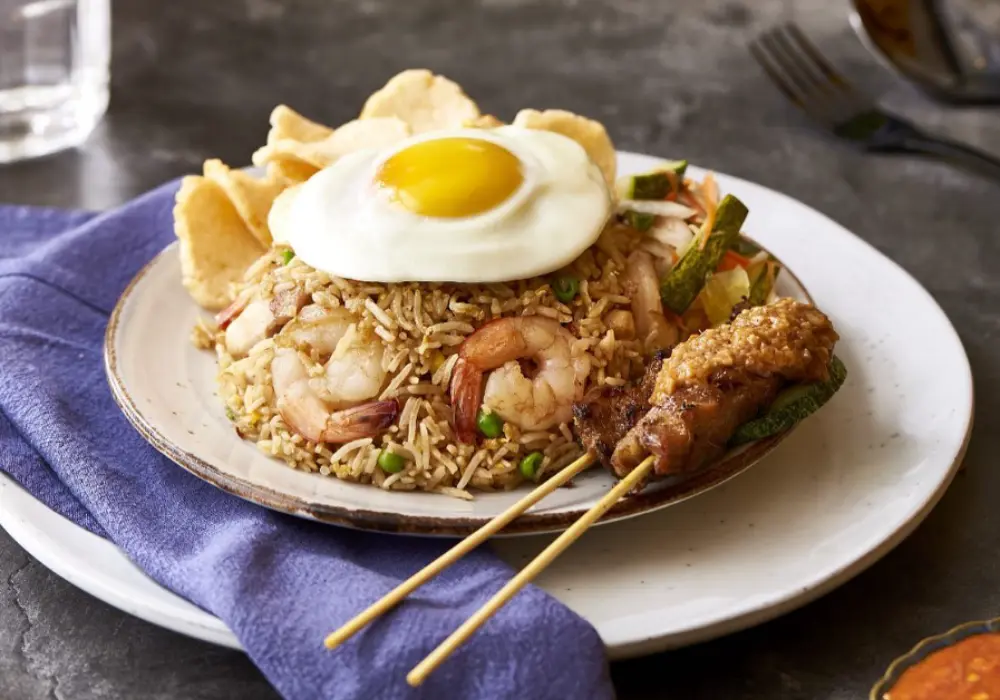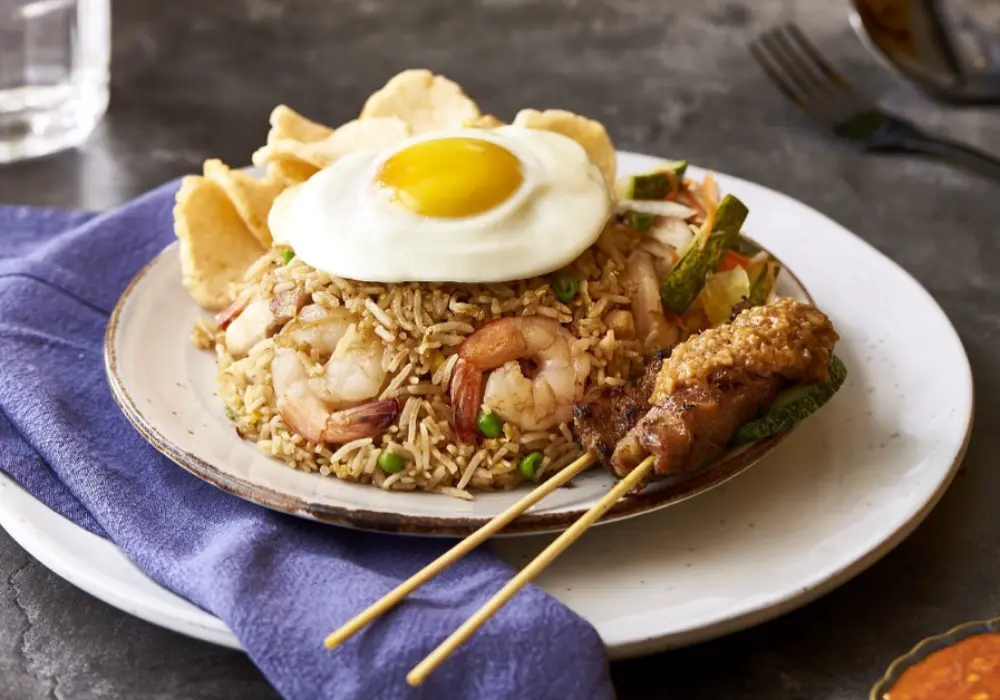 Google ratings: 3.8
Location: 1 Kim Seng Promenade, B1-110/111, Singapore 237994
Signature dishes
Rendang Lembu: Rendang Lembu from Tambuah Mas is a real gem. The slow-cooked beef in its rich and highly spiced coconut gravy is a flavor explosion that leaves you craving for more. It's a must-try if you're a meat enthusiast.
Tahu Telor: Tahu Telor at Tambuah Mas is a delight for those who appreciate Indonesian vegetables. The fried beancurd and eggs come together in a harmonious blend of flavors that make it a savory indulgence. It's a perfect choice for those seeking a vegetarian option.
Final Words
Discovering the best Indonesian restaurants in Singapore was a fantastic experience. The diverse flavors and the friendly staff created unforgettable culinary adventures. If you're in Singapore and looking for cheap Indonesian food that's also delicious, don't miss out on these restaurants.
So, if you're in the Lion City and craving some Indonesian cuisine, I wholeheartedly recommend giving these spots a try. It's a culinary adventure that you won't want to miss! 🍛🌱👌